Timothée Chalamet's Wonka movie sounds unhinged
Stans saw a new clip last night. Apparently he sings, 'You have never had chocolate like this', breaks out of a dance, then jumps down a pothole.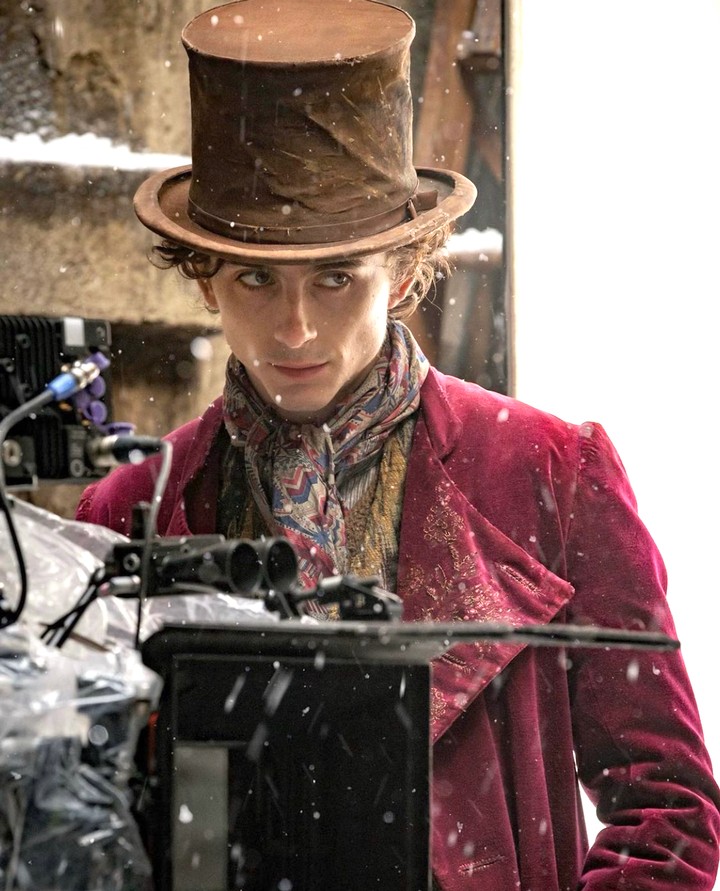 Instagram @tchalamet
No movie intrigues and haunts us more than the upcoming Timothée Chalamet movie musical Wonka. That's right, an origin story for the famed fictional chocolatier with a penchant for theatrical showcases and a disregard for safeguarding children is in post-production, preparing for its release in December 2023.
On-set fan sleuthing has given us a glimpse at the stunning costuming and Victorian-era set pieces that have sent social media into a frenzy, as we all collectively try to decipher the mood of the movie. But the biggest clue as to what we might expect when the film hits cinemas Christmas 2023, was from attendees at Warner Bros' Cinemacon yesterday, who were treated to a short clip from the upcoming movie.
"'Is everybody ready?" Chalamet's Wonka says via voiceover in the opening moments which show a younger Wonka as he is a burgeoning chocolate maker," claimed The Hollywood Reporter. "What follows appears to be a fantastical adventure filled with singing, dancing, and clashes with authorities in a quest to spread chocolate to the world."
There's more! In the footage, Timmy is heard singing: "You have never had chocolate like this!" bellows before, as The Hollywood Reporter put it: "he breaks out of a choreographed dance and heads down a pothole." Honestly, it sounds truly unhinged. But here's hoping it's the weirdly wonderful kind, like Everything Everywhere All At Once, rather than Camila Cabello's cursed Cinderella unhinged.
Anyway, with the wheels very much in motion, what do we know about Wonka's plot, release date and cast? Here are your answers.
What's the plot of Wonka?
While you're surely well versed in the story of Roald Dahl's classic novel, as well as the 1970s Hollywood classic adaptation, it's worth noting that this Wonka movie will not be treading the same subject material.
Instead, Wonka is set to be an origin story that tells the tale of the famed chocolatier during his younger years, including, apparently, when he first met the Oompa Loompas. It's set to be a full scale musical, so expect high drama and, we imagine, comedy. As for the specifics? Well, we'll have to wait a little while longer for those.
Who stars in Wonka?
Of course, we know by now that Timothée Chalamet has won the lead role in Wonka as its titular character, beating out the likes of Ezra Miller, Donald Glover and Tom Holland. He's joined by an elaborate collection of British acting greats: Oscar-winner Olivia Colman and Mr Bean himself, Rowan Atkinson. The short clip shown at cinemacon showed that Oscar nominee Sally Hawkins will be playing the role of Wonka's mum. Others involved include relative newcomer Calah Lane, as well as Jim Carter and Rakhee Thakrar. Heck, even Keegan-Michael Key, of Key and Peele, is scheduled to appear. The only stars with a role attached at present is Timotheé and Sally, but if that changes, we'll let you know.
Who is the team behind it?
Wonka will be directed by Paul King, who made magic in the past with both the Paddington films and British sitcom The Mighty Boosh. King co-wrote the script with Simon Farnaby, who he worked with on Paddington 2 and who has written the screenplay for Robert Zemeckis' forthcoming Pinocchio remake. Producing the whole thing is David Heyman, who is responsible for similar work on the Harry Potter series and Once Upon a Time… in Hollywood.
But if you were expecting nothing but candy-coloured landscapes from this chocolate factory origin tale, think again. Oscar nominated production designer Nathan Crowley has joined the project, and he's best known for his brooding and dark work with Christopher Nolan on the Batman trilogy and Inception. Sinister Wonka movie musical? Looks like it.
Have their been other on-set spottings?
When Ms Omicron came for everybody's ass in December 2021, including the whole set of Timothée Chalamet's Wonka movie, production shut down just before Christmas last year before resuming at Oxford University at the beginning of 2022. When it did, die hard stans flocked to the set to catch a glimpse of TC in full regalia taking pictures and TikToks as they went.
Now we've seen a few other stars on set, like Calah Lane, we're guessing Wonka could be a period piece. Tutors and students are hypothesising what all the fuss could be about.
There are even some queens out there literally chasing his car down the street at the end of the day.
Beyond the aforementioned ones, there was, of course, the OG Wonka set stalker. In October last year, famed Twitter queer @_artsartsarts stumbled upon the set of the movie in their own, rather uneventful town of Lyme Regis.
According to passers by and members of the crew, apparently Timmy was shooting in a green boat (could he be coming or going somewhere? Oompa Loompa land?!) and by a shed on the pier, which had been doused in fake snow. And then, alas! A few hours later, Timmy jumped on social media to reveal the first photo from the set. Art recognised it immediately.
Where and when is it shooting?
We can imagine that much of the shoot is likely to take place in Warner Bros' own Leavesden Studios, so perhaps that's where you'll find Timmy for the next few months: Hertfordshire. On top of that, of course, we now have Oxfordshire and Lyme Regis as an external location — and surely Wonka needs some sort of elaborate home? Perhaps the manors and palaces around London might come into good use in due course.
What is Wonka's release date?
Warner Bros have a long plan in place for this, and though the Omicron related delay has shifted production from its original 17 March 2023 release date, we can now reportedly expect to see Wonka just in time for Christmas when it now hits cinemas on 15 December 2023.
Follow i-D on TikTok and Instagram for more on Timothée and movies.
Tagged: