A Timothée stan has stumbled upon the Wonka set
Here's what they've spotted, plus what you need to know, from release date to set locations, about the Chalamet-starring blockbuster so far.
|
11 October 2021, 10:30am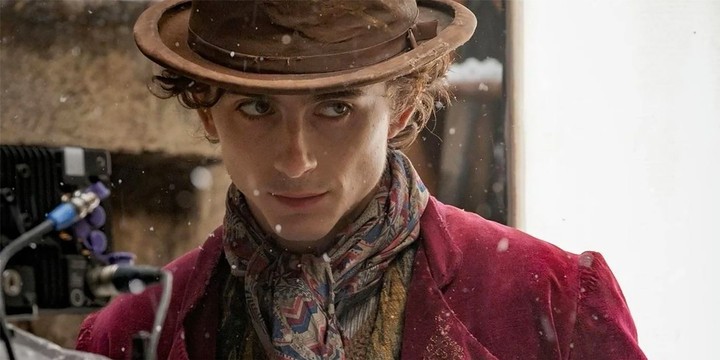 image via Instagram
Imagine you were just tottering down to the water by your provincial seaside village, only to find that a Hollywood set had rocked up at the pier, bringing with it one of the most talked-about and fawned over stars of modern cinema. Yep, that's exactly what happened to one Timothée Chalamet stan this past weekend with Wonka.
After years of planning, the prequel to Roald Dahl's Charlie and the Chocolate Factory is finally shooting in the UK, starting in the harbour of the seaside town Lyme Regis, known as The Cobb. On Twitter, a user called Art first tweeted about stumbling upon the Wonka set on Sunday afternoon.
According to passers by and members of the crew, apparently Timmy was shooting in a green boat (could he be coming or going somewhere? Oompa Loompa land?!) and by a shed on the pier, which had been doused in fake snow. And then, alas! A few hours later. Timmy jumped on social media to reveal the first photo from the set.
Art recognised it immediately. Apparently they're back there this morning, and have already spotted Timmy in full Wonka regalia, so expect more updates from them as the weeks go on.
So with the wheels very much in motion, what do we know about Wonka's plot, release date and cast? Here are your answers.
What's the plot of Wonka?
While you're surely well versed in the story of Roald Dahl's classic novel, as well as the 1970s Hollywood classic adaptation, it's worth noting that this Wonka movie will not be treading the same subject material.
Instead, Wonka is set to be an origin story that tells the tale of the famed chocolatier during his younger years, including, apparently, when he first met the Oompa Loompas. It's set to be a full scale musical, so expect high drama and, we imagine, comedy. As for the specifics? Well, we'll have to wait a little while longer for those.
Who stars in Wonka?
Of course, we know by now that Timothée Chalamet has won the lead role in Wonka as its titular character, beating out the likes of Ezra Miller, Donald Glover and Tom Holland. He's joined by an elaborate collection of British acting greats: Oscar-winner Olivia Colman; Oscar nominee Sally Hawkins; and Mr Bean himself, Rowan Atkinson. Heck, even Keegan-Michael Key, of Key and Peele, is scheduled to appear. The only star with a role attached at present is Timotheé, but if that changes, we'll let you know.
Who is the team behind it?
Wonka will be directed by Paul King, who made magic in the past with both the Paddington films and British sitcom The Mighty Boosh. King co-wrote the script with Simon Farnaby, who he worked with on Paddington 2 and who has written the screenplay for Robert Zemeckis' forthcoming Pinocchio remake. Producing the whole thing is David Heyman, who is responsible for similar work on the Harry Potter series and Once Upon a Time… in Hollywood.
But if you were expecting nothing but candy-coloured landscapes from this chocolate factory origin tale, think again. Oscar nominated production designer Nathan Crowley has joined the project, and he's best known for his brooding and dark work with Christopher Nolan on the Batman trilogy and Inception. Sinister Wonka movie musical? Looks like it.
Where and when is it shooting?
We can imagine that much of the shoot is likely to take place in Warner Bros' own Leavesden Studios, so perhaps that's where you'll find Timmy for the next few months: Hertfordshire. On top of that, of course, we have Lyme Regis as an external location — and surely Wonka needs some sort of elaborate home? Perhaps the manors and palaces around London might come into good use in due course.
What is Wonka's release date?
It might be a long way off, but since Warner Bros have a long plan in place for this, we already have a release date: 17 March 2023.
Follow i-D on TikTok and Instagram for more on Timothée and movies.
Tagged: