Tom Hanks and Wes Anderson are going to collaborate for the first time ever
More updates from Wes' next project shot in Spain.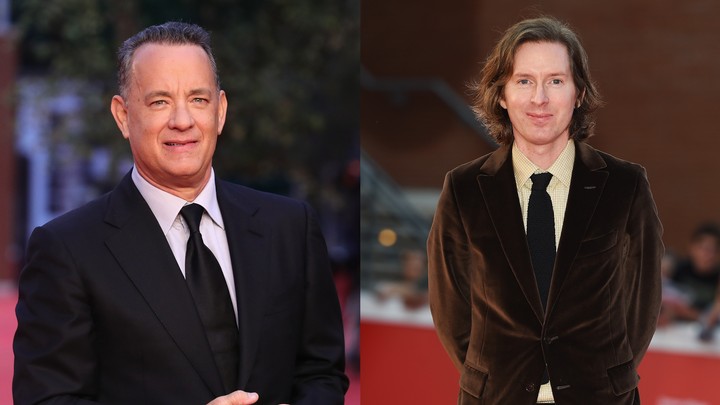 Images via Getty
Tom Hanks and Wes Anderson are set to collaborate for the first time ever, as the Forrest Gump actor joins the cast of Wes' new film.
Not much is known about the upcoming project aside from the fact that it will be set in (but not necessarily about) Spain and will also star Tilda Swinton, who confirmed her involvement in an interview with Vanity Fair. Bill Murray is also along for the ride, in what will be his 10th project with Wes.
Read up on everything we know so far about Wes Anderon's new film here.
According to The Hollywood Reporter, America's Acting Dad has also signed on for a role in the film, although the size of that role is up to date, and sourced admitted to the publication that it could be "small and cameo-like" in nature.
The as-yet-untitled film will be Wes' 10th feature, and is being prepared by the director following the well-received Cannes premiere of The French Dispatch, which also starred Murray and Swinton, alongside Timothee Chalamet and Frances McDormand.
Another French Dispatch alum, Adrien Brody, has also signed on to star in the film too, so you can definitely tell Wes is getting the old gang back together for this one.
Casting Tom Hanks, of course, is another sign that a Wes Anderson project has now become shorthand for a very specific kind of prestige project, as well as furthering Wes' status as one of the greatest auteurs working in modern cinema today.
The French Dispatch, which interweaves a selection of stories set in a fictional French city sometime in the 20th century, is expected to be released in theatres this October, following its world premiere at Cannes.
i-D named the film as one of the best of the year from its debut at the festival, saying "This frenetic and fabulous, high-spirited film, a love letter to journalism's potential to be real art in the right hands, is really, really special.
"Watch it once and you'll be desperate to see it again as soon as those credits roll."
As for Tom Thee Hanks himself, he'll next be seen later this year in sci-fi drama Finch, from Game of Thrones director Miguel Sapochink. There are already Oscar rumblings for his role in next year's Elvis too, where he'll portray the King's manager, Colonel Tom Parker.
Follow i-D on Instagram and TikTok for more on Wes Anderson movies.
Tagged: