Meet 8 trailblazing students from FIT's MFA Fashion Class of 2020
These are the young designers you need to know from the New York school's first-ever shoppable graduate fashion show.
In a world where isolation and work-from-home lifestyles have become the new norm, many industries and institutions — including fashion design schools — found themselves having to shift gears and pivot to a remote mode of operation. When it came to showcasing their students graduate collections, Central Saint Martins put together an interactive 3D exhibition, Parsons presented a fashion film in collaboration with 1 Granary and FIT organized a groundbreaking digital fashion show. Dubbed 7 Collections, the online event put the work of eight MFA Fashion Design students on display via DTech Live — FIT's on-campus innovation lab working with design and emerging technologies. The event took place as a virtual showcase, but as the young designers presented their work, those viewing the show could purchase the garments from home. The shoppable graduate fashion show, powered by Bambuser, is the first of it's kind, marking a new chapter of connecting design students with their potential customers.
This year the New York City school celebrated the work of a diverse bunch of fashion students hailing from six different countries: China, Argentina, South Korea, Dominican Republic, Israel and Taiwan. Fusing fashion with art and technology and using it as a tool of sociopolitical innovation and activism, these young designers are paving the way towards a bigger, brighter, more integrated and innovative future that is beneficial for both creators and consumers of fashion.
Here, we spoke with FIT's trailblazing MFA graduates about their collections and the future of fashion.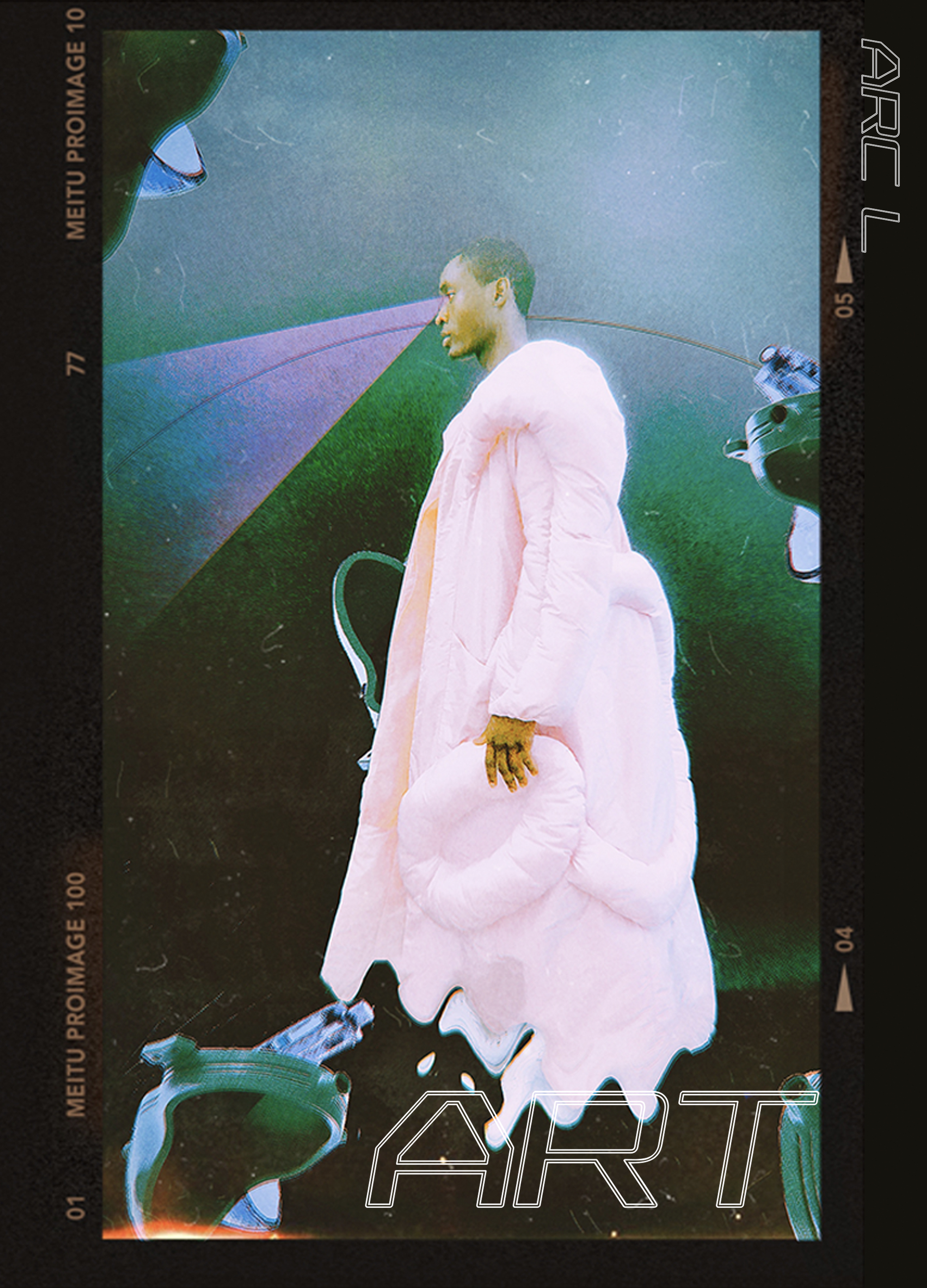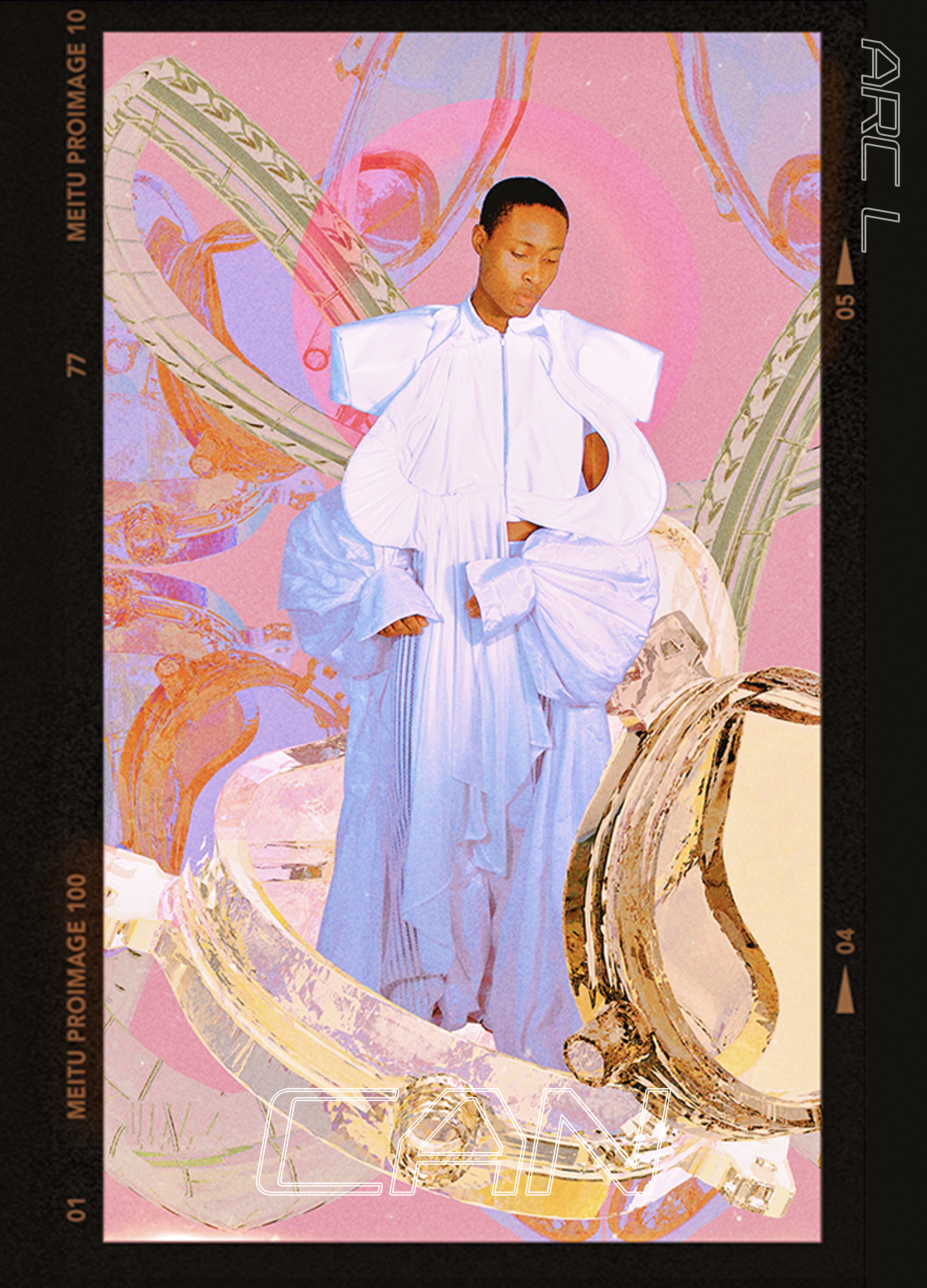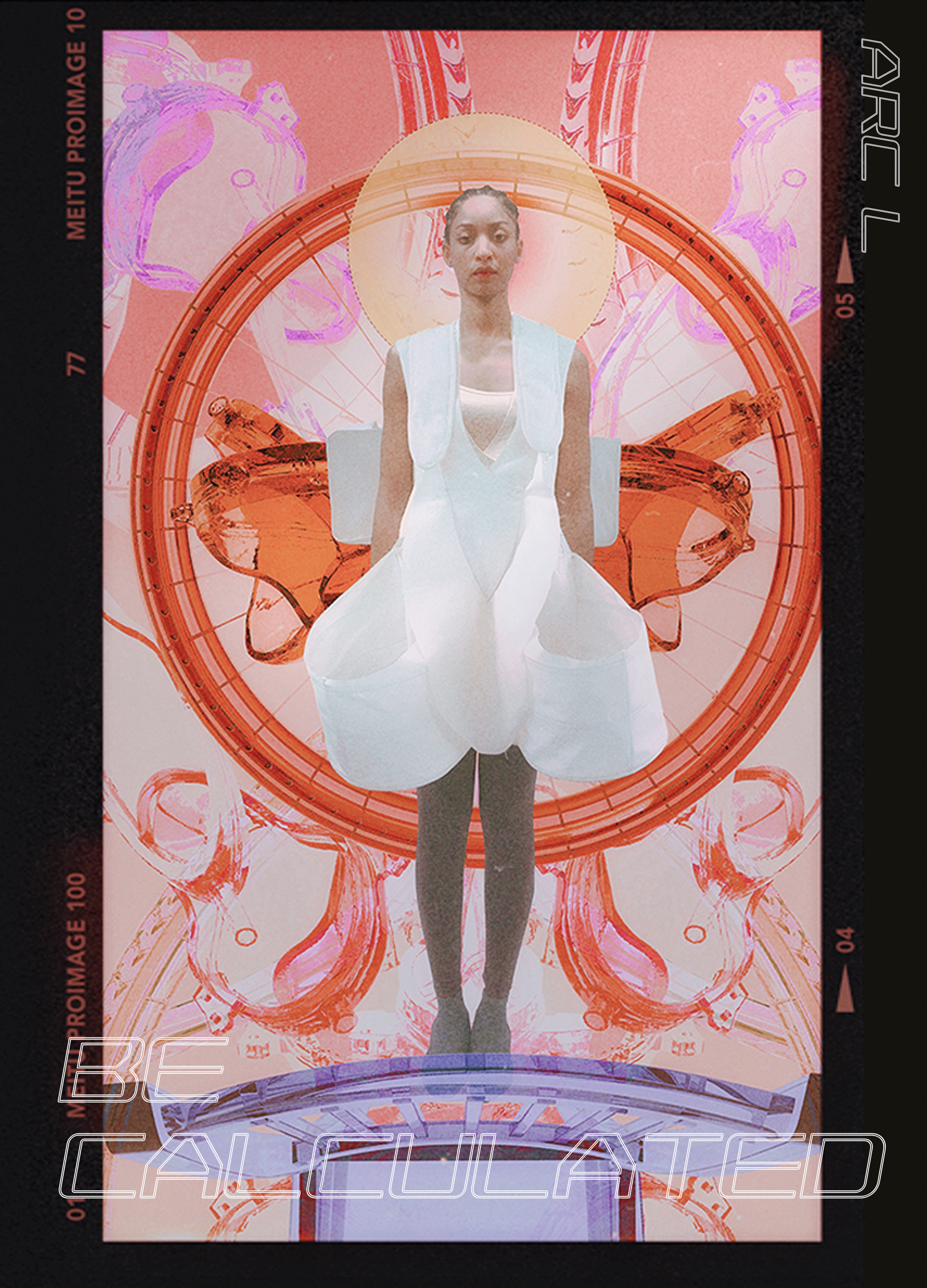 Qiuyi Luo
How would you describe your graduate collection? How did the idea come to life?
The theme for [my brand] ARC LUO this season is 'In-arti-culate', which focuses on how people perceive artwork. I referred to the shape and structure of the "Fountain" by Marcel Duchamp. It is about Dadaism and mathematics, and whether ordinary things can become art masterpieces. Art itself is a word with infinite possibilities, but we still have a certain stereotypical impression of it — or what it should be. I want to show people how they perceive art and remind them not to limit [their] imaginations.
I did some preliminary studies, such as hand sketches [that] played with the golden ratio. I chose the shapes of a fountain, bicycle wheel and chair as the structure for my clothing. Breaking it down into curved lines, straight lines and circles. Using these basic graphics, I changed the proportions then applied them to the boning structure, the hem of the trousers and to other details.
Your work is very much on the cusp of fashion and art, and it's intended to be controversial/provocative. Are you planning on experimenting with other conceptual art forms in the future?
Yes, I think my method is actually very different from ordinary clothing design. It is more like a method of studying philosophy and history. Clothing is just one of the visual manifestations — I have learned how to edit music, write songs and use 3D software. I hope my brand can be involved in different industries such as music, film, television, exhibitions and virtual art. I hope ARC LUO can represent a creative concept, not just a clothing design style.
As a young designer, how do you imagine the future of fashion?
I wish fashion would slow its pace, go deeper instead of faster. We have too many products. Some things are antiquated and out of date because of long shipping time, harsh markdown cycles and large collections. We need to rethink the fashion calendar, how we produce the garments and how to show it to the public.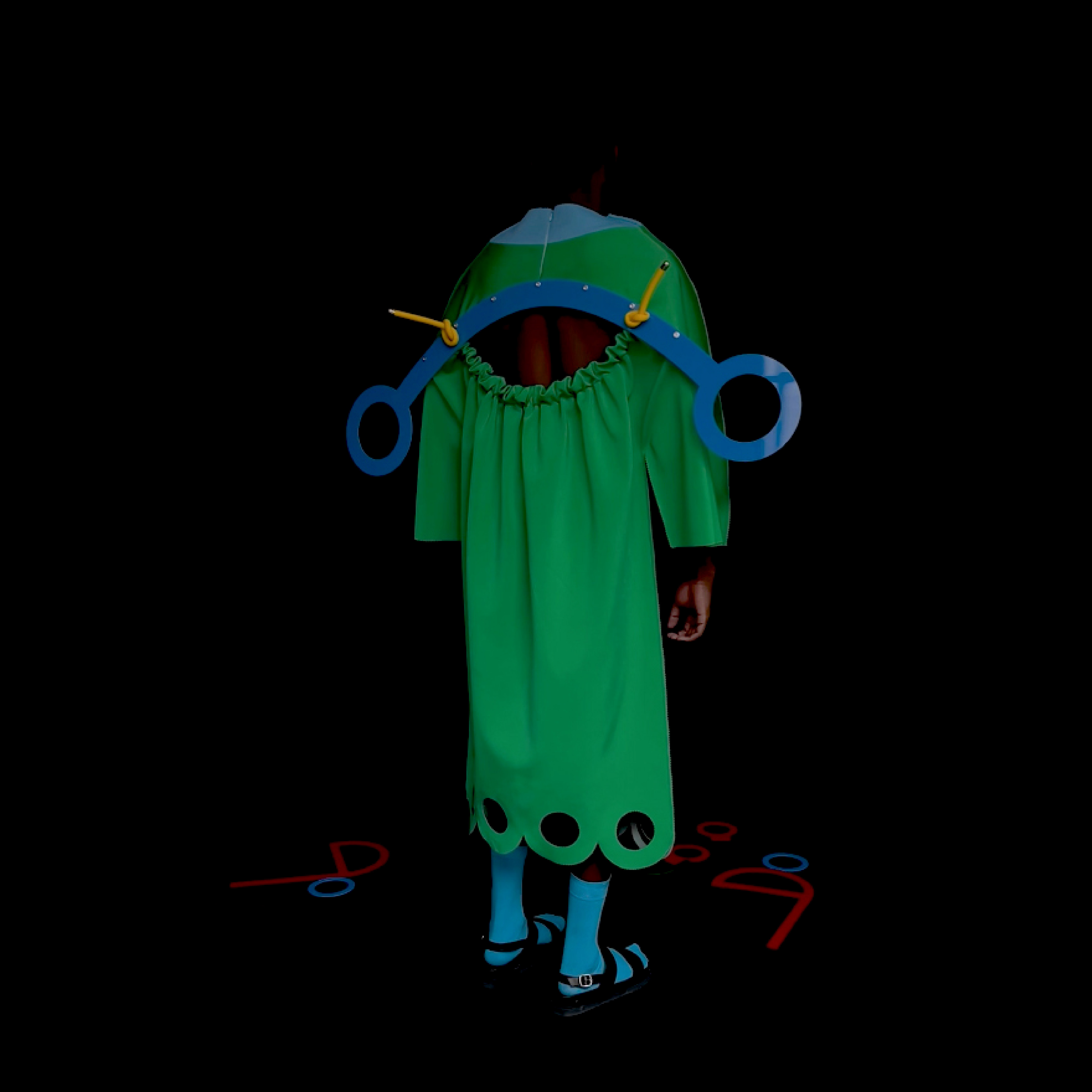 Justin Chi
How would you describe your graduate collection? Who were you designing it for?
I explored the relationship between everyday fasteners, user actions and clothing structures based on my studies of user experience. I tried to arouse our consciousness with subtle details that most people seldom notice in everyday life.
The wearers are people who [are curious] and like DIY. Each look includes an assembly instruction book, garment, plastic handle and screws — just like an IKEA furniture package. People can follow the steps to make their own garment and change the adjustable handle to what they prefer — not only involving the user in the design, but also making the wearing more interesting and playful.
What inspired you to start playing around with different ways people put on and take off their garments?
Inspiration comes from my own curiosities and queries of putting on and taking off [clothes]: could the familiar actions we repeat on a daily basis be different? Could the locations of fasteners on garments be altered? What is the difference between each individual's habits and actions? How do our bodies benefit from the process of dressing that we are used to? Is every step still necessary and functional? Or are we just numb to the routine?
As a young designer, how do you imagine the future of fashion?
With social media, [there's a lot of] discourse on the power of fashion. The public can express their views and aesthetics. No longer can they passively accept the information, but actively participate in it. This also affected my idea of designing the collection — centering around the user to participate in the design.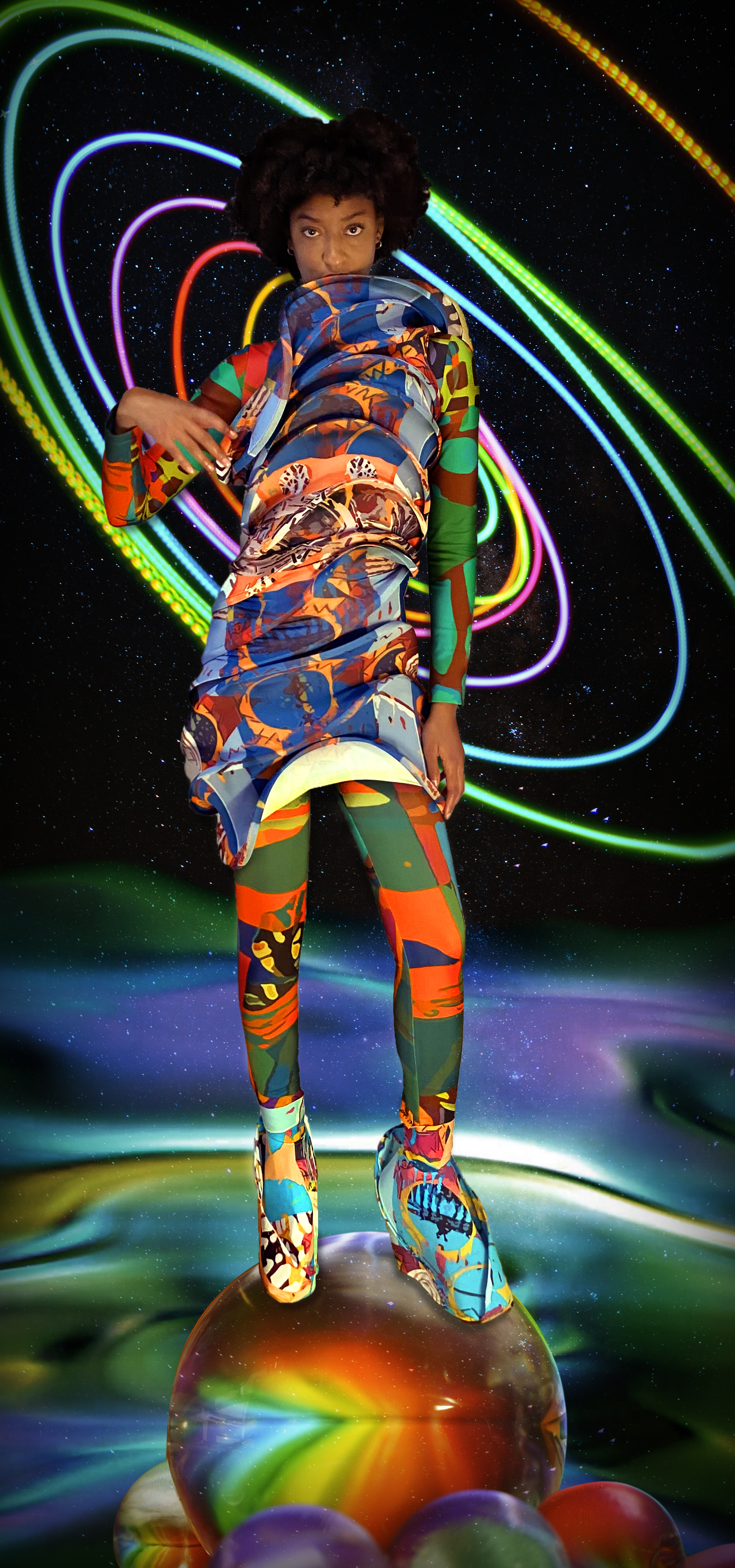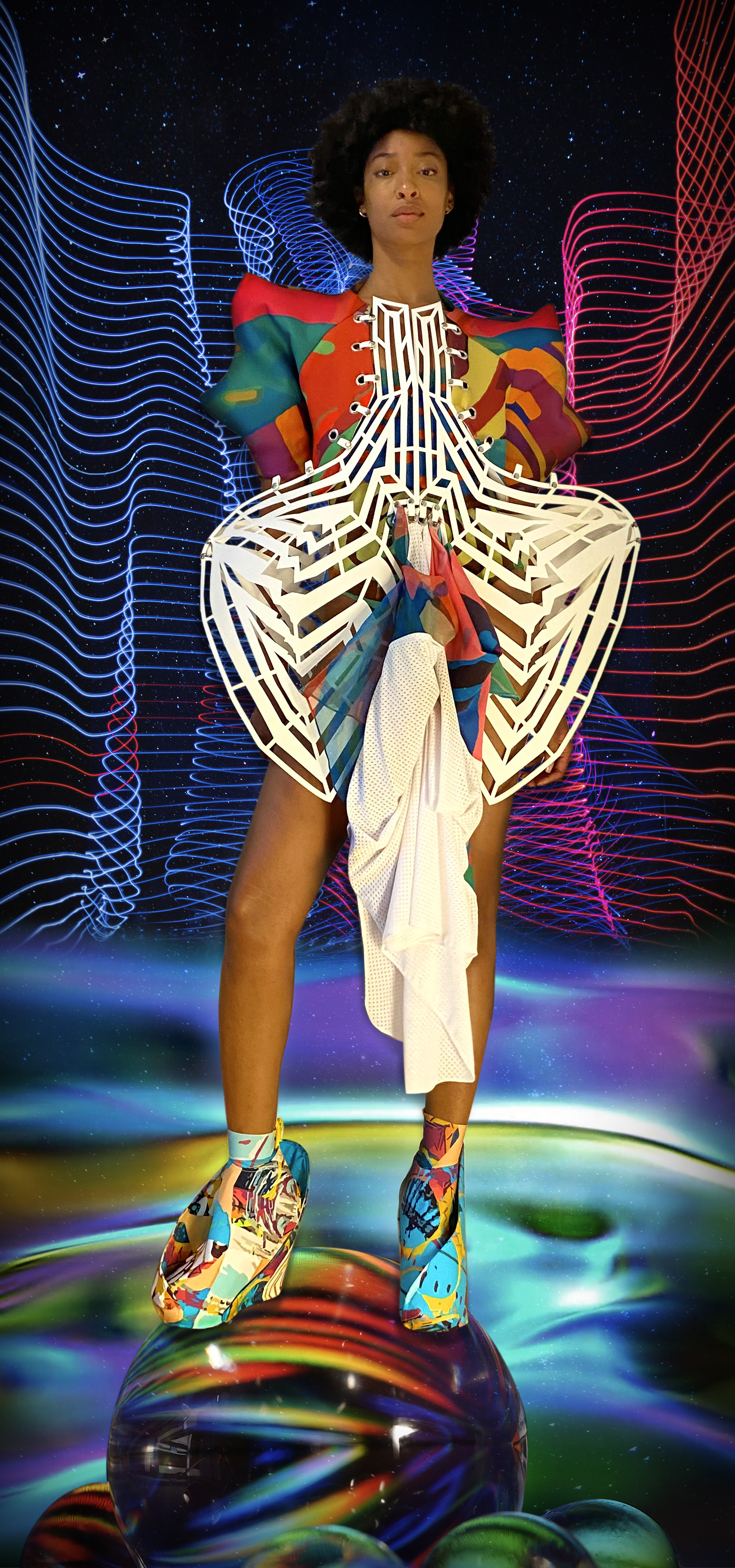 Brit Shaked
How would you describe your graduate collection? How did the idea come to life?
My collection captures moments that happen and give a physical interpretation of a situation, feeling or mood — just like a sound wave would for tone. I started my research by looking for different methods of capturing sound, [figuring out] the way sound waves work and [seeing] the difference between tone, visibility and shape. I tried to imitate the same motion that a tone creates using Virtual Reality (VR) and voice recognition, and investigated how they affected the fabric. I wanted to create new movements and shapes using voice recognition technology, letting it reshape clothes, patterns and prints. One of the aims of the collection was to create wearable clothes and fabrics that are made self-adaptive, across various contextual moods/feelings.
The idea came from my conviction that personalized clothing is the future of fashion. Clothes that describe who we are, show our voice, make us feel unique and special — not only through visual ingredients, but also through communication with our garments — and influencing them the way we want, like a mobile device. As human beings, we keep changing physically and emotionally, so why can't our clothes?
How would you describe your personal relationship with technology, in fashion and beyond?
I grew up surrounded by technology and hated it. My mom had a PhD in AI and my dad works in cybersecurity, but I was a rebellious teenager who wanted to stay as far away from what they did as possible. I always preferred creative pursuits over more traditionally professional ones. Ultimately, this is what led me to focus my education on fashion and textile design. I turned my back on the classes that offered an integration of technology and fashion for a long time. However, after working for mass-produced brands, I realized the way clothes are manufactured leaves no room for personalization or sustainability. The blending of technology and fashion design offers new ways of achieving both, so I came around to it.
Today, I appreciate how technology can improve our world and I think fashion is one of the fields still struggling to fully take advantage of technology. My garments are for the future consumer who is interested in innovation and wants to feel more connected to [their] wardrobe.
In your opinion, what would the perfect balance of technology and craftsmanship in fashion look like?
I think many people fear that technology will replace traditional craftsmanship and leave the people who fill those jobs unemployed. Technology in fashion is not replacing tradition; it is pushing it to the next level of scale, precision, sustainability, speed and more. The perfect balance is when they elevate one another.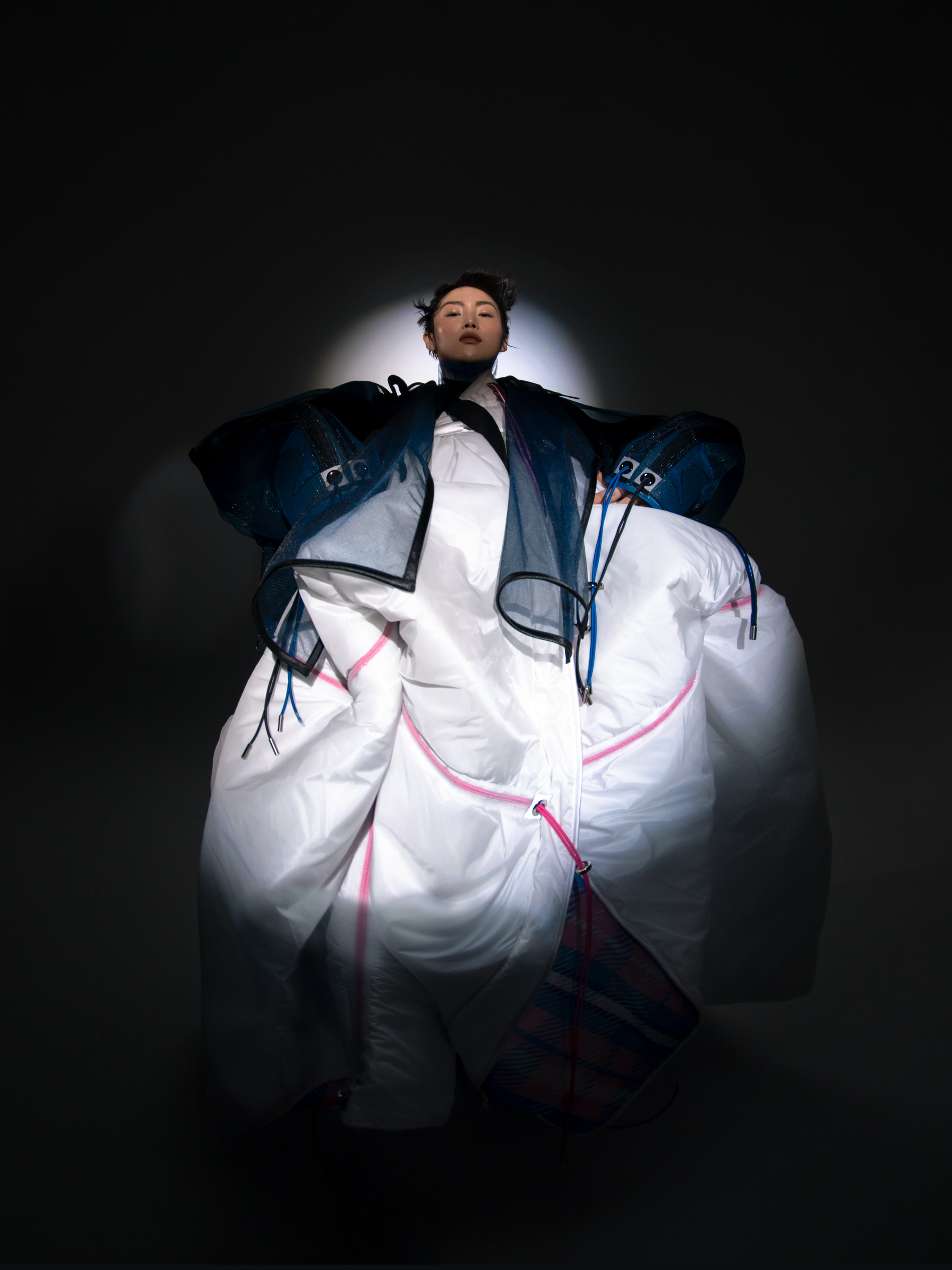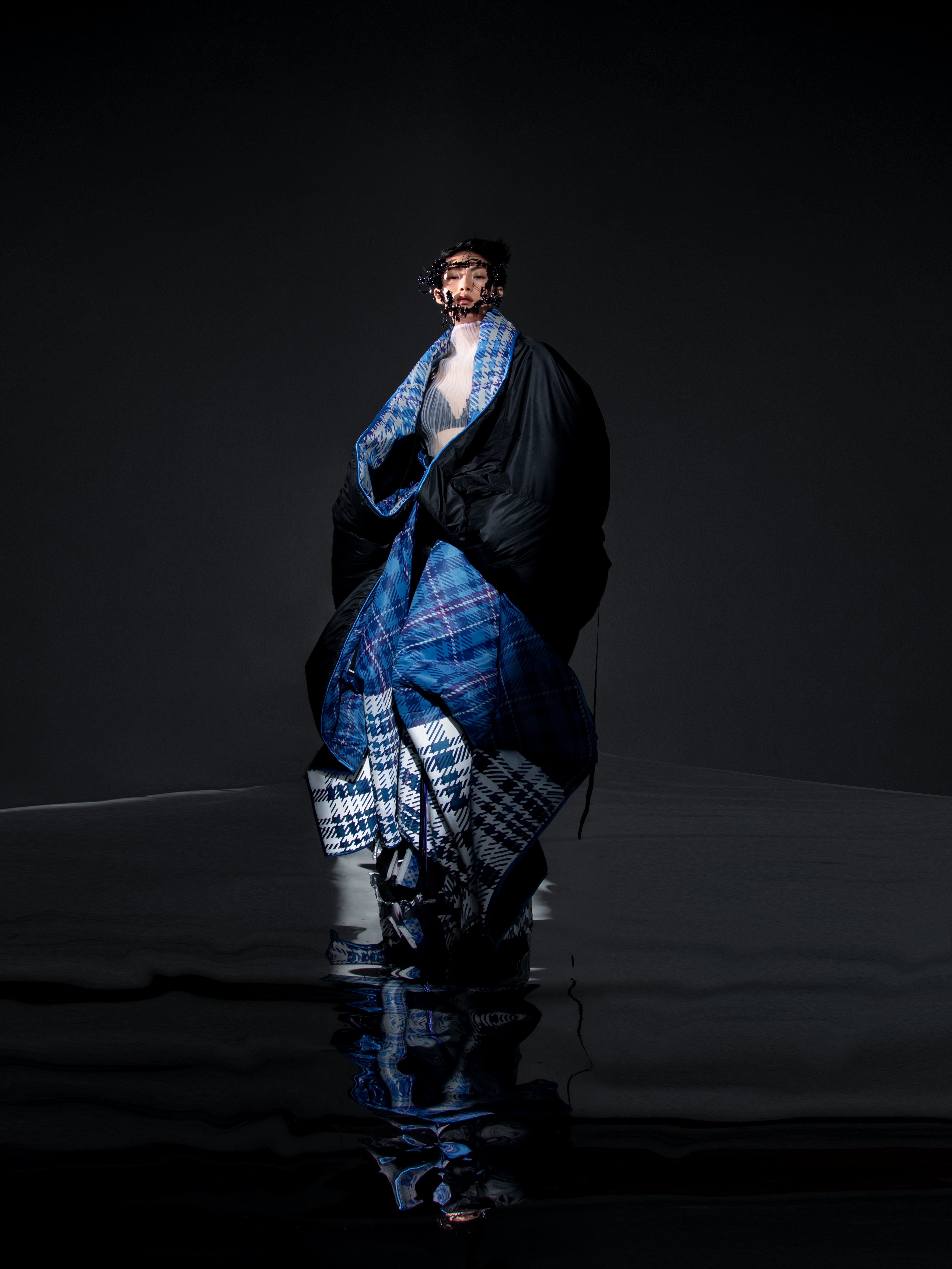 Cristina and Margarita Ng Ng
How would you describe your graduate collection? How did the idea come to life?
This collection was based upon our lives as fraternal twins, and it focuses on four main aspects: our identity as twins, nature vs. nurture, the grading system of patterns and aging. Being twins is beautiful and fun — we are inseparable. We understand each other and have developed a way of communication that only we can comprehend. Having said that, we also have our similarities and differences. We wanted to create a story that describes our lives as twins, showcased by way of a conjoined collection.
There are some subtle nods to streetwear in this collection. Do you see yourself exploring that more in the future?
We have developed an interest in streetwear. We love the look of oversized and voluminous silhouettes. We wanted to express our love for streetwear and high fashion with unique avant-garde elements. Since we both love streetwear, our goal is to provide a wardrobe that reflects individual self-expression with no fear of what other people [will] think.
As a team of young designers, how do you imagine the future of fashion?
We believe that the future of fashion will be digital, as we have seen more runway shows that are digitally produced. We can see it now with the rise of CGI models, through social media and software programs like CLO 3D, which is a 3D costume design software. Technology is the future of fashion.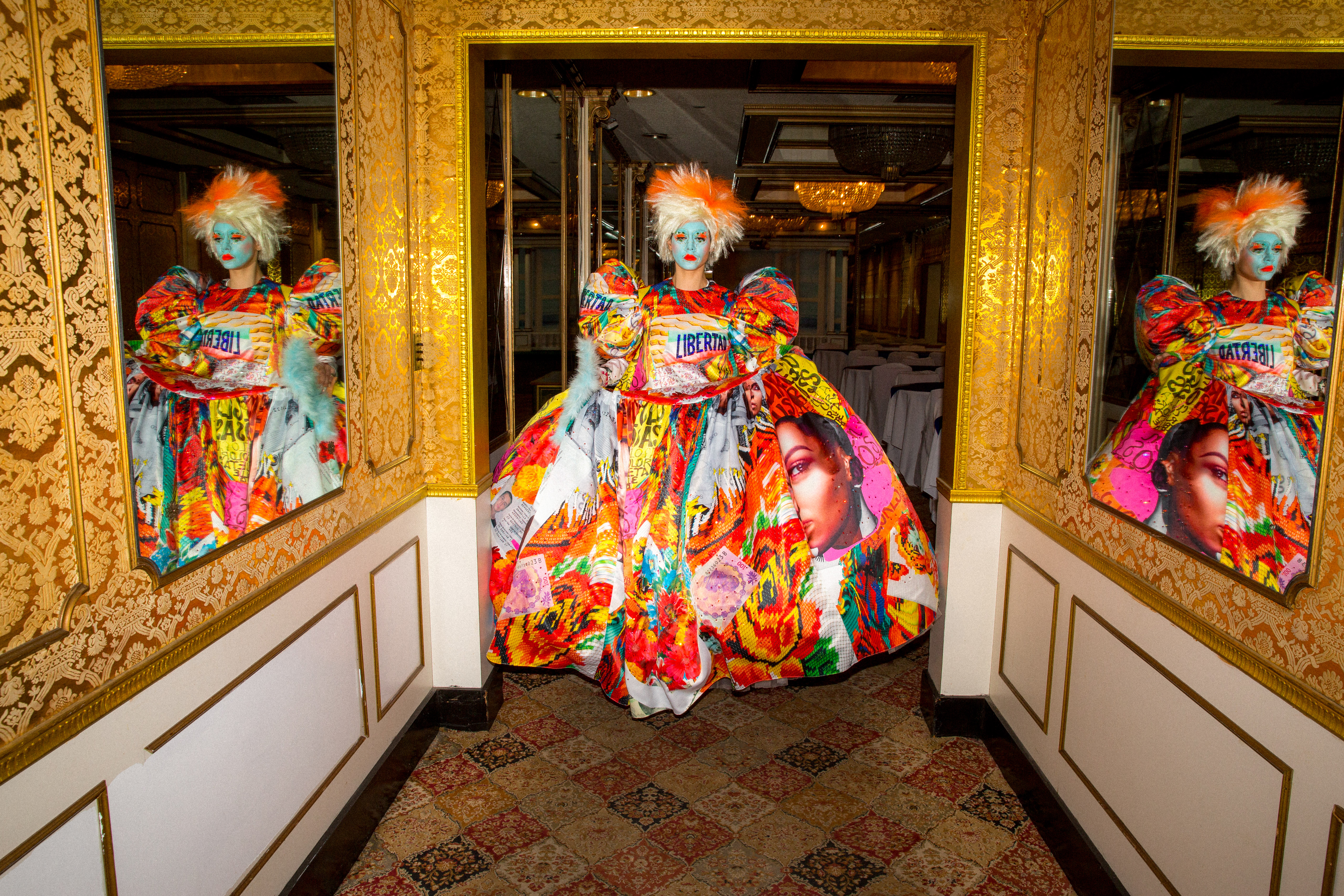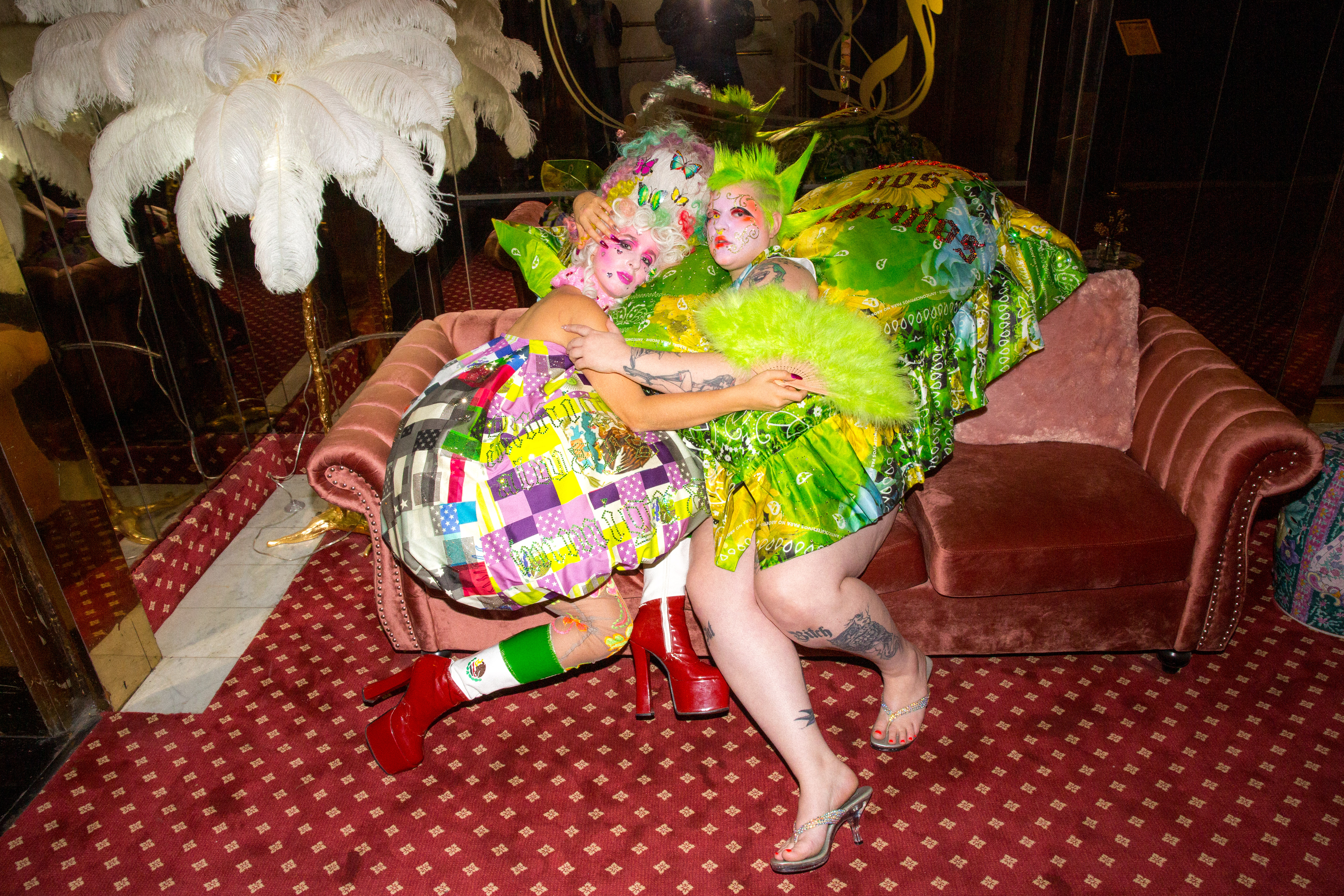 Anabella Bergero
How would you describe your graduate collection? How did the idea come to life?
'Queerceañeras' is a celebratory ode to creative self-expression and liberation. Quinceañeras, my main inspiration, is a coming-of-age celebration for girls when they turn 15 and are introduced [into society] as women in Latin American cultures. With the queering up of this rite, my main desire is to offer different possible 'becomings' and comings of age. I intend to stretch normative identity categories and roles to create more space in the way we inhabit the multiplicity within us.
While in New York and [in close proximity to Mexico], I started traveling back and forth. I rediscovered parts of my identity and re-connected with the cultures I grew up in. The idea for this project came from those journeys as I became re-acquainted with my history. Auditing queer classes at Columbia and participating in Latinx art collectives or communities in New York have enabled my voice to come out. By integrating my voice, origins and cultural heritage, I discovered a fashion that felt authentic. 'Constructing Identities: Queerceañera', has been a result of that.
In your work, you portray and position fashion as a tool of transformation and self-creation. How do you use fashion as a social/political statement on a daily basis?
I grew up socialized as a womxn, and like every other womxn in my family lineage, I had to fill particular roles, mannerisms and a very specific dress code. Coming out of these expected roles I was met with a lot of bullying, violence and systemic othering. Later, I understood my individual experience as a womxn and how my body had been regulated, violated and fashioned by the culture, government and society. This seems like a shared feeling by most non-normative folks who grew up in misogynistic and patriarchal societal structures.
You take a political stance the minute you decide to love yourself and use fashion on your terms, creating your definition of beauty and style and participating in conscious communities around this. Having a sense of personal agency to decide how you want to present [yourself] to the world and use your voice in a way that feels authentic and empowering to you… That is powerful. Womxn mirroring their sense of beauty, self-fashioning and sisterhood/kinship while supporting each other's individuating processes is the utmost [incarnation of] beauty I have experienced. To quote Paris Hilton: "That's hot!"
As a young designer, how do you imagine the future of fashion?
I envision a future that is inclusive of people's narratives. I imagine fashion that is a source of empowerment, joy, sustainability and connection with nature, a celebration of diversity, and a platform that communicates and resonates with the creative multiplicities and types of beauties within us and around us. I envision a future in fashion where the Global South's creative voice is acknowledged and has a place at the table. Let's ignite a conversation that considers every player and sector's dignity within fashion education, creation and production. Let's bring and share some love within this industry!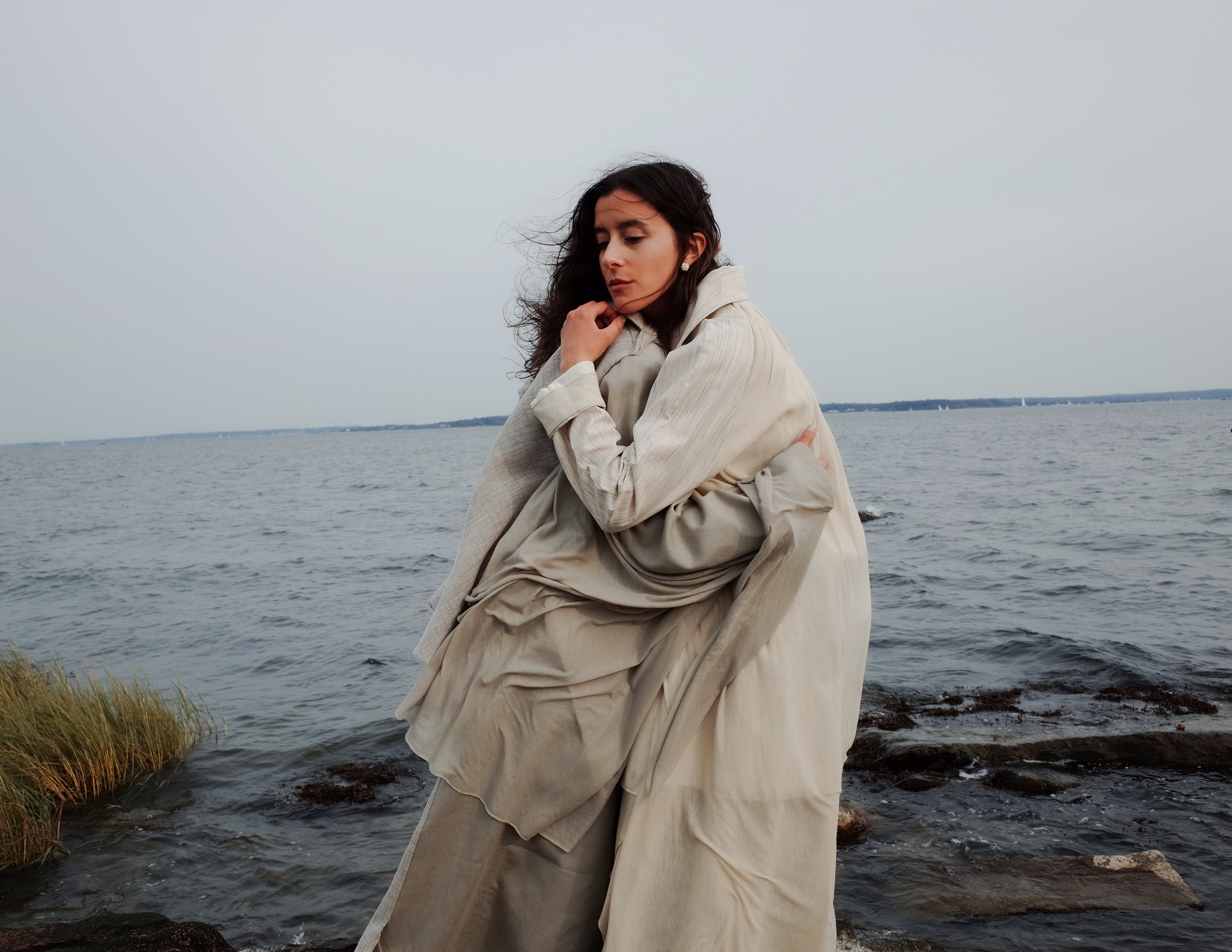 Bingjin Zhu
How would you describe your graduate collection? How did the idea come to life?
The inspiration for this collection is my family. My mom is a typical Asian lady, dedicated to the family and my dad's career. She would always smile and calm me down whenever I was upset or impatient. But, behind the softness, there has always been power — mom held the whole family together through ups and downs. When building this collection, I was honoring my soft-yet-powerful mom.
What made you choose to confront gender perceptions for your graduate thesis?
I work [with many women], where I learn from my leaders and peers every day. My experience as a working professional has taught me to be confident and optimistic about how gender will be perceived around the world. I believe that my brand is for a specific group of people, I call them ladies — I believe they are the kind of people who believe in soft power. My job is to let them know they are special. I met so many ladies in my life that are vulnerable yet powerful; they work hard, believe in themselves and [they] are very calm. I really want to dress these people.
As a young designer, how do you imagine the future of fashion?
I believe that there will be a trend of prioritizing the 'inner good' of apparel. By 'inner good,' I am referring to the skin-friendliness of cotton, environmental recyclability of polyester and whether the raw materials come from a factory that values working conditions and human rights.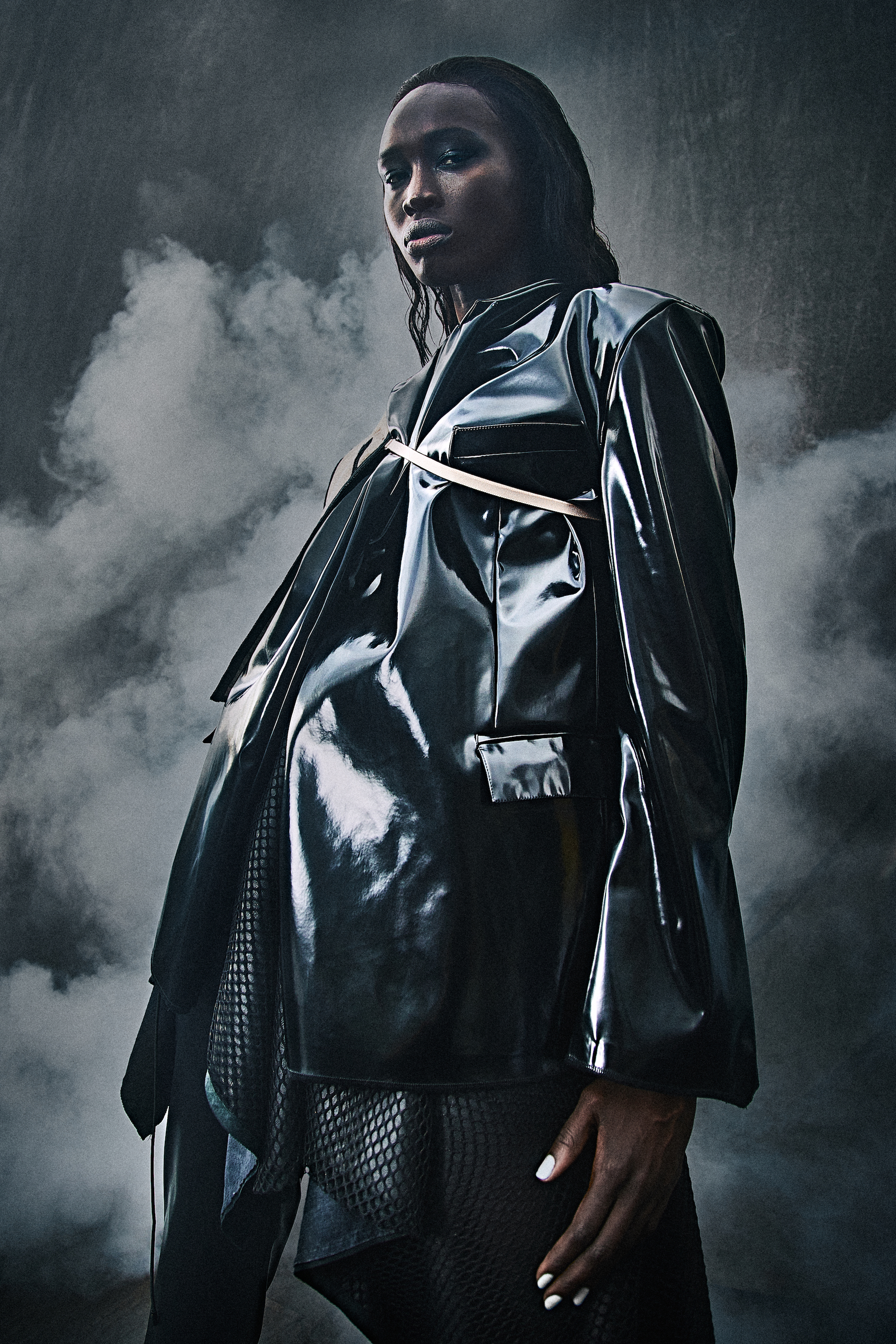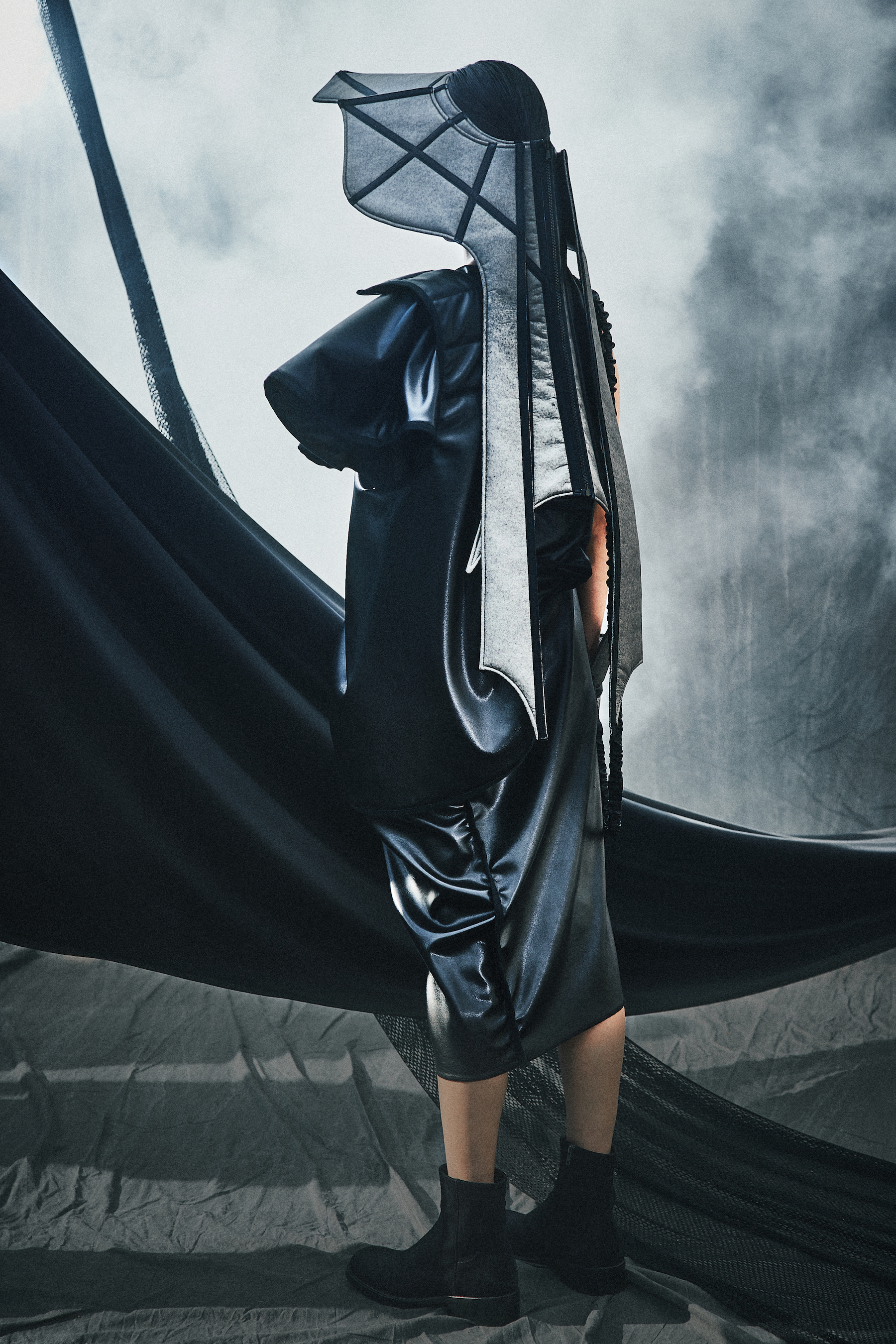 Youngjun Lim
How would you describe your graduate collection? How did the idea come to life?
My thesis collection, 'Concrete Utopia', introduces a system for a new society. [In] democratizing fashion, I have referred to architectural movements and developed a modular system that embraces different body types. [In] deconstructing architecture, I have created a structure that wraps the body with modular fragments. 'Concrete Utopia' cultivates the idea of a society between collectivism and individualism — a blueprint of how our future society and fashion could be.
How does your background in industrial design influence your work? What other influences or experiences inform your design process?
As I had been practicing as an industrial designer, I naturally approached the fashion design process with the industrial design [perspective]. I thought about coordinating tensions between materials, the spaces around the body and building [a] construction around it.
Born in South Korea, I served in the army for almost two years. While serving, I was confronting North Koreans at the border, and I asked myself about the reason that I was standing there. Watching an ideology and a system which divided people was a hurtful experience. That has influenced my approach to the design process. Wearing a uniform every day also gave me insight into how a garment interacts with the body. When you wear the same uniform for two years, it [almost] becomes a part of your body — and I think it's beautiful. I always think about the relationship and interaction between the garment and wearer.
As a young designer, how do you imagine the future of fashion?
I feel that the world is getting [more] diverse [in a lot of ways] — from gender to race and culture. Everything is evolving, and fashion is definitely a major part of it. Conventionally, people have been following major trends. Nowadays, there are so many trends everywhere that [we're] reaching the point where everything is a trend.
Also, the pandemic hit us hard. After the long period of lockdowns, people came out [as] their true selves. We had time to reshape our minds and see who we truly are — and I see it [as a positive experience]. I feel that fashion will become more intimate, personal and diverse. A lot of unique individual voices will shape a collective fashion industry.
Tagged: