7 of Rachel Green's most iconic outfits
With the long-awaited arrival of 'Friends: The Reunion' on HBO Max, we take a look back over some of Rachel's most quintessentially 90s ensembles.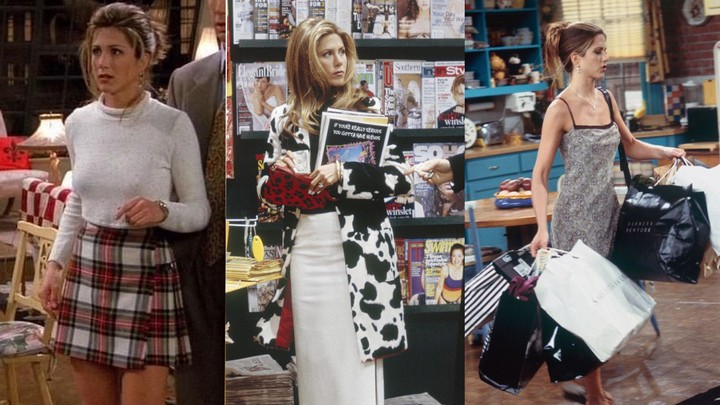 Courtesy of Warner Bros
Jennifer Aniston's style as Friends' Rachel Green inspired a generation in the mid-90s. And 27 years after she first appeared on screens wearing an off-shoulder, brocade-bodice wedding dress and sopping with rain, her influence is still everywhere (there's over a million posts under #rachelgreen on Instagram). The miniskirts, knee-high boots, graphic tees and slip dresses she sported each episode have gone on to populate 90s style inspo pages and y2kDepop (which, you know, is most of Depop). Here, we celebrate the effortless chic of the veritable princess of 90s TV with a rundown of seven of her most iconic looks.
The 'my ex is getting married' slip dress
Who doesn't love a bias-cut? This little paisley number carries Rachel through "The One with Ross's Wedding: Part 1", over on the other side of the Atlantic, to his girlfriend Emily. And we all know how that goes. Honestly? Poor Emily. With delicate lace appliqués across the neckline and (not pictured so you'll just have to trust) across the back of the waist, Rachel pairs this sleek warm weather item with flip-flops with an elevated platform, wrestling through the day with multiple Barneys bags in tow.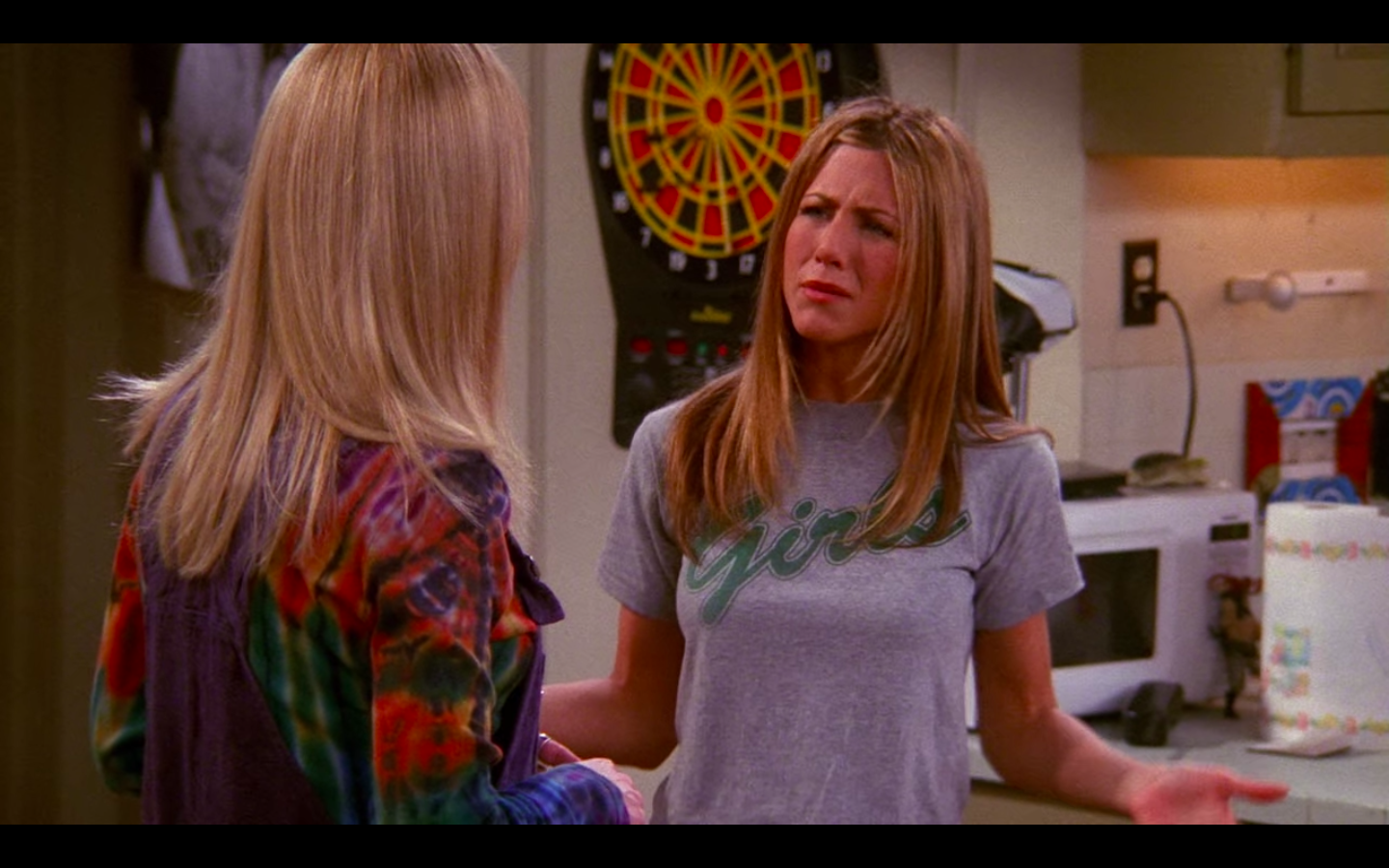 The 'I'm in between places' graphic tee
On the other pole of RG's nostalgic style is a genre of clothing we're going to refer to as casual kickback-wear. In this episode, "The One Where Ross Dates a Student" — (disgusting tbh), Rachel and Phoebe are made homeless when a fire ravages their apartment. And what does one wear when most of one's extensively high fashion closet has been burned down? That's correct, casual kickback-wear.
The minimal graphic tee is of course a staple of this fashion subsection, and this particular contribution – heather grey with 'Girls' across the chest in forest green – expresses just a hint of sapphic intention. There's no queer-baiting like 00s TV queer-baiting!
The 'getting my life together' capri pants
Attempting to extricate herself from the bank of mum and dad, Rachel is striking out on her own in "The One with the East German Laundry Detergent". Venturing into a self-service laundromat for the very first time, Friends' resident fashionista dresses for action: a loose, sleeveless plaid shirt and pair of navy blue capris, both optimised for easy movement. We love this practicality for her!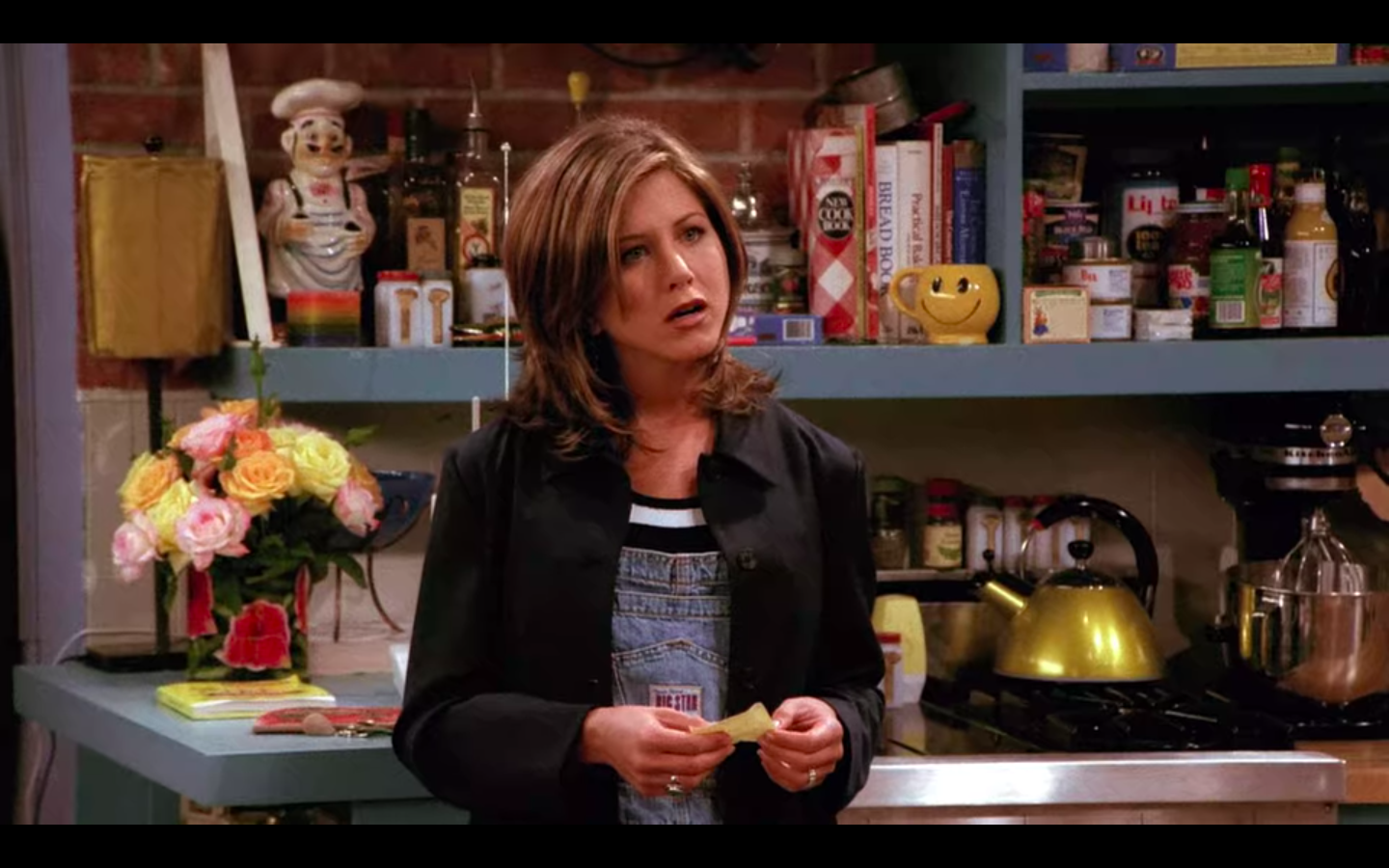 The 'borrowed by a friend' blazer
Now, we know what you're thinking. "How on earth is this woman pulling off a blazer over denim shortalls?" There are some questions that the universe may never be able to answer for us. But this alchemy comes courtesy of "The One with the Breast Milk", where Rachel realises Monica's great betrayal of her: she's been spending time with Julie, Ross' new girlfriend, and leaving the evidence of their budding friendship strewn around everywhere (including in the pocket of her own jacket). Before discovering the incriminating receipt, Rachel slings the lightly structured blazer over a striped tee and short dungarees, proving once and for all that true 90s style follows no one's rules.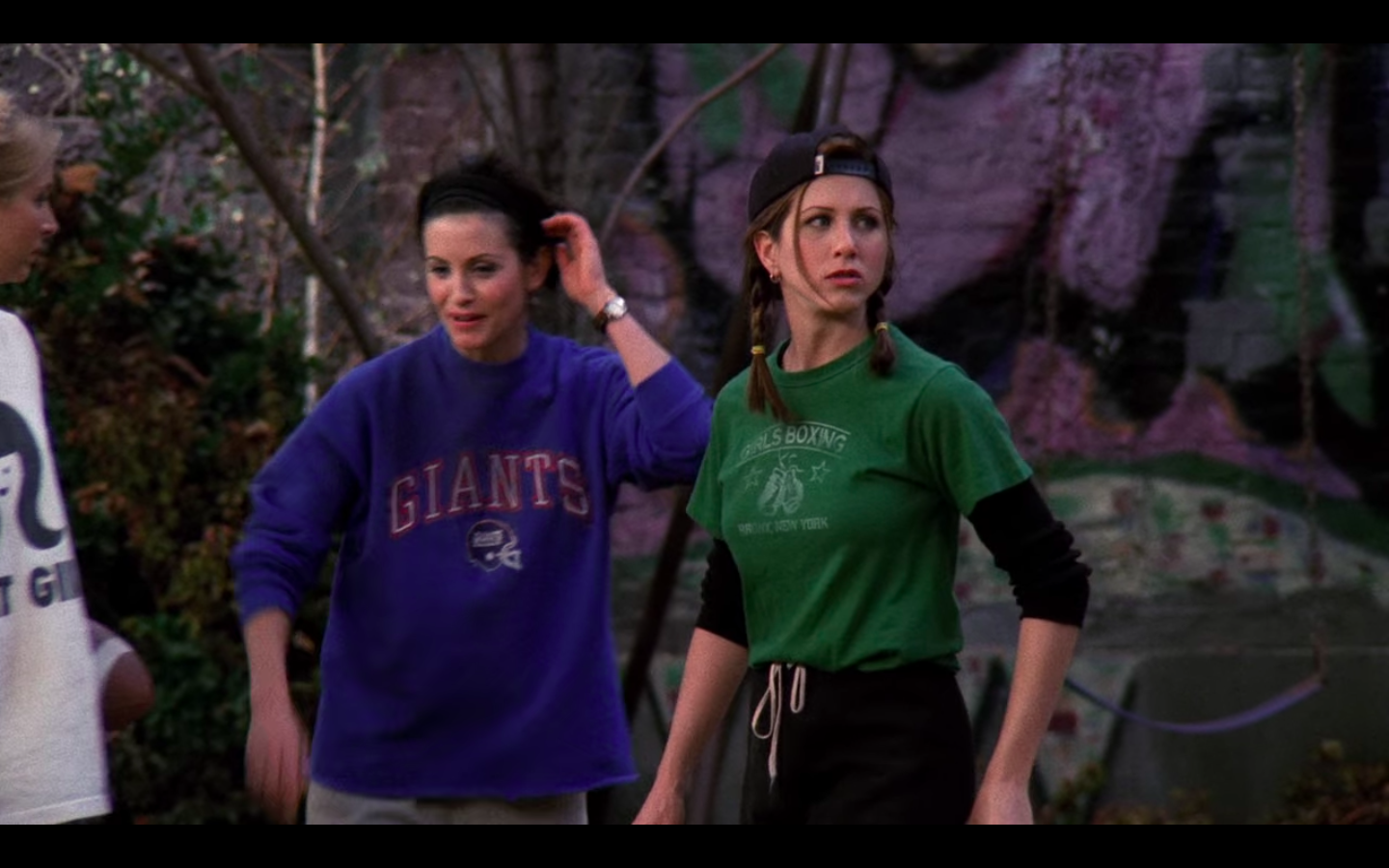 The 'one of the guys' backwards baseball cap
"The One with the Football" is not Rachel's finest hour, but a stellar one for her adventures in casual kickback-wear. In true e-boy tradition, she layers a cosy long sleeve under a sporty, minimal graphic tee. Her hair is styled in two low plaits with a stray strand or two still framing her face, all tucked under a devil-may-care backwards Nike baseball cap. A masterclass.
The 'gingham goddess' dress
Phoebe may be the main character of "The One with the Thumb" (her being the person who finds the titular dismembered thumb floating around in a can of soda) but Rachel's gingham summer dress makes a strong play for stealing the show. This classic, boxy silhouette and mini length screams simple, effortless beauty, which is, of course, a Rachel Green signature.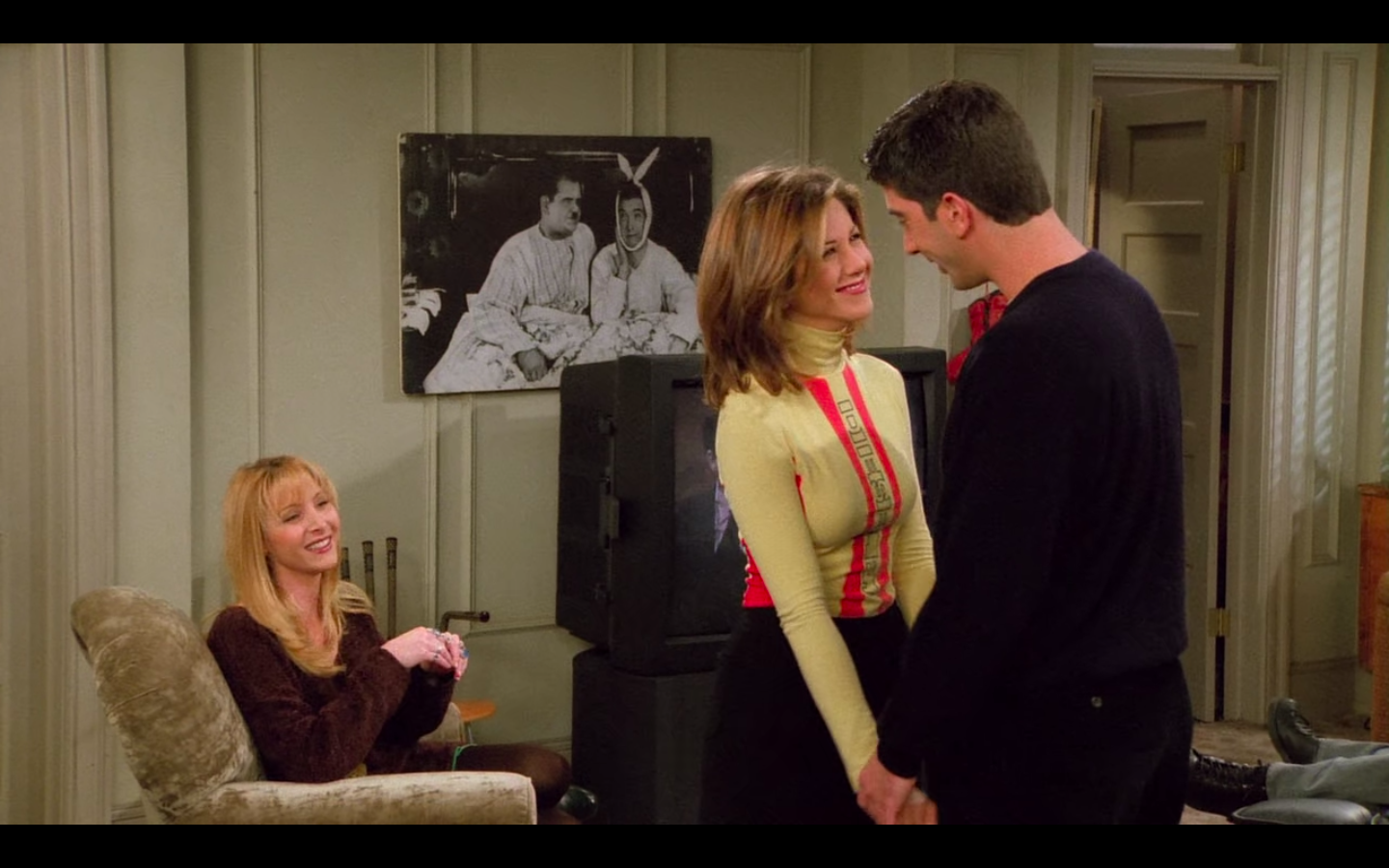 The 'honeymoon phase' turtleneck
"The One Where Ross and Rachel… You Know" may be the pinnacle of the institution we know as Roschel. Before the infamous break, before his wedding to Emily, before her inexplicable fling with Joey, Ross and Rachel were planning their first date, giddy with infatuation and dressed to impress. Well, Rachel was anyway. In a light yellow, skin-tight sporty turtleneck, our 90s princess pairs some little black shorts with dark tights and heeled ankle boots, showing us all — once and for all — how it's done. Amen.