Rianne Van Rompaey in conversation with Anthony Vaccarello
The supermodel and muse, famed for her fierce flash of soft red hair, talks to her friend, Saint Laurent Creative Director Anthony Vaccarello.
|
10 September 2021, 11:00am
This story originally appeared in i-D's The In Real Life issue, no. 364, Autumn 2021. Order your copy here.
This is superest of supermodels Rianne van Rompaey's third i-D cover. From a small town in Holland she's gone on to conquer the four corners of the fashion world since making her debut on the catwalk in 2014. Every runway she's graced she's brought a sense of joy, an inimitable walk and a fierce flash of soft red hair.
Anthony Vaccarello, like Rianne, has remade and reimagined the fashion world in his image over the years. Like Rianne he's also from the Low Countries, just across the border in Belgium, and he has had countless incredible fashion moments on the cover of this magazine since he joined Saint Laurent as Creative Director in 2016. This is, though, the first time designer and muse have joined forces on these pages. It was worth the wait.
Rianne stars in this celebration of Anthony's latest Saint Laurent collection, which, when it was shown back in April this year, seemed to herald a new era. It pushed for new ways of showing fashion during a pandemic and asked us to find new meaning behind the glamour of fashion during one too.
Anthony ditched the strictures of the fashion calendar and decided to show on his own terms and in his own way. He traded in his usual show space under the glimmering lights of the Eiffel Tower, where during his tenure at Saint Laurent he'd staged some of the most fantastical and dramatic shows in memory, where models have walked on water or under shining canopies of moving spotlights or flanked by incongruous palm trees.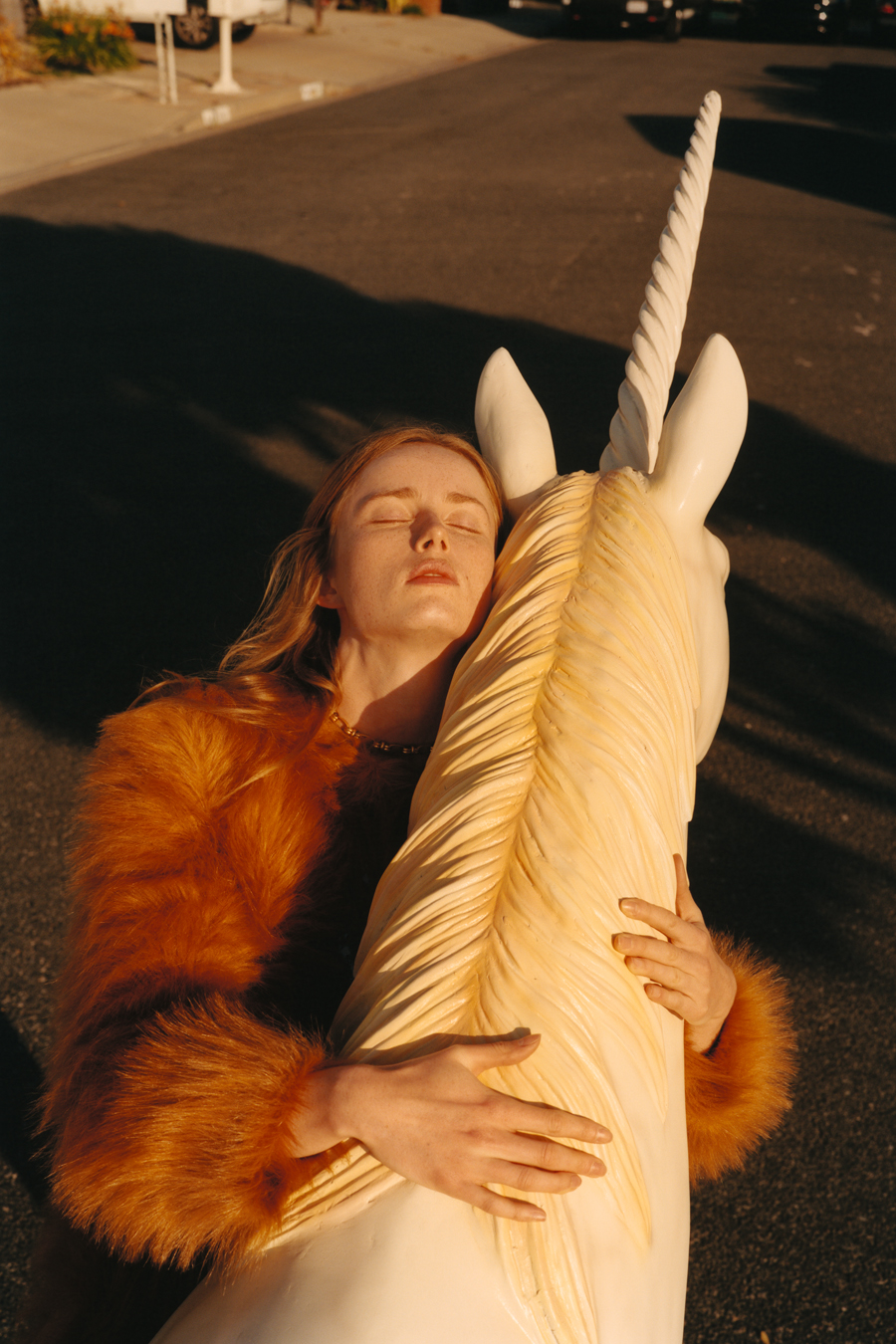 And he switched it this season for an adventure across a dramatic volcanic landscape, under waterfalls and through rocky deserts. Models strode across it all, seamlessly and easily navigating these landscapes in high heels, short skirts, dark visions of glamour and exuberant colourful Parisian 80s chic. It was a collection about contrasts; black against colour, escapism against reality, past versus present, joy against seriousness, both tacky and luxurious.
Rianne's easy sense of chic, her relatable glamour and powerful beauty stands for everything Anthony's designs aspire to. Just like on these pages, in the glimmering summery sunshine of LA, in front Colin Dodgson's lens.
Rianne: What inspired you to take your shows out of the fashion calendar and into nature?
Anthony: I've always done fashion shows outside, both when I had my own brand and also at Saint Laurent.
I love the feeling of people being outside at a show rather than inside. Inside is a bit of a cliché. It's not natural to see clothes displayed as if they were in a gallery. And then when it was impossible to show in Paris because of the lockdown I jumped at the idea of escapism and nature. Even during our confinement we still need to dream.
You have been at Saint Laurent for six years. How has your take on the brand's DNA changed over the years?
It doesn't make sense to me to be making the same clothing all the time. We have other desires. I have so many images in my head that I fantasise about. I work from my idea of Saint Laurent. On the other hand I like to build bridges, and it is important that a link with the past remains, such as Lalanne's jewellery in the previous show, or for the season before, the tweed jackets that I had redone which came from the 80s and 90s. There is always a connivance, a wink. I am a tenant and I am delighted to be a tenant here. And while I'm here, it's good to tune in to Saint Laurent. I take a lot of inspiration from what surrounds me at Saint Laurent. Not necessarily the past, but it's fun for those with a real knowledge of what Saint Laurent really is.
We share a love of cinema! Where does yours come from and how do you use it in your work?
This is important to me. I grew up looking at the films of directors like Fassbinder and Pasolini, and their universes and way of seeing gave me a feeling for seeing fashion and telling stories about fashion. To me it's not about trying to make clothes with a new but unreal idea. On the contrary, the idea is to create real clothes. I would never do a jacket with three sleeves or a plastic coat. The strength of Saint Laurent is that its universe goes beyond clothing. The spirit is important. The story we tell ourselves through this wardrobe and the staging we build. And YSL has that cinematic aspect. Cinema and directors really nourished my universe and participated in my imagination, opened it up. So I want to put them in the spotlight, too.
Do you remember the first time you looked through an issue of i-D magazine?
Absolutely. It was probably the one with Kate Moss on the cover, wearing an oversized jumper, shot by Corrine Day.
Fashion is now mostly seen through social media rather than magazines. What do you want to tell the kids of today who are interested in fashion?You don't need to be told what to wear; go for your own style. There's no need anymore for a magazine to tell you that in the way it was for my generation. Things change and evolve and it's great that they do. But with magazines, for decades we knew this could have happened and no one had the courage to take it seriously and now it's too late. The good fashion magazines will remain and the others won't.
Your shows are always a spectacle, and I will never forget when we walked on water for the SS19 show. I felt like a powerful water goddess. Which women inspire you?
In a fast-paced fashion industry, I need this core, I need to build this family of close friends. Both in my team or with the models, like you, Anja, Freja or Mica. We have always known each other. I want to grow with you.
From all the shows we did together, what was your favourite look on me
Definitely the red coat on the black latex body, with the embroidered stockings. So strong!
What is the future of fashion?
There's no need to make predictions with fashion. Just do things with heart and authenticity and stop pretending to know the future, because we don't.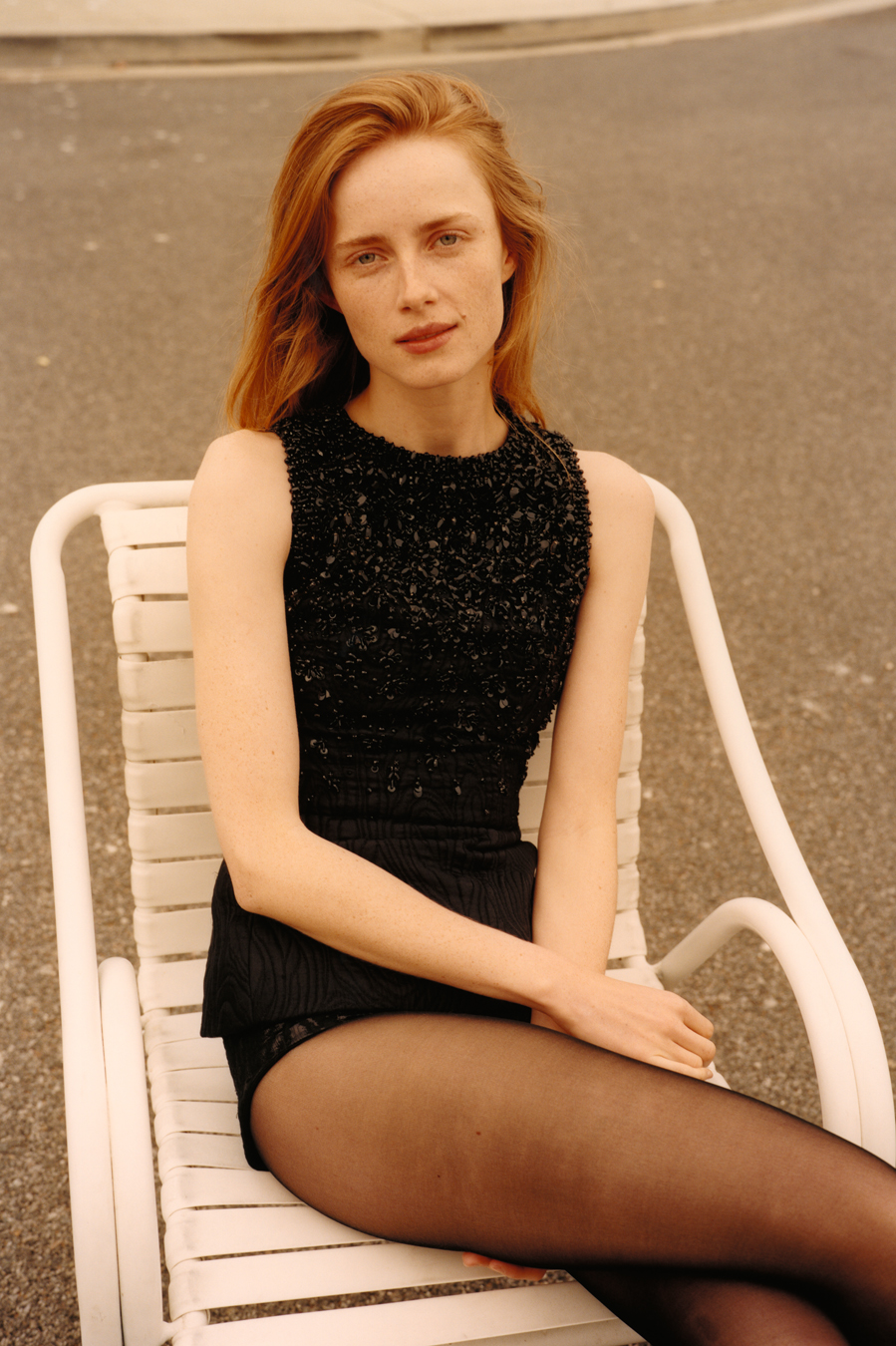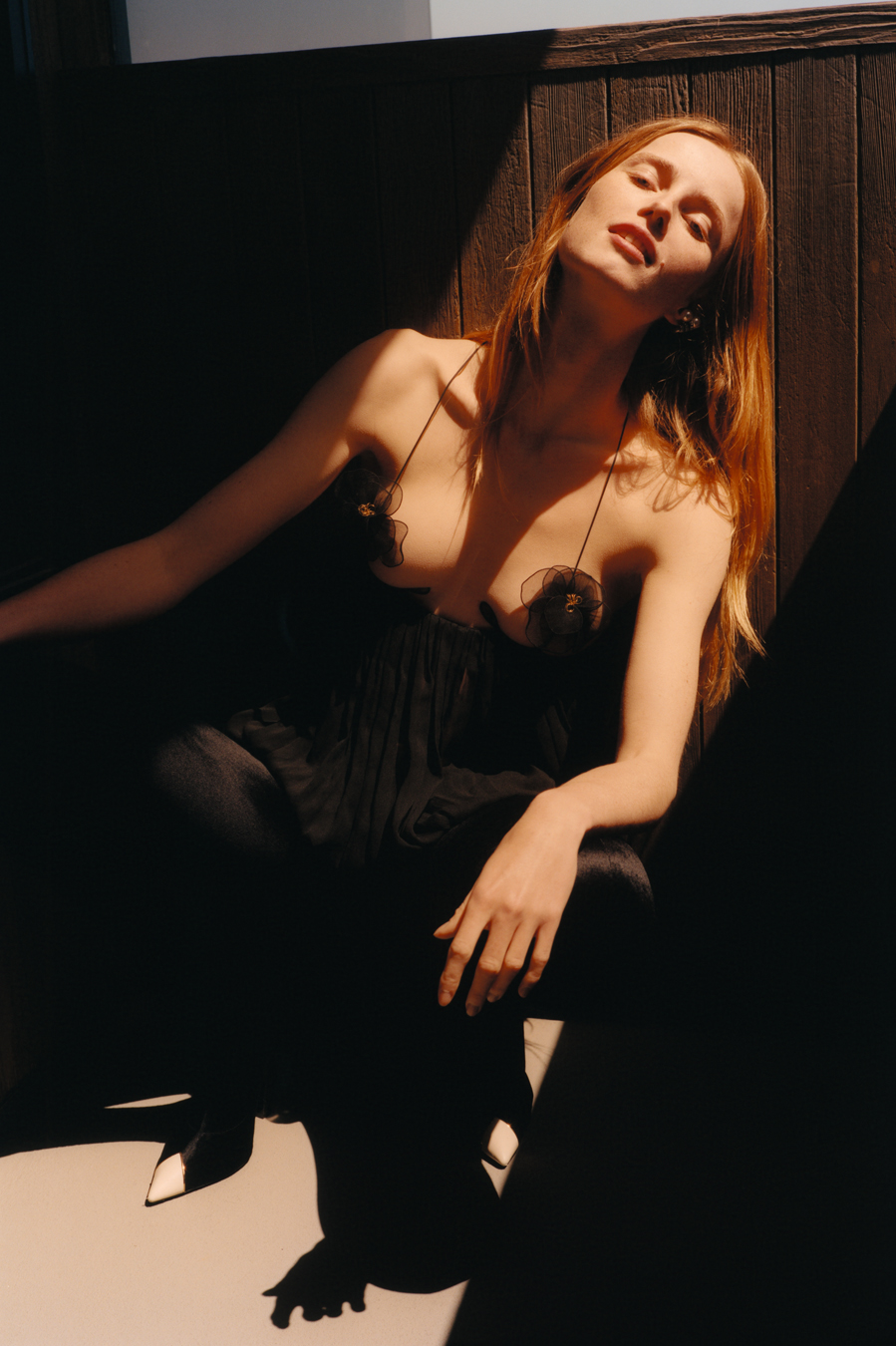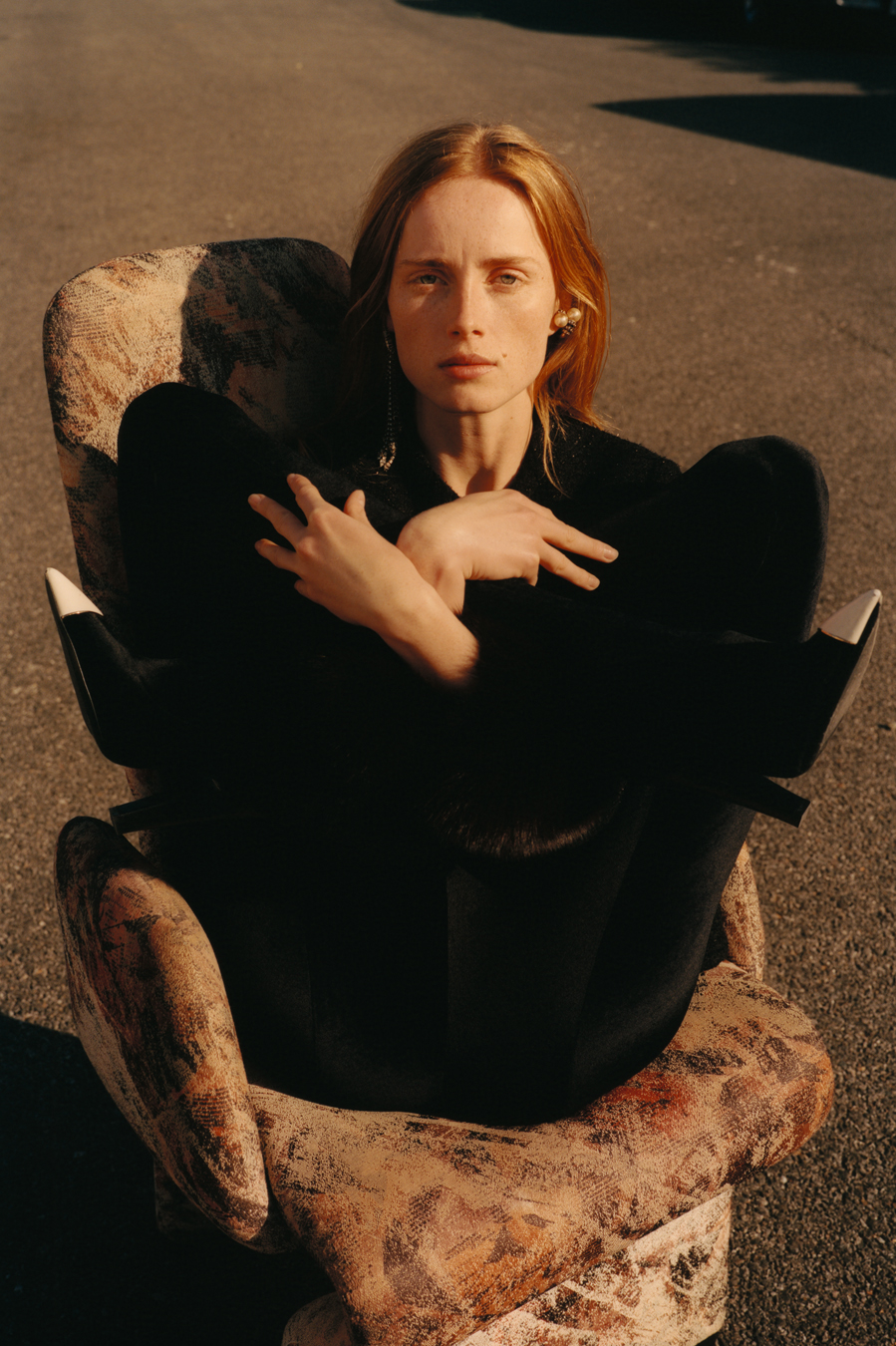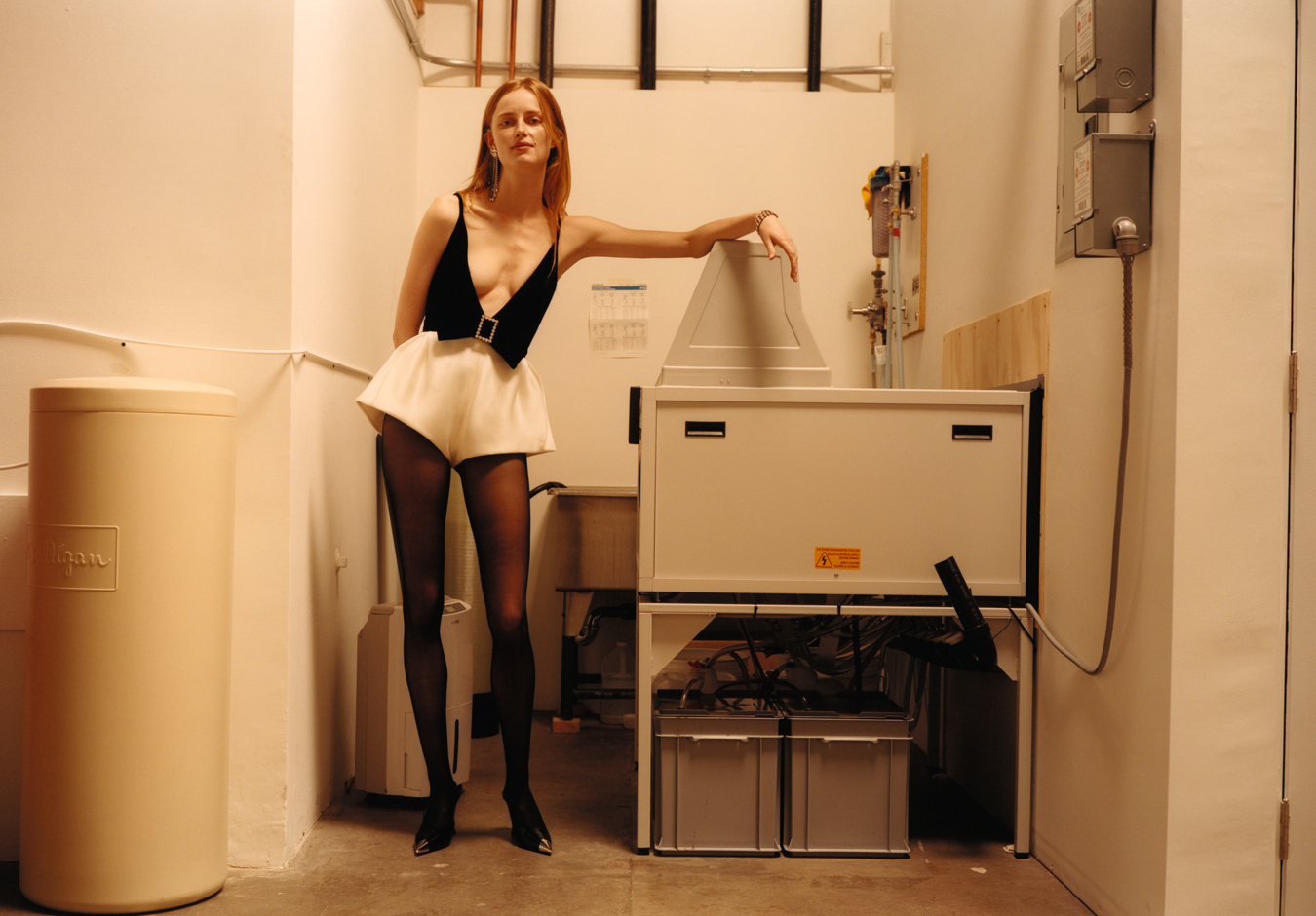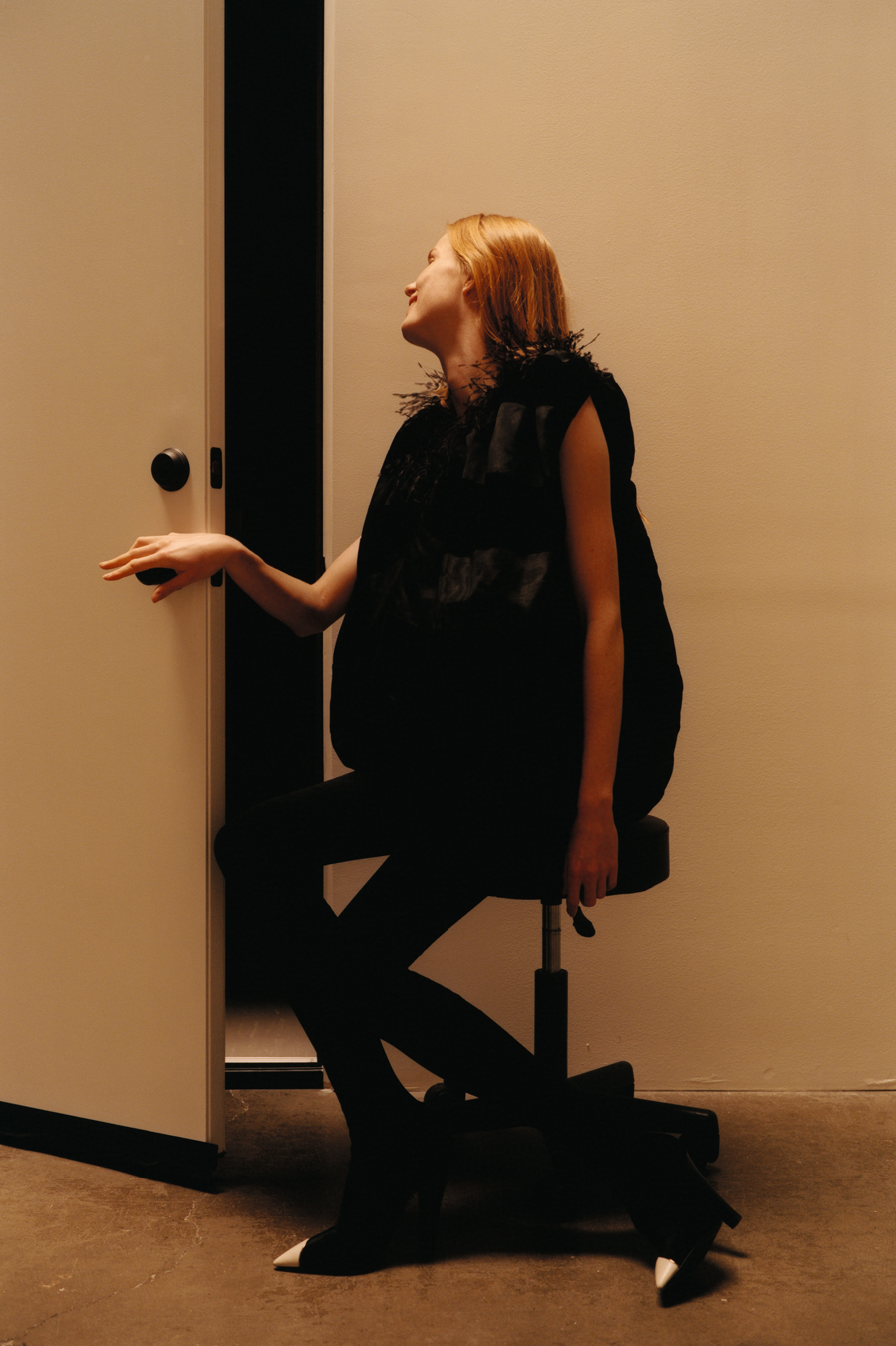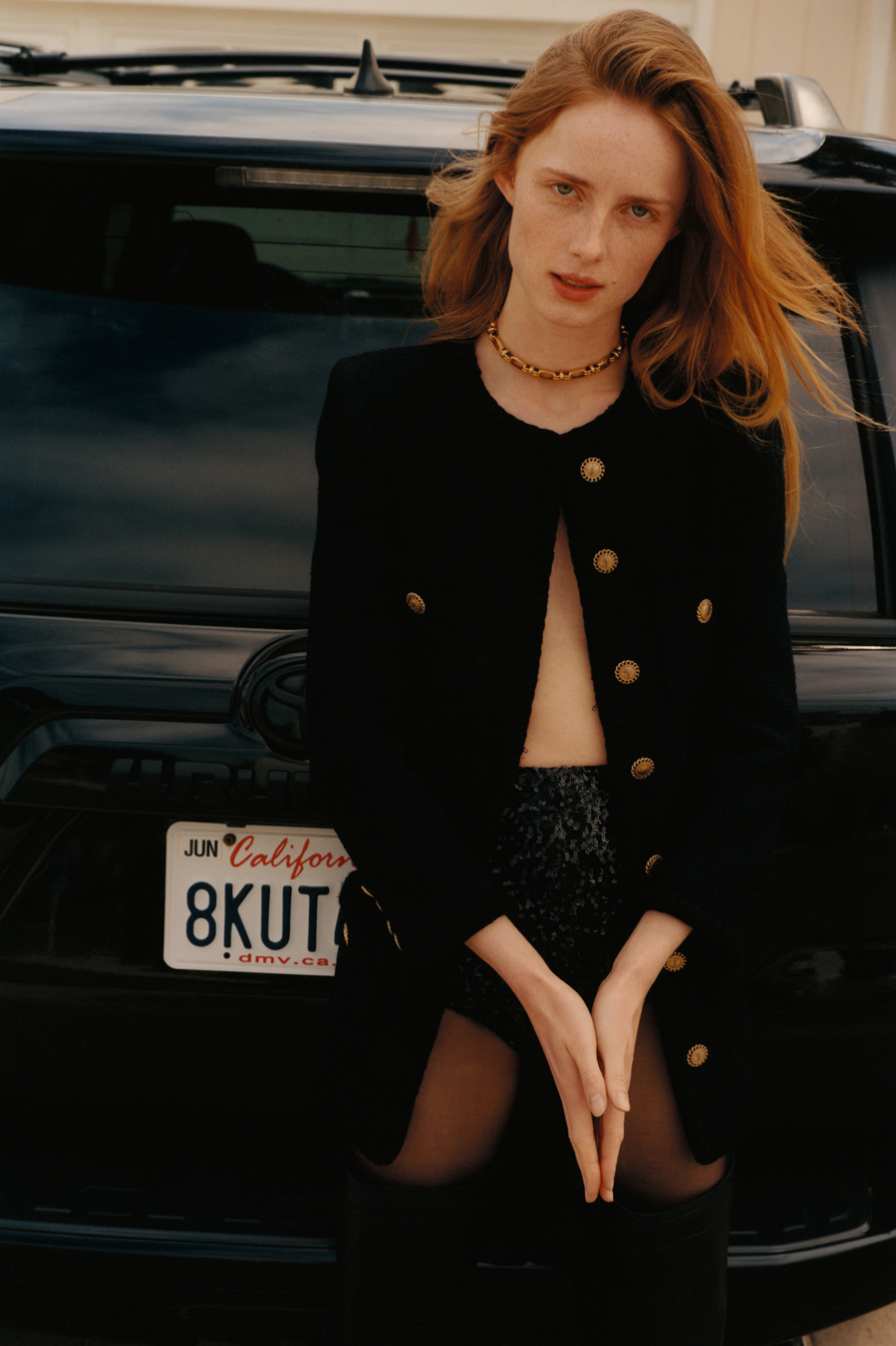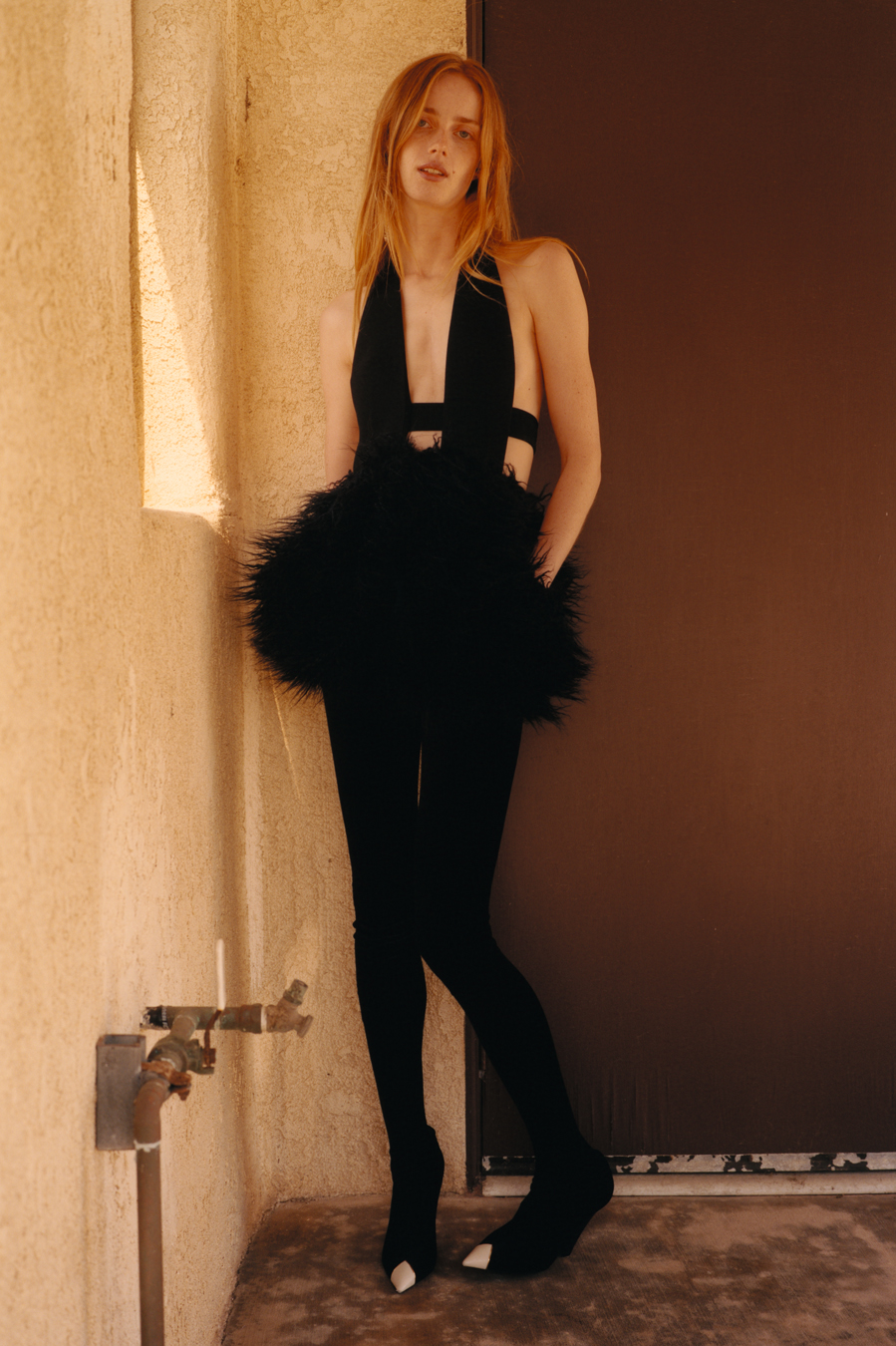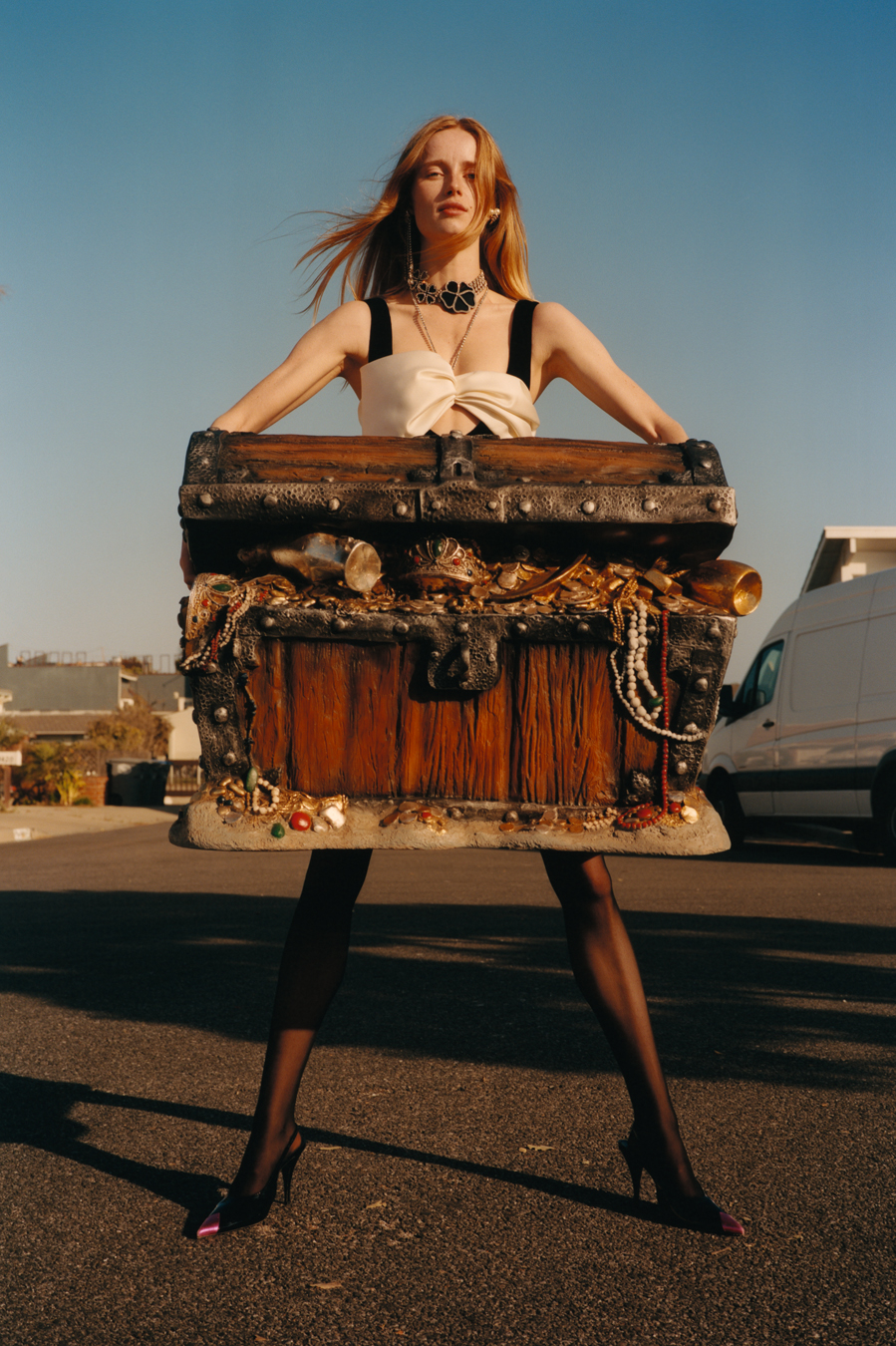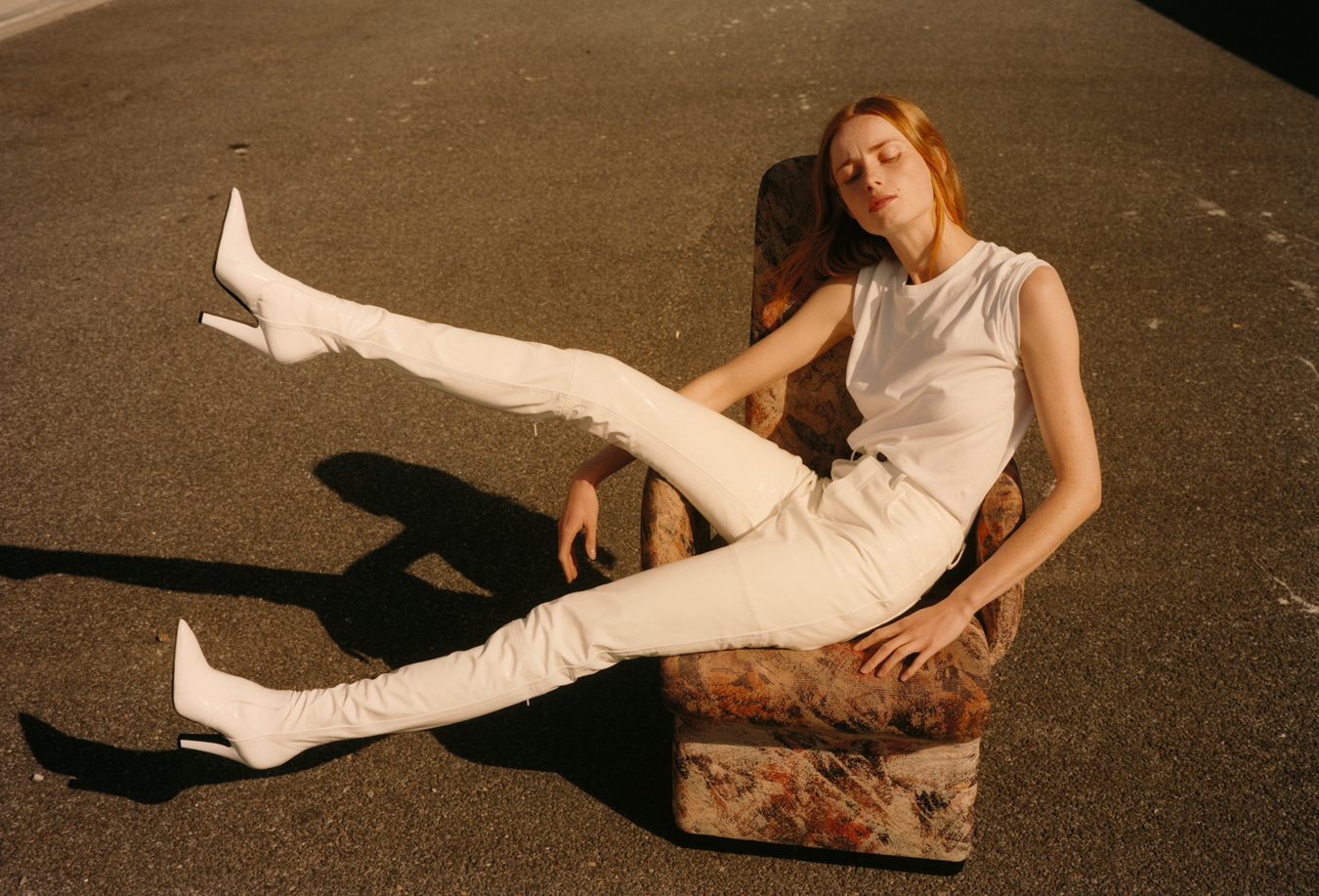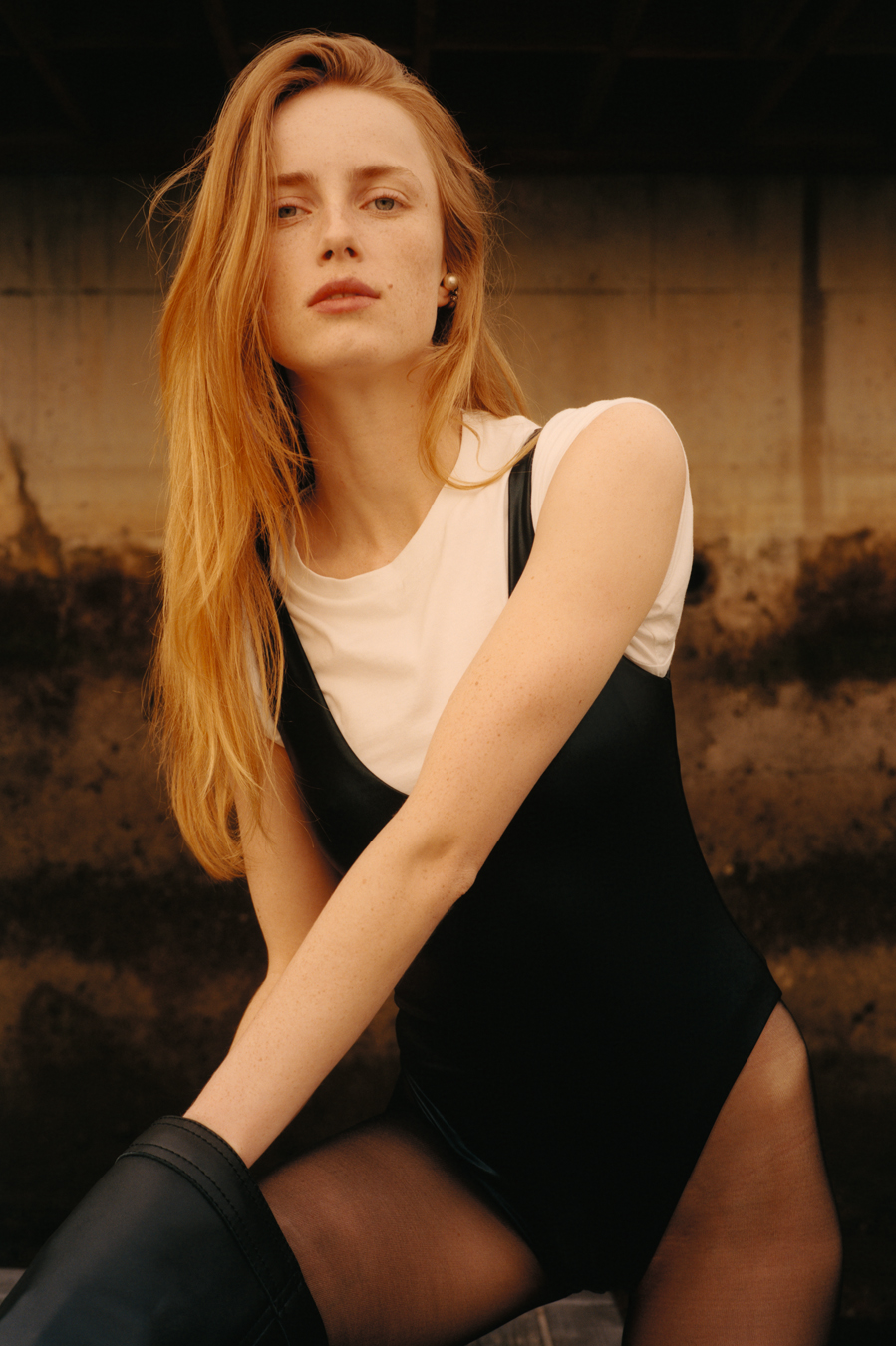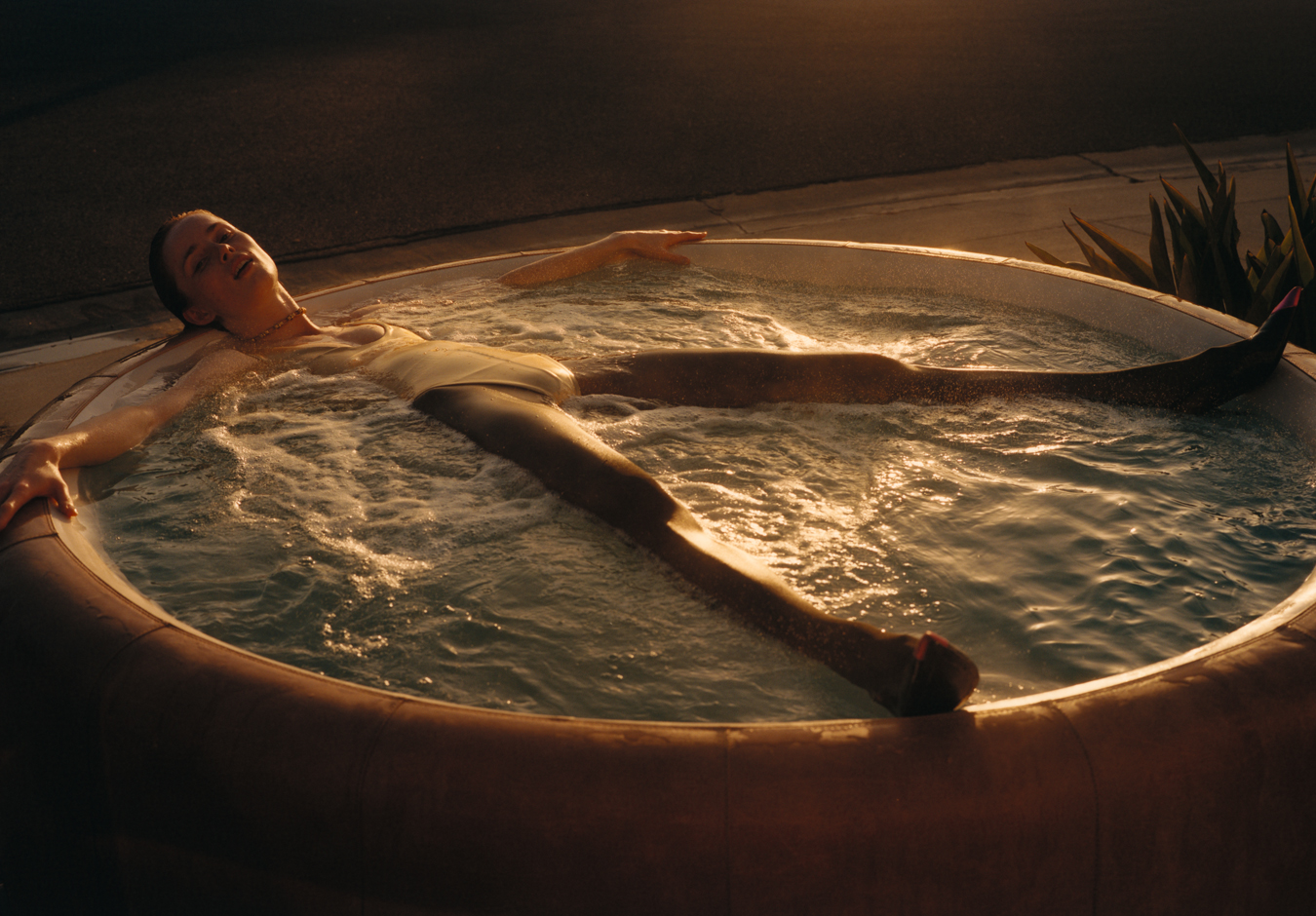 Credits
---
Photography Colin Dodgson
Fashion Alastair McKimm
Set design Spencer Vrooman.
Photography assistance Jack Bellim and Justin Lostutter.
Styling assistance Madison Matusich and Milton Dixon III.
Production Ziad Georges.
Production assistance Garrett Charboneau and Harley Ware.
Casting director Samuel Ellis Scheinman for DMCASTING.
Model Rianne van Rompaey at DNA.
All clothing and accessories SAINT LAURENT BY ANTHONY VACCARELLO.