Quentin Tarantino wants Adam Driver to play Rambo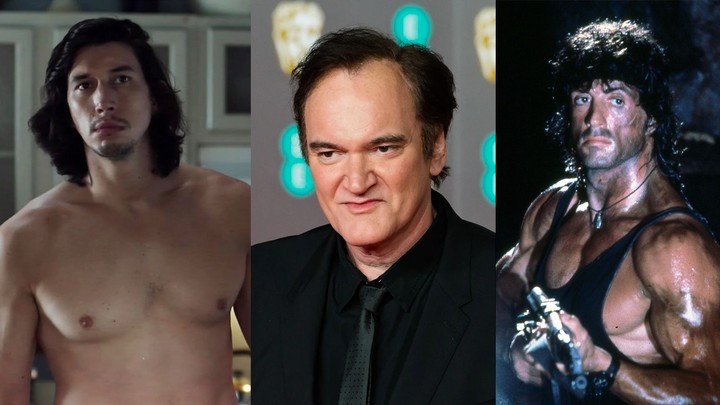 Mubi, Getty, Orion Pictures
Speculation continues to swirl regarding Quentin Tarantino's forthcoming 10th and final movie. In the two years since Once Upon A Time in Hollywood arrived, his Oscar-winning paean to vintage Los Angeles, he's remained tight-lipped about what might follow it. One thing he's not so hesitant to admit? He'd love to see a version of Rambo, with everyone's softboy king turned fashion hunk Adam Driver in the leading role.
Speaking to The Big Picture podcast on the promo run for his novel version of Once Upon a Time in Hollywood, Tarantino revealed that he has a "good movie" in mind -- not necessarily one he's chomping at the bit to do himself (yet), but that he'd love to watch. That is specifically an adaptation of First Blood, the 1972 David Morrell novel about a Vietnam war veteran waging a war against the police in his home state of Kentucky in the form of a murderous rampage.
It was, of course, made into the famous movie franchise starring Sylvester Stallone, but Tarantino wants to see it brought back to its roots. "I would take David Morrell's novel for First Blood and do the novel," he clarified on The Big Picture podcast. "Not the movie that was made out of First Blood. I would do the novel."
Why? Because "every time I read it, the dialogue is so fantastic in the David Morrell novel that you're reading it out loud," he says. He'd want former collaborator Kurt Russell to play the sheriff, and, of course, Adam Driver to play Rambo. It's an interesting decision, considering we've seldom seen the Noah Baumbach normcore grad do something overly muscular and dangerous, but if that Burberry fragrance campaign is anything to go by, our king is stacked and ready.
It would not, however, be a project he's keen to helm himself. He's just throwing the idea out into the universe in the hopes that someone bites. As for his 10th project? Well, in June he teased the idea of revisiting his debut, Reservoir Dogs, albeit on stage instead of screen.
"I've decided if I wanted to do something like [that], I would do it more on stage," he told the ReelBlend podcast. "It'd be a great stage play. My thought process was, 'Well, if it's a strong piece of material, it would work doing it any time.' It does seem timeless. And then just with a new group of actors, that would have a new life."
He admitted that he "didn't really know what the hell I was doing when I did Reservoir Dogs. And now I know what I'm doing a little bit more."
So there we have it. Whatever Tarantino's final film will be, we know it's not a Reservoir Dogs or Rambo reboot. Let's pray it stars a stacked Adam Driver anyway.