Photography Emma Dudlyke. Images courtesy of Ilana Blumberg
The young London designers doing digital fashion week for themselves
Meet four of the independent designers presenting their AW21 collections off the official LFW schedule.
|
19 February 2021, 8:23am
Photography Emma Dudlyke. Images courtesy of Ilana Blumberg
Being a young, independent fashion designer was hard enough before the pandemic, but things have now become even tougher for those on the career path. What were already unstable financial situations have become even more precarious, direct access to materials and specialist equipment is extremely limited and, with an economic crisis looming, stockists are proving increasingly conservative when it comes to supporting new talent.
This season, the British Fashion Council is charging a fee to be on their online directory of brands showing at London Fashion Week — something that many small label owners can't afford in the current climate. And while Instagram coverage may have been your usual go-to for discovering what London's newest brands have to offer, with fashion month happening online this season, it's even harder to be noticed out there in the sea of content.
It's hardly the most welcoming landscape for new labels at the moment, but, even so, determined independent young designers have indeed persevered to produce beautiful new collections for AW21. Here, four of them debut their offerings which, despite the odds, they're presenting in time for London Fashion Week.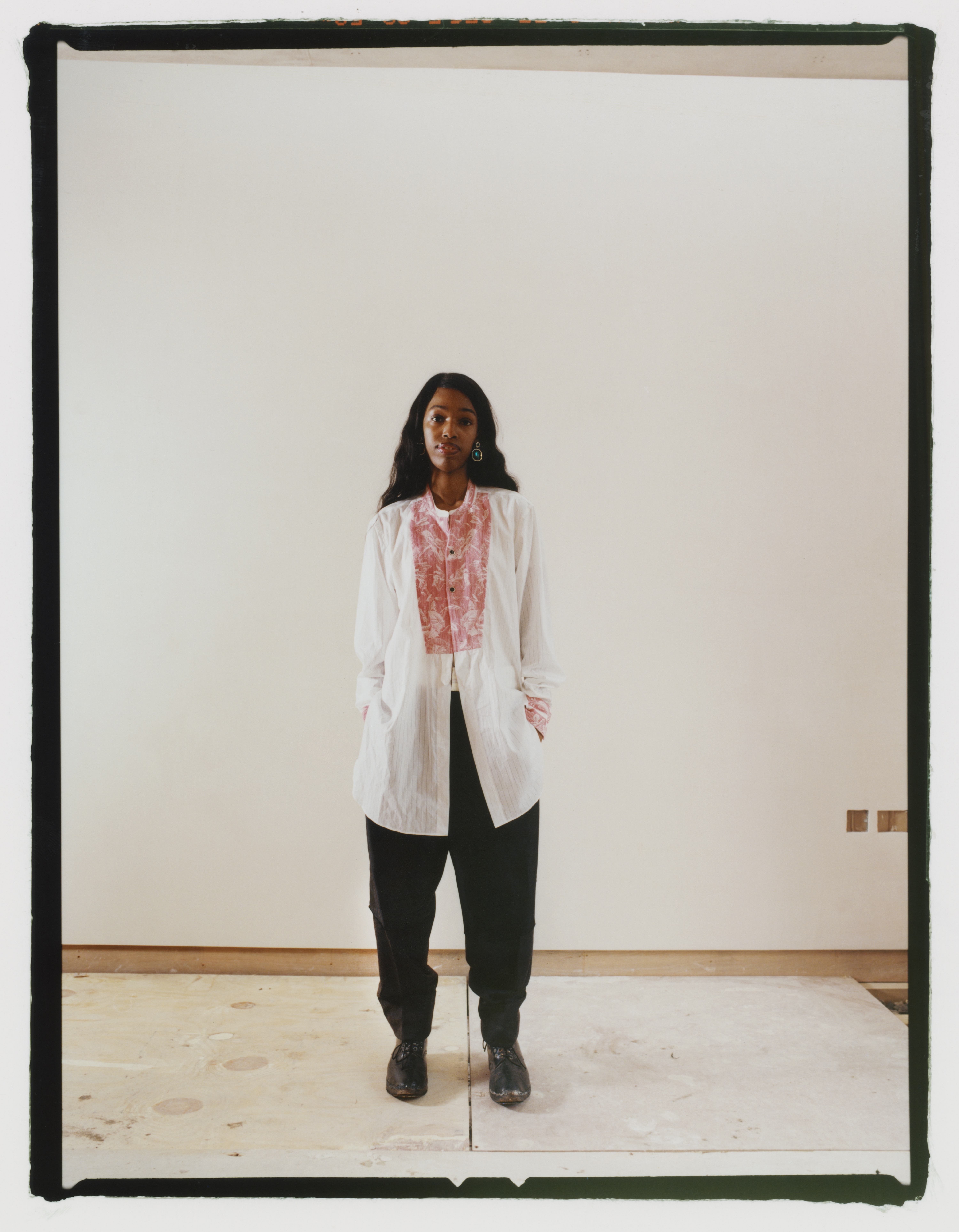 Cecile Tulkens
Since graduating from Central Saint Martins' MA last year, knitwear designer Cecile Tulkens has been taking some time to reflect. "I've been looking back at this very aspirational collection that I made for my MA," she explains, "but in making it I didn't develop a collection that's necessarily the most commercial or something that I could then easily turn into a cohesive brand."
Cecile makes knitted menswear which aims to question the hierarchies of craft and labour implicit in her chosen medium It's a fascinating subject with endless routes of social and technical research, so for her MA collection she decided to try and fit it all in. It became a little too much for Cecile and the collection felt more like a series of experiments. She started to have trouble thinking of them as clothes rather than knitting samples. "In each piece there is so much research and so much energy and I needed to go back and break all of that down," she explains.
For her AW21 collection, aptly named ADDENDUM, Cecile chose to analyse just one element of her MA collection — the notion of women's work. She casts light on two very different sides to her chosen subject. The first looks at the Impressionist painter Berthe Morisot's interpretations of women's domestic work in paintings such as 'The Little Maid Servant' (1886) or 'The Wet Nurse and Julie' (1879). The other focuses on a rather less genteel kind of work that was going on in the same time period: the work of the herring girls who, alongside the fishermen, followed the migration of herring from Shetland to Great Yarmouth each summer, gutting the day's catch along the East coast of Britain.
Both aspects have an ironic aesthetic connection: the colour pink. Two ganseys – the kind of jumper that the herring girls wore – are hand-knitted in shades of the colour, a nod to the hue the women's cream-coloured woollen jumpers would become after being consistently stained with blood. These same soft pinks are also used by Morisot in her paintings.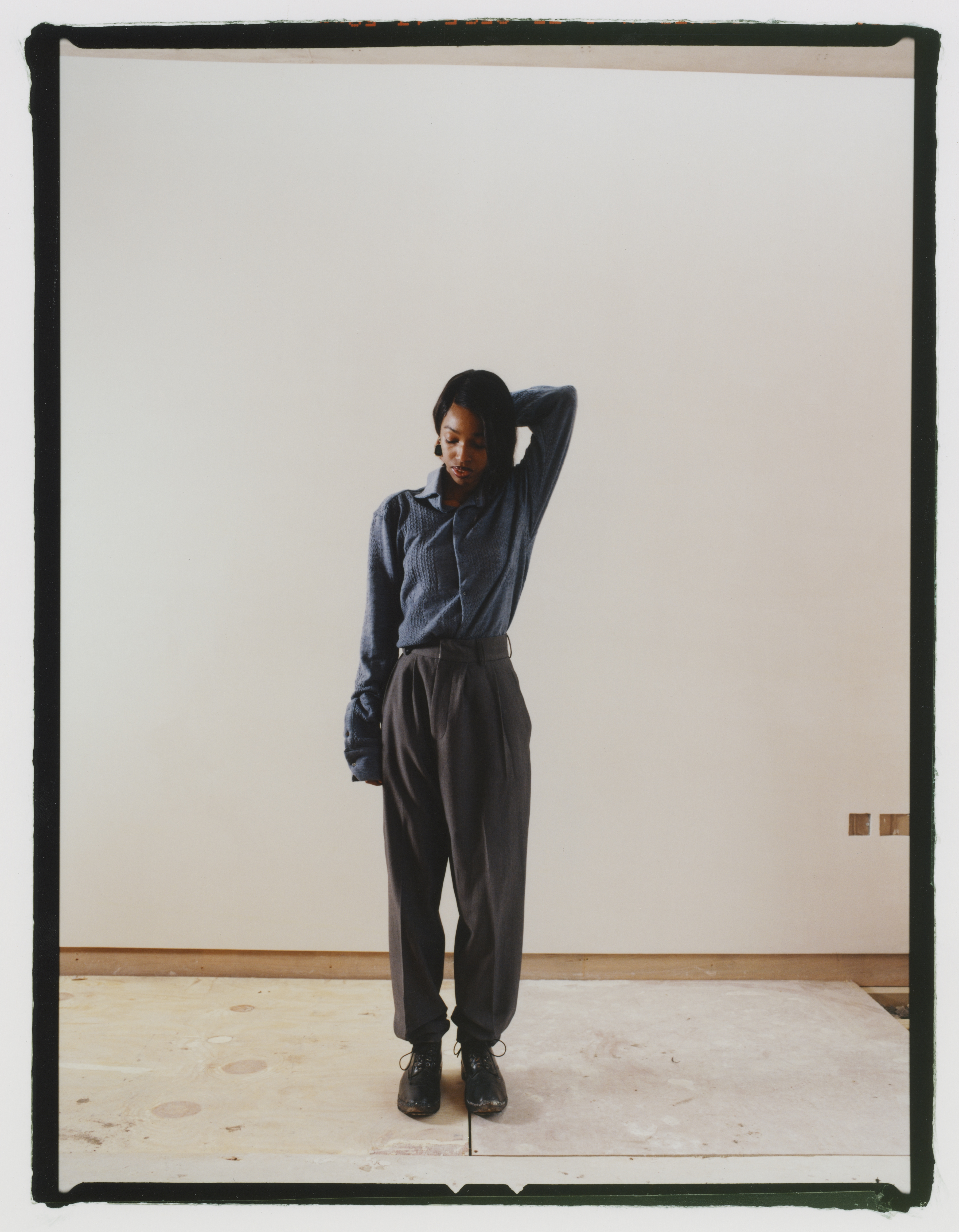 Despite being just one season in, Cecile has already decided that she wants to do things a little differently. Instead of developing signature cuts or styles, she plans to use her body of research as a starting point each season and work from that: "I want to be like 'OK, this is actually really different but the thing which ties it all together is all this research'."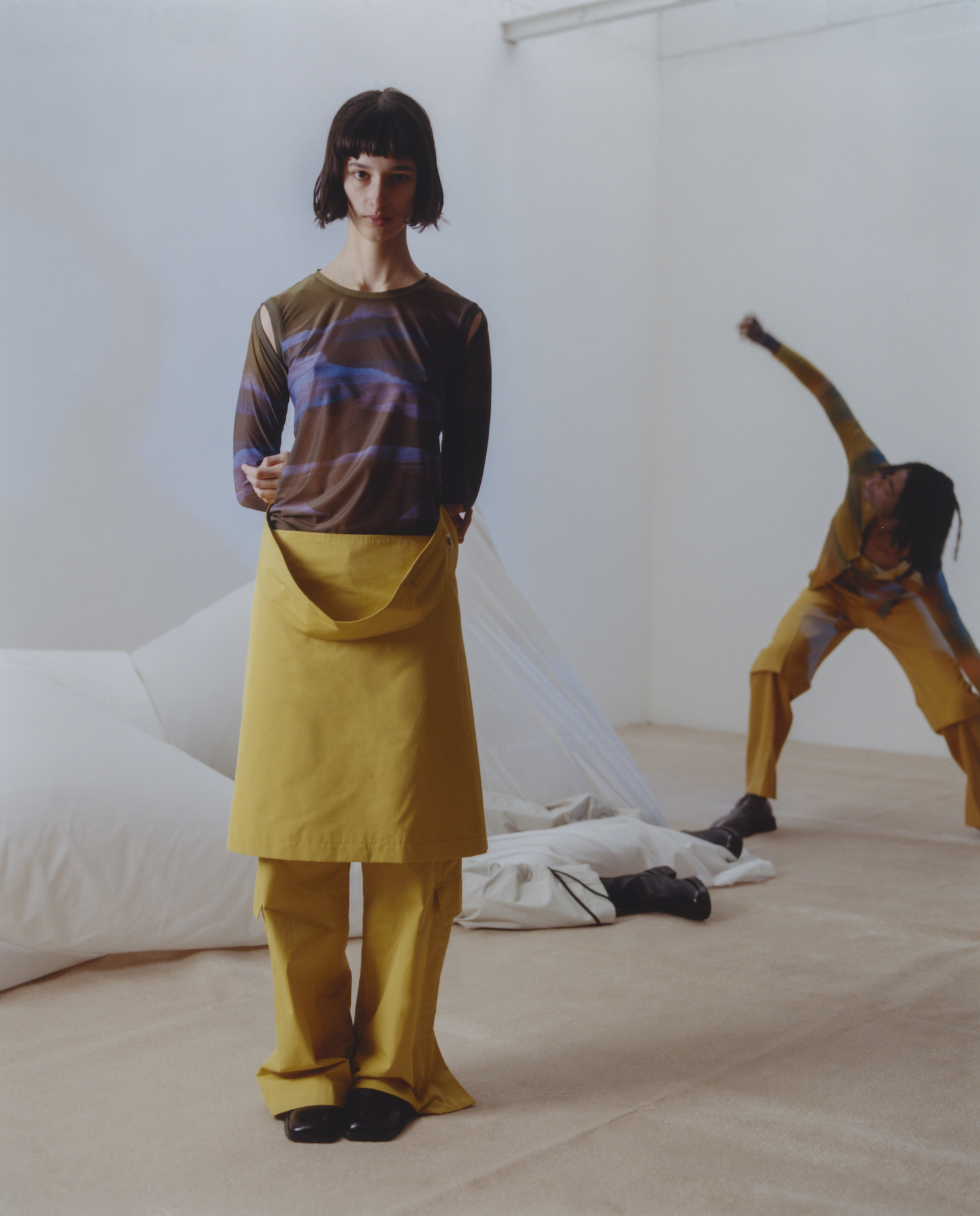 René Scheibenbauer
Just four weeks before London Fashion Week René Scheibenbauer is trapped at home while he waits for his housemate to recover from Covid-19. Fortunately René's conservatory doubles up as a studio, so he's still able to make some pieces for his AW21 collection. The mishap is, however, proving to be logistically tricky.
With a small grant awarded to him by the Austrian Fashion Association, René has decided to invest in getting some more technically complex pieces constructed at a factory. Being in quarantine, he's unable to go back and forth to pick pieces up but despite this setback, he seems pretty chill. There's a clue in his collection as to why.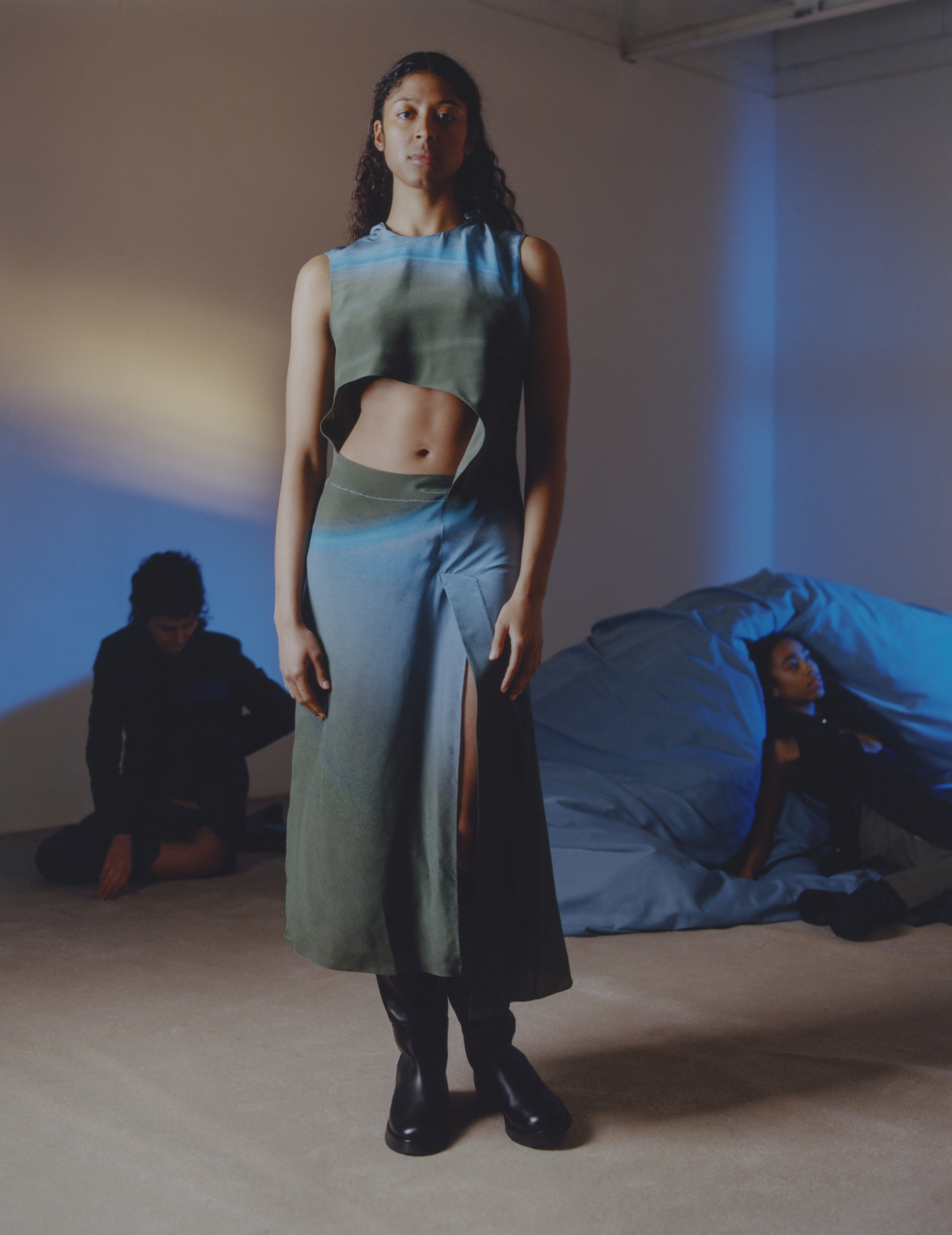 "There's always some kind of emotional quality which acts as a background idea for my collections," he explains, "and for this, it was the idea of surrendering and trying to understand this situation by accepting it for what it is." For almost a year, René has been separated from the community of performers he works with each season to understand the physical and emotional needs they have when it comes to their clothes.
There came a point when René had to give in and accept that he couldn't do his research the way he was used to, so in May last year, he invited his wider community to take part in an improvisational dance and art therapy workshop via Instagram. Quickly he found that people's sartorial needs had changed dramatically. No one was dressing up any more, everyone just wanted to be comfortable.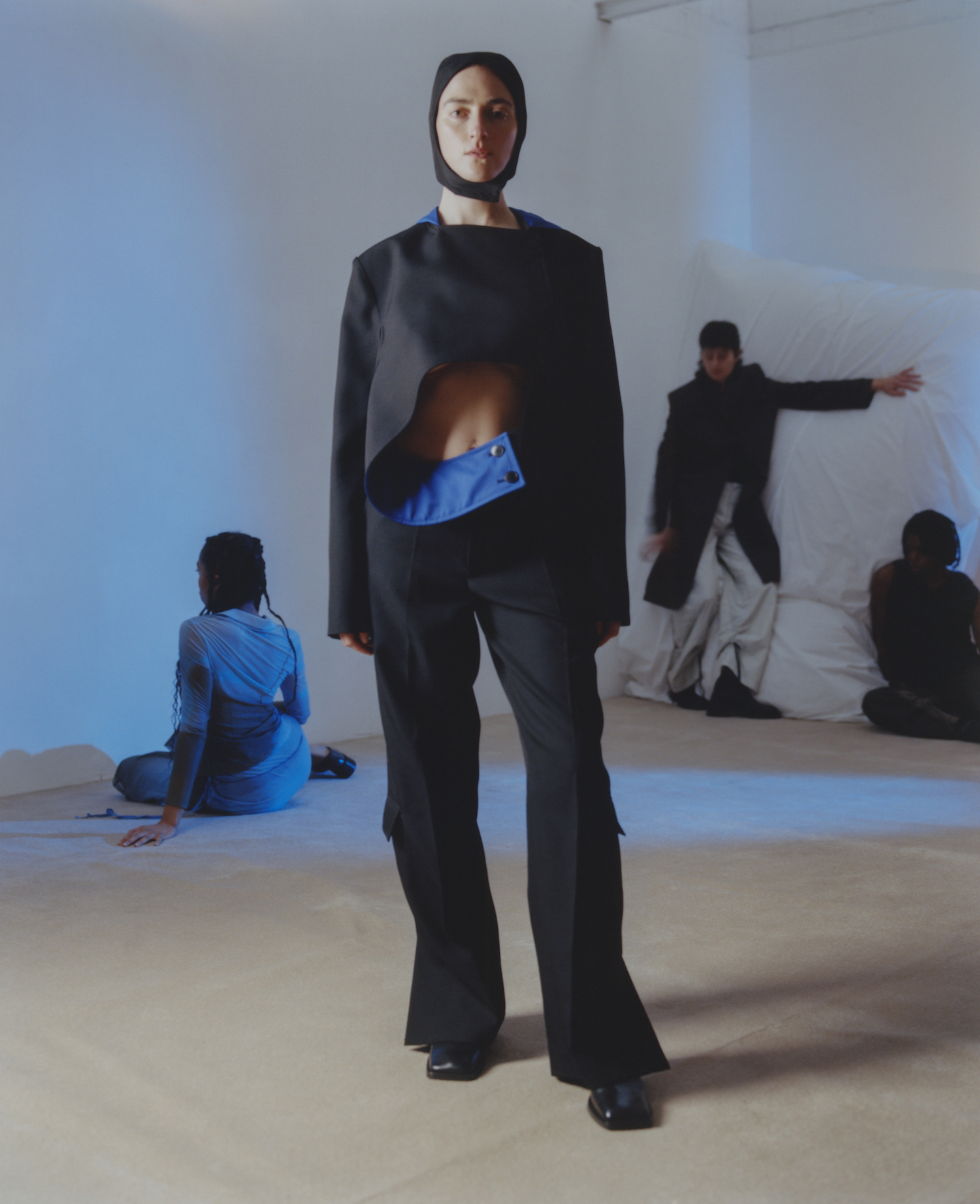 This was then reflected in his designs. "On the one side, I've got these really soft, relaxed elements," René gestures to a packable hood on a blazer, ruched at the sides to feel like a hug. "And on the other, it's quite tense and rigid and straight," something demonstrated by the bold presence of the tailoring. When you've created an entire collection about surrendering to the curveballs that COVID has thrown at you, of course you'd be unfazed at the arrival of another.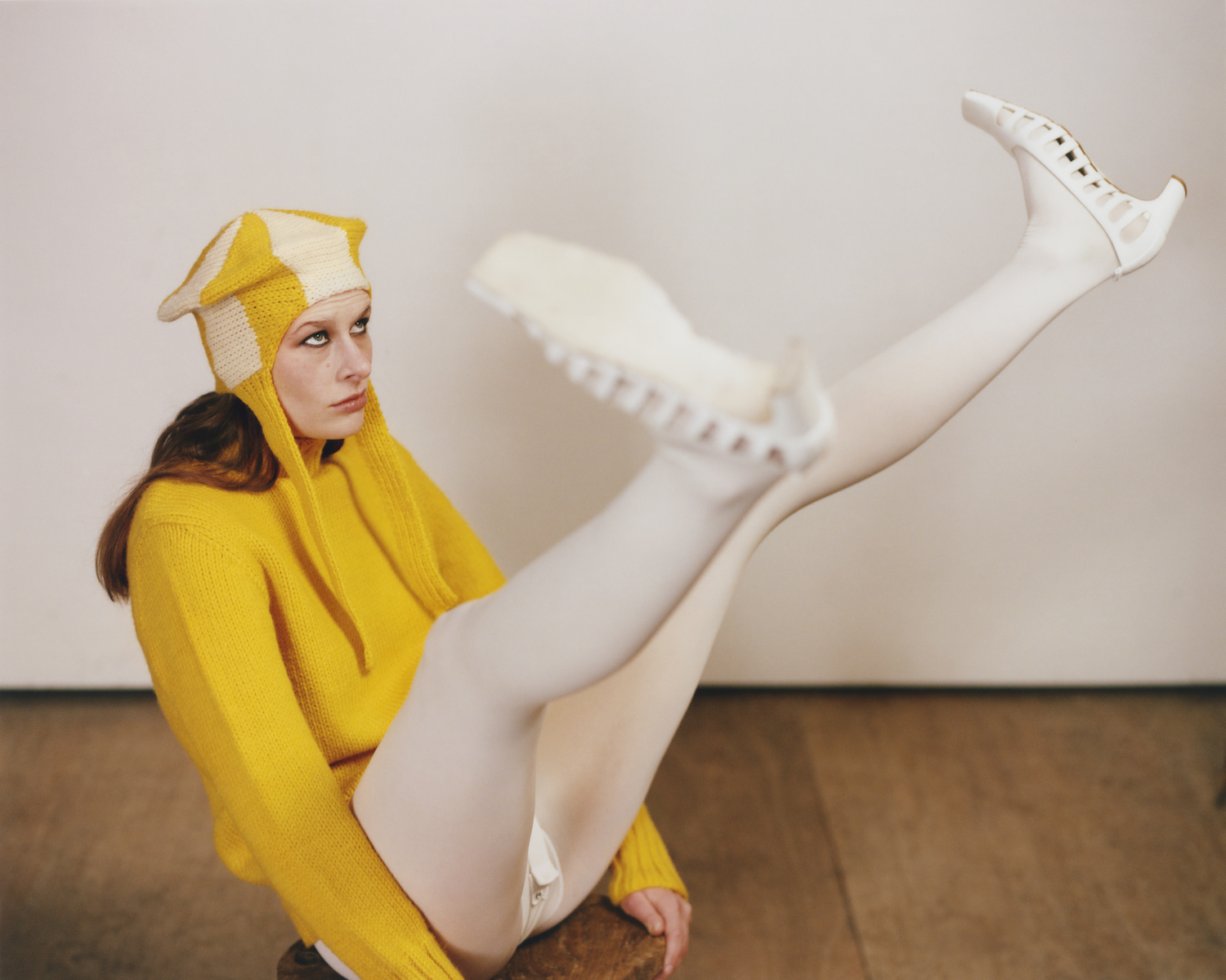 Ilana Blumberg
"I love fashion, I find it really interesting", knitwear designer Ilana Blumberg tells me over Zoom from her studio-cum-living room, "but I think my work isn't very fashionable". Despite already being stocked at luxury concept store 50m in London, Ilana has never before made a complete collection. She admits that it's an accident that her first collection i-Lana is ready in time for London Fashion Week.
Coming from an architectural background, Ilana is more interested in the technical construction of clothes rather than the fantastical side of fashion. 'i-Lana', the title of the collection, is a play on words: in the knitting world 'lana' means pure wool, and the 'i' is a riff on the technical elements of the collection. "I definitely think that I've got this far into knitting just because I like maths so much," she says.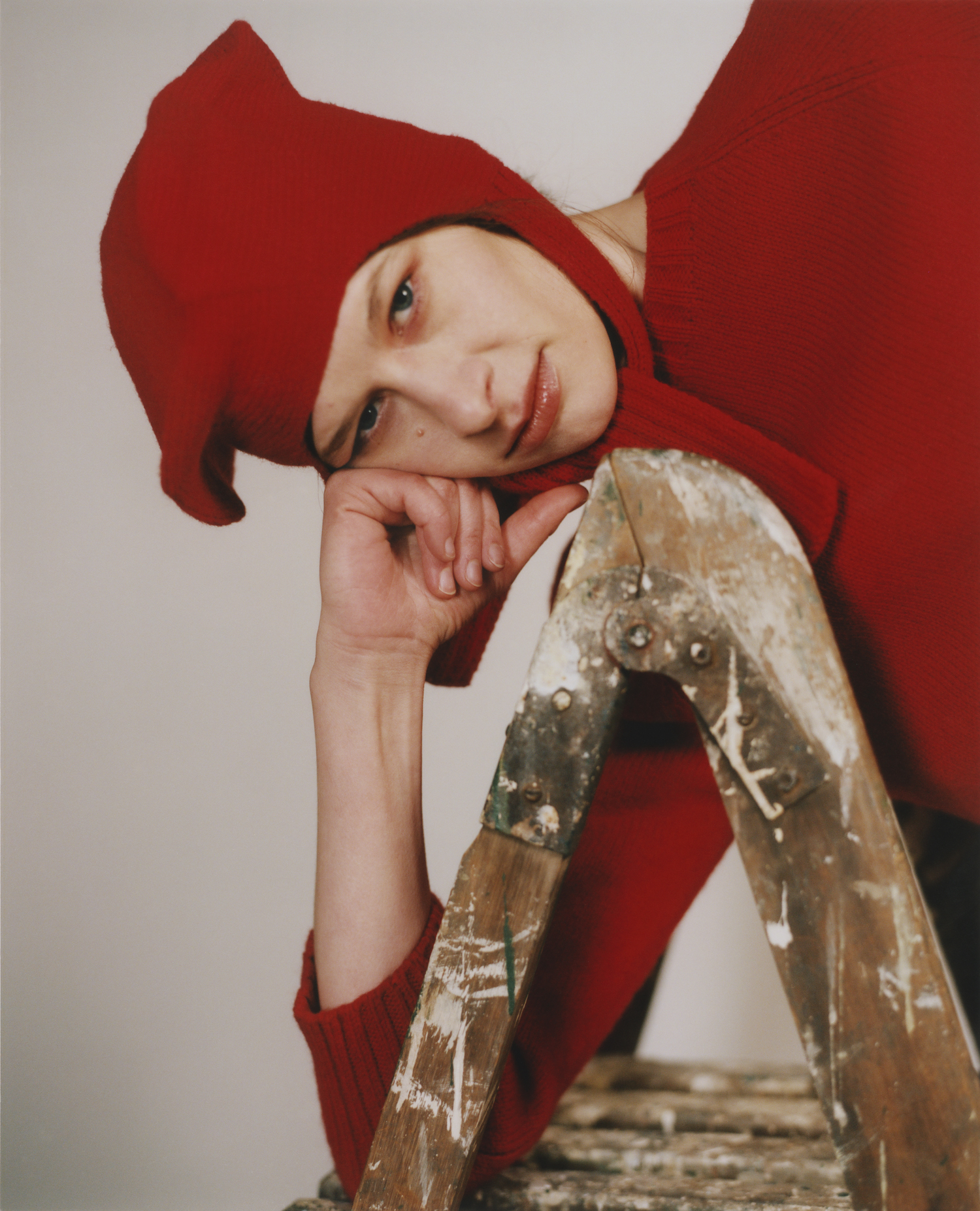 For Ilana, making clothes is adventurous. Up until now, most pieces she's made have been experiments with small samples of yarn she's found. It was quickly becoming difficult for her to replicate the pieces precisely for clients, so for 'i-Lana' she decided to construct a collection which was a little more planned out.
A scarlet twinset has been made in an attempt to create a "perfect jumper which you just can't argue with". A brown and black dropped-waist dress reflects the garish contemporary architecture seen springing up across London. But the real jewel in Ilana's crown is an alpaca cardigan, hand-spun and knitted over a period of three months.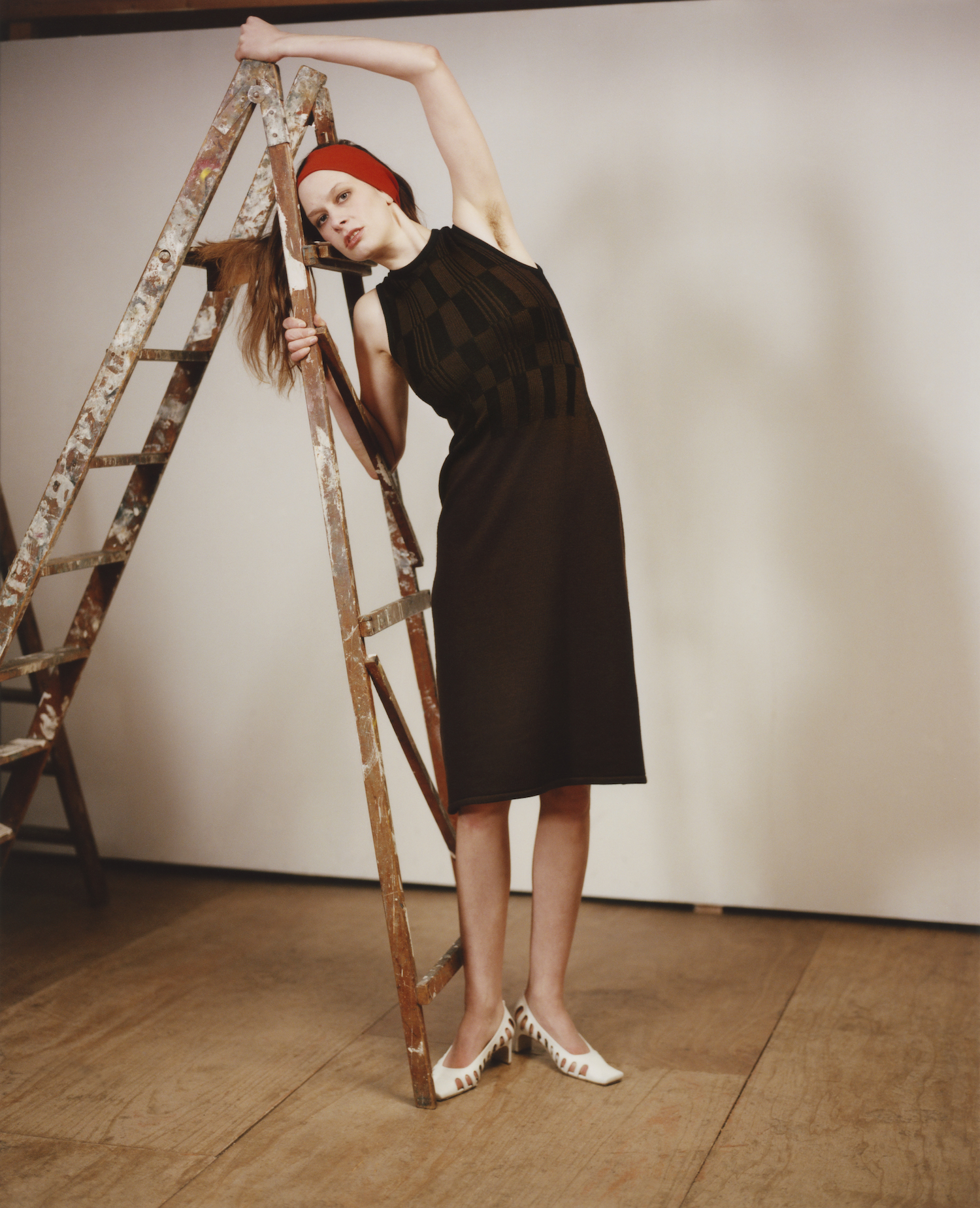 When the piece was finished, it looked a bit dubious, she says. And as she had to spin the wool, she could not pre-wash it, so years of alpaca life had been knitted into the jumper. "It looked so disgusting, like I'd just found it in a bin," she laughs. But after a quick wash in the bath it came out looking better than she could have imagined. "What I love about it," she gushes, "is all the different types of hair that are on the body — look, you can see right by the collar is some of his face hair!"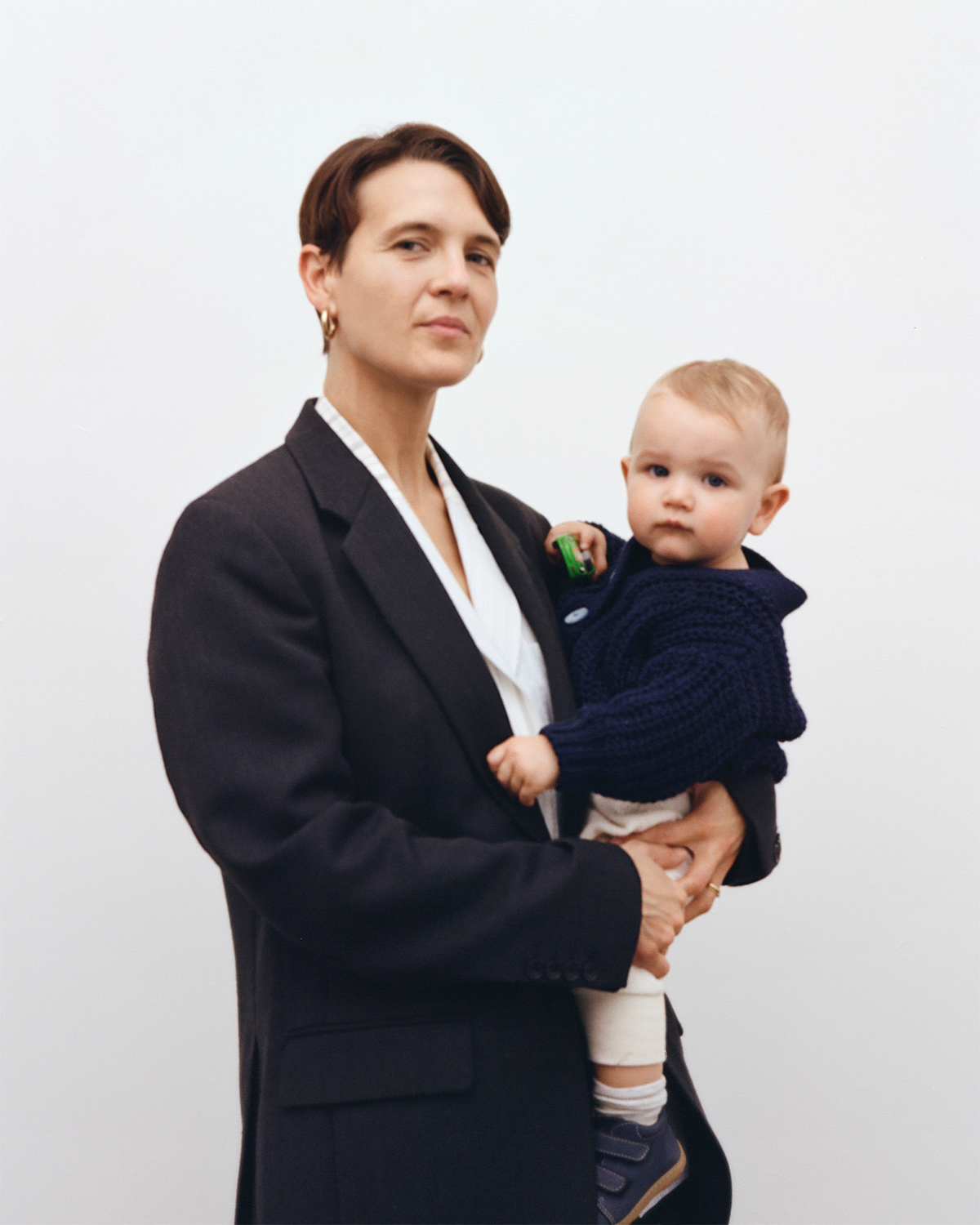 Wright Le Chapelain
In the press release for Wright Le Chapelain's SS21 collection, there is a quote from the French 18th-century chemist Antoine Lavoisier: "Nothing is lost, nothing is created, everything is transformed".
For the couple behind the brand, Imogen Wright and Vincent Le Chapelain, this speaks true to both work and life. Each season, Wright Le Chapelain reconstruct old garments into new ones using unsellable donations from the homeless charity Crisis and pieces found in local charity shops. But another, larger, life-altering transformation happened this year.
When European countries locked down early last year and shops closed their doors not knowing when they might open again, Wright Le Chapelain found that most of their orders had been cancelled. Faced with this difficult financial situation the couple decided to relocate their life and design studio from London to Imogen's home county of Devon, working with their intern, collaborators and factory totally remotely.
The collection centres around their move and the difference in material available to them. "When faced with so many changes, your instinct is to resist it all, but you can embrace it creatively and make it an integral part of your work," Vincent explains.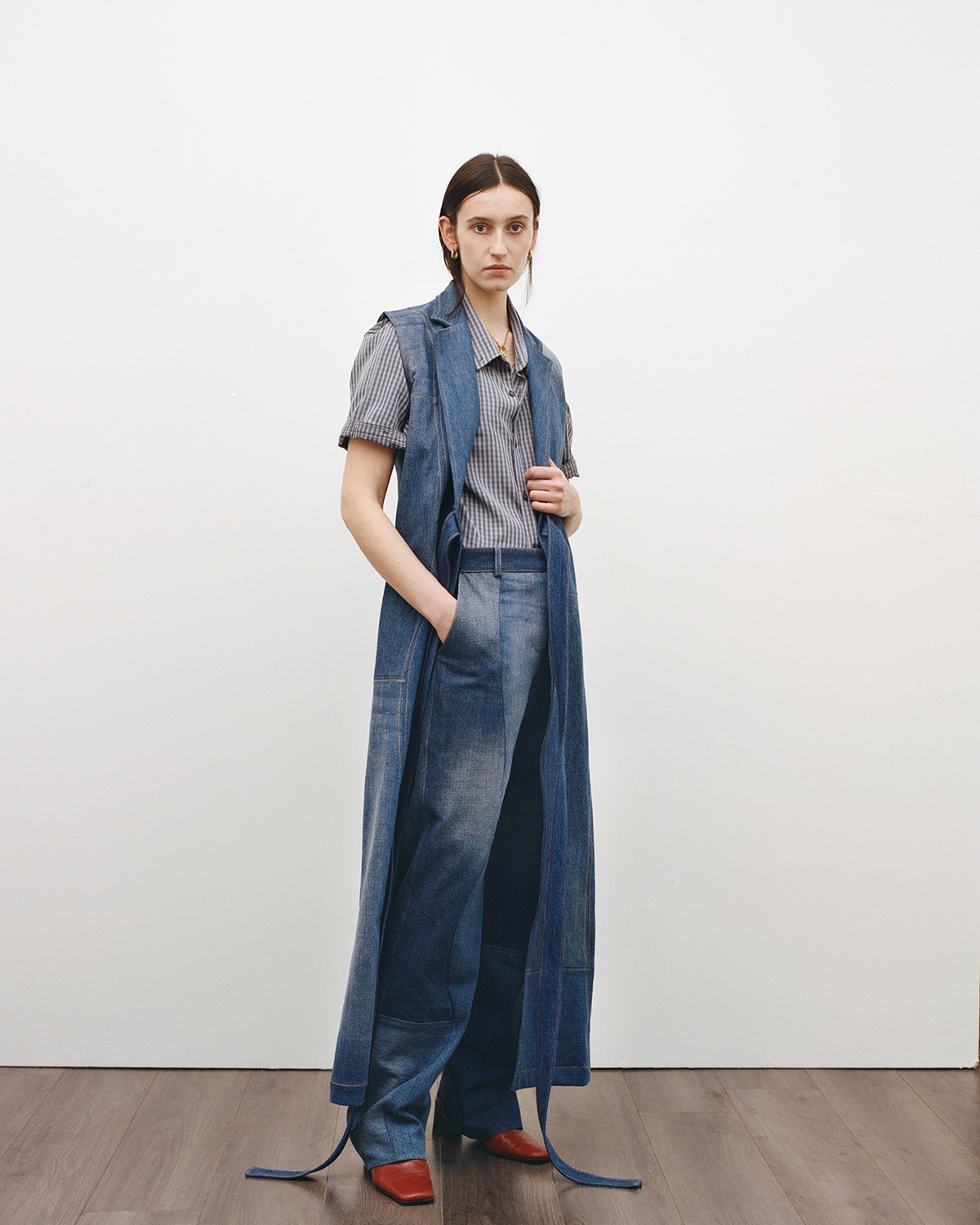 Their local charity shops became those of Totnes rather than Tottenham, so the fabrics they worked with naturally shifted to those more popular in South West England than the capital. "We worked with materials that are new to us, but common here," Imogen says. "Jersey polos, denim and many short sleeve checked walking shirts".
These have been reworked into easy, unpretentious patchwork basics. Old denim has been transformed into a new pair of jeans. Reminiscent of a pair of formal men's trousers, their front seams have been curved to give them an unexpectedly relaxed fit. Polo shirts become fitted vests and an old shirt becomes a backless camisole top, its sleeve popping out the side as a cheeky reminder of where the material came from.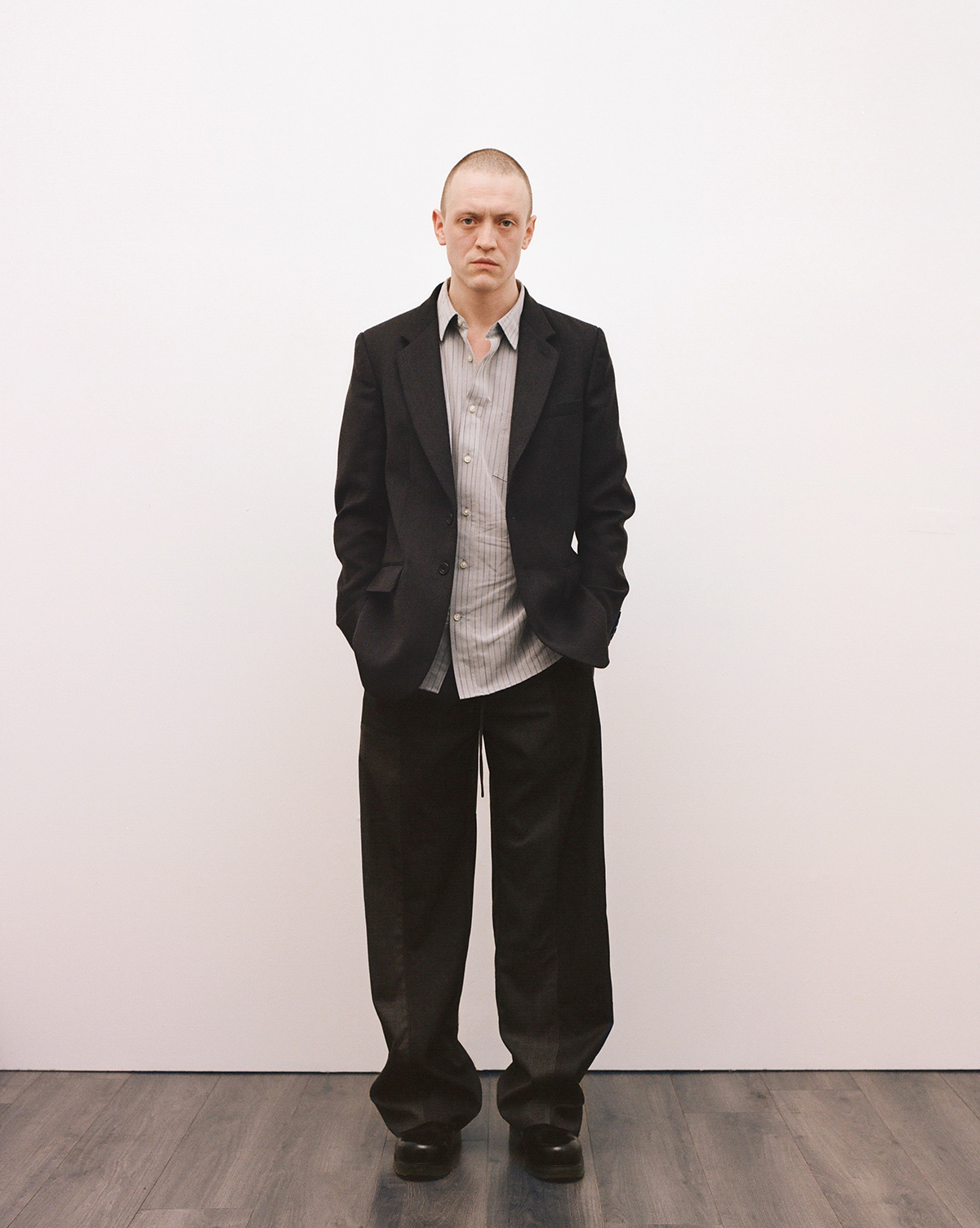 Being surrounded by nature and a short walk from the coast, the pair found themselves reevaluating the way that they work and live. "I feel like this year has been a turning point," Imogen explains. "We have been dismantled and have had to rebuild, but this time with more stable foundations… it has made me feel more comfortable with stepping off the traditional fashion path that is laid before us and trusting in a slower approach."
Follow i-D on Instagram and TikTok for more fashion.
Credits
---
Cecile Tulkens
Photography Oscar Foster-Kane
René Scheibenbauer
Photography Sam Khoury
Movement Director Owen RD
Set Clara Boulard
Hair Blake Henderson
Ilana Blumberg
Photography Emma Dudlyke
Styling Billie Jo Cronin
Creative Assistance Rachel Hell
Make-Up Tamayo Yamamoto
Hair Andrew Wang
Handprinted by Sarah England

Wright Le Chapelain
Photography Vincent Le Chapelain
Styling Omaima Salem
Makeup Crystabel Riley
Hair Johnnie Biles
Handprinted by Sarah England

Wright Le Chapelain
Photography Vincent Le Chapelain
Styling Omaima Salem
Makeup Crystabel Riley
Hair Johnnie Biles