The first trailer for Kristen Stewart's queer festive rom-com is here
'Happiest Season' is the gay Christmas comedy movie of our dreams.
|
10 November 2020, 11:16am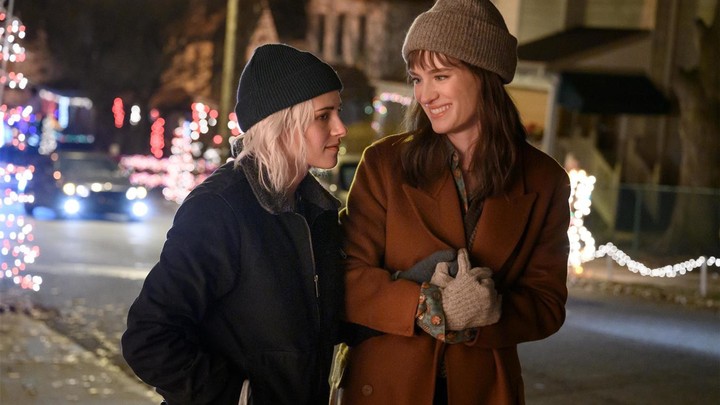 Arguably, it's the most wonderful time of the year, like, right now. With news of a Trump election loss and compelling results from a coronavirus vaccine coming within days of each other, November really said, "You guys are in a crisis, I'm on my way". Christmas 2020, therefore, has evidently been rescheduled to November 25, when Happiest Season -- a queer holiday rom-com starring Kristen Stewart -- is due to drop on Hulu. The yuletide has literally never been more gay. Well, maybe with the exception of Carol (2015).
K-Stew, in all her glorious awkwardness, plays Abby, the devoted girlfriend to Mackenzie Davis' Harper, whose family are due to meet the couple for the first time at their big family Christmas dinner. Or so Abby thinks. In fact, Harper hasn't told her parents about her relationship with Abby, or even been able to express her own identity as a lesbian. An obstacle!
Directed and co-written by Clea DuVall -- whom you may remember from But I'm A Cheerleader, a mainstay of 90s LGBTQ+ cinema -- the movie is based on the filmmaker's own experiences of the festive season. "I've spent Christmases with partners whose parents didn't know," Clea told Entertainment Weekly in a recent interview. "I've been 'the friend' at the family function."
"On a journey like coming out, you have no idea what's going to happen or how people will react, and it's scary," the filmmaker explains. "There's a part of your life that changes once you do."
Kristen too, was keen to be a part of such a relatable and culturally vital story. "I grew up watching and loving conventional movies like this. Seeing [marginalised] people loving each other in the middle of something that's so standardised was really exhilarating and freeing," she told EW. Most importantly, says the actress, you know exactly what you're in for.
"You're not watching [Happiest Season] and going, 'God, what's going to happen to them, because the world is scary?' You already know. It's a fucking rom-com holiday movie. It'll work out," she continues, "It's relieving, allowing yourself to breathe. It's a new feeling." That it is Kristen, that it is.
Tagged: