Imaan Hammam in conversation with Tracee Ellis Ross
The pair, both friends and modern icons of Black beauty, share an outspoken sense of purpose.
This story originally appeared in i-D's Utopia in Dystopia Issue, no. 362, Spring 2021. Order your copy here.
Imaan Hammam and Tracee Ellis Ross have more in common than just their luscious, juicy curls (although as Tracee points out, there's a pretty uncanny resemblance). The two women are both modern icons of Black beauty. Imaan, the Dutch-Egyptian-Moroccan Afro-Arab supermodel who began her career as one of the few brown faces on the catwalk and has since become a regular on billboards around the world, and Tracee, also once a model (she made her debut in Thierry Mugler's now-legendary 'Butterfly' show in Paris on her eighteenth birthday) who has since won a Golden Globe for her acting and recently launched Pattern, her own line of Afro-friendly haircare products. But beauty is only skin deep. The pair share an outspoken sense of purpose, whether it's on subjects such as race or women's issues. For 2021, Imaan is stepping up her supermodel status, putting it to good use. "I'm not playing anymore," she tells Tracee. "I'm only going to do things that are important to me. I'm going to be using my voice." The pair sat down — Tracee in Los Angeles, Imaan in her hometown, Amsterdam — to do just that…
Tracee: Hey Imaan, I'm going to interview you, I have questions, we're gonna get in, we're gonna get out, it's gonna be fun, it's gonna be easy. So let's begin: I'm Tracee Ellis Ross, and I am very happily interviewing Imaan Hamman, who could truly be my child. I feel like I wouldn't even need a man to give me any genetics to make this child. I don't know what your parents look like. Truly, you could be my sister, you could be my daughter, any of it, we're clearly family of some from some other place. I will just give, like, a little bit of intro that I know about you, is that you're Moroccan and Egyptian, which is beautiful. Where were you raised?
Imaan: I was born and raised in Amsterdam. I grew up… well my parents were immigrants. My dad was doing music in Holland and my mom was working as a seamstress. They met and married and they made me and my little sister. But we're six in total.
And where are you in the line-up of the six?
I'm second to last, and the youngest is 19. But me and my little sister are the only ones from the same parents. The rest are all from other relationships.
I'm one of five. I'm the second oldest, all my mom's kids. Different dads, same mom.
I feel like you are a family person, like I am. We love family. We love being with them.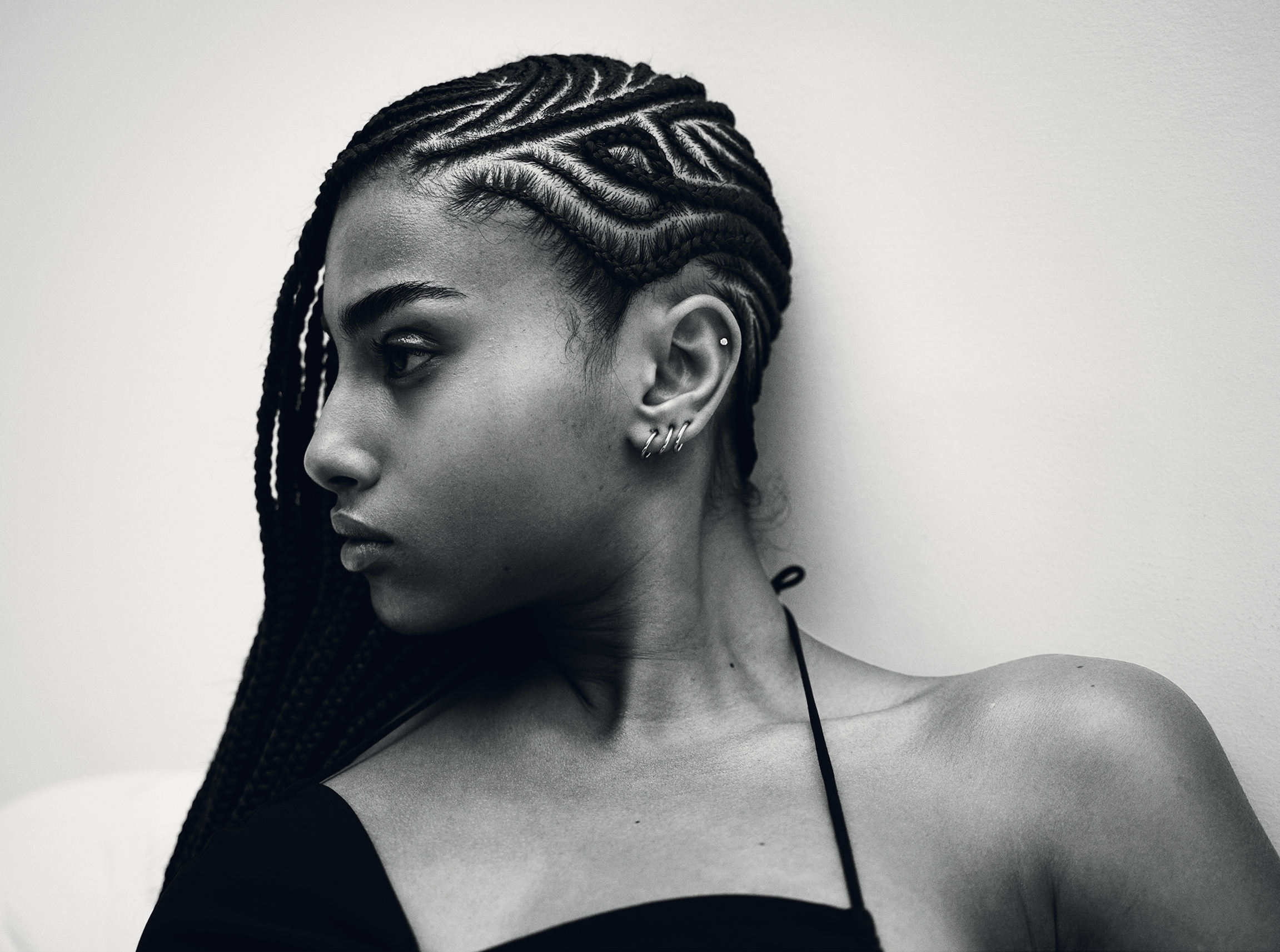 I not only love my family, I like my family. I really do. They are some of my favourite people. I wanted to start by talking about She's The First, which is a charity you're an ambassador for, and which is about making sure young girls are educated, represented and heard, which I think is so beautiful.
So, She's The First is a non-profit organisation that helps girls around the world with education, mentorship. I have been working with them for a year now. I was at a point where a lot of great things were happening in my life, and I think I just wanted to really give back. I wanna help young women, old women, like, women, that's what I'm really passionate about. And that's how I met the people from She's The First, and we actually did our first trip to the Gambia, which was incredible, to be in the field and to meet the girls. And I think that kinda was just, like, 'Oh my god, this is what I want to do. These girls feel like they're literally my sisters. And I wanna, like, support them and help them.' And that's how we kind of started. And… yeah.
OK. Three words to describe 2020.
Oh my god. Um… unexpected. What's a good word? Unexpected works. Mad. Crazy. I feel like I've also learned a lot. So I would say it was a year of learning as well.
And three words to describe what you want from 2021?
Ooh, OK. Well I've been modelling since I was 16. I was a young girl when I started. I feel like only now I'm really getting a voice in this industry, and 2021 is definitely the year I'm not playing anymore. I'm only going to do things that are important to me. So three words: using my voice. Or maybe 'in the moment' – because I have been guilty of not always living in the moment.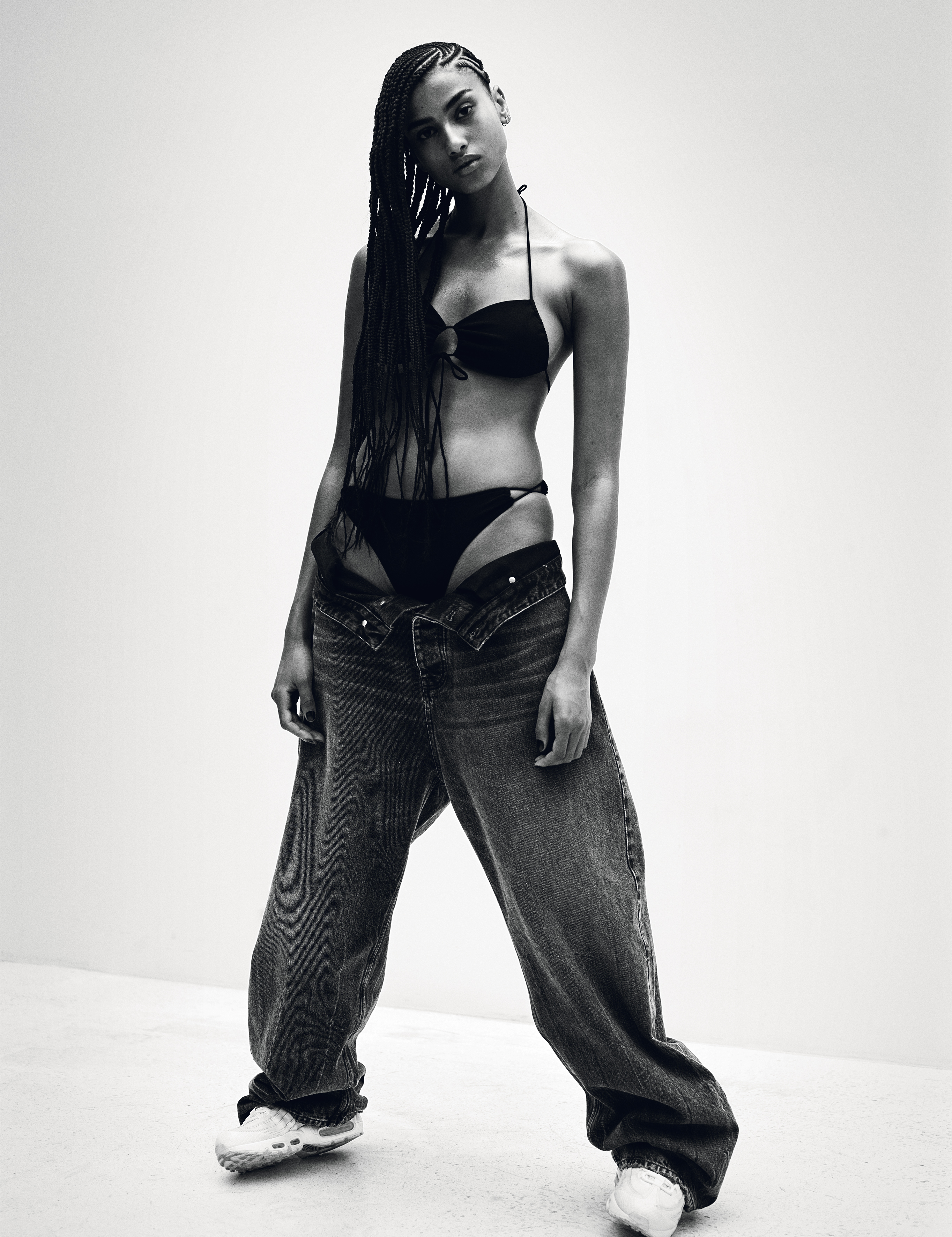 I think you should write those down so they can be your intention… your motto. Is modelling your end goal? Did you always want to be a model? Or did it just happen?
I've always dreamed of being a model, and I love my work. But I'm really passionate about so many things, I'd love to do more music, more acting, work in fashion design, there's so many things to do, and now is the time, because I'm young, the doors are all open, and I want to take over the world.
You said you love your work. What do you love about modelling? What do you love about what you do?
Every shoot I can be someone else, and becoming that "someone else" is like a switch. Right now I'm in a hotel room, in a hoodie, and then on set you transform into this, confident woman, this powerful woman. I love that. I think that's so beautiful.
We get to be so many things as women. We don't have to be defined or limited by one thing. And so in the characters that I play I really try to allow all the aspects of who I am, it's about being able to channel a part of you that possibly otherwise wouldn't get to be expressed. You mentioned it briefly, but how do you think the pandemic has changed you? Because this has been a really strange, unprecedented year in so many ways.
We've had the pandemic, but also the racial reckoning that's been happening in this country.
It's been a hectic year, a rollercoaster, but also a great year for raising awareness, for being able to see what was going on in the world, to really being able to see. At some point last year I left America and went back to Amsterdam and that really helped, because I was able to take a step back and look at everything from the outside.
A lot of what happened last year was not good, was really terrible in fact, but maybe these things needed to happen to bring us to where we are now, because it feels like people are aware of what is happening, are speaking out, in a way they were not before.
The people needed to wake up. We don't want any of those things to have happened. But now people are awake that weren't before.
Exactly. And I think that's great that, you know… and also just a lot of… [exhales loudly], it was just too much, actually. I was very glad to go home, you know.
Europe is different, but even in Amsterdam, where there were a lot of demonstrations and protests as well, it was powerful to see the world taking a moment to say what is happening in America, and around the world, is not OK. To say, we're all human beings. It was uplifting to be part of that. And now I'm back in America. Trump has been voted out. We have the first Black Vice President, the first female Vice President, that's also something very trailblazing.
She is trailblazing and extraordinary. Speaking of Kamala Harris, whose careers do you admire, or which… who were some of the people that are landmarks for you, in your life, that you gain inspiration from?
There's a lot of women I think are true icons. One of them is definitely you, it is an honour talking to you. And I think you as an actress, as a singer, as a fashion icon, are just really incredible. I would also say, I think Umm Kulthum, I don't know if you know her. But she was an Arabic singer in the 60s. Her story is incredible. At that time, as a woman, to be a singer was really difficult. And you know all about that. So definitely Umm Kulthum. Then of course my mom has been a big inspiration for me as well, because she came to Holland as an immigrant and really took care of us. I mean, I don't really come from a wealthy family and you know, we've had our struggles but she was inspirational.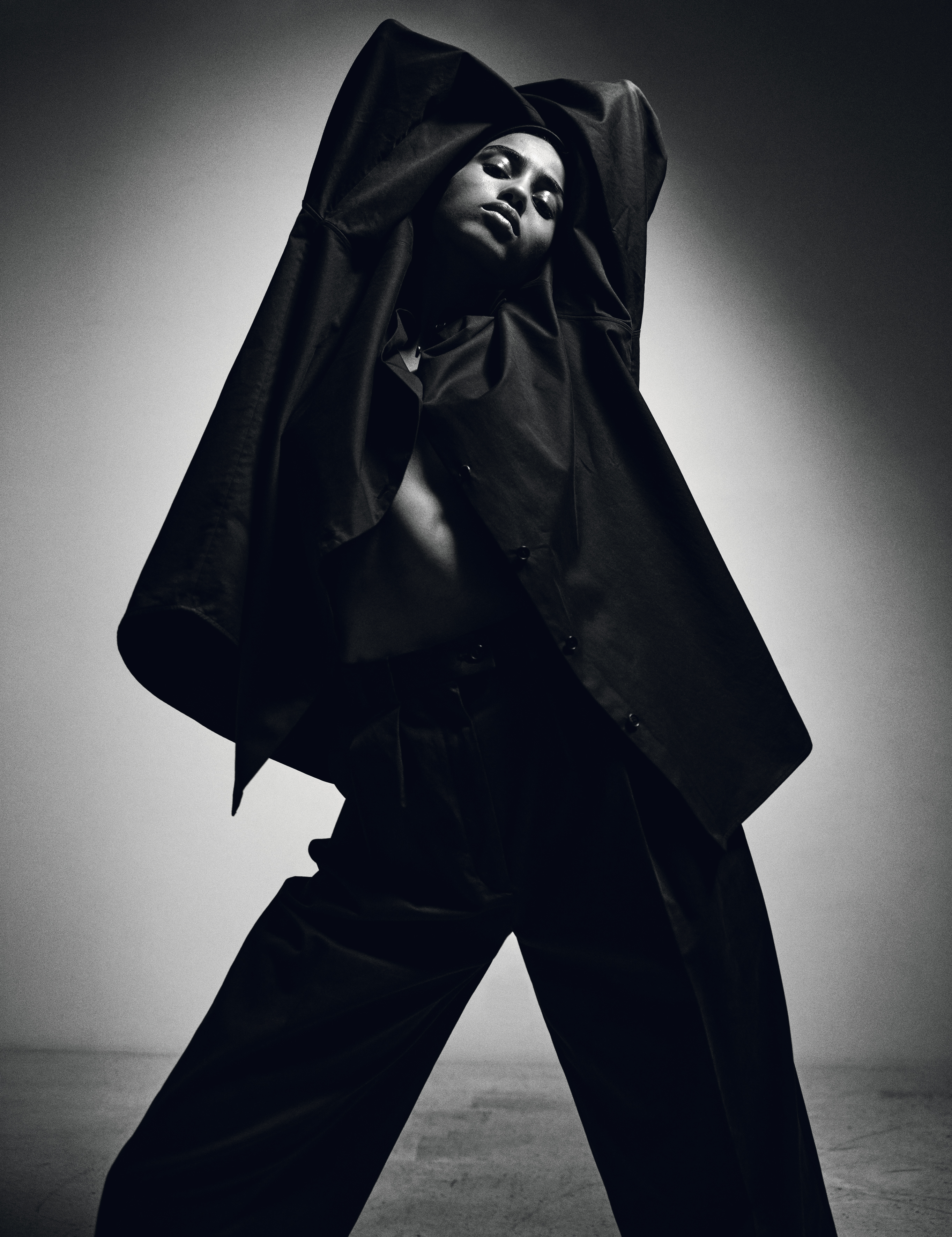 What about in your career? Are there other women in your career that have paved the way?
Someone I really appreciate is Iman, the other Iman. Iman and Naomi Campbell, they're the ones that opened the doors for us. Bethann Hardison, too, she's the queen. She's the best. Yeah, so I think those are the people I really aspire to.
Do you remember the first cover you got?
I think the first ever was like, for Dutch Grazia, and I remember that, but at that time I was like, 'What, a cover? OK, sure.' But then when I had done covers for French Vogue and US Vogue, to see a woman like me on a cover is just so inspiring. So I think it's that moment and that feeling of getting on that cover is incredible. Yeah, I have no words for that.
Where do you find your power? And your confidence.
From my family. It's just the way I grew up. I was just speaking to mom actually, before this conversation. She gives me the power. If I ever need a boost she gives it to me. The fact that they will always be there for me, that gives me the power and the confidence.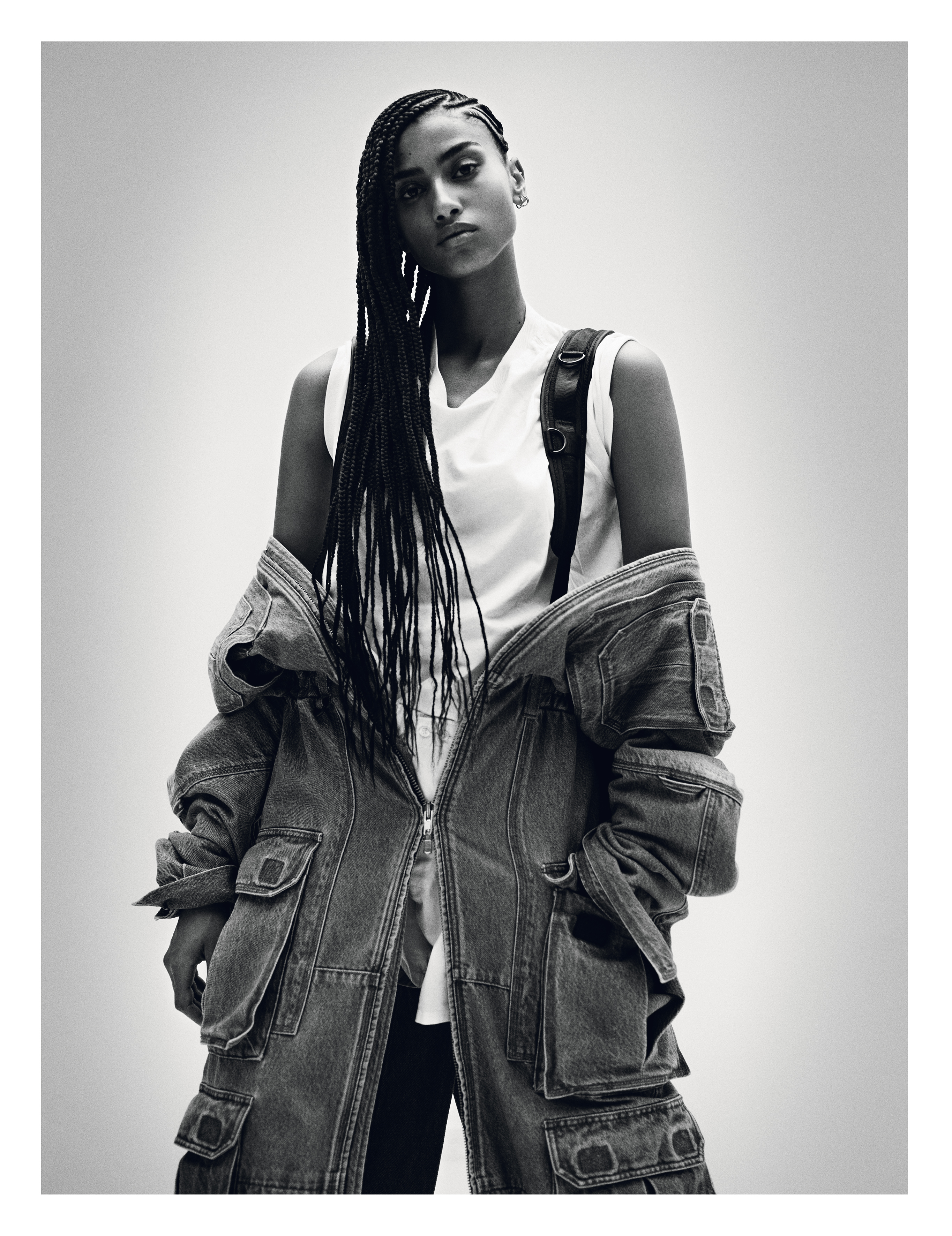 How do you define beauty?
Being confident in your own skin and in your power. I think you have to believe in yourself 100% to be able to realise you have that power too.
It's interesting that you talk about beauty as an internal thing, which is special, and that's where I think it comes from. But of course you work in an industry where it is about what you look like.
I'm very blessed and grateful that I am beautiful, but I think beauty really comes from inside us.
What do you value most in life?
What do I value most in life? What do you value most in your life?
Serenity, sort of a sense of peace.
Peace.
Connection. Genuine…
Genuine connection, true.
And that comes often through my family. It comes through friends, my chosen family. Love connections, but also sometimes through a stranger. There's just something that fuels me about that. And then I think, joy. Not necessarily happiness, but joy, sort of a sense of light.
That's beautiful. I think for me it is also, definitely, family. They provide me with that peace. At work I'm always surrounded by people, there's always people touching you, or needing something from you. It doesn't stop. I'm always travelling, always moving, so to be able to find that peace is really important.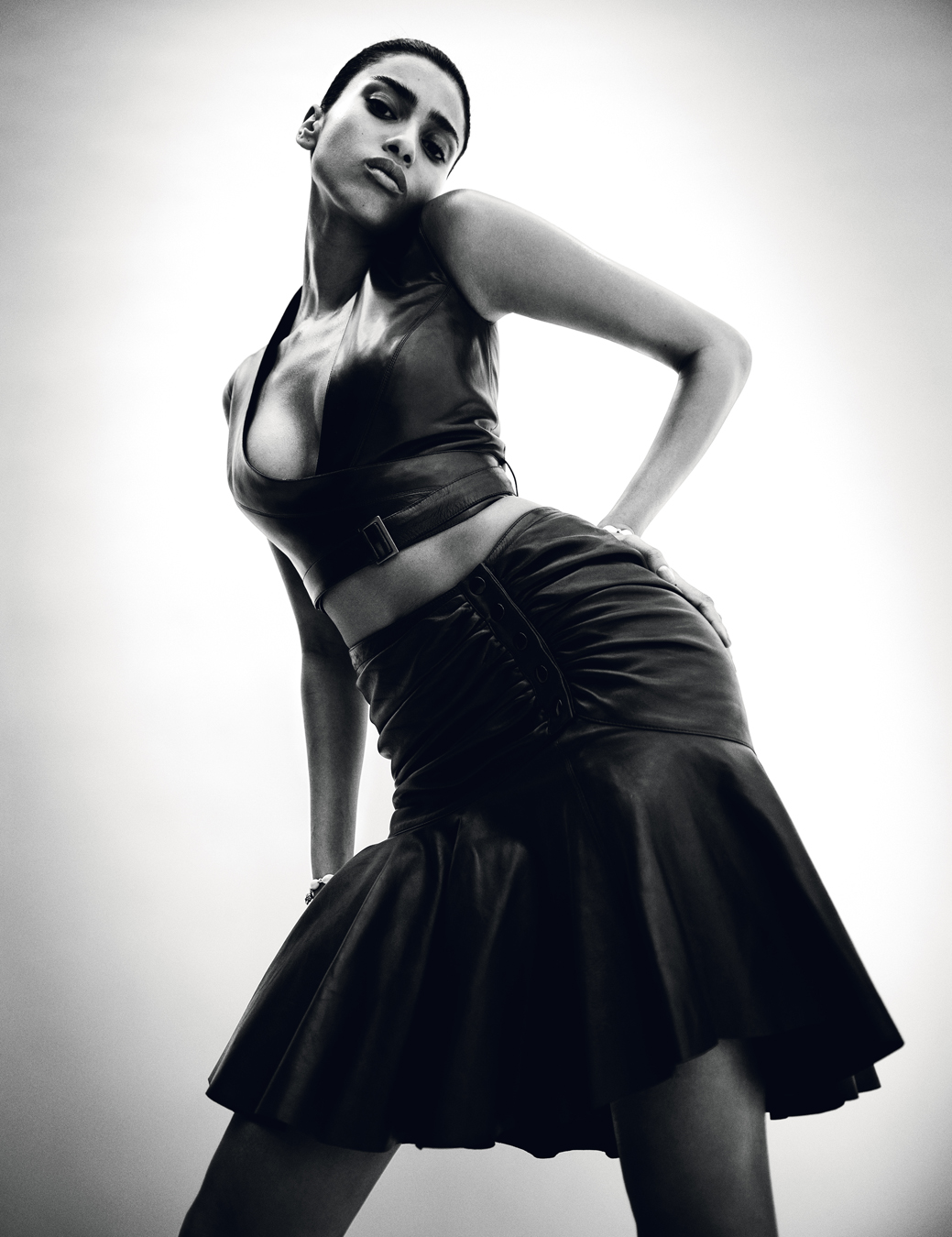 And I don't know if you know, Imaan, but my original dream was modelling, and I was a model in the beginning.
You were, I know.
I think cultivating that sense of home for yourself, even when you're travelling, and sort of naming for yourself, what are the things that I need to hold on to keep that sense of home with me, no matter where I am? And I travelled so much growing up, you know, the lovely woman that's on here that's doing our tech, she's in Switzerland, I was raised in Switzerland. I grew up in Paris. I mean, I was constantly on planes and I'm comfortable on a plane, you know, it's easy. I miss travelling right now, during this pandemic I haven't gone anywhere. And I'm on a plane at least once a month, usually, you know.
Alright, and to finish, then here's my really fun lightning round. You can just pick one or the other.
Sunrise or sunset? Sunset.
Bar soap or liquid soap?
Liquid soap. Wait, what's yours? I want to know yours.
OK, I'm sunset. I am liquid soap. And, OK, here's another one. Bath or shower?
Shower.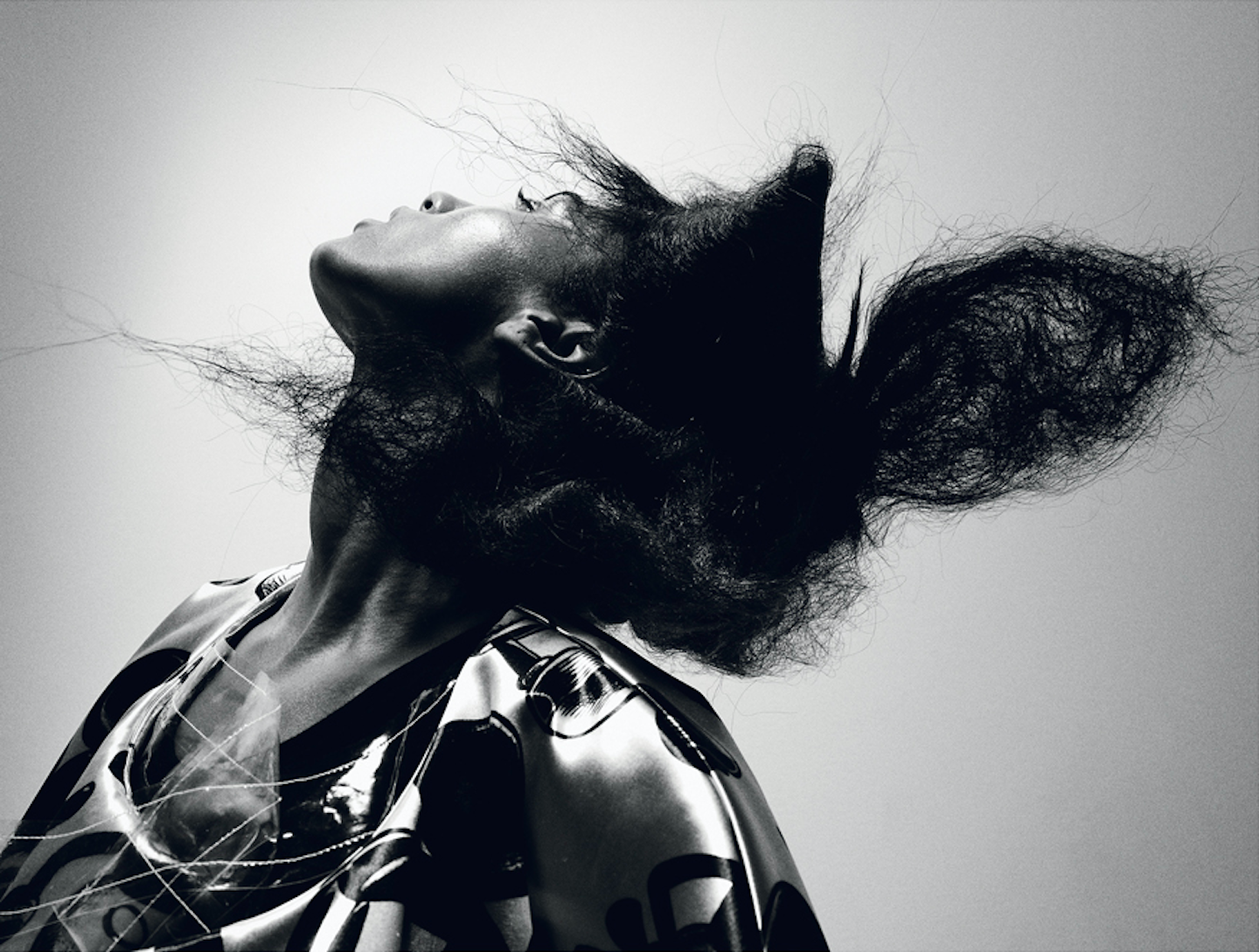 See I'm bath. I will take a bath at five o'clock in the morning, when I get up at 4:30.
Really?
Yeah, if life is just coming at me too hard, I start the day nice and slow. The sea or the pool?
The sea, 100 percent.
I am all about the pool. OK, mountain or beach?
Beach.
Fresh cut flowers or plants?
Ooh, fresh flowers. Definitely. Fresh cut flowers.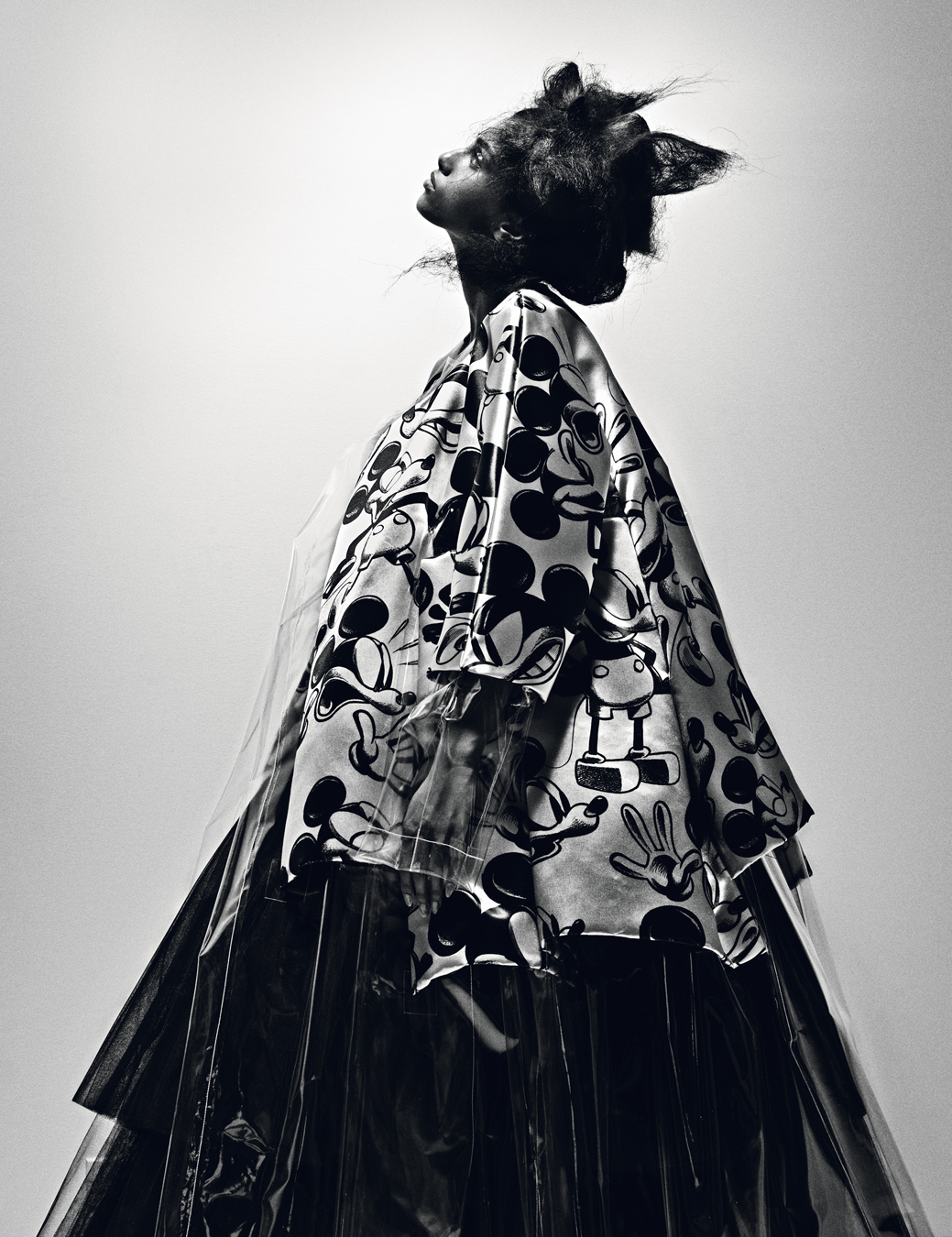 Sneakers or Birkenstocks?
I'm not gonna lie, I love a little Birkenstock. Always. But I would go for sneakers.
Really?
Yeah.
I'm a Birkenstock all the way. Like, I love a sneaker but Birkenstocks, and during this pandemic, I mean, it's like, absurd.
I have been wearing Birkenstocks with socks, like, literally 24/7.
OK, hair out or slicked back?
I mean, we're both slicked back today.
We're both slicked back today.
I would say hair out, but my hair is… I had dreadlocks, and it was just very stupid. I should have not done that. The dreadlocks got, like, really dready. And I almost had to, like, 'cut them' cut them. So my hair right now is… it's uneven, it's…
I just had my first haircut since June. It feels so short, but I needed it so badly. I had to cut off 2020. I was like: 'Bye 2020'.
I'm actually kind of happy with my hair because I'm like, you know what, go, go with the wind.
Go with the wind. Just, bye bye bye. I think that's it. I think that's it. I think that's a good way to end. I love the lightning rounds, they are so much fun.
So fun.
Well Imaan, this was such a treat, such a pleasure. Every time I see you and we run into each other it makes me smile. I'm so happy that you're… seeing you shine is a light for everybody. So enjoy the rest of your little vacation, your little mini vacation. And hopefully I'll see you in person again soon. Yes, I hope so too. Thank you so much for taking the time. Lot's of love and happy new year.
Thank you. Bye.
Thank you so much. Bye.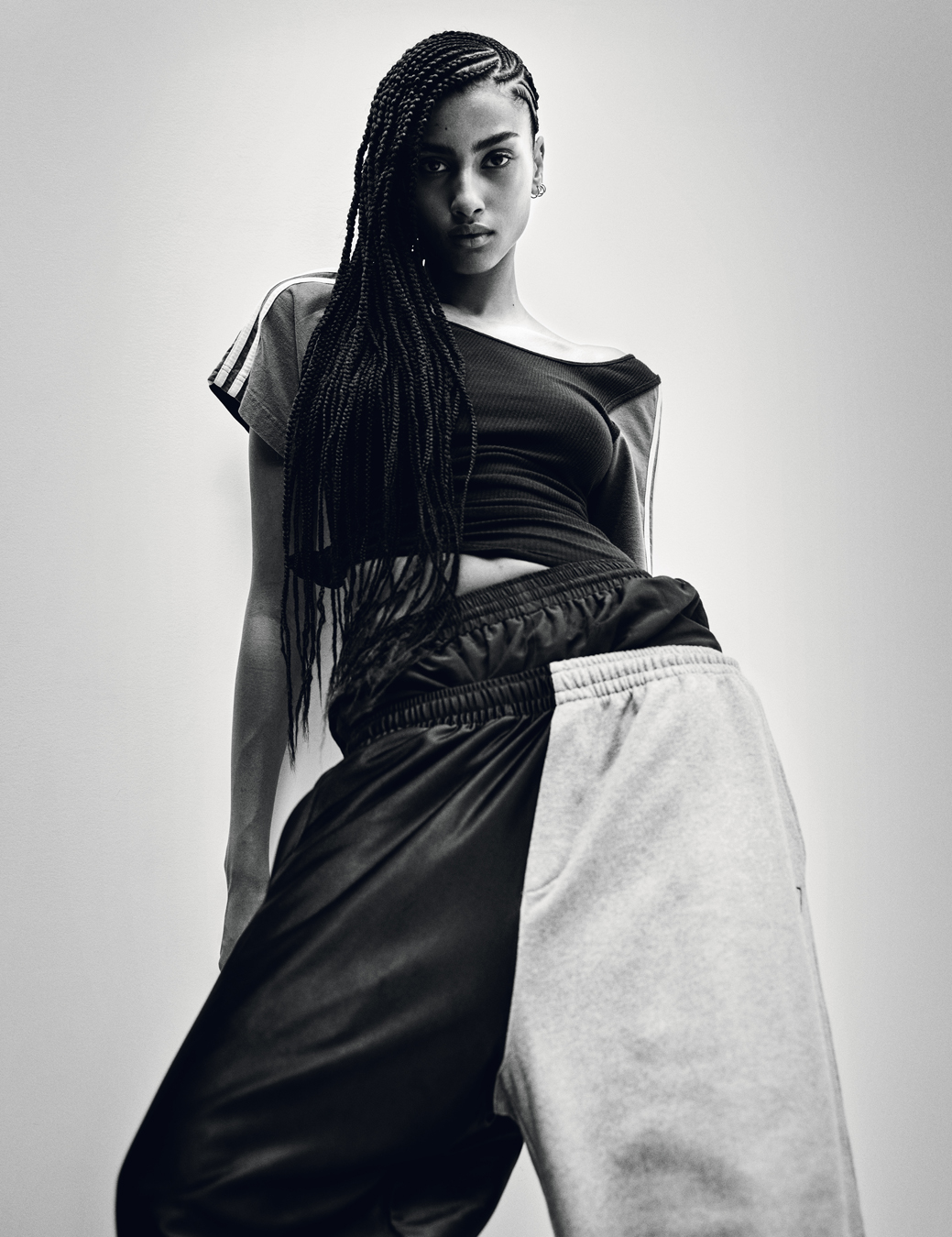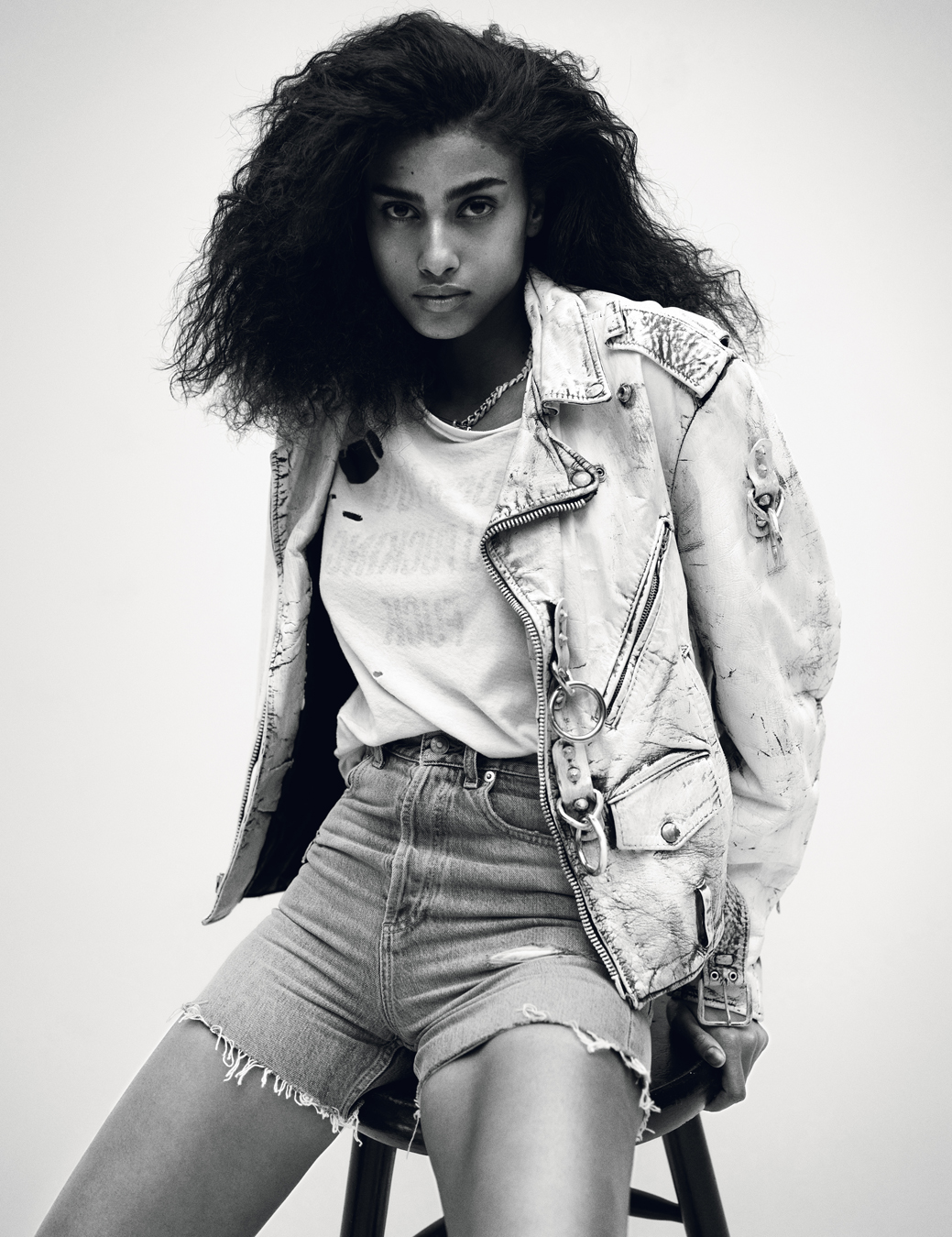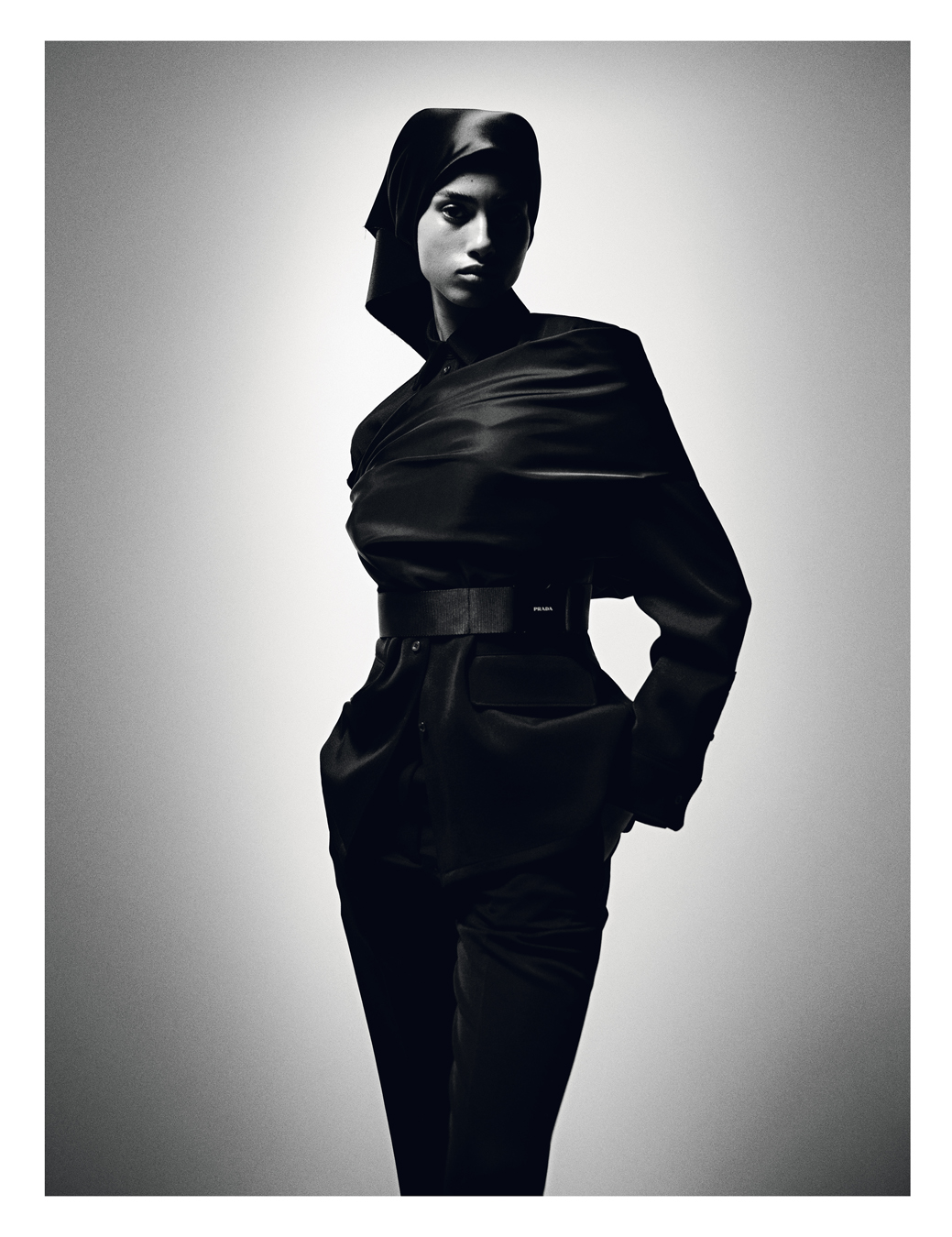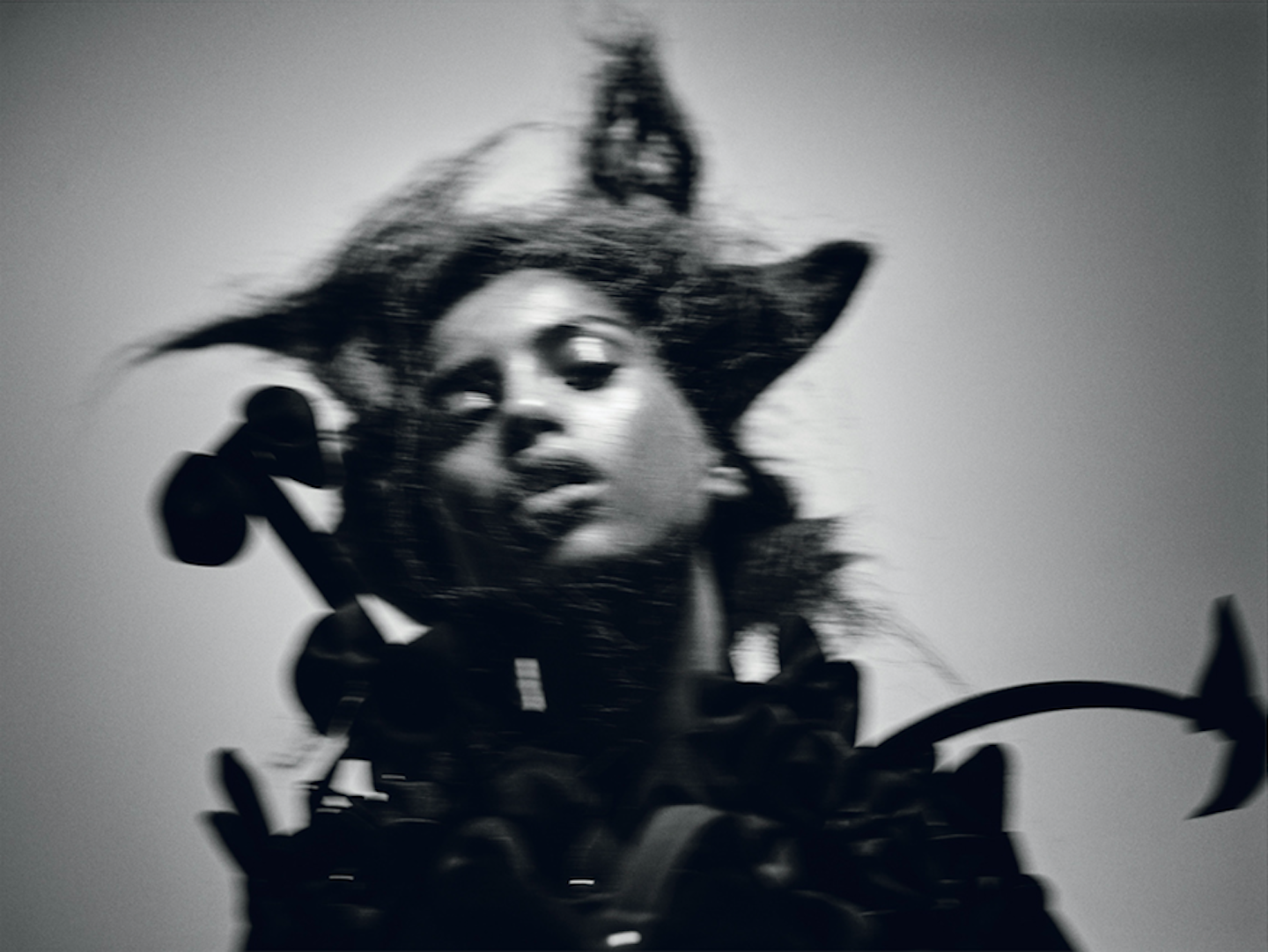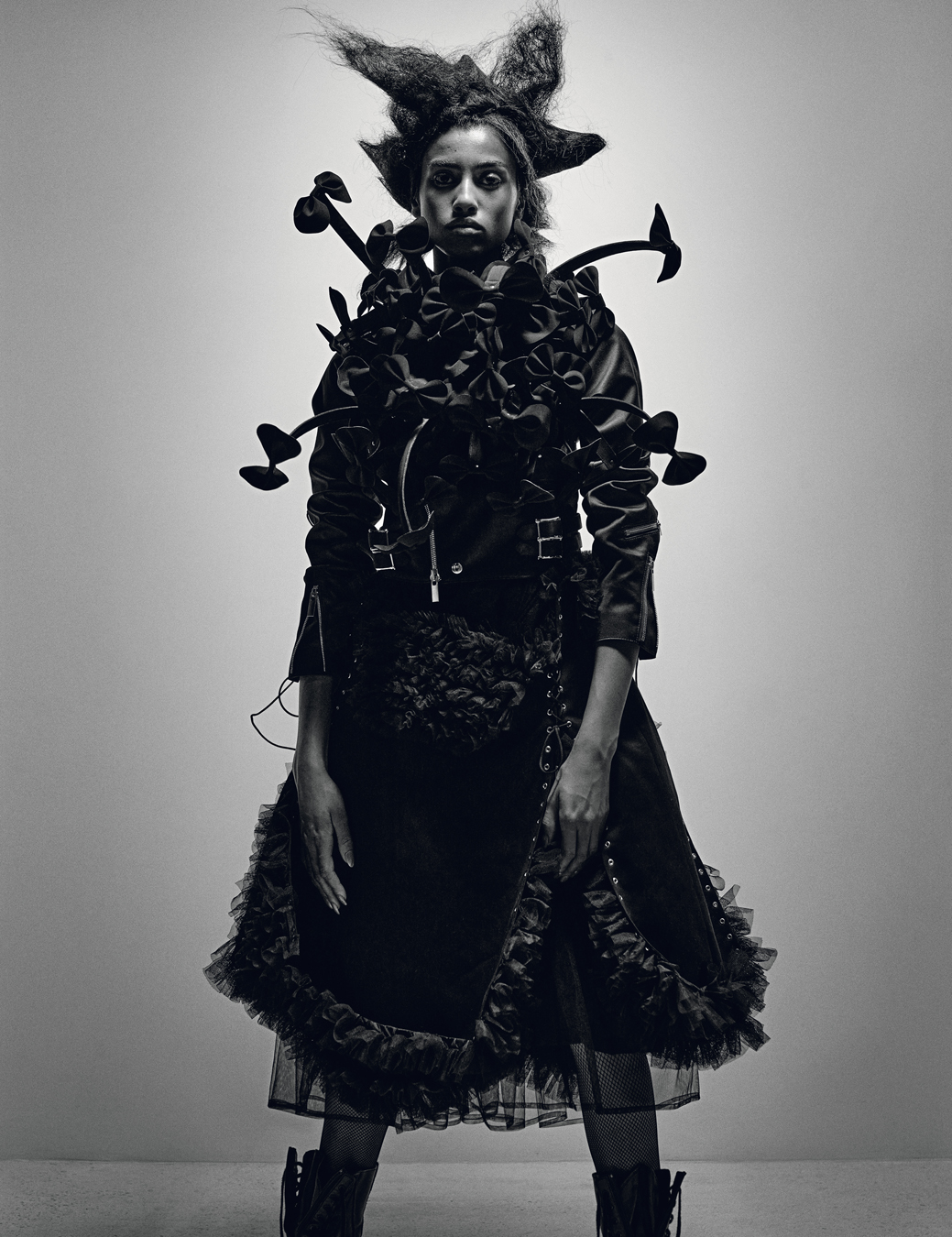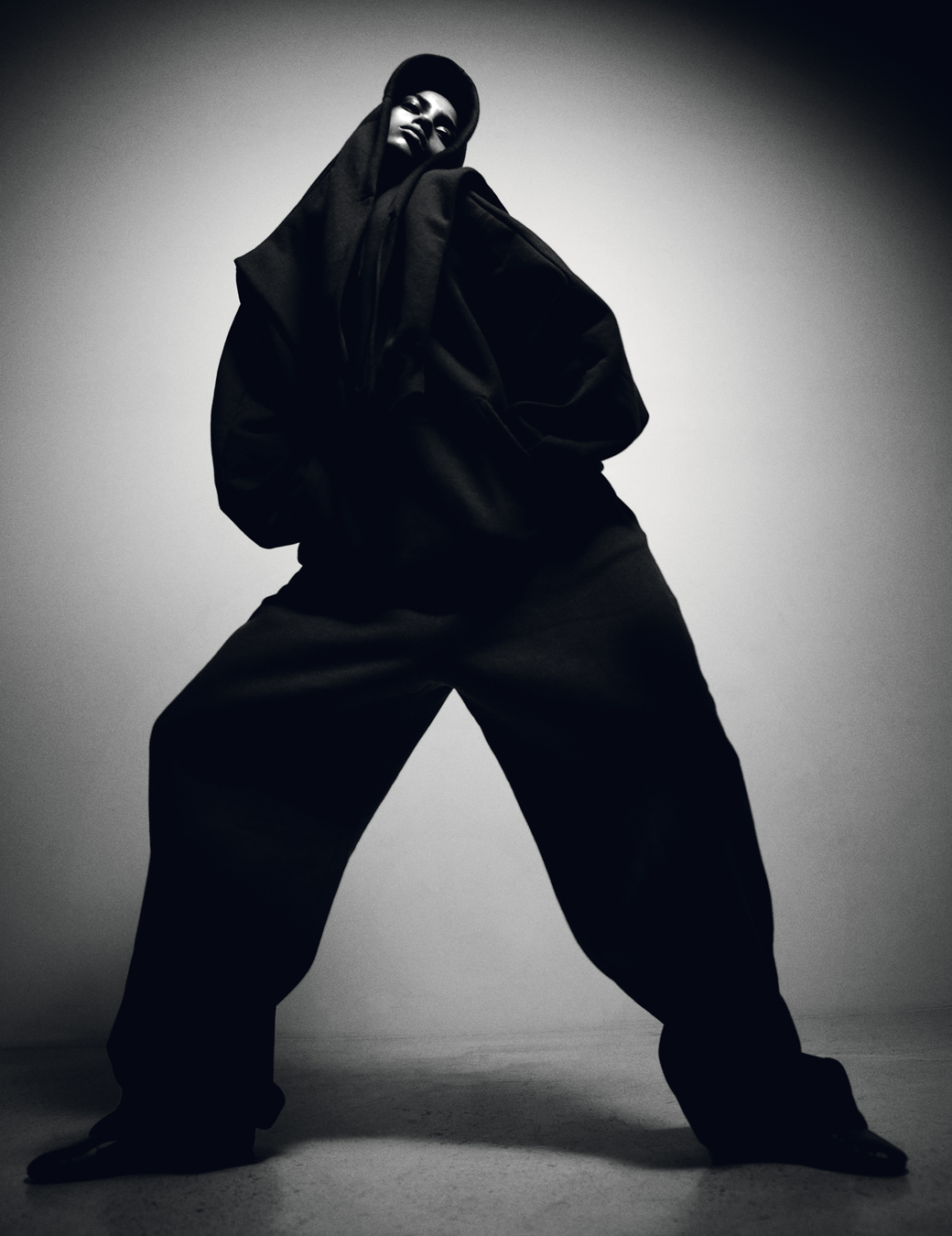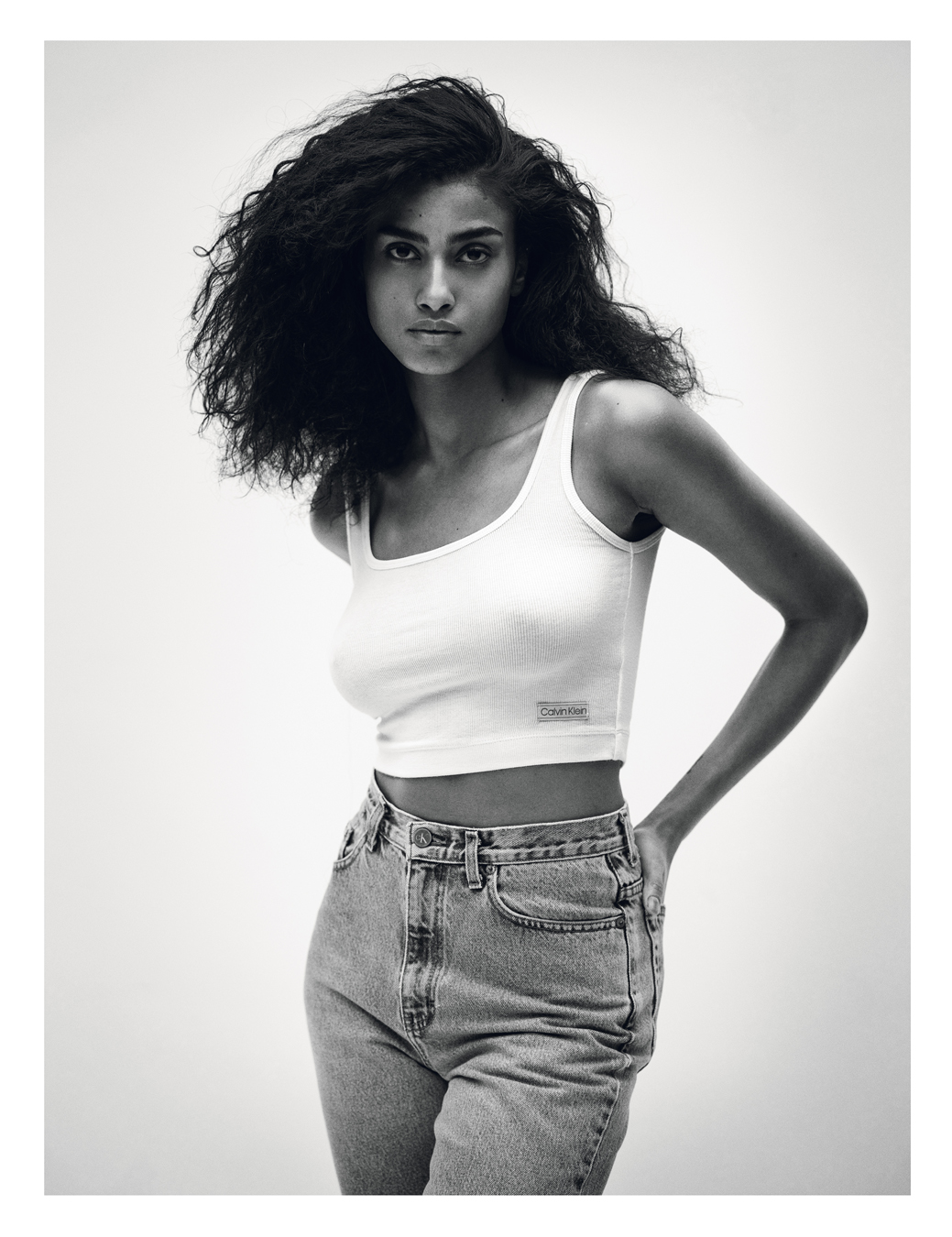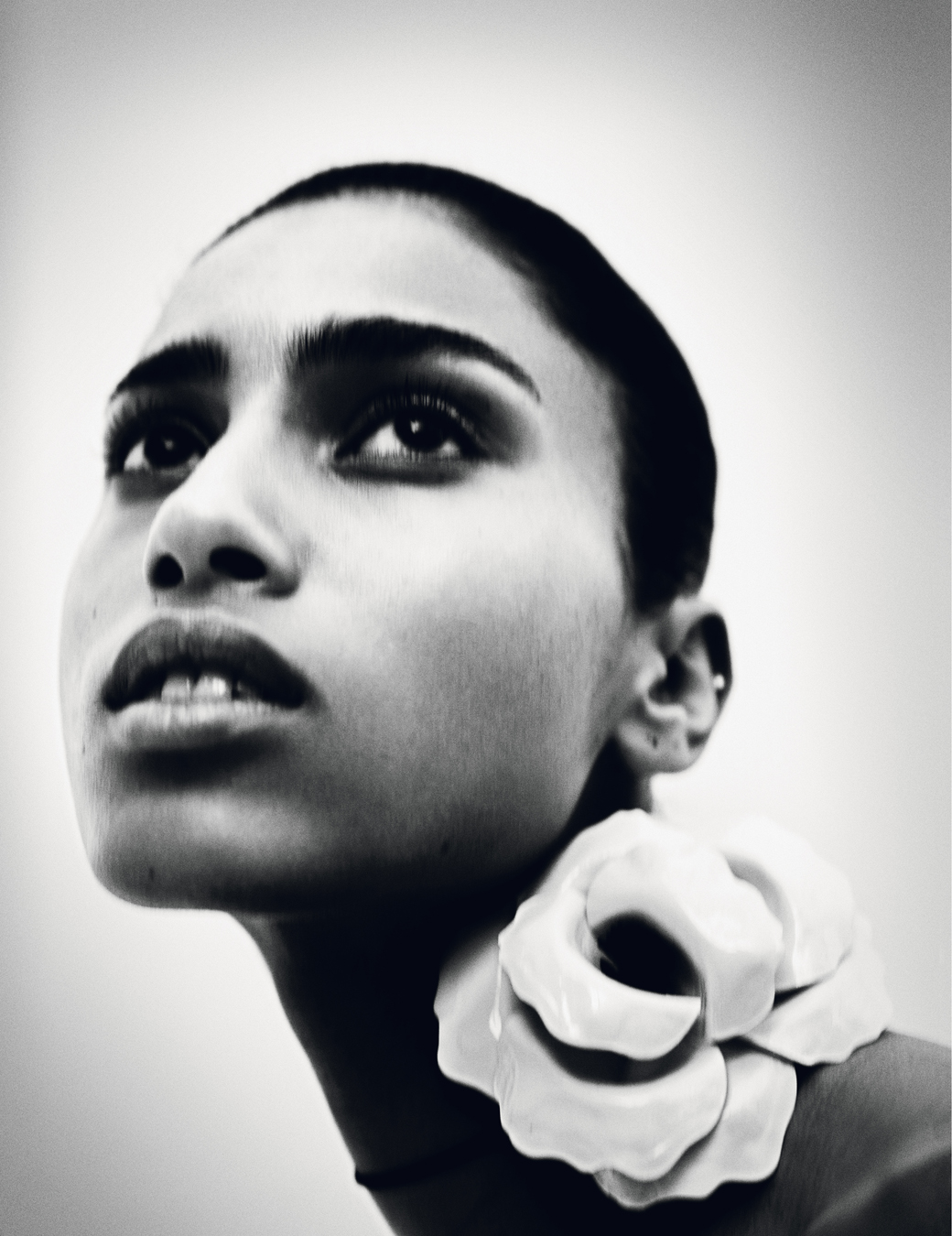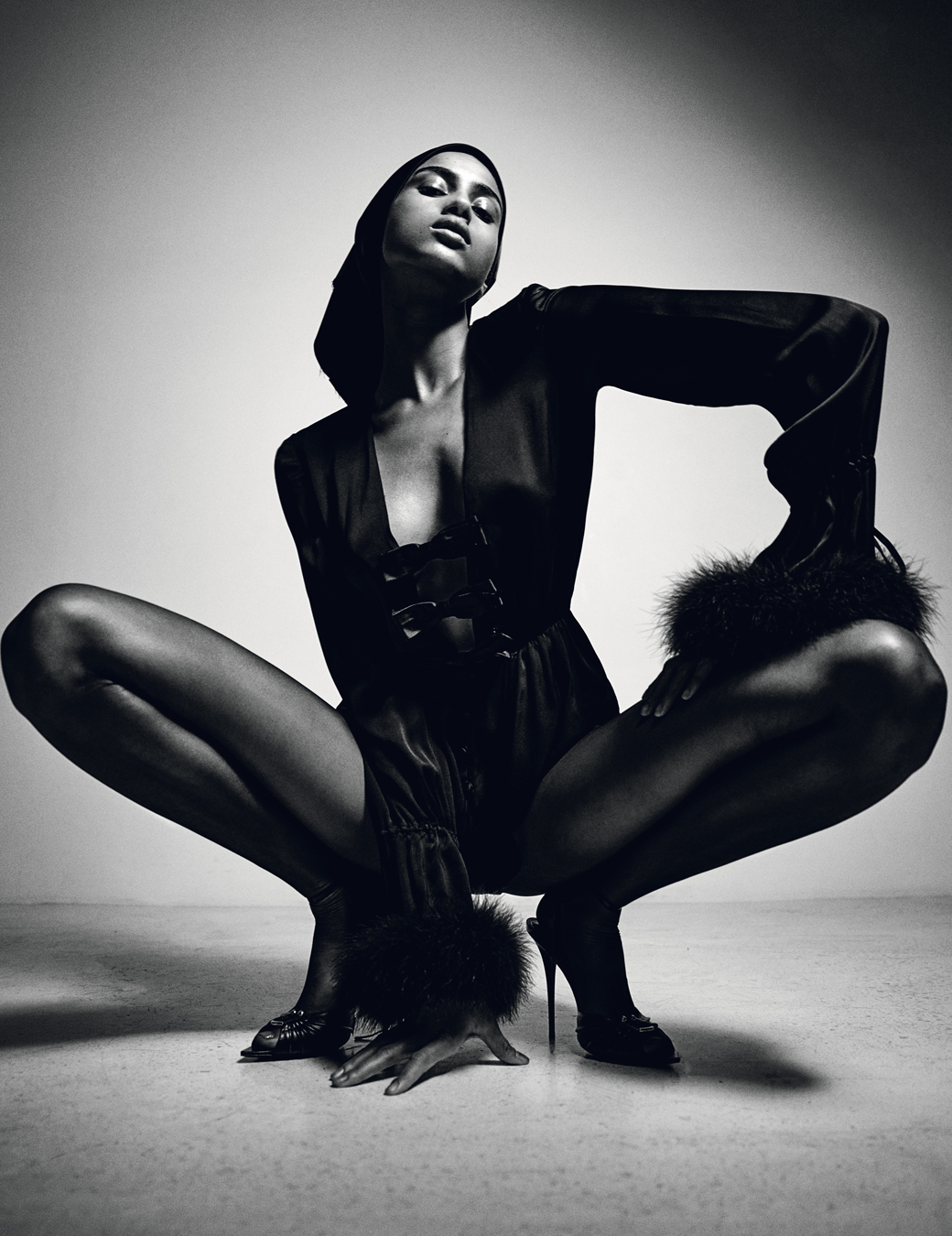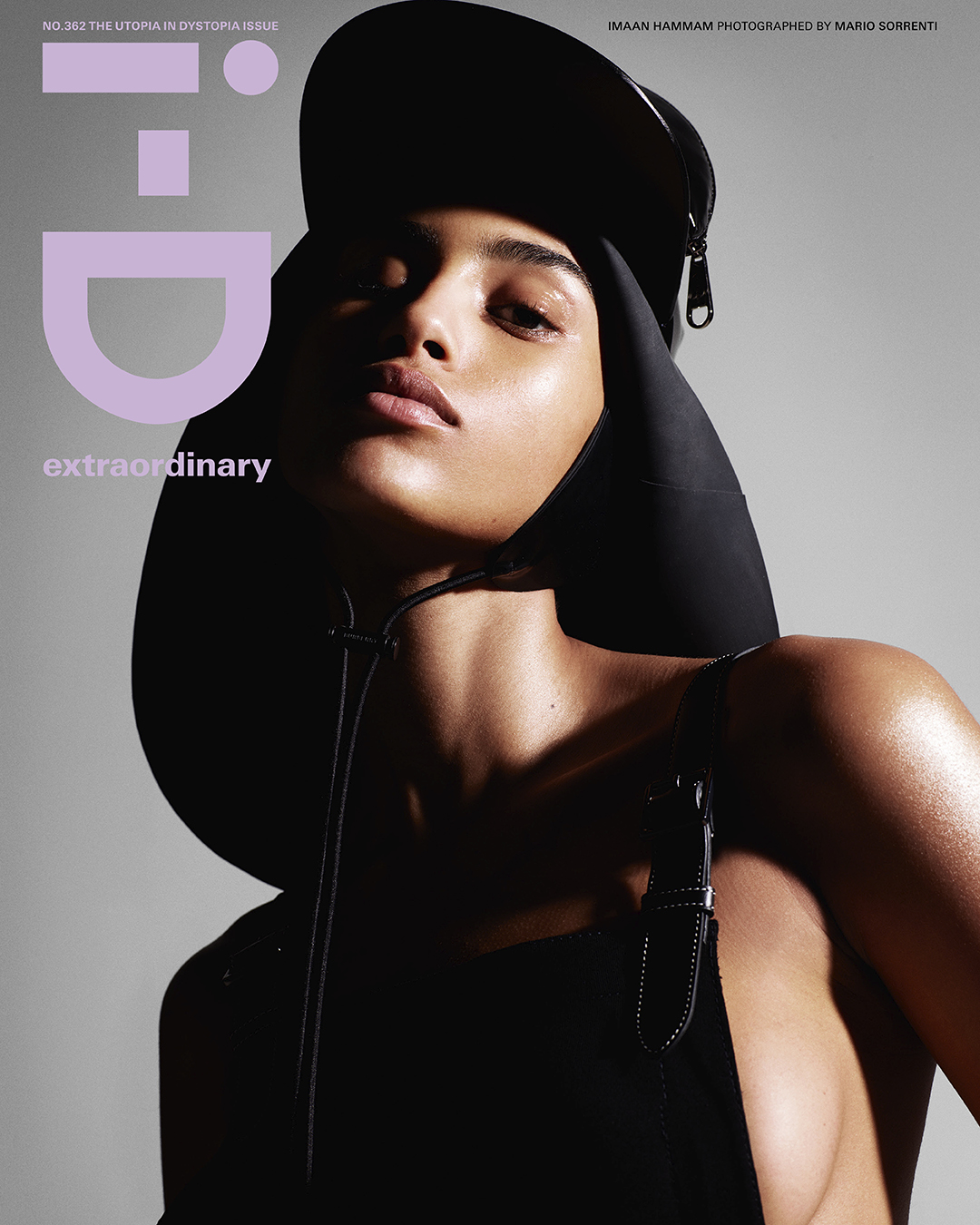 Credits
---
Photography Mario Sorrenti
Styling Alastair McKimm
Hair James Pecis at Bryant Artists using Oribe Haircare.
Braiding Kyia Jones.
Make-up Aaron de Mey at Art Partner.
Nail technician Honey at Exposure NY using Londontown.
Lighting technician Lars Beaulieu.
Photography assistance Jared Zagha.
Digital technician Kotaro Kawashima.
Styling assistance Madison Matusich, Milton Dixon III and Nuvany David. Hair assistance Anton Alexander.
Make-up assistance Tayler Treadwell.
Production Katie Fash.
Production assistance Layla Néméjanski and Steve Sutton.
Casting director Samuel Ellis Scheinman for DMCASTING.
Model Imaan Hammam at DNA.