Photography Angelo Pennetta. Courtesy of Gucci
Gucci taps an anime icon and the AW21 menswear shows: what's in fashion?
Your one-stop-shop for this week's fashion news to know.
Photography Angelo Pennetta. Courtesy of Gucci
Ok, so let's just ignore the dumpster-fire-world that continues to burn outside and focus on what really matters: fashion! Though things have been pretty grisly elsewhere, it's been seven days of nothing but non-stop CHIC on Planet Mode since we last spoke. There have been blockbuster campaigns, an abundance of fresh collaborations, and immersive digital-first experiences that made us question what all the fuss about irl fashion shows was in the first place. That said, we can't say that we don't miss them.
Luckily, we're ending the week on the eve of a new series of digital menswear shows, a quick guide to which you can find below. But that's enough preamble; let's take you through what's in fashion.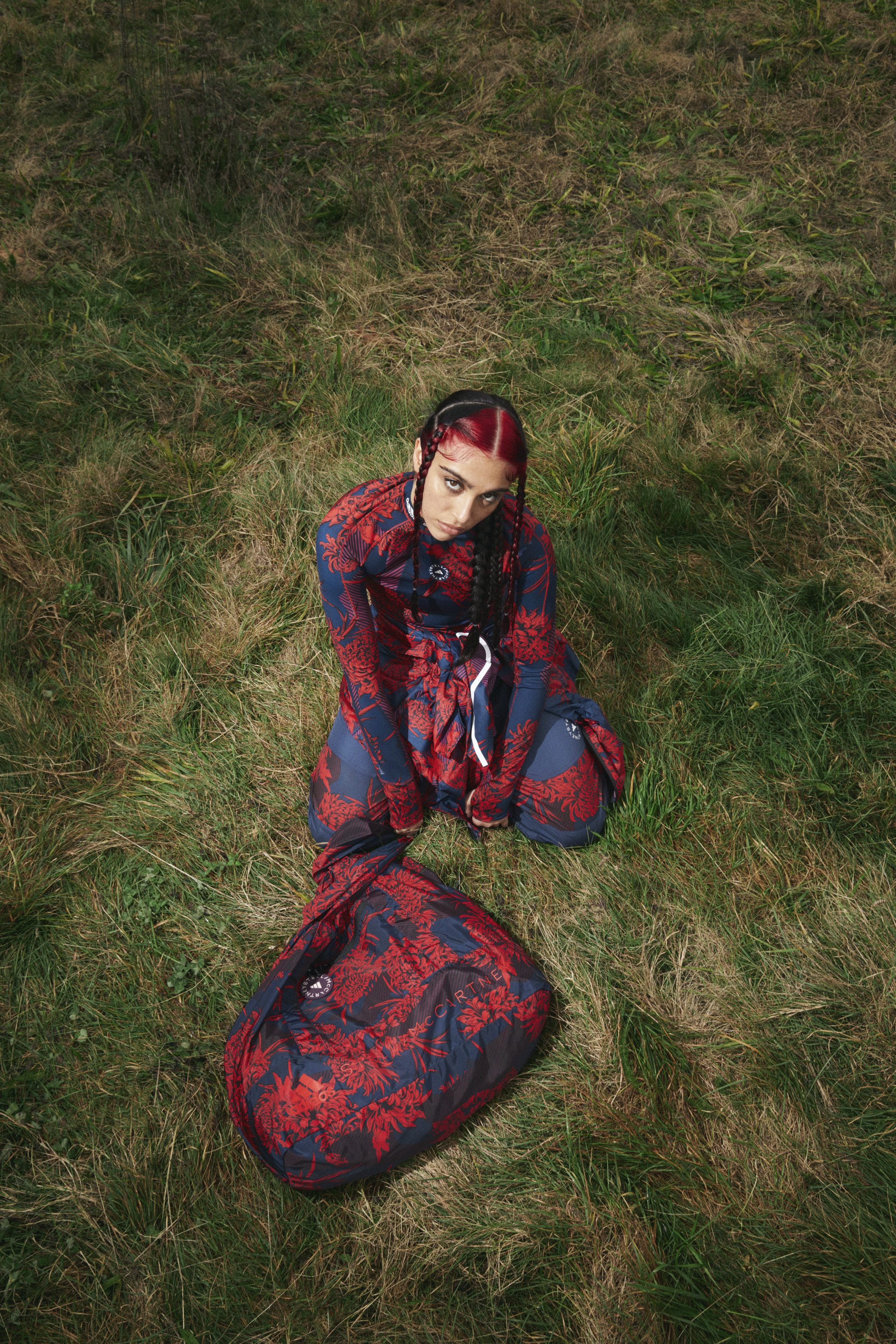 Adidas and Stella McCartney spotlight a new generation of women activists, including Lourdes Leon
If you've been pretty fickle with your resolution to make 2021 your most active year yet, relax -- so have we. Indeed, there are few things that will motivate us to pull on our running gear and drag our tired bodies around the local park, but one thing that seems to be doing the trick is the latest chapter in Adidas and Stella McCartney's longstanding collaboration. Today, they've unveiled the first part of FUTUREPLAYGROUND, their SS21 collection and campaign. Giving full creative control to a team of female directors and activists in London, New York and Japan, the campaign is a vibrant celebration of a new generation of women who are actively affecting change in the world; from Japanese Olympian Ren Hayakawa to models and activists Georgia Moot and Lourdes Leon. If seeing them in the collab's bold printed performancewear doesn't make you want to get up and moving, we don't know what will. MS
Chanel just launched the chicest podcast on air
The biggest in the big league, Chanel has a constellation of starry ambassadors that invoke the envy of every other major fashion house and can usually be found on the front row of their shows at the Grand Palais. But with shows on pause — or at least, shows with audiences — Chanel has launched its own in its new 'Chanel Connects' podcast series, bringing together leaders from the worlds of film, art, architecture, dance, music and fashion for conversations about the future of culture. Tilda Swinton sits down with Edward Enninful to discuss diversity; Kiera Knightley connects with Lulu Wang, director of The Farewell; Pharrell chatters away with artist Es Devlin; choreographer Akram Khan logs on with ballerina Tamara Rojo; while Amanda Harlech tells spellbinding stories to Andrew Bolton. It's the chicest lockdown listening you'll find on Spotify right now. OA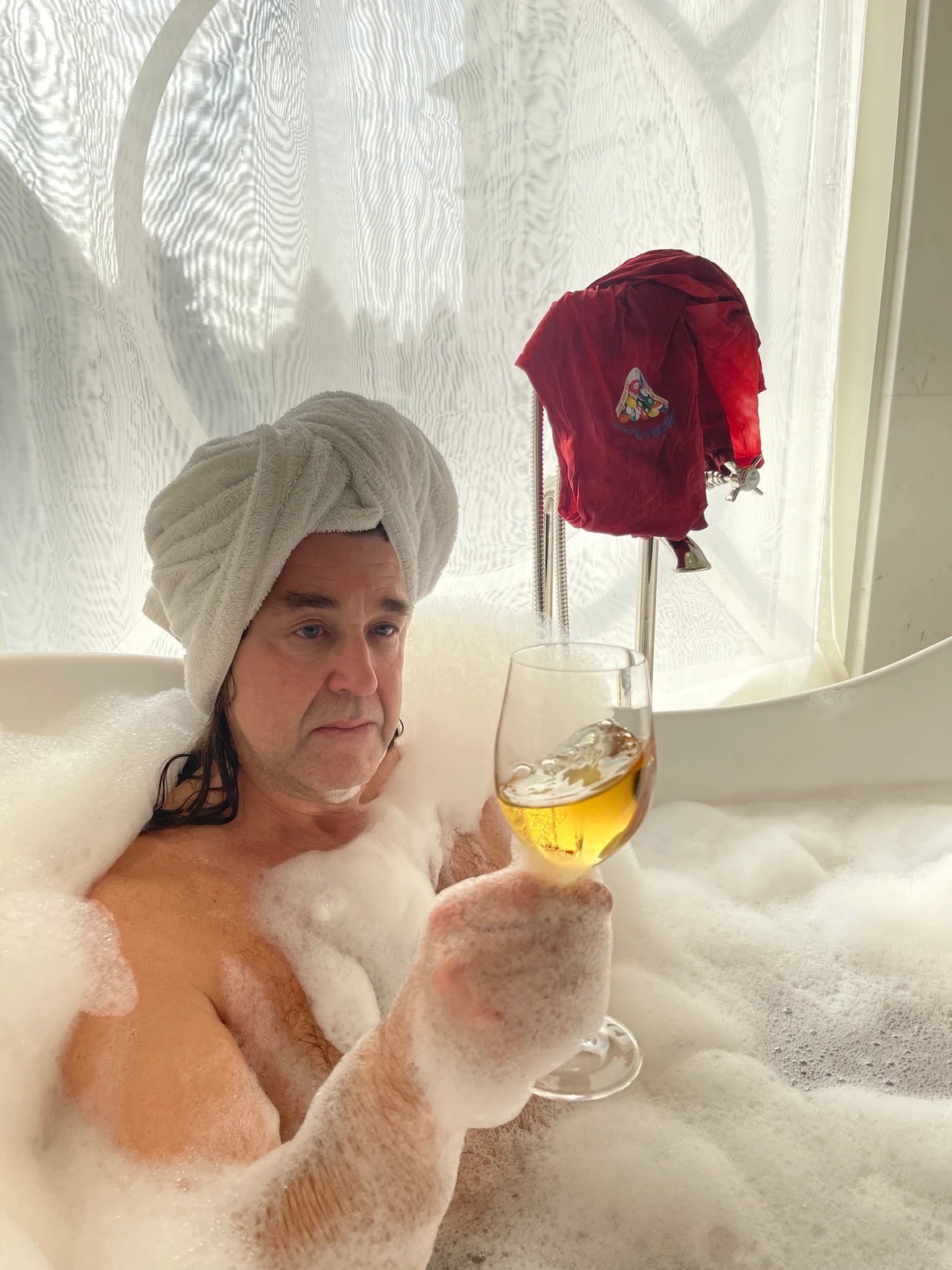 Martine Rose's virtual experience teaches us how to feel again
Martine Rose's shows are known to be immersive, deeply-felt odes to the communities and spaces she is a part of. How do you conjure the inexpressible feeling that comes from attending a show in a North London primary school through a screen? It hardly seems like a question worth asking; but earlier this week, Martine managed to do just that, without us even having to get off the sofa. In collaboration with experience design pros International Magic, she dreamed up 'What We Do All Day', a peek into the lockdown lives of people just like you or me in Paris, Tokyo, Algiers and beyond. Only, they weren't really like you or me… Drake and Elsa Majimbo made cameos from their respective abodes, and everyone was wearing head-to-toe Martine Rose SS21. It was testament to Martine's unparalleled knack for elevating what might typically be overlooked as unspectacular, and her ability to do it with wit and warmth. Read our full review here. MS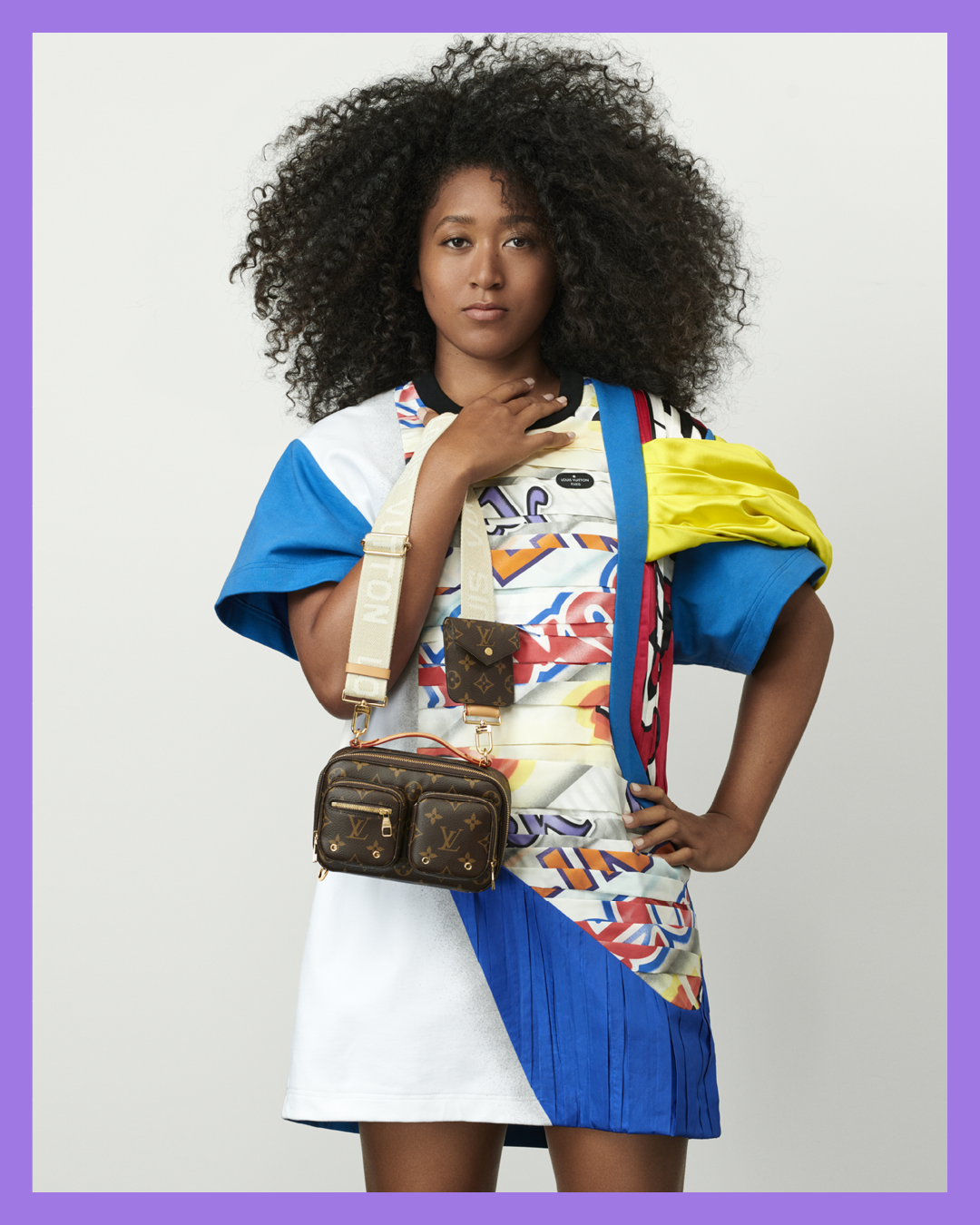 Naomi Osaka is Louis Vuitton's latest champion
There's no stopping Naomi Osaka. The Japanese-American tennis champion has, within only a couple of years, won three Grand Slams, both the US Open and the Australian Open and, last year, she became the highest-earning female athlete in the world. What's more, she has embraced fashion to make bold personal statements — whether it's kente cloth and Pyer Moss to honour her Haitian heritage or face masks emblazoned with the names of Black victims of police brutality, including Breonna Taylor, George Floyd, and Ahmaud Arbery. Now, Naomi is the latest brand ambassador for Louis Vuitton, a first for a professional athlete. She shared the news on her Instagram, alongside a photo of herself wearing a design by (and photographed by) Nicolas Ghesquière, adding: "Funny story: I first bought my mom a LV bag when I was 16 as a birthday present and it's kinda been a tradition since. Do I call this a full circle moment? Yes." So, what does this mean for her on-court style? We're holding out for monogrammed LV tennis gear à la André Leon Talley (whose interview with us this week you can read here). OA
Rafael Pavarotti shoots Dior Men's SS21 campaign
Only the foolish could contest that a veritable highlight of the SS21 menswear collections was Kim Jones' Dior Men's collection. That's not just because it brought us more of the winning blend of breezy wearability and opulence we've come to expect from Kim, but also because of its status as a marker of what a sensitive approach to diverse representation in fashion looks like. It was created in collaboration with Vienna-based, Accra-born artist Amoako Boafo, whose trademark fingerpainted portraits, celebrating Black joy and beauty, were the collection's central motif. For its freshly released campaign, that narrative has been translated through the lens of Brazilian photographer Rafael Pavarotti. Shot in the i-D contributor's trademark saturated style, the images see an all-Black cast pose against bright backdrops, captured with elegance and poise. It makes for one of the most visually-appealing, not to mention progressive, large house campaigns we've seen yet this season. MS
Downtown couture? Area NYC is officially launching haute couture
Area NYC, the label beloved for its crystal-laden, photoflash-friendly designs, is the unlikely new addition to the official Paris haute couture schedule, fiercely guarded by the Fédération de la Haute Couture et de la Mode. It marks the first new blood — and American at that! — to arguably the most traditional of sky-high fashion establishments. "I'm quite confident in saying that if you look at a Parisian brand, I feel we're operating on the same level of craft," co-designer Piotrek Panszczyk said earlier this week. "But it's a more modern approach." Not only will Piotrek and his designer partner Beckett Fogg be making their Paris debut (albeit virtually), but the announcement marks a bold new direction for the NYC indie label, which will pivot to a see-now, buy-now model for their ready-to-wear, as well as a more intimate experience for its customers. The pair will be focusing more on creating custom pieces in their Canal Street studio — or should that be atelier? OA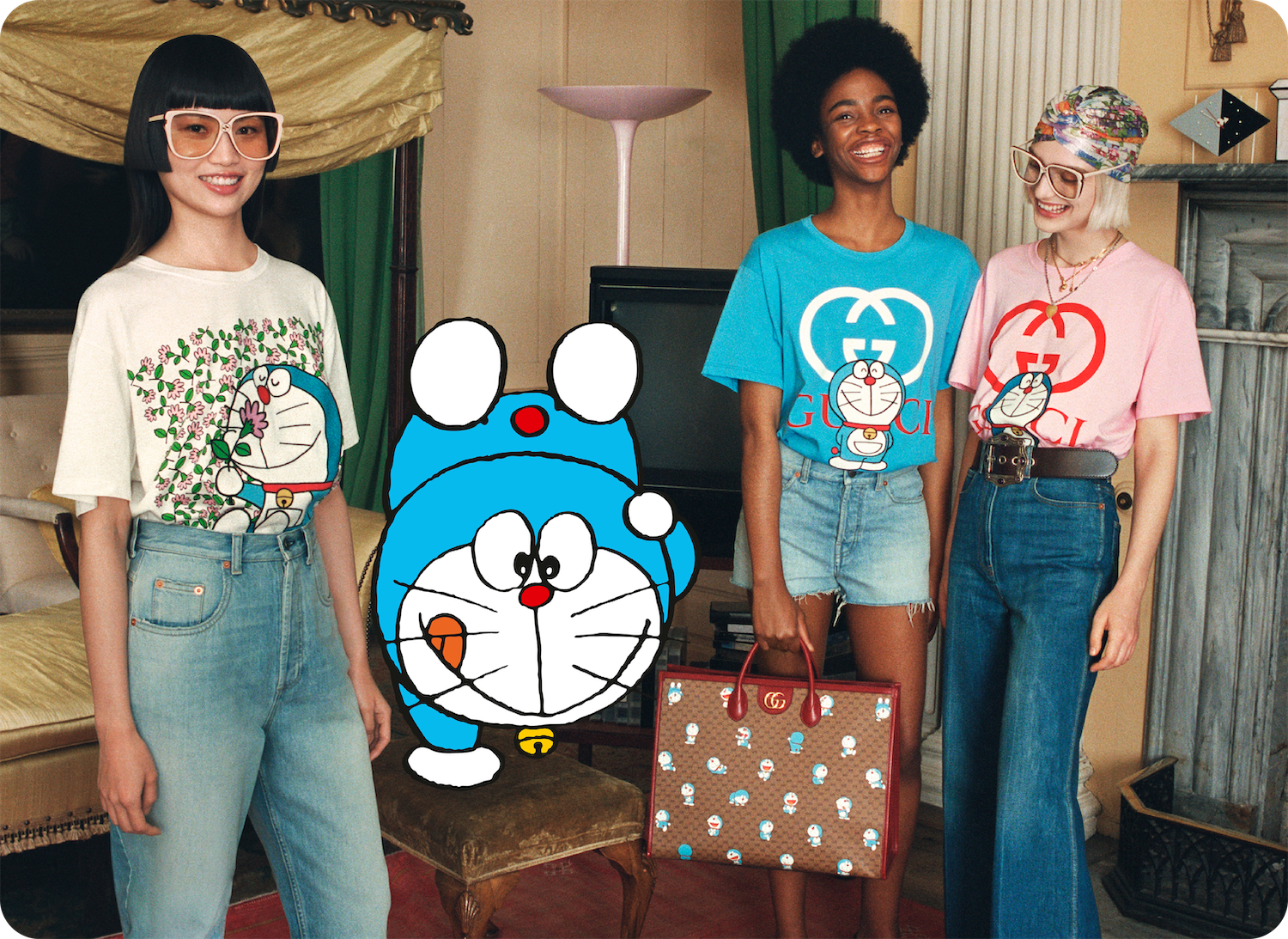 Gucci taps an anime icon for its Lunar New Year capsule
With the Year of the Ox just under a month away, you might have noticed an uptick in bovine-themed fashion collaborations of late. Always ones to tread their own path, Gucci has gone against the grain for their annual Lunar New Year capsule, pairing up with iconic Japanese anime character Doraemon instead. Just as Loewe x My Neighbor Totoro did last week, the collection offers a welcome dash of unrepentant joy at a time we need it most, with the cheery, blue "cat-type robot" seen everywhere from GG motif bags to tees and the house's hyped Rhyton sneakers. If you're reading this from Australia, China, Hong Kong, India, Japan, Malaysia, Singapore, Taiwan, Thailand or Vietnam, make sure you head down to your nearest Gucci store later this month (local restrictions permitting, of course!) to see Doraemon in the flesh! Well, on store facades at least, but close enough. MS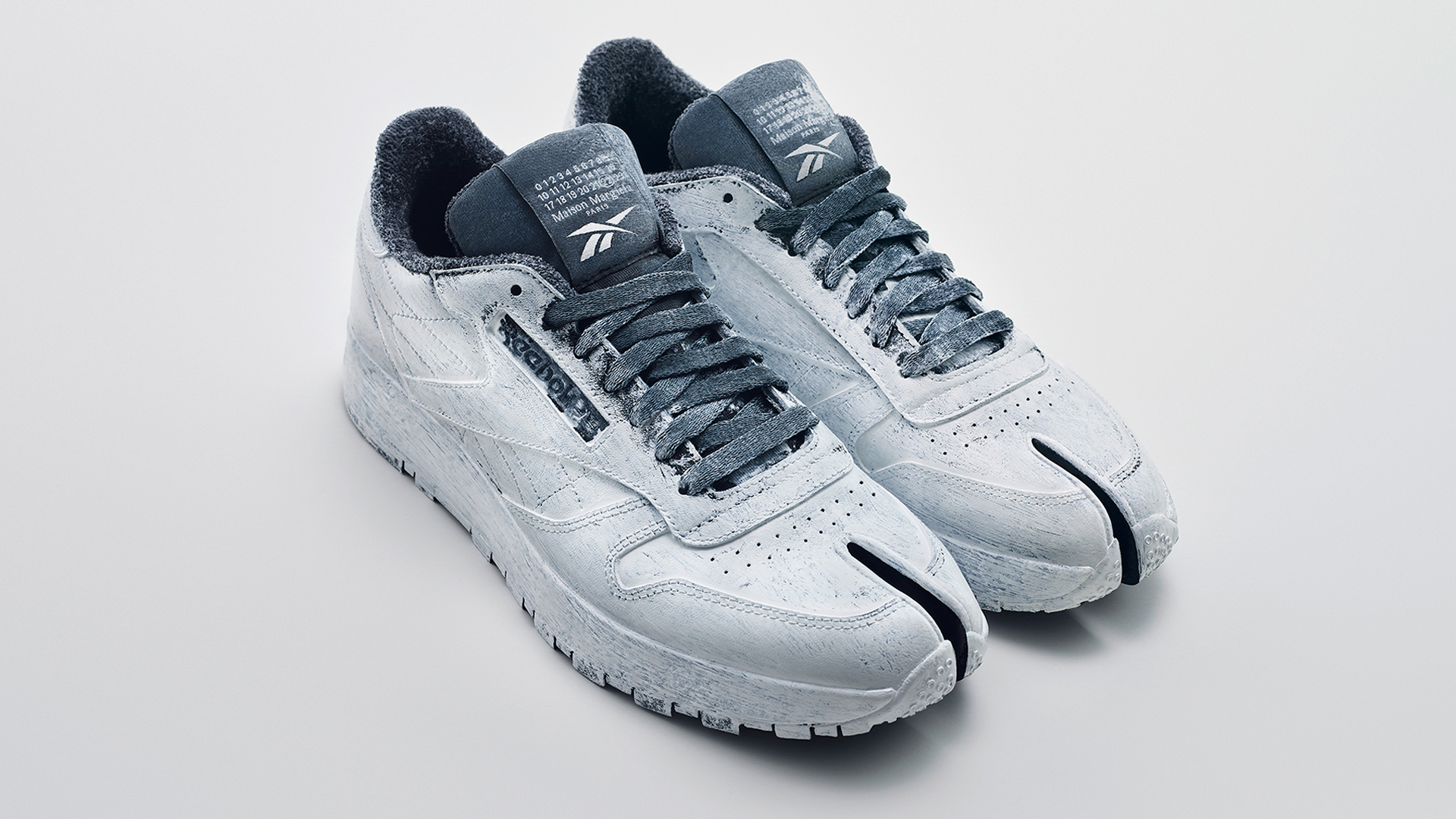 There's now a Tabi running shoe. Yes, really.
Are you in need of ways to make your lockdown jogging a tad more avant-garde? Look no further than Maison Margiela and Reebok's new Tabi running shoe, a sneaker with a split-toe for all those Margiela stans who have found their wardrobes erring on the side of, err, sporty in these most sartorially testing of times. Hand-painted with the house's signature 'Bianchetto' technique, the sneaker is a delightfully absurd interpretation of the Tabi style that has been a house classic since Martin riffed on Japanese 'Jika-Tabi' footwear, a precursor to the socks-and-sandals look. The sneakers officially go on sale on 30 January, but you can place your orders now. Go on, wear them on your next run around the park. We dare you. OA
Simone Rocha is bringing a touch of opulence to H&M
Simone Rocha, queen of doll-like dresses and baroque embellishment, is the latest designer to design a collection for H&M, just in time for the label's tenth anniversary. She follows in a long line of luxury-minded designers who have lent their design signatures to the Swedish chain, pioneered by the late Karl Lagerfeld back in 2004. In doing so, the London-based Irish designer has added to her repertoire, expanding into menswear and childrenswear (she's currently expecting her second baby; congrats, Simone!), and enlisting Normal People's Daisy Edgar-Jones, model Tess McMillan, musician Kelsey Lu, dancer Francesca Hayward and actor Micheal Ward as well as the Aboah sisters to star in the Tyler Mitchell-lensed photo series. Expect those frothy cotton poplin dresses, sugary pink cardigans, puffball trench coats and pearly trims at a steal. The collection launches on 11 March. Set your reminder now. OA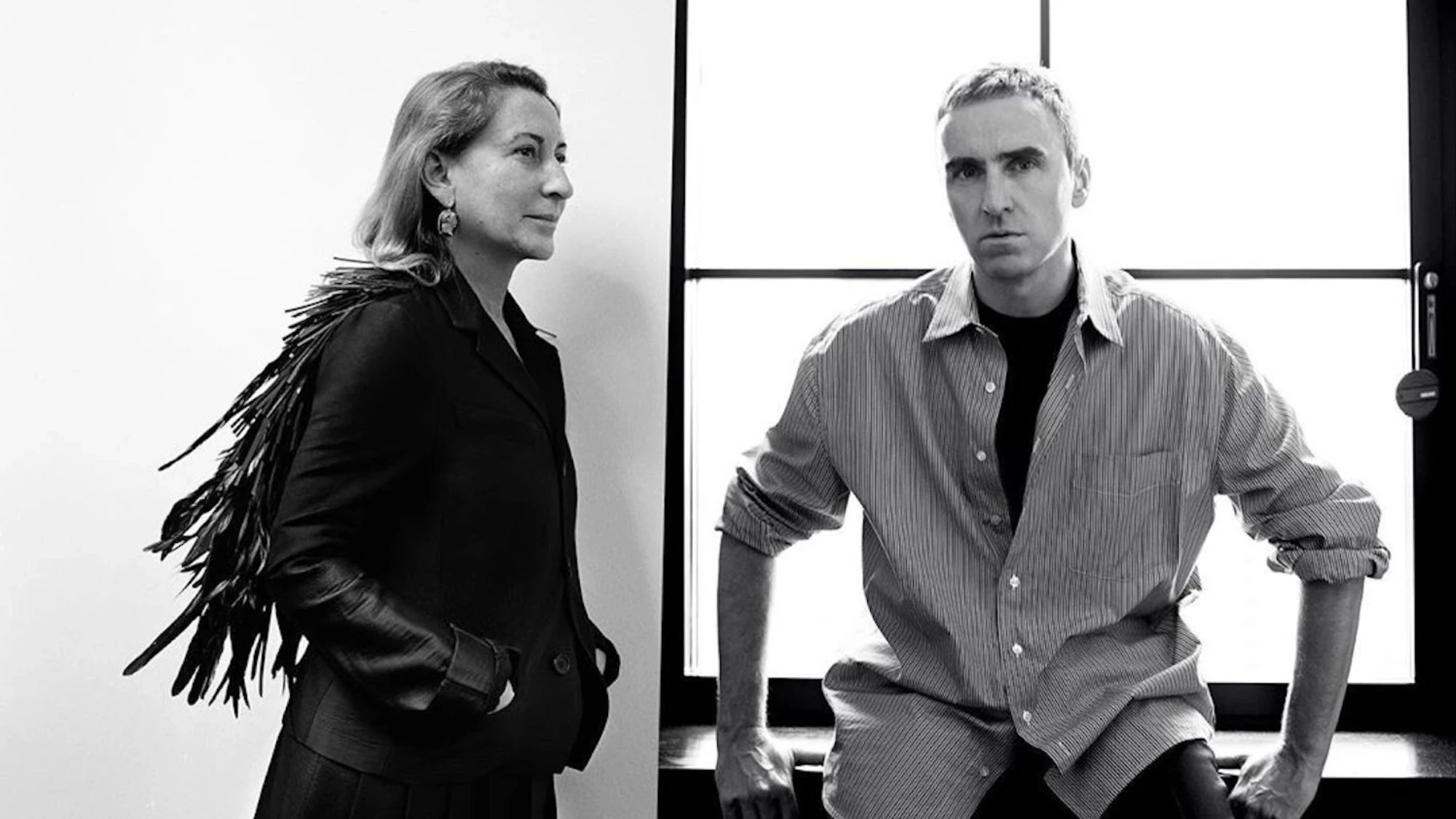 It's fashion week… again!
Given the number of houses that have decided to show on their own schedules in the wake of the pandemic, you may have thought that fashion weeks were all but dead and buried. Wrong! Fashion week is indeed going ahead, with the digital menswear shows formally kicking off tomorrow. Even though none of us will actually, you know, be there, we're still set up for one hell of a season. In 'Milan' on Sunday, there's the hotly-anticipated debut of Miuccia and Raf's Prada menswear. And from Monday onwards, it's over to 'Paris' where we'll be waiting with bated breath for Kim Jones' latest for Dior, Wales Bonner's sophomore showing on the schedule, whatever Loewe's follow up to its fantastical show-on-the-wall will be, and SO much more! Keep your gaze fixed on us for updates and show reviews as they happen. MS