Photo by PAT/ARNAL/Gamma-Rapho via Getty Images.
7 of Linda Evangelista's most iconic outfits
One of the 90s most glamorous women, the supermodel epitomized high-fashion style in Versace, Chanel and (multiple!) naked dresses.
|
05 February 2021, 8:00am
Photo by PAT/ARNAL/Gamma-Rapho via Getty Images.
Never was there ever a woman as high-fashion as Linda Evangelista. The supermodel to end all supermodels, Linda came up in the fashion industry during the late 80s and 90s to become one fifth of modelling royalty, the "Big Five", alongside the likes of Naomi Campbell and Christy Turlington. As such, her impact on one of fashion's most iconic eras was major. She was muse to Steven Meisel, Karl Lagerfeld and Gianni Versace. She holds the record for most Vogue Italia covers (all shot by Meisel, of course). And, make no mistake, Linda's the super who uttered the most iconic modelling quote of all time: "We don't wake up for less than $10,000 a day." Naturally, her own personal style is just as opulent and glamorous. A mish-mash of smooth 90s minimalism and high-octane looks from the designers who loved her, Linda's style still reverberates today, and epitomizes the best-of-the-best of the 90s. Here, we chart the Canadian supermodel's career through a selection of some of her most iconic looks.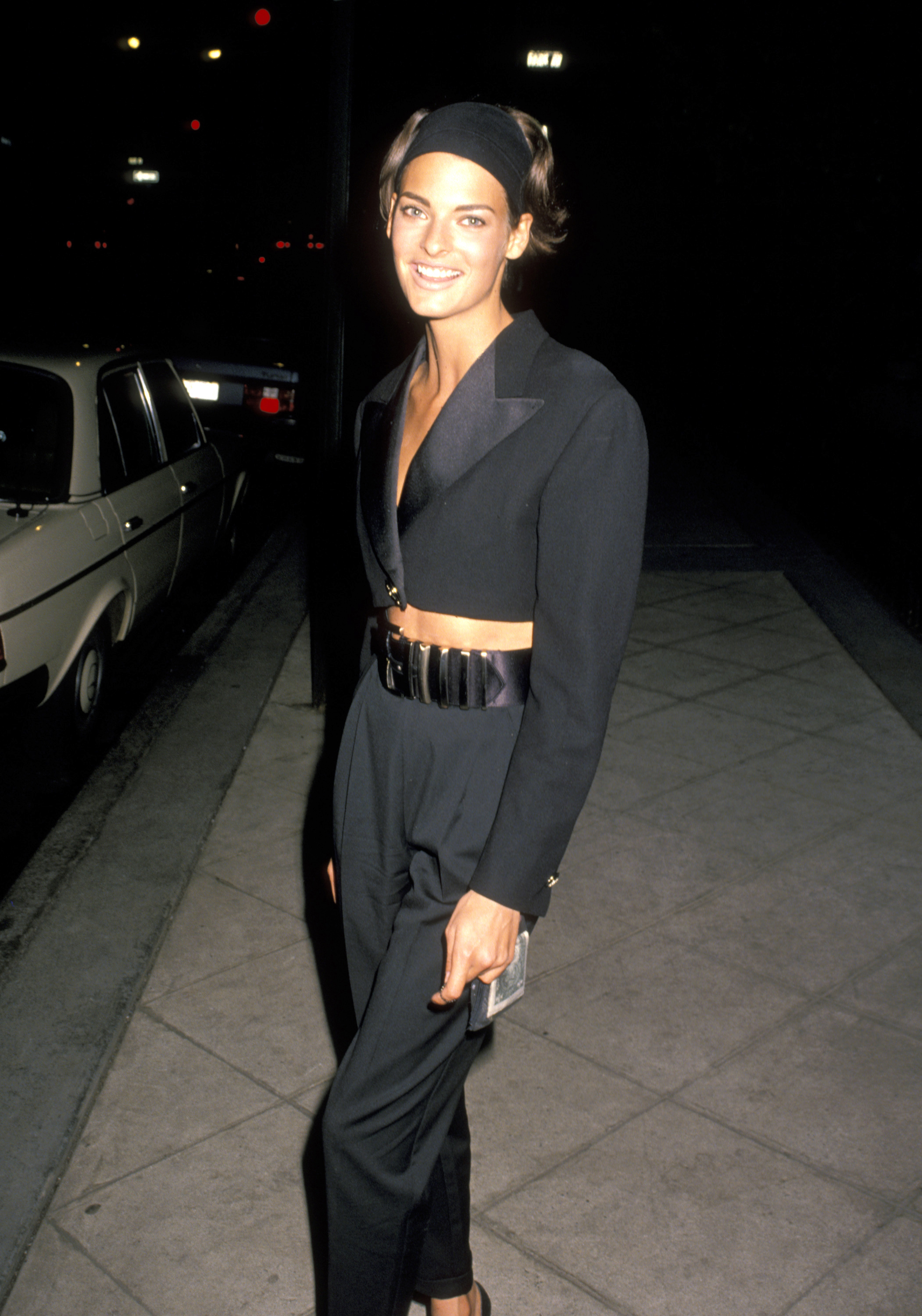 At the opening of the Gianni Versace boutique, 1990
Raised in southern Ontario's picturesque Niagara region, Linda got her start in modelling quite young and — surprisingly, considering the precedent for model origin stories — quite intentionally. At 12, the would-be super's parents enrolled her in "self-improvement" courses at a local modelling school. Afterwards, she modelled for various companies in her hometown until she was scouted by an Elite Model Management representative while participating in a local beauty pageant. After a career false start in Japan, she moved to New York and officially signed with Elite in 1984. Since, she's covered American and international Vogue's many times over, and has even fronted i-D. She's been muse to some of the 90's most iconic designers, from Lagerfeld to Versace. Here, attending the opening of the latter designer's New York boutique, she wears a powerful early 90s ensemble: cropped strong shoulder blazer, massive belt and pleated pants, topped with her signature headband.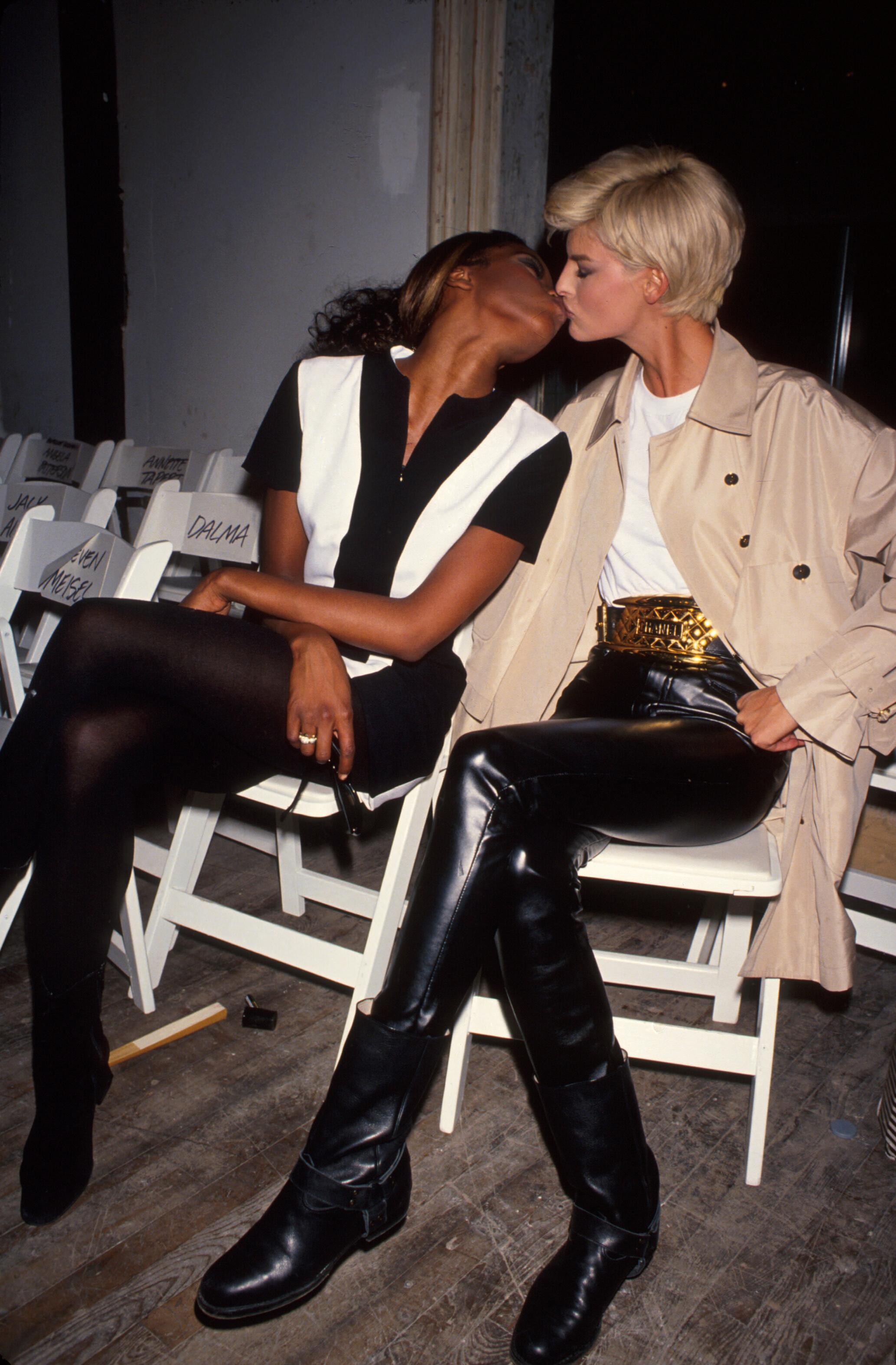 Backstage with Naomi Campbell, 1991
In 1989, Linda was photographed alongside fellow models Naomi, Christy, Cindy Crawford and Tatjana Patitz by Peter Lindbergh. The now-iconic black-and-white image, which covered British Vogue's January 1990 issue, launched the quintet to international stardom. Dubbed "The Big Five," the group were the premiere supermodels of the 90s. Walking the same runways, staying at the same hotels and facing the same editorials, the group became more than colleagues, but close friends and confidants. Here, Linda's photographed backstage having a kiss and a laugh with fellow super and bestie Naomi. And, as any super worth their salt, she's wearing an effortlessly glamorous ensemble, consisting of a white tee, leather pants, short trench and a massive Chanel logo belt.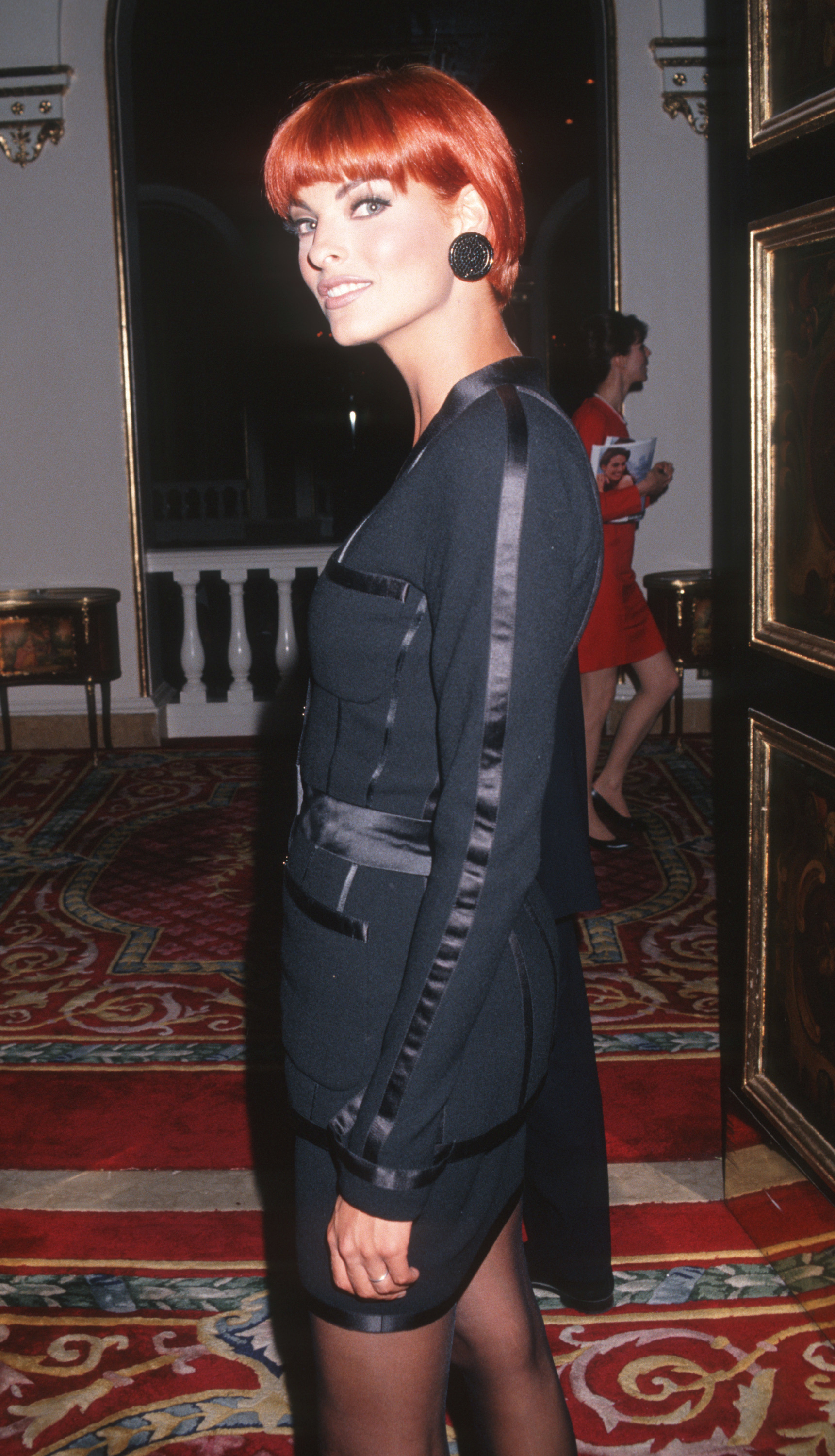 At Maybelline's Look of the Year, 1991
Linda is credited with being one of the fashion industry's finest "chameleons," thanks, in part, to her revolving door of iconic hairstyles. Her mane journey began in 1988, when photographer Peter Lindbergh convinced her to chop her long locks into the ultra-crop now synonymous with her name. While the look was divisive amongst industry insiders at first — it got her dropped from 16 shows — it soon became 1989's haircut du jour, even garnering its own name: "The Linda." In 1990, she changed it up again, going platinum blonde. The next year, she dyed her 'do a fiery, cartoonish red, pictured here, with one of the 90's ubiquitous panelled skirt suits.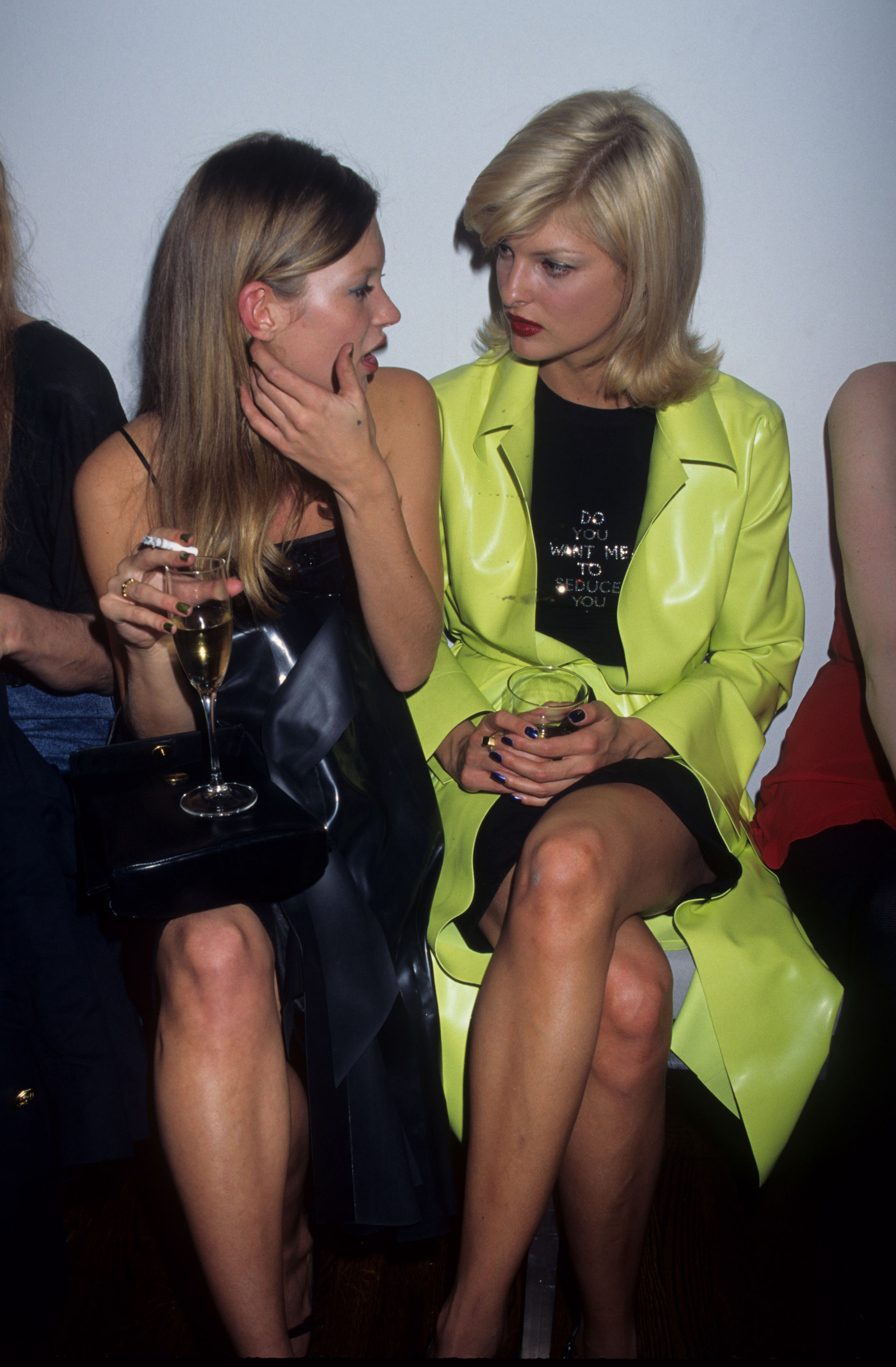 With Kate Moss at an Allure Magazine party, 1994
Champagne and cigarettes in hand, Linda shares a veritable supermodel moment with fellow super Kate Moss at a party for Allure Magazine in 1994. Underneath an electric green vinyl trench, she wears a bedazzled T-shirt that reads, "Do you want me to seduce u?" — a likely nod to George Michael's 1992 hit "Too Funky." It tracks: Linda starred in the singer's iconic "Freedom! '90" video alongside the rest of the "Big Five" in 1990.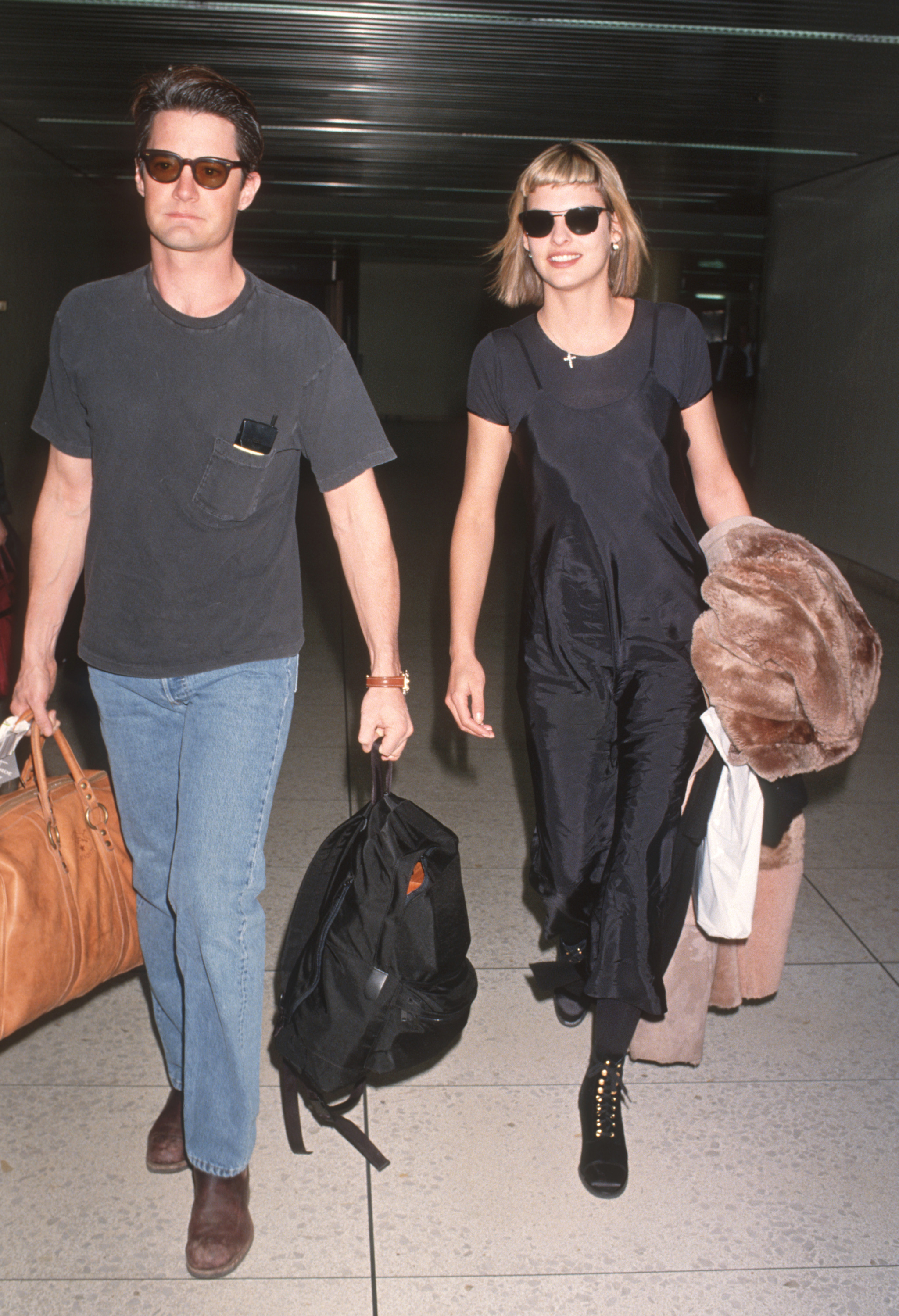 At LAX with Kyle MacLachlan, 1994
Linda was the supermodel of the 90s. And her off-duty garb is just as glam and on-trend as you'd expect. At the airport, alongside then-beau, actor Kyle MacLachlan, she wears one of the decade's ubiquitous slip dresses, layered over a T-shirt and tights. Linda met Kyle on the set of a Barneys shoot in 1992. The duo dated for six years and even got engaged, before breaking it off in 1998.
After Versace autumn/winter 94
In this iconic naked dress moment, Linda strutted off the Versace autumn/winter 94 runway and straight into the after party, with her actor beau, still in full catwalk attire. Specifically, she's wearing one of the Italian label's famous — and oft revisited — glittering chainmail confections, paired with pink lace-up sandals and zebra print bag.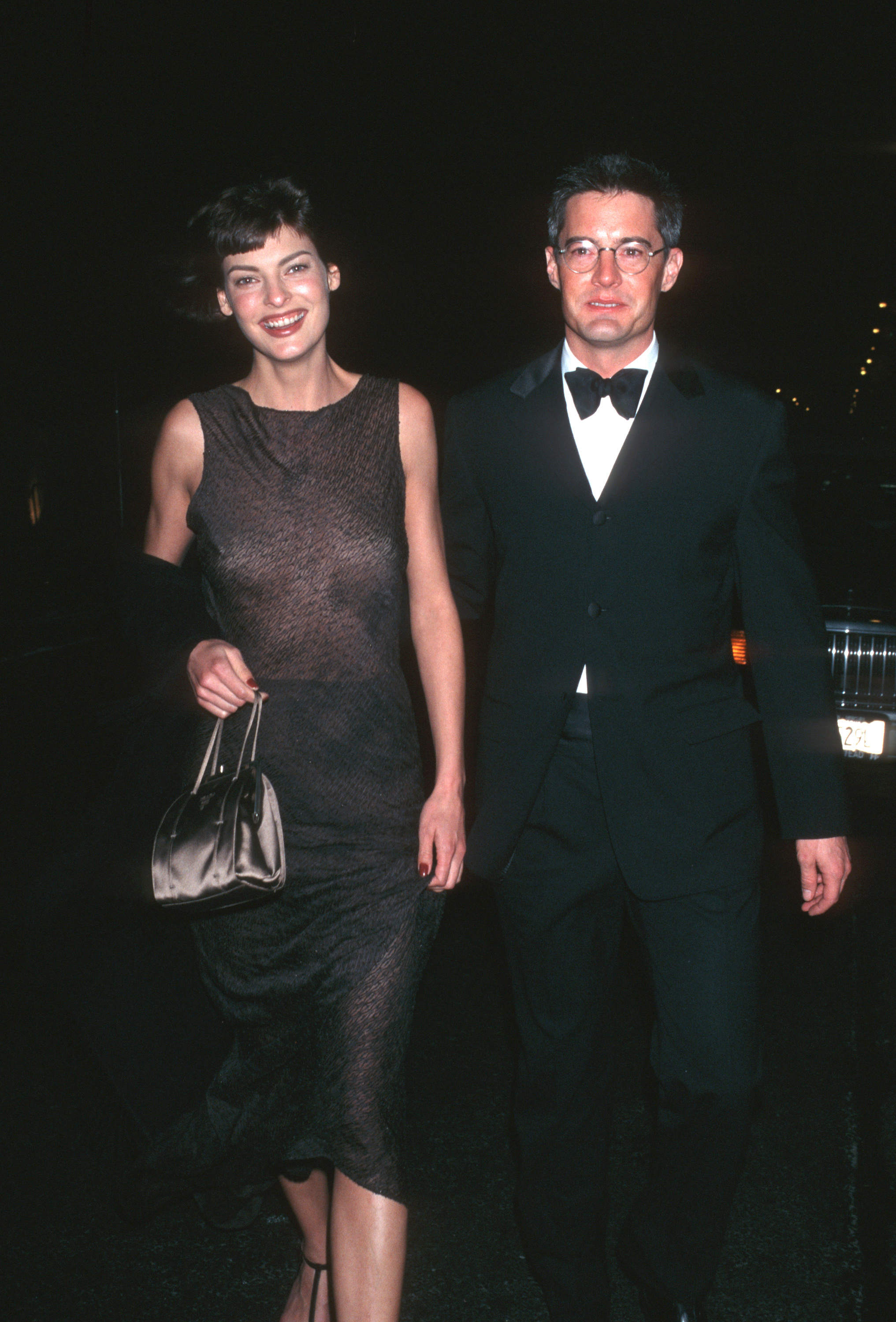 At the Met Gala, 1996
Why have one naked dress moment when you can have two? Esteemed super she is, Linda has attended nine of the Costume Institute's Met Galas since 1993. Throughout the years, she's worn tulle confections, blue liquid satin, leather chokers and mesh. Here, she wears a diaphanous black midi dress with dark bob to match.