stormzy just dropped "a film inspired by the album gang signs & prayer"
The video for Cigarettes and Cush ft. Kehlani is seriously cinematic.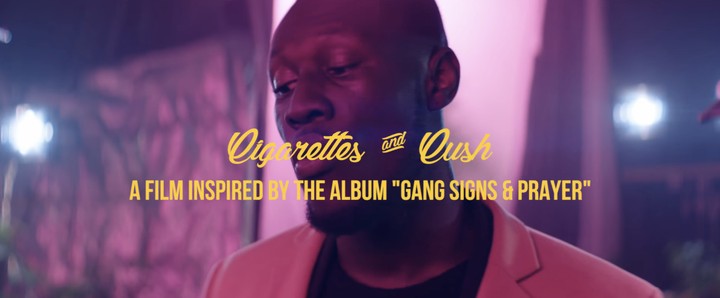 Last night, Stormzy shared the video for Cigarettes and Cush, the Kehlani featuring slow jam from his number one album Gang Signs & Prayer that came out back in February. The visual - directed by Daps, who previously directed the South Londoner's Big For Your Boots - is billed in the title credits as "a film inspired by the album Gang Signs & Prayer" and warns/promises/delivers "some strong sexuality and language throughout."
In the short, the suited up i-D cover star plays a dealer who falls for the undercover agent investigating him, played by actress Andrea Ali. Turns out, she likes him back and gives him the heads up on the situation before the two run away together. "It just reminded me of being with a female and smoking bud and being mad chilled," Stormzy told the FADER about the track in an interview earlier this year. "Our generation know about being with your partner and having weed, and that being, not the basis of your relationship, but a very integral part of it."
Here, that concept was condensed into just under six minutes of music video and stirred up with a good helping of drama to create a whole new genre of music video for Stormzy - one we like very much. Catch Stormz perform live on 14 September at the 2017 Hyundai Mercury Prize, for which he is nominated alongside the likes of The xx, J Hus and Sampha.