Gauche : Maison Margiela, Artisanal, printemps / été 2015. Droite : masque, Gogodala (culture), Golfe de Papouasie, Mélanésie, Océanie, avant 1995, Rotterdam Museum Collection, inv. No. 73853, Galerie Fine Arts Collections, 1995
walter van beirendonck on the power, mystery and history of the mask
We spoke to the Belgian fashion icon about the exhibition he's curated in Rotterdam that brings together Margiela, Basquiat and the tribal masks of Papua New Guinea.
|
01 September 2017, 11:58am
Gauche : Maison Margiela, Artisanal, printemps / été 2015. Droite : masque, Gogodala (culture), Golfe de Papouasie, Mélanésie, Océanie, avant 1995, Rotterdam Museum Collection, inv. No. 73853, Galerie Fine Arts Collections, 1995
The Basquiat arrived in Rotterdam on Tuesday. The final piece in the puzzle that the Belgian fashion icon Walter Van Beirendonck has been assembling in Rotterdam's old ethnographic museum, The Wereldmuseum, due to open to the public today.
It's an exhibition unlike many the Dutch institution -- dedicated to the academic study of culture and people -- will have seen throughout its 130 year life. Usually home to more academic studies on history and collections of artefacts, Walter's blown the institute wide open.
"I've known the museum for a long time," Walter explains, over the phone, overseeing the final curatorial touches to the displays. "It's a little old fashioned, it's got a long history and a big collection but the last few years… Well ethnographic museums, they aren't really alive. It's difficult to find new presents to present this heritage but they gave me carte blanche, the possibility to do what I wanted -- and that was to explore the mask."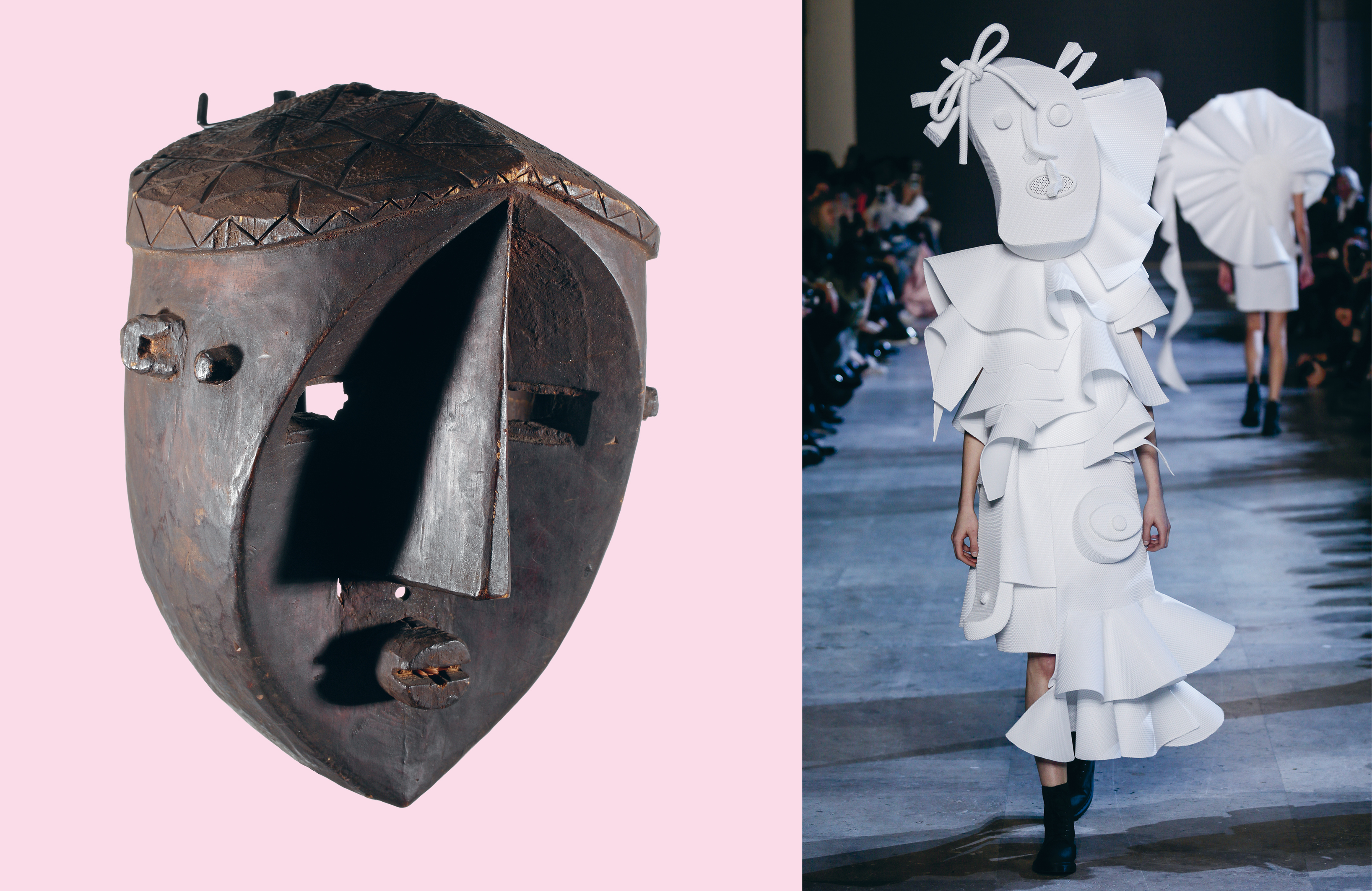 Masks have figured as a prominent motif throughout Walter's career, since his beginnings in the 80s as part of the pioneering group of Antwerp Six, who recalibrated the fashion aesthetic in 80s and put Belgian fashion on the maps. Masks, for Walter, have been fun, frivolous and fetishistic. They've been romantic, rendered in make-up, made into prints. He's drawn influence in them from art history and the kind of ethnographic objects found in the Wereldmuseum too.
He's the unique person who can easily find the thing that bridges Basquiat and Craig Green, Cindy Sherman and Stephen Jones, Martin Margiela and Paul McCarthy, and to combine them all with the historical objects in the collection.
"It's about storytelling and using your imagination. I tried to carry the visitor into another world," he explains. "There's a Margiela mask that is talking to a mask from Papua New Guinea, then you have a picture by Mapplethorpe next to it… it's a conversation between different worlds and different temperaments. It's different to how a traditional exhibition in this kind of museum would be put together, which would be maybe more historical, but this is free and expressive. I wanted create tension and contrast between a lot of different worlds. It's a mixture that comes straight out of my own interests, in fact, so hopefully it feels quite spontaneous."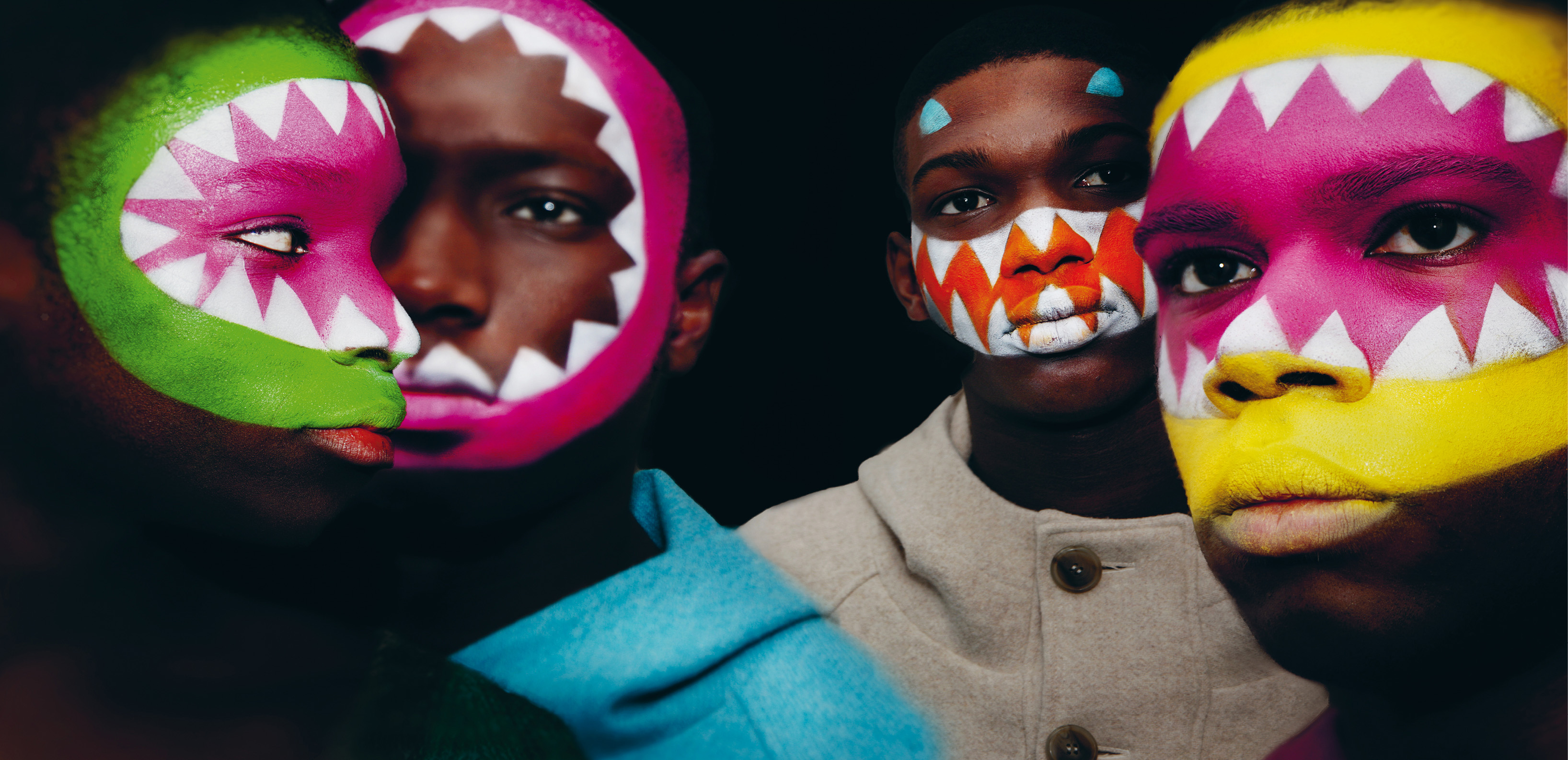 On the fashion side of the exhibition, Walter has arranged the silhouettes -- which brings together everyone from Thom Browne to Viktor & Rolf to Martin Margiela, to younger designers like Richard Quinn and Craig Green, and his own designs too -- to resemble gallery goers and the museums visitors. "So you have a kind of silhouette of Richard Quinn on a bench," he explains. "Then there's Craig Green piece looking at an exhibit, a Margiela piece sitting down, all the characters are sitting, leaning, looking -- you enter and you become one of them," he says, with a laugh.
From here the artistic and ethnographic form their own dialogue together. The exhibition shows, not just the history of the masks, but also their context. Walter doesn't want them to just be objects in the museum, but to show that once these were used in ceremonies and rituals. In the same way a mask, in the hands of Margiela, has its own ceremonial power on the catwalk. "There are very clear comparisons," Walter agrees, "Between the way some masks, which utilise anonymity, and the things Margiela was doing with masks. I mean he probably wasn't inspired by these things, but it's nice to see that interplay across very different cultures, in very different times and places, this common feeling existing."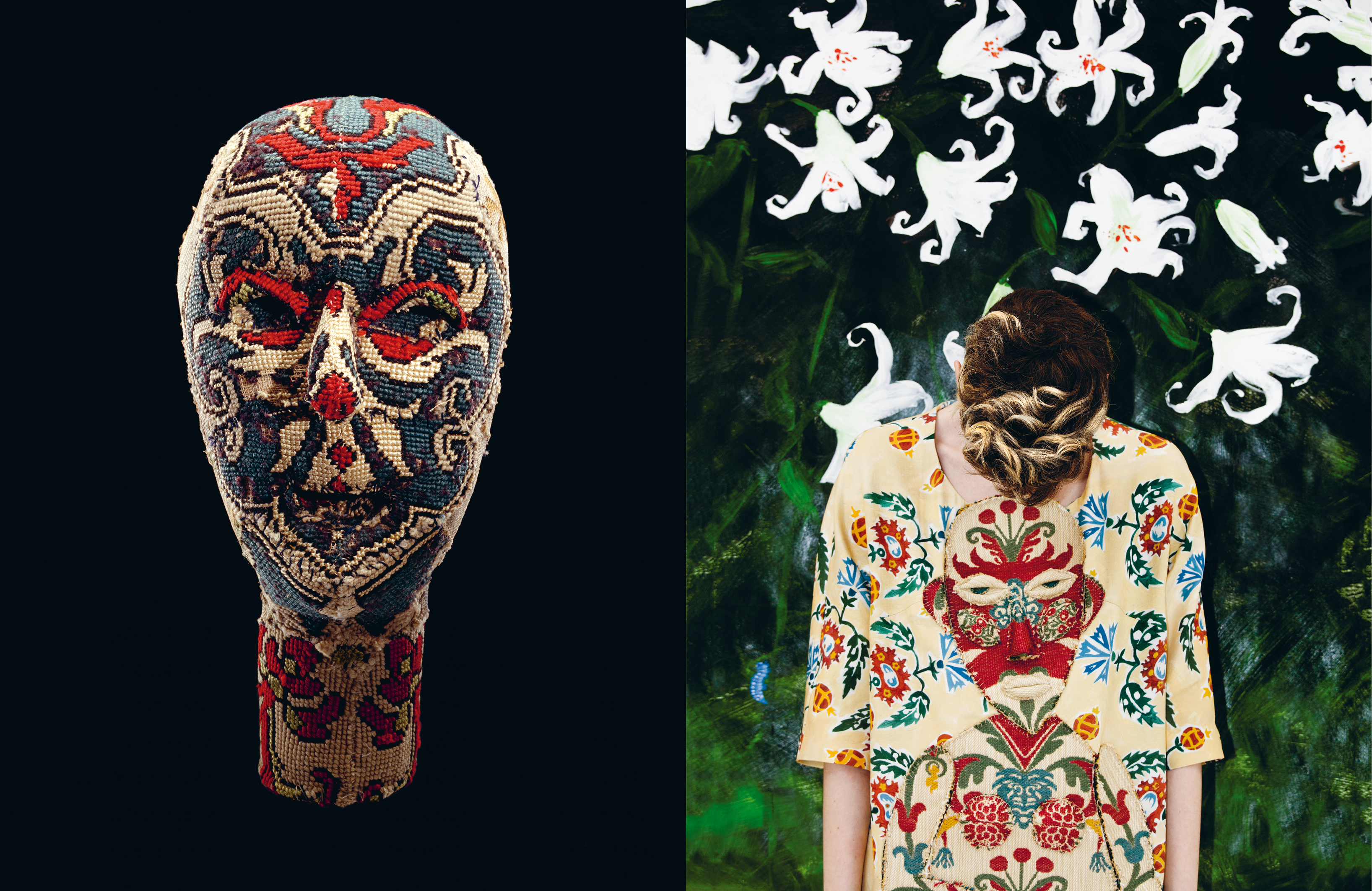 So you'll find a bejewelled Margiela mask next to a woven head by Louise Bourgeois next to a fashion image by Inez and Vinoodh next to the ethnographic masks, in their various extravagances, decorations, simplicities and symbolisms. "These masks are not just here as objects, though," Walter is keen to explain. "You need to understand how the mask works in practice, what its context is. In museums, normally these objects are isolated from where they come from. I want people to understand how the object was once integrated as part of the body." There's a simple power in the mask as an object, and specifically in a fashion context, that say the glove or the hat doesn't have. It's an easy way to totally transform yourself. "It interferes with the complete appearance of the person. It makes it so strong. When I'm using masks in my collections it's also as a disturbing factor, suddenly also you're looking at something you don't really understand, something subversive, you play with something with strong impact."
Maybe in the future, these Margiela masks, works by Stephen Jones and Walter himself, will be as valued, ethnographically, as those from Papua New Guinea? "Maybe we should wait and see how the serious academics react to the exhibition," Walter laughs. "It might be controversial for them, but for me it was all about making something enchanting. Something for you to enjoy without it being too theoretical. It's about respect for the different cultures the objects in the exhibition come from, and it's about being free in your mind. It all comes straight from my heart, and with a lot of respect."
Power Mask – The Power of Masks is open 1 September 2017 to 7 January 2018 at The Wereldmuseum in Rotterdam