david lachapelle explains why amanda lepore was edited off travis scott's album
The photographer chimed in on the transphobia controversy surrounding 'Astroworld.'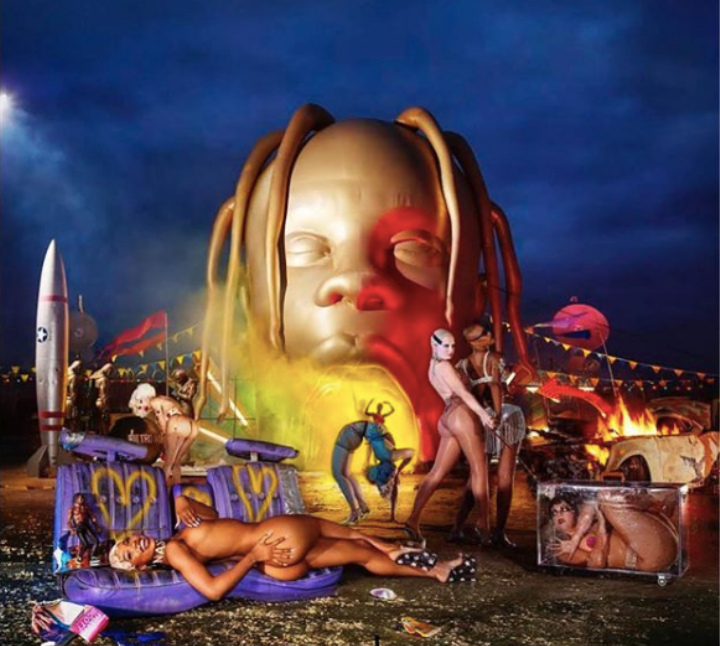 Image via Instagram
Travis Scott wants you to know he's not transphobic — he just hates being upstaged by his hot friends.
As you've probably heard, the rapper was criticized by the internet yesterday over the album art for his upcoming album Astroworld. The cover is a photo by David LaChapelle, and shows the entrance to an apocalyptic theme park. Fans quickly noticed that the photo posted to Scott's Instagram was different to the original photo posted by LaChapelle. In Scott's version, model and trans icon Amanda Lepore has been edited out of the shot, leading people to justifiably accuse the rapper of transphobia.
LaChapelle has now chimed in on the controversy, in the comment section of his Instagram.
Apparently Lepore wasn't edited out because of bigotry — she was simply too fabulous. "Amanda was taken out because she just upstaged everyone," LaChapelle explained to his fans, adding in a separate comment that the decision had "nothing to do with hating." It's not an impossible claim: in the original photo. Lepore is bent over and looking back at it, wearing a red thong and very sheer stockings. Then again, the rest of the figures present aren't exactly dressed like nuns, and Scott's history of homophobic moves is well-documented.
Either way, someone forgot to relate the last-minute decision to Lepore, who posted Scott's photo to her own Instagram yesterday, tagging both parties in her caption: "It was great being part of @david_lachapelle s incredible photograph of @travisscott's album cover but I'm curious why I'm not on the picture @travisscott posted 💋❤️💄" Seems all is forgiven though — Lepore later edited the caption to read, "A girl can't help it," she said. "Too distracting for the eyes!" Always a class act, Lepore hasn't commented further. Girl's got a Bartschland to get beat for.