chris habana's jewelry is an otherworldly fetish
The cult designer celebrates his 10th anniversary with heavy metal, sexy latex, and a diverse cast of his closest friends.
Photography Life In Reverie
Century 21 would be the last place you'd expect to see Chris Habana's jewelry when he launched his namesake brand 10 years ago. The iconic discount department store has traditionally been a mecca for price-slashed Michael Kors and tourists en route to the Charging Bull. Six-inch spear cuffs for septum piercings and club kids in tiny Matrix glasses? Not so much. But a lot has changed in New York over the past decade, including the arrival of C21's Gen Z concept boutique Next Century, where Chris Habana hosted his 10-year anniversary presentation/party last night. One thing that hasn't changed in that time is Chris Habana. His jewelry is as exquisitely unconventional as ever, encompassing everything from aggressive thorn-shaped pacifier mouthpieces to delicate stacked silver midi rings. No wonder Habana is the go-to bling wizard for the NYC's coolest young designers, including Gypsy Sport, Chromat, Zana Bayne, and Adam Selman, who have all featured his work on their runways. Even Nicki Minaj is a fan, tapping Habana for the custom gold bikini she wore in her recent video for "Ganja Burn."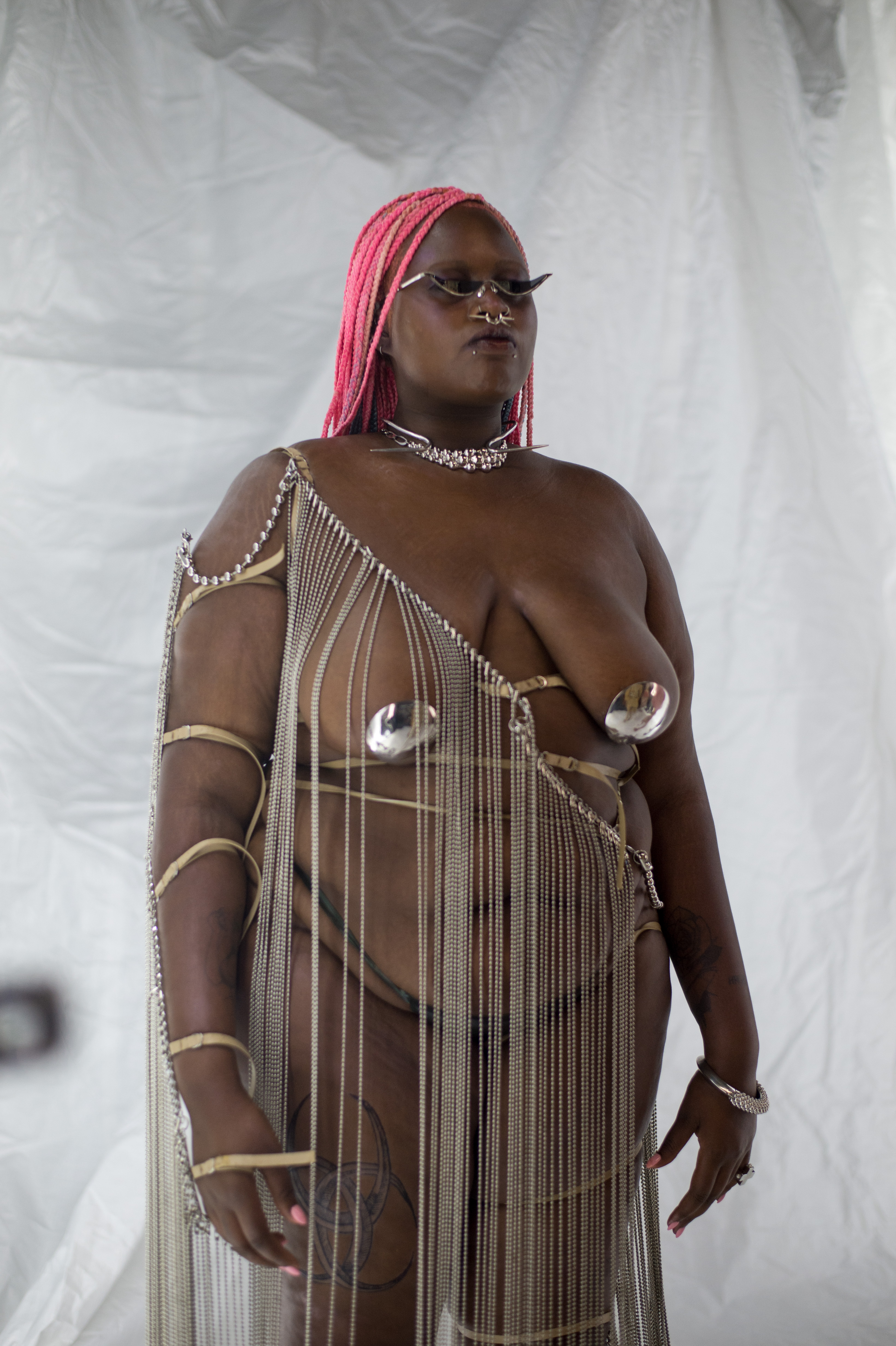 Habana's spring/summer 19 collection — "A Song of Lamentation for the Dead" — was another team effort, most notably with Vex Clothing. Habana collaborated with the rubber fetish brand on a Hannibal-esque mask with upcycled condom eye holes and a mouth grate, positioned near the entrance to greet guests. Upstairs, Jazzelle Zanaughtti (a.k.a. @uglyworldwide) was encased in a skin-tone latex bodysuit topped with a heavy cage-like chain. "We really wanted to fabricate pieces that looked very otherworldly, and also very challenging to the viewer," Habana explained over the din of industrial club music. "We wanted to figure out ways of making jewelry into actual clothing."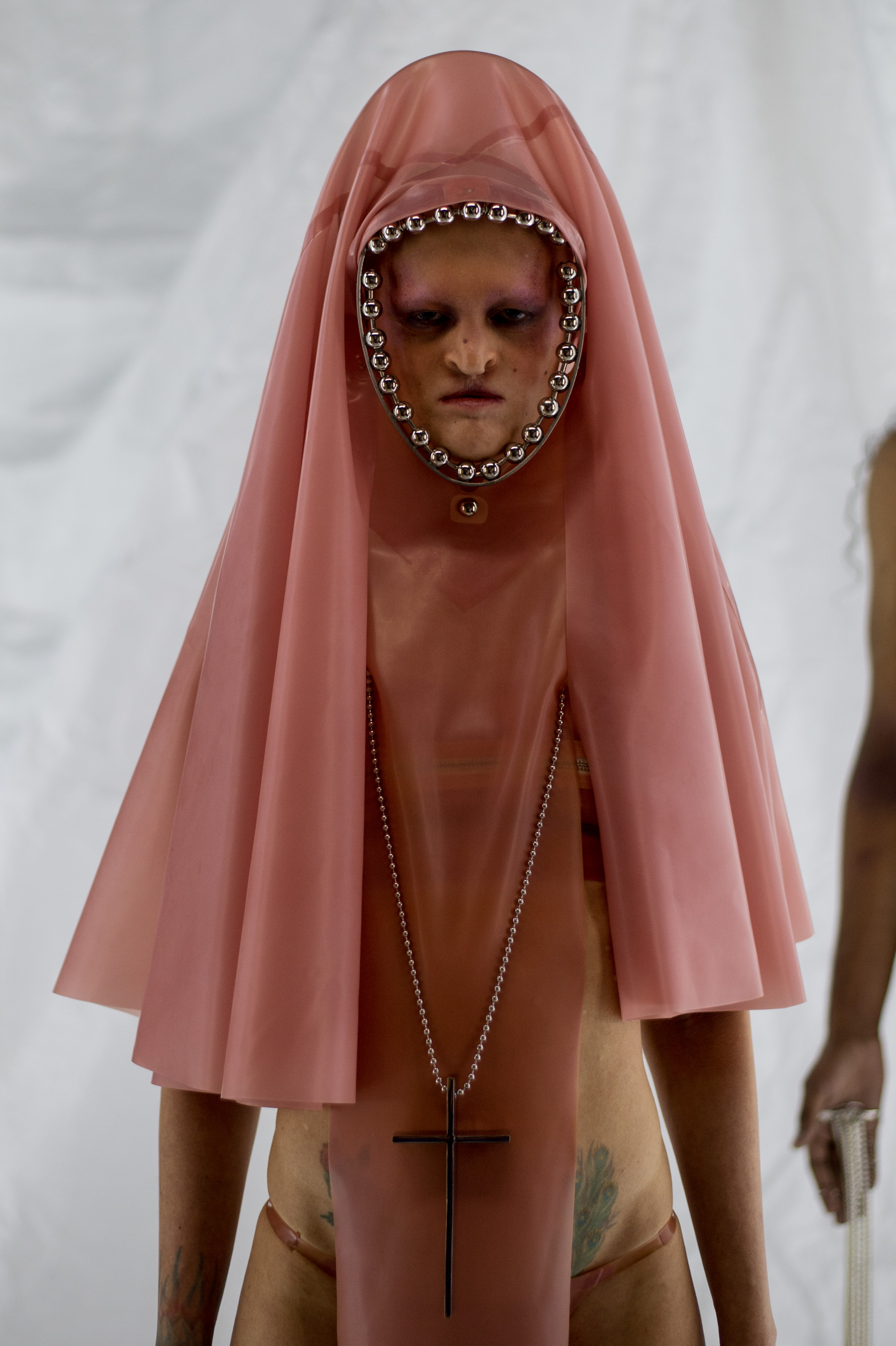 The designer noted that latex had a clear sexual connotation, but he had incorporated it into looks that suggested celibacy, having been unexpectedly galvanized by the Met Gala's Heaven Bodies exhibition. A Catholic head covering in rose pink latex, trimmed with metal studs and worn by Melanie Gaydos, would have made Rihanna's sexy lady-pope choke on her communion crackers. Naturally, "We wanted to introduce some pagan symbolism in there as well," Habana added. "The collection this season is a culmination of all the things I've learned over the past two years of doing this. When we started out there was a heavy dose of goth in our work, so I wanted to bring all that back."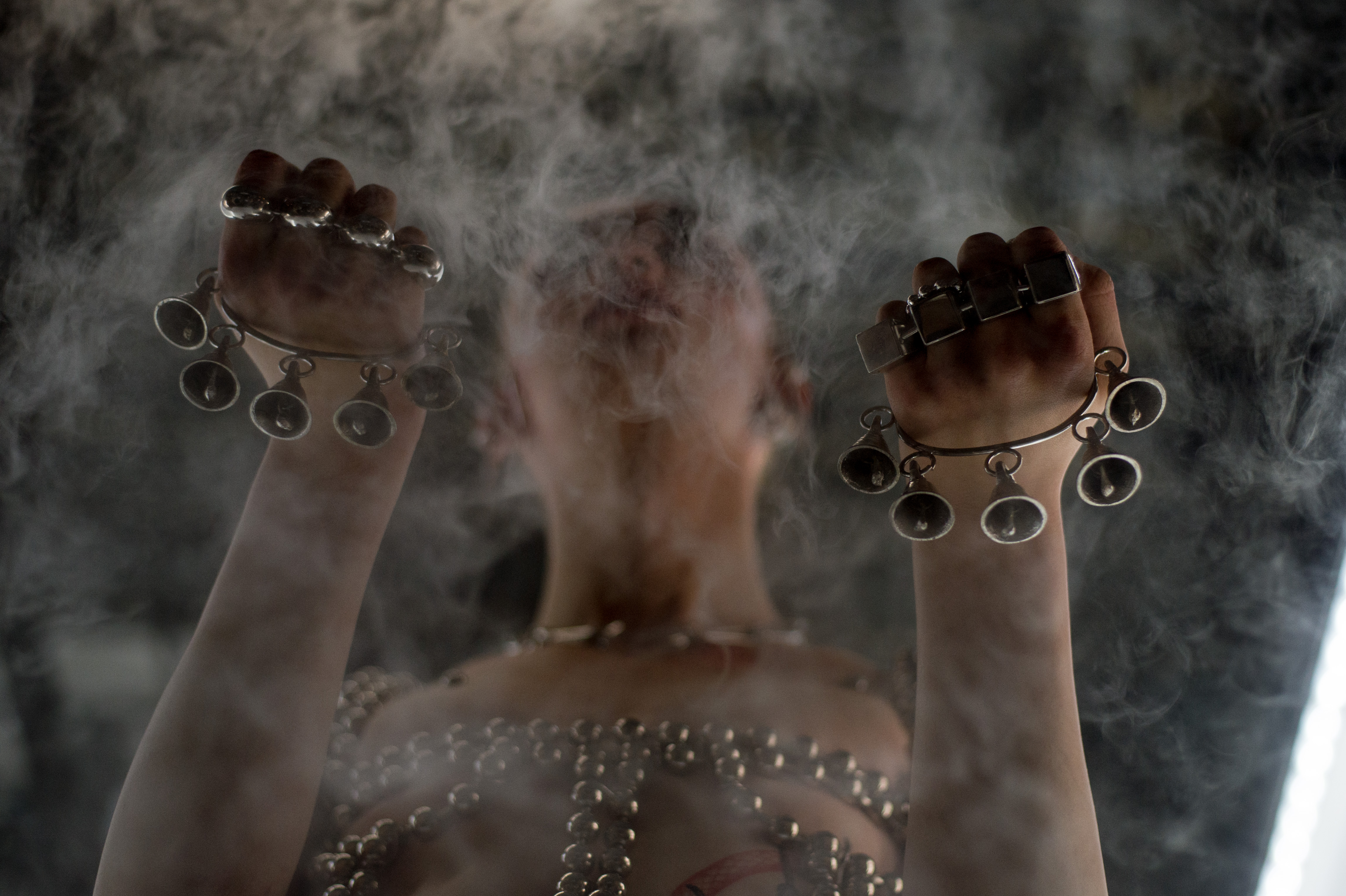 Joining Jazzelle and Melanie were other new and longtime friends of the desinger. Makeup artist Raisa Flowers wore armor-inspired silver nipple pasties, and a curtain of chains draped from shoulder to hip. Model/artist Brooks, dressed in latex briefs and a vest version of Jazelle's body chain, clenched his hands around bell-adorned knuckle dusters. Aleta Cai — "she's in the image downstairs spitting into the Asian guys mouth," Habana reminded me — wore silver forearm cuffs strung together with pearls. They all wore futuristic spiked sunnies from Habana's first own-house eyewear line. "Everyone is about making things inclusive now," the designer mused on his motley crew of unconventional models. "We've been doing it for a very long time — even sometimes to the extreme. I wanted to bring old friends and new friends together."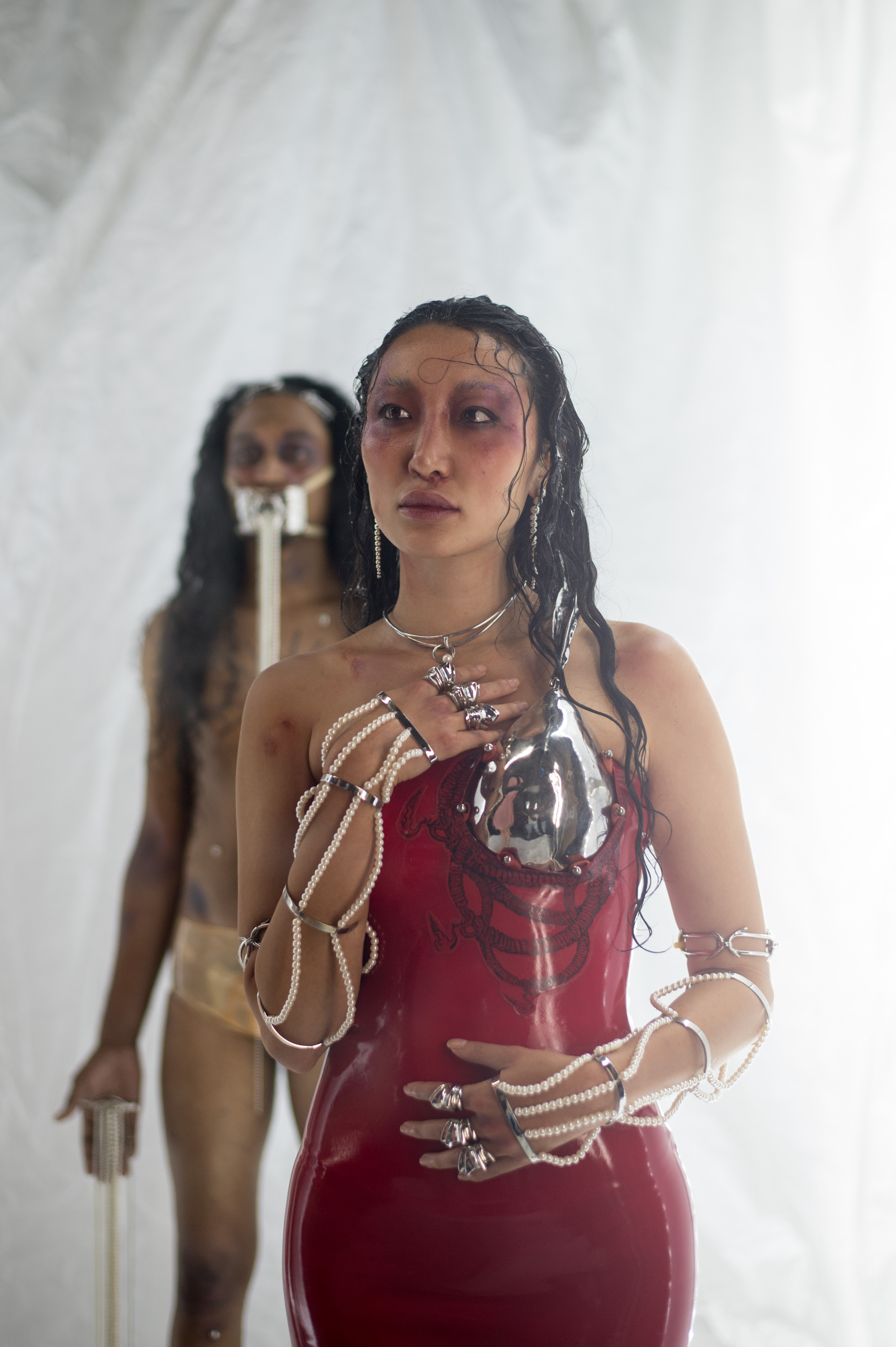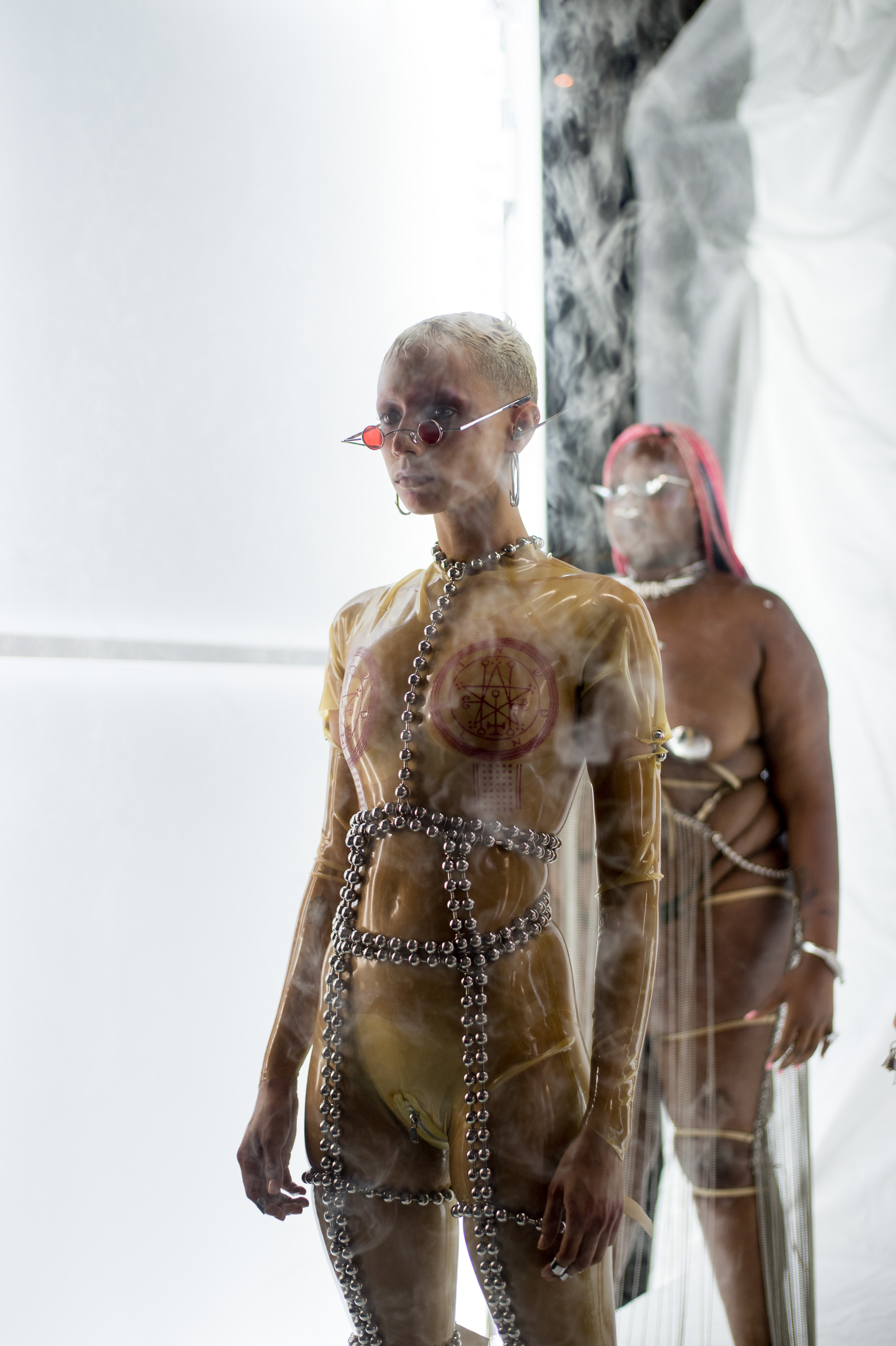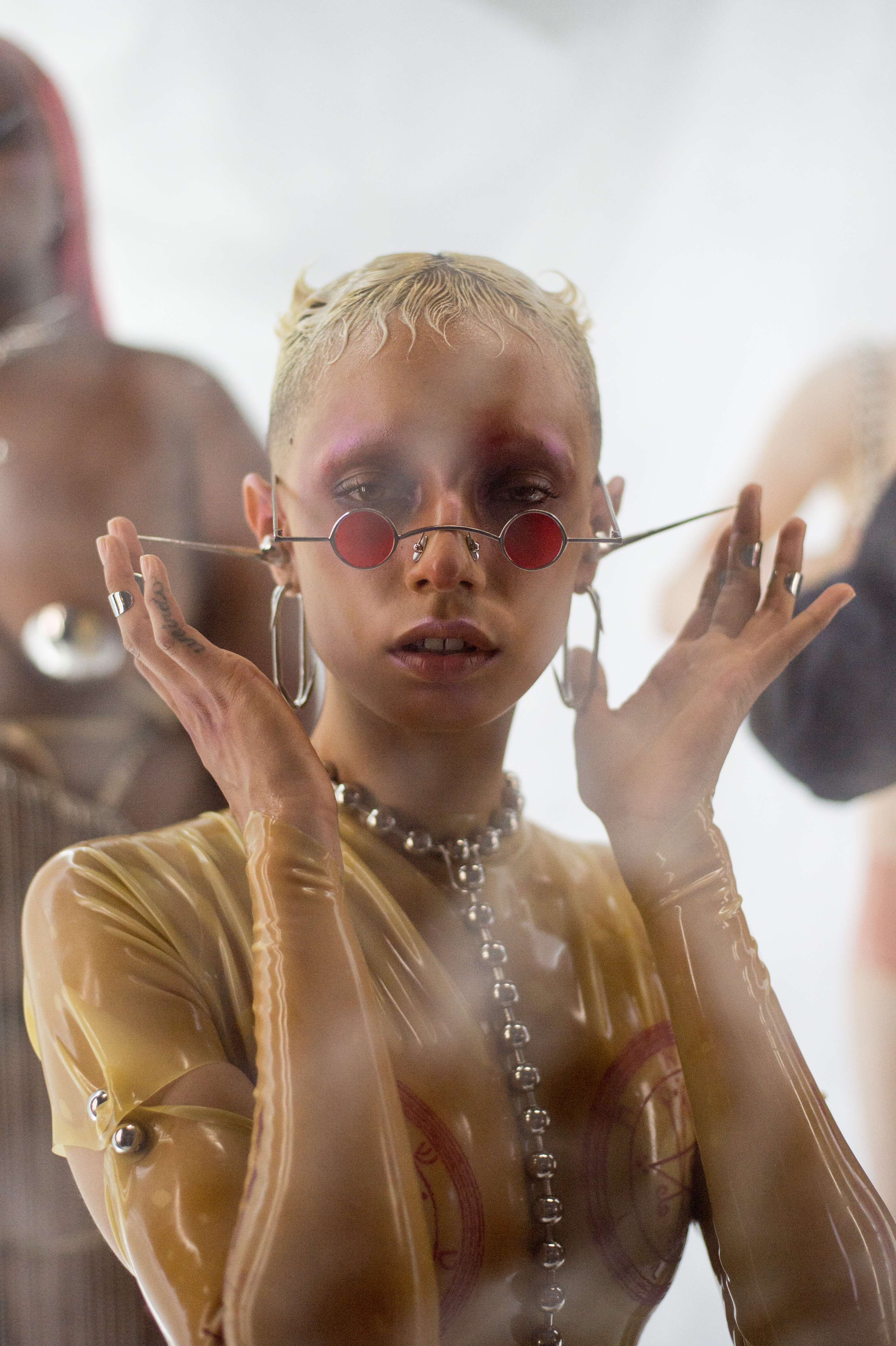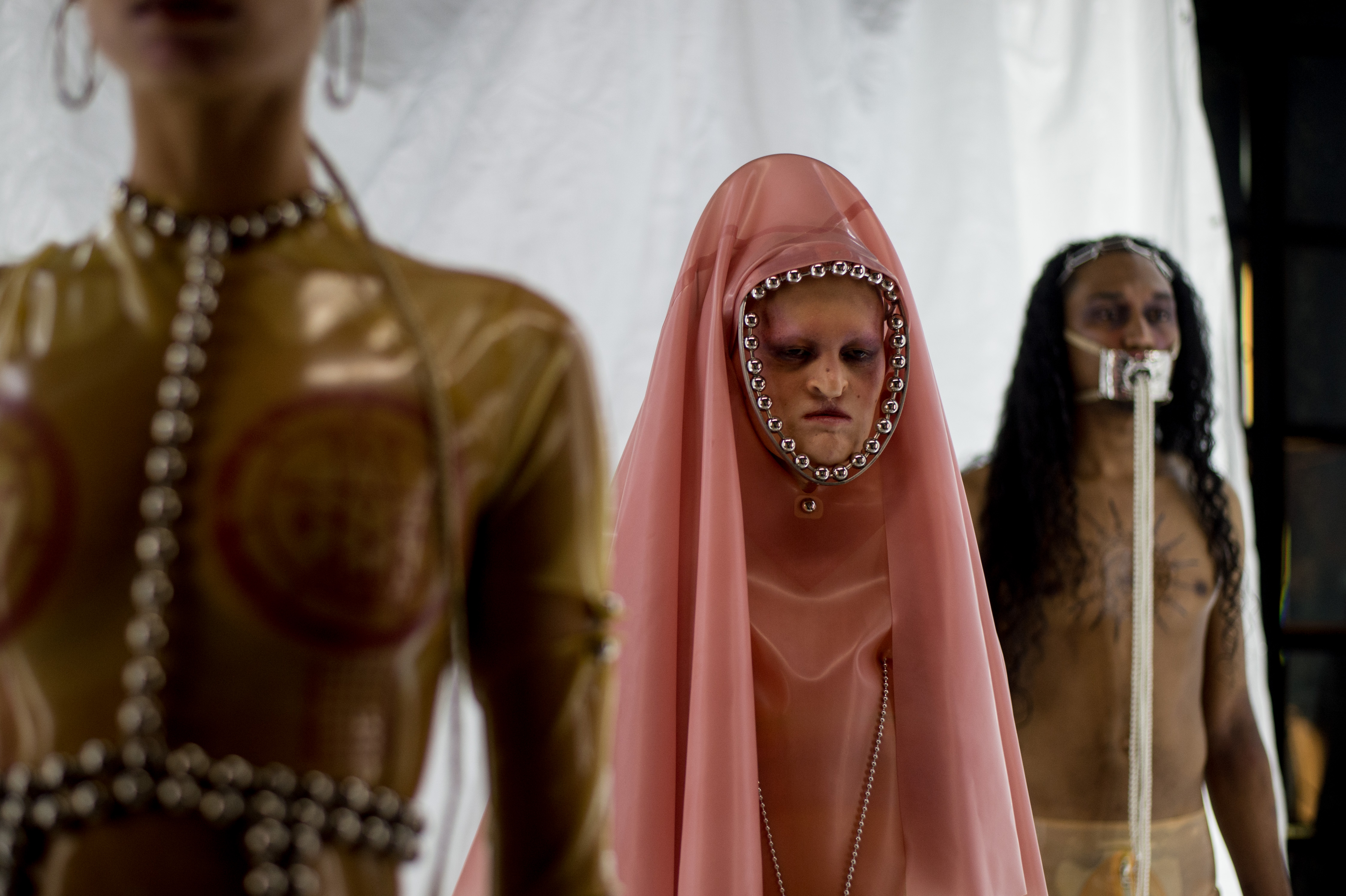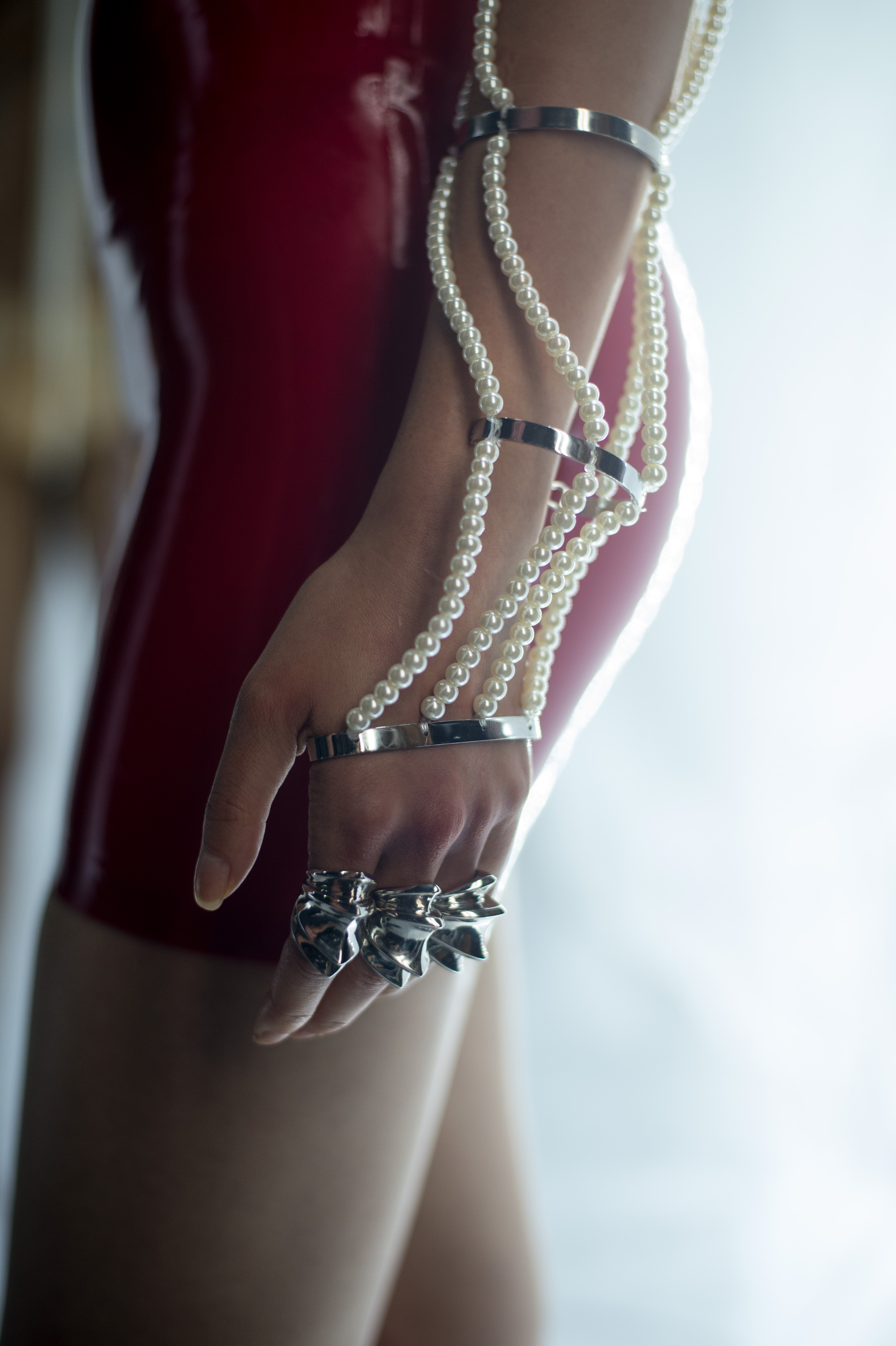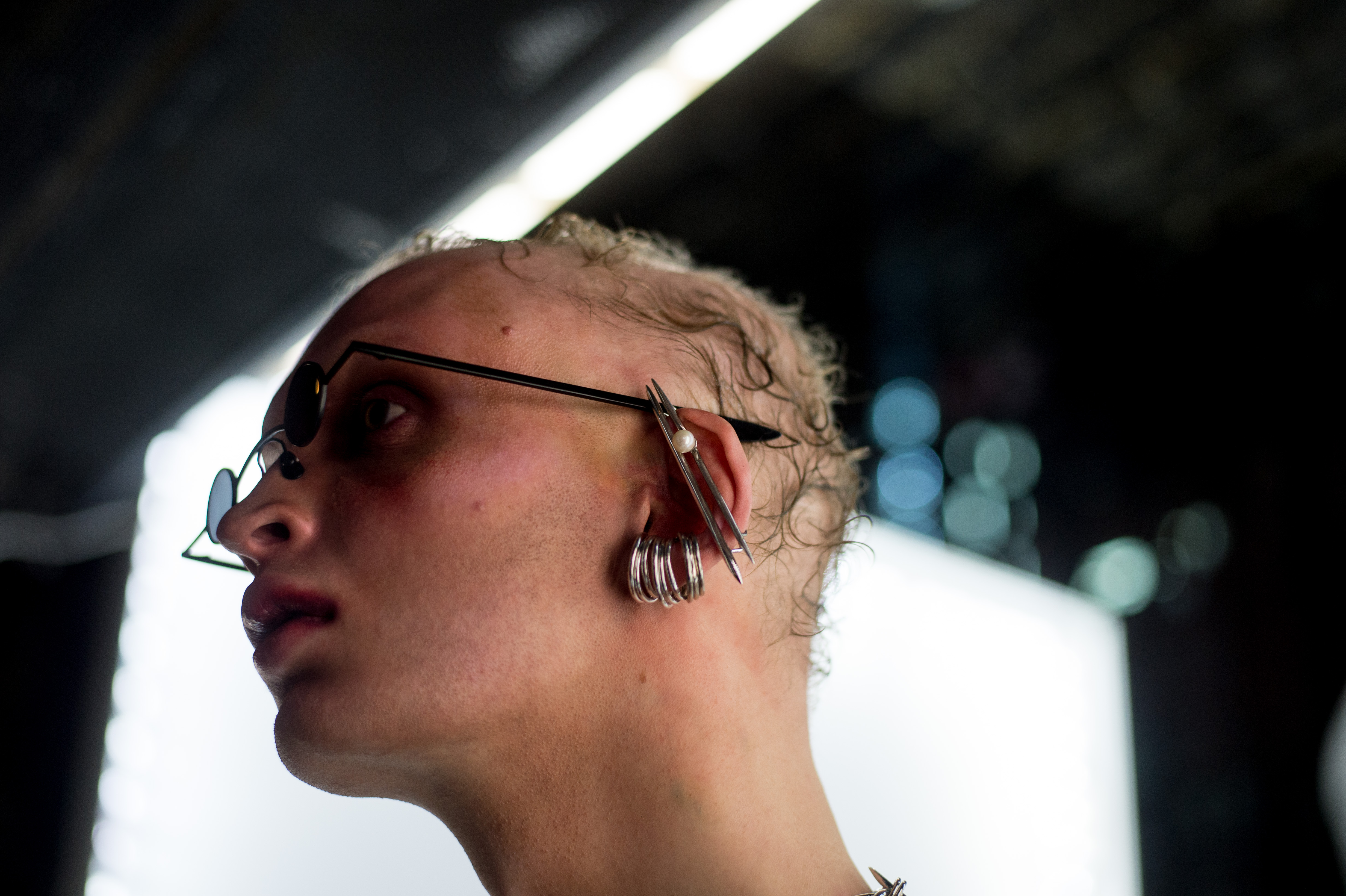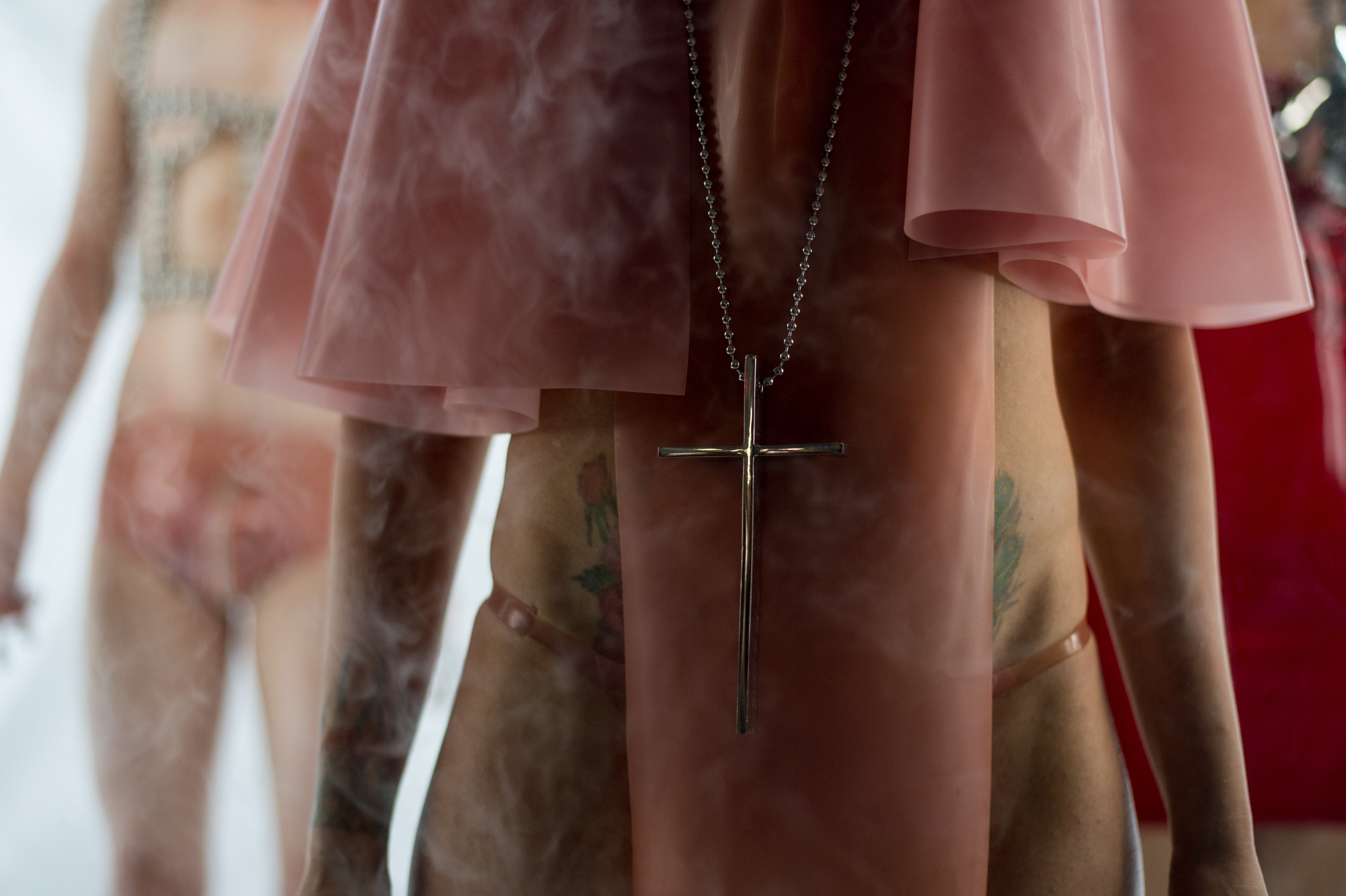 Tagged: