what's life after graduating from art school really like?
Was it all worth it? And how do you balance earning money with keeping up a creative practice? We spoke to former students to find out.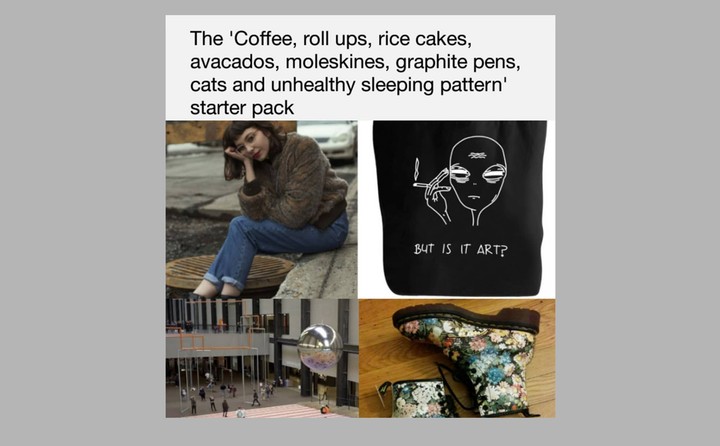 Image via Instagram @Poundlandbandit
When applying for further study, prospective art students are often dogged by teacher's unwanted opinions on how creative degrees will do nothing to prepare them for the 'real world', nor conveniently set them up with a stable 9-to-5 job. A word to the wise, however; neither do most other degrees.
In this climate of soaring rents and overwhelming student debt, young graduates have a hard time, regardless of their chosen discipline. Now that graduation season is behind us for another year and Insta feeds have finally been cleansed of gown-and-prosecco-pics, we spoke to graduates about the realities which they have faced post art school in a bid to dispel some of these ill-founded myths. Before we dive in, let us assure you that it's not as bad as your sixth form career adviser led you to believe.

Your first year after graduation is often about deciding what things work for you and finding that much-discussed 'direction', which should, in theory, guide you through the rest of your working life. Young artists are no exception, according to Maddy Whitelaw and Nathaniel Faulkner, who both graduated last year with BAs in fine art from Central St Martins. As Maddy found, life away from the immersive atmosphere of art school most likely entails a combination of part-time or full-time work, alongside artistic practice. "The concerns I have now about getting a good "balance" between spending time in the studio and working a paid job will always be there in the future, so it's really a matter of accepting that and finding a way that works for you." However, don't let that deter you. As Nathaniel stresses, the path to true success never did run smooth, and you have to be prepared to take things at your own pace and not get sidetracked by the perceived success of your peers: "When people leave art school they often get competitively ambitious, always wanting to appear active and busy. I'm happy to takes things slowly: it takes as long as it takes to get to where you want to be."
"When you take these big ideas and put a budget on it and then try to present it to a client, it's just not the same thing. Art school doesn't adequately prepare you for the business side of things -- I don't think we were exposed to that in the same way we could have been."
And what about art graduates who have been out of college for a longer period of time? For Megan Rea, another former fine art student, who graduated from Edinburgh College of Art in 2016, the two years following her degree have been something of a whirlwind. Initially, she stayed in Edinburgh and set up Mutual, an artist-run studio cooperative to provide affordable studio space for early-career artists. Then, after showing as part of the Royal Scottish Academy's annual New Contemporaries exhibition, she headed to Bangkok to complete a gallery internship, travelled throughout south east Asia, won a scholarship to draw architecture in Florence, and finally returned to London where she is now preparing her first solo show. Despite enviably varied professional experience, Megan feels that art school didn't completely equip her with all the tools necessary to thrive in the creative industries. "I wish learning how to use Photoshop and InDesign was part of the curriculum at art school. So many interesting jobs require these skills, something which was not stressed while I was studying."
Indeed, while art degrees are increasingly geared towards producing flexible, resilient graduates who can take the stresses of multiple jobs, cramped studio space and unusual working hours, some of the individuals we talked to felt that their degrees let them down by way of applicable workplace skills. This was even the case for graduates who chose the kind of degrees which parents describe as 'more sensible'. It's certainly what Caroline Milne, who graduated with a diploma in architecture from Glasgow School of Art in 2016, found despite the two compulsory placement years that formed a part of her degree.
"At art school it's basically a question of 'How big are you willing to go?' Does this translate to real life? Not really," she explains. "When you take these big ideas and put a budget on it, apply building regulations and then try to present it to a client, it's just not the same thing. Art school doesn't adequately prepare you for the business side of things -- I don't think we were exposed to that in the same way we could have been. The basic question of 'How do you make money as an architect?' is not the simplest question to answer, and I still don't know." It's worth noting, however, that since her degree, Caroline has not followed the kind of straight-forward career trajectory that one might expect from an architecture graduate. In her own words: "I gave it all up, moved to Vancouver and now work as an interior designer, starting a furniture business on the side; possibly the biggest 180 you could imagine."
Due to the myriad skills one develops over the course of an applied arts degree -- whether it's different technical competencies, working to a brief, or workplace experience -- it's not uncommon for these graduates to take a more fluid approach to both their chosen field and their career plans going forward. Harry Smithson, who graduated from CSM's product design BA this year, is one such individual. He now works two part-time jobs, making furniture for a designer and working freelance for a creative agency, while producing and exhibiting his own work, and had a similarly ambivalent attitude towards his undergraduate course. "Looking back, I can't tell if it was exactly the right course for me. My practice crosses over into fine art and sound quite a lot and at times, especially in the first year and a half, I found studying product design quite restrictive because of the projects I was set. However, it also really helped me push my work into different directions, making me realise what I am actually interested in and refining how I go about making and thinking about my own and others' work."
"Studying at the Royal College allowed me to experiment with new skill sets that I couldn't have learned without an MA. It gave me an irrefutable confidence that has been indispensable to my career after education."
So, what do graduates like Harry have to look forward to? Well, according to Jeni Allison, who graduated from a BA in textiles at Glasgow School of Art in 2011, a designer's -- or an artist's -- education doesn't end after graduation, and it's essential to continue to accumulate different experiences. "Nowadays the world of design is pretty fluid; to be a 'designer' you need lots of different skills, interests and methodologies. While I've definitely learned loads of these through education, I've also learned a lot through working, travelling and socialising, all of which is also relevant to my career." Since her undergraduate degree, Jeni has filled a plethora of positions -- from work as a barmaid and receptionist, to teaching English in Japan, to working as the Families and Communities Learning Coordinator at the National Galleries of Scotland -- and has been the beneficiary of a fully-funded residency in India to research ceremonial textiles, as well as a Visual Arts and Crafts Makers Award from Edinburgh City Council.
However, after all this experience, Jeni decided to return to education and is now coming to the end of an MA in knitwear (Heritage, Design and Production) at Edinburgh's Heriot Watt University. Similarly, after graduating from a BA in contemporary art practice at Sheffield Hallam University in 2012, Lindsey Mendick went on to do a two-year MA in sculpture at the Royal College of Art, graduating in 2017. Since then, she's been exhibiting in the UK and abroad, and has also been the recipient of the Alexandra Reinhardt Memorial Award and received a commission to create a public artwork. Why do some graduates decide to return to their studies? Is it really worth it? For Lindsey at least, the experience of doing an MA was invaluable."Studying at the Royal College allowed me to experiment with new skill sets that I couldn't have learned without an MA. It gave me an irrefutable confidence that has been indispensable to my career after education." Furthermore, while she has been able to navigate the troubled waters of being an early-career artist, Lindsey expresses her concerns about the next generation of graduates. "The main problem in art is that emerging artists find it so difficult to make any money, for example they are often not paid for their time or paid severely under minimum wage. I worry that this means art will become even more elitist and inward-looking."
So, how are the new wave of graduates faring in the months after their grand departure from art school? Pretty well, it would seem. One individual we spoke to, Gillies Adamson Semple, who graduated earlier this year from a BA in fine art from CSM, has locked down a steady plan for the foreseeable future. Having won a place on the Acme Association Studio Programme, he has secured a studio space in London's Stockwell for two years, while also working full time for an artist elsewhere in London to finance his living costs. Alia Hamaoui, who studied Painting at Camberwell College of Arts, is also planning on staying in London, where she currently works as an artist's assistant, and has two forthcoming exhibitions planned; one coming up in September at Vauxhall's Subsidiary Projects, and one scheduled for December at Lewisham Art House. Chloe Abrahams, another fine art graduate from CSM, has gone in a slightly different direction, veering off into documentary films. "After an internship at Dogwoof, a UK documentary distributor, I was offered a six month job contract, which I started last month. I'm thoroughly enjoying it and have already been able to work on really exciting projects. I also organise a documentary film festival, Cheap Cuts, the only short doc fest in the UK, and I plan on continuing to work more in documentary film festivals. The end goal is to curate and programme film festivals, and to continue making films of my own."
If you're reading this and are coming to the end of a creative degree, or considering applying for one, it's worth listening to the pearls of wisdom from the artists and makers who have graced art school halls in the preceding years. So, what words of advice would this year's graduates like to pass on? For Adamson Semple, his time at CSM was made worthwhile by "the community of designers and artists who form an expansive support structure". The most important lesson he learned at uni was "the importance of failure". For Chloe, who completed a six month university exchange at the top Manga school in Japan, as well as an optional sandwich year that helped her gain invaluable professional experience in the film industry and took her to Latin America and Paris, the most important thing is to take "all the opportunities possible". Finally, while art students are under considerable pressure to be as forward-looking as possible, Hamaoui emphasises the value of art school as a period to focus on cultivating your artistic practice, without interference. "[My degree] gave me a lot of time to dedicate myself to thinking about, reading about and making art. When you graduate you realise you don't have the same time to dedicate to it when you have to work."