the best things to watch, see and do this week
Get your indispensable gui-De to leisure action, with our culture highlights of the week.
Mag: Emotional Art Magazine
Issue one of Emotional Art Magazine arrives with a focus on the "inspiring social, cultural and artistic history of hating the Tories". Featuring contributors including Elise Bell and Mayanne Soret of the very clever Tabloid Art History, the first edition sees essays on social housing and Brexit rub shoulders with what can only be described as good, clean, Tory bashing fun. Conservatives out! Emotional Art Mag in!
Issue 01 of The Emotional Art Magazine is on sale for £5.
Book: They Live
John Carpenter's 80s classic They Live gets the book treatment with this rather excellent looking release from Rough Trade. Including a forward by Carpenter himself, They Live: A Visual and Cultural Awakening features imagery from Barbara Kruger, Jenny Holzer and Guerrilla Girls to examine how the revered sci-fi film has remained as relevant today as it was back then. There's a special screening taking place at the Prince Charles for those in London on 16 January too.
They Live: A Visual and Cultural Awakening is out now via Rough Trade.
Netflix: FYRE
2017's incredible Fyre Festival debacle is the subject of a new Netflix doc from Jim & Andy director Chris Smith. Promoted as an exclusive Bahamas music festival replete with supermodels, A-List musicians and luxury facilities, the result was, as we now know, closer in style to that viral eggs benedict from a Wigan branch of Tescos. Still, it all made for a cracking film, didn't it.
Streaming on Netflix from 18 January.
Art: Muscle Memory
A new collaboration between painter Anna Liber Lewis and musician Kieran Hebden, AKA Four Tet, opens at Elephant West this month. A multi-sensory installation, it sees Anna's paintings combined with three new Four Tet tracks, created in tandem over a period of 6 months. Only available to listen to at Elephant West, they could, for all we know, be absolutely rubbish (they probably won't be though, will they).
18 January -- 17 March, Elephant West, London.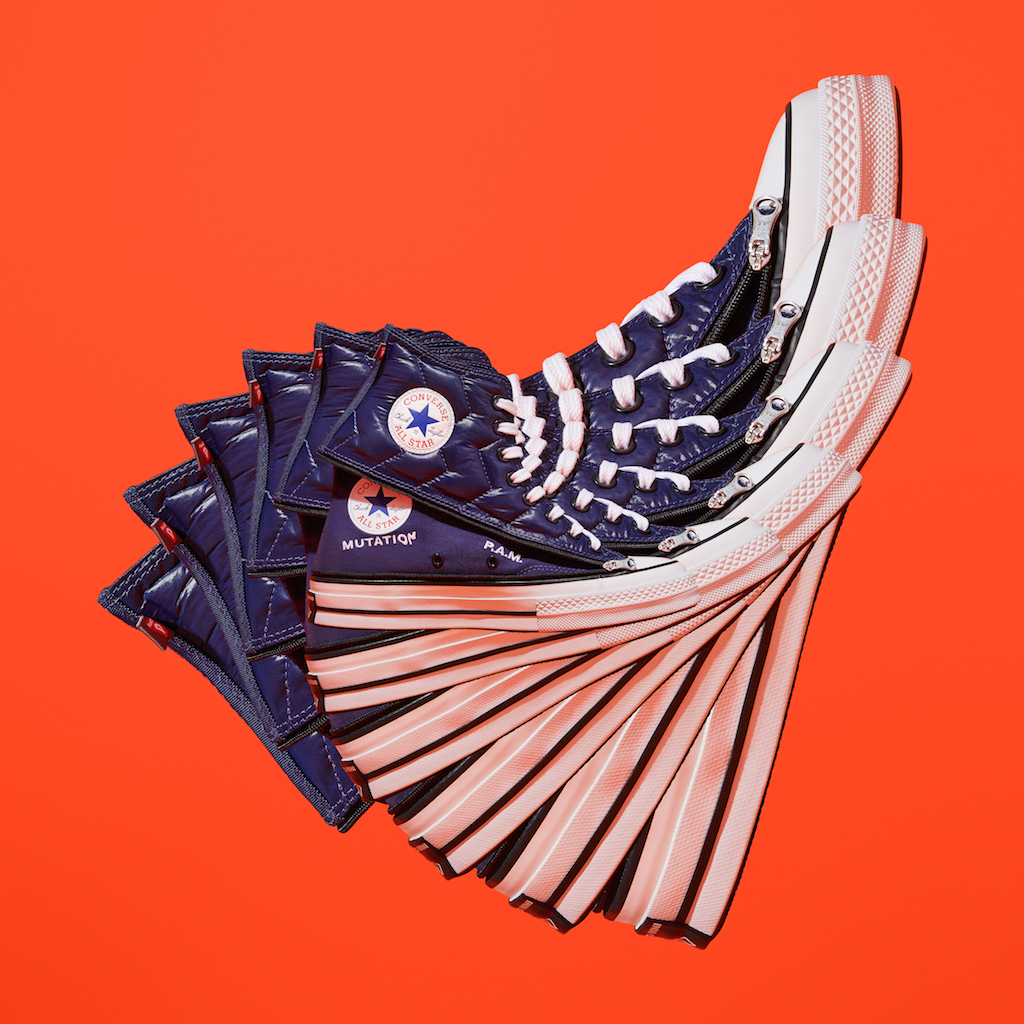 Fashion: Converse x P.A.M.
Over in fashion, Australian psych weirdos P.A.M. collaborate with the ever reliable Converse for a trippy take on the iconic Chuck 70. The lifestyle brand's inaugural apparel and footwear collection, they use the classic silhouette as a canvas to mutate and transform -- creating an insulated top layer that can be removed to reveal a second slip-on layer underneath (you know, in case your feet get hot). Bonzer.
Out 19 January via Converse and P.A.M..
Poetry: Platform Presents the Playwright's Prize
And finally, non-profit theatre company Platform Presents celebrate their recently launched Playwright's Prize with a poetry gala at the Playhouse Theatre. An open competition that aims to nurture and provide more opportunities to playwrights, the night will see speakers including Rhys Ifans, James Massiah, Gala Gordon and Jade Anouka take to the stage in order to raise money for the prize. The deadline to enter is 12pm on 15 February, with the winner announced in March.
20 January, Playhouse Theatre, London.
If you really want to stay with it, sign up here to get the best of i-D delivered to your inbox.