Nike x A-COLD-WALL*, imagery courtesy of Nike.
why a–cold–wall's samuel ross is rejecting streetwear's resale and hype culture
As A–COLD–WALL* collaborates with Nike, the Northampton-raised, London-based designer wants to add layer of humanity back to streetwear with pieces that age, live and evolve with the wearer.
|
27 November 2018, 1:11pm
Nike x A-COLD-WALL*, imagery courtesy of Nike.
Concerned by how resale culture has damaged the relationship between product and consumer, A–COLD–WALL*'s Samuel Ross has used his second collaboration with sportswear behemoth Nike to reposition the wearer as a central figure in the design process. His radical reworking of the 2010 "engine on the exterior" Nike Zoom Vomero +5 has removed the PU coatings to accelerate the aging process, which basically means that they won't remain box-fresh for long. "I'm interested in how a garment ages and in taking the user on that journey," he explained from a quiet corner of the immersive installation, made in partnership with the Architectural Association School of Architecture, inside Nike 1948 in east London. "Ultimately, I want the shoe to live, [and] that's been achieved by removing the film between the product and the effects of our environment." While challenging streetwear's blind hype-culture, the limited-edition London drop saw more than 2,500 sign-up and queues snake across Shoreditch. As ever for A-COLD-WALL*, it's about shifting the narrative.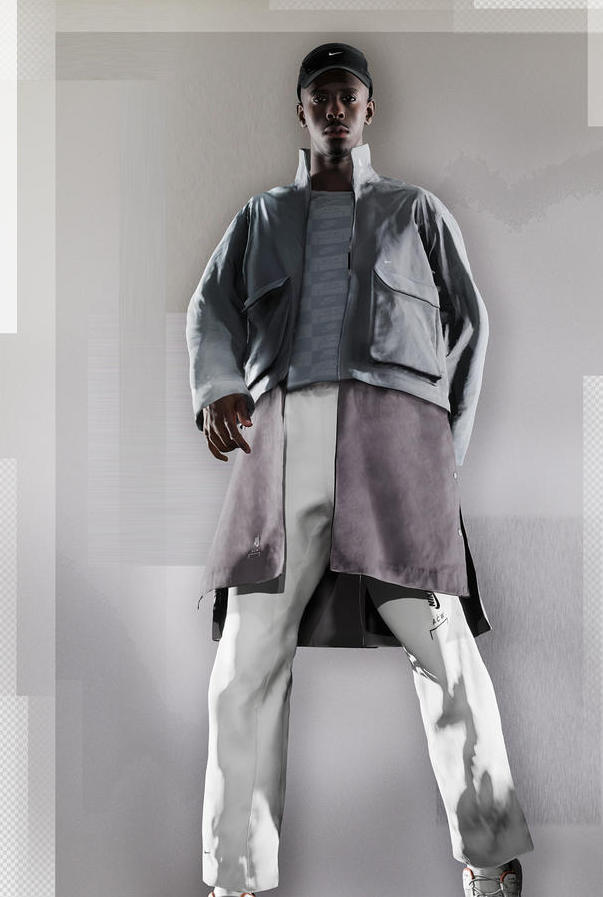 What began three and half years ago as an art project is now a NEWGEN supported, LVMH Prize finalist with a turnover exceeding £8m. Critics and an ever growing tribe of fans alike are increasingly drawn to Ross's multidisciplinary, narrative-filled vision as A-COLD-WALL* has evolved into an established fashion house. Part of a new generation of designers challenging what fashion can be, the Northampton-raised, London-based designer has now focussed his talents on questioning the business of hype. "I'm acutely aware of just how fast the turnover of products and information is in the age of social media," he explained. "I'm more interested in creating a time-lapse in which products and ideas can live for a longer duration." From A-COLD-WALL* to Loewe, Moschino to Marni, many of the best spring/summer 19 shows could be read as a creative call-to-arms against the quickening pace of the fashion conveyor belt and a loss of meaning beyond product. Here, Ross has focused this feeling on one of the industry's fastest moving machines, streetwear. "For me, there needs to be more of an emotion tie. We have to remember why we're involved in this industry and just what we contribute to this industry. It shouldn't be about just siphoning product back to consumers, we have to offer a narrative." The story of this 4-piece capsule collection began with the Nike Zoom Vomero +5 and Ross questioning what the future of footwear should look like and what it should say. "I'm into a future that blends technology with holistic and humanistic attributes," he declared. "That's where the idea of removing the UV coatings and protective films. The starting point for the shoe purchase compared to the six month and twelve month points aren't related and that can only be achieved through wear."
As we talked, Ross removed the pair he was wearing to demonstrate just how ten days of wear had seen the largely white sneaker begin to morph into hues of beige, tin, and slate. After six months, it would be almost unrecognizable as the beige would be amber and the natural hues would appear industrial. No matter how good your sneaker cleaning game is, this shoe has a life of its own. "I want to speak to a demographic who can at least grapple with the idea of having an emotional attachment to garments and footwear again," he added. "We should be interested in the life cycle of our products too — opening up discussions around sustainability — it's not about buying and switching product over, it's living with them." The release encapsulates an idea of stepping back to move forward. "I develop around 900 products a year now and it's important to keep questioning what it is I want each of them to say. Not every product allows the space to do so but when there's an opportunity to produce something that's more holistic, I will do it because that for me is the future. Throughout life and culture, people are yearning for emotional ties."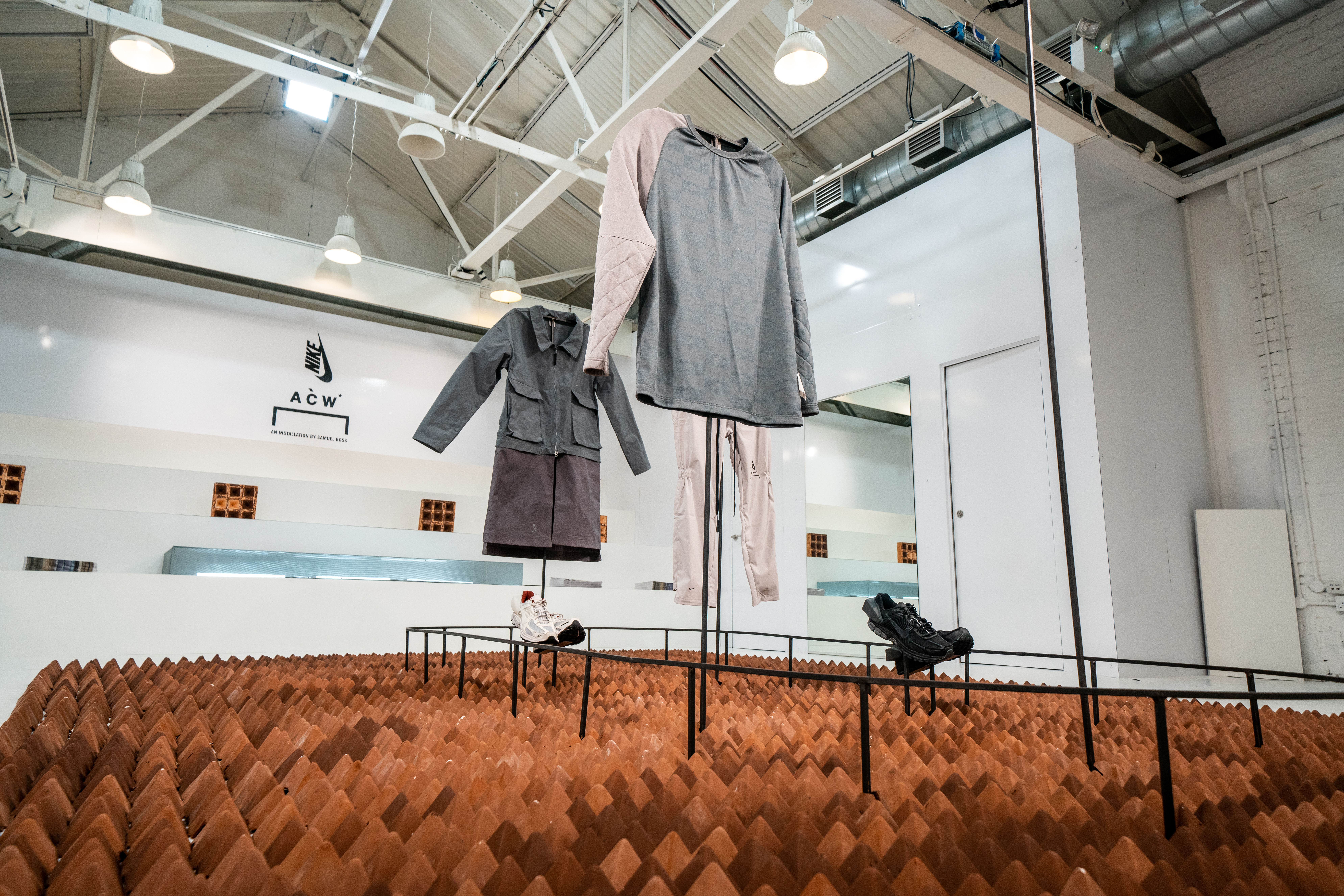 As his Nike Zoom Vomero +5 visibly age with wear, the outerwear feels equally alive as it shape-shifts when worn. "For the parka, I used this technical Japanese nylon that Nike have had in their archive for half a decade but haven't used due to its properties. Until the material is heated and touches the body, it's incredibly stiff. It's closer to an industrial polythene sheet than it is to a clothing fabric, but with wear it softens and comes to life. Once again, it's about playing around with the duality of the life and death of clothing within the fashion discourse."
From his counterfeit beginnings through to this considered capsule, this collaboration could be read as a place-maker demonstrating just how far Ross has evolved, both as a designer and a force for positive change. Given his deep rooted love affair with the swoosh behemoth, this collaboration could so easily have been a loud ego-screaming statement but he's opted for a soft power approach. "The narcissism in me has gone. It's not about me, it's about conversations and collaboration. It was important to think beyond my own experience and who I wanted to speak to, I wanted to spark conversations outside of the internet. I wanted it to be concise, considered, to speak to people who are thinking about similar issues. Fashion has to be cross-generational and across demographics." For Ross, fashion can't move forward by itself and any remaining exclusionary structures need to fall fast.
From working with the Architectural Association School of Architecture to create the porcelain pyramid strewn immersive installation to inviting students from the Graphic Design and Footwear Design course of his old university, De Montfort, he's revealing a new path. "I want to consider the total landscape of fashion — where it is now, where I believe it should be heading and how I can incubate thought processes around slow fashion, product life cycles and sustainability. It's about remembering what sustained our interest in brands, it wasn't just about the products, it's the narrative, the theatre and the intent behind it too." Samuel could happily write an op-ed but the products speak for themselves and they will continue to speak to the wearer long after their unboxed and worn.
The Nike x A–COLD–WALL* collection will be released November 29 by Nike and will be available in Dover Street Markets worldwide.
This article originally appeared on i-D UK.