Photography Charles Dennington
betty liu is making hats to help the bees
Meet the fashion student taking on the environment and tackling dwindling bee populations.
Photography Charles Dennington
Betty Liu is an RMIT fashion student with a strong moral compass. Disinterested in making clothes that simply look nice, the talented 21-year-old is adamant that her work should also help draw attention to the natural world and, at times, serious environmental concerns. For example, one of the designer's recent collections was made in response to a phenomenon known as Colony Collapse Disorder, which is responsible for wiping out huge numbers of bees globally. Featuring textural grids, the colourful, voluminous garments explore the hive from the sight-perspective of a bee. How cool is that? Following these insightful works, Betty ventured on a technical exploration of hat making, researching the historical world of millinery but adding her own contemporary edge. We spoke to Betty to learn more about her considered and curiously unorthodox approach to fashion.
Hey Betty, firstly, how are you doing?
Hello! I'm alright, I just started back at uni. I'm doing honours and I'm in five days a week so it's hectic.
What got you into fashion?
I've always been into clothing and dressing up, but it clicked the moment I had my first sewing class in high school. Once I finally learned how to sew, my mentality changed: I realised it was something I could do, and wanted to do. I'm looking to push the boundaries and normalities of fashion.
Where did the idea for these hats come from?
I began making hats during a millinery elective at school. To begin with I didn't have a concept in mind but it evolved alongside my studio practice, After Print. For that body of work I made three garments to create an optical illusion, simulating colony collapse disorder. CCD is the sudden colony death of honeybees, their vision is distorted and they can no longer navigate, eventually dying. With this in mind, the hats were an exploration of technique and texture to further communicate this message.
Why are you passionate about saving bees?
I watched a Black Mirror episode about it last year and began researching from there. I was interested in how bees' eyesight differs from ours. I felt inspired to replicate their experience through my garments and create viewer discomfort through a visual exercise. Using bright yellow, orange and green dresses to replicate their floral environment, I invited the viewer to stare into the center of the image for 30 seconds. Soon their vision would blur, distorting their perception and creating confusion. I was hoping to instil a sense of empathy and conversation around the issue. Environmental and food farming factors are contributing to the bees' decreased immune systems but there's no conclusive answer as to what's causing the disorder.
Is your work usually influenced by social issues?
With all my work, I try to put something behind it. There's so much fashion out there so, for me, there's no point in making clothes that look pretty. Even alternative or counter-culture clothes still focus on aesthetics that feed the eye. I want to create something where there's a learning experience or something of value to add. My work won't create change automatically but it creates conversation.
Where did you get the visual inspiration for your hats?
I was looking at a lot of traditional styles: 18th-century straw hats and museum gallery hats for example, then I'd mimic their structure. I looked at Christian Dior's 1940s New Look and French brand Jacquemus. But, it was mostly about trying out new techniques and materials, manipulating shapes and running with mistakes.
They're so sculptural and elaborate. Did you have many happy accidents?
A lot! The white flopped hat was created without any hat moulding blocks, it was like sculptural smocking. And for the larger white one that drapes down the front and back, I used wire and a lot of PVA type paste to create a smooth surface. When I left it to dry I forgot to cut the excess fabric off and when I came back the leftover fabric had dried in this folded, wind swept manner, which I really liked! Then I refined it by cutting off some of the left-over pieces and I ended up going with that look as one of my finals.The hat I had the most control over was a pleated style one with little handles. I bought this pleated crinoline and draped it around the rim of the hat and used it as a sash to secure it. That's were there 18th century straw hat came in.
Changing the subject...Saatsuma wore a garment from your After Print collection for a shoot. How does it feel when your designs are interpreted?
I love it! I really liked how Kate styled it and it was different to the intended way of wearing it. I'm all for manipulating garments on the body and mixing it up. I like the idea of people wearing clothes in a way that goes against the supposed way of wearing it. My mum has all these super nice dresses from the 90s that I technically shouldn't wear because I'm too big for them, but I'll just half zip the skirt up and wear a long top over it. My mum will be like, "You're not seriously going to wear that out?" But who says zipping up your dress the entire way up makes it look good? The idea that clothes need to be worn the exact way they were intended is so strong. I work in retail and when I tell customers that they can tie a strap around differently or, wear it off the shoulder they just look at me incredulously. With the hats, I don't even know which way is the back or front, I just go with how I'm feeling on the day. You can do whatever you want, it's a free world.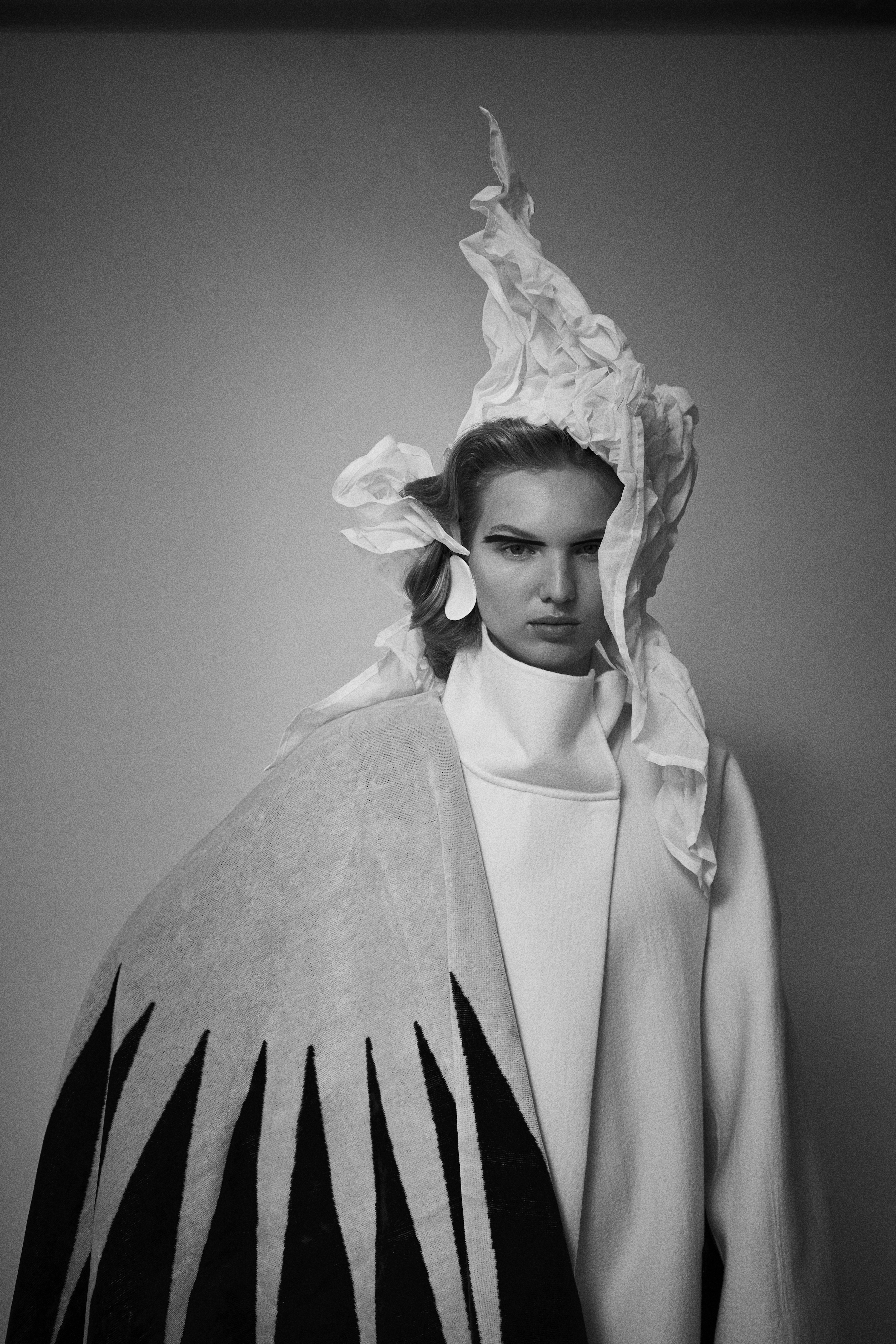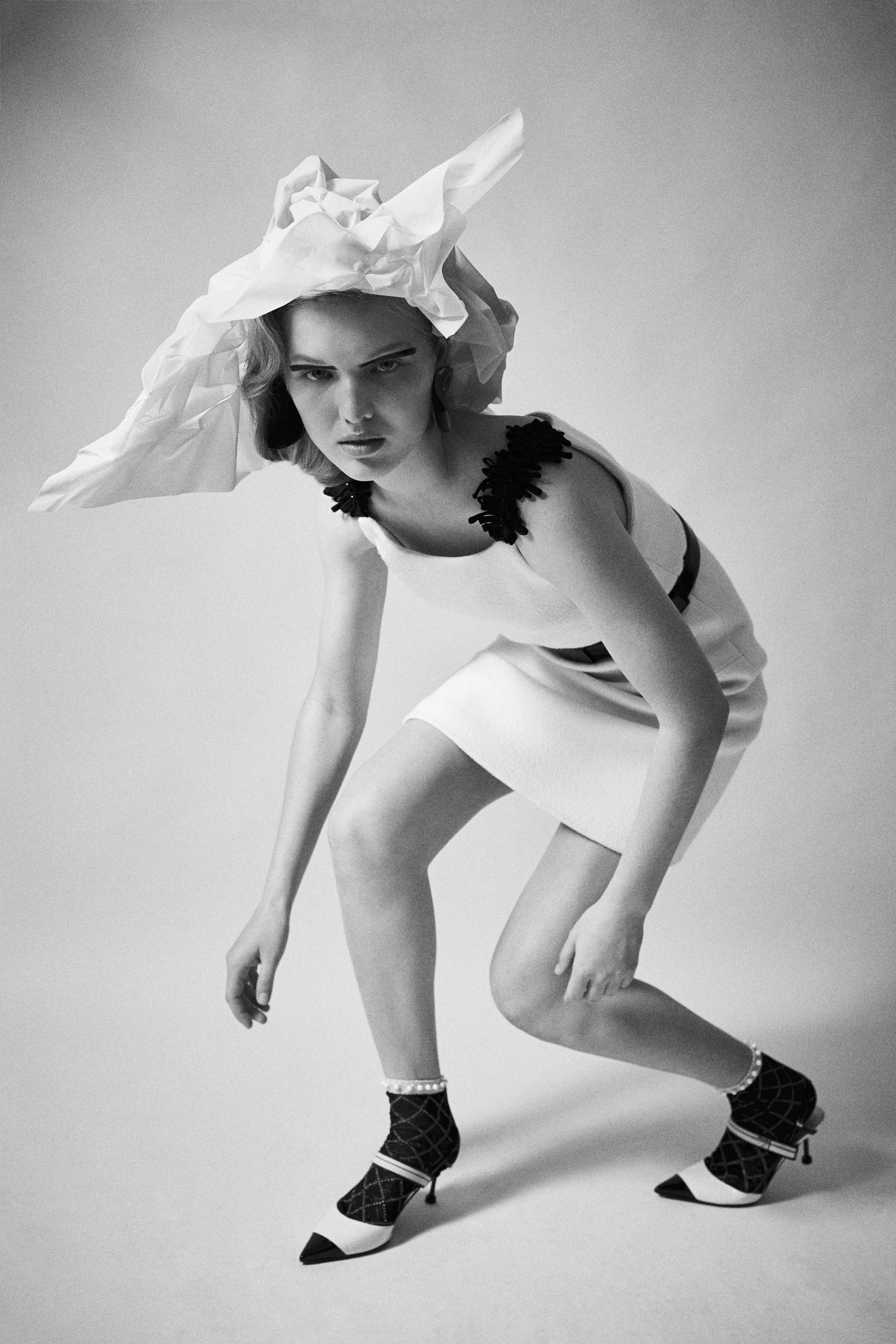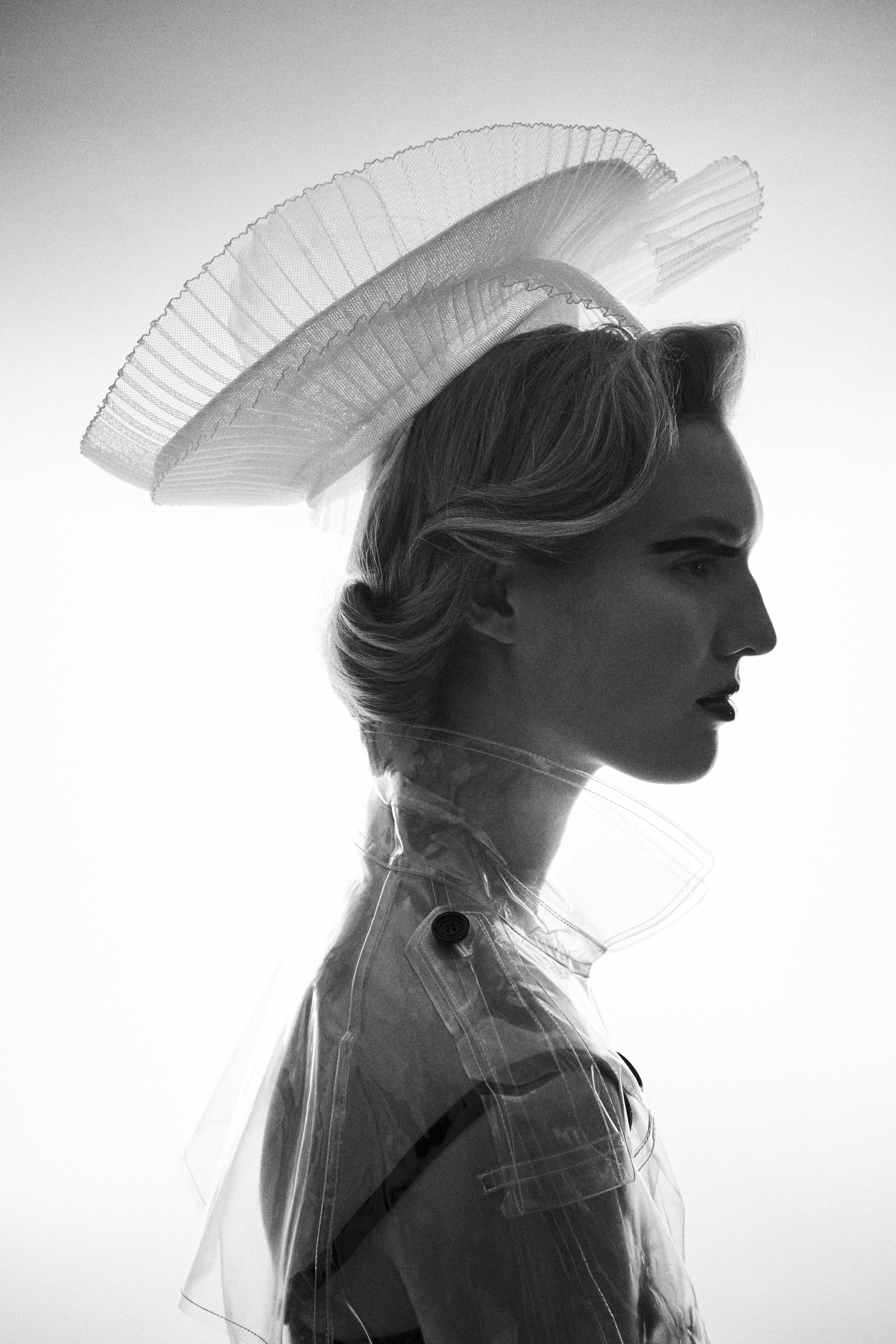 Credits
---
Photographer Charles Dennington
Creative direction and Stylist Charlotte Agnew
Hair Alan White using Davines
Make-up Joel Babicci using MAC
Fashion assistants Mercedes Rigby and Matthew Gode
Model Jess P-W