a fan edited 'call me by your name' into an 80s teen flick
Elio and Oliver's romance would have been the perfect John Hughes film.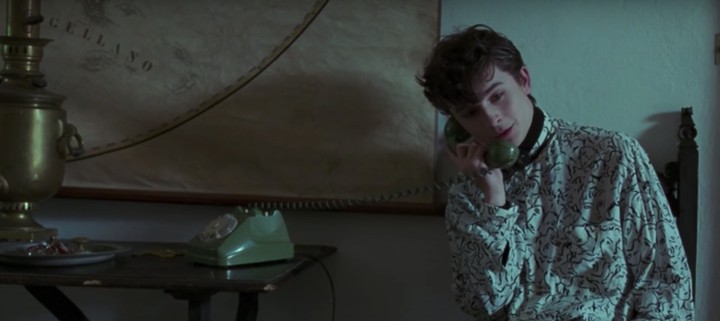 Screenshot via YouTube
When you think about it, Call Me By Your Name would have made for a great 80s teen flick (that is, if mainstream queer films got made back then). It contains the same elements found in John Hughes films like The Breakfast Club and Pretty in Pink. There's an "opposites attract" romance, a sexual awakening, and music-heavy sequences. And, of course, the Luca Guadagnino-directed film takes place in 1983. Seeing these parallels, one fan created a trailer for Call Me By Your Name reimagined as an 80s teen comedy. The Ferris Bueller-esque film's name? Call Me.
The trailer contains all of the 80s hallmarks: a cheesy voice-over narrator that basically spoils the entire plot, faux-philosophical one-liners, and bubbly 80s songs. It opens with the infamous peach scene, of course, but edited together with quick jump cuts and squishy sounds to make it feel more like a low-brow comedy bit, rather than an intimate moment of sexual exploration. Elio takes on the more American name of Elliot here, introduced to us as "a typical 17-year-old who couldn't get a girl." Oliver is a "not-so-typical grad student" and the two men "couldn't be more different." Cue an unexpected love story.
The trailer highlights how much of a soaring coming-of-age film Call Me By Your Name is. One of the most delightful moments is when our narrator delivers the film's tagline: "Sometimes the person who shows you how to be yourself is the person you least expect." Guadagnino has said the sequel to Call Me By Your Name will be tonally different from the first, and we wouldn't be mad if it took on this more lighthearted aesthetic.
Call Me's release date ? The summer of 1983.