suzanne rae's nyfw show celebrated modern-day feminist revolutionaries
Including a beret-clad Kimberly Drew, Zora Casabere, and Maia Ruth Lee.
|
19 February 2018, 9:08pm
Suzanne Rae Pelaez showed her namesake label's fall/winter 18 collection in a nondescript, white-walled Chinatown walk-up last Friday night — with neither the models nor the clothes. Instead, the designer — who revisits feminist theory from her days at Bryn Mawr when she conceptualizes each collection — showed glossy portraits by her friend Christian DeFonte. Pelaez's six models comprised: Kimberly Drew, the art writer, curator, and activist known for her blog Black Contemporary Art and for her post as Social Media Manager for The Met; Zora Casebere, daughter of the iconic artist Lorna Simpson and a budding artist in her own right; Maia Ruth Lee, a multidisciplinary artist and director of a nonprofit that exposes young girls to contemporary art; Mae Elvis Kaufman, a self-portrait artist who has achieved comparison to Cindy Sherman; Cat Leavy aka Madge, a one-woman glittery self-described "occult-pop" musical project; and Kate Falcone, a visual artist and sculptor with an incredible handle on 21st century feminist aesthetics. They were enlisted in a feminist militia of sorts. Pelaez explained that "each, in her individual way, is part of a civilian army that fights for the acknowledgement, rights, and equality of all people."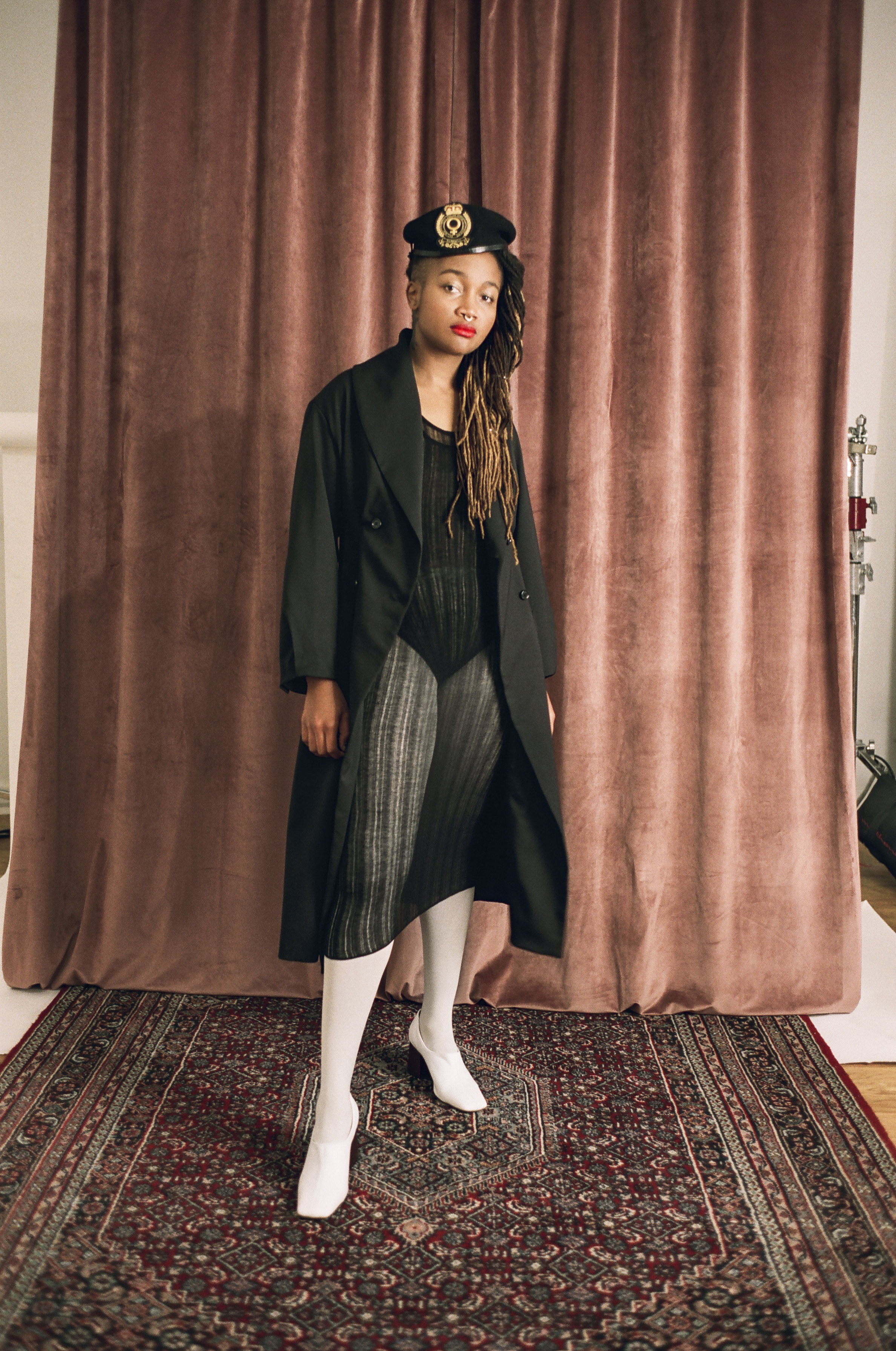 The designer elaborated, "I was channeling the elegant and empowering style of various civil rights activist groups through classically male suiting fabrics with ribbon trims alongside military berets and satin lace-up boots." A standout piece is certainly the beret patch that reads: "Liberté Egalité Humanité" above "Feminist" and topped with a king's crown. Pelaez acknowledges the appropriation here, but notes that the clichéd iconography, unfinished hems, and frayed ribbons elevate the "sophisticated yet raw" collection from a mere play on masculinity to a greater visual dialogue about appearance and power. Styled by Shibon Kennedy, the portraits — shot in front of a worn burnt umber velvet curtain in place of a seamless, and inspired in part by Carrie Mae Weems's The Kitchen Table Series — aimed to capture the essence of each individual, and to tell a broader story. "I wanted to not only share the stories of these women but also to express their value and importance and hold them in high esteem through appropriating traditional and somewhat academic or presidential portraiture," Peleaz added.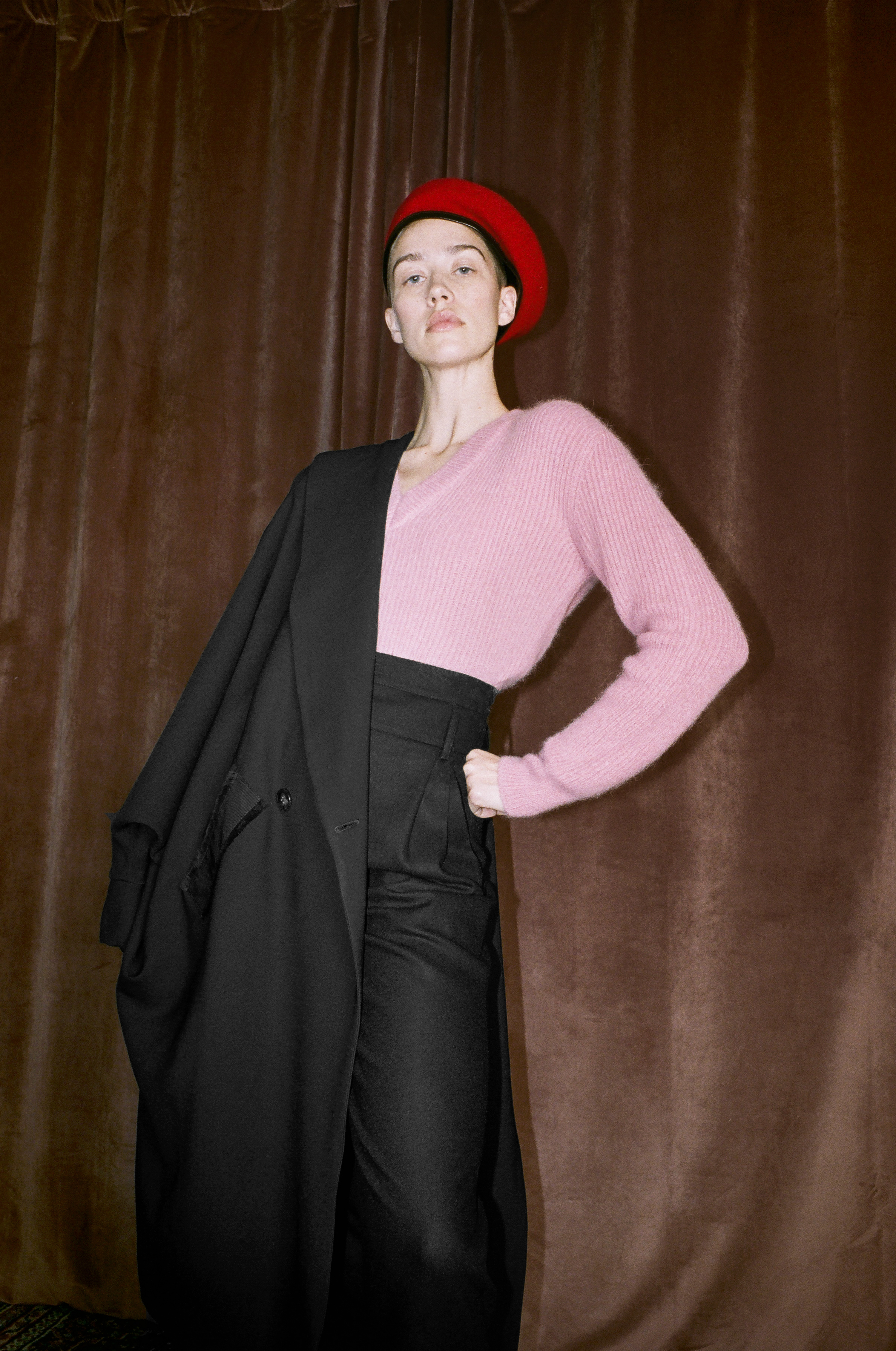 The decision to show photographs is a particularly noteworthy one. While practical on the one hand, it also echoes the brand's maxim of "consciously [making] clothes for the wearer's own enhanced experience and not for the gaze of others." While these women are technically on-view, their image is controlled and executed through the lens of Pelaez's concept. "The clothes are strong — bold shapes and clear lines," Madge says. "And wearing them makes you feel that way." She and the other models appear pleased with how they've been represented. "I imagined something very similar to how it ended up. It's the exact message I'm sending as an artist and creator. Seeing the final images gave me a sense of being in a cool, inclusive club. There's definitely an element of badass-ery but it's balanced by accessibility" — two of the integral ingredients for the feminist revolution.