brooklynn prince and finn wolfhard are starring in a movie together
The spellbinding seven-year-old star of 'The Florida Project' is joining Finn Wolfhard in 'The Turning.'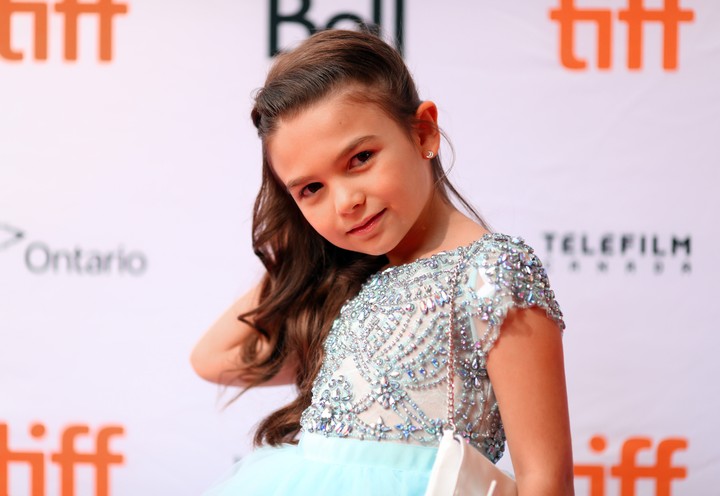 Joe Scarnici via Getty Images
Floria Sigismondi's film adaptation of The Turn of the Screw just keeps sounding better and better. The legendary Italian-Canadian director, who has directed some of David Bowie's most spooky, cinematic music videos, will soon take on Henry James's 1986 gothic novella. The trippy-as-hell ghost story involves a young governess hired by an absent uncle to mind his young nephew and niece.
Last month, it was announced that Stranger Things's Finn Wolfhard would be swapping Hawkins, Indiana for the country estate setting of James's book. And Deadline has now confirmed who'll play his younger sister: Brooklynn Prince, a.k.a. Moonee from The Florida Project, a.k.a. the world's most incredible seven-year-old actor. Finn and Brooklynn's governess will be played by Mackenzie Davis of Blade Runner 2049 and star of the only Black Mirror episode that didn't want to make you want to become Amish.
Sigismondi previously revealed that her film — titled The Turning — will be set in the 90s rather than the Victorian era. She also plans to "play with music." Whether she'll tackle The Turn of the Screw's themes of sexual repression and class consciousness is unclear, but don't expect a bubblegum-flavored dive into the Spice Girls's discography. In the 90s, Floria Sigismondi directed Marilyn Manson's bone-chilling video for "The Beautiful People," and David Bowie's demonic "Dead Man Walking." We're sure The Florida Project's tough-talking wild child is up for any unpredictable adventure.