Photography Laura Coulson
walter pfeiffer, saskia de brauw and more collaborate on charity t-shirt range
Available to purchase tomorrow, 'Noon' and Sunspel have collaborated with 10 artists on a limited edition line of T-shirts, with 100% of the profits donated to independent charity Bail for Immigration Detainees.
Photography Laura Coulson
Meet me at the intersection of cool and ethical fashion. Biannual art magazine Noon has collaborated with Sunspel on a limited edition T-shirt line for charity that's coming out tomorrow. Running with the theme of their last issue, Family, the magazine invited 10 of their nearest and dearest contributors -- some old, some new -- to create an artwork to adorn 10 tees each. In case you were wondering, the list of collaborators is as follows: Chris Rhodes, Clara Balzary, Jeremy Deller, Joyce NG, Katharine Hamnett, Lucy Moore, Mark Borthwick, Mark Leckey, Saskia de Brauw, Walter Pfeiffer.
100% of the proceeds of the 100 T-shirt collection will be donated to independent immigration charity Bail for Immigration Detainees (BID). BID provides legal advice and representation to migrants and challenges immigration detention in the UK. Not only that, the collection is made with 100% British-grown cotton unsuitable for retail because of its small imperfections. Need more convincing? Fine! Here a handful of its contributors tell i-D what image they picked for their T-shirt and why.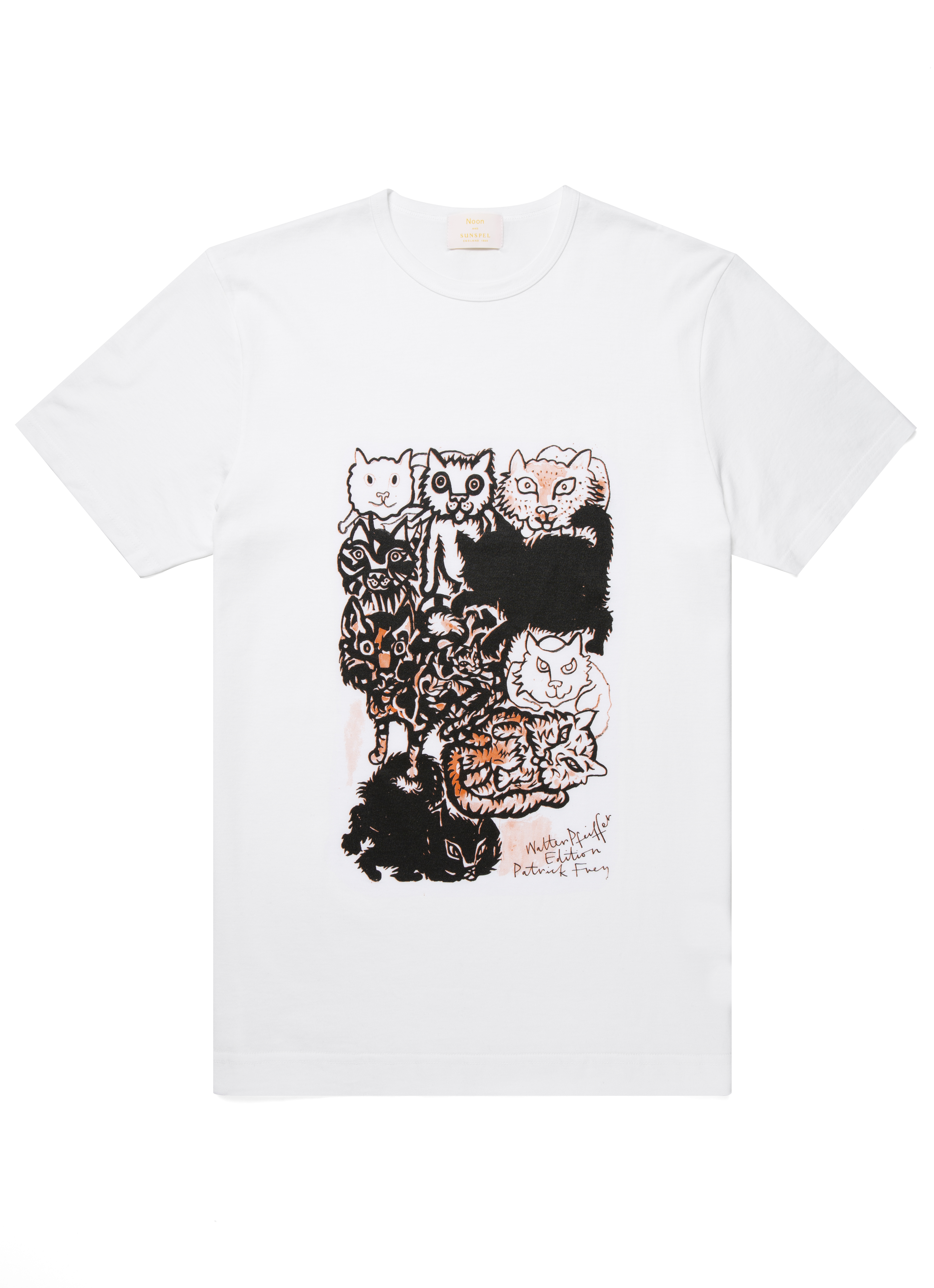 Walter Pfeiffer
"Starting in 1986, I really began drawing in earnest. After the exhibition at the Kunsthalle Basel and the catalogue came out, I was fed up with photography and with people. Cats are ideal models, always available, always content. I resorted to still lifes and cats because I was sick and tired of models always putting me off: 'Not today, maybe tomorrow.'"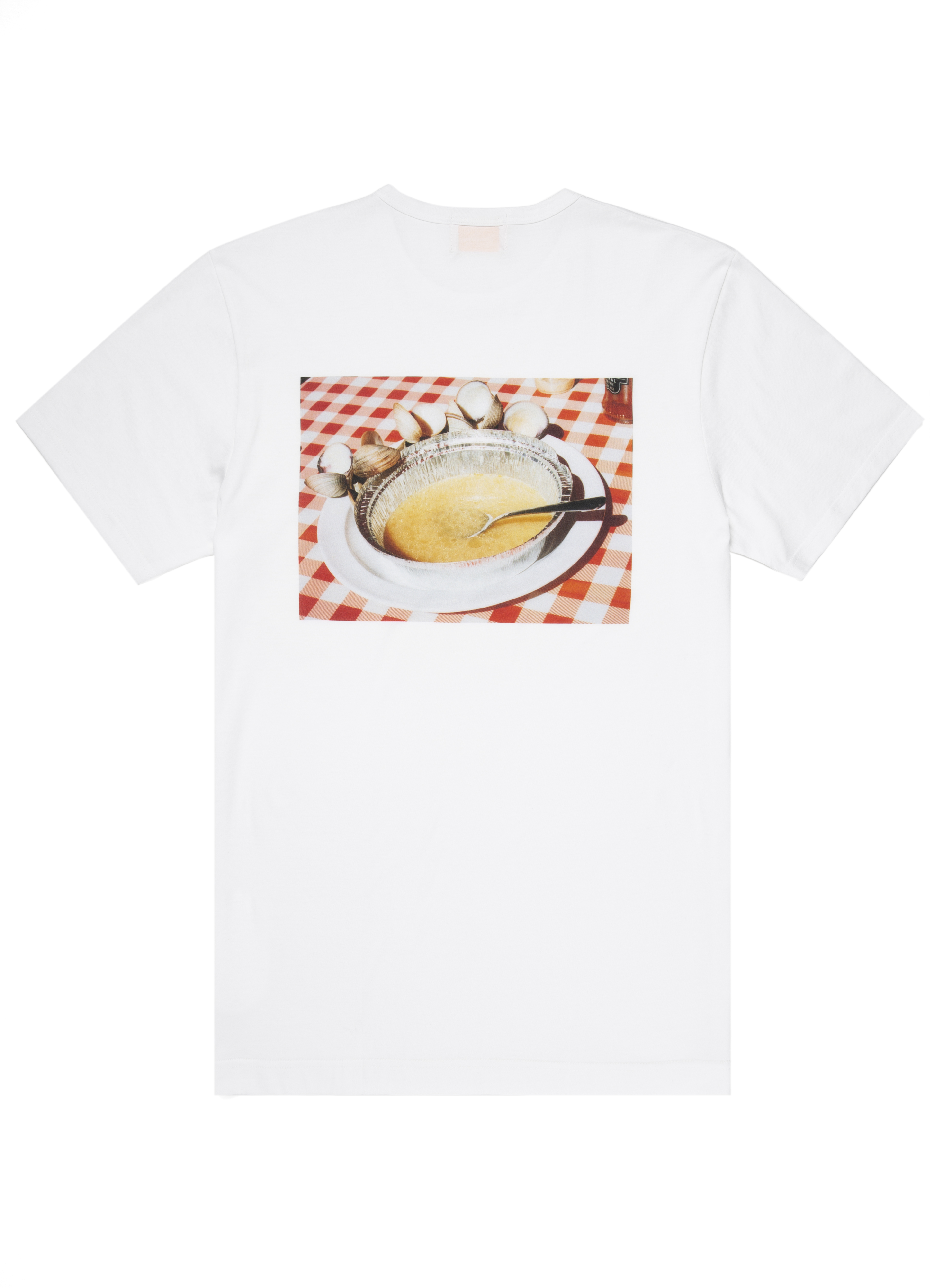 Chris Rhodes
"This was a photograph of my lunch, taken on a drive along the Pacific Coast Highway. It brings a feeling of sun and warmth... and it's an unexpected scene to see on someone's back. The design allows for the viewer to enjoy the T-shirt as much as the wearer."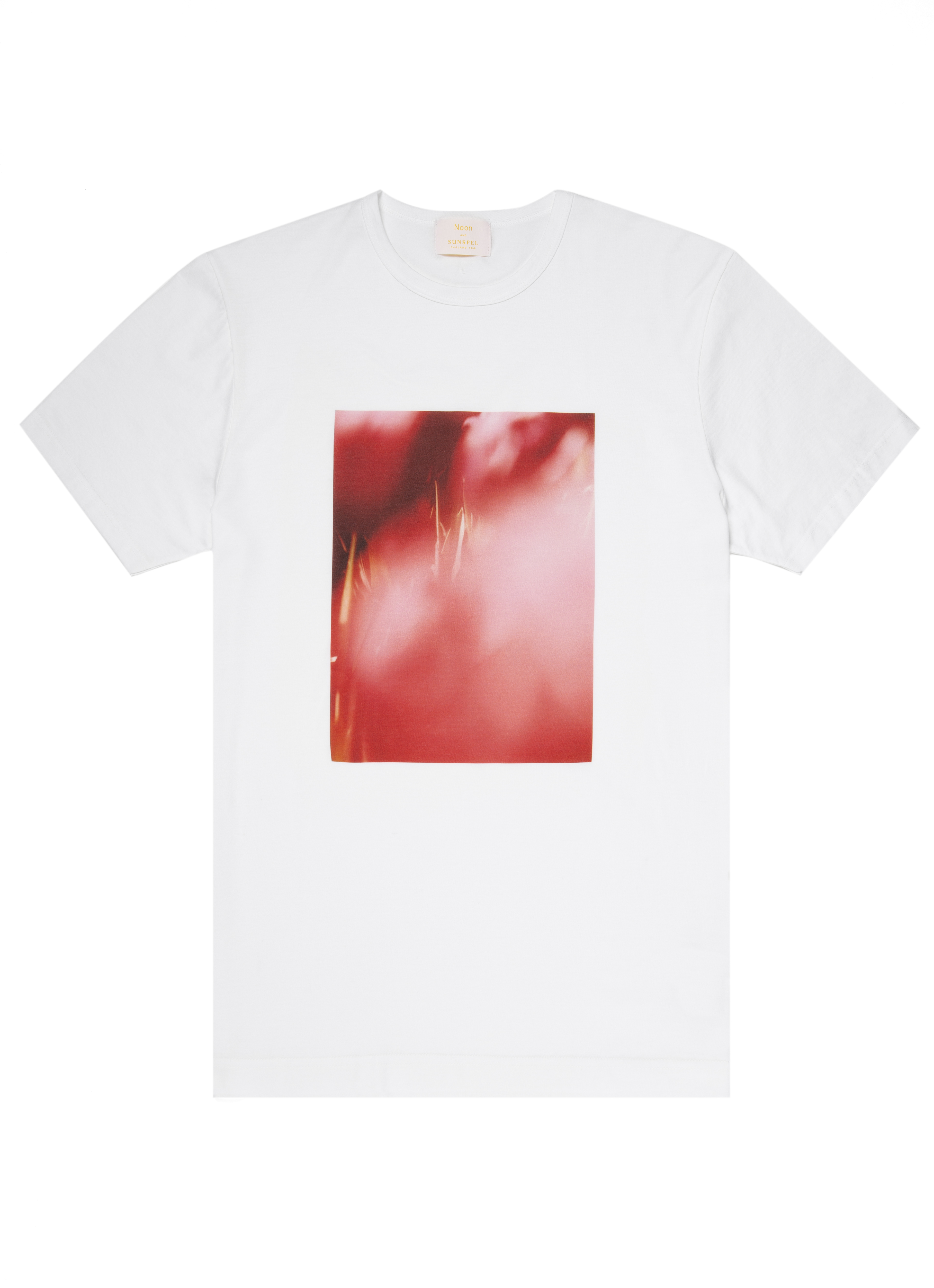 Clara Balzary
"I hope that this image can inspire a feeling of empathy and goodwill. I'm honored to support BID and the incredible work they are doing to help advocate for our fellow human beings. Most of us in the creative industry are so privileged to enjoy a sense of safety in our homes and communities, and I hope that we can use that privilege to support incredible organisations like this one."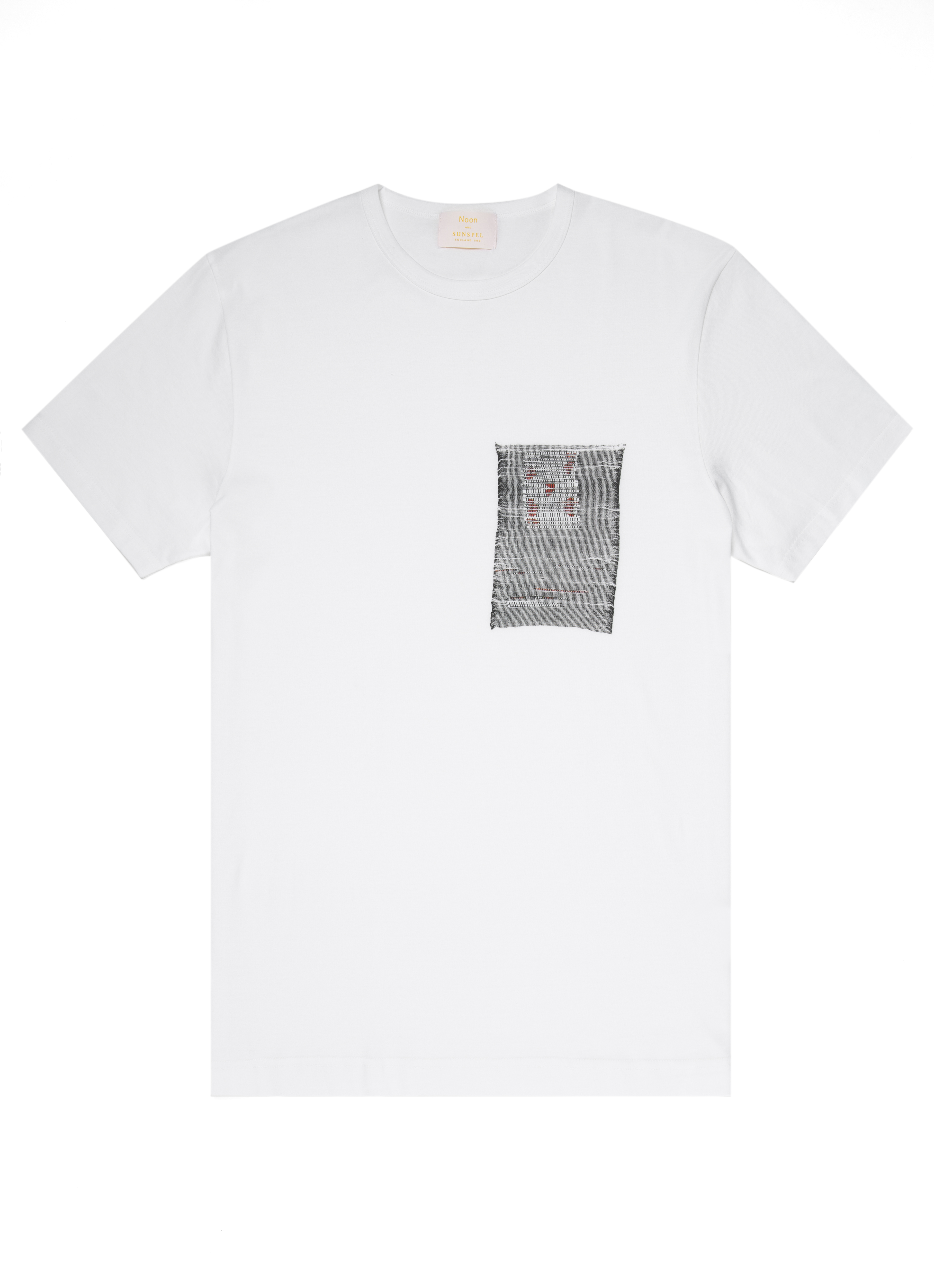 Saskia de Brauw
"I often find playing cards lying on the street. Some were obviously used for card games, but some, I think, are lucky cards. It seems they have been held in a pocket or wallet when I look at their folds. I wanted to integrate a card that could be someone's lucky card for this T-shirt design. I cut it up and wove it into a piece of fabric. In our world today, uncertainty and violence leaves many people with no other choice than to pack their belongings and leave their beloved land. One has to start somewhere else equally uncertain. People who make such bold decisions are heroes in my eyes. Being an immigrant does not make you a criminal."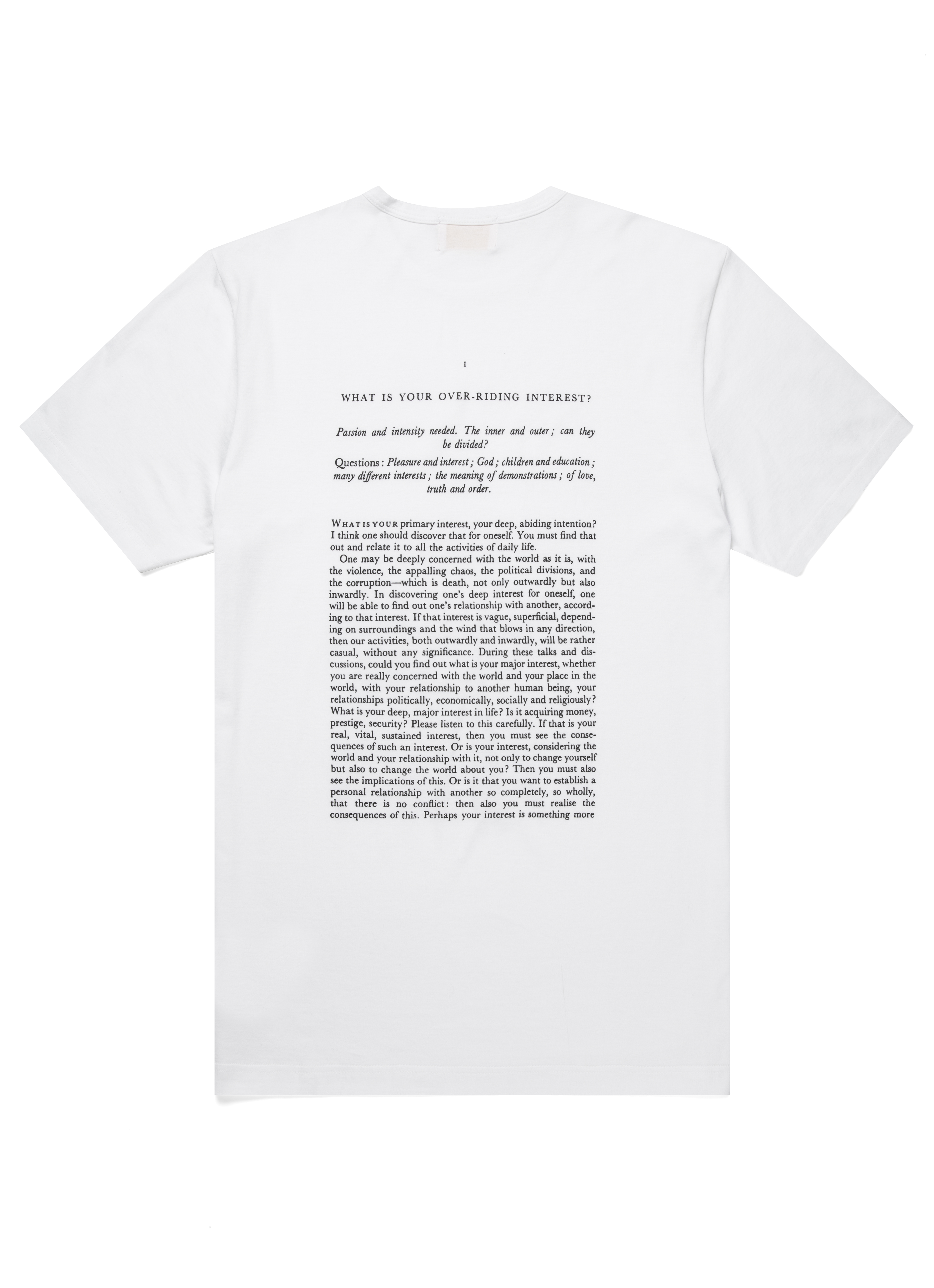 Lucy Moore
"BID is an incredible charity and I hope my small contribution can make a difference. I chose to distribute a piece of text by Indian spiritual guide Krishnamurti on my T-shirt. I hope everyone will enjoy it!"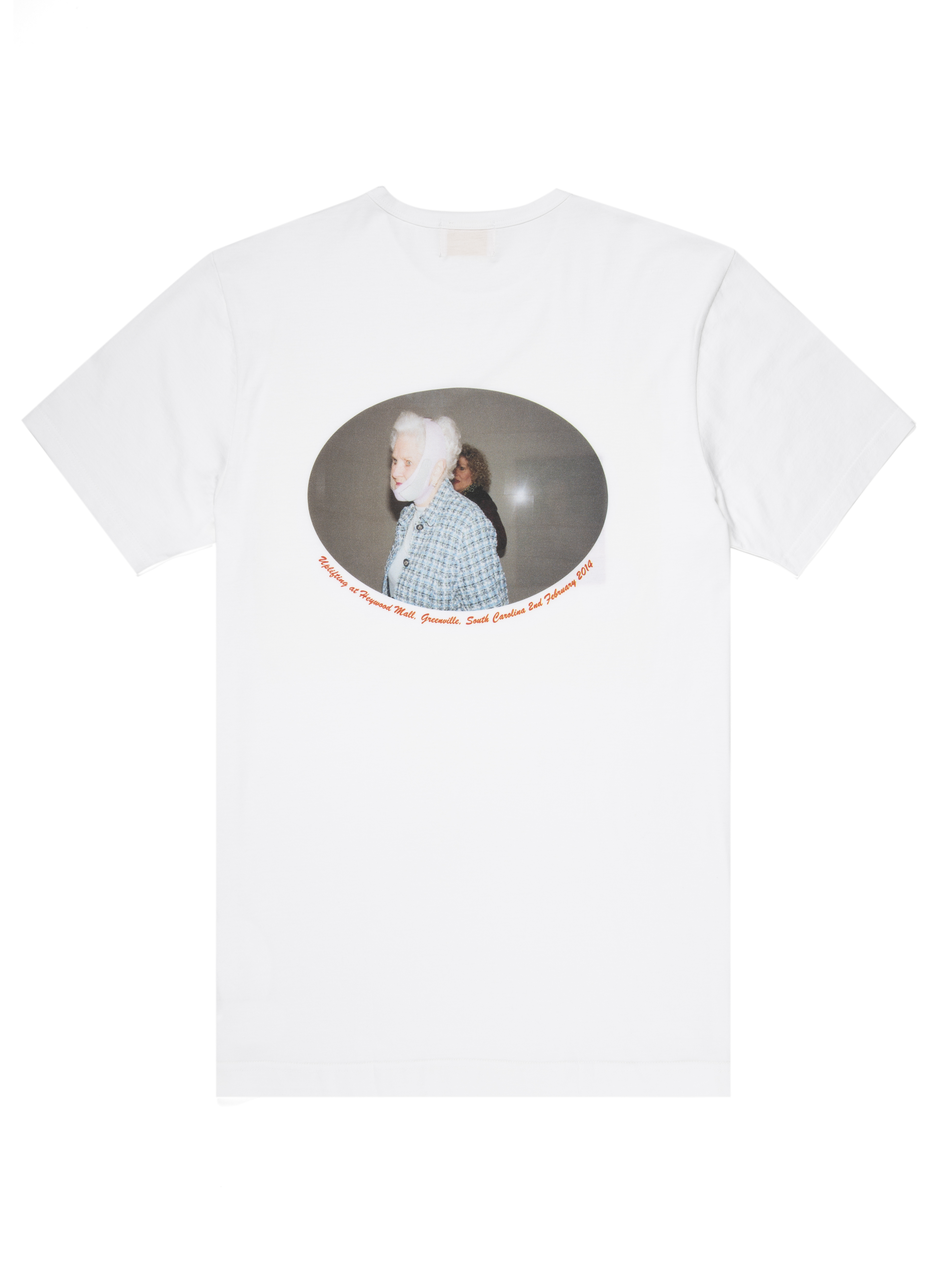 Joyce NG
"I've always found shopping malls to be a safe haven. When I went to South Carolina for the first time in 2014 for my friend's wedding, I went to the mall, of course. I proposed to Margaret, who power-walks an hour every day at Haywood Mall, to do so while wearing an anti-gravity facial mask; and Esther, a Greenville girl, to consider the potentiality to freeze her youth while hanging out at the mall after school."
Noon's charity T-shirt collection, created in collaboration with Sunspel, for BiD, will be avaiable at Sunspel's Redchurch Street store on Thursday 6th June from 6-9pm, and on the Noon website from Friday 7th June at midday. Each T-shirt will retail for £75.