denzil forrester's paintings celebrate pre-gentrification london nightlife
Denzil Forrester has been creating art for over 40 years, but in the past few years he's finally receiving his (overdue) dues. Clive Martin catches up with the artist in the sleepy country town of Truro.
Photography Nick Auskeur
Truro — the archetypal English county town; semi-rural, semi-affluent, in possession of a Cathedral, an enormous M&S, an ASK Italian, a cathedral, a small-scale drug problem and a Conservative Member of Parliament. It's a place where you'd expect to find Land Rover Discoveries, waxed jackets and expensive watercolour galleries, and find them you do.
Something you wouldn't expect to find here however, is the home and studio of one of this country's most vital and political painters — that of ex-East London boy Denzil Forrester, whose 40 year career has been defined by his vast, vivid scenes from the Black British experience; the nightclubs of early 80s Hackney, the controllers of Rastafarian soundsystems, the threat of police violence, family and funerals.
Denzil, now 63, seems to be entering the golden autumn of his career — enjoying the quiet life down here in Cornwall while simultaneously becoming hot property in London and New York. Recent years have seen huge upsurge of recognition for his work, and 2019 promises a retrospective at Mayfair's Stephen Friedman Gallery and an exciting installation at Brixton tube station later in the year.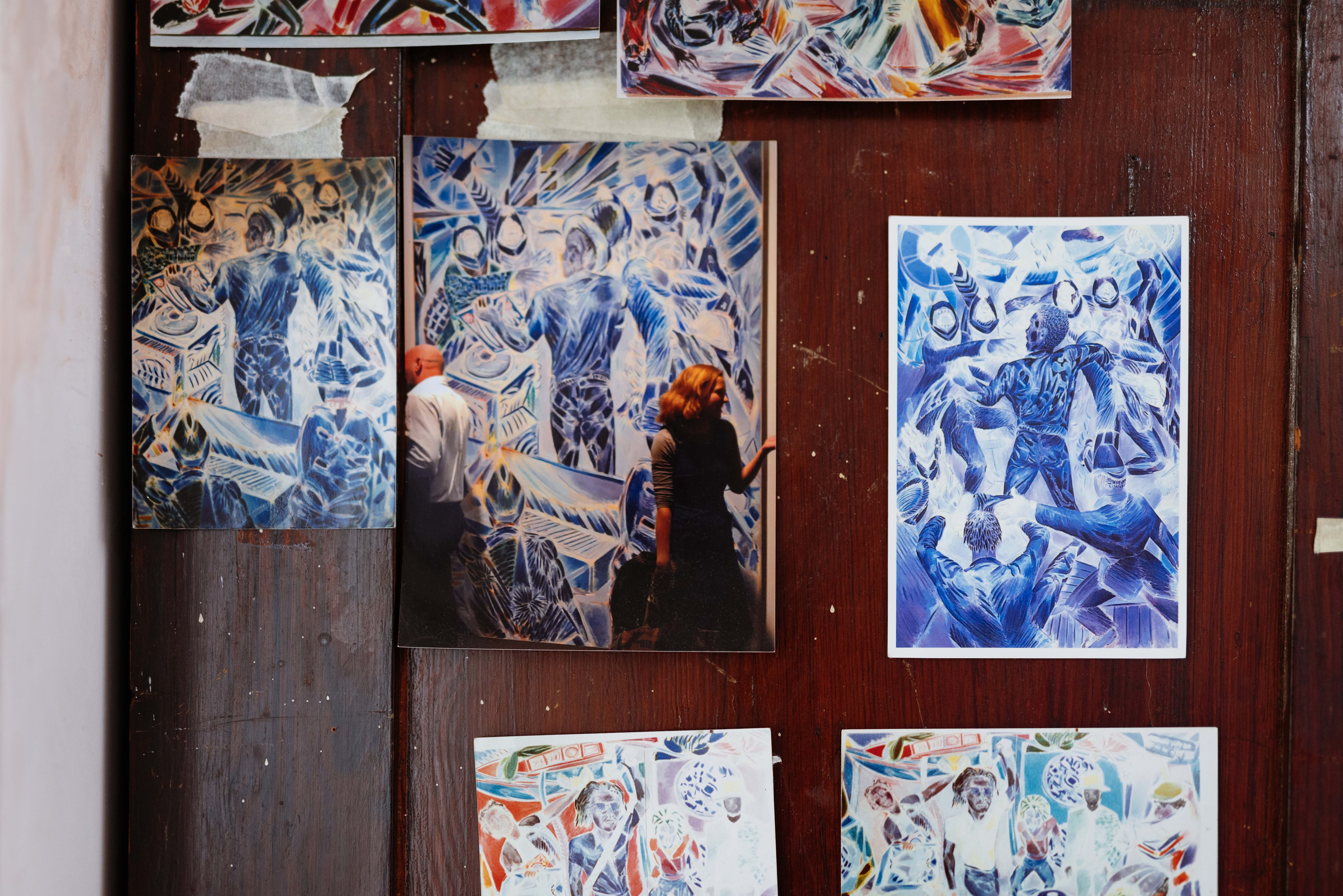 Declining my suggestion to take a seat, as he "never sits down really," Denzil beings talking about how the incredible skies in this south western corner of England influence his work. "The light is incredible, it's a very clear, clean light," he says. "Even if you're using dark colours they end up having a translucency, a luminosity about them... Also I can get on with it here. In London, I wouldn't have peace. I love going back there… but here I can just get on with the job."
Surrounded by a life's work in sizeable canvases and sketches, in a studio flecked with paint and littered with old stereo equipment (and the occasional stray bottle of San Miguel) — it's easy to see that despite his identity-rooted subject matter, Denzil is a painter's painter. He espouses on DaVinci, Monet, the Cubists and seems almost quite bemused about his burgeoning success.
"When I finished art school there was no outlet for the work," he explains. "But now I'm in my sixties…good god. My studio is nearly half-empty. I couldn't have asked for it better, because I get to do a painting, then a truck comes and takes it off to London, off to New York. The paintings of the nightclubs in particular seem to be very popular now, because all the ones I used to go to in Dalston, Hackney — about 80% of them aren't there anymore. They weren't documented, there's hardly even any black and white photographs of them. There's the film Babylon, and one called Yardie which has just come out — but they're not really about the clubs. In films they make things a bit more juicy, violent to sell the product... people going into the club with machetes and all that. I never saw any of that. People were just dancing, singing, enjoying themselves."
When it came to translating these wild nights at forgotten venues like Dalston's Four Aces and the Norick in Seven Sisters, Denzil's process was as much journalistic as expressionistic. "The main guy I used to follow a lot in the 80s was Jah Shaka. His sound system was a mono one, so it was much more powerful — it suited reggae, dub. It wasn't too melodic. When you go to a Jah Shaka sound system, you know you've been to one."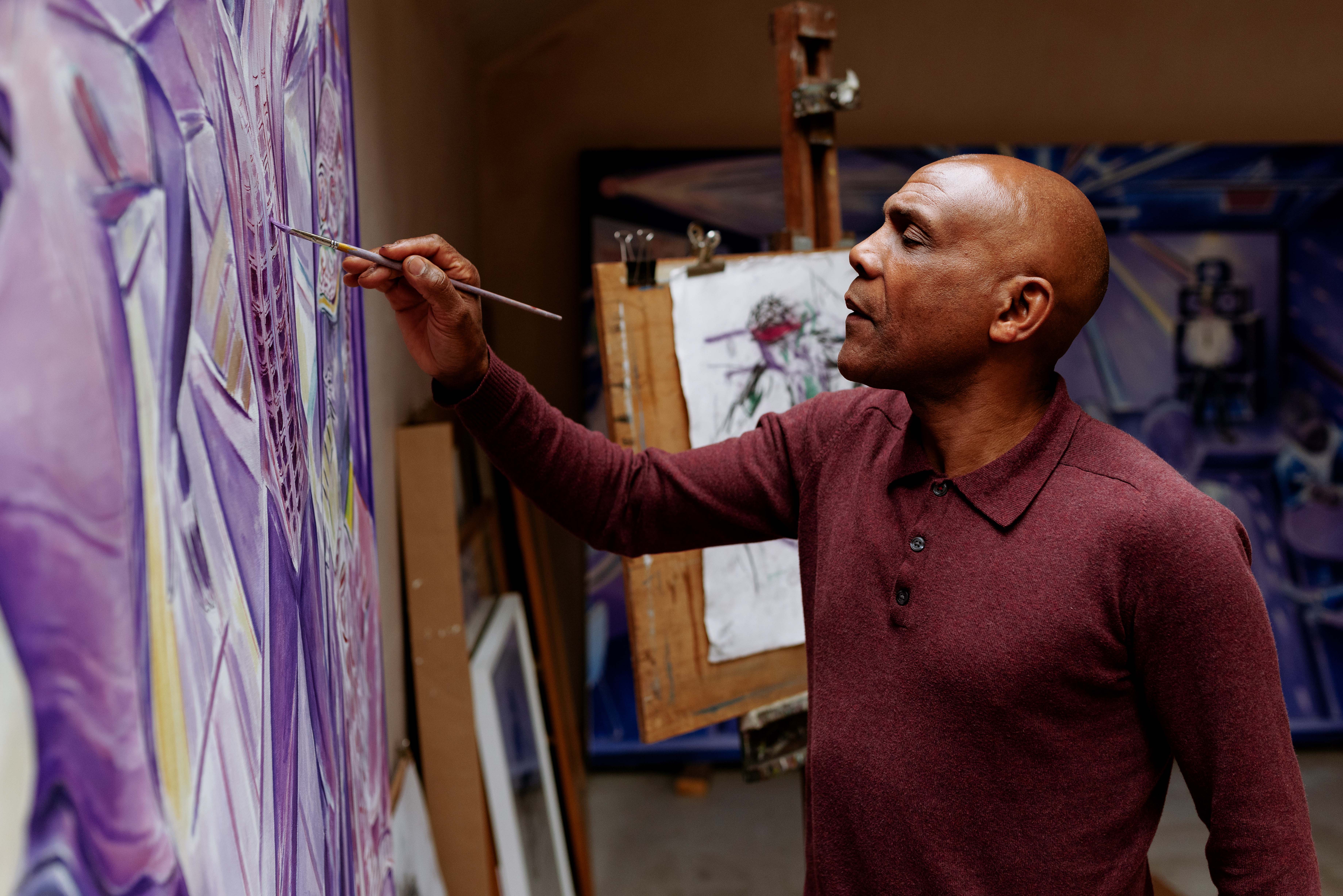 "What I used to do was draw to the length of a record — about 3 or 4 minutes. I'd do about 30 or 40 drawings a night, usually I'd start by the DJ booth about ten or eleven o'clock. When it got jam-packed, the only place I could stand was behind the bar, about ten feet away from Shaka. He'd be there with his pictures of Haile Selassie, his crew who'd be all around him. Sometimes I'd focus on someone… in those days a lot of people used to come really dressed up — big hats, big headgear. There used to be a guy who'd come in full African robes. He'd walk up and down the club like a prince. People in those days would spend an hour dressing up, which was lovely. They were great for an artist like me, because I could just really go to town."
"There's an energy that people give out, that only lasts for about the length of a record. And that's the beauty of me actually going there — if I didn't I couldn't make those paintings. The drawings were a way of getting into it… but being there, and feeling it myself is what made the paintings."
The London captured in Denzil's early paintings is, of course, a very different one from today. After moving from rural Grenada as a child, he found himself in Stoke Newington, when the term 'gentrification' had barely been coined, let alone started decimating the area. "It was quite a dark place," he remembers. "I was shocked by the buildings, they were so big… I thought most of them were churches. I had to stay at home for six months when I arrived. Me and my mum sewed bags in our basement for a lovely Jewish family, all day long. Even after I started school I was sewing bags with my Mum, sometimes 'til ten at night," he laughs.
After learning to paint at an after school club on Ridley Road, and getting his first taste of nightlife from the abundance of Rocksteady-centric house parties in the area — he found himself Central Art School, then very much an incubator of radical artists, and quite a culture shock for a Grenadan country boy. "There were some punks at Central. There was a guy called Alex McDowell (now an esteemed visual designer), who did some amazing pictures of guys shitting, literally. The pop artist Derek Boshier bought one but the head of Central came to the exhibition, took it off the wall and tore it apart."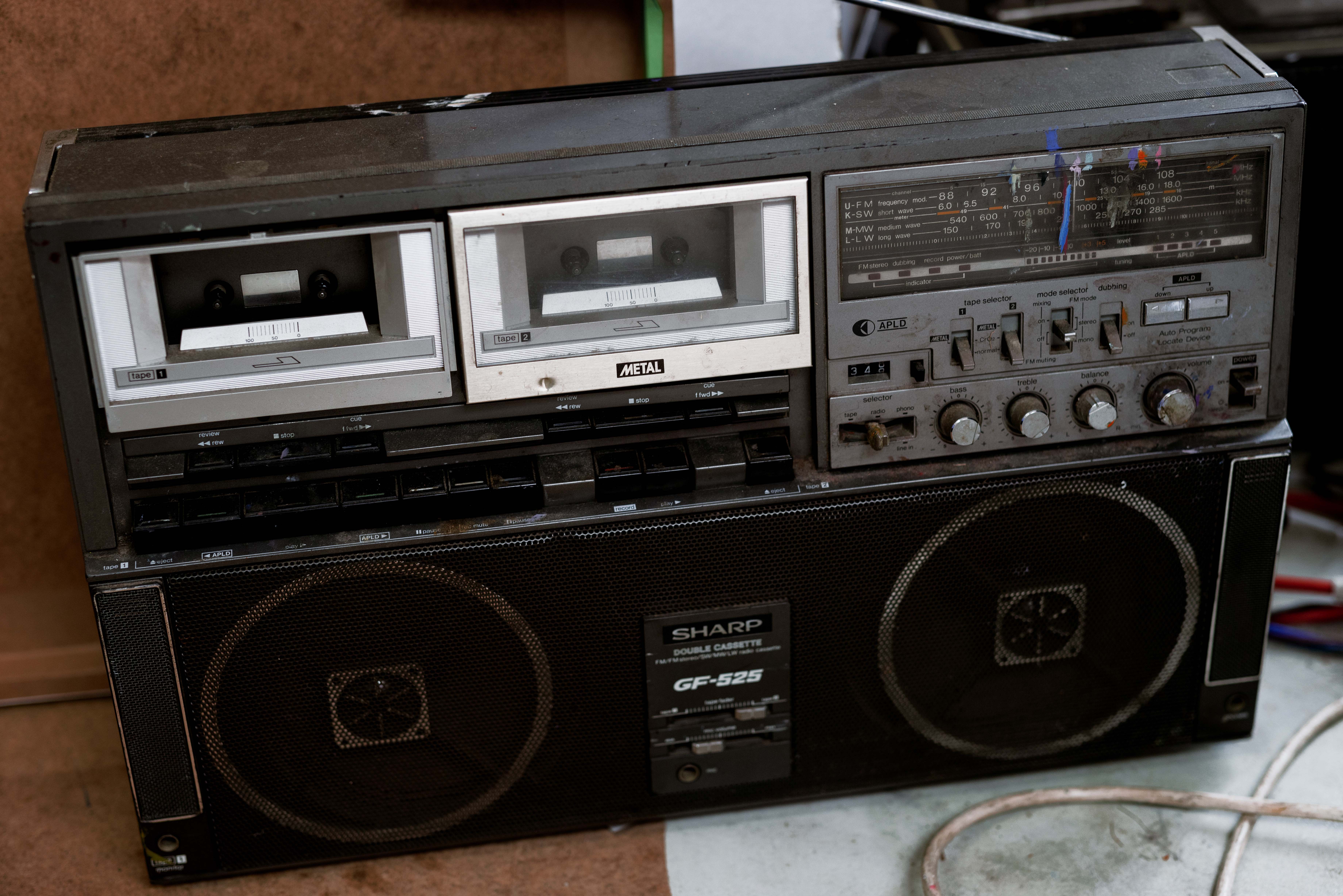 The capital in those days was still relatively habitable for a broke artist, and Denzil and his friends took full advantage of the empty properties in pre-Deliveroo Stoke Newington. "Church Street was a rundown street," he laughs. "You could've squatted anywhere there. Even the house on the park — the huge Georgian one — that was derelict. So I went to live with my art school friends who were squatting on Clissold Road. I only had a room at first, but when everyone left, me and my friend had the whole place to ourselves. We had studios at the top, slept in the middle and partied in the basement… All sorts of things were happening. You weren't conscious of why they were happening — but because we were young, we just moved with it, and onto the next thing.'
"In my third year, I started the nightclub paintings. At first they were a bit art school, because I was looking at Matisse, American Abstract Expressionists. But when I went to the Royal College I shook off the art school stuff and started to express myself — which is when I did the Three Wicked Men paintings, the Winston Rose ones."
Winston Rose is the figure that haunts Forrester's work more than any other, more so than even the great Jah Shaka. His story is a tragically consistent one; that of a young black man killed in dubious circumstances by the police.
"When I came to London, my family shared a house," Denzil explains. "We were on the first and second floors, and the Rose family were on the top. Then they moved, so I didn't see him for four or five years. But one night, when I was doing my thesis at the Royal College, I was watching television, and bloody Winston Rose came on. It turned out he'd been killed in police custody. 'I found out that the inquest was being held at Waltham Forest magistrates court, where I went with my tape recorder. I sat there recording the proceedings. The whole thing was so sad, and how they got away with it."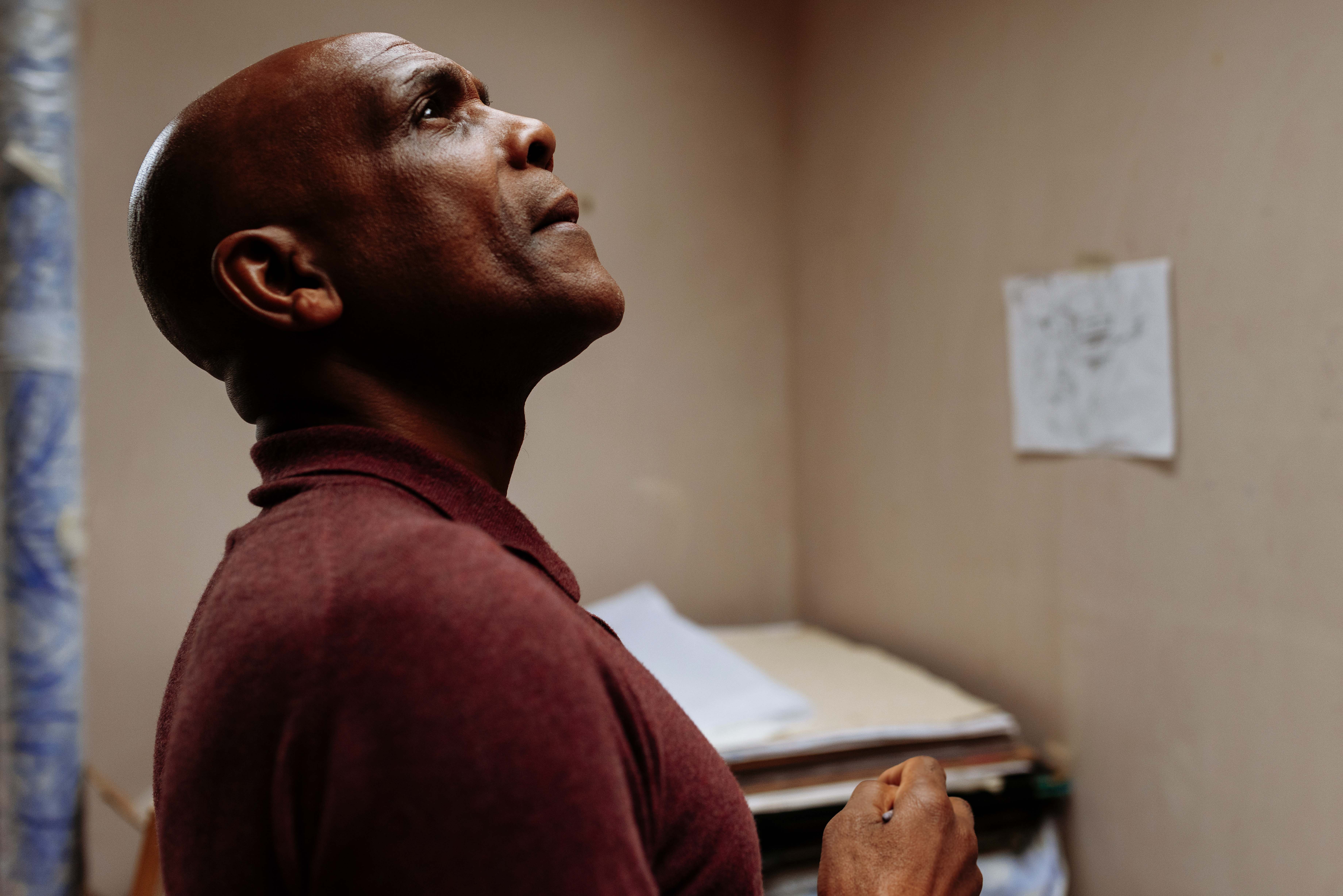 "Winston was an electrician and a boxer, but he had mental health problems, after a brain haemorrhage in the ring… these were the days when they just used to lock you up with a strait jacket on for a night and send you home. One day his wife phoned up for help from the police, but she didn't tell him. He was standing outside the front gate, when he saw three or four police cars coming down the road. He put two and two together, ran, and went to hide in the garden shed, but they went through the house opposite. About six of them grabbed him, and there was a struggle. He was a strong guy and the police have ways of dealing with that. They put their fingers in his nostrils, pulled his hair, all sorts of stuff. He vomited in the struggle, choked and died."
"So they killed him in the back garden, pretended that he was still alive and carried him out to the van. The social worker turned up in a state of shock. They couldn't check his pulse because they lost the keys to the handcuffs."
"Later, I was doing a big Jah Shaka painting, and because all the emotions about Winston were raw in my head — I thought about taking Shaka out and sticking Winston Rose in. Then I just kept putting him in my work, as a DJ, as a policeman. Up until the 90s really. I think I did it because I knew him… I was looking into doing something on Steve Biko, but I just couldn't bring myself to do it. Because I didn't know him."
I ask about Denzil about his own experiences with the police at the time, and he tells a story as ridiculous as it is depressing. "I was arrested once, when I was at Central. In London in the 70s there were a lot of billboards, big ones. There was this one in Dalston, right by the station. I used to go and draw it, take pictures. One day I was down there, and suddenly two police guys came and held me. They took me to the station. What I didn't realise there is that there was a jewelry factory at the back of the billboard, so they thought I was casing the joint."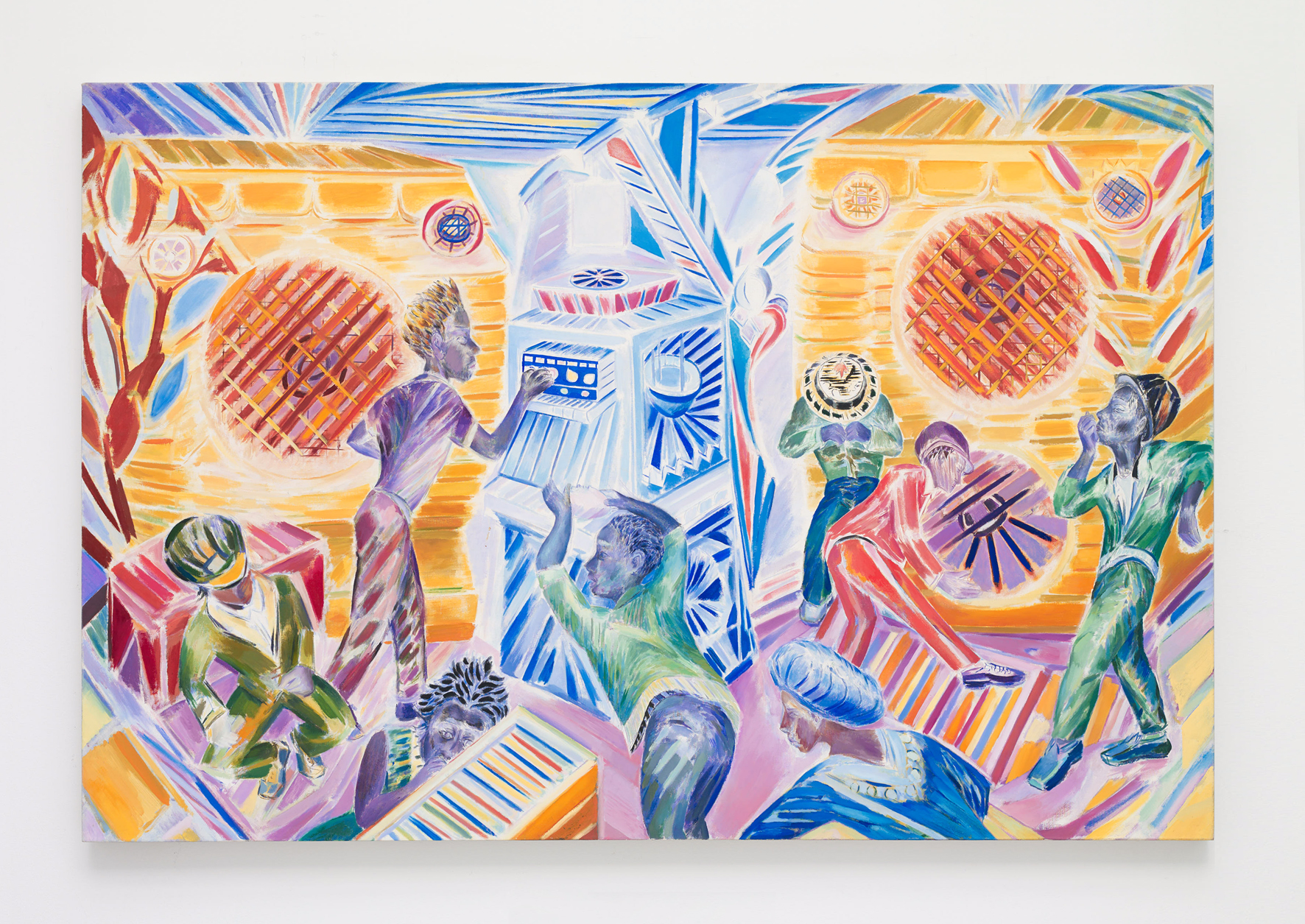 "I didn't know you were supposed to tell the police everything, I just thought I was innocent so I kept quiet. So they went through my sketchbook and saw all the nudes," he giggles. "They tried to get me on a stolen camera, and it was then I told them I was an art student. But they really wanted to get me on something. Finally they charged me with insulting language. So there I was, bang in the middle of my degree in Highbury Magistrates court. I had a record for five years for swearing at a policeman."
After finishing his degree, Forrester struggled to break it in the art world, his work wasn't appreciated by the cultural establishment of the day. So he spent the next 30 years teaching Fine Art at South London's Morley College, whilst continuing to paint, curate and exhibit in various shows. But a few years back, one of British art's most lucrative names kickstarted a revival of interest in his work, due a chance viewing several decades before. "Peter Doig came to my Royal College MA Show in 1983, where he saw my paintings. He really liked them, but he was nobody then, just a student… 33 years later, and he emails me. We met in Dalston and he said 'I saw your work at the Royal College, I really liked it and I want to give you a show.' So they came down here, looked at 40 years of work… and we made two different exhibitions of it, one in London and one in New York. The New York one totally sold out, and half the paintings in London went as well… that's when things really started to take off."
Like more than a few great artists, it's taken Denzil until his later years to fully receive his dues. Part of me wants to ask him whether he thinks that's due to an innocent, natural process, or something prohibitive. But listening to his unabashed joy and amazement at what's happening with his work these days, I get the impression that he's quite happy the way his life has turned out. Judging by the absence of an ounce of fat on his person, I get the impression there's plenty of work left in him yet – and a recent journey to Jamaica to paint nightclubs for the first time in many years seems to have taken him full circle.
"I'm quite excited by the whole experience," he tells me as we leave. "I was teaching for 30 years… When I turned 60 I thought I'd stop — so I really didn't expect to see my paintings everywhere." It isn't hard to imagine that in years to come, Denzil Forrester's name and work will be even more present.
Denzil Forrester, 'A Survey' is at Stephen Friedman from the 25 April — 25 May 2019