a-cold-wall* tears down fashion's exclusionary structures in an immersive catwalk performance
Safety goggles, earplugs and face-mask on. Samuel Ross isn't ready to be confined to what he's expected to be.
Photography Alin Kovacs
Who?
After working alongside Virgil Abloh -- one of fashion's hardest working, most productive creative forces -- Samuel Ross launched his own creative endeavour, A-COLD-WALL*. What began three and half years ago as an art project is now an LVMH Prize finalist, as the industry begins to celebrate just how Samuel's multidisciplinary, narrative-filled vision has evolved into an established fashion house. After being awarded NEWGEN sponsorship last year, as well as two showings at LFW Men's, Ross and his team opted to push possibilities with an immersive catwalk performance that shook up the senses of show-goers, while demonstrating that the brand's potential will not be confined.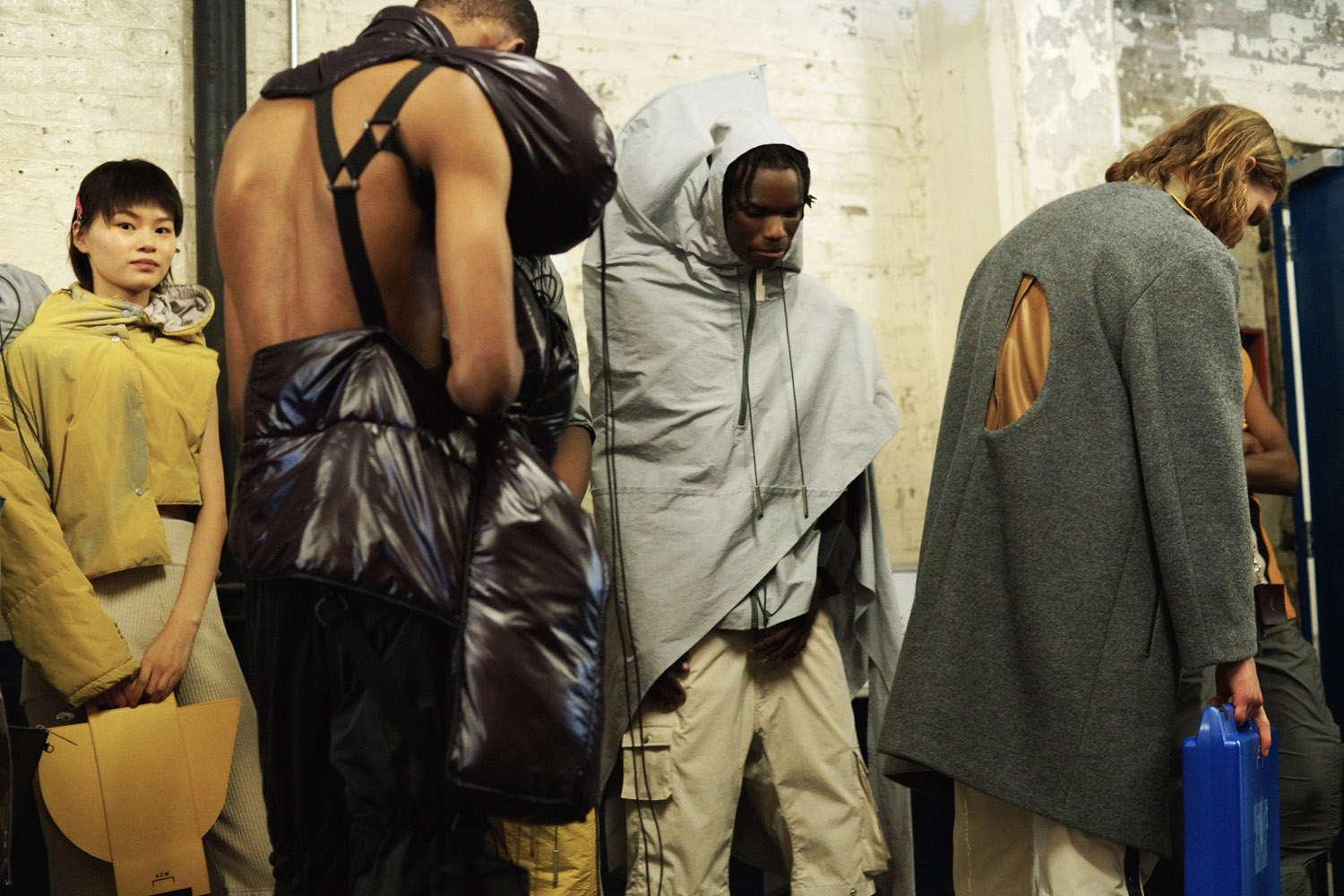 27-year-old Samuel is part of a new generation of designers challenging what fashion can be, and dismantling exclusionary luxury structures along the way. His spring/summer 19 collection made this explicit as his models ripped apart a cube that released a writhing, blood-covered nude form that ushered in the finale and the designer's bow. Despite the FROW -- which included LVMH men's artistic director Virgil Abloh, who had just flown down from Manchester's Parklife Festival "to support the movement" -- having their sight and hearing altered thanks to the supplied ACW*-branded protective gear, there was no escaping the power of the message. Forget the past, A-COLD-WALL* is a new beast that is only interested in the future.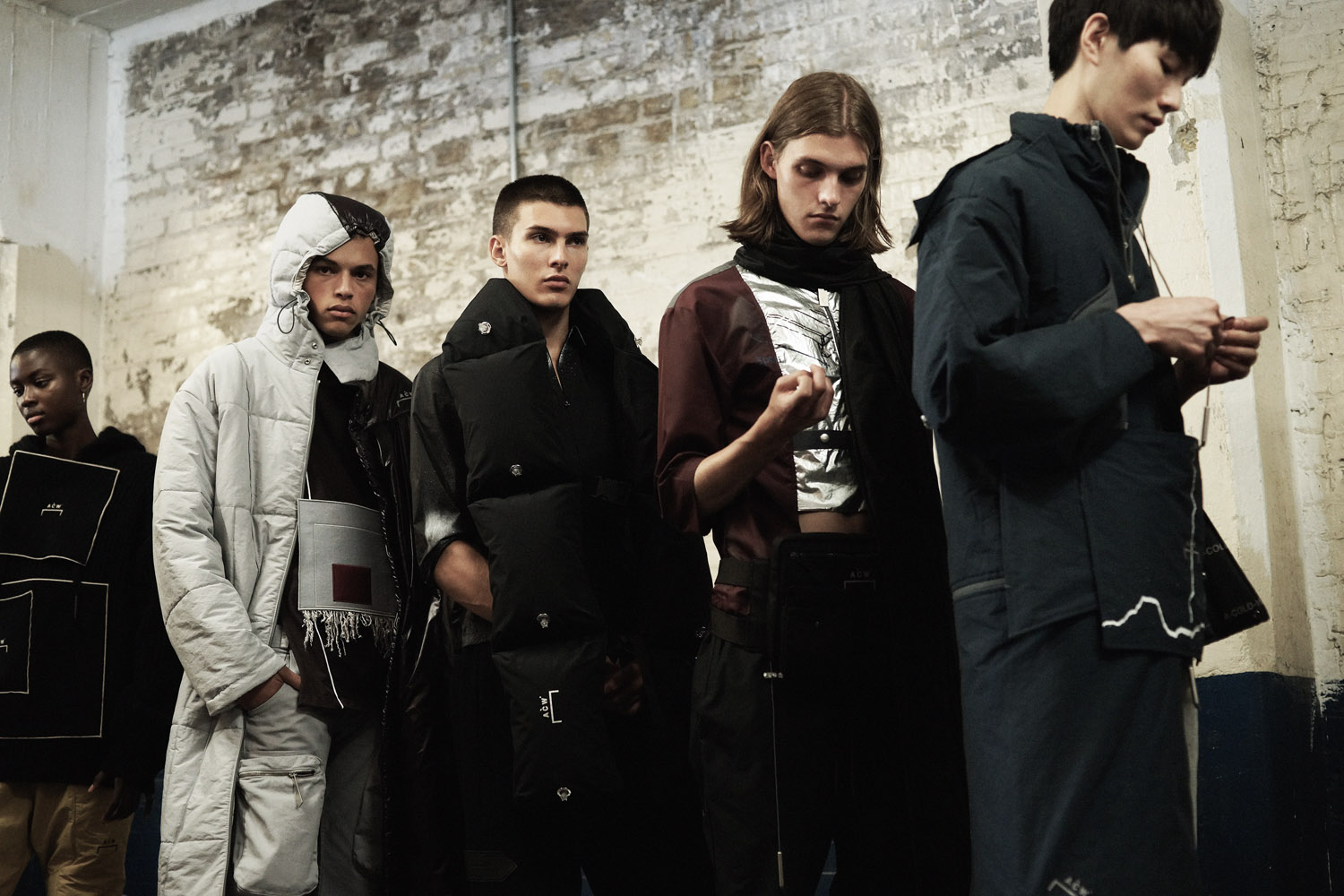 What?
"I was able to move beyond my comfort zone and became more of a real artist because I am willing to take risks and sacrifice what I already have to ensure that there's a social narrative being told," Samuel Ross explained backstage. "It's bigger than me making clothes, it's about social commentary. "I'm one of the few designers who can tell this working-class story," the Northampton-raised, London-based talent added. "I feel as though it's my responsibility with the platform that we're creating." Samuel is holding up a mirror to the realities of British youth culture in 2018 and deconstructing it with a sense of provocation and sincerity.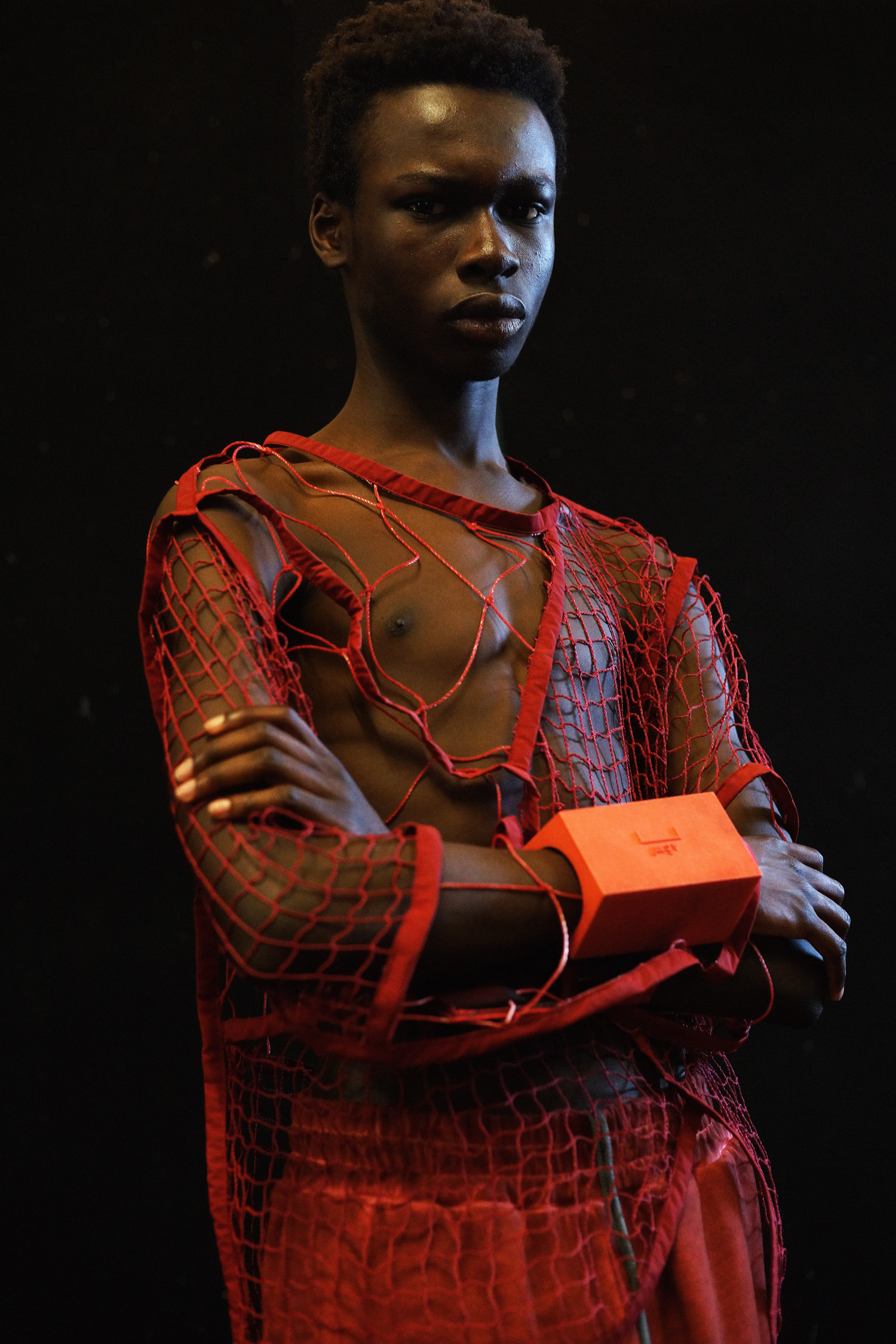 "That was the real purpose of the structure being ripped apart. Those walls being pulled down represents a clarity that is given to the people. Human form and architectural structure are so synonymous and interlinked -- the environment in which you grow up makes a difference to your life choices. I wanted to echo the energy of these structures through the models and show a tearing down of that." The message was that, while these structures influence you, they don't have to define you, you can break free.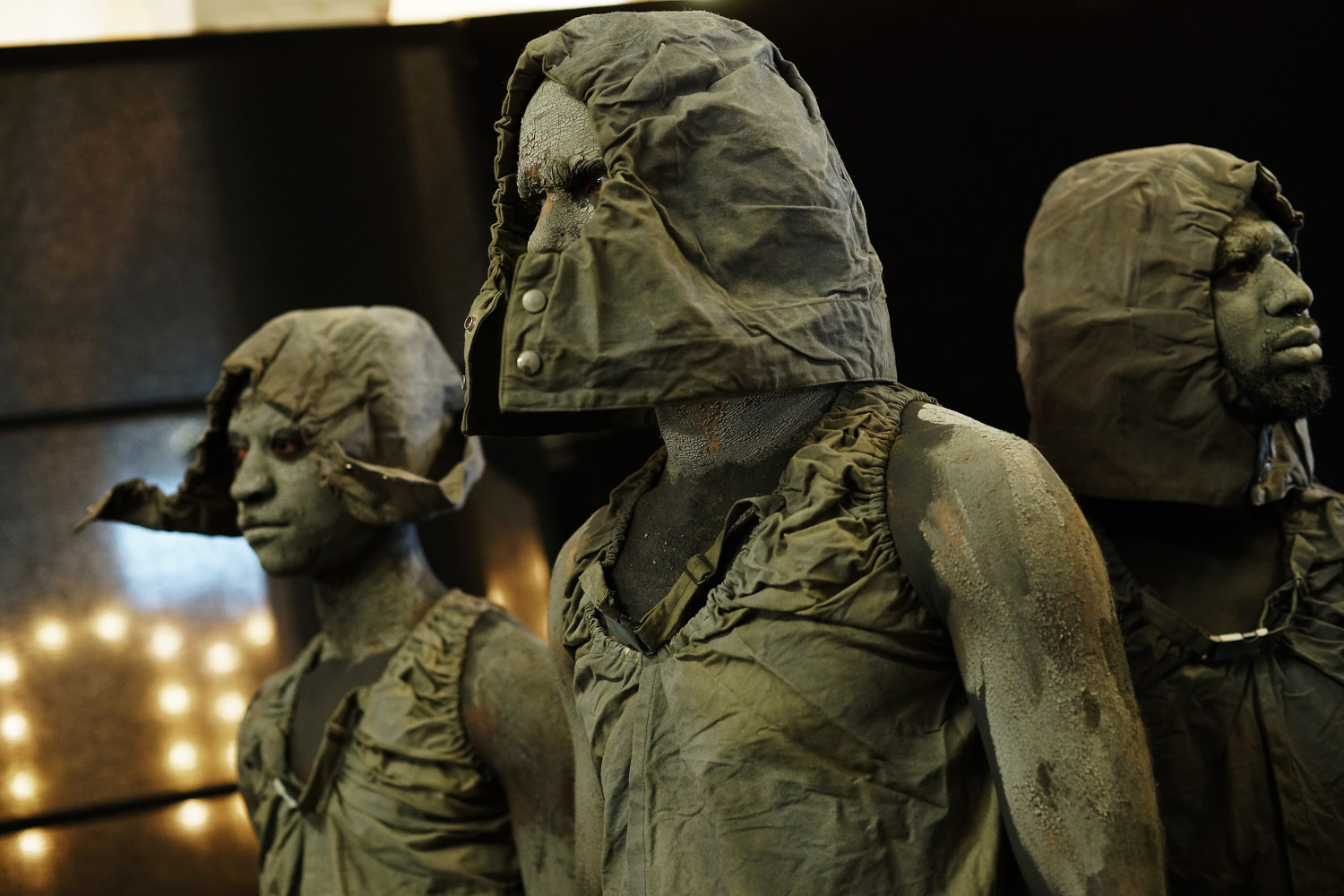 What about the clothes?
Complex, considered and well-crafted, the collection of future-reality-wear could have demonstrated A-COLD-WALL*'s metamorphosis without the theatrics. With them, they were amplified. Like the performance, the collection -- titled Human. Form. Structure. -- is a sartorial manifestation of the visceral emotion of space and architecture. The garments play with how architecture can encase, protect, enshrine the body. Throughout, there's a juxtaposition of innovative utilitarian synthetics with luxe-tactility fabrications. "It's clothing and art," Ross explained when asked how he'd describe the collection. "Streetwear isn't the term for this movement now. Of course, there are tracksuits but the intellectual ideas behind them and the craftsmanship that makes them -- they're made in Vincenzo using specific hand-dyes -- there's a luxury in the thought process behind them. Luxury now means intelligence."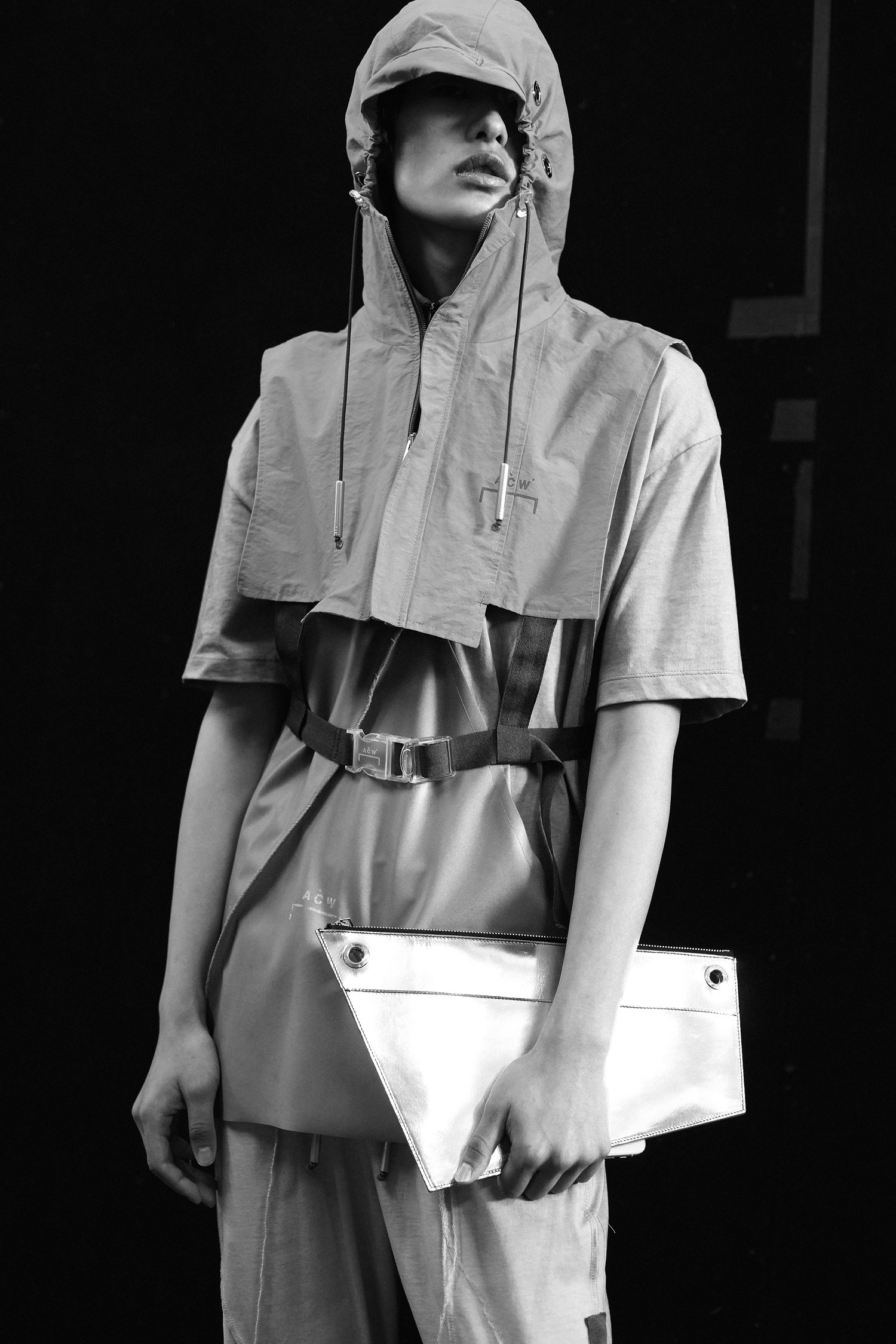 What next?
The LFW path tends to see designers push creative possibilities early on and then look to build a business. A-COLD-WALL* is not one to follow chosen paths and its business is now providing the platform for experimentation. "Having a fruitful business, last season we did £3.5m in men's and this finance enables us to push, refine and challenge. Now I have a structured team and access to amazing Italian factories, we were able to push out more articulate ideas through clothing. I'm no longer trying to describe specific oppressions from where I've come from, there's a sense of freedom in how I can discuss hardships in a more universal way. I'm more interested in making clothes for the future than I am in focussing on where I've come from." Would Samuel ever consider working for a luxury house? "Possibly in time. I'm 27, I'm not in a rush. In the meantime, I just want to ensure that this story is told properly through a social perspective as well." As A-COLD-WALL* continues to rise in fashion's brave new world, you wouldn't put it past Samuel Ross to create his own luxury house.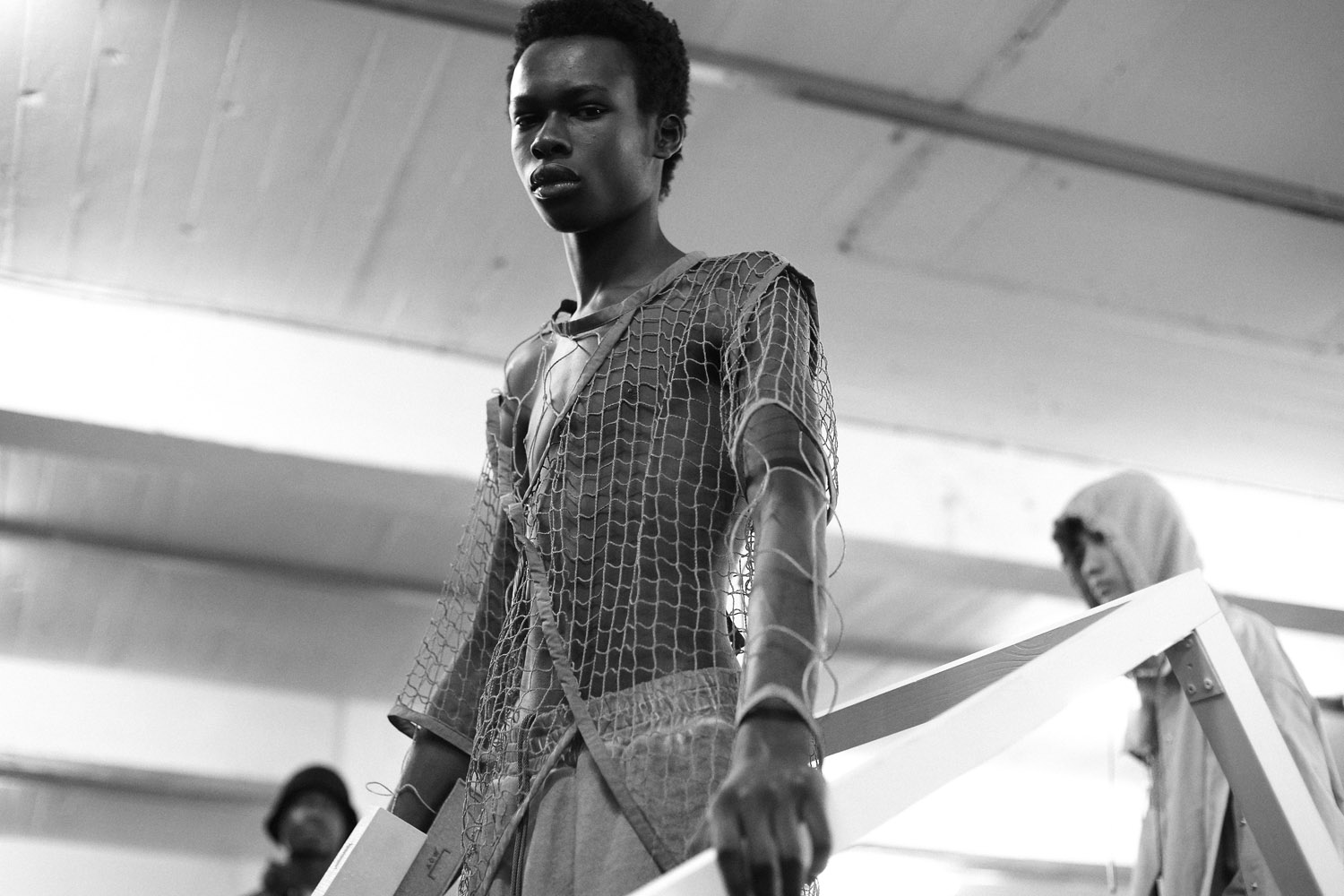 Credits
---
Photography Alin Kovacs
This article originally appeared on i-D UK.