celebrate the faces, frills and fun of molly goddard's technicolour tulle-filled world
Photographed by Tim Walker and styled by Molly's sister, Alice Goddard, the limited-edition book, Patty, celebrates the fashion family behind one of London's brightest of talents.
Photography Tim Walker
"It's not about the clothes, it's about the people and personalities that are so important to our world," Molly Goddard explains as we discuss her new book -- called Patty -- created with photographer Tim Walker and stylist sister, Alice. "The people in it are family, they're friends, we love them all." And the book is a celebration of them all. Throughout Patty's loose-pages, family, friends, model muses, creative collaborators, and passers-by are photographed in varying states of readiness; with garments -- spanning her 2012 BA collection to her Spring Summer 2018 show -- layered, manipulated and even just held so that they take on new sculptural forms within the portraits. All captured by the trademark whimsical fantasy and daydream reality of the British photographer's lens. And given the recent BFC/Vogue Designer Fashion Fund win, now is the perfect moment to join the Molly Goddard party.
As we've explored in the pages of i-D's Creativity Issue -- captured by Tim Walker's lens no-less -- fashion is a family affair for Molly and Alice Goddard. Since the CSM MA-drop out was persuaded by her nearest and dearest to make an impromptu and off-schedule London Fashion Week debut in September 2014, the rise of Molly Goddard has been powered by the blood, sweat and tears of the growing Goddard gang. This book is a tribute to the people who created it, make it, inspire it and continually push Molly Goddard forward.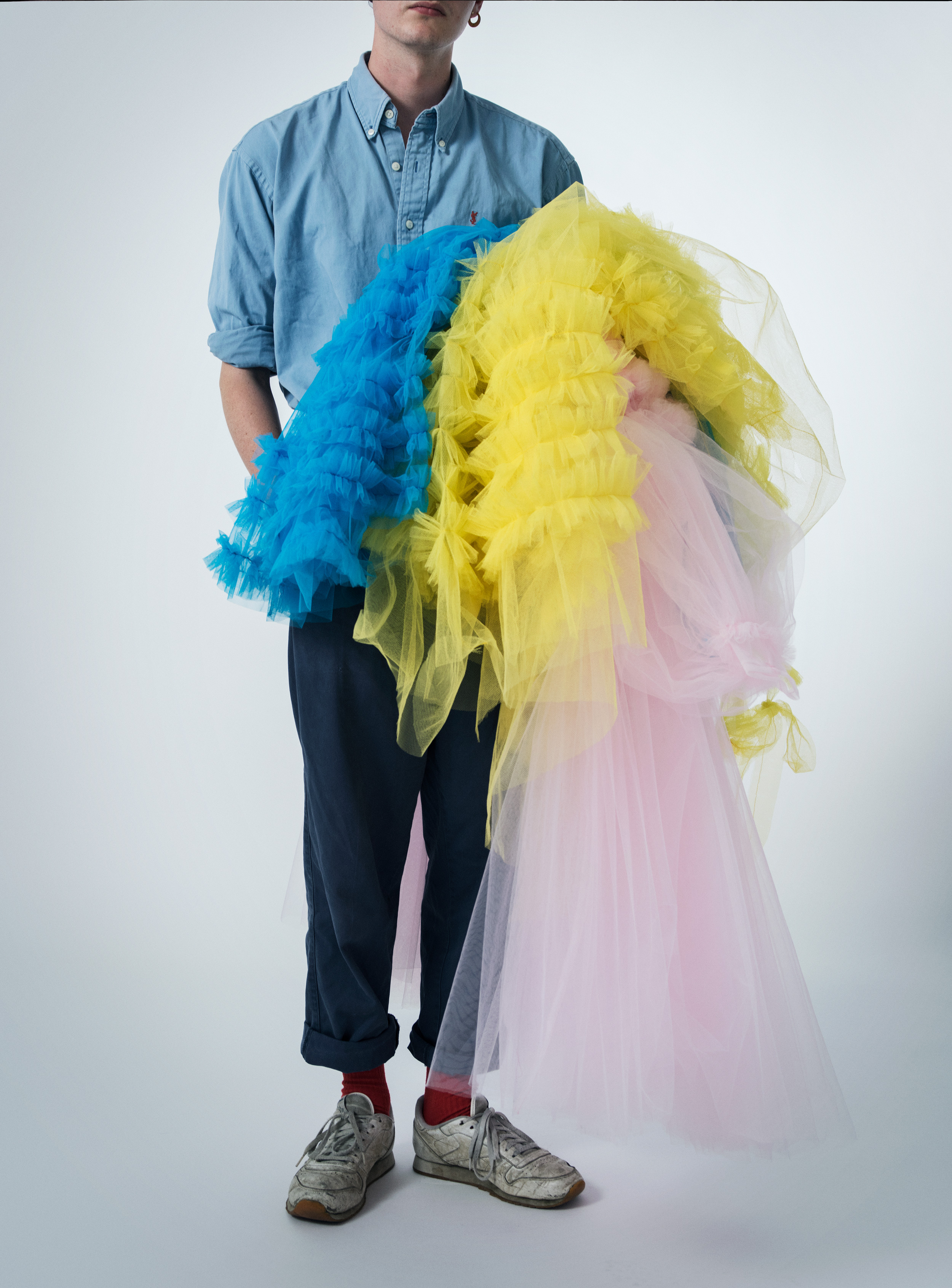 "In a way, the clothes themselves are props," Molly adds, "they provide interesting shape and form, they're not necessarily proposed as clothes in the traditional sense but to enhance each person's personality." Not many designers would describe the racks of clothes hanging in their archive as props but Molly Goddard isn't your average fashion designer. "We loved how we worked on the V&A's Fashion In Motion show together, mixing old seasons. It made us realise just how many garments we have in the archive now. It spurred us on to document them, alongside documenting the people that are important to what we do." As a new collaboration took shape, the sisters approached Tim Walker and the photobook was born.
"I've worked with Tim on a few projects but this was the first time I'd actually collaborated with Molly on a shoot," Alice explains. "It was lovely to work on something with no parameters and no fixed outcome, and to interpret Molly's pieces in a different way than we do for the show." Supported by their set designer mum, Sarah Edwards, the sisters are no strangers to pushing the possibilities of the presentation-format or revolutionising the runway but this was a new medium for them to explore and they rediscovered the garments along the way. "Molly and I are so familiar with everything she's ever made, and I think this familiarity pushed us to make the clothes into something we'd never seen before."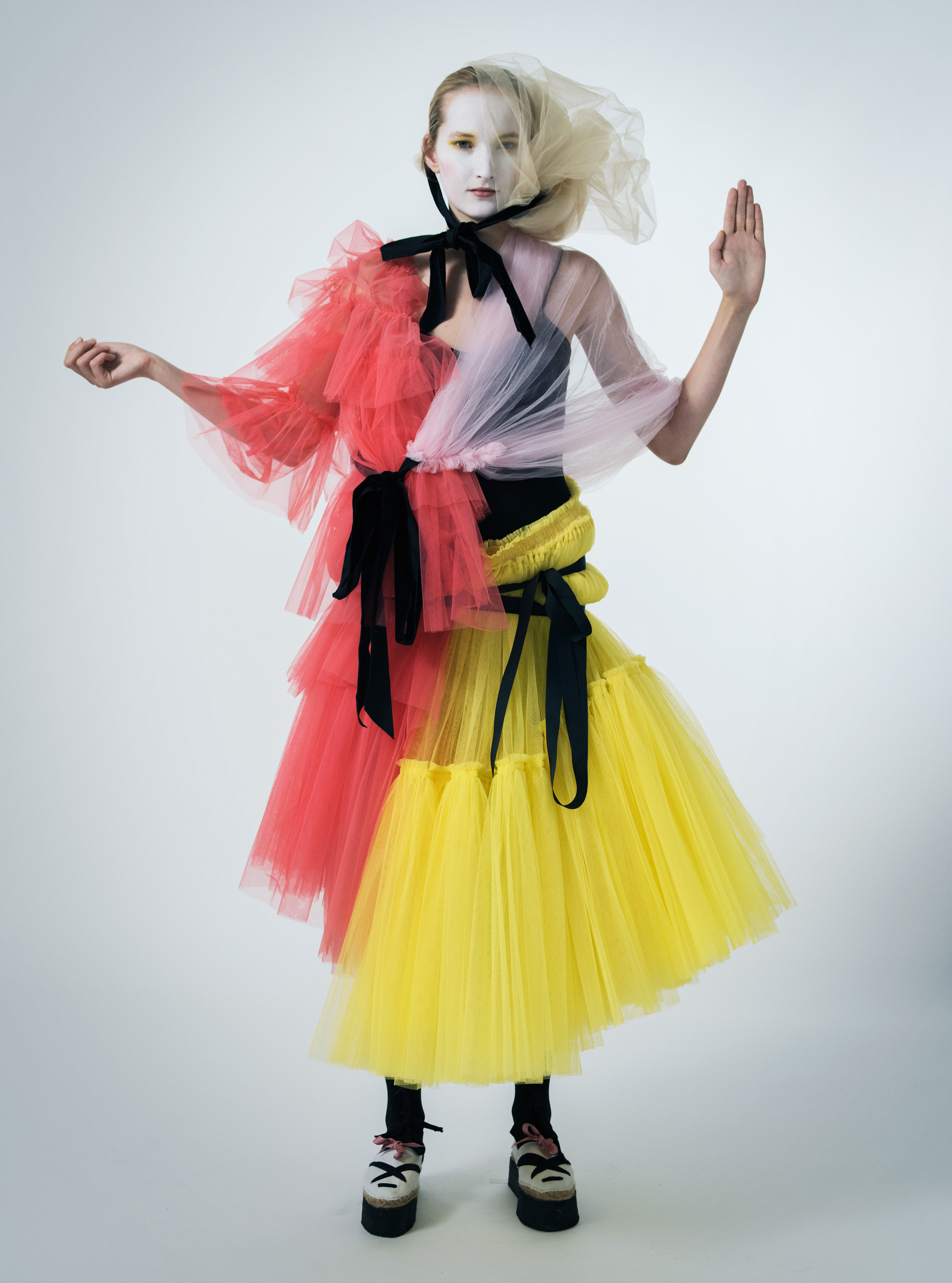 It was driven by pure people power. "We had the studio over two days and some people came in groups, others by themselves, and we shot whoever was ready at the time," Molly explains. "In some instances, we loved what they were wearing and just shot them. The entire process felt natural and entirely collaborative. No one was in charge, we trusted one another. We wanted it to feel fluid. It wasn't until we saw the images that we decided upon the loose page format. I like the fact readers could rearrange it -- it's not formal or rigid. I hope the sense of fun we had on the shooting days comes across -- it was spontaneous and relaxed." Joyful, playful, fearless and fun, Patty -- named after the sisters' pet guinea pig -- captures the essence of Molly Goddard. As Molly Goddard is a tight-knit family affair, i-D asked Tessa Griffiths, Molly Goddard's head of operations and strategy, which famous family the Molly Goddard family is most like and without missing a beat replied, "let's say Hanson because the Goddards all have similar hair too." While the mop-haired blonde brothers-in-arms sang on MMMbop (apologies if this is in your head for the rest of the day), "you have so many relationships in this life, only one or two will last." This photo-book suggests the number is far greater for the Goddards.
Patty launches exclusively at Dover Street Market in London on May 17, followed by release on mollygoddard.com