this instagram artist is using her body to distort our perceptions of beauty
Remember the wavy brow phenomenon? MLMA invented it.
It's not news that the internet is a pretty weird place. Among its deepest darkest crevices you'll find some curious creatures doing the most curious things all in the name of beauty. There's this guy who kicked off the (perhaps least practical trend I've ever seen) for wearing slugs as eyebrows; this girl who likes to look as if she bleeds ink from her eyes, and then of course there are these guys who like to look as far removed from humankind as humanly possible. The latest in a long line of curios goes by the name of MLMA, which stands for Me Loves Me Alot — a Seoul-born rapper and visual artist using her body as a canvas to distort our expectations of beauty. Last year, she went viral for posting an image of herself with wavy brows, subsequently giving birth to a whole new beauty trend. It's all wavy.

"I was really stoned at the time," she tells i-D. "I was visiting friends and family in Canada. I remember I was sitting by the pool when I received some good news and decided to edit to a selfie I took early that day. I posted it and then it took off. Memes were first, followed by a lot of hate. But over the next month or so other beauty influencers started to do it and then it really took off. To the point Snapchat added a filter!" Was she surprised by all the attention? "I was actually surprised no one did wavy brows before. I wasn't aware no one had done it. Its 2018 you think everything's been done." A quick scroll on her Instagram, and she might well be right. Here she is photoshopping a smaller version of her face onto a regular sized version of her face. Here, she's rolling her eyes back and inhaling a waterfall. She's back again, with purple paint smeared across her lips, brows and baby hairs, and posing next to a bunch of grapes. And here she is resting her second conjoined twin head on a plate, accompanied by the caption: tonight I'm serving *cake emoji.
MLMA grew up in the working class neighborhood of Seoul. She spent her youth escaping her harsh reality by creating fantasy worlds in her head. Art became a way to entertain herself. "I used to make barbies out of toilet paper," she says. "I had no opportunities or support. My parents were so strict. Art was a dream. My first and last Christmas present I was spoiled with an eraser and pencil." Her interest in makeup first came about after a favorite aunt came to stay. "She was the only one I knew who had green eye shadow. I remember one day I was playing with her make-up and she asked me to do hers before she went out. My first real experience of wearing it was at Halloween. Korea doesn't do Halloween, so I would rebel by wearing Halloween make-up all the time." It was this small act of defiance which often got her in trouble with her a teachers. "Our teachers would beat us. You could get a couple black eyes or if you're lucky some blue ones. Also if you were caught with make-up on you, they would confiscate it."
Despite her tough upbringing, MLMA was a confident kid. "I always felt beautiful. I thought I was hottest when I was a teenager. I modeled at a young age, so I've always been confident in my skin. I've gotten curvier over the years. So if anything I'm more confident as a woman now. The most beautiful thing to me is confidence. Female or male, I really relate to people best when they're honest and genuine. The most important thing is to love yourself. I love myself so much. It's allowed me to create the best version of myself. I enjoy being confident and powerful."
It was only last year, that MLMA first started using her body as a mean of subverting normative standards of beauty, and in that short space of time she amassed over 150K followers on Instagram. "My Instagram is just a platform for my art. It's very hard to be an artist in any generation. The most difficult part is reaching people. Social media has opened the door for artists. Sure you might not make money at first but that's the same for anything. I want people to be inspired and to understand the world is small now." So what is it that she's hoping her art will achieve? "I mean, I don't know much about beauty or beauty products, I just enjoy making strange things. Art is my life, it's literally the only reason why I'm still breathing today. In terms of looks, it's getting more difficult to find something unique now. I think that's why my account has had some success. I have the ability to make new things no one has ever seen before. When I set out to make a post, I have no idea what it's going to look like. There are no rules or guidelines. I just do things, it's instinctual. I know it's done when it looks right and I like to leave it for other people to interpret my work."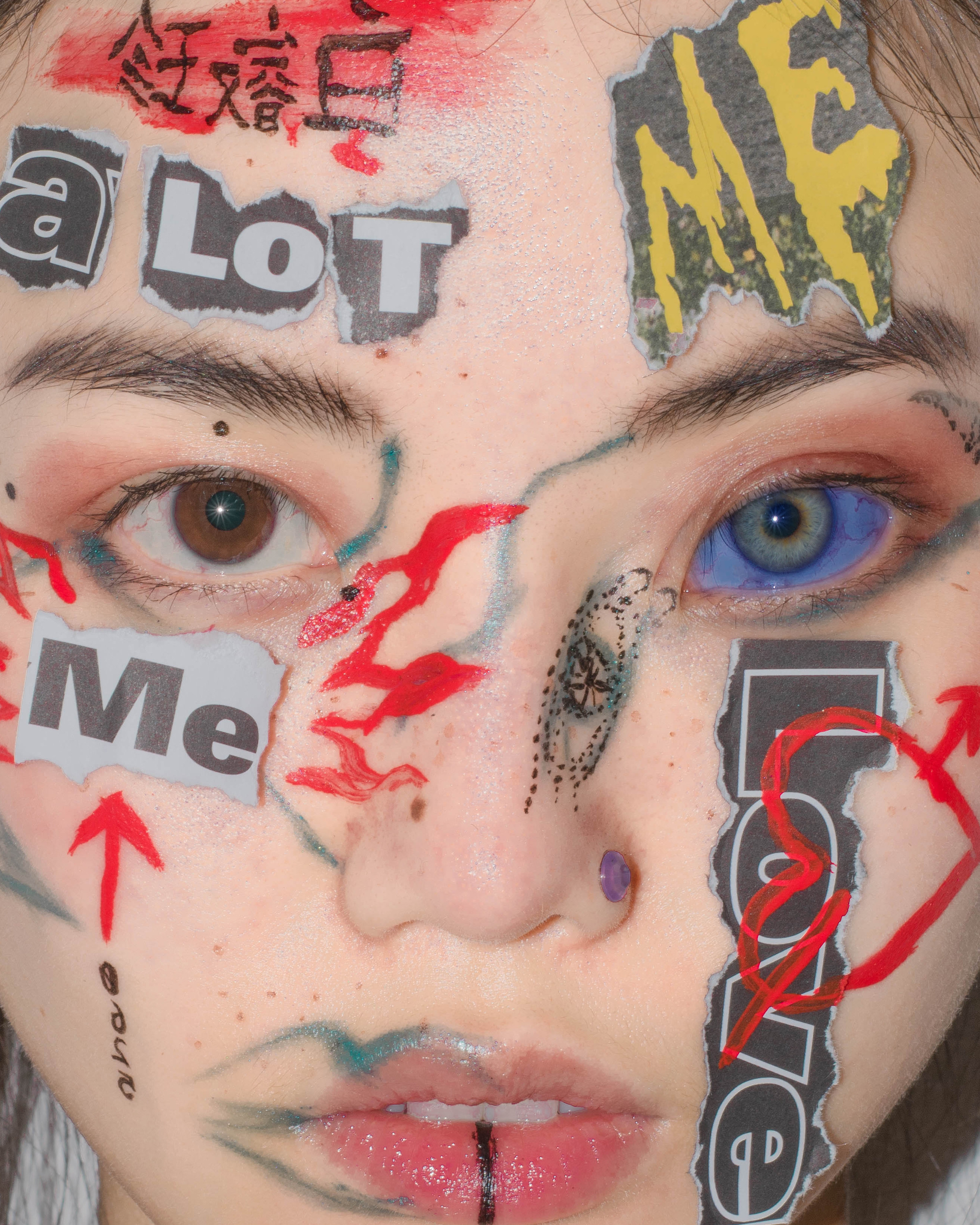 That said she's currently taking a small break from the 'gram, turning her focus on designing a capsule collection for Korean streetwear label SKOOT, who came across her work at a solo exhibition in Toronto, where she spends half her time. She's also working on a new series of collage works, which she posts on a separate account and will be exhibiting this summer alongside @postofficesound. Oh and of course there's her music.
So, what then does the future hold for this one? "So much money and jewels and tight whips and cribs. I deserve it. But honestly I really enjoy what I'm doing in my life right now, everything else is just noise for me. But I do have one question: are you gonna remember me???" Well, are you?
This article originally appeared on i-D UK.
Tagged: