a list of the trashiest christmas movies to watch
As the Pope of Trash himself, John Waters, says: "Good bad taste is celebrating something without thinking you're better than it." Here's our best / worst films of the season.
|
11 December 2017, 9:23am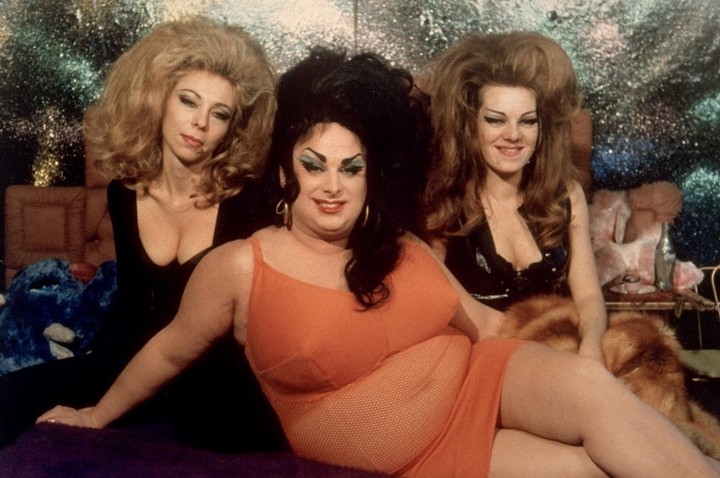 Female Trouble
A Carol Christmas
This 2003 Hallmark TV movie is... an acquired taste. Like all good Hallmark films it has romance, life lessons, heartbreak, and DRAMA. There's also some truly special, special effects and a scene where they string popcorn, which is the most ridiculous activity of all time. Tori Spelling stars as TV host Carol, who is basically a mean bitch ruining the lives of everyone she knows. It's another spin on the traditional Christmas Carol story, but with added William Shatner and Gary Coleman. This movie would have been the most iconic Christmas movies ever made had Paris Hilton played the lead.
Female Trouble
John Waters is the good lord of trash cinema so it's no surprise that he's also responsible for the trashiest and most iconic Christmas scene in all of cinema history. Divine plays Dawn Davenport, a girl who runs away from home on Christmas day and falls into a maniacal life as a sociopathic, single parent slash criminal. Almost every single line in Female Trouble is iconic, a gif in the making, whether it's Dawn yelling, "I hate you! Fuck you! Fuck you both!" at her parents after they fail to get her Cha-Cha heels for Christmas or Aunt Ida's sound advice that, "The world of heterosexual is a sick and boring life." Just remember, nice girls don't wear Cha-Cha heels!

Christmas Evil
The fact that John Waters proclaimed this to be, "The greatest Christmas movie ever made," is an indication of just how trashy this movie is. Christmas is a difficult time of year for some people and especially so for Harry, who has some trauma issues that stem from the time he saw "Santa" fornicating with his mother. Harry grows up and starts inappropriately spying on the neighbourhood kids, keeping a list of who's been naughty and nice -- he's very much not right in the head (which seems to be a common thread between all these movies). There's something about Christmas that really brings out the psychopath in people. Honestly, no spoilers but it's all worth it for the end scene.
Scrooged
Capitalism, greed, media sensationalism and Bill Murray -- what more could you ask for? Scrooged is yet another interpolation of A Christmas Carol, but it's one that really resonates hard with our times. It's like a visual essay on the 80s or a meditation on Donald Trump. Unfortunately it's not quite as good as Bill Murray's Groundhog Day but that just means you should watch that right after. Yule love it anyway!
Black Christmas
The general consensus is that this is one of, if not the worst Christmas movies ever made, which obviously is why it's also one of the best. American Horror Story: Christmas would be a better title for this loose remake of a 1974 movie of the same name. It's primarily set in a sorority house that's being terrorised by a mystery killer. The main story revolves around Billy, who just wants to escape from the mental institute he's incarcerated in, kill everyone and go home for Christmas. Honestly, if you were Billy and you broke out of a mental asylum and found your old home was now inhabited by an obnoxious sorority, you would probably want to murder everyone too. If you dig really, really, really deep ,you could say it's a movie about sisterhood and family, but it's probably just an aggressively gory Christmas slasher movie and that's okay too.
Unlikely Angel
All you really need to know about this movie is that it stars Dolly Parton. It's yet another Christmas redemption story, in which Dolly's character, Ruby, dies and is slut shamed by Saint Paul for having a little fun when she was alive. Ruby must redeem her wicked ways to lockdown a place in heaven and earn her wings. The film is full of Dolly's signature sass, spicy humour, breathtaking hairstyles and leopard print outfits. Most importantly it features some original songs by Dolly.
The Junky's Christmas
This isn't actually trash or trashy, it's art but it's still on this list. This claymation was produced by Francis Ford Coppola to give a visual counterpart to WIlliam S. Burrough's narration of his The Junky's Christmas short story (from his 1989 Interzone collection). It's a Christmas story told through junk sickness, featuring drugs, theft and dismembered body parts. Penniless Danny is deep in withdrawal and has no money to score on Christmas day. An unexpected good deed rewards him with "the immaculate fix" and really that is the Christmas message isn't it, that giving can feel just like a heroin fix. It's grim but it's got a beat.
This article was originally published by i-D UK.