Photography Sydnie Rosenfeld
koché showed its pre-fall 18 collection at nyc's most iconic bookstore
The Parisian house celebrated New York City with a little help from its favorite bookstore.
|
12 December 2017, 10:48pm
Photography Sydnie Rosenfeld
There are over two million books at The Strand, widely regarded as the best bookshop in New York City, if not the world. The most valuable titles are found on the fourth floor, in the Rare Book Room. Many books up there predate the shop itself, which opened 90 years ago. But it's not all antiques. The Rare Book Room doubles as The Strand's signing space. It's not uncommon to find Patti Smith — a former Strand employee — inscribing box-fresh copies of her newest publication surrounded by sun-faded books by her favorite writer, Rimbaud.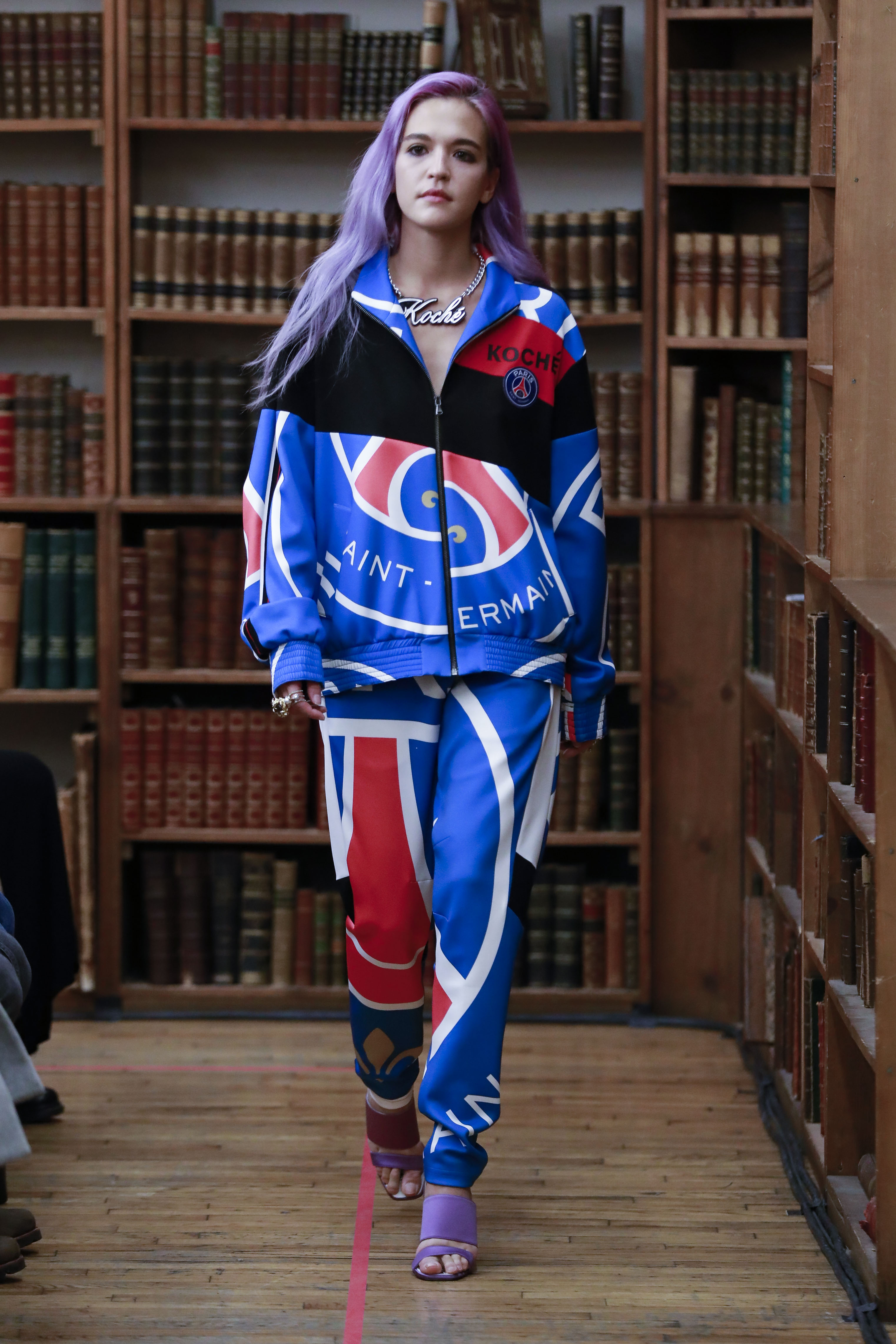 This afternoon, Parisian brand Koché debuted its pre-fall 18 collection inside the Rare Book Room. On each seat, attendees found a Koché zine. Printed in an edition of 2000, the black-and-white zine splices together quotes from Joan Didion, John Waters, Spiderman, Truman Capote, The Simpsons, Wu Tang Clan, and Joyce Carol Oates (whose short story "Three Girls" takes place in The Strand on a snowy evening in 1956).
Underneath the new zine, an old book. One of my neighbors got Jacques Cousteau; another flipped through fairy tales from the Middle Ages. I got The Mystery of Banshee Towers, a hilarious British children's whodunnit from 1961. It features scratchy illustrations and an enterprising protagonist named Fatty.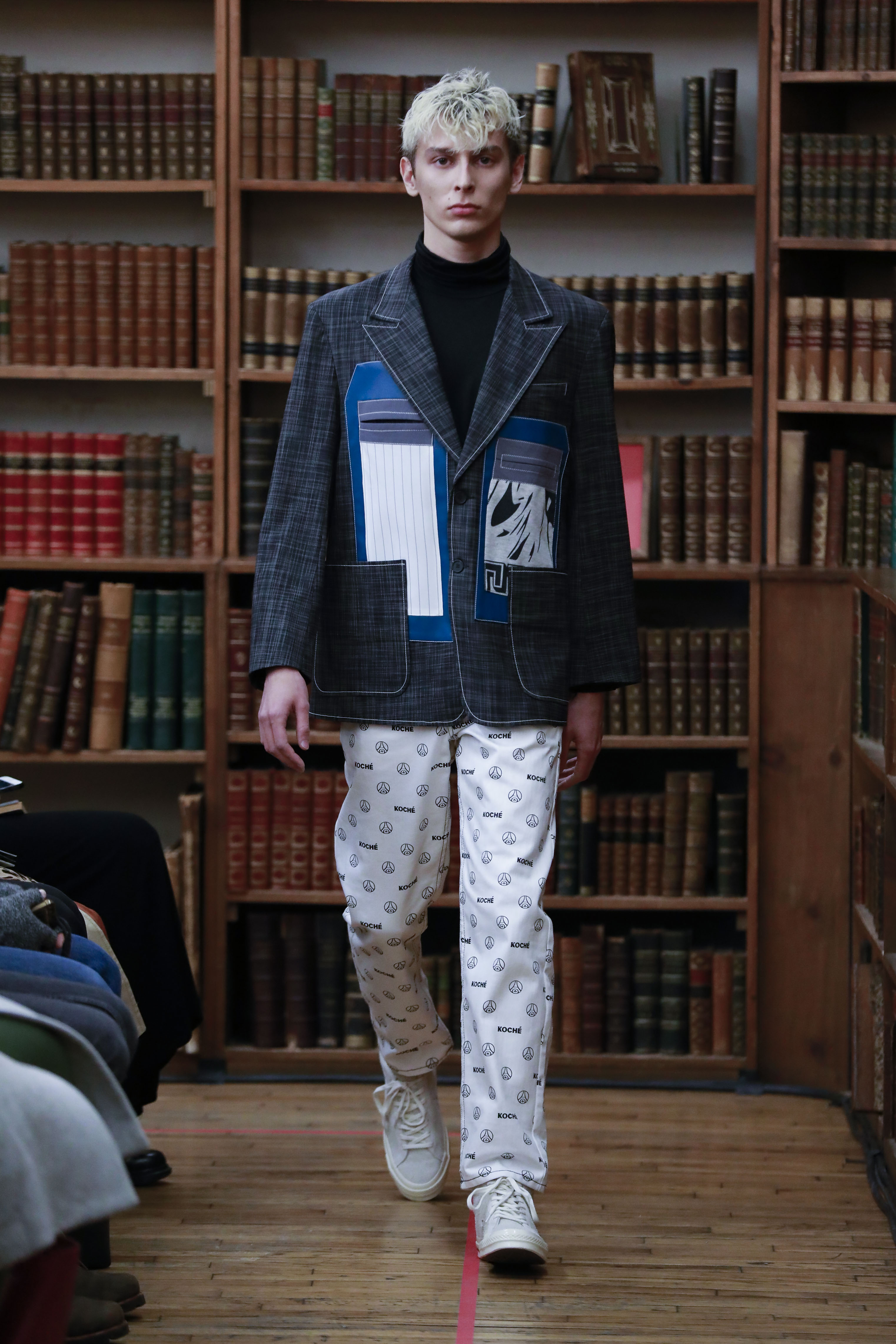 Designer Christelle Kocher approached her pre-fall collection with a similar sense of old-meets-new cultural cross-pollination. A love letter to New York, the offering simultaneously winked towards the city's past (leather trench coats and bold-printed blazers recalled the city's 70s hustle and 80s new wave) and present.
Kocher captured NYC's pace and attitude by blending sportiness with unabashed sexiness in garments that moved. Her riotous clash of of neons, pinstripes, animal prints, leathers, feathers, logos, big Canal St.-style bling, Statue of Liberty graphics, sports scarves, and silk slips felt precisely like what you'd see inside The Strand, through which thousands of New Yorkers pass each day, and out on the street.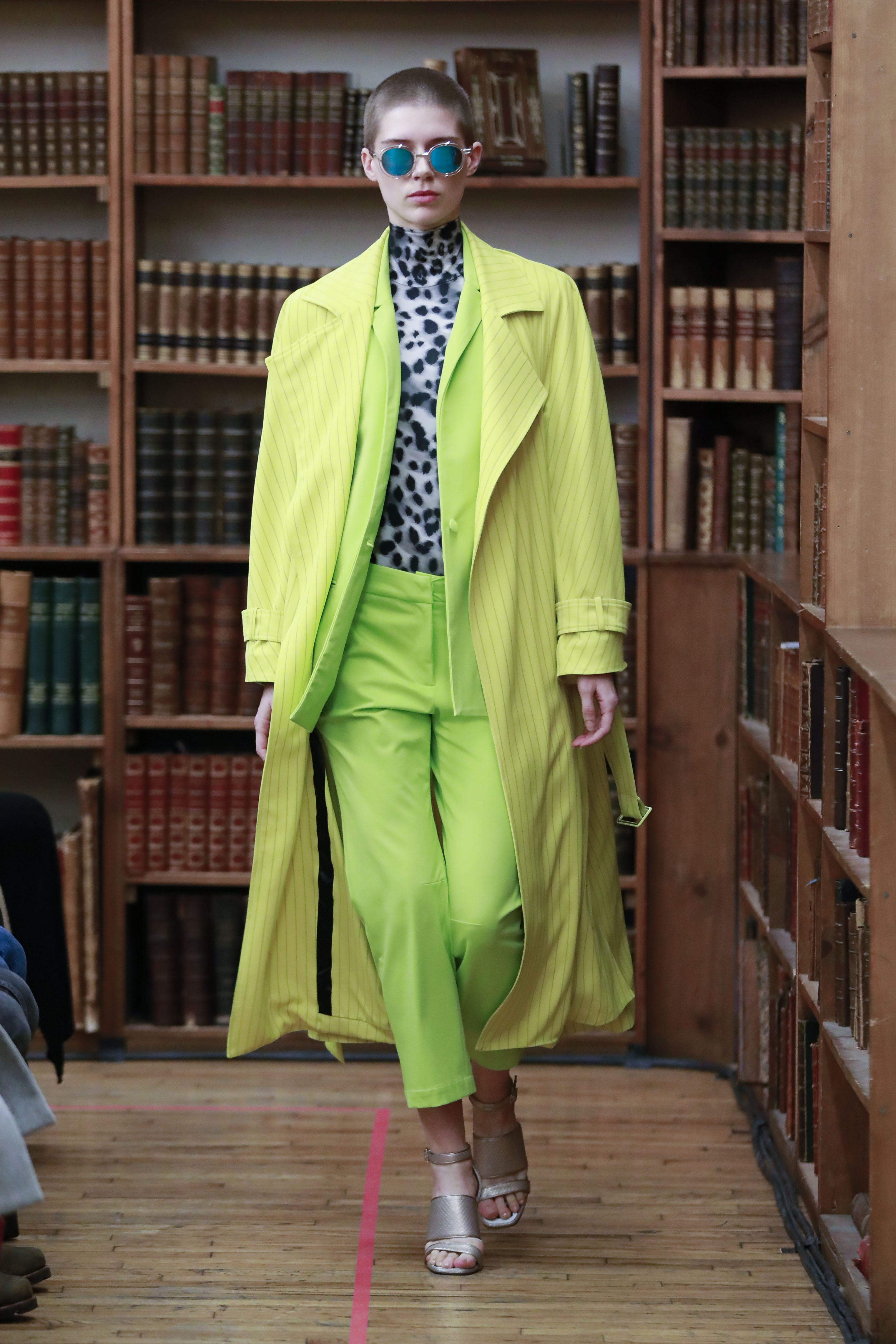 Each model held a book as they marched through the rows of rare copies. One of the taller models cheekily carried Attack of the 50 Foot Woman, another balanced a Muhammad Ali biography atop his head. The outing proved that reading really is fun-damental.