why are thousands of students striking from school?
All around the world students are ditching school to demand action on climate change. They know that we are facing a climate emergency, time is running out. i-D spoke to 8 youth activists from all over the globe, about why they're taking drastic action.
|
11 February 2019, 11:54am
Getty images
This article originally appeared on i-D UK
When faced with a choice between ensuring the survival of living things on the Earth, or not, you'd think it was a fairly straightforward decision. And yet, governments around the world are currently choosing the latter. Though climate change is complex, there is a simple, disturbing fact: we have to limit global warming to 1.5 degrees, and we only have 12 years left to do so. Even at 1.5 degrees we're in a lot of trouble, but beyond 1.5, and we're talking extreme threats to civilisation, to the entire natural world. The crisis has arrived, and we have a deadline.
One Friday last August, a Swedish girl called Greta Thunberg, then 15 years old, decided she wouldn't go to school. Instead, she went and stood outside her country's parliament in protest at the government's lack of action on climate change. She knew the dire situation we face, and thought it was absolutely mad that world leaders are letting us walk off a cliff. Greta knew her future, as well as everyone else's, was at risk, and that learning facts at school felt futile in the face of governments ignoring the most urgent fact of all. And so, every Friday since then, Greta continued her strike. In doing so she has managed to kickstart a global movement. Now, thousands of students around the world are following her lead, dedicating Fridays for Future.
i-D spoke to eight student strikers, from the England and Scotland, Australia, America, The Netherlands and Uganda, about why they're missing school, what has to happen next, and why their generation will not allow the rest of the world to ignore the biggest threat to humanity ever faced.
You can follow these activists and many others by searching #FridaysForFuture, #YouthStrike4Climate, #Youth4Climate and #WhateverItTakes.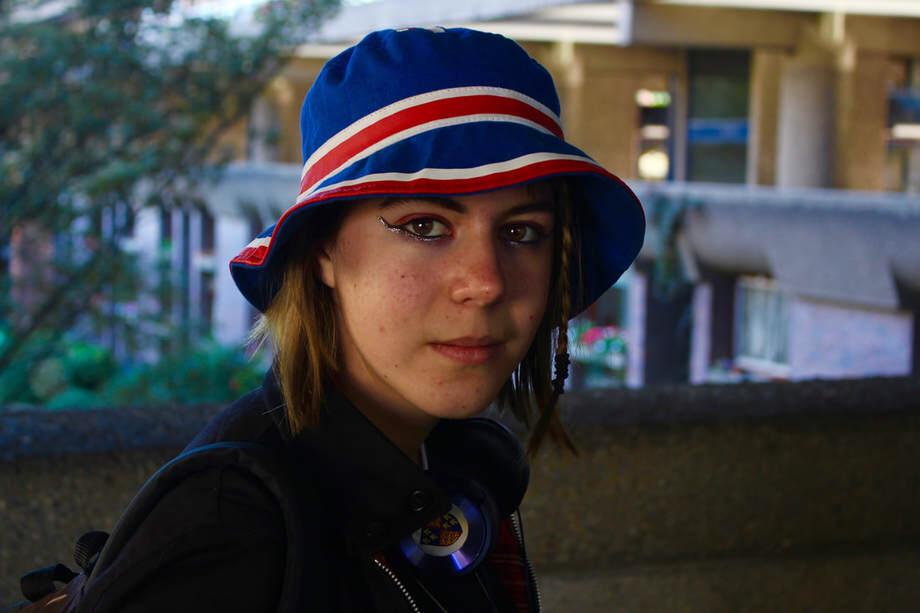 Anna Taylor, 17, London, UK
You've started an environmental activist group, tell us about it...
With four other students I started the UK Students Climate Network (UKSCN) after we were inspired during a march by Campaign Against Climate change in December. UKSCN is a student-led environmental organisation that was created with the purpose of raising awareness about climate change amongst the youth, and mobilising students, encouraging them and making it more accessible for them to become involved in nation-wide coordinated direct action. Setting up the UK Youth Strikes is simply our first action, and the strike on the 15th of Feb will be a launch event as such.
Greta Thunberg was the initial inspiration for having a school strike?
It's all from Greta, yeah. It's gone viral. I'm in a group chat with a representative from every country, I'm the UK rep and there's a student from all the countries involved — there's an Italian representative, a German, someone from Belgium, New Zealand, America, Canada... We're coordinating our strikes across the globe to have more impact.
Why are you striking — what changes do you want to see?
We've created four demands specifically for the strike. One of them is for the UK government to declare a climate emergency in the UK and make environmental reform a priority. Another is about the education system — they need to teach us honestly and accurately about the severity of the crisis. The third demand is to bring the vote down to 16, and number four is to give more consideration to the Youth Parliament — listen to us.
Do you see yourself as an anomaly among people your age, as an outspoken environmentalist?
I did feel like the odd one out, certainly in my school. But doing the strike, I've met a lot of other people my age who feel just as strongly. I do think we are a minority though, especially compared to other countries. I have a lot of friends in Germany and it sounds like over there people are a lot more aware and passionate about it, and the UK does seem to quite far behind at the moment, but then I guess that's why we're doing this, to make sure we're not in the minority by the end of 2019.
What does Fridays for Future mean to you?
Globally, among students, the reason we're all working together is because we don't feel like the people currently in charge, we don't feel like generations before us, have taken this issue seriously enough. And I think we do feel the pressure a bit because we're younger and we've been born into a world where climate change is becoming an increasing crisis. The crisis is already here. People across the word are dying from droughts and floods and it's just going to get worse. I do feel like we haven't been heard and what's going to be really important for us in the future has not yet been addressed. These strikes are the voice of the youth really saying you need to listen to us and you need to act now.
There is lots of information on the UKSCN website about the strikes.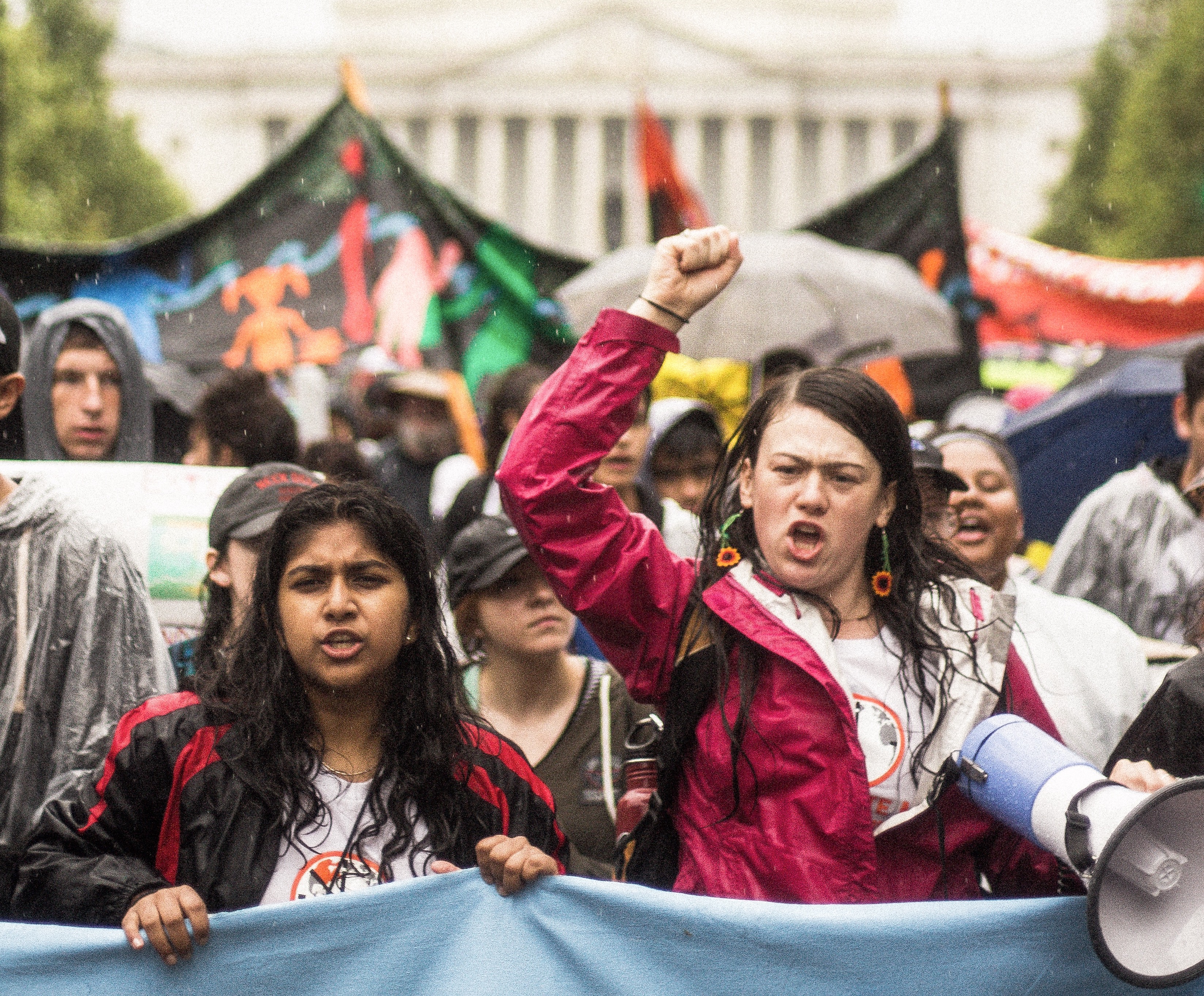 Nadia Nazar, 16, Baltimore, United States

What started your passion for the environment?
My mom's a marine biologist. I would always see the fish and in her lab and I was really attached to nature. My parents are both immigrants from India so I would be visiting India every few years and seeing the natural beauty there, and then I learned more about climate change. I learned about how the environment is being disaster struck, how so many species are dying. It's so troubling that my generation is going to have to deal with this burden. I don't want to live in fear of not having a normal life because of climate change.
You're a co-founder of a group called Zero Hour, what's your organisation about?
Zero Hour is a youth-led climate organisation for climate justice. We really focus on how different people are impacted differently according to their identity, and how systems of oppression like racism, patriarchy, capitalism, colonialism and ableism, how they've all played a role in in how magnified climate change has become. Our world is becoming more divided with climate change.
Tell us more about that, about this idea of climate justice...
I didn't know much about it when I started Zero Hour with Jamie [Margolin co-founder of Zero Hour] and our two other co-founders Madeline and Zanagee. As I've gone through this process I've learned a lot more about it. For example, in Bangladesh, whenever they have floods, which is becoming more common because of climate change, the schools are turned into shelters for people to stay in, so a lot children lose their way to education, and if they can't become educated, how are they going to grow up and have big opportunities and live out there dreams? Another example is that after natural disasters strike, sexual violence increases in those areas, so girls are more likely to be sexually assaulted and raped.
It's amazing how young people are mobilising for climate justice, but it also seems unfair that you need to think about this, that adults are not sorting this crisis out. How do you deal with the stress, and does it feel incredibly frustrating?
We have some really great adult mentors. However, when I speak many adults don't even bother to listen as they dismiss me because of my age. This ageism plays into the whole problem. We're leaving people out of conversations, the youth have been left out of conversations even though this is an issue that is going to be plaguing my generation and the generations to come the most. It's really hard to convince adults, so I try to talk to as many as I can that are willing to listen, and once they've heard my voice hopefully they're willing to spread what I said.
So you're going to be joining the school strikes?
Yeah, I'm starting on March 15th, for the global strike. We're actually in contact with Greta and she's going to be supporting and hopefully attending our next few climate actions. So we're really excited to work with Greta and we support Fridays for Future and all the youth that are striking.
You can find out more information about Zero Hour here.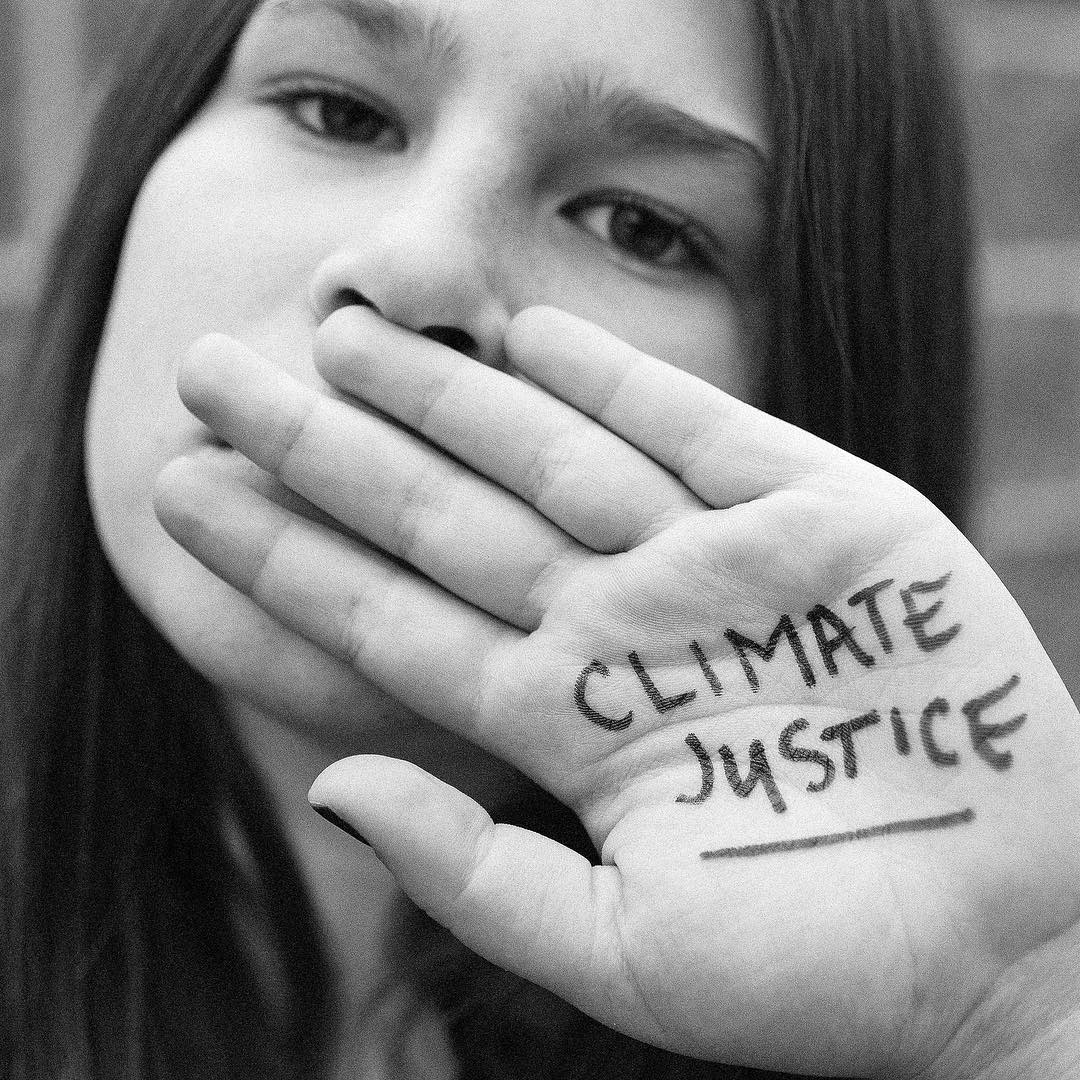 Haven Coleman, 12, Denver, United States
When you realised our environment was in serious trouble, what steps did you take to do something about it — tell us about your activism...
First, I got educated on the matter, I brought the issues affecting my community to my elected officials, which educated others, then I took the action to the streets by organising rallies and marches. A large part of my activism these days is spent trying to getting others pumped to do stuff too!
How did you get involved with school strikes? Is your school supportive?
I got involved with the school strikes because I saw how much excitement Greta was creating in Europe, and since I've tried tons of different ways to get people in the US active in fighting climate breakdown, but I hadn't tried this, it was worth a shot. It's actually been the most effective thing at creating awareness of our dire situation that I've tried.
My school isn't happy with my absences. I miss a lot of school with my climate activism already and school strikes are making it worse. I've learned more about how the world works by being an activist though, than I ever have in the classroom. I don't regret my missed classes.
What's been the most positive moment for you so far in your activism?
I think one of the best moments is when I get to teach other students about climate change and their faces light up while I talk about the solutions and hope. Or when youths message me and tell me they see me doing these things so young and realise they can do it too. I love those moments. They tell me their ideas to fix our broken world. Seeing them inspired to create change themselves keeps me going when I'm ready to give up.
Tell us about the situation where you live in terms of environmental concerns...
I live in the Rocky Mountains. We have lots of issues with wildfires and poor air quality in the summer. Flooding occurs in the burn scars on the mountains and we deal with a lot of droughts now too. There's a lot of fracking where I live. All of this environmental stress is hurting the wildlife in the mountains. Also the warmer temperatures we are seeing is causing pine beetles to erupt in population. The forests of pine trees covering our mountains are being destroyed.
It must feel astounding that you, at such a young age, have to try to convey to adults the urgency of the situation, and the need for major change. How do you deal with the frustrations of being an environmental activist?
It is quite stressful and shocking that I have to go up to adults and say, 'hey you're doing something wrong', and constantly living with the feeling that I have to fix things for my future isn't easy. Like any person, sometimes climate change is just too much for me to handle. When I get in those down slumps and feel like crying I draw hope from seeing other activists across the world fighting too, and push through knowing that what I am doing is the right thing!
What would you say to others who are thinking about getting involved in climate activism?
I have never regretted a minute of my activism. This is the most fulfilling way I could live my life. We are so lucky to get to be the generation that changes the entire system.
And if students can't strike from school, how else can they support the movement?
You can still help organise the strikes. Give the people your time even if you can't show up. You will have helped build the momentum that will bring more people to the movement. If you can't do that you can tweet and share about the strikes on social media.
What would you say to someone who doesn't understand the need for climate change action?
I don't spend my energy on climate deniers. It's more important to convince those who understand it's a problem to act instead. Sometimes actions speak louder than words.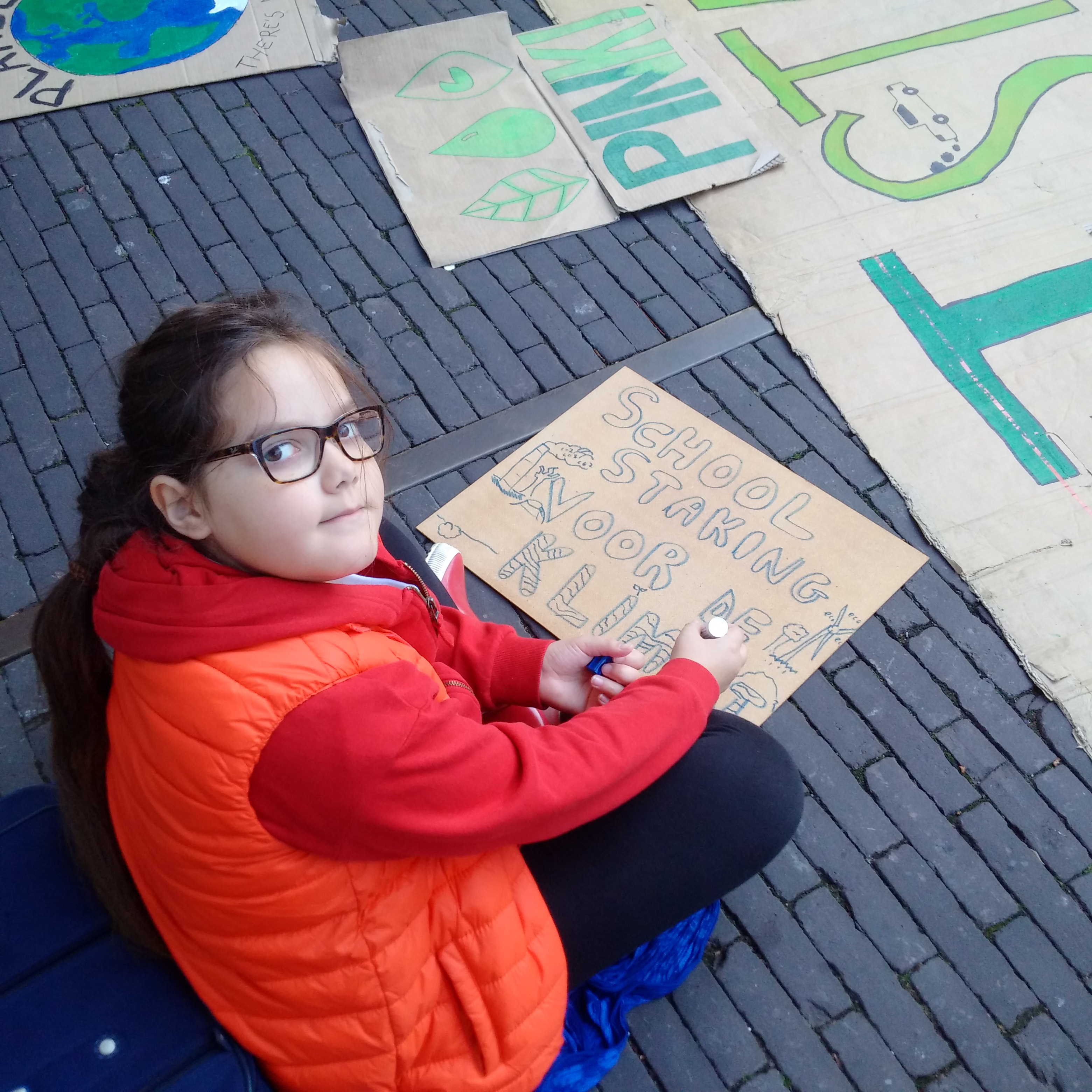 Lily Platt, 10, Utrecht, The Netherlands
What started your passion for the environment?
I always wanted to help the environment, and in 2015 I started with plastic pollution. Me and Grandpa were walking along one day and we counted 91 pieces of plastic, and that was only a 15 to 20 minute walk. Then we took a picture of it and posted it on social media so more people would know about how much plastic is in the world. That was how Lilly's Plastic Pickup started. Then after that I got concerned about climate change.
Why did you decide to strike for the climate?
It all started in September when I saw a video of Greta Thunberg. She was talking about the Paris Agreement and after that video I thought, ok, I have to do this. So that's how we started, and then the next Friday was my first school strike. Sometimes it's me and my mum, sometimes it's me and my mum and my Grandpa, once we even had 25 people — it just depends on the weather! I've been doing it for 20 weeks now.
What does Fridays for Future mean to you?
Well what's the points of learning when the older generations are throwing children's futures away. Children are allowed to have a voice, it's not only grown-ups who can save the environment. This is striking for our future, for the environment, for our planet.
What's your advice for kids thinking about joining the strikes?
Be brave. Anyone can be a voice.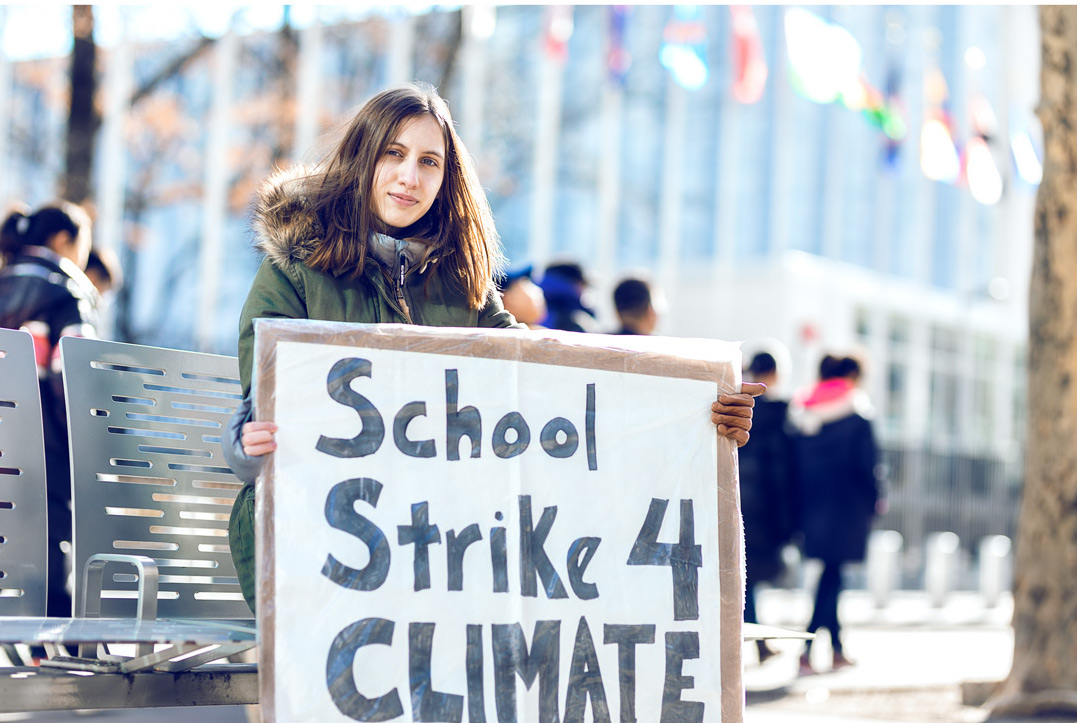 Alexandria Villasenor, 13, California, United States
When did you first get involved with climate activism?
This year I was visiting family in California when the Paradise fire started. I have asthma and the air was so bad my extended family sent me back home to NYC early. The air from the fire made me really sick. After I got back to NYC I read parts of the IPCC special report and paid attention to COP 24 (the UN Climate Change conference). That is where I heard Greta Thunberg speak. I expected the world leaders to come to agreement to reduce greenhouse gas emissions by 2030, and when they didn't I got really mad. It was right at the end of COP 24, on Friday December 14th, that I started my strike at the United Nations Headquarters in New York City.
It must feel astounding that you, at only 13 years old, have to try to convey to adults the urgency of the situation, and the need for major change. How do you deal with the frustrations of being an environmental activist?
When I did my first strike eight weeks ago, I didn't know what the word "activist" meant. I just thought I was striking with Greta because I was mad. Since then I have learned so much. Being an activist can be frustrating, but it has also been really wonderful. First, I was really surprised when climate deniers started attacking me on social media. It worried my parents when these same deniers sent me messages saying they were going to come to the UN and give me a "lesson" about climate change. At that same time, climate scientists, like Katharine Hayhoe, Michael Mann and Peter Kalmus started defending me on social media. It was really amazing to have their support. Most of the time, people who come to visit my strike are really supportive. One woman came to help me hold signs for a while. She told me she was worried about her baby daughter and she started crying. Then I realised that what I was doing meant something to other people. Someone from the United Nations even came to visit me and brought me a vegan brownie! I love the people of New York City.
It's incredible how the youth strike for climate change movement is growing globally — why do you think it's catching on so quickly, and how does it make you feel?
My mom and I have a saying right now and it is: "Every three days everything changes." That is how quickly this movement is catching on. I think in a few months there will be thousands of people striking in different cities all over the world. Climate change is a problem that doesn't have borders and our solution can't have borders either. This is not about one country or one part of the world. This is about the entire planet and the future of all of humanity.
Every day I am in awe of what happens in the movement. It makes me really emotional too and sometimes I laugh and sometimes I cry. I also think it is catching on so quickly because people are really starting to understand climate vs. weather. Recently my friends in Australia had record heat waves and at the same time we had a polar vortex here in NYC. That is not just weather, that is climate and all the extremes happening at the same time are causing the world to wake up and pay attention. I worry all the time that it is too late.
What would you say to young people in who are thinking about getting involved in climate activism? And if they can't strike from school, how else can they support the movement?
I would tell people that climate change is the biggest issue that our generation will face. It will change everything about the way we live and work. I would also tell them so many people in the world are in danger because of climate change. Finally, I would tell them that activism is the most important thing we can do about it right now. So many of us can't vote or run for public office because we are too young. Being an activist is the only way we can make our voices heard, especially about an issue that will affect us the most. To those that can't be an activist right now, I would ask them to support the movement on social media. In activism we call this "amplification". I would ask them to amplify the voices of the activists and publicise this issue and the work we are doing within their social circles.
What do you want for your future? What's your message to the world?
My message to the world is that I want a habitable planet to live on in the future. And my message to the world is the same as Greta's hashtag that she puts on her social media, which is #WhateverItTakes. This means we have to do whatever it takes to stop worsening climate change on our planet. And we have to do it now.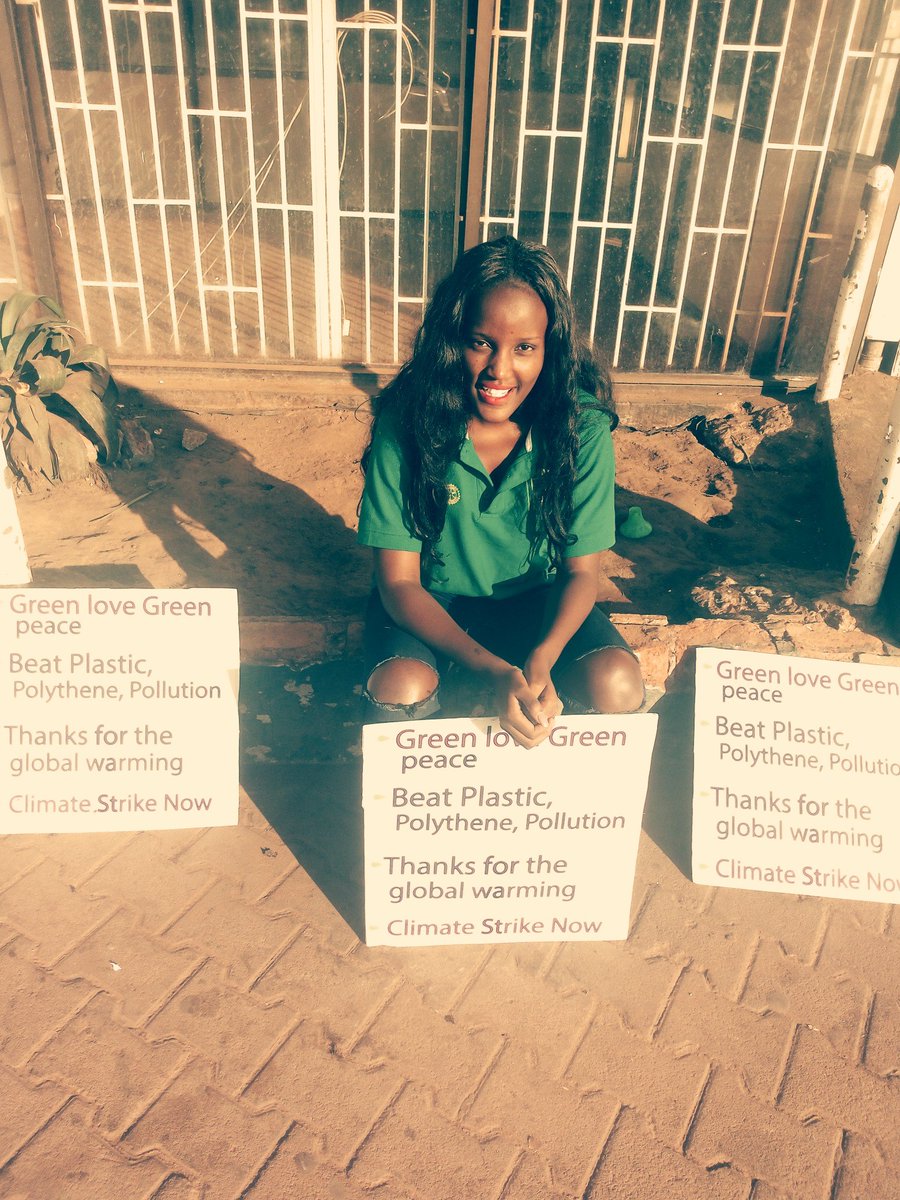 Vanessa Nakate, 22, Kampala, Uganda
When did you first become really concerned about climate change?
I first became concerned about climate change in December 2018. I was talking to my uncle who explained to me the weather patterns of my country 20 years ago and how it had changed drastically. He told me how the month of January was always filled with rainfall, but now it's the opposite. The heat is extremely high due to the rise of temperatures. This made realise that climate change was a problem. I started to do research about climate activists until I discovered Greta. That's when I decided to start striking and demanding for climate action.
And what actions have you been taking to push for change?
I started my activism by involving my siblings. I told them we had to demand climate action. We started writing signs, using the materials we had, and the next day we protested. It was a Sunday. We just couldn't wait for Friday. We started immediately.
The youth strike movement is spreading quickly, why do you think it's having such an impact?
The youth strike is catching on so quickly because the youth know exactly what they want. They are working for a better future. We are still young and we won't not survive the wrath of climate change in the future if no action is taken. We love Earth and it's our responsibility. It makes me so happy to see it growing so fast, especially in my country Uganda, students are starting to get informed.
What does Fridays for Future mean to you?
It's our hope for the future. It is our way of bringing our message to the public, especially to our leaders. It's our platform to demand for climate action. It's our way of saving our home, Earth.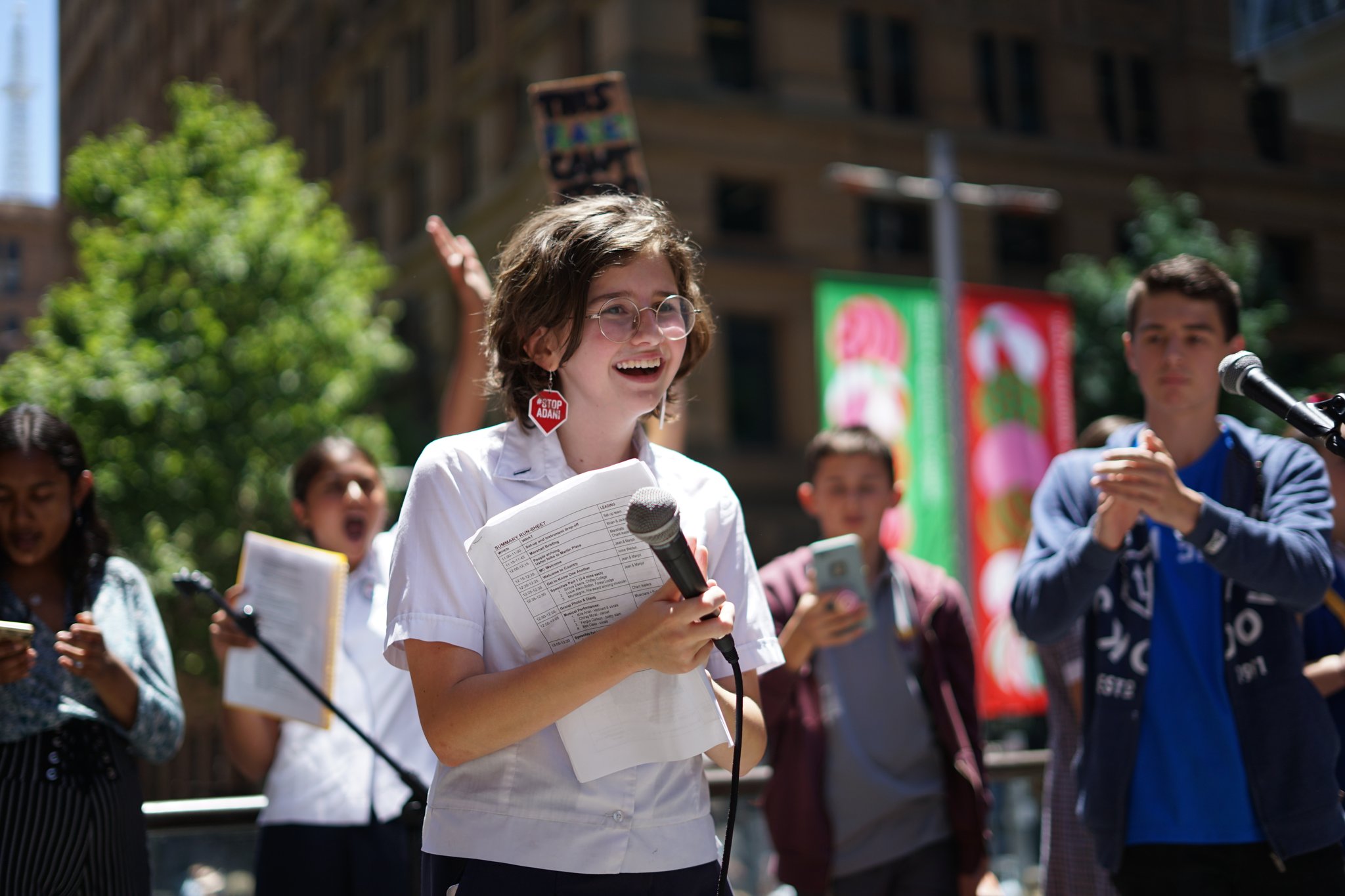 Jean Hinchliff, 15, Sydney, Australia
How did you get involved with school strikes? Is your school supportive?
I first heard of SS4C (School Strikes for Climate) very shortly after it was created in October, at that stage only an event in Melbourne had been planned. Fuelled by frustration at Australia's lack of climate action, I immediately emailed and got on board. My work was all over the place, from constant interviews and media appearances, to filing notices of public assembly, putting up 350 posters with a group of friends, and MCing on the day. I still have a major role in organising the next Sydney strike, but am now helping with our international connections as well. I also will be striking half days on Fridays starting this term, which I'm super excited for.
What's been the most positive moment for you so far in your activism?
The most positive moment for me so far would likely be when I was being interviewed on the day of the strike. It took place about ten minutes before the rally officially started, and I was facing away from the crowd. As soon as I finished talking to the journalist I turned back towards the crowd and saw that in the time of the interview, the group of about 300 kids had tripled in size. I felt so overwhelmed and beyond excited knowing that so many people genuinely care and decided to come.
Tell us about the situation in Australia, what change are you pushing for?
Right now, the situation regarding climate change in Australia is looking dire. Not only have we just faced our worst recorded heat wave ever, but we are also plagued with bushfires throughout the country. Our government doesn't seem to care about this, however. Currently they are still fighting to ensure that the Adani mine (an enormous Carmichael coal mine that has not started construction as of yet) is fully approved and can start exporting coal. Our goals across Australia are to convert to full renewable energy by 2030, for no new sources of fossil fuels to be approved, and to #stopadani.
You're 15 years old and have to sacrifice school to try and get action on climate change... it's mad that you have to do this.
It's insane to me that the climate crisis is so easily dismissed by world leaders. In my opinion, this is the greatest issue to ever face the human race, and yet somehow people try to sweep it under the rug. I shouldn't have to demand that political leaders actually care about my future, I shouldn't have to spend so much time so frustrated.
How do you deal with the stress and frustration?
The stress that comes with this work is something I'm still learning to manage, but seeing the amount of support and passion that has come from this movement and the mobilisation of young people is what keeps me sane.
Do you feel that your generation will be the ones to really make positive change happen?
I genuinely believe that if my generation were in power right now, climate change wouldn't be anywhere close to the crisis it is now. Although we can't vote, we are having political influence on an international scale, and that is an incredible feat. Gen Z already are already making positive change, from the #NeverAgain movement to this major strike, and that's something I don't see stopping anytime soon. However, by the time we are in power it will be far too late to avert the climate crisis, so we can't just wait for ourselves to come into power and make the positive change needed.
What do you want for your future?
I'm unsure of exactly what I want for my future, all I know is that I will continue fighting for change until there is nothing left fighting for, which looks worlds away right now. I am certain that young people taking a stand for what they believe in will change the world, and that we will be the tipping point for meaningful climate action.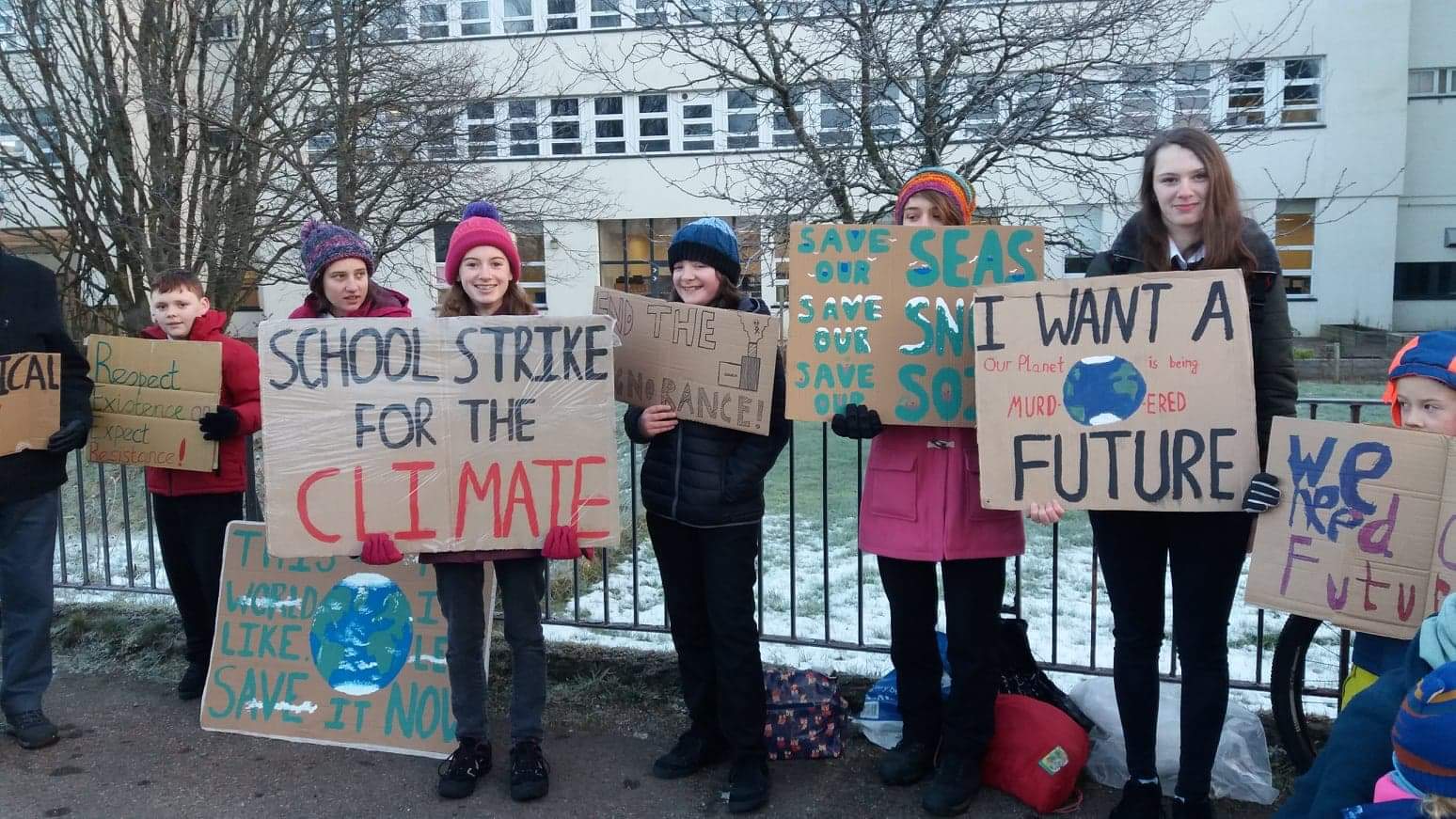 Holly Gillibrand, 13, Fort William, Scotland
How did you get involved with climate activism?
I think it was a gradual process, because I've been interested in the environment since I was very young. At home we started planting flowers in our garden and building ponds and planting trees and all of these things that we were able to do. And then I started focusing on doing things are wider. One of the first bits of activism I did was I went around my local shops and I started asking them to stop using plastic straws. I mean, plastic straws aren't a key problem for pollution, but it's something that you can get started with. And then I've also been getting involved with Extinction Rebellion and doing my climate strikes. And I also do a bit of campaigning for the animal protection charity One Kind.
And when did you get started with the school strikes?
It took me a few months to really think about it, think seriously about doing it. I'd been watching Greta and all these children struggle for quite a while. I like school, I like learning. Skipping school wasn't really something I would usually consider doing, so it wasn't an easy decision. I started four weeks ago, on the 11th of January. I've been doing it with some friends, and my parents also do it with me. We've got four towns or cities on board so far for the 15 February strike, but hopefully we'll get more than that. It's something that children feel they can get involved in.
Do you feel like the school strikes are going to help create change?
I think it's a really powerful thing to do. In the UK especially, we're not being listened to yet but as more people join, it will change. Children striking is an issue that governments will have to deal with, they can't carry on doing something that is causing lots of children to miss school and protest.
What does Fridays for Future mean to you?
That the government needs to start treating the climate crisis as the emergency it is, because we don't have time to sit around and talk and not do anything.