chinese designer guo pei brings her couture of the imagination to atlanta
That Rihanna dress was just the beginning.
|
28 September 2017, 2:16pm
A southern grande dame in head-to-toe pearled Chanel left the opening of SCAD's new Guo Pei show shaking her head in wonder. "Marvelous," she said. The Chinese couture designer's works have a rapt audience in Atlanta's fashion-obsessed crowd. From the experimental students at SCAD to the museum's elegant trustees, eccentricity is not dead there. (Also spotted: a man with a voluminous silk cravat fastened with an antique cameo. And a cheongsam.)
Visitors to the storied Savannah College of Art and Design's more urban Atlanta campus and fashion museum will get it when they see Pei's headdress crafted from a repurposed porcelain vase encrusted with crystals. They will understand what might drive someone to spend months hand-tooling metalwork on the cuff of an evening jacket. They will maybe see a little bit of themselves in the weird fact that Guo Pei has signed her work in her own human hair in the lining of a garment.
And they will definitely take a selfie with the endless golden satin robe that inspired a million memes when Rihanna wore it to the Met Ball in 2015. More on that later.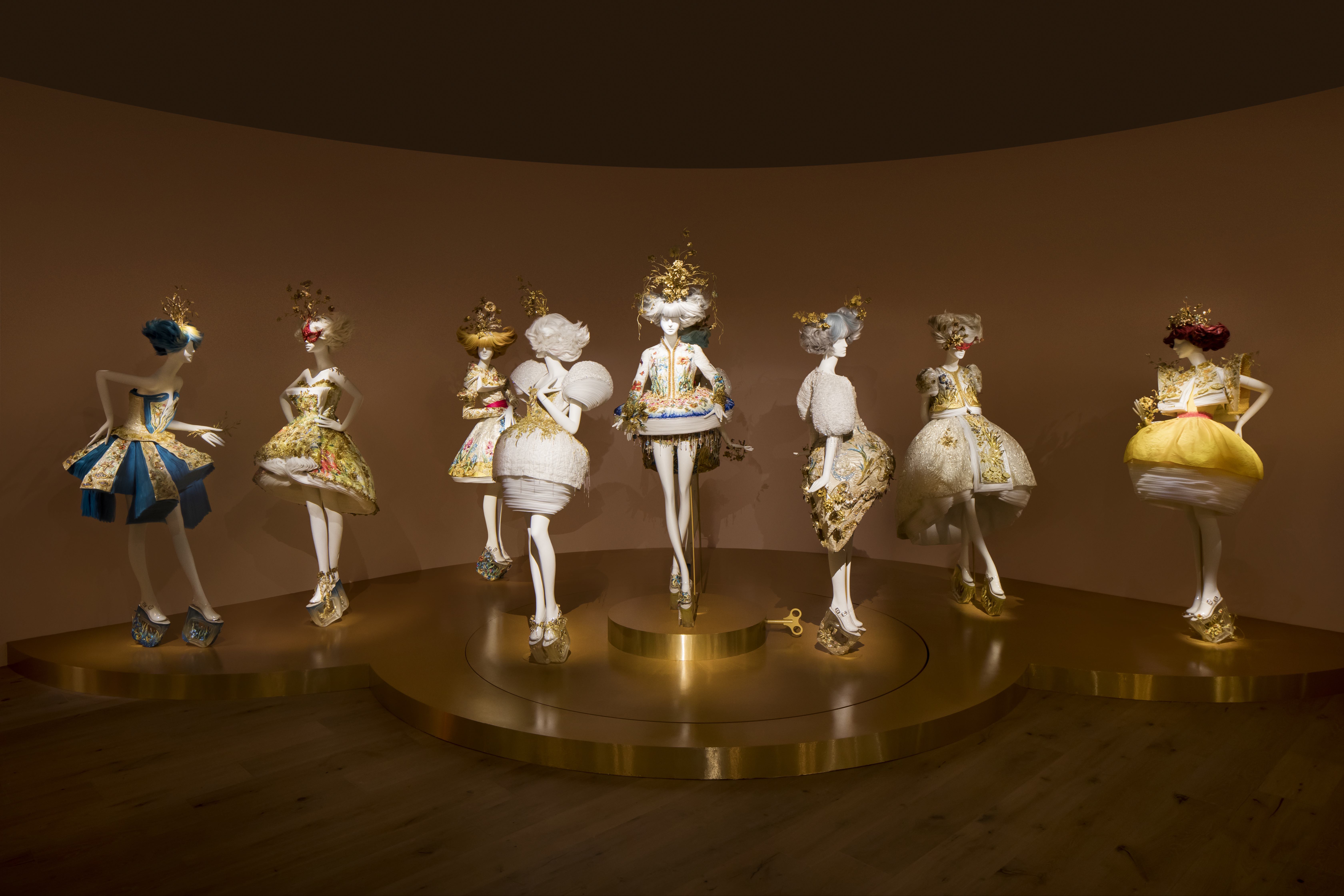 Of the forty-odd looks in this exhibition, Pei's first solo show in the United States, most are runway looks intended purely for spectacle. Or, like a 17th-century masterpiece from a crafter's guild, they show what her atelier is capable of. A bride may not have the means to purchase the gown with 209,000 real pearls, weighing 80 pounds. But she would want to work with the creator that made it. All of Guo Pei's work is couture or demi-couture, made in her Rose Studio in Beijing or another atelier in Paris. To order a garment, you must become an official member of her club, with buy-ins at different levels going up to six figures. It is clothing for the very rich.
So the SCAD show is composed of showpieces, some of the most extreme and remarkable garments Pei has made in the twenty-year history of her Rose Studio. They are grouped by collections, which have fanciful names: An Amazing Journey in a Childhood Dream, for example. That award-winning 2008 show, a jaw-dropping vision of pastel babydoll pleats and fluffy volumes, was designed when Pei was pregnant. Guo didn't notice that the work mirrored her pregnant form until others pointed it out to her. "So I think that speaks for true artistry because you cannot do something so deliberately," she told me. "Your expression has to come from real life and from yourself."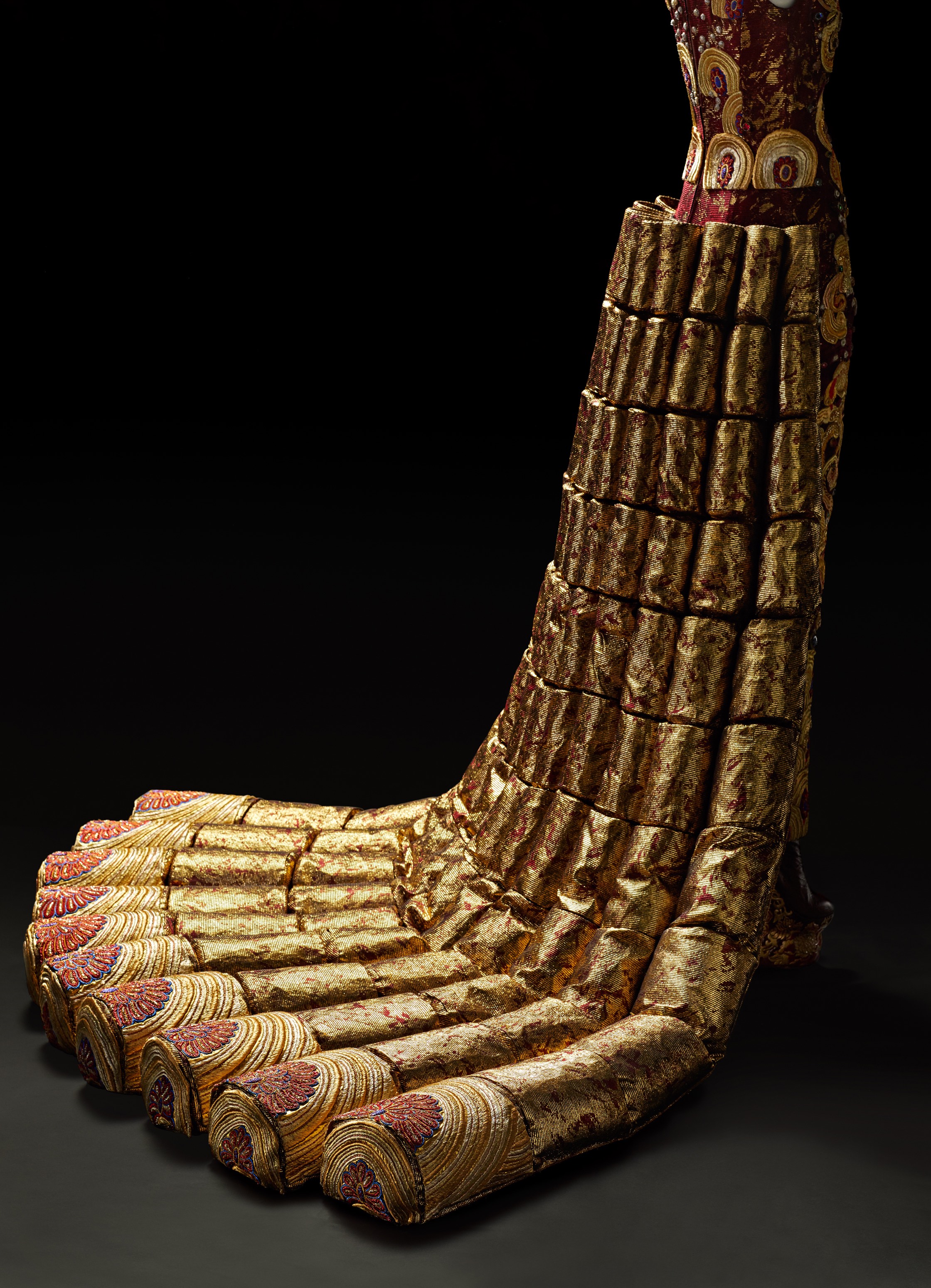 Guo Pei was forced to look within herself because she came up in a society devoid of references. She grew up wearing a spartan communist uniform, and studied simple sewing at the Beijing No. 2 Light Industry School. Her work draws heavily from Imperial China, but more from a version of it that she cultivated in her imagination. As a child, she was obsessed with a small decorative Imperial-era box that belonged to her grandmother, which stoked a desire to embroider stuff. Which led her, crescendo-like, to leading a workshop of hundreds of people that spend thousands of hours embroidering single garments. By the way, these people needed to be taught that skill. Pei told Cathy Horyn in 2010 that when she began looking for embroiderers in the nineties, they were only capable of making "the kind of slippers you'd find on Canal Street." Now, Rose Studio produces craftsmanship on a level that just does not exist elsewhere, even in couture ateliers in Paris (where she now shows).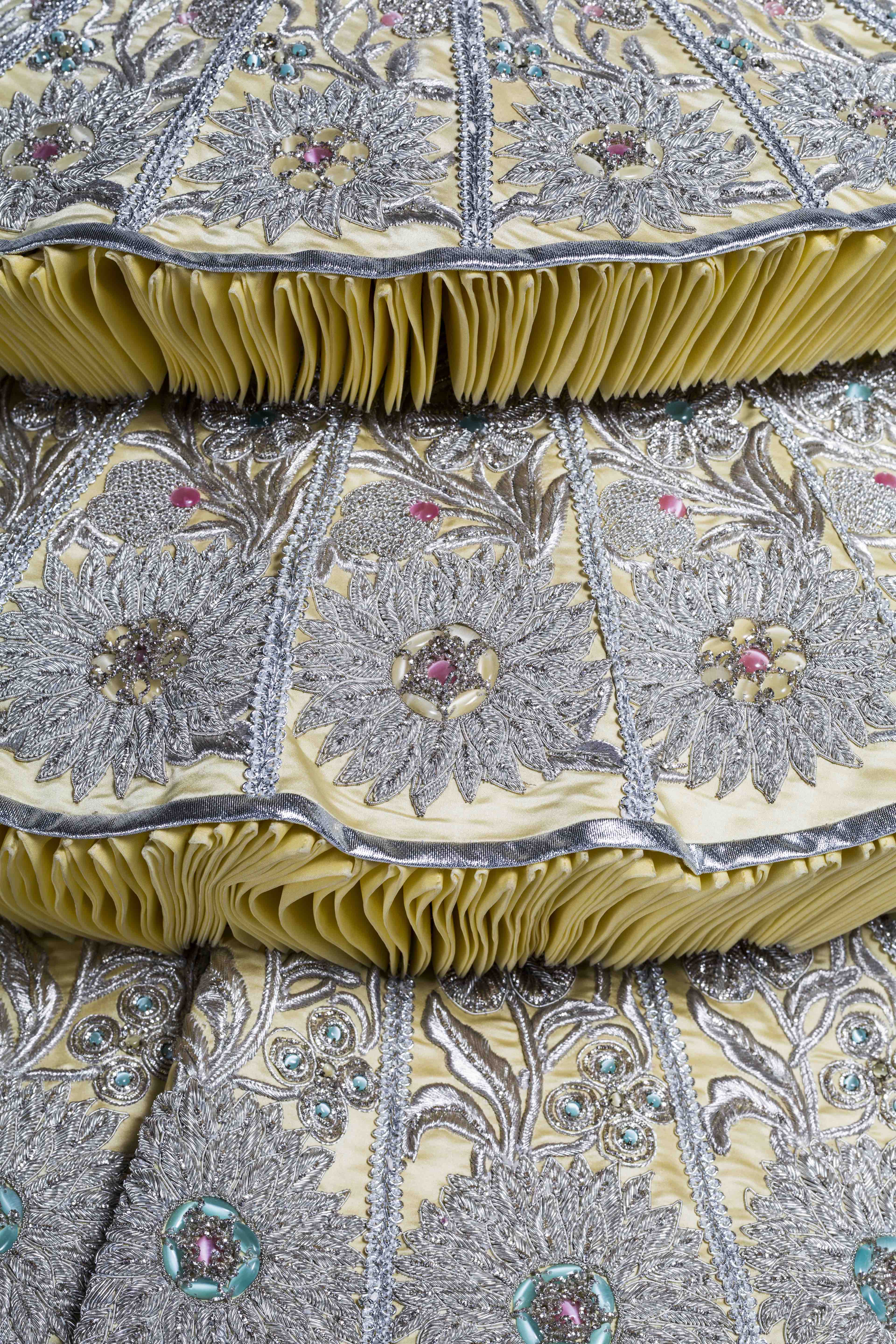 "Guo is trying to reinvent Imperial style," fashion professor and former classmate of Pei's Wang Yi told The New Yorker. "But there's a gap of a century in Chinese history, and her patterns, colors, and techniques have all been improvised in a vacuum."
That vacuum is Pei's strength. She is inspired by Ming vases, but she also digitally prints Ming patterns on cloth in a newfangled process. It's all the same, to her. "I don't separate what is classic, what is traditional, what is modern, what is future," Guo told me. "I think as a creator it's not important for me to make that distinction, I think that it is up to other people to do that. Also, even with classic features, traditions, and elements I use modern expressions so that is what's important."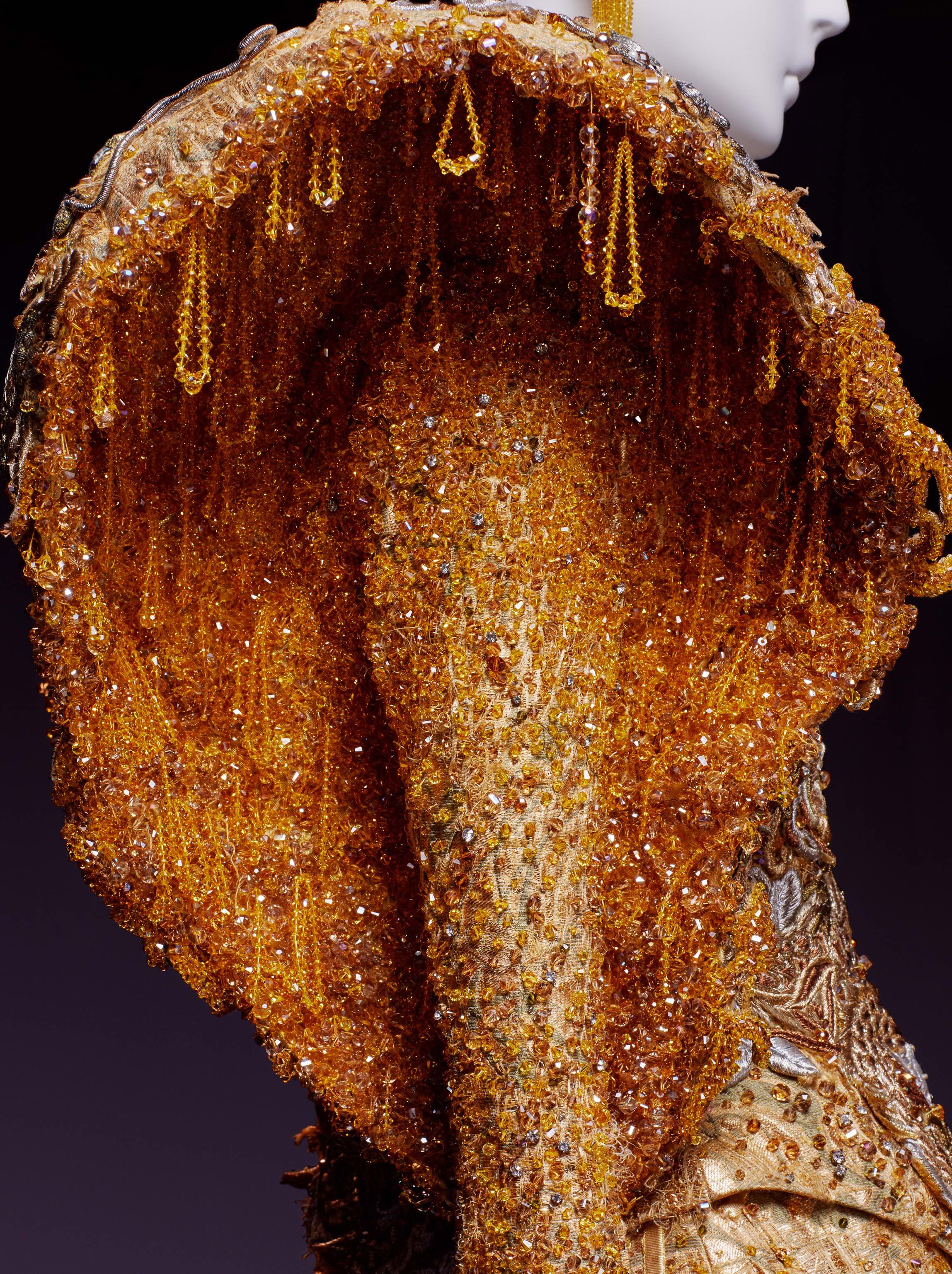 But despite her work for the 08 Beijing Olympics, and her historical sampling, don't make Guo Pei speak for her entire, complex, changing country. "I'm not trying to intentionally express things about modern China," she said. "I think it is very different from the upbringing that I had. A lot of my work talks about luxuriousness and individualism and I think that is something that is just me."
That luxury and individualism make Pei's designs ideal for pop stars looking for the next OTT creation. But physically, they are a challenge. When Nicola Formichetti called in some pieces Lady Gaga had found online, she couldn't move in them. The piece that Rihanna ended up wearing to the Met Ball honoring Chinese design was considered unwearable. At the runway show, the heavily embroidered yellow piece made its model cry. She couldn't support all 50 pounds of it on her slender frame.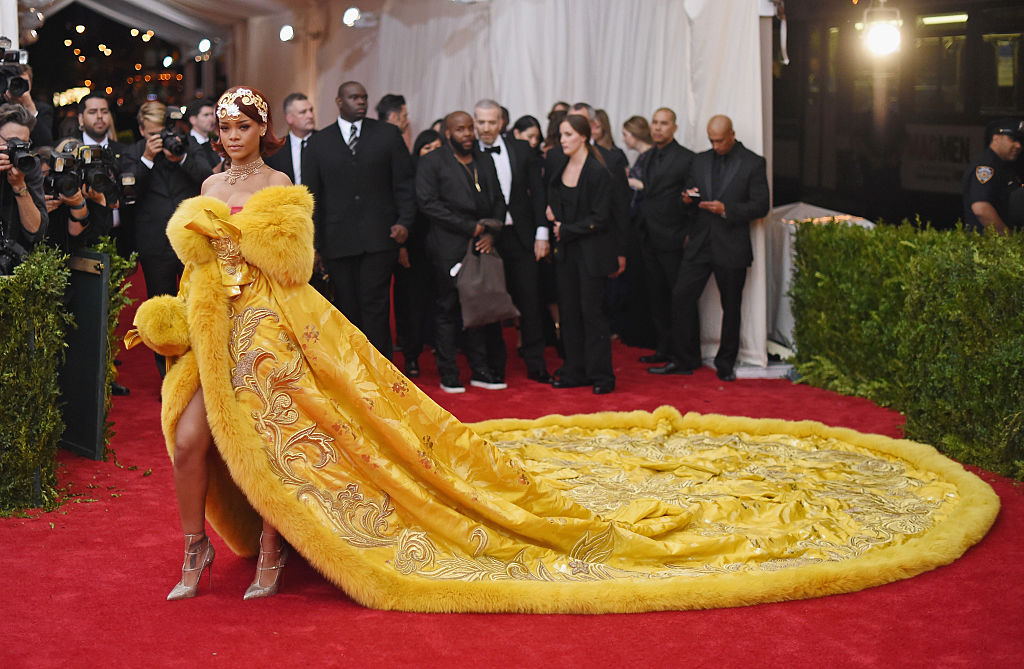 It took the closest America has to royalty -- Rihanna -- to handle a Pei piece fit for a queen. So is Guo sick of talking about that dress yet? Hardly. By the time she left New York after the Ball in 2015, even the customs officer who stamped her passport knew who she was. "That experience brought attention to my other work as if my world had a new door that opened up," she said. "And also that led to this exhibition and also the collaboration with SCAD. So we have to thank Rihanna."
Thanks, Rih.
'Guo Pei: Couture Beyond' is on view at SCAD FASH Museum of Fashion and Film in Atlanta through March 8, 2018.