Dior, Saint Laurent, Y/Project
"it's the story of paris": saint laurent and dior battle for fashion's capital
For spring/summer 18, Anthony Vaccarello celebrated the past, present, and future of Saint Laurent, Maria Grazia Chiuri updated the city's 60s youthquake for now, and Y/Project hinted at what's to come.
|
27 September 2017, 8:38am
Dior, Saint Laurent, Y/Project
"I really wanted to work with the atelier to tell the story of Paris and Yves Saint Laurent — it's really not much deeper than that," Anthony Vaccarello explained modestly in the moments after his epic open-air Trocadero show, which had been lit up by the Eiffel Tower and watched by troops of tourists in addition to the fashion set. "It's about the enjoyment of making clothes with a team that can work magic," he added. From the bohemian and hippy voluminous blousons of Marrakesh through to the grand craft and tradition of haute couture, Vaccarello and his team paid tribute to the rich fashion history of Yves Saint Laurent while setting the collection in the here and now. It was fun, sexy, playful, provocative, chic, magic for the next generation. "I was inspired by girls who want to have fun, who know how to enjoy life. Is there a darkness? Maybe she has both sides. If she does, she's enjoying the darkness."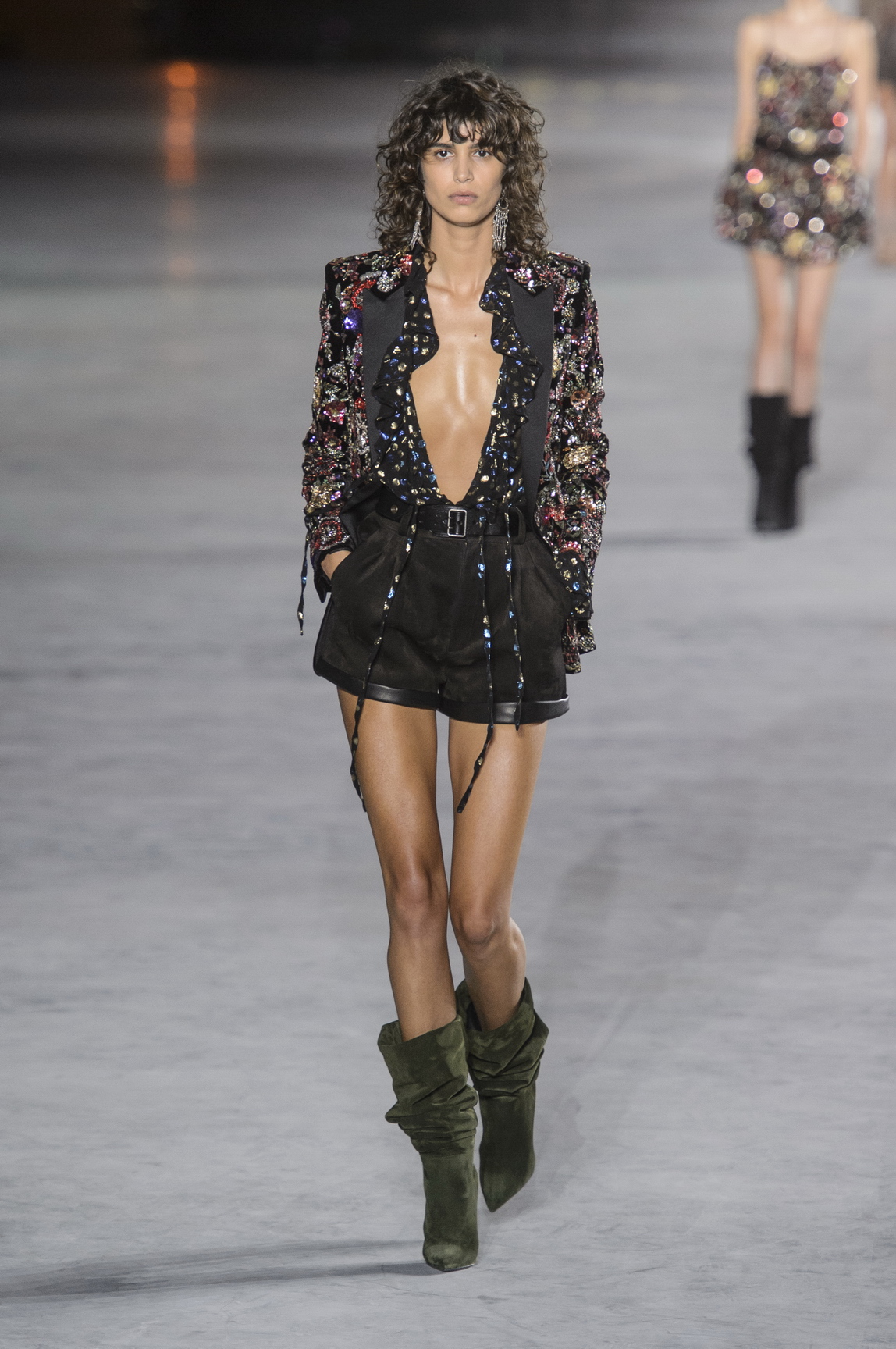 By putting the show in such an iconic postcard setting, Vaccarello was taking on the clichés and archetypes of his adopted city head on. It was a statement of intent. "La tour Eiffel can be considered a cliché, we wanted to push the cliché so far that it's almost beautiful," he explained. This sentiment echoed throughout the vast show set and into the seams of the collection. From puff skirts ruched up for dancing hard at Le Sept to flouncing feathers at Le Palace, this Saint Laurent collection pushed the clichés of dressing-up in Paris to the limit. Vaccarello's own darker sensibility gave those couture tropes a weird tangibility — those feathers had definitely been ruffled and the puffball skirts looked like they had been toyed with. Vaccarello has always been a fan of a girl in a state of déshabillée.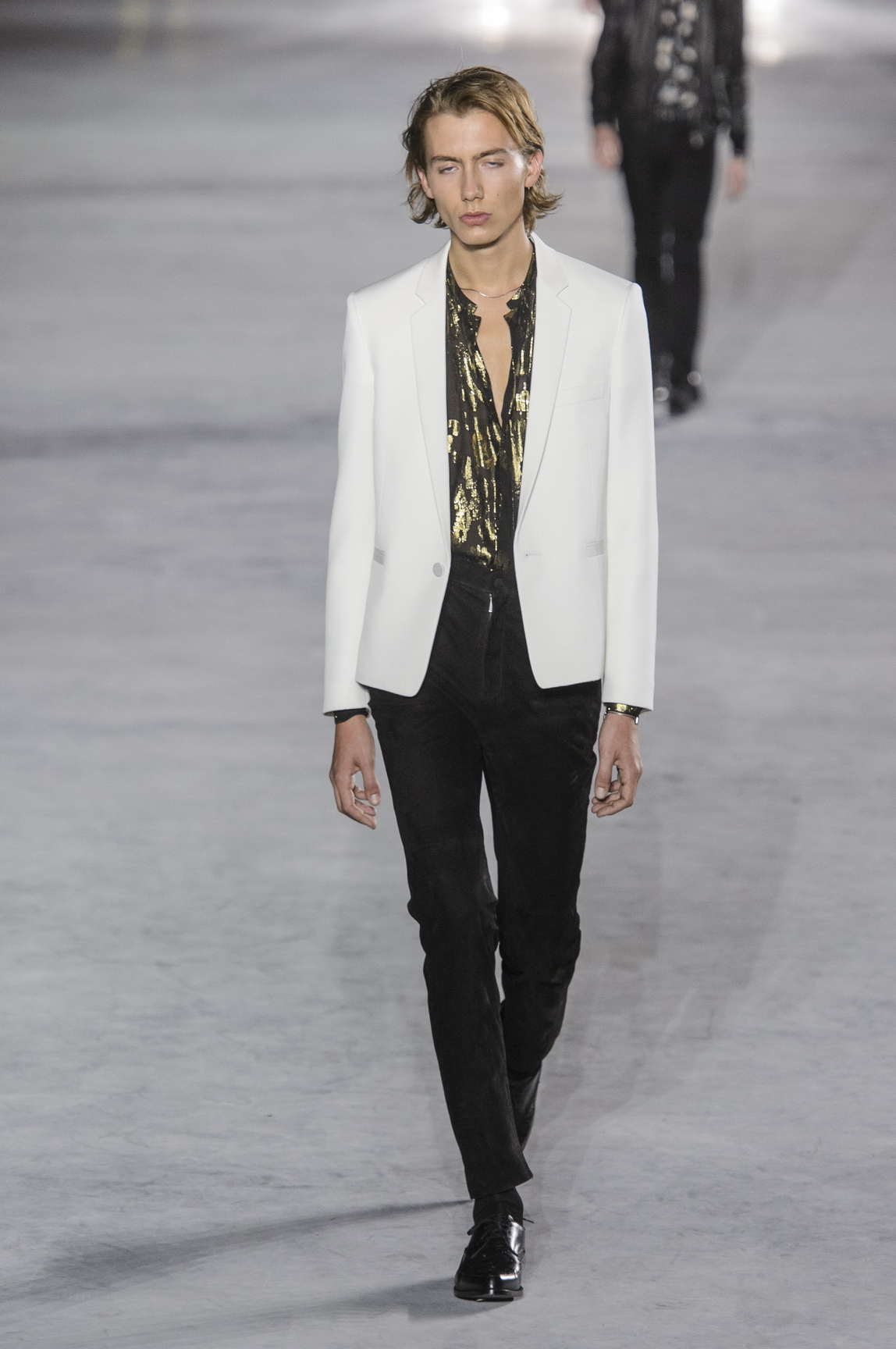 As Vaccarello's new Saint Laurent placed its lens over the history of the house, the recent passing of Pierre Bergé was obviously on the atelier's mind. Weeks after his death, this show celebrated their "L'amour fou" (crazy love). "I really wanted to pay homage to Pierre, to Yves, and their relationship," Vaccarello added. After co-founding the fashion house with Saint Laurent in 1961, Bergé had been instrumental in turning his genius lover into a superstar designer. Their partnership caused the tectonic plates of the fashion world to shift. Paris now had another House that was setting the agenda. With this collection, the new Saint Laurent might just cause another fashion-quake. During the show, the city appeared to slow and fall under the Brussels-born, Paris-based designer's spell. Traffic on the Place de Varsovie ground to a halt, tourists were stopped in their tracks and the lights of the Eiffel Tower twinkled at Vaccarello's command. Those plates had shifted once again.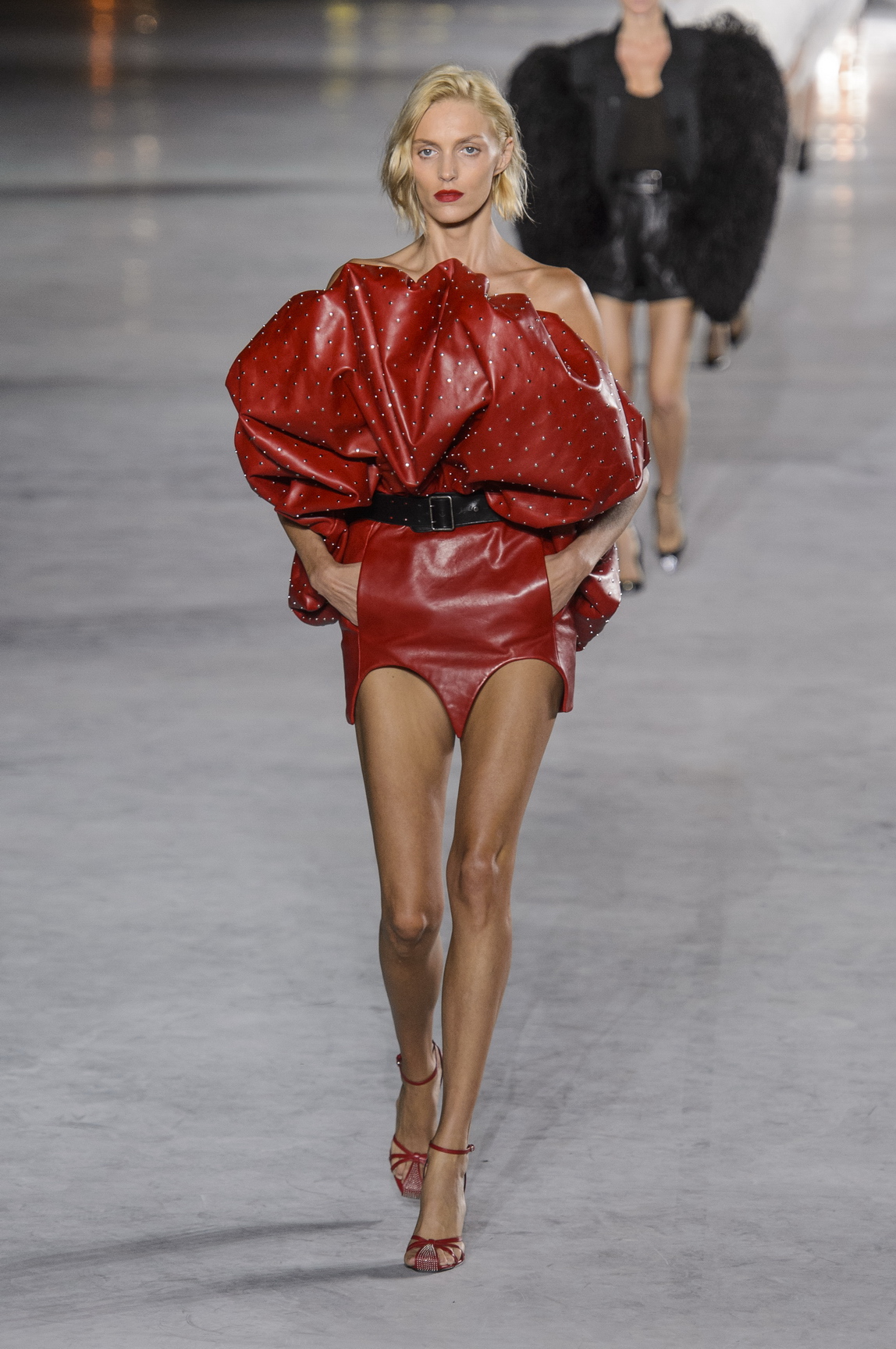 As Vaccarello explored one side of the house divide, Maria Grazia Chiuri explored the other with a collection rooted in Yves Saint Laurent's successor at Dior, Marc Bohan, and his tenure at Dior, as the house grappled with youthquake and revolution. Bohan never veered too far into the world of youthful beatniks but Grazia Chiuri of course has made it her raison d'etre to steer the house towards approachable fashion and so the mod-ish mini skirts, flat go-go boots, and op art checkerboards of that era that were so shocking back then were incorporated into Chiuri's grounded Dior today.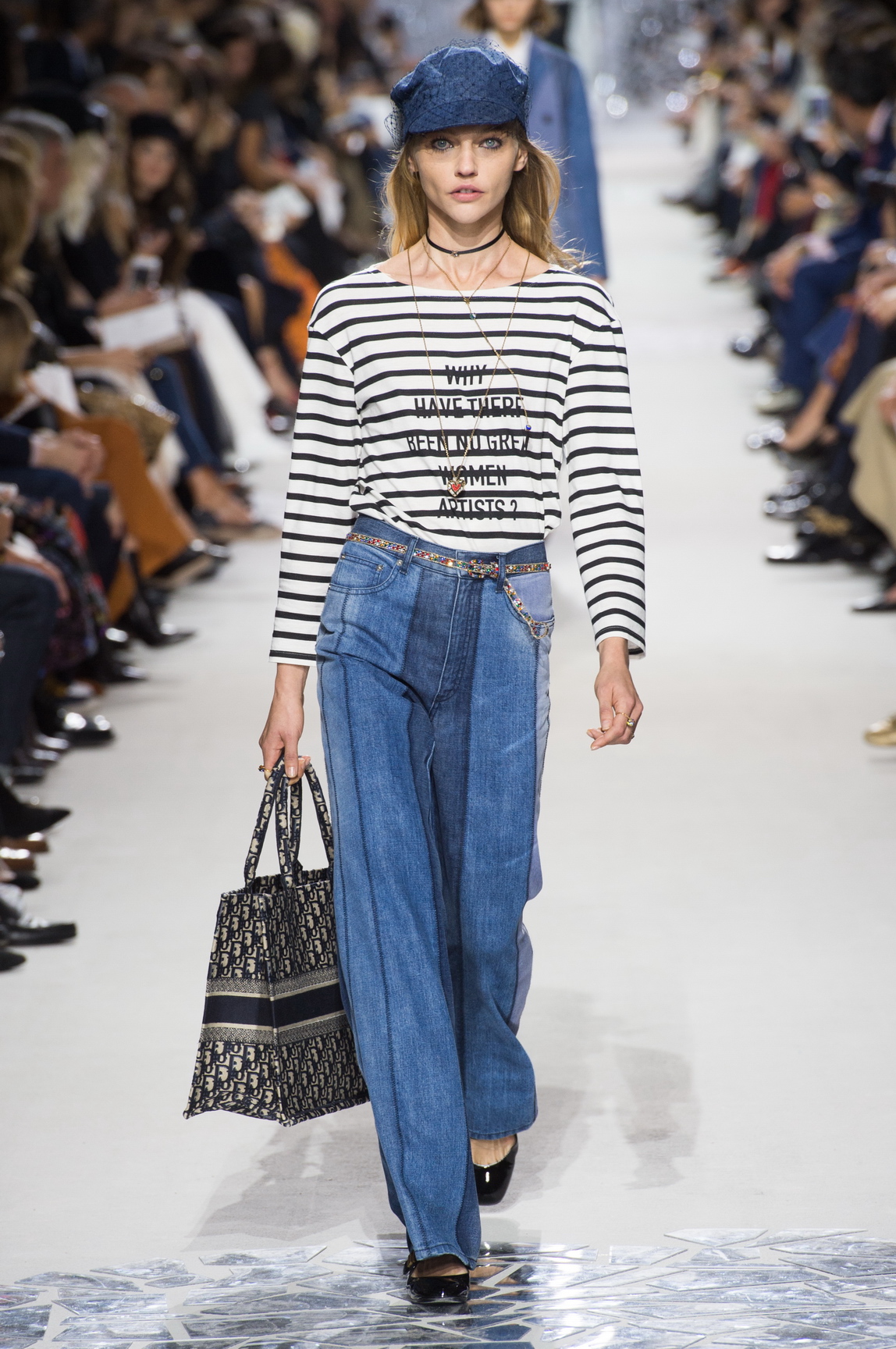 Interestingly, the Michel Gaubert soundtrack included the opening music to William Klein's satirical cult classic Polly Maggoo. While Klein poked fun of fashion's celebration of unwearable and unwieldy, sci-fi mental body sculptures, Chiuri made that metal malleable by shattering mirrors onto a finale of evening dresses, worn by Adwoa Aboah, Binx Walton, and Ruth May. This moment also reflected and refracted the collection's ultimate muse, French-American sculptor, painter and filmmaker Niki de Saint Phalle, sparked by Chirui's discovery of a series of photographs by Saint Phalle in the Dior archives. "On one of them, the artist can be seen on a camel, on others she's posing for Dior during the tenure of her great friend Marc Bohan, then creative director of the House," explained the show notes.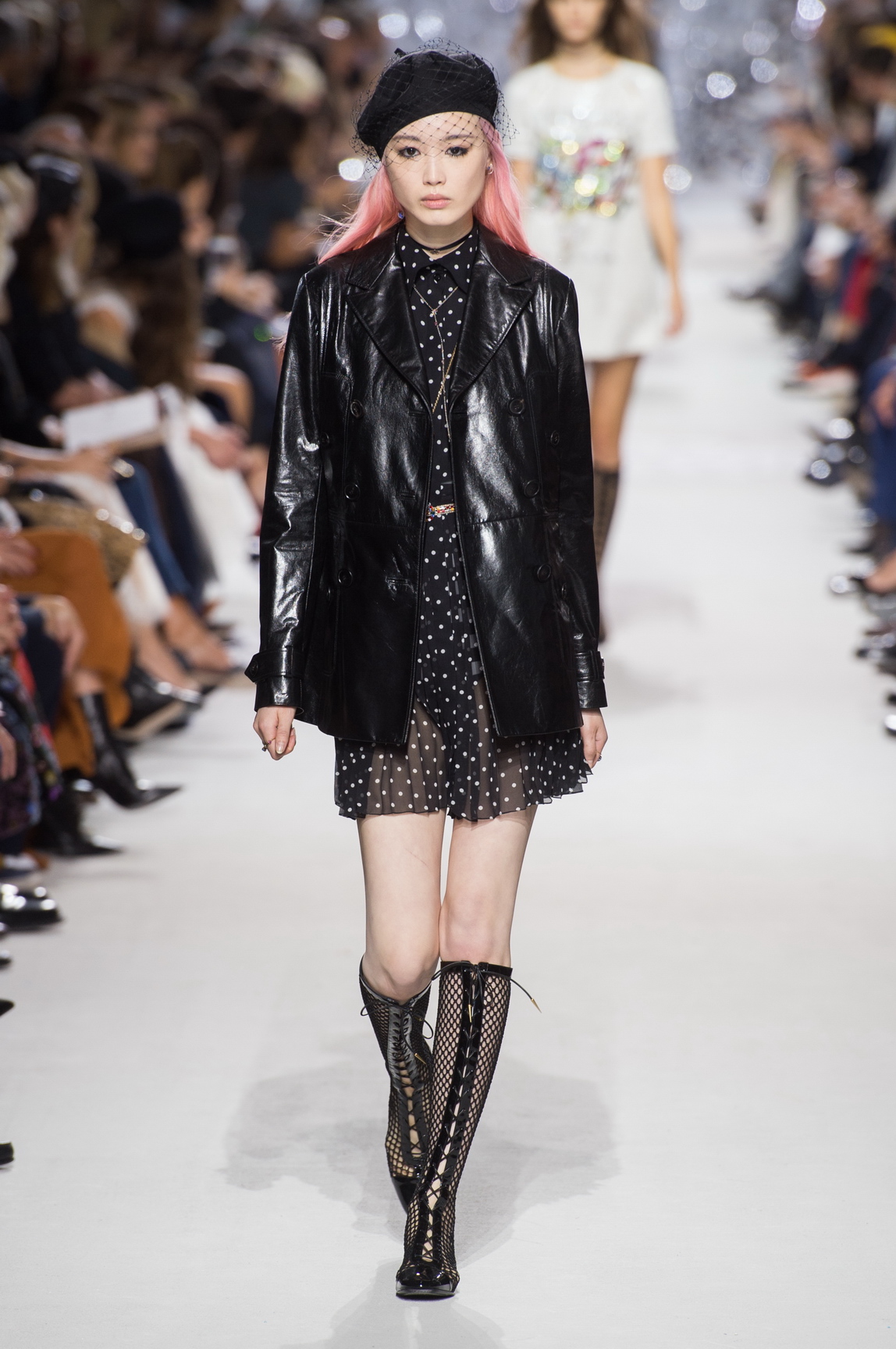 In the gardens of the Musée Rodin, the Bureau Betak-designed set took inspiration from the sculptural odyssey that is Saint Phalles's Tarot Garden in Tuscany, while the collection paid homage to the artist's colorful world of Nanas, dragons and hearts. From the all-navy of fall/winter 17, Chiuri confidently leapt into Saint Phalles's rainbow palette.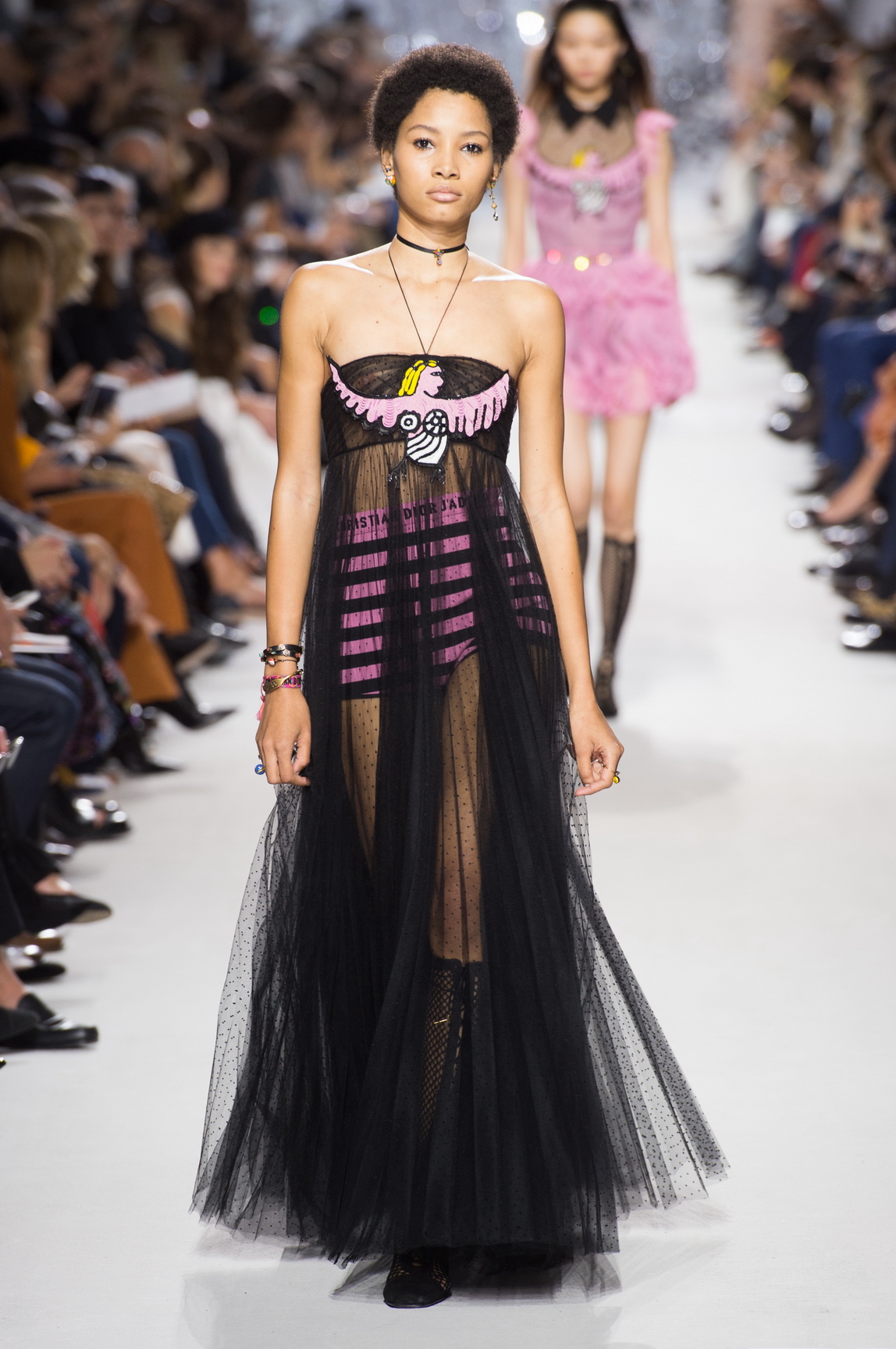 From the moment Maria Grazia Chiuri became the first woman to helm Dior, she has used statements and questions to provoke discussion. After collaborating with Nigerian author Chimamanda Ngozi Adichie's "We Should All Be Feminists" Beyonce-sample TED talk and essay for her debut — the T-shirts had to go into reproduction — she turned to American art historian Linda Nochlin's 1971 essay, Why Have There Been No Great Women Artists? A specially printed copy of this seminal text of feminist art history accompanied the show notes while the question was emblazoned across the chest of Sasha P for the opening look. 46 years on from when the essay was first discussed, Chiuri wanted to remind us that there's more work to do in shifting the gender narrative, especially in the recognition of female creatives in a world that is still dominated by men. "Men's roles seem to give them a great deal more freedom," Saint Phalle wrote to a friend, "and I was resolved that freedom would be mine." Here, Chirui is encouraging the next generation to claim their freedoms.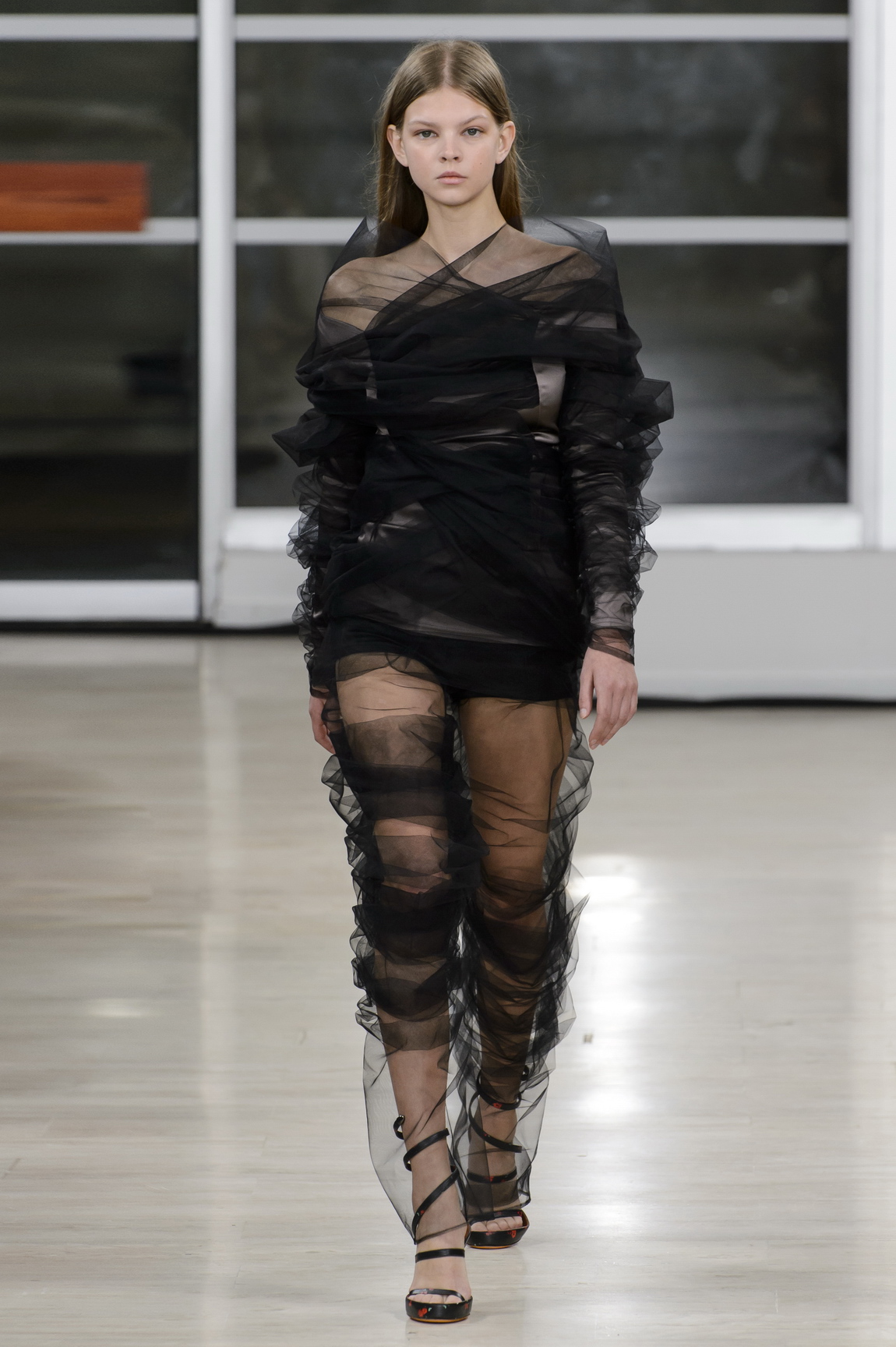 Just as Saint Laurent was a young pretender in 60s Paris, along comes Glenn Martens of Y/Project. For spring/summer 18, Martens deconstructed and reconstructed, twisted and toyed with an array of wardrobe cornerstones — a pearl button twinset, the tracksuit, the trench coat, the business suit, the button-down shirt, the rugby polo. It captured the essence of Paris now and hinted at the energy and possibilities that the city will bring tomorrow. In an instant, the recognizable and familiar became alien and otherworldly, while tapping into today's appetite to subvert classics. This cult LVMH Prize-nominated Parisian brand is set to go global.