Take a sneak peek at Molly Goddard's SS20 collection
Plus find out more about the designer's creative process, her pre-show morning routine and, most importantly, what her favourite flavour of crisps is.
|
09 December 2019, 8:00am
This story originally appeared in i-D's The Get Up Stand Up Issue, no. 358, Winter 2019. Order your copy here.
The Seymour Leisure Centre is a squat, red-brick palazzo nestled rather incongruously among the nondescript backstreets of Marylebone. It was here, spitting distance from Madame Tussauds, that Molly Goddard presented her SS20 collection on an unseasonably hot autumn afternoon in September.

In the centre's central gymnasium 400 odd guests lined up, facing each other in rows so tightly packed that their knees were almost touching. To a soundtrack of emo teen nostalgia — Limp Bizkit to Outkast to Pet Shop Boys — the models snaked their way through the maze of attendees before emerging onto a raised catwalk at one end of the hall.

Molly is known for her ability to sculpturally play with volume, to find joy in layer upon layer of fabric (this season, a yellow dress was so huge that it enveloped guests in a cloud of folds as it passed them). But less remarked upon is the tension that Molly exploits between maximalism and restraint.

That kind of huge dress only works, can only have such power, because Molly knows how to play that flamboyance off against the simple elegance of a slim and demure cream skirt cut just below the knee. She understands the cosy Proustian comfort of a washed out red sweater and the warm familiarity of a simple grey cardi. She can twist the innocent, pre-teenage pleasures of dressing up into wild and fantastic romances.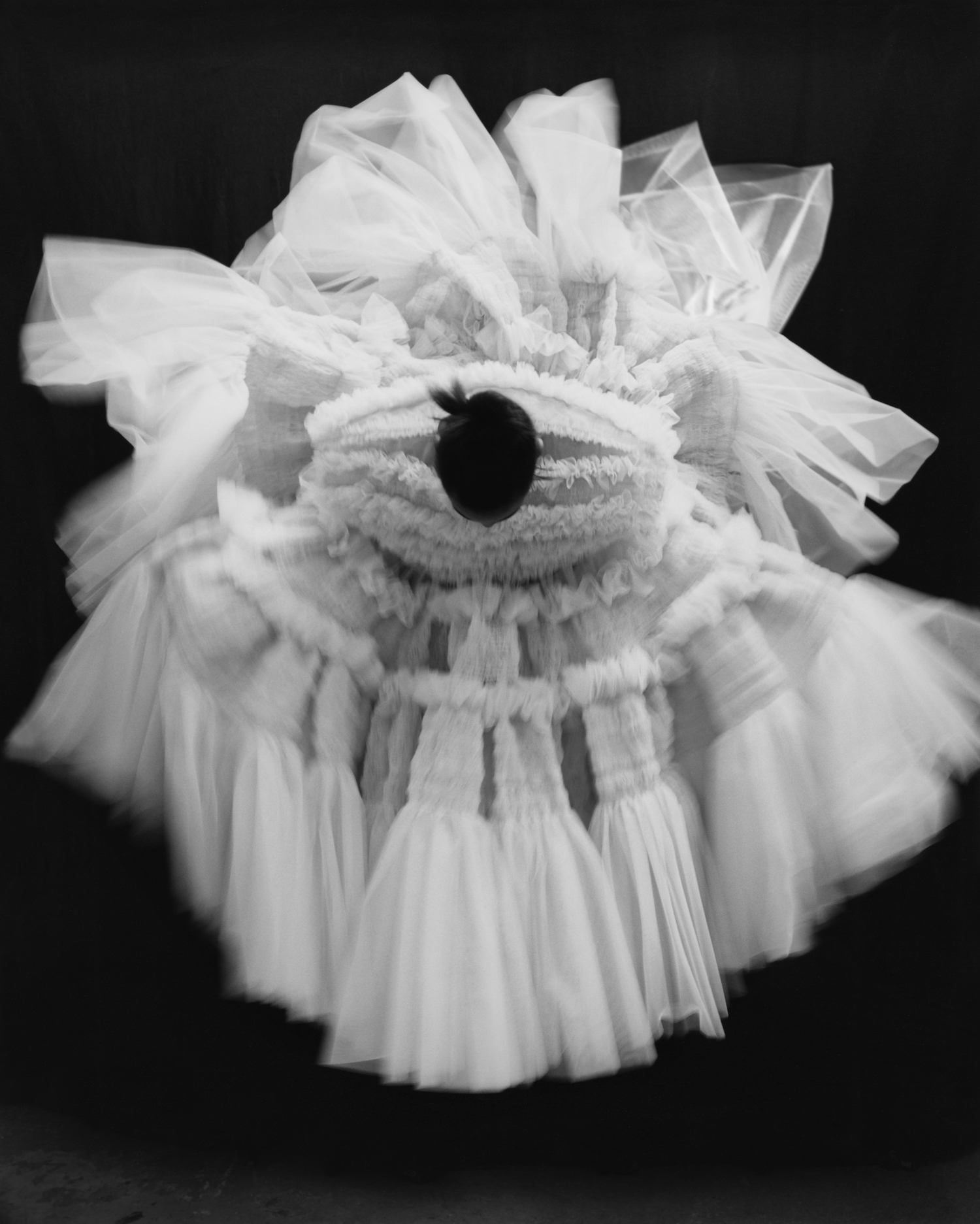 There's a lightness to what Molly does, a confidence born from a lack of pretension. It is full of personality but shorn of artifice. SS20 in its mood was especially stripped back and intimate — just the guests, just the clothes. But the setting, a clash between grandeur and modesty, intimacy and elevation, gets to the heart of what makes Molly Goddard such a treasured and unique designer on the London fashion scene right now.

A few weeks later and we are talking in the bar of L'Hotel in Saint- Germain-des-Prés (which as the Hôtel d'Alsace was the infamous home of Oscar Wilde during his last years of penury and exile). It is grander now, has a little more baroque splendour to it. It is the Sunday of Paris Fashion Week and we're drinking a very chilled white wine. It is still unseasonably warm and Molly takes her boots off with a sigh of relief.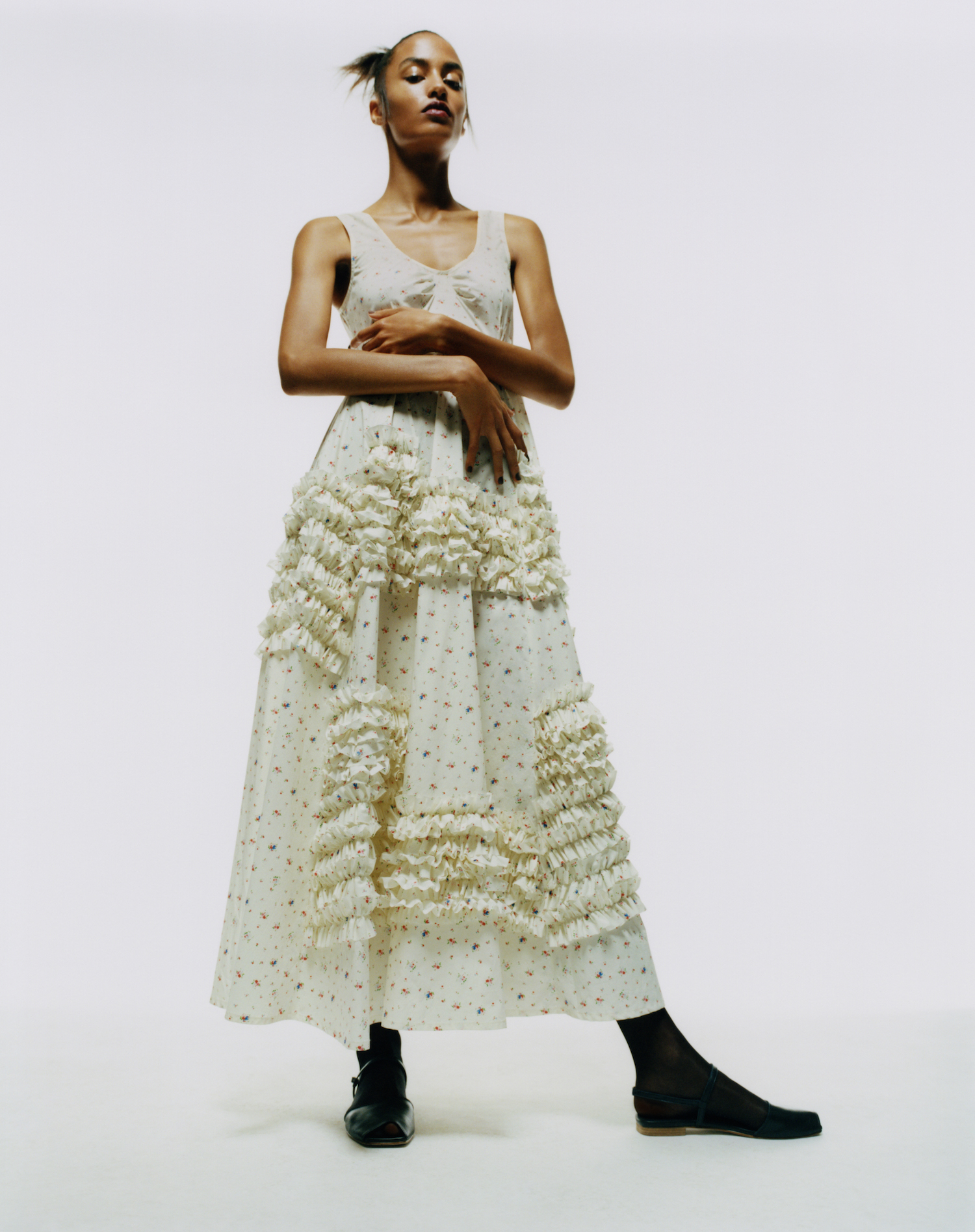 We are here to discuss her most recent collection. "I've struggled with talking about it so far," Molly begins, thoughtfully. "I find it hard to define, to find the one sentence that sums it all up. I think that's because there wasn't one thing this season. It was all about the clothes. It's a mood, an idea, something in my head."

Of the show's set-up, she says that: "It was Alice's idea [Alice is Molly's sister, a stylist who has worked with her on the label since the beginning] I liked how straightforward it felt, how exposed it was... I need to think up a better word for it than honest, but it felt honest. I think 'honest' describes the clothes well too."
"There was nothing in it, no crinolines — I hate crinolines! — no petticoats, we kept all the various layers visible," she adds. "I like everything to be self-sufficient and self-supporting. There was one construction of dress that I really liked, it was so complicated. It was this black strappy dress and it's so confusing the way the pattern is made. It doesn't look massive in the pictures but when you pull it out its enormous, within it there's so much volume."


Hidden volume might not sound like the most obvious metaphor for talking about Molly's work, which in many respects is very obviously voluminous. But it feels a little too straightforward to talk about what Molly does within the simple framework of "big pink frilly dresses", and her work, especially in the last couple of seasons, has shown an incredible creative and imaginative versatility in her designs. Not that there's anything wrong with big pink frilly dresses, it is just that Molly does much more.
And there's something democratic and approachable to what Molly does that is often overlooked in that discourse. Her designs exist just as easily over a pint of lager in the pub as they do sipping champagne at school proms or on red carpets (today, for example, Molly is wearing a black smocked cotton top paired quite simply with black jeans). That openness is always there in what Molly does, although it can sometimes feel swamped by princessy dialogue.

The label has been going for five years now and the business has grown over those years but her aesthetic was almost fully formed from the off. She's escaped the trap of being "a hyped young London designer", those hot new things puffed up and greeted with fanfare. Molly is a proper commercial proposition now, with 52 stockists across the globe and a studio with eight full-time employees. Importantly she's done it without losing the sense of intimacy and joy that so enthralled us when she first appeared on the scene.

"There's this slightly problematic thing in being a young London designer,: she says. "It is quite romanticised, struggling away in the studio… I want people to respect what I do. When you're starting out as a designer it can feel like being in a bubble but I've worked really hard to make a business that functions like a business, that pays people properly and treats them well."


It has not been an easy road to success though. She took a year out of Central Saint Martins during her masters, then dropped out entirely. Her first presentation was staged with no intention of actually starting a label. "I had no plan. I had failed the MA and I was feeling really sad. Tom [Molly's boyfriend] said, 'Make some clothes and have a party and then at least you have something to show for all the work you've done.'"

They got bottles of rum for the guests, invited the press, and Tom's mum and dad made bagels for everyone. The next day ITeSHOP in Hong Kong got in touch and asked to see the collection. Molly and Tom met them over pizza and showed them one dress. They immediately placed an order. Then Dover Street Market came calling and they too fell in love with Molly's creations and also placed an order. Suddenly Molly had a brand.

"It sounds so stupid but I had no idea what I was getting myself into, I had orders for 100 pieces, no studio, no team, no money. It was just me," she says. "I made everything myself. I worked from eight in the morning to midnight, seven days a week, for six weeks straight.
The most wonderful thing about what Molly has achieved in the intervening years is that she has grown without ever losing that original impetus, that homely and crafty naive sense of determination. She's still never happier than when she's crafting samples by hand in the studio, working with the same group of friends and family she's always worked with. Like that strappy black SS20 dress, her enterprise has been fleshed out, expanded, full of hidden volume inside. "I'm still a little scared of realising that it's a business," she admits. "Maybe I'm still in denial."

It is precisely this attitude, this mix of denial and modesty, that has allowed her to grow the business with integrity, without losing its sense of intimacy, familiarity and family. Despite the fame and the famous faces who've worn her designs, Molly maintains the innocence she had when starting out. That same pleasure she found in fashion as a child.

"I grew up making clothes at home and I always loved it. My mum used to make clothes for me and then I used to dress up Alice in anything I could find," she reflects. "Looking back on photos of us as kids we used to wear quite funny and interesting clothes and I think that must've sunk in somehow. We definitely didn't look boring. In fact we looked great! We'd be in these big old white smocked dresses, with hoodies and wellies. Exactly what I like to wear to now."

That homely relatability is also exactly what attracts other people to her label. Tonight, for example, she's celebrating her SS20 collection with a small gathering of friends and collaborators at a Paris
apartment. She's in a rush to buy some chicken, salad and natural wine before the shops close. It might seem like a rather humble menu, but rest assured, if anyone can layer simple ingredients to quietly complex effect, it's Molly.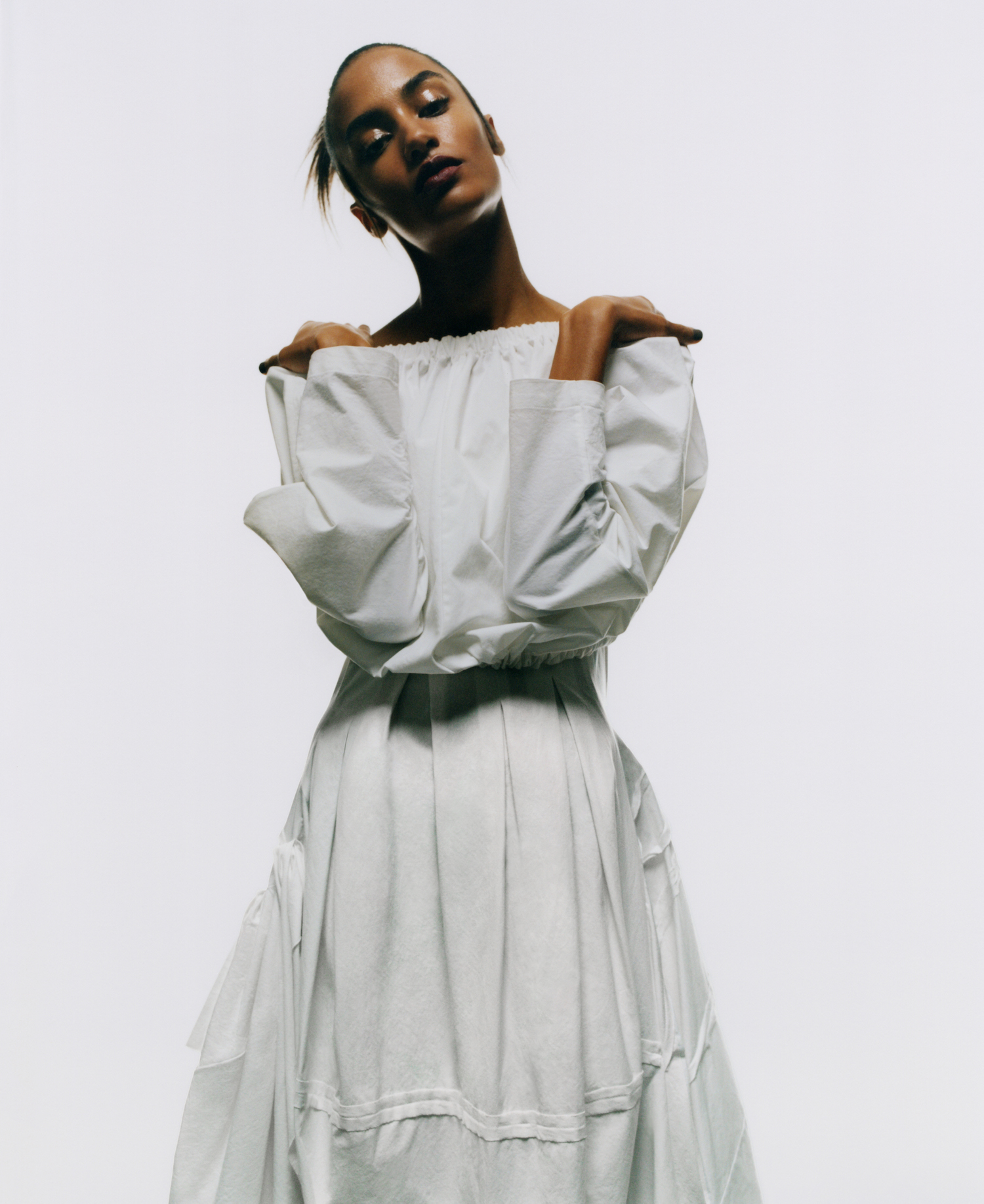 And now Molly Goddard's friends, family, muses and collaborators all ask the designer a question (or two)…

Daisy Hoppen, PR: What's your favourite flavour of crisps?
Salt and vinegar.

What is the moment you feel most proud about since starting your business?
I am pretty proud of my studio, it's the kind of space I would have dreamed of having when I was
younger. I feel very happy when I arrive in the morning and my team is already working away.

Adwoa Aboah, Model: Who is the ultimate Molly Goddard woman?
You!

Hiromi Ueda, Make-up Artist: I've always loved collaborating with you on your shows. Can you speak about how you develop the concept for them? How do you set the mood, and how do you select the music?
The concept for the show comes from a vague idea that I then develop by a lot of research. I research all the time and certain ideas or silhouettes become more interesting to develop. It's always evolving up until the week of the show. With the last show, for instance, I knew from the start that I wanted it to be claustrophobic. But there are so many elements which change, you have to be flexible and find new ways of sticking to that idea. The music I leave up to Rory Gleeson and Theo Sion. They come to the studio and look through the collection, my drawings and research and then go away and come up with something. It's always a fun surprise.

Luke Hersheson, Hair Stylist: There's a uniqueness about the Molly Goddard girl — how did you establish her character, how did she evolve and how much of her is a natural extension of yourself?
It is 99% me, but a big chunk of that is the many people I dream of being! I think the first presentation kind of set the tone — 20 of my friends wore dresses, some of them over jeans and T-shirts. It was a laid-back party with rum and bagels. Even as the shows have become more polished there's still the feeling among the people who wear the clothes that they add to your character rather than define it.

Alice Goddard, Stylist: If you could own and wear one piece of clothing from your childhood, what would it be?
I have to do a top five! Red cord dungarees with yellow smiley faces on. Flared jeans with embroidered roses. White cotton smocked dress. Grey cotton dress with black velvet and white lace. Red leather lederhosen with heart pockets.

Adrian Joffe, President of Comme des Garçons and founder of Dover Street Market: Who would you prefer to have an intimate dinner with, Jodie Comer or Phoebe Waller-Bridge? And why?
Can I choose Sandra Oh? I fancy her.

Tessa Griffith, Managing Director of Molly Goddard: What would you do if you won the lottery?
Buy a massive house that's connected to a massive studio, as well as having a massive pool, massive club and massive garden. And have a big party.

Edie Campbell, Model: Molly, why don't you tell i-D how you feel on the morning of the show and what your pre-show routine is?
I like to have a drink in bed the night before to take the edge off! I wake up feeling nervous and excited for it all to be over and to have a drink with my team. But then the minute it is over I feel very sad and wish it had lasted longer. I have a pretty normal morning but always panic that I have nothing to wear because I have spent the past couple of weeks not doing any washing, or thinking about what I am wearing. And suddenly it matters.
Credits
---
Photography Markn
Styling Bojana Kozarevic

Hair Kiyoko Odo at Bryant Artists using Amika.
Make-up Lucy Burt at LGA Management using Les Ornements de CHANEL and CHANEL Sublimate Cleansers.
Nail technician Lauren Michelle Pires at D+V Management using CHANEL Le Vernis in Particuliere and CHANEL La Crème Main.
Set design Lydia Chan.
Photography assistance Milly Cope, Andy Gough and Andre Jacques.
Styling assistance Emily Jones and Giovanni Beda.
Hair assistance Katchi Katsuya.
Make-up assistance Daisy Moore.
Set design assistance Evelyn Tsang.
Production Camilla Bellamacina Production.
Post production ink.
Special thanks to Chan Photographic.
Casting director Samuel Ellis Scheinman for DMCASTING.
Casting Helena Balladino for DMCASTING.
Model Sacha Quenby at The Squad.