Everything that went down at the 2019 AMAs
Lizzo's tiny bag, K-Pop love and Taylor Swift giving Scooter Braun a metaphorical middle finger. We love to see it!
|
25 November 2019, 3:21pm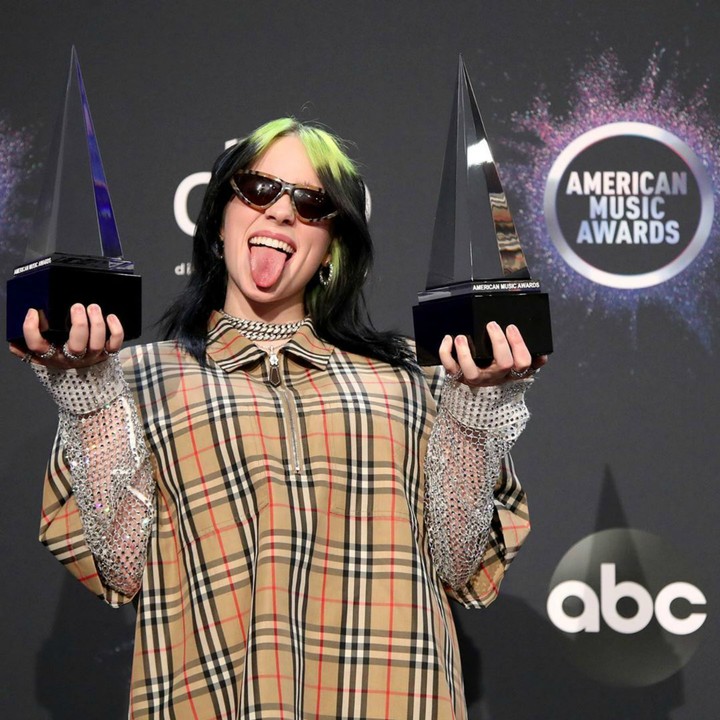 Instagram
For the past 45 years, the American Music Awards has been the music industry's big precursor to the Grammys (which go on to dominate much of the creative musical conversation but regularly overlook all of the stuff that people in the real world are listening to). Since 2006, the AMAs have figured out their own spin on the awards ceremony BS, by noticing that glaringly obvious fuck up and handing the voting rights over to the fans, who tend to know what they're talking about.
What we got was an awards ceremony, free of esoteric decision making, that celebrated all of the greatness that pop music has to offer. There are fashion choices, cloaked 'fuck yous' to the industry patriarchy, and incredible throwbacks to an era of trashy pop music that we'd almost forgotten -- until now.
So come with us as we take you back through last night's AMAs and all of the things that were actually worth paying attention to.
Lizzo brought a teeny tiny Valentino bag
The night risked reaching its peak early on the red carpet as Lizzo rocked up and, naturally, stole the show. She wore a custom peach Valentino dress, comprised of layered ruffling that sat on one shoulder. Her asymmetrical 70s earrings? Iconic. But it was the bag on her arm -- or between her fingers, really -- that got people talking. Lizzo's look was topped off with a teeny tiny Valentino bag, one so small she could barely hold on to it. One so small that it could only realistically fit a single 10 pence piece inside it. First Jacquemus, and now this? Impracticality really is hot right now!
Taylor Swift swept the boards
In news that surprised absolutely nobody, Taylor Swift's die-hard stan army banded together to get the American pop star every award she was nominated for -- that's six (!!!) in total. On top of taking home the Artist of the Year, Favourite Music Video and Favourite Female Artist (Pop/Rock) prizes to name just a few, she also earned the title of Artist of the Decade -- and perhaps rightfully so. Since she first broke out back in 2007 as a country star destined to segue into the pop world, Taylor's music has topped the charts, filled stadiums and inspired generations of younger artists -- predominantly women -- to forgo the basic pop route and sing guitar-harnessed bops about boys who screw you over. The 'Taylor Swift effect', obviously, is her doing, and it's been a mainstay of modern pop culture across a decade that's flitted from EDM to trap to hip-hop sensibilities every second year.
To mark it, she performed a medley that, this time last week, was supposedly doomed. After her entire back catalogue of music was sold by Big Machine Records to pop's management mastermind Scooter Braun, Taylor released a statement about how the man -- responsible for Justin Bieber and Ariana Grande's careers -- was stopping her from performing her own music. But in a weird turn of events that makes sense to approximately no one, she bounced back and performed tracks from Fearless, Red, 1989 and her latest record Lover in a shirt that was emblazoned with the names of the albums effectively stolen from her. Power move? Sure. Pop magic? Absolutely.
Billie Eilish wore a chainmail mask
Pop's biggest new force Billie Eilish rightfully took home the show's Best New Artist prize on the night -- a sign of what is sure to come when the Grammy winners are announced in February. But fans can't stop talking about her head-to-toe custom Burberry look, comprised of a novacheck shirt and pants co-ord, alongside some sneakers emblazoned with the print too. But beneath it all she was draped in crystals, including a Handmaid's Tale-style bonnet with a glistening veil that guarded her face from view. While surrounded by a red carpet full of people looking glam as fuck, 17-year-old Billie continued her year-long streak of outlandish fashion choices. Could anything stop her from being pop's music most fawned over figure right now? Doubt it.
Kesha showed Gen Zers the origins of TikTok
Now, a few months ago we felt it was necessary to remind y'all that TikTok wasn't born a meme-spawning app for Gen Zers in 2016. The word's history goes all the way back to 2009, when a trashed, iconic Kesha was waking up in bathtubs and riding down Hollywood Boulevard in a convertible with a rocker two decades her senior in the driver's seat. Her debut single "Tik Tok" remains one of the most catchy Billboard hits of the past, and plays a huge part in the pop songwriting codes of today.
Ahead of the release of her new album in early 2020, Kesha performed "Raising Hell" with Big Freedia, before segueing into her breakout track as the crowd lost their minds. Yep, Billie Eilish may have been seven years old when it first dropped, but the song still slaps like it did back then. It's also an interesting mirroring of the situation Taylor Swift has found herself in. Kesha's career, you might remember, was stalled by a legal battle with Dr Luke, who she accused of sexually, physically and emotionally abusing her when the duo worked together on her first two albums. Here, she performed a track that has been sullied by its darker connotations and in doing so re-contextualised it. Kesha's back, and this time she's hellbent on having fun.

BTS won three prizes!

Finally! After the Grammys snub last week, the AMAs rectified the western music award circuit's K-Pop blindspot, and handed the BTS boys three well-deserved statues. Going home with the Best Pop Group, Best Socials and Best Tour prizes (aka everything they were nominated for), the Anglicised music imbalance was finally evened out a little. Unfortunately, the boys couldn't make it on the night, but rest assured they'll be happy to add this one to the gong they picked up at the same ceremony last year. After all, the AMAs have always been ahead of the game when it comes to recognising the world's biggest boy band; the 2017 show marked their American awards debut. Come 2020, expect the septet to sweep the boards like Swift did this year.