Jessie Reyez is R&B's realest deal
The Grammy-nominated songstress on vices, power, and what it's really like to have 'made it.'
|
21 November 2019, 9:33pm
Post-late night studio session, fresh from a Zane Lowe sit-down, minutes after wrapping a Vogue shoot, hours off a flight to Miami, and a week from learning of her first Grammy nomination, Jessie Reyez insists on sharing her chicken soup. She's not kidding. An extra bowl is ordered, requiring another trip to the utensils station. Tender Greens in Studio City is clearly both unaccustomed to the musician's request and reluctant to complete it, but Reyez is resolute — and it wouldn't be the first time she's gotten exactly what she wanted.
The beneficiary of the singer's chicken soup benevolence is me, the attempted non-eater. Despite the fact that Reyez, who's been releasing music since 2016, has had a day incomparable to my own (and therefore much more deserving of caloric intake), the soup is suddenly before me. Sharing, it seems, is one of the most rewarding parts of this process for the Toronto-born songstress. Reyez is often surprising her family members with "new clothes, new shit." And the R&B sensation even finessed a Canadian visa for a Colombian relative via Instagram, practically overnight.
Still, the lifestyle of a professional musician is demanding. Many family birthdays go unattended and her nieces double in size each time Reyez returns from tour. She herniated a disc in her spine entertaining audiences with a backbend. She busted a kneecap to give a fan her guitar. She even leapt off stage during the same show. Soon after, Reyez lost the capacity to walk, but at least the crowd could touch her.
"I feel like there are things about this life I wasn't ready for," she claims. "But I know this shit takes sacrifice. I used to do night sessions all the time. It's the hustle, I just try to find balance."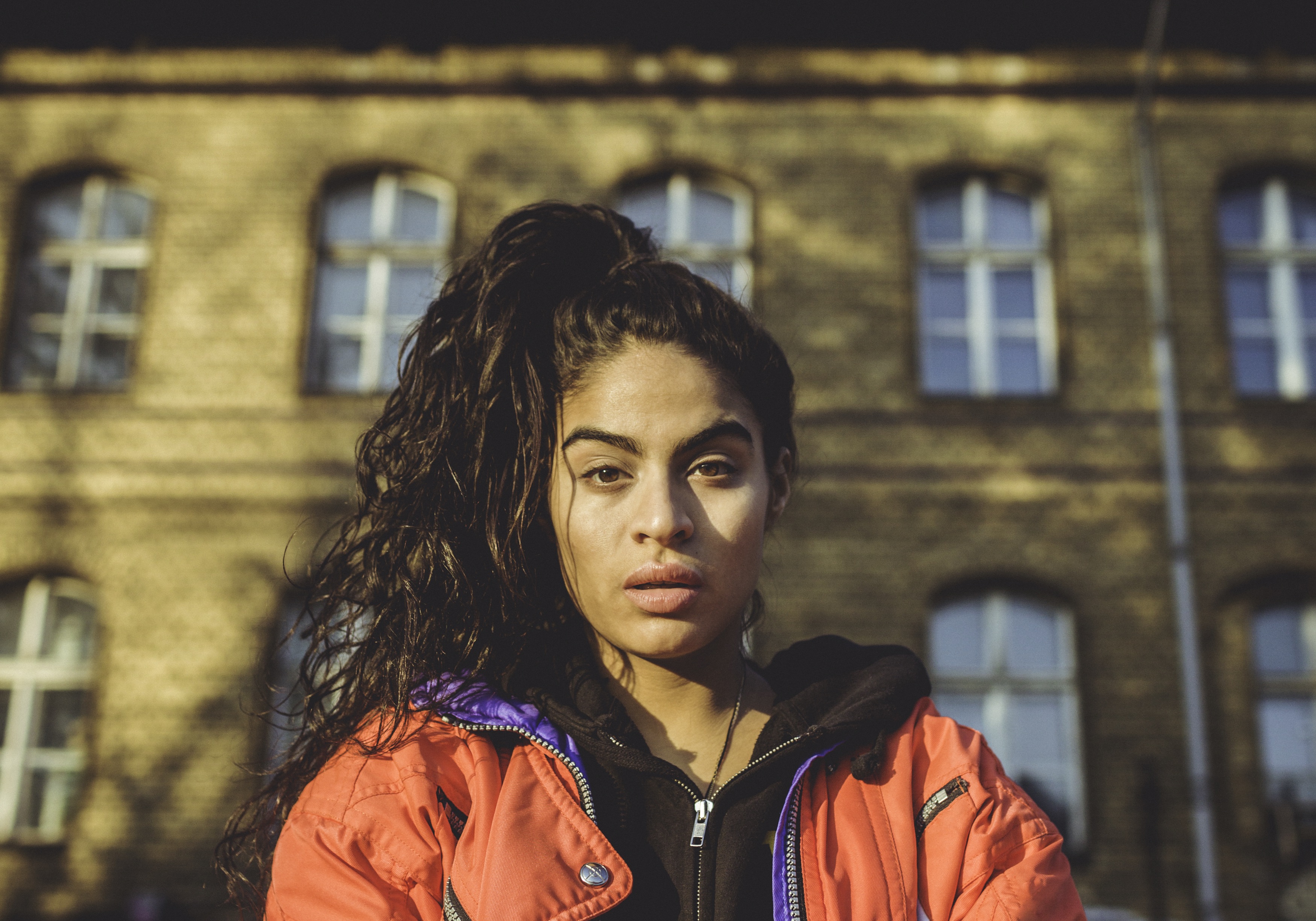 The singer's manager, Byron Wilson, chimes in that "night sessions" needs clarification: "Jessie used to go to a session at 6pm, be out by 9pm. Then she would go straight to another at ten pm, be out by 3am, then she would be back on her phone looking for another session. She'd get home at 9am."
It just might have been worth it. The Grammy nod for her seven-track offering, Being Human in Public (2018), comes mere months after "One Kiss" topped two dance charts. Reyez wrote the song, which is performed by Dua Lipa and Calvin Harris. Her latest single, a sultry cover of Willie Nelson's "Crazy," was originally intended as a gift for a friend whose late mother loved the track, but it inadvertently became one of Reyez's most impressive vocal showcases — debuting tonight on the Jimmy Kimmel stage. Nonetheless, pushing self-cut CDs on strangers and performing to nearly empty venues are memories that Reyez can readily access.
"It's so cliché that at the Grammys everyone is like, 'Thank you to my fans. I wouldn't be here without you,' but it's so true," Reyez says between slurps. "I remember this show in Toronto, it was just my mum and my dad, my two aunts, my one friend who booked me, and the bartenders. I can literally still feel that."
This has perhaps best informed Reyez's choice to share so much of herself with her disciples. One month before news of Harvey Weinstein's rampant abuse skewered the entertainment industry, Reyez had already come forward with a #MeToo story of her own. On the unsettling track "Gatekeeper," Reyez rapped of her experience with a successful producer who tried to solicit the then 21-year-old singer in exchange for stardom. In May 2018, when two other young singers accused the same man of rape, Reyez revealed his name: Detail, the Grammy-winning hitmaker behind "Drunk in Love." "Yes," she captioned a TMZ screenshot on Instagram. "This is who 'Gatekeeper' is about."
Overnight, hundreds of direct messages overwhelmed her inbox — from women who'd been molested by loved ones, who'd seen the statute of limitations pass, and who had also survived an incident with the same man.
"He had told me it was part of the game, and I considered it," Reyez recalls. "It makes me want to hug my old self because I was so naive that I almost did it. I was like, 'Maybe he's right, maybe I'm not cut out for this.' Because if that's what everyone's doing and I can't do it then maybe I don't want to do music."
Before she made her story public, Reyez sat down with her parents ("I had to preface it with, 'Don't freak out,'" she says). They, predictably, had concerns: what if he became vengeful? What if he'd blacklist her from the industry? Hell, it's America, what if he sued?
"If I broke my leg today, I'd sing about a broken leg tomorrow," explains Reyez of her lyrical candor. "My brother was worried. So were my parents. Everyone was worried. But I thought, if I'm going to censor myself now, what's going to come of me? Fuck that."
Swathed in polyester and makeup-free, with her wayward locks wrestled into a now-signature half-bun, Reyez is still remarkably commanding. She speaks with such melodic softness her voice borders on hypnotic, with only the regular peppering of curse words breaking the spell. She ignores the chicken in my teeth and sits enraptured, eagerly gobbling any talking point on offer. Nothing feels off limits — she's generous, warm, and deliberately transparent.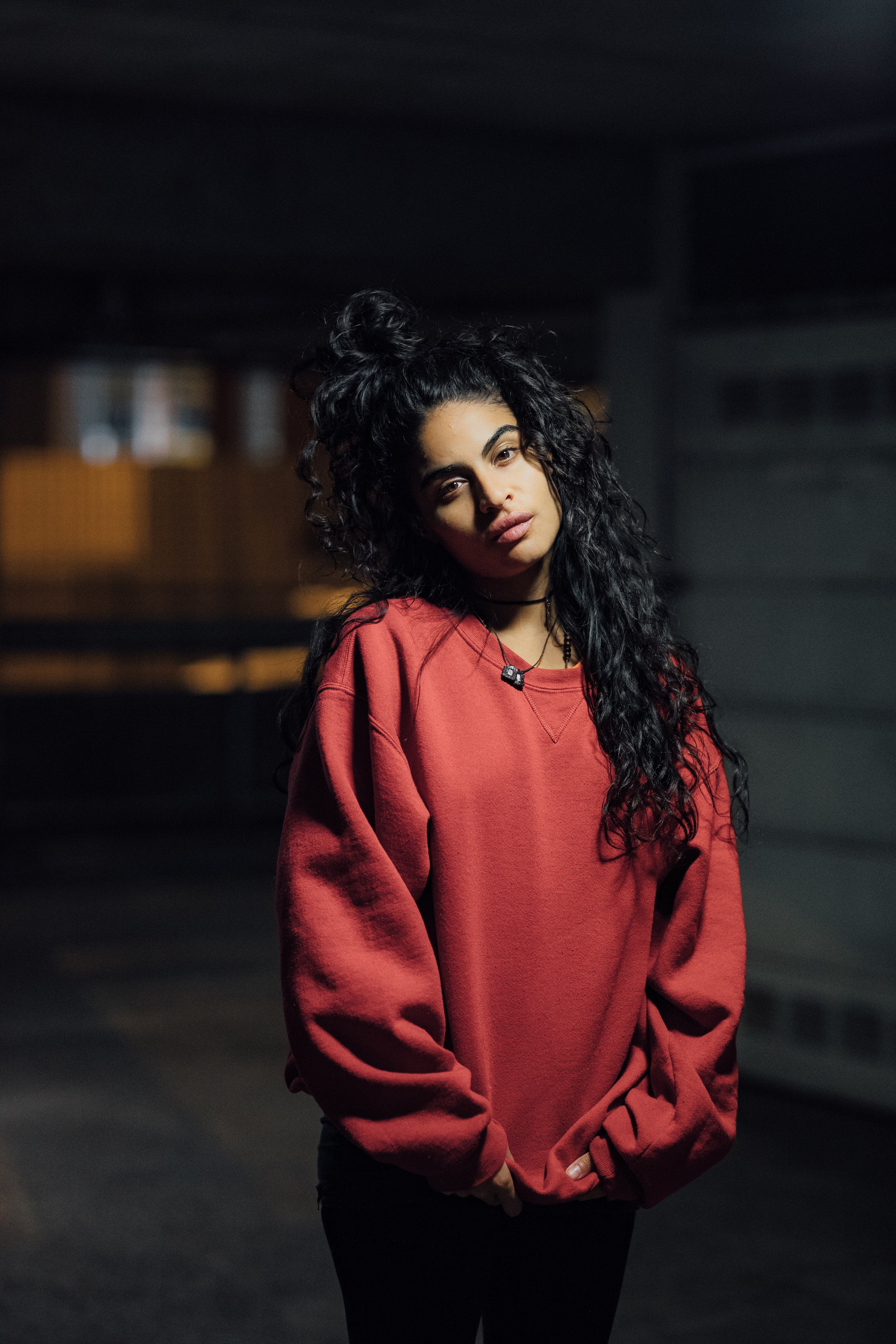 But transparency can take a toll. The 28-year-old acknowledges that if fame had arrived any earlier, she might be a very different pop star. "It's not a burden, but it's heavy," Reyez admits. "If this had happened at 21, I'd be a mess." A self-described "businesswoman," the singer reveals protecting her creative process while factoring in how a song might perform has also proved difficult. It didn't take long for drinking to become a natural coping mechanism, as a networking lubricant for late nights in the studio and to quell her pre-stage nerves.
"I didn't think my drinking was a problem until someone said it. It was one of my vices. I was drinking everyday," Reyez says. "I'm drinking on an off day because I'm lit, drinking at a show — shots before I go on and then drinking after — drinking at the studio. It makes everything easier."
She continues: "Stopping drinking forced me out of comfort zone. In the past few months I've played my first sober show in my life. It's so nerve-wracking, but after the show I'm able to be so much more analytical about mistakes. This year has been a lot of changes, of growth."
It's highly probable that 2020 will only bring further personal evolution, particularly as the new year is set to ring in a new full-length project from Reyez. From Kehlani to Eminem, the singer has become a go-to feature for A-list artists, and fans no doubt expect the singer's upcoming album to also attract a slew of impressive collaborators. In conjunction with her heightened profile the stakes for her output have also been raised, but Reyez is determined to remain "detached."
"The pressure is obviously there, but I need to stay humble and pure," she says. "If people love it then thank God but if people hate it then at least it's me and they hate me for me. I've got to be able to die with it and be proud."
Scraping at the last remnants of our soup, Reyez characterizes fame as "people who once treated you like shit now eating your ass." She's not wrong. We're all essentially chowing down the derrière of Jessie Reyez — gratefully stuffing our faces with however much she can spare. Reyez's commitment to her listeners means that no matter how greedy we get she will always be there to sate our appetites, and in return, we're prepared to give her whatever she wants.