Yup, male mediocrity is still overshadowing women at the Golden Globes
Beanie Feldstein and J-Lo aside, the nominees for 2020 are mostly male and ostensibly predictable. When will they wake up?
|
10 December 2019, 1:30pm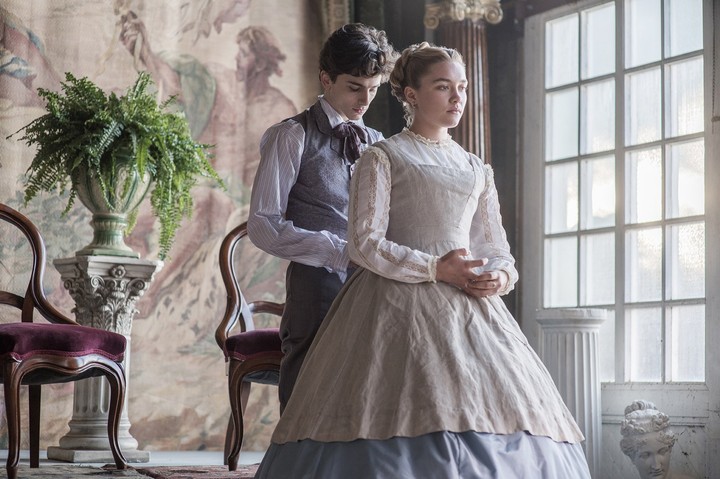 Sony Pictures
Social movements are strange things. They're spearheaded by on-the-ground activists, adopted by big corporate bodies or institutions to make them look politically in-tune, and then cast aside as soon as said institution has done the bare minimum to align themselves with it. Case in point? This year's Golden Globe nominations. Another instance of Hollywood's undying desire to worship at the altar of male mediocrity, while shying away from the masterful work of women.
The nominations, which were announced yesterday afternoon, are meant to pan out like a blow-by-blow account of the year in film, encompassing everything that won over audiences and critics alike over the past 12 months. There were, of course, some justified decisions. The Foreign Language Motion Picture category features five of the best films to hit cinemas this year: Parasite, The Farewell and Portrait of a Lady on Fire to name a few.
The Best Actress and Best Supporting Actress categories were loaded with surprises: Cynthia Erivo edged her way in to the Dramatic Actress category, earning proper recognition for her powerful work in Harriet. Knives Out star Ana De Armas beat the odds and grabbed a nomination. Even the brilliant Beanie Feldstein came through and won an unexpected but fully deserved nod for the tender and funny Booksmart. In news that came as a surprise to no one, our queen Saoirse Ronan will be flying the flag for Little Women, and J-Lo, actress-singer extraordinaire, looks like the frontrunner to take home the Best Supporting Actress prize.

But outside of the gendered categories, things are, quite frankly, a mess. The Hollywood Foreign Press Association, who vote in the awards, have selected a coterie of films, made by men and mostly about men, to lead the Best Picture races (they select five 'Drama' and five 'Musical or Comedy'). There are some expected names in there: the likes of The Irishman, Marriage Story and 1917 have been on people's lips for some time now. But what's more disappointing is the glaring omission of some of the year's best films. Films that were worthy -- and hyped enough -- to take the place of some divisive titles instead.
Take Hustlers, for example. Lorene Scafaria's incendiary, sexy and indelibly smart film about a group of strippers scamming Wall Street bankers out of the money that Wall Street were scamming out of everyday, innocent people. It's essentially shaped like a Scorsese movie -- and is far less convoluted and indulgent than anything Scorsese has ever done -- but only J-Lo came away with anything from the project. Best Picture? It could have been considered in either of the aforementioned categories, and Scafaria's direction was worthy of recognition too.
On the other end of the spectrum, the comforting, warm hug of Marielle Heller's A Beautiful Day in the Neighbourhood has gone over everyone's heads. The film, about the American kids TV show host Mr Rogers (played by Tom Hanks) and how a journalist assigned to profile him becomes enraptured by his unflappable niceness, makes you want to be a better person. It's simple but to the point. Heller, who directed The Diary of a Teenage Girl too, has been sorely snubbed.
Don't get us started on Little Women either. Greta Gerwig, who deserved the world and more for her work on Lady Bird, was equally shunned out of the director's category the last time she was in the running for an awards season hit. Her sophomore feature-length directorial effort is a humble and sweet American great straight out the gate, teeming with excellent performers who, Saoirse aside, have gone completely unrecognised. Imagine not thinking Greta Gerwig's expert and fresh-faced reinvention of an American classic isn't worthy of the same kind of recognition as a critic-splitting semi-problematic interpretation of mental illness? All tea, all shade: our Chalamet-stanning king Derek was right.
It's easy to paint the work of women filmmakers in 2019 as simple, too sensitive or fickle; in reality, what they're making is nuanced and layered. To enter Hollywood proposing an overlong opus on 70s America or mobsters or popular, pre-existing superhero characters is only the kind of thing a man has the gall to do; that he's met by a sea of 'Yes' men in production and planning meetings is unsurprising. The still rampant sexism of Hollywood prevails, no matter how much we try and argue that times have changed. Women are making some of the greatest films of the century so far. When will the overwhelmingly male decision-makers widen their world view to realise that?