negative gemini premieres her feverish first love song, "bad baby"
The underground pop heroine returns with a darkly beautiful new track about infatuation.
|
17 November 2017, 3:45pm
Photography Lia Clay
When Lindsey French, a.k.a. Negative Gemini, released her album Body Work last fall, she had no idea it was going to make her an underground star. Channeling 80s Detroit techno and Chicago house music, French added her own futuristic touches to create a series of mesmerizing electronic bangers.
French grew up in Charlottesville, Virginia and spent time in a rap group before starting her own project, Negative Gemini. Feeling that her hometown lacked an outlet for electronic artists, she moved to Brooklyn in 2014 and discovered a thriving underground music scene. Speaking to i-D from her parents' house in Virginia, she said, "In New York it was really easy for me to get caught up in the scene. I'm super impressionable, so I kind of just soak up things like a sponge."
French moved back to Virginia last year and a few months later was forced to deal with the death of her sister, who was murdered by her husband. It was a huge shock and sent her into a state of grief that has impacted every aspect of her life, including her ability to make music. She had an anxious feeling throughout her body, but discovered that playing guitar and keyboard instead of making music on a computer all day offered some relief.
"Bad Baby" is the second single from her forthcoming EP and her shift away from making 100% electronic-based music is becoming more obvious. Mixed by Mitski-collaborator Patrick Hyland, the beats are a little murky, the synths dark and heavy, and the vocal hook, repeating the phrase "you're really bad baby," is one of her best yet.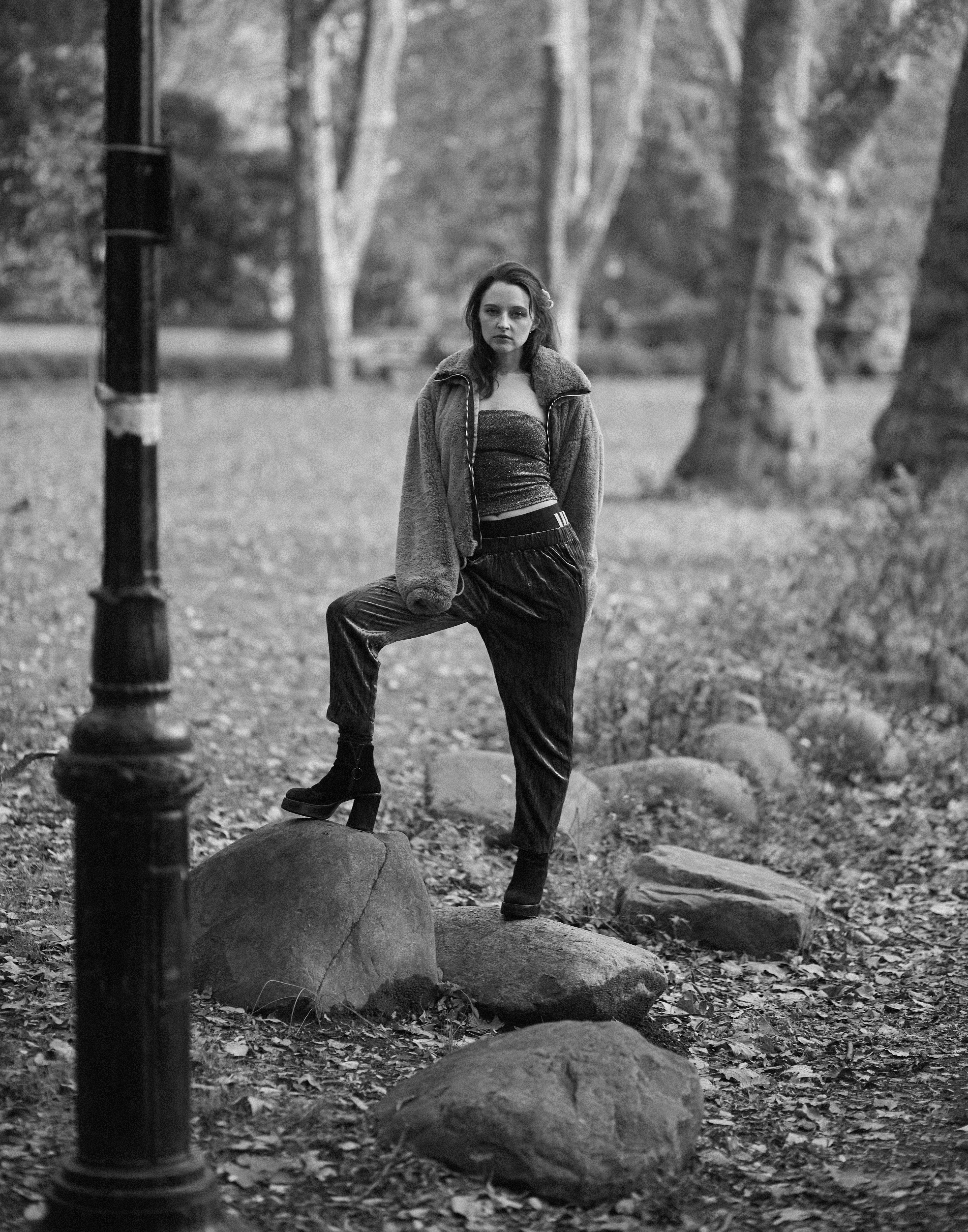 Your last album was a huge success and featured on a number of end-of-year "best album" lists in 2016. Looking back, how do you feel about it now?
I'm still pleasantly surprised when I talk to people about how much they liked it. It was kind of a big shock for me that it got picked up so well, because with the EP that I released before that [2015's Real Virtual Unison] it felt like I was only just getting started. Somehow, through a series of connections, I managed to get Chris from [Texas music blog] Gorilla vs. Bear to hear one of my songs off of Body Work and he said that he loved it, and that he would absolutely put it on his blog. That was a big turning point for me. That was one of those moments where I was like, "Maybe this could be something."
In February you lost your sister and as a consequence you have been dealing with a lot of personal grief. Did the success of Body Work encourage you to continue making music?
Yeah, for sure. I'm really lucky to have that album to give me support, now more than ever, to remind me that I have a lot going for my musical career. It has also been funny, you know, now that I have a stage, an audience, it has changed a little bit of my process. I try not to get too into my head, but I definitely do. I don't want to ruin what I have and put something bad out.
Your previous work is very beat-oriented, but your new work focuses more on telling a story. Was it a conscious decision to build more of a narrative into your work?
It was definitely a conscious decision. I think it's because I feel like I have so much to say right now, so many stories to tell, and songwriting really lends itself to that. It's very cathartic for me. I want to be successful, this is my job, and I feel that my songs that are the most powerful are the ones that have a story and a meaning.
What can you tell us about "Bad Baby"?
It is the only love song that I've ever done. It's basically about falling in love and being really infatuated with someone — the feeling of getting swept up in something and living moment to moment, not caring about anything except for this other person and just having fun with them.
Do you pay much attention to where your fans are located?
Whenever someone from a random town orders something from [my website] I'll look it up on Google Maps and see like, "Where is this even?" It's always so funny and cool to know that my music is reaching so far.
Have you discovered anything during the process of recording music that has helped you cope with the death of your sister?
I'm not sure. It's not really healing for me, because I just think, "When am I ever going to even start to heal?" But it does help, and I think that just being in touch with your feelings is good if you're going through something like this. It's really tempting to just shut down and block all of it out, but I think that might just delay the whole inevitable process of grieving.
I guess I would like to say one more thing, more about what happened to my sister than music. I think that abusive relationships, and manipulative ones, can be really hard to even identify. What I want to say is: stand up for each other, look out for one another. I really had no idea that this could ever happen to my sister, he never hit her, there was never a sign that there was an abusive relationship going on at all. But if you happen to see a sign of something abusive in your friends, or even if you're just a stranger, I know it's natural to be like, "Oh, I'm going to stay out of this, it's not my place," but I think that it is your place because you could save someone's life.
Negative Gemini is playing at Brooklyn Bazaar on November 18.