Photography Oliver Hadlee Pearch
Rosalía on sex, new music, and what comes after pop stardom
The Spanish superstar is about to drop 'MOTOMAMI', her most personal (and sexy) album yet.
|
22 February 2022, 1:00pm
Photography Oliver Hadlee Pearch
This story originally appeared in i-D's The Out Of Body Issue, no. 367, Spring 2022. Order your copy here.
Rosalía sits on a chairlift. Her all-red snowsuit is cinched in at the waist, her hair braided in Queen Elsa plaits that have frozen in the snow that furiously whirls around her. If she wasn't at Baqueira-Beret, a resort in the Catalan Pyrenees where she vacationed in early January, she could be mistaken for having walked off the runway of one of John Galliano's early Christian Dior shows. She beams through the flakes of snow battering the phone lens trained on her. Light glints off of the butterfly gem on her front tooth as she opens her mouth and, over delicate piano, lip-syncs her best come-to-bed voice.
"Te quiero ride / Como a mi bike / Hazme un tape / Modo Spike." The clip features a snippet of her new song Hentai. Even if its sweet melody and giggling performer imply otherwise, its name – taken from the genre of bubble-breasted Japanese manga – is enough to warn of its explicit content. At one point in the clip, her gaze flits knowingly off camera – possibly at her current beau, the tatted Puerto Rican singer Rauw Alejandro – as if she knows what the reaction will be. In mid-January, the teaser was uploaded to TikTok to be dissected by her 15.5 million followers. The comments roll in. "GIRLY WHAT ARE THESE LYRICS," reads one. "composer: chopin; lyrics: anuel," reads another, in reference to Puerto Rican rapper Anuel AA's unbridled raunch. On Reddit, it's labelled a "slut bop". Translated to English, the lyrics spell out a Bacchanalian fantasy as told through an OnlyFans comment section.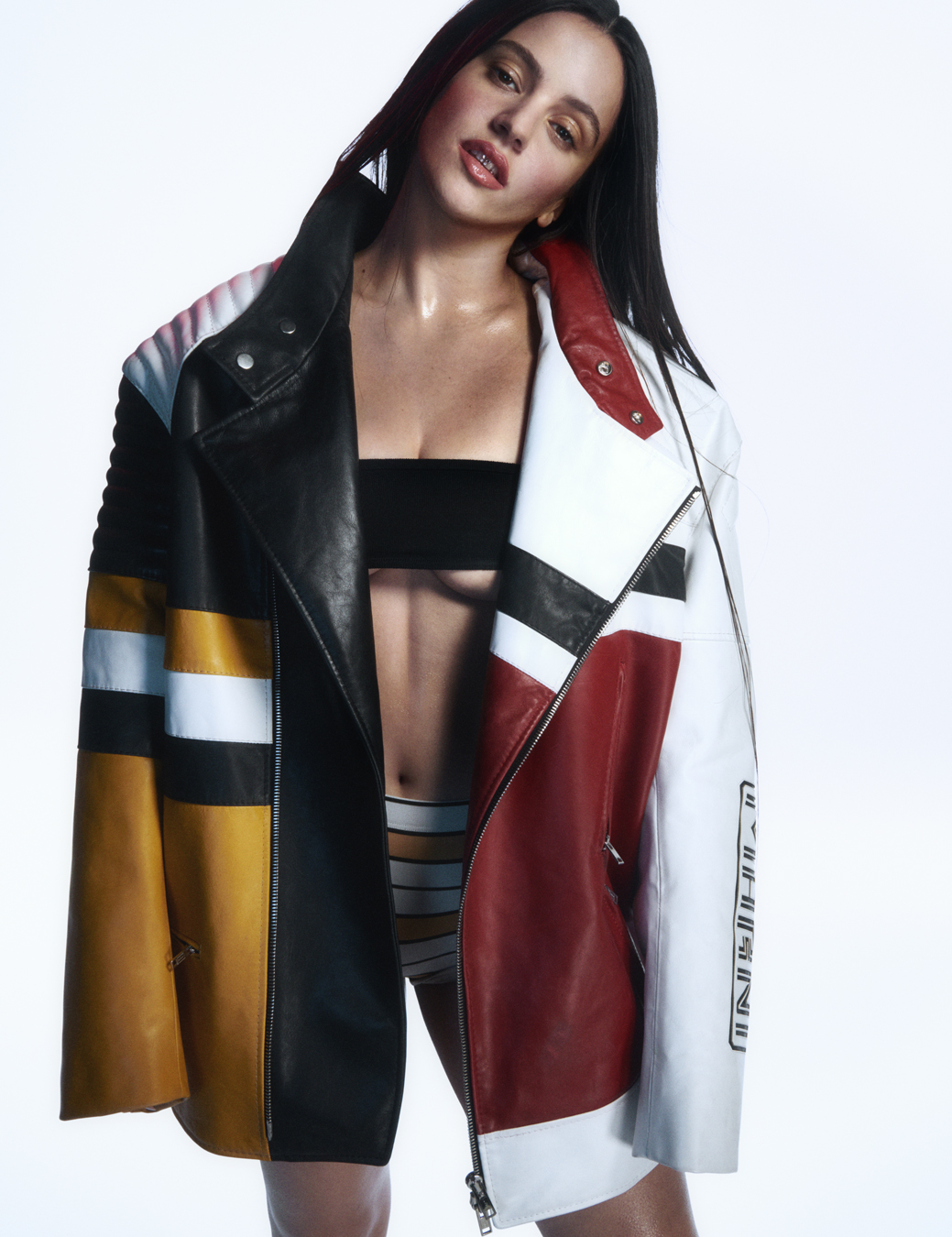 "I wanna ride you Like I ride my bike Make me a tape Like Spike
I whipped it Until it got stiff In the second place fucking you In the first place God"
For 29-year-old Rosalía Vila Tobella, her forthcoming album MOTOMAMI marks the beginning of a new era: one in which the proposition of a Spike Jonze-directed sex tape is logically followed by a tear-soaked letter to a family member. Her past two albums, Los Ángeles and El Mal Querer, which made her into a household name, more or less followed a certain structure, tracing the navel of flamenco with a red taloned-finger. The former album deals in grief and death, modernising cantes, the traditional narratives of flamenco; the latter revolves around a toxic relationship, largely inspired by the 13th- century novel Flamenca. They were shadowy and melodramatic, and much like her voice, bigger somehow than the outsized stories they tell. In modernising these tales she was celebrated for reanimating the corpse of flamenco and making it cool again.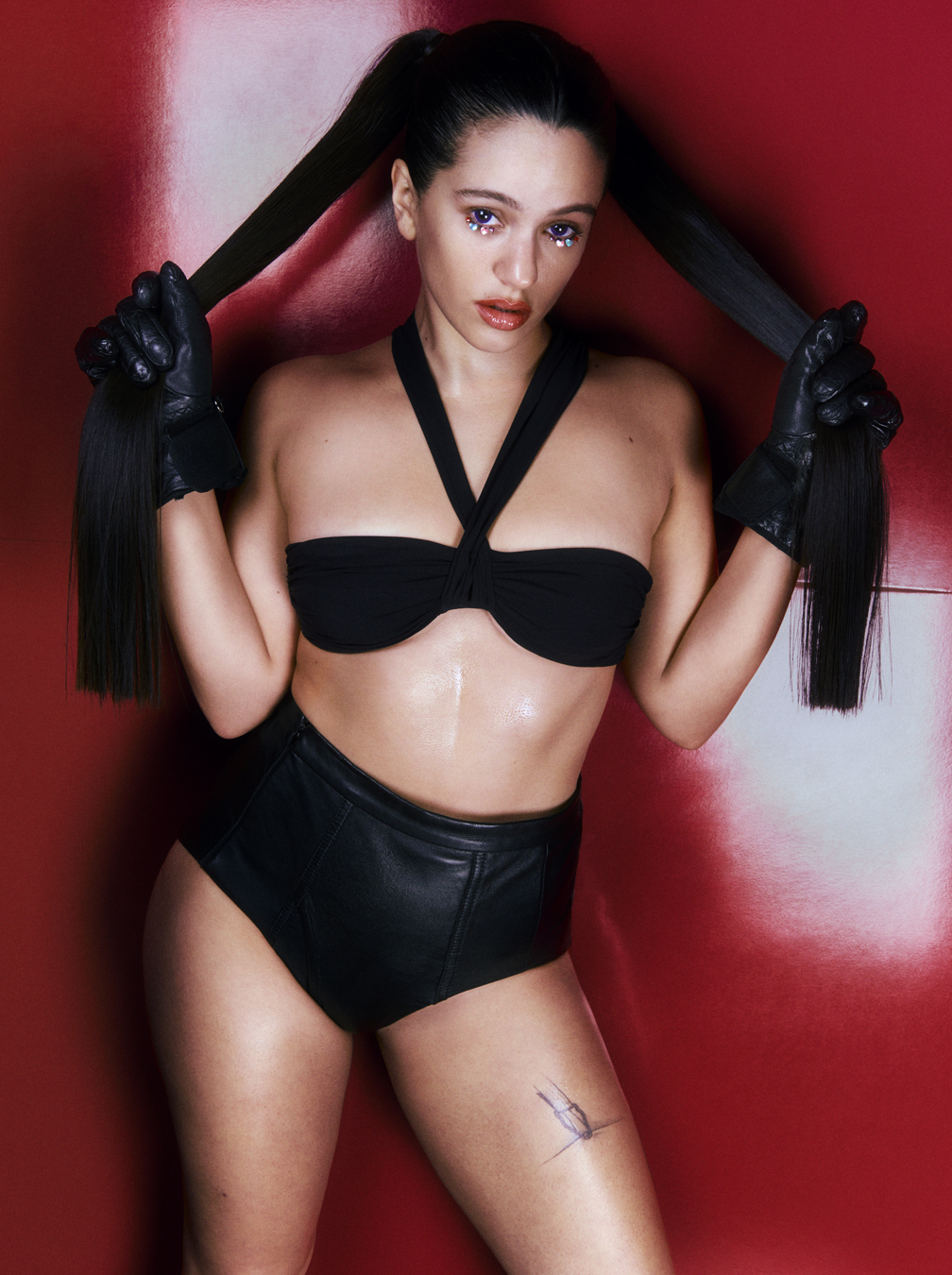 But "In this new album, there's some humour," Rosalía says over the phone from Los Angeles, her voice saccharine and light. "In my other projects, I didn't allow a sense of humour. Hentai is much more suggestive, much more erotic for me. Hentai is more interesting than conventional porn. And why not talk about something like that as an inspiration for a song?"
"Having sex is part of life," she says, likening it to an activity as blasé as raging at the club, floorin' Lamborghinis, praising God or talking to your grandma on the phone. "It's all the same," she adds. "I put everything on the same level."
Little by little, people are going to see more of who I am. I haven't shown all my sides. I have no rush for people to understand me as a musician."
The reason her teaser elicited such shock is because we don't fully know Rosalía. Despite her twenty singles and two studio albums, her 18 million Instagram followers and her capricious Euphoria High School nail art, much of what we know about her personal life is obscured by a giggle behind an extra-long sweater sleeve. She can be playful online, but what we see is calculated. With MOTOMAMI, Rosalía seems ready to pull back the veil. "When you get to know someone, you don't know that person instantly. It takes time," she admits. "Little by little, people are going to see more of who I am. I haven't shown all my sides. I have no rush for people to understand me as a musician."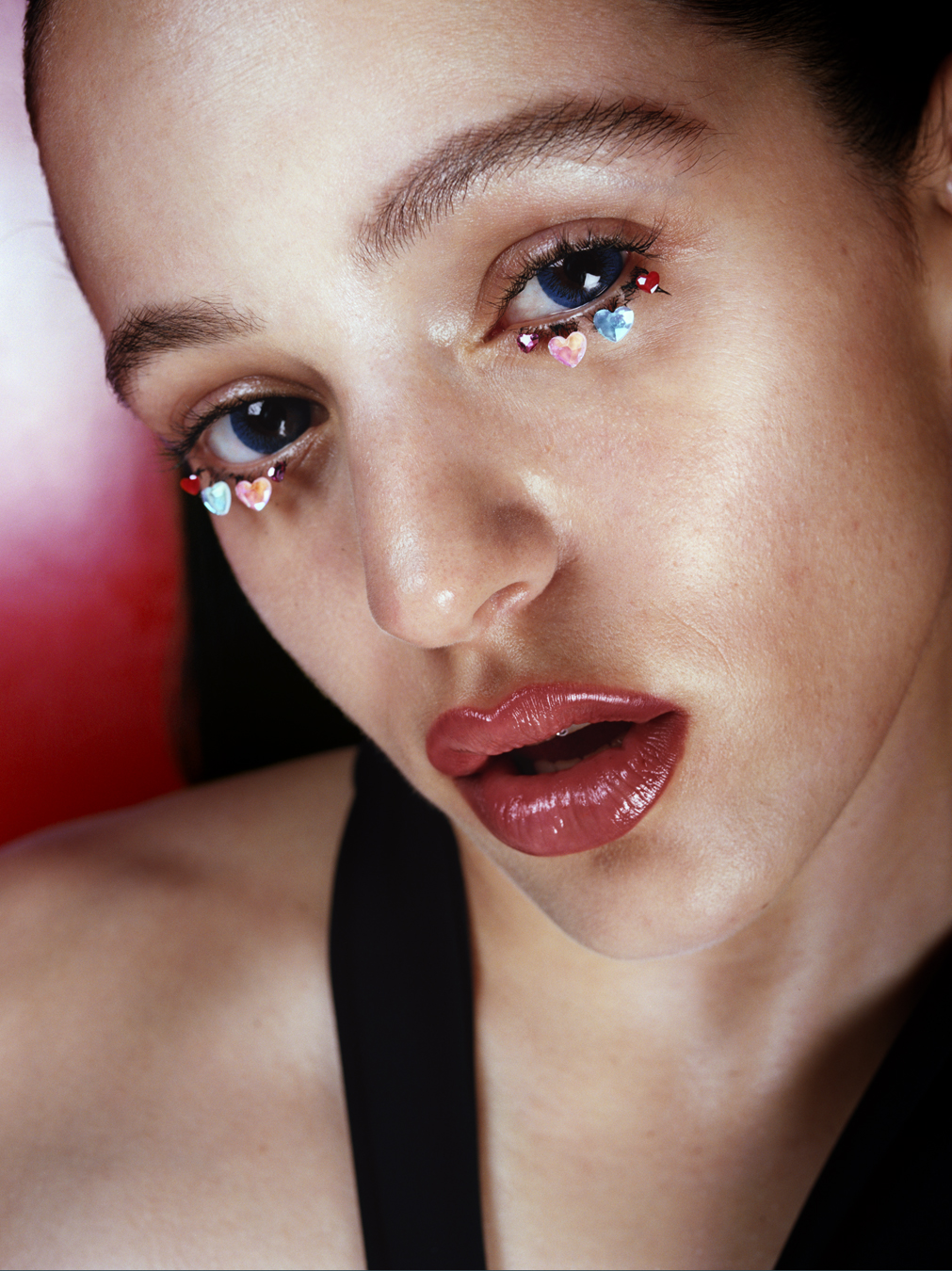 To get the full Rosalía portrait, we must look back. Picture this: executives at a major label are sitting around a large conference table. Placed on its surface is a photo of their promising new signee. They now have a potential crossover star who possesses, in turn, an irresistible hauteur, a soprano range that could knock you over, and a story that is at once achingly local and successfully global. She's the slick-ponied girl from a small town who made it big with zero industry connections who simultaneously appeals to the Latin music crowd, the gays, and Spanish mums happy to cheer on one of their own.
Her first big release after signing to the label, El Mal Querer, is lauded by critics as "commanding" and "genre-defying" and chatter often returns to "Not since Shakira…" when they qualify her accolades. To further raise her profile, these executives at this label, I imagine, shuffle their beefy client lists and broker deals to get their new star in the studio for a slew of features. Her voice – sinless, haunting – will soon be heard in the ears of a litany of vastly diverse international fanbases, delivered through a series of high-profile collaborations. They will be released while she is on tour promoting that second album: with J Balvin, Bad Bunny, Ozuna, Arca, James Blake, Billie Eilish and Travis Scott. El Mal Querer goes three times platinum. It becomes the most streamed album in the history of Spotify Spain and spawns Di Mi Nombre, her first song to reach the top of the Spanish charts. It all plays out perfectly and she almost seems a strategic sensation for the breadth of her impact as well as her canny ability to pluck hard- hitting collaborators at will. She is the perfect popstar for a global generation; you couldn't write it better. Surely such success requires some strings to be pulled?
"I know I'm not going to be a pop star all my life. I love saying that. I love knowing that."
"Actually, this never happened to me," Rosalía says matter-of-factly when asked about label execs pressuring her to produce a pop hit or reach a certain audience. "There was never this entity, this person saying anything. I wasn't even signed when I made my first album, you know what I mean? I feel like it took me a long time to figure out who I am and what my music
is and what I want to do. It happened overnight from a marketing perspective but that doesn't mean I wasn't working towards that moment. My parents were not connected at all to the industry. It was starting from zero."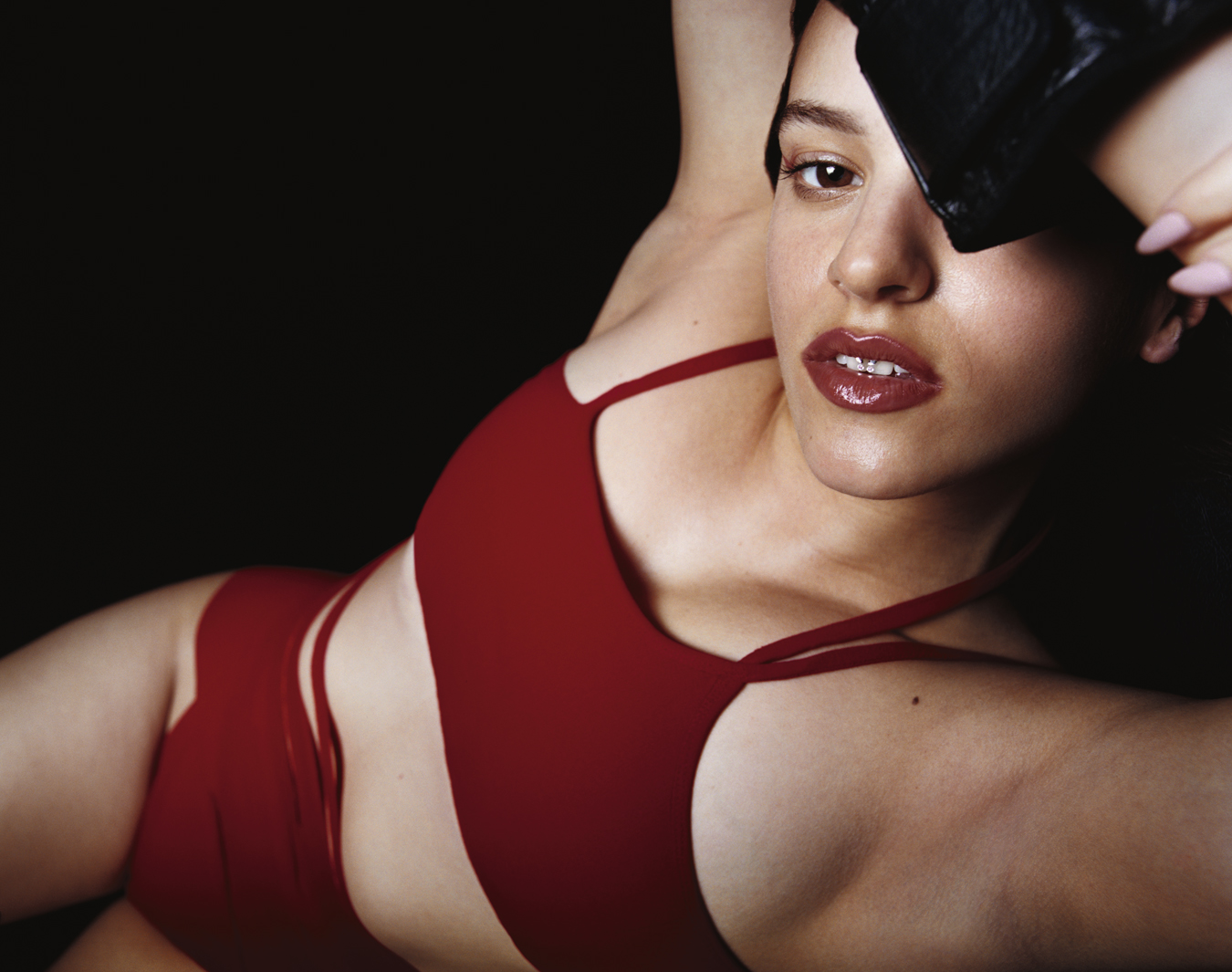 The follow-up, her third album, is the bar upon which all glittering hopes are hung. The big payoff moment for her label and fans. Scheduled for release in March, MOTOMAMI took three years to write and record, and will hopefully be the one to topple the stale idea that pop is dominated by acts singing only in English or Korean. "There were months when I was overwhelmed while I was touring," she explains. "And I was trying to spend time in the studio and it was a lot. I had to take my time with this album, to wait until I could reconnect with the energy that allows me to create."
Some of that took place in New York, where she hung out in the studio with notoriously private slowpoke Frank Ocean. It could be owing to Frank that Rosalía felt comfortable being more vulnerable. "There was one time that he said a line and I never forgot it. And then weeks or even a month after, I wrote the album's opening track Saoko, and I remembered that line. And I said, 'Frank me dice que abra el mundo como una nuez.' – Frank tells me to open the world like a nut. – What's beautiful is that it can mean whatever you need it to mean. And for me, it makes sense. The song is all about transformation."
How has this young woman reinvigorated flamenco, repopularised costumbrismo, and innovated pop without her head spinning clean off? "She has such a unique knowledge of Latin music's history and is consistently able to pull the best elements of the past and recontextualise them in a way that feels futuristic while still honouring the music's roots," J Balvin, her collaborator on Con Altura, tells me.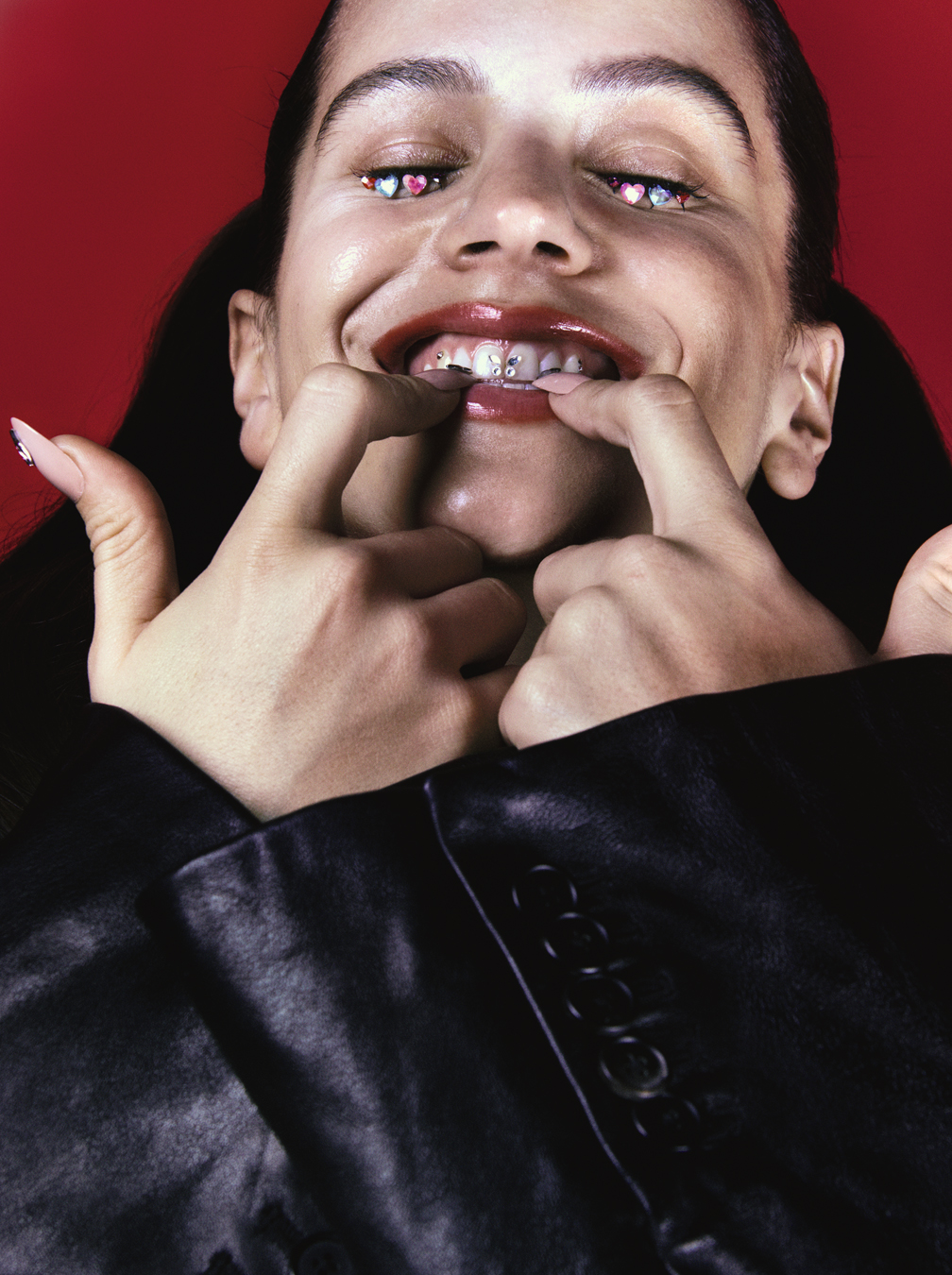 "Rosalía's super power is that she pulls people in and has them singing along to lyrics they might not even be able to translate but they seem to understand emotionally," echoes Abel Tesfaye, aka The Weeknd, who appears on this album's lead single, La Fama. As enigmatic as she is, Rosalía is confident where she sits, a centripetal force in a fragmented pop world. She's equally at home on a track with Oneohtrix Point Never and Arca as she is Billie Eilish or Travis Scott. It brings to mind another lyric on Saoko, which translates as: "I know who I am no matter where I go / I never forget I'm in the driver's seat."
When she, like many artists on a press cycle, describes MOTOMAMI as her "most personal album to date," she isn't lying. Whatever we knew about Rosalía prior to this release – that she decided to become a singer at age eight; that she graduated from Barcelona's Catalonia College of Music with Los Ángeles as her graduate project; that she appeared in Pedro Almodóvar's Pain & Glory; that she turned down a request to play Madonna's birthday party – is a drop in the ocean compared to the flood of personality in these sixteen tracks.
MOTOMAMI is full of frenetic, supercharged musings on fame, sex, and heartbreak. It's split in two with MOTO being the "aggressive side of a woman" and MAMI being "more connected with nature," as she explains, languidly adding that 'moto' in Japanese means "harder." To call it genre defying seems weak. It's a buffet of reggaeton, flamenco, bachata, rap-rave and pop with nods to Kim K's blonde hair, the death of Princess Di, 90s Naomi Campbell, Dapper Dan and Aeon Flux. It can leave you bouncing off the walls or ruinous with tears, depending on which track you listen to.
When it's sad, it's sad. On Como Un G, with its gauzy Aphex Twin-esque piano and crippling lyrics about a relationship that isn't meant to last, Rosalía opens the wound and bleeds out in a way that feels like wrenching open the door of the Capulet tomb. "I was really sad when I wrote that song. It still makes me feel a little bit teary every time I hear it because I remember the feeling when I was writing it. I have so many things in my life that I wish would last longer… I wish!" she says. "But still it's like, even if this doesn't make sense, I love you. Even though you are not close, I still think about you. Sometimes writing a song helps me to let go."
"Hentai is more interesting than conventional porn."
When she was eight, Rosalía attended a lunch with her father's side of the family. She hadn't seen them for a year. Her father asked Rosalía to sing. She was nervous, having never sung in front of anyone before. But after some encouragement, she closed her eyes to block out her audience and belted a song she had picked up while watching TV. When she finished, she opened her eyes. Her entire family was sobbing, faces wet with fresh tears. It was at that moment she realised she could express herself with music.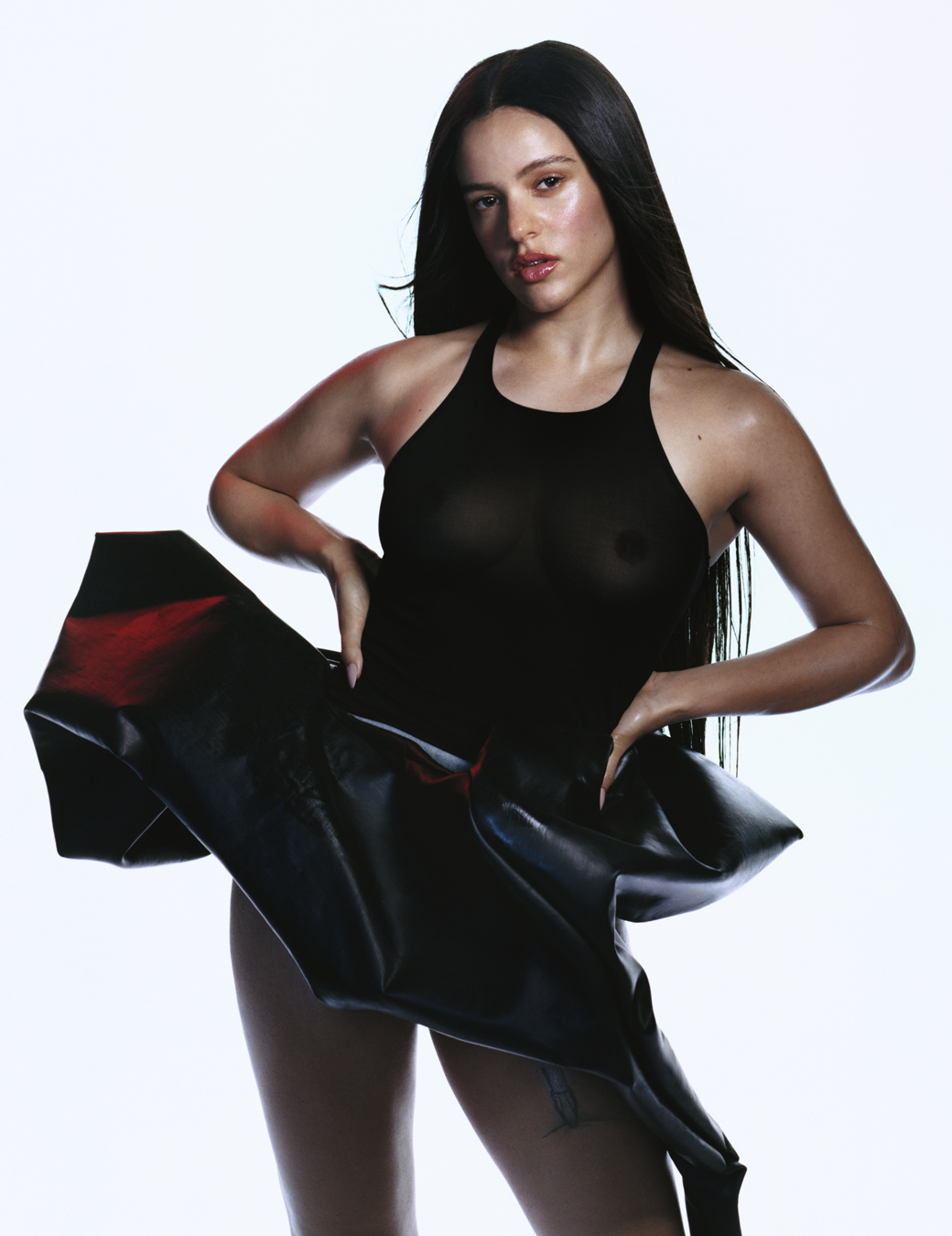 It's this raw emotion that she taps into for another song on MOTOMAMI, one which completes the circle, a callback to that eight- year-old Rosalía, shaking in the living room with nerves. It's a letter she has written to a family member and ends with a voicemail from her grandmother continuing to provide words of encouragement, a push to keep going. "I always go back to where I'm from," Rosalía explains. "I always go back to that little village where I grew up. And it always makes sense. It always makes me feel instantly like I'm where I'm supposed to be and reconnected to where my people are."
If the world was a nut, Rosalía has cracked it with MOTOMAMI. She has rolled down the window on fame, and let us peek inside at another side of her. It's sexier, it's energetic, it's isolated and mercurial. It's a cold plunge into the intimate depths of her mind, where she's dancing and singing, whispering or weeping. Take a good long look, she seems to say, because you never know when she'll switch up the flavour or, in a skift of snow, simply vanish altogether. "I know I'm not going to be a pop star all my life," she says, self-assured. "I love saying that. I love knowing that."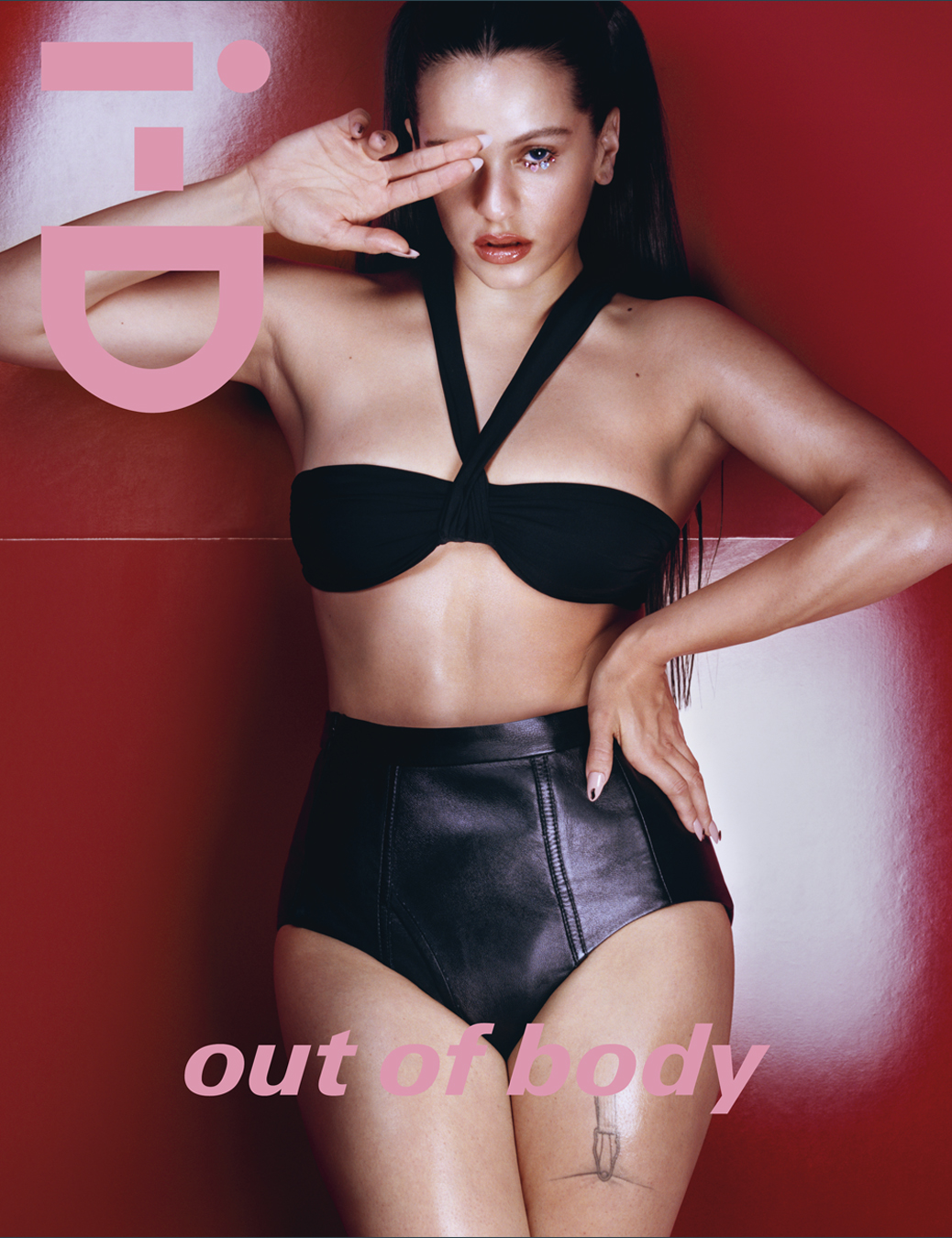 Follow i-D on Instagram and TikTok for more on Rosalía.
Credits
---
Photography Oliver Hadlee Pearch.
Fashion director Carlos Nazario.
Hair Rio Sreedharan using Dyson and Oribe.
Make-up Thomas de Kluyver at Art Partner.
Nail technician Jenny Longworth at Streeters using Navy Pro Tools.
Set design Jack Flanagan at Streeters.
Photography assistance AJ Numan, Bella Sporle, Albi Gualtieri and Shahram Saadat.
Styling assistance Raymond Gee, Fiona Hicks, Anna Castellano, Antoni Jankowski and Terrence Munn.
Hair assistance Mary Weah.
Make-up assistance Abbie Nourse and Josh Bart.
Set design assistance Stuart Manning, Mickey Hertherston and Molly Marot.
Production Danson Productions.
Retouching and Post Production Studio RM.
Casting director Samuel Ellis Scheinman for DMCASTING.