Cardi B has an idea for the next season of You
The rapper tweeted how she thinks her and Joe should meet.
|
22 October 2021, 11:20am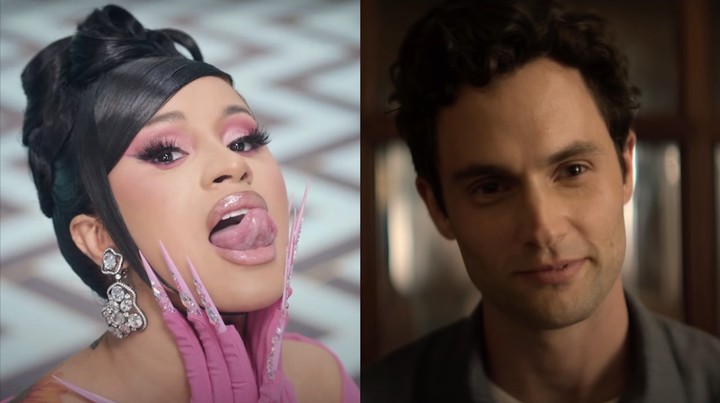 Stills from "WAP" and You
If anyone can end Joe Goldberg's reign of terror, it's Cardi B. The "WAP" rapper has pitched her own storyline for the hit Netflix series You, which released its third season last week, with a fourth already green-lit. "So it's episode 1 and I'm at Paris Fashion week shutting it down! I turn around and there stands YOU. Ok finish it off @netflix" Cardi tweeted over a screenshot of the streaming services new bio which reads: "petition to get Cardi B to guest star in Season 4 of You!", as if they're not the ones with the power to make that happen.
Responding to Cardi -- whose acting credits include the stripper thriller Hustlers and the latest editions to The Fast and the Furious franchise, F9 and F10 -- the official Netflix Twitter account rewrote Cardi's lyrics to "WAP" alongside images of Joe hogtied, cosplaying as a chef and sitting in his supposedly-transportable big glass cage. Kinky! The official YOU account then changed their profile pic to one of Cardi and tweeted lyrics in cursive from the song "Thru Your Phone" from Cardi's debut album Invasion of Privacy.
Earlier this week, Cardi and Penn Badgley fan-girled over each other in a wholesome Twitter exchange. A clip of Penn at a press conference with Pretty Little Liars star Shay Mitchell was posted online, in which he spoke about how his character Joe "reveals the unsettling logic that a lot of us are following on social media" but that there are some, such as Cardi B, who have a natural authenticity in what they share online. "Despite what many might judge as antics she has an incredibly authentic relationship to [social media] and that's why people like her so much." Cardi then responded rather less calmly: "OOOOMMFFFGGGGGG HE KNOWS ME !!! OMMMGGGG!!!!!! Yoooo like I'm famous famous". After some further back and forth between the two, they changed their Twitter profile pics to each other.
It's expected Season Four will begin filming in the new year and air late in 2022. Fingers crossed Cardi makes an appearance in the You-niverse. Also, SPOILERS!!! But in the final episode of Season Three, the continuously on-the-move Joe hops on a plane to Paris which sets the scene well for him to bump into Cardi at fashion week. Maybe it will also lead to an Emily in Paris crossover that absolutely no one asked for.