In defence of Maddy Morphosis, Drag Race's cishet male queen
In a time that commands we have a less stringent hold on gender norms, maybe being open-minded about Maddy Morphosis on 'Drag Race' is a good thing.
|
07 December 2021, 11:02am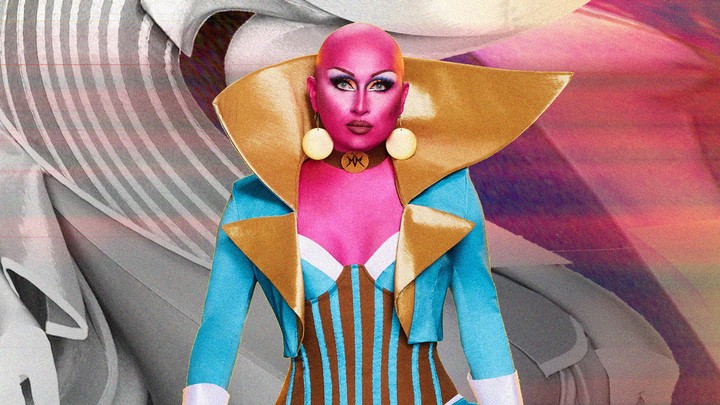 Last week, RuPaul's Drag Race announced the cast for its upcoming 14th season. This year, among the 14 drag queens in the running for the title of America's Next Drag Superstar, is Arkansas' Maddy Morphosis. Even painted head-to-toe in hot pink as she appears in her promo look, there is nothing especially remarkable about her. And yet, much fanfare has been made about her inclusion in the cast. For, as her Meet the Queens interview segment is sure to emphasise, Morphosis is the first heterosexual, cisgender man to take part in the competition.

The casting decision has been met with backlash from the show's expansive LGBTQ+ fanbase. Some viewers regarded the news as another form of unwelcome invasion by outsiders into otherwise exclusively queer spaces. "It's happening in our clubs," wrote one Twitter user, "and now our shows." Similarly, others complained that Morphosis' inclusion represented an opportunity stolen from a queer competitor -- from, for instance, drag kings who have otherwise gone underrepresented in the show's history. Drag Race has come under fire in the past for its less-than-inclusive and exclusionary approach to casting. In 2018, RuPaul was criticised for comments made in an interview with The Guardian, in which he expressed his distaste for women doing drag because "[it] loses its sense of danger and its sense of irony once it's not men doing it" and stated that he would not cast a trans woman who had received gender affirming surgery because "it changes the whole concept of what we're doing."
RuPaul's comments, for which he has since apologised, flew in the face of women's — especially trans women's — important contributions to both the past and present of drag (contributions that both RuPaul and the producers of Drag Race are aware of, since the show frequently makes reference to Paris Is Burning – the 1990 documentary that depicts, among other things, the presence of transgender performers like Venus Xtravaganza within the underground ball scene of 80s New York City). Since 2018, Drag Race's production team has worked hard to diversify its participant base. The cast of the 13th season of the show included Gottmik, the first transgender man to compete, and, more recently, Drag Race's UK spin-off introduced Victoria Scone, the first cisgender woman to be included in the franchise. Perhaps this is why promotional material for the 14th season has made such point of Maddy Morphosis' casting: as yet another in a series of trailblazing 'firsts'. What a shame, then, that both the emphasis given to this announcement and its hostile reception has eclipsed news of the inclusion of two Black, transgender women – Kerri Colby and Kornbread "The Snack" Jeté – in the cast.
Yet, while there are founded concerns about the failure to represent the full spectrum of the drag scene on Drag Race, some criticisms of Morphosis' casting entirely miss the mark — specifically, those that see Morphosis' very existence as a straight, cisgender male drag performer as a form of co-optation akin to cultural appropriation. While drag performance has its roots amongst the transgender and gay communities – for whom the art is both affirming and life-enhancing – straight, cisgender men have been performing in drag long before Morphosis' inclusion in the Drag Race canon, and sometimes to great significance.
"We ought to feel buoyed by the increasing willingness of these men to experiment with and transgress the limits of 'normal' gender"
Most famously, Dame Edna Everage has been, since 1955, the drag persona of the prolifically heterosexual actor Barry Humphries (who has married four different women throughout his career). More recently, the second season of Dragula – the competition searching for the world's next "drag supermonster" – featured Disasterina, who, out of drag, is a straight married man. The fact is that, while drag as performance might stem from, or represent, an expression of an inner identity or subculture (and, for this reason, drag will mean something quite different to a transgender woman than a cisgender man – gay or straight), unknowing audiences in a bar or club will, for the most part, remain blithe to the gender identity or sexuality of the performer lying behind the makeup or lip-sync. It is only Drag Race, thanks to the narrative demands of its reality television format, that encourages this kind of voyeurism and the often egregious fetishisation of identity.
In my view, rather than feeling suspicious of straight, cisgender male drag queens – who, no doubt, will never make up more than a vanishing minority of drag performers – we ought to feel buoyed by the increasing willingness of men to experiment with and transgress the limits of 'normal' gender. If queer audiences express concern about the spectre of a straight cisgender man 'invading' their safe spaces, it is, in part, because straight cisgender men are more than likely to be the perpetrators of the violent or disqualifying homophobia and transphobia they may have suffered and, in the process, to be the strictest enforcers of gender norms.
In a 2021 interview, the mixed martial arts fighter Diego Garijo, who performs as Lola in the drag scene in San Diego, described the power of drag in "overcoming toxic masculinity" and spoke of the support he had received not just from the drag scene, "but also from big tough fighters." "I think people wonder if I'm gay," he said, "but they don't understand that femininity and sexual preference are two completely different things." Clearly, performers like Diego, and the people and wider culture who have fostered them, are helping to proliferate an understanding that masculine and feminine embodiments can float free of gender, and diminishing homophobic anxieties about the expression of femininity amongst men.

Drag Race has always leaned into its capacity to encourage gender experimentation amongst unexpected participants – in the series' many makeover challenges and, most recently, in the spin-off, RuPaul's Secret Celebrity Drag Race. It's a positive milestone that this has rubbed off on and transformed wider culture. Consider, for instance, whether the sight of an A-list actor like Tom Holland performing a (startlingly good) lip-sync to Rihanna's "Umbrella" in fishnet tights, a wig, and corset, would have been anything less than a disastrous career move prior to the popularisation of Drag Race.
So while the existence of cis, heterosexual male drag – Maddy Morphosis, Lola, or, for a night, Tom Holland – does not represent anything necessarily radical or inspiring in its own right, its very possibility could represent a more permissive world for queers and non-queers alike.
Follow i-D on Instagram and TikTok for more on drag and gender.
Tagged: