MUNA: "We joke about this album having dyke boyband energy"
Emancipated from a major label and now part of Phoebe Bridgers' sonic family, the queer pop band discuss the most jubilant record of their career.
This profile of MUNA was originally published in March 2022, and is being republished to mark the release of MUNA's third album.
There was a moment, in the long timeline of MUNA's influential lifespan, when the Californian band toyed with the idea of giving up. It came more recently than you might think, in a strange moment of silence, mid-pandemic. At the start of 2020, the group had formally wrapped work on their second record Saves The World, a major critical success. Like their 2017 debut About U, it had spawned songs that captured the miraculous, morose and mentally ill experience of what it means to be queer today. They were, at that time, like a lifeline for their listeners.
As the music industry waded through the pandemic, and pursestrings tightened, the call came from their then-label RCA Records (home to Britney Spears, Brockhampton and Doja Cat) in early 2021, delivering a harsh blow: they'd been dropped, rendered homeless release-wise, and were left with the early parts of a third album that may, in theory, have never seen the light of day.
They're up front about how they reacted to it. "Hell yeah we wanted to quit, baby!" the band's guitarist-slash-producer Josette Maskin says. The three band members are speaking over Zoom on a Wednesday morning, "shredded" by a full-on stint at SXSW the week prior.
Katie Gavin, the band's lead singer and songwriter, is reflecting upon how they got here. "We were just babies, you know?" she says, looking back to MUNA's early days, as a band whose ability to crystallise the beauty of queer pain and euphoria into perfect pop music earned them respect in spaces they hadn't expected. "It can take people — particularly queer people — a long time to figure out what works for them and how they want to represent themselves, especially when you're in a situation where there's a lot of voices coming from other directions. People try to fit you into something that is the closest approximation to what your identity is. "
"Or the closest approximation of what a consumable version of your identity is at that point in time," Naomi McPherson, self-professed "mixed black genius dyke" and the group's guitarist-slash-producer says. This isn't a read of their old label; they understand that machine fully and recognise both their position as outliers within it, and those that supported them through it all. What they learned there, working briefly with Grammy-winning producers and touring with fellow Sony signees, like Harry Styles, were valuable parts of their narrative. What they released was still as magical as the early material that had been made in their college bedrooms pre-signing: heartbreak songs written under their desks ("If U Love Me Now"); massive 'fuck you' anthems mastered during their college finals ("Loudspeaker").
They've spent the past year readjusting to life on an indie label — Phoebe Bridgers' Saddest Factory Records — where the opportunity to return to their roots meant they could make an album how they wanted to. No MOs, no label-led masterplans, no interventions — just pure, unbridled MUNA.
When we talk, they're still in the "zooming out" period of the record. It was finished in December 2021, after a furious few months spent in the basement studio of Josette's place, working like they did before fame and fans found them. "I've been joking with friends that I don't really know what we made!" Katie says, knowing only that what they've made makes them feel intensely vulnerable. "We'll know more when we have a bit more space from it."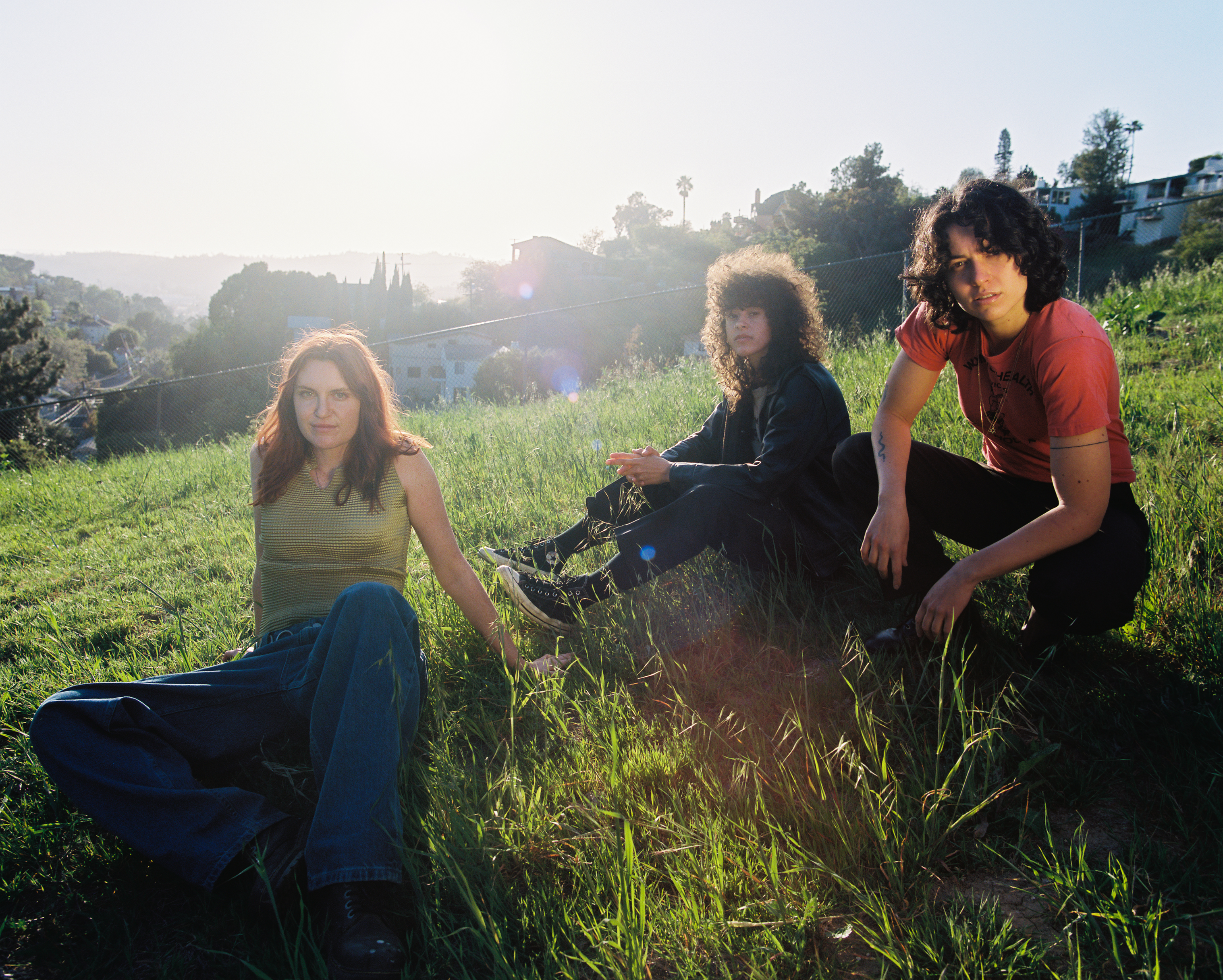 If the sound-bite understanding of what MUNA's self-titled third album means to them is still forming, they do appear to have a grasp on what it sounds and feels like on a macro scale. "We joke about [this album] having dyke boyband energy," Katie says, admitting it's their most pop endeavour to date, like their major label detachment has made them lean into the sounds most associated with that set up. "There's something fun about playing into that while we have the freedom of an indie label. It's a more indie record than Saves the World, in the sense that we really did it on our own with our friends. There's nobody telling us what to do now."
There is an unhinged energy to MUNA's new record: restless, massive and undeterred. To pin down its sonic hallmarks is an impossible task, because it's encyclopaedic: sing-a-long stadium pop segues into floor-filling dance into ruminative Shania Twain-esque country into songs with "90s songwriter chilled makeout" energy. "Part of the process of making the record sonically was having bold moments and making brash contradictions," Naomi says. "There are songs that lyrically contradict the song before it. I think we were throwing everything at the wall."
Josette recalls a question they asked themselves a lot in the studio: "What is a song supposed to sound like?" they recall. "That's what our decisions are based on. That's been the guiding principle of MUNA." And in many ways, it makes perfect sense. Katie's songwriting (she is "very easily one of the best that is alive doing it currently", Naomi says), and the way it meets the production of her bandmates, feels primal and intuitive, which is perhaps why — despite those sprawling inspirations — pop feels like the most natural label for what they make.
Katie starts crying down the phone line; it's early, she's emotional. "I just think that the songs that somebody listens to can change their lives," she says. "I just wanna help people if they wanna make better choices, but I also wanna help the girlies that just wanna have fun!"
MUNA's music is always statement-making and assertive, even when it's cripplingly sad. Their breakout single "I Know A Place" was a defiant statement of queer freedom; the lead single on Saves the World, "Number One Fan", opened with the line "So I heard the bad news / Nobody likes me and I'm gonna die alone in my bedroom" over a sledgehammer dance beat. This by turns meaningful and sardonic style of songwriting, and how they twist together like red liquorice sticks, is what the band are best at.
It's also the case on their new record. "Silk Chiffon", the album's opener and first single featuring their new A&R Phoebe Bridgers, is a song about sapphic desire built around the unironic pre-chorus line: "Life's so fun / Got my mini skirt and my rollerblades on". Dig deeper on MUNA and you'll find songs like the immaculate, EDM-leaning "What I Want" (a track Naomi calls "full cunt") about dancing while fucked up in the middle of a gay bar, placed mere tracks away from songs like "Home By Now", with "Winterbreak" levels of longing, albeit with more sonic levity. It's so shimmering, emotive and excellent that Robyn should re-release Body Talk and add it to the tracklist.
The selective, protective club of MUNA collaborators remains tighter than ever, but those who've entered into it have more than earned that treasured position. Daniel Tashian and Ian Fitchuk, known best for working on Kacey Musgraves' Golden Hour, made their mark on "Silk Chiffon"; pop king Leland co-wrote the aforementioned "What I Want". Meanwhile, Mitski lent her writing hand to "No Idea". If you ever wanted to know how Mitski's words would sound on a horny track about gay girl sexual signals that also sounds a bit like a Backstreet Boys song, now's your chance.
The practice is still a little alien to Katie — who's formed a bond with Naomi and Josette so strong that it makes recording music seem like a second language — but she wants to keep trying. "If I like someone's songs I'll want to try something, but I do this co-writing tactic that I call 'doing my homework'," she jokes. "I'll start something in the studio then I'll take it home with me where I can really write. It's hard for me to be creative in the company of other people, but maybe it's an intimacy avoidance thing."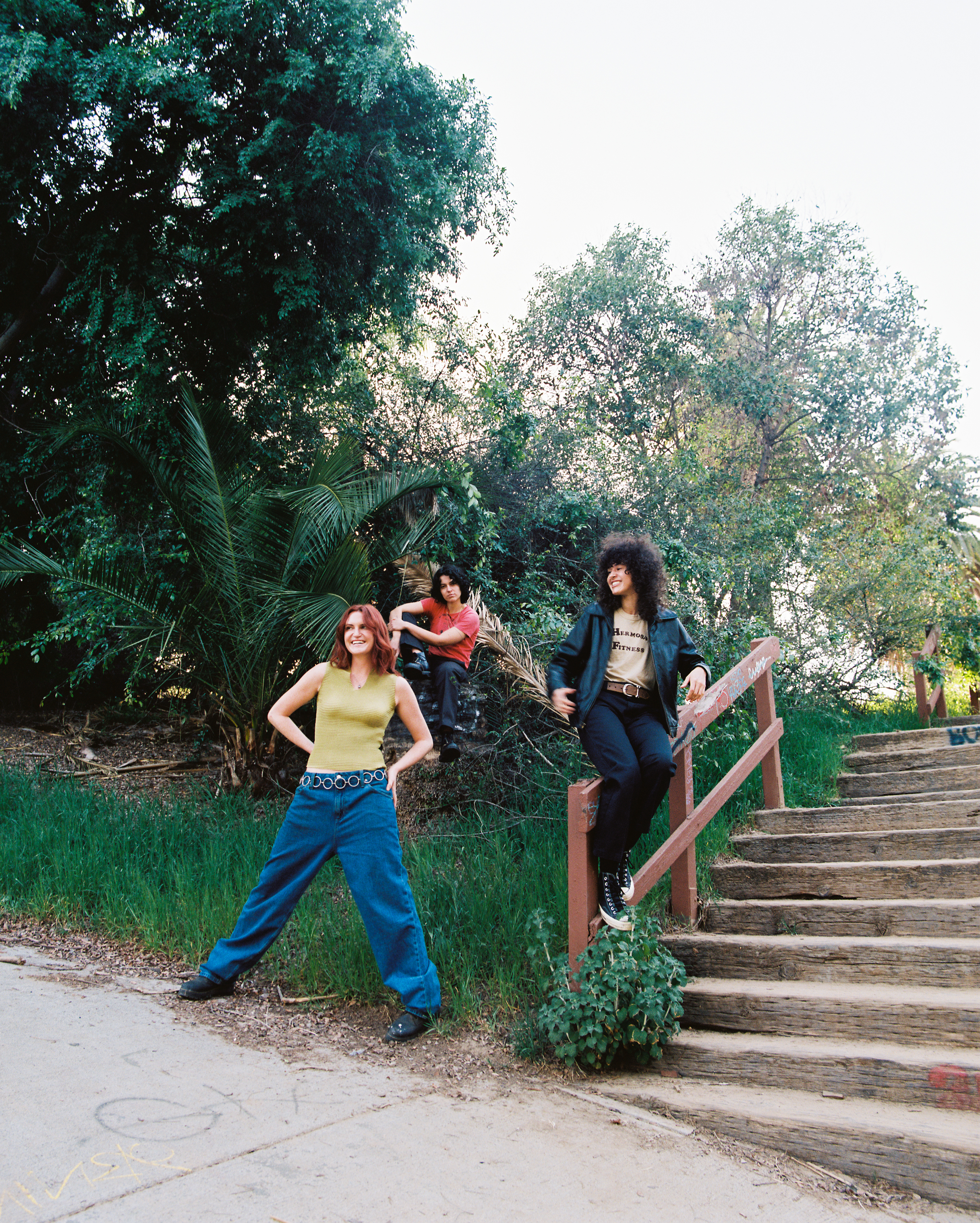 The other day, a video popped up on Katie's For You Page on TikTok that she shared with the band, of a stand-up comedian discussing queer music. "There was a line at the end of this video that said MUNA represents queer joy," she says. Naomi cuts in, shocked: "Who have you been listening to?!" There's deep laughter, like the grog of the morning has finally gone. "That was so cool and shocking to me, though," Katie says. "Our whole history is so sick and twisted."
"I mean, there's a level of levity that's always existed in MUNA that we've never been able to capture sonically," Josette adds. "This feels like the first time when we've been able to get a snippet of that into the sonics and the visuals, right? It makes sense."
Despite the up-ended two years the band have weathered, everything you love about MUNA remains gorgeously intact. And in many ways, they're better than they've ever been. "When I look at my life right now, I still struggle and cry all the time," Katie admits. "I will never not be intense. But it's pretty cool that we can represent that full spectrum. That's part of MUNA now."
MUNA's third, self-titled album is out now. Buy it here.
Credits
---
Photography Jheyda McGarrell