Maison Margiela Artisanal Collection
What will be the future of the fashion show?
While two very different show-alternatives have stood out during lockdown, it seems that runway presentations may still be fundamental to the industry.
Maison Margiela Artisanal Collection
Whether you love them or hate them (and it's possible to do both at the same time) there's no denying the visceral power of an IRL fashion show. After months of video presentations, Zoom previews, and 'phygital' shows, a question mark still hovers around the future of fashion shows. Will they happen again as they did pre-pandemic? Will fashion weeks actually go ahead in September? Will the number of designers (it's estimated that 500 collections are shown on average during fashion month) go up or down after months of isolation?
The jury is still out, but there are a couple of important things to consider. Firstly, according to a report by Ordre, fashion buyers and designers alone contributed 241,000 tons of CO2 emissions a year by attending fashion weeks in New York, London, Paris, and Milan -- which is more than the total emissions of a small country, such as Saint Kitts and Nevis, or enough energy to light up Times Square for 58 years. That's not even counting all the models, members of the press and other people in production working behind the scenes to make fashion shows happen. Another interesting fact: on average, digital shows, videos and presentations generated less than one-third as much online engagement as real-life shows. The all-digital London Fashion Week, for instance, which mainly featured independent brands offering content in lieu of collections, also saw a steep drop in buzz, with 55 per cent less social media engagement than in January, according to Launchmetrics.
So right now, fashion faces a conundrum. Fashion shows are excessive and wasteful, yet it seems we couldn't care less about digital shows. Something, somewhere between those two poles, has got to give.
In February, which feels like decades ago now, no one would have thought that the month of fashion shows we witnessed could be the last of its kind. Back then, the conversation on the front row was whether fashion could weather the absence of the all-important Asian market.
But over the last few months, the scope of the conversation has amplified; it's become clear who should and shouldn't be doing shows, what resonated the most and, in a generally frenzied and saturated digital arena, what can cut through the noise. Perhaps the standouts of the season of digital men's, couture and cruise shows, which all seemed to roll into one, were two very different show-alternatives.
Nick Knight's 50-minute freeform documentary for Maison Margiela, filmed using Go Pros and drones, was the kind of truly behind-the-scenes look at the way a collection comes together at the hands of its creative director, John Galliano, and a team of designers, muses, and an extended family of remote collaborators (Pat McGrath on make-up, Eugene Souleiman on hair, Jeremy Healy on music, Nick Knight on visuals).
It was a clever accumulation of Zoom calls, text messages, FaceTime calls, and thermal-camera imaging, AI, and even an X-ray app to create poetic vignettes that interspersed it all -- the result was spellbinding; an optimistic tale of creativity succeeding in a time of chaos, with a dreamy emphasis on dressmaking and clothes (remember those!).
"I very quickly realized that fashion, and the way we had created and presented it, would never be the same again," Galliano explained. "It can't be until some kind of vaccine is found. And as soon as I accepted this reality, I was able to embrace the idea that something new could happen, that we could innovate, be resourceful, and that fired me up again. Nothing's going to stand in the way of the creative process -- I refuse to let that happen!"
Then there was Loewe's #ShowInABox, a physical time capsule of a collection in miniature that demanded offline engagement. Arranged as a file index, with 12 dividers that begin with "A Letter From Jonathan Anderson", it had printed matter devoted to inspirations, silhouettes, a pattern for look 23, cardboard profiles of the Loewe team, even a soundtrack captured on a vinyl record (it came with a makeshift paper player) and a DIY origami pop-up "set". You could spend hours immersing yourself in the world of this collection, yet it isn't easy to photograph. Jonathan Anderson also established 24 hours of streaming content on Loewe's Instagram to mark the occasion, which ranged from music from Kindness; a video on the Japanese art of shibori; a conversation with the artist Idoia Cuesta, who collaborated on the collection; a performance by harpist Ahya Simone; a tour of Loewe's factory in Madrid; and a virtual dinner party with Jonathan Anderson and photographer Tyler Mitchell.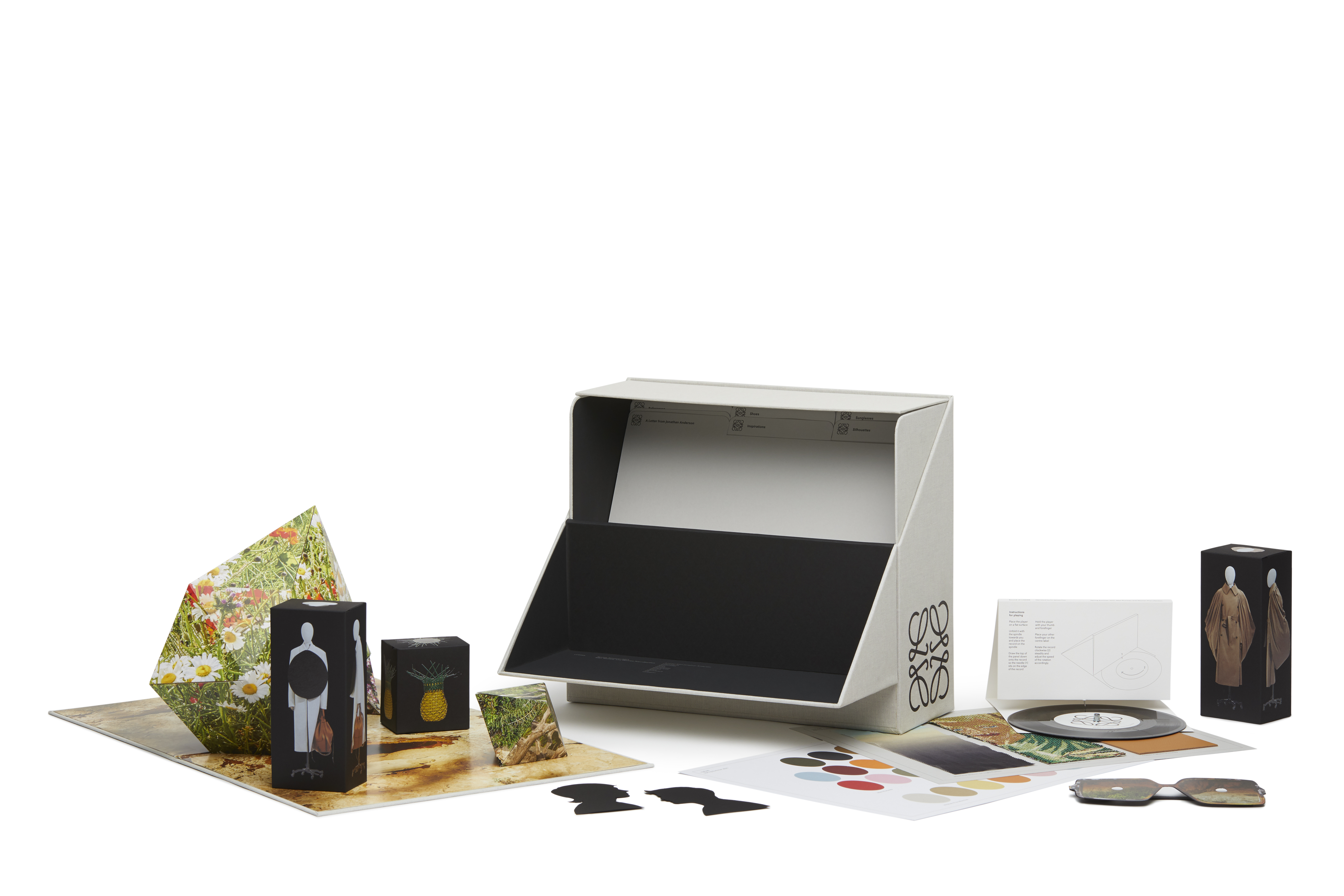 Both Margiela and Loewe's offerings were enough to restore our faith in what fashion is about, breaking it down to the essentials, from inception to 'show'. Yet neither were easy to photograph, and despite the hugely personal touches and considered details, they still didn't reach the engagement levels of previous physical shows -- and that's what affects the bottom line.
Fashion shows, after all, are what we are wired to intrinsically perceive as a designer's medium of display. Generations of designers, including those still studying, have grown up seeing fashion shows as the ultimate crescendo of creativity, too. It is how most of us, both industry insiders and consumers, experience fashion, whether that's being there or looking at pictures on Vogue Runway. And it's about more than just the clothes -- it's the set, the casting, the music; in the words of Edina Monsoon, "Lights, models, guestlist!" If there was ever an indication of just how important they are, consider the fashion industry's collective adoration for bygone shows: Galliano AW94, Gaultier SS94, Margiela SS90, McQueen SS98…
In a digital age, it's never been easier to wallow in the romantic nostalgia of iconic fashion shows on YouTube, holding them up as the benchmark of history-making moments. Once, our memory of fashion history was actually our memory of fashion photography -- now it is our memory of shows, moments when fashion held a mirror up to the world in a precious few minutes. And the fashion community, whether on Twitter or TikTok, want physical shows to remember, to turn into GIFs, to look back on in awe.
I write as someone who has been reduced to tears at fashion shows, who has complained about the number of them, and pondered their function and carbon footprint -- and yet, if the last few months have revealed anything, it's that fashion shows are fundamental. They are where the industry comes to life, where clothes and fabrics come into motion. They are crucial vehicles for discussion and comparison. I'm not alone in thinking that. "The fashion show is a necessary, vital piece of data for understanding not only a designer's vision but a context for the clothes we are being asked to assess," says Dal Chodha, a fashion writer whose new book, Show Notes, is a curation of his quick-fire notes taken at shows over the last four years.
"There is no context for anything we access online -- nothing is in isolation," Dal points out. "There are always distractions and your concentration is always being pulled in a million different directions in a way that doesn't happen at a fashion show. Yes, people sit scrolling through their phones at fashion shows too but they cannot block out the music, the feeling in the room. Their eyes might not be looking but their senses are present."
Some designers (Jacquemus, Dolce & Gabbana, Etro, Louis Vuitton) have staged physical shows. Anomalies by default, however, they still all felt like virtual simulations. This presents a contradiction: as much as fashion is being lobbied for inclusivity, a fashion show is innately exclusive. You can't be everything to everyone. Miuccia Prada touched on it when explaining why she chose five artists to interpret her latest collection, noting fashion's shift from cottage industry to global coliseum of gladiatorial critics, spectators and reference-warriors: "I say this all the time, but I really believe it: the world today is so complicated, so full of different peoples, countries, religions -- you cannot have a unitary vision. You create your proposal, and afterwards people react."
The answer is in finding the sweet spot between digital and physical, ensuring that there is something for everyone -- and that neither is mutually exclusive. Essentially, fashion brands need to do more content -- even though we've been asking them to do less product for some time. "Things will never be the same again and that's a good thing," Alexandre de Betak, one of the producers of some of the most memorable shows, told me back in May. "Our world needed a change and this has accelerated it in a rough manner. Even when we're able to be together again, there will never be as many people who come from as far as they did before. People need a better reason to travel for the shows, and we need to make a truly digital experience for each one, so that people don't have to travel."
"Right now, what we need is a reform of fashion," agrees Dal. "The fashion show has been mistreated for so long, they became bigger and noisier. Not every fashion brand in the world needs to have a physical show -- this digital fashion week has proven that -- but there are so many emotions that cannot be generated via the lurid glow of the screen."
The shows must go on, it seems -- but after a pandemic-induced hiatus, they need to be better and more meaningful than ever.