Photo by Silver Screen Collection/Getty Images.
7 of Sharon Tate's most iconic outfits
Let the 60s screen icon -- and her penchant for miniskirts -- be your late-summer style inspiration.
Photo by Silver Screen Collection/Getty Images.
Merging the attitude of the 60s youthquake movement with the glamour of Old Hollywood actresses, Sharon Tate was a singular—and unforgettable—figure in 60s cinema. With a starring role in one of the decade's most hotly-anticipated films, 1967's Valley of the Dolls, under her belt, Tate was considered Hollywood's most promising up and coming actress at the time of her untimely death. While her time in the spotlight was short, Tate has left an indelible imprint on pop culture at large. Her style—from her signature smokey eye and bouffant hair to her preferred minidresses—have inspired the looks of runway collections, film costume departments and singer-songwriters alike, for over 50 years. Here, we take a look back on the life and times of Sharon Tate, via a selection of her most iconic—and endlessly covetable—looks.
In Valley of the Dolls_**, 1967**
In the world of cinema, Tate is best known for her role in _Valley of the Dolls, the film adaptation of the era's eponymous bestselling (and highly titillating) novel. In the flick, Tate plays up and coming actress Jennifer North. While the movie was largely panned by critics, Tate's performance was lauded--she was even nominated as Most Promising Newcomer at that year's Golden Globe Awards. The film has also gone on to become a cult classic, namely for its colourful and decadent fashions, all designed by renowned Hollywood costumer Travilla. Here, we see Tate as Jennifer, wearing one of the actresses' most recognizable looks of all time: a beaded evening gown, designed by Travilla himself, and the era's glam bouffant updo.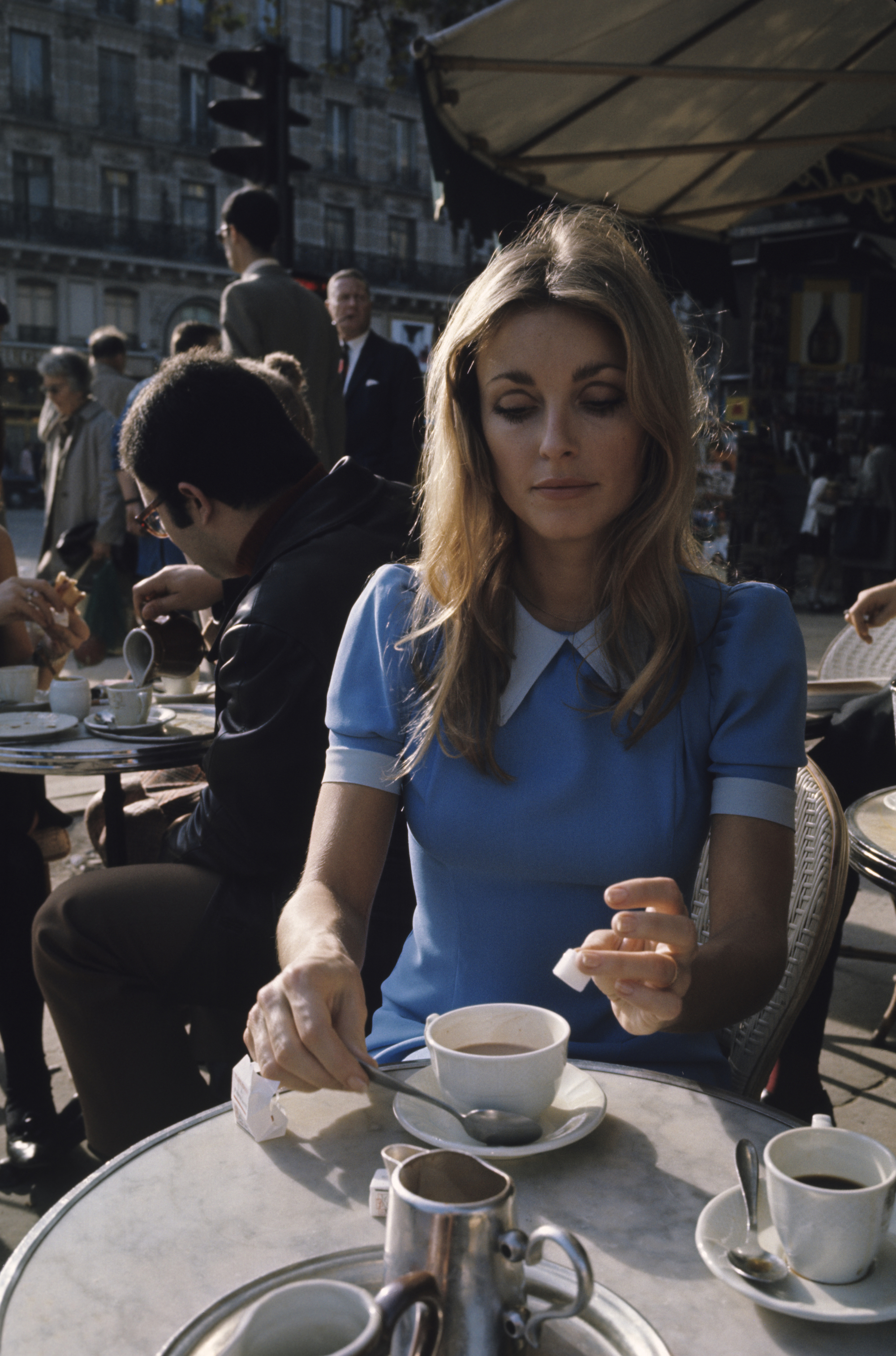 In Paris, 1968
On every front, Tate was the embodiment of the "youthquake" movement. The term was coined by Vogue editor Diana Vreeland to describe the fashions born from the 60s sexual revolution. The signature look of the movement: the miniskirt, of which Tate was a huge fan. Here, sipping tea in Paris, Tate wears one of the era's Mod-esque minidresses complete with preppy collar and puff sleeves.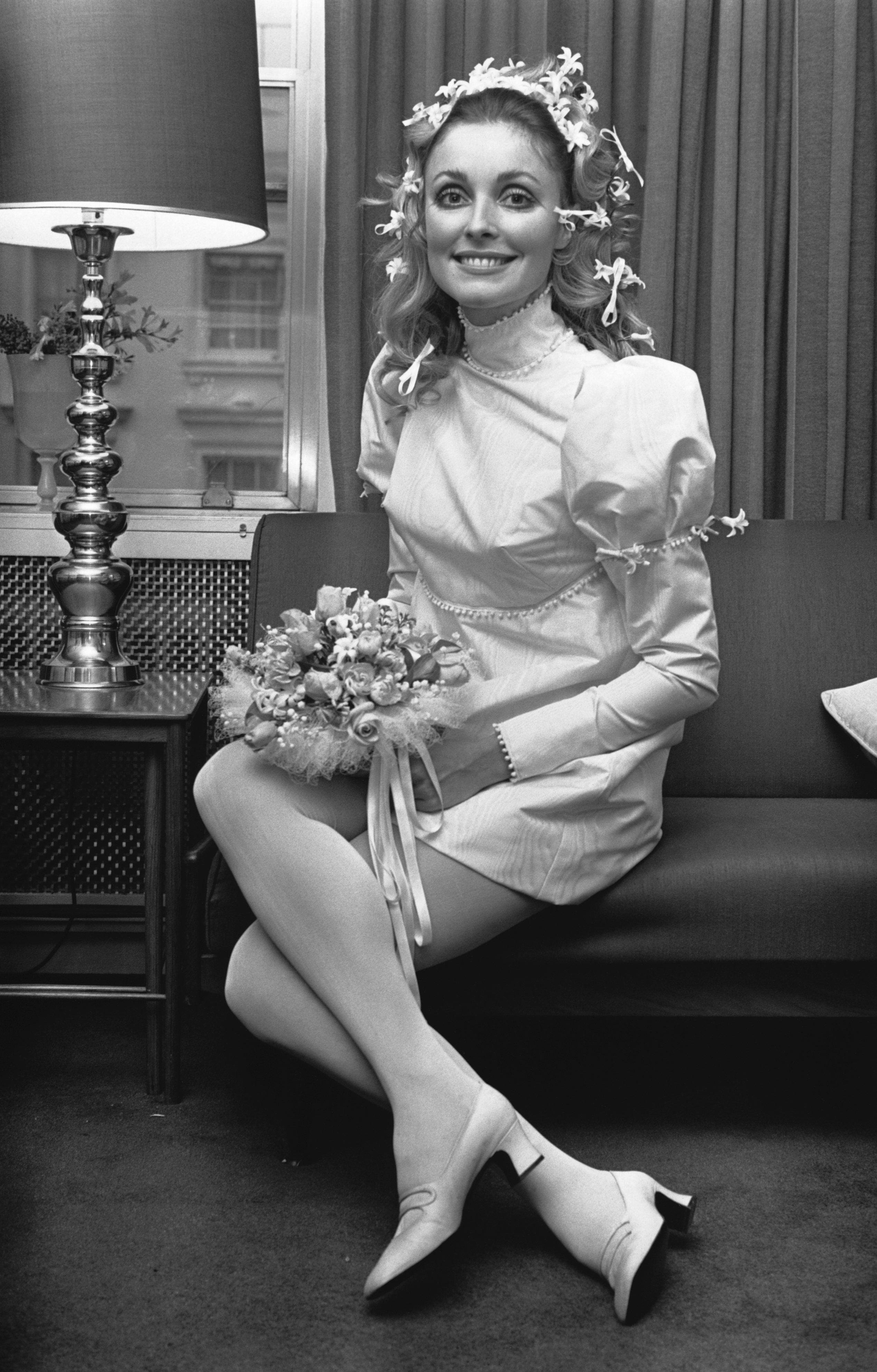 On her wedding day, 1968
Tate's wedding look is, hands down, one of the most iconic of all time. Seriously, a wedding minidress? The gorgeous ivory silk moire dress embodied the 60s emancipated style—and Tate's predilection for anything "mini". The actresses' frock was custom made by Alba, one of Hollywood's most in-demand custom designers and best kept secrets (Elizabeth Taylor, among others, had her on-call). To top the look off, Tate's famous mane was groomed into intricate coils, and laced with delicate bows and baby's breath.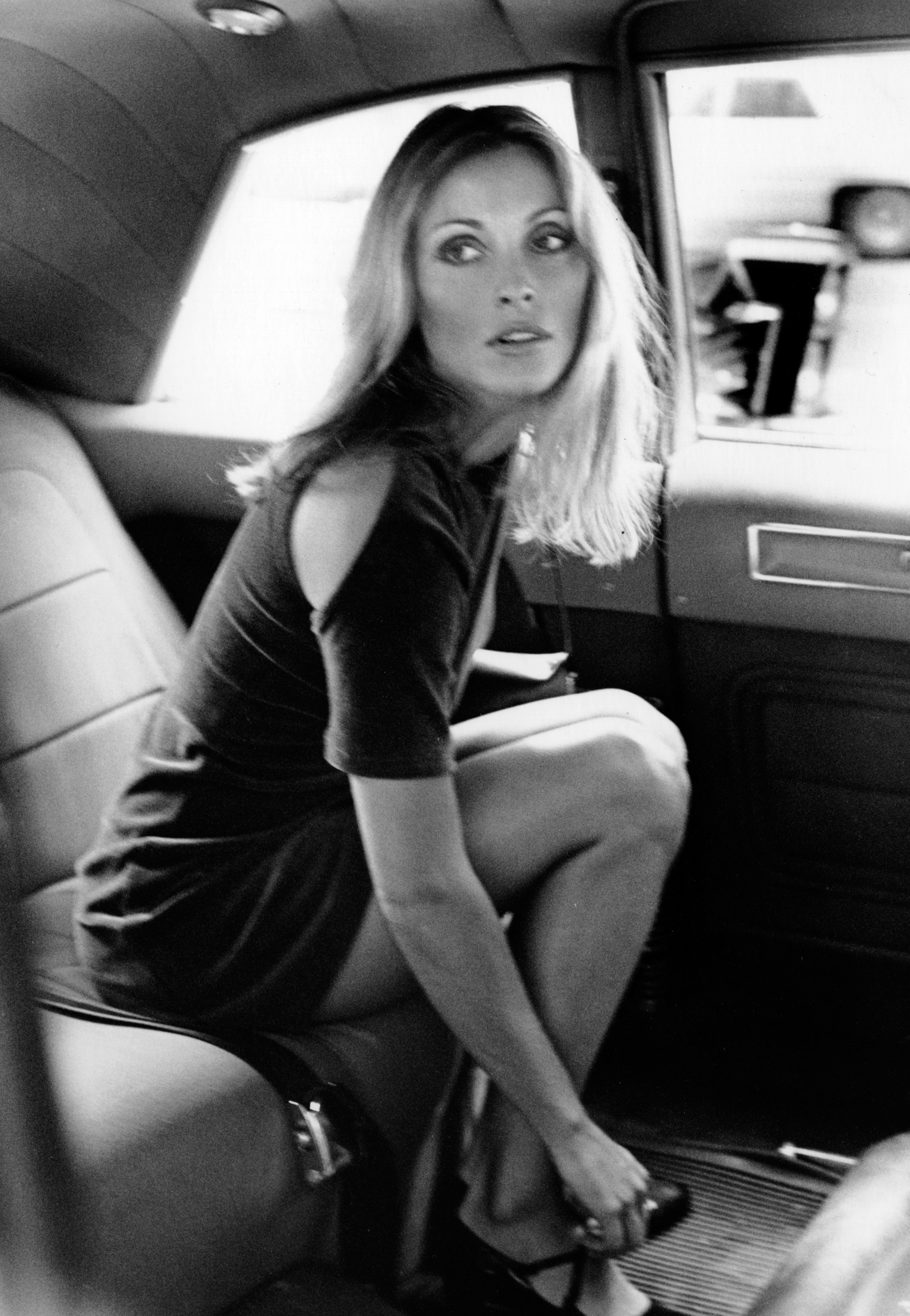 On the set of Rosemary's Baby_**, 1967**
Yes, we know that Tate loves a minidress moment. However, this slinky jersey T-shirt dress with cut-out sleeves captures the timelessness of the actresses' style. The photo was taken in 1967, as Tate visited the set of _Rosemary's Baby, but it looks as though it could have been snapped in 1997 or 2020. Regardless, Tate had a penchant for these era-defying looks—she wore a similar cut-out style dress to Cannes the following year.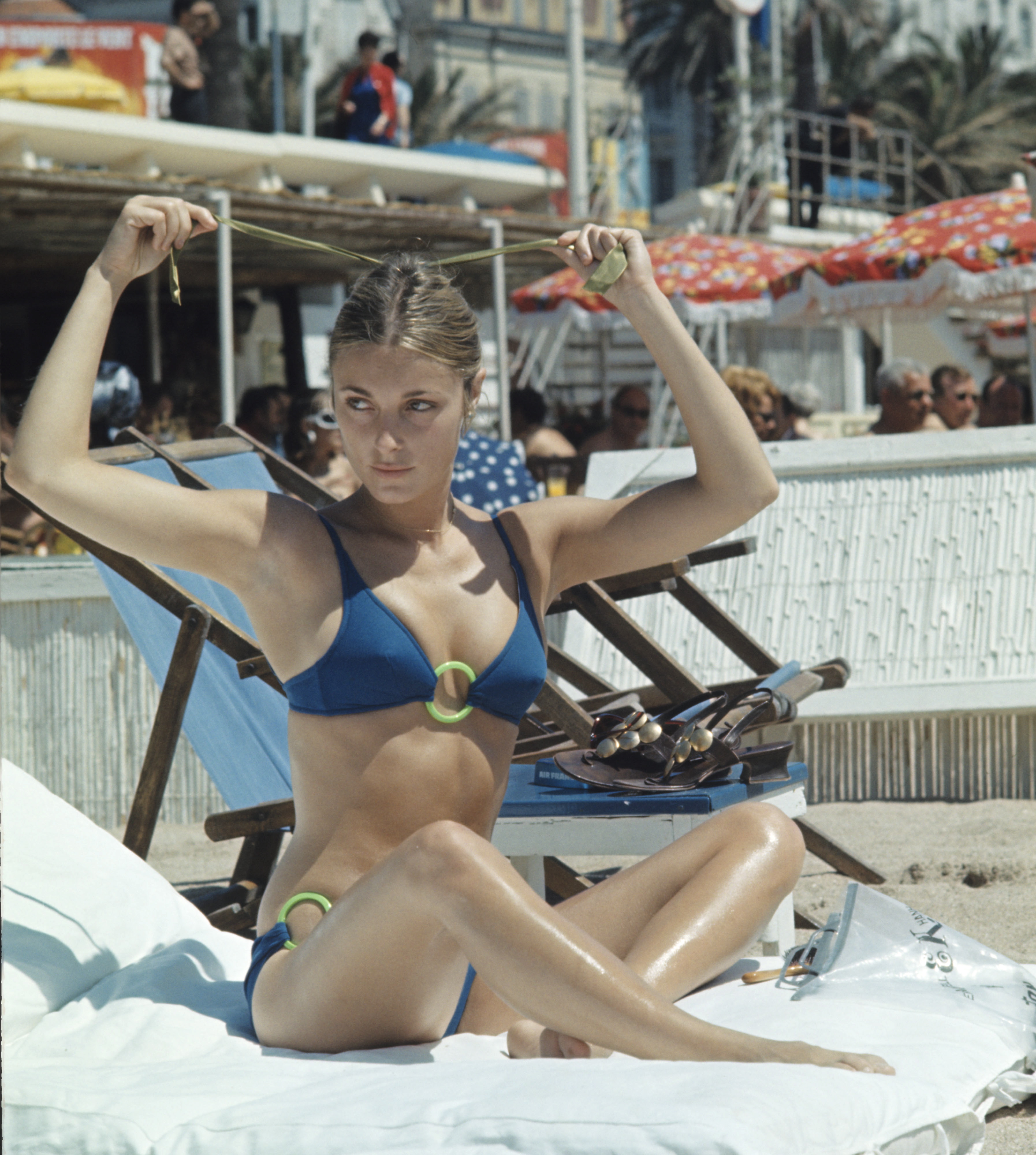 At Cannes Film Festival, 1968
An Los Angeles resident and a frequenter at Cannes, Tate was no stranger to a swimsuit—whether she was modelling for Rudi Gernreich (inventor of the thong bathing suit), at a film premiere or in her own backyard. Here, in the south of France, naturally, the actress wears a quintessential 60s bikini: bright colours with graphic plastic hoop details.
Doing her make-up in a Paris hotel suite, 1968
While her sartorial style is plenty iconic in itself, the most instantly-recognizable part of Tate's look is her signature smokey eye. Doe-eyed lashes, taupe-y browns and the hallmark swoosh above the crease. Want to crib Tate's exact look? A recent auction of Tate's belongings revealed the exact contents of her make-up arsenal: Revlon eyeliners in black and white, a set of falsies, Aida de Léon mascara and a Maybelline eyebrow pencil. Here, in her Paris hotel suite, Tate applies her signature eye look wearing a polka-dotted minidress and a leg cast—the actress injured herself falling out of her hotel bed!
At Cannes Film Festival, 1968
Like her make-up choices, Tate was also known for her glossy blonde mane, sometimes 'done' to perfection in 60s bouffants and blow-outs, sometimes left au naturel in beachy waves. At the 1968 Cannes Film Festival, Tate paired a glamorous velvet gown with a quartet of bohemian-esque braids. The hairdo was so iconic that Margot Robbie—who portrayed Tate in Quentin Tarantino's _Once Upon a Time in Hollywood_—paid it homage at Cannes, over 50 years later.