Miu Miu goes for gold for SS21
This year's Olympics might be cancelled, but Miuccia Prada is set on topping the podium all the same.
If recent market reports are to be believed, sportswear has become a more prominent fixture in all of our wardrobes over the past few months. While it's alleged that the boom in sales of leggings, tracksuits and trainers was down to a collective desire to get moving when everything else started to shut down, we're convinced it was probably just because it's the perfect gear for pottering about the house in. Either way, if yesterday's Miu Miu SS21 show was anything to go by, sportswear was the fashion category lingering in Miuccia Prada's mind over lockdown too.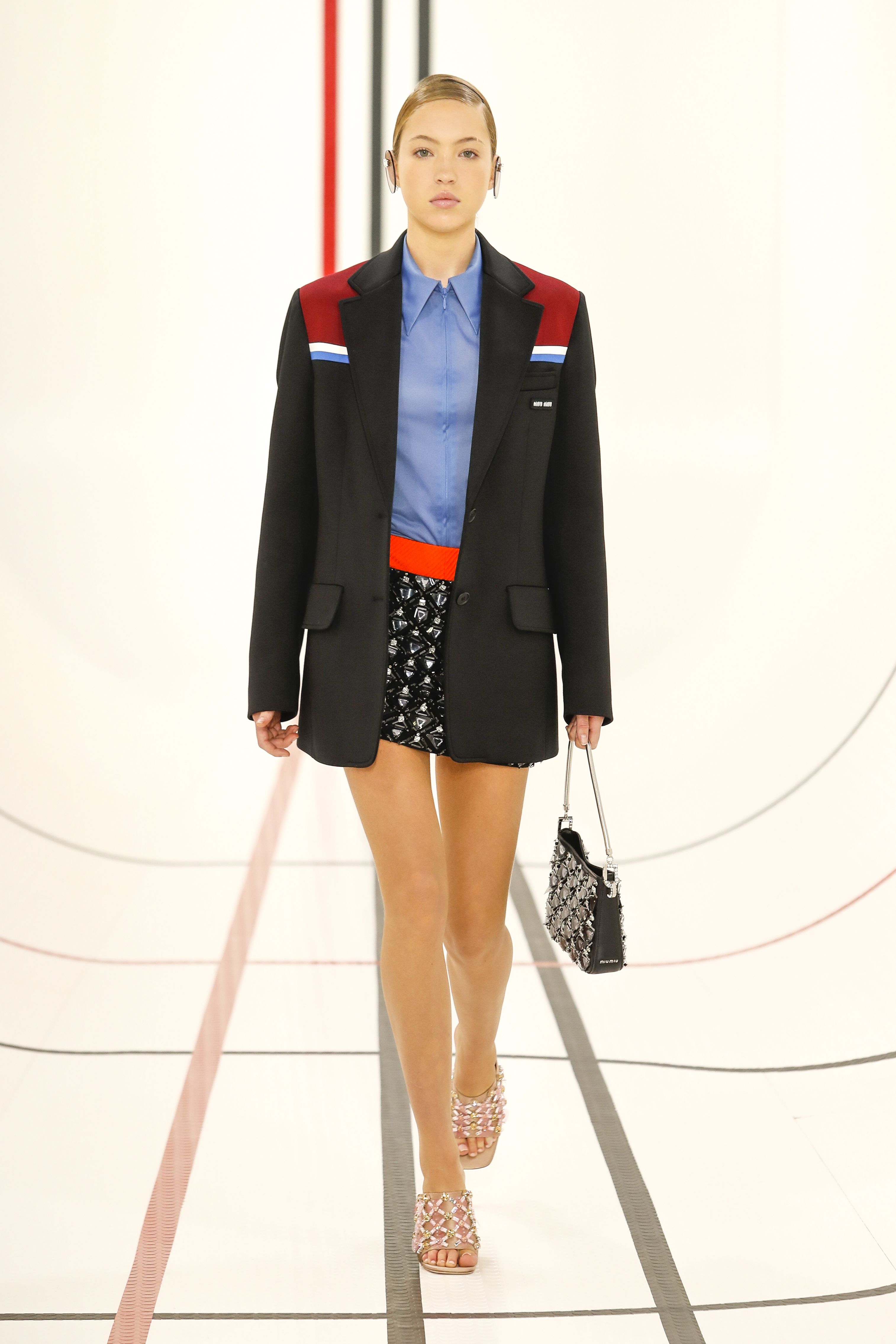 Presented in a set resembling an indoor arena to a virtual front row, it seems that her thoughts were more squarely focused on what we've been missing in the absence of team sports -- the sense of community and belonging that comes with turning up to your weekly basketball or badminton session. Translated to a fashion context, it read like a poignant reminder of the fact that fashion shows, despite all the air-kissing and hoi polloi, offer a similar feeling to their attendees.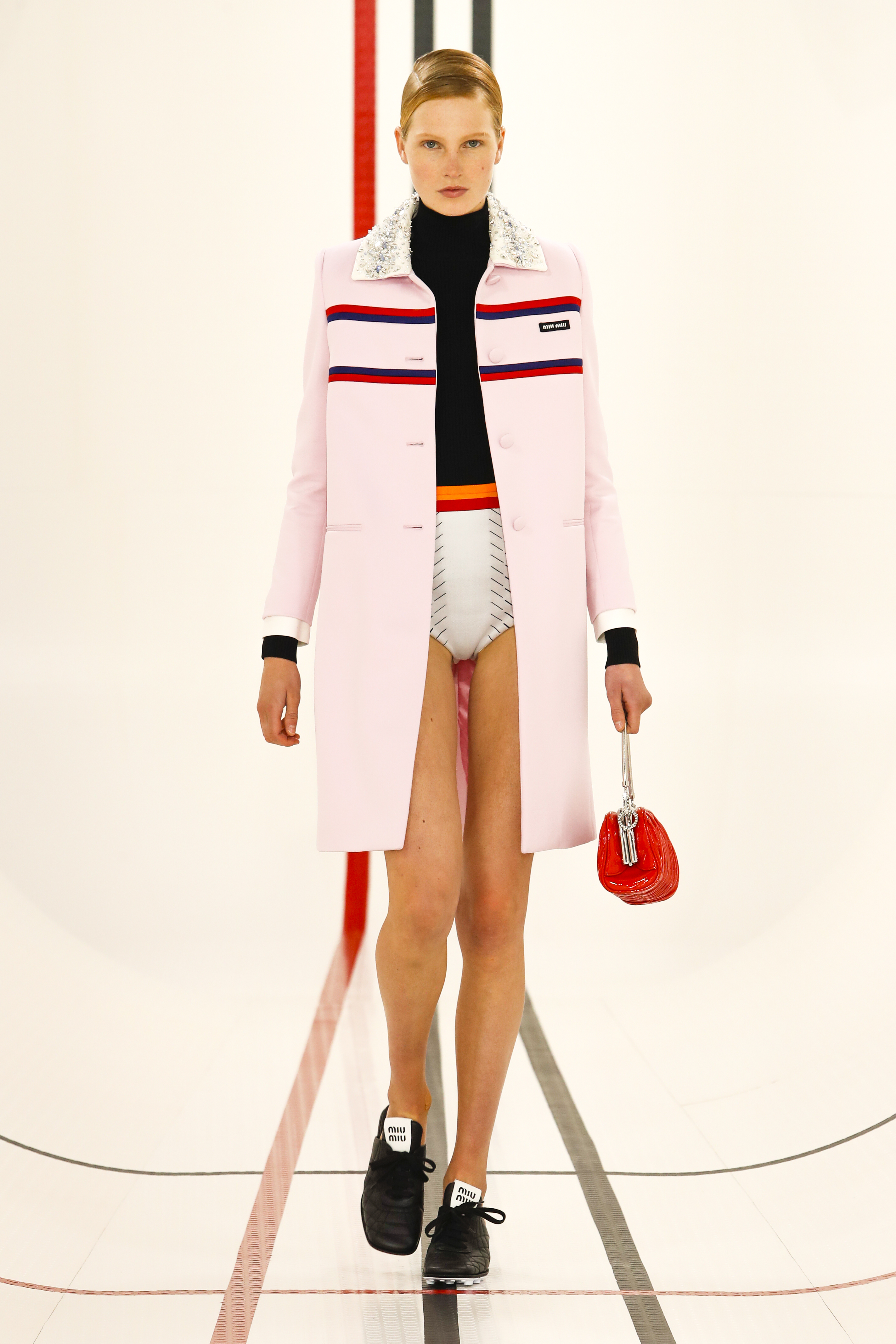 Sporting allegories carried over into the clothes, the most notable being the need for balance in order to excel, to be able to float like a butterfly and sting like a bee. It was a perfect play of harmonies: practical and decorative; prim and sexy; dainty and tough as nails, all contained in single looks, and even individual garments. Ample blazers and smart button-up jackets had sporty stripes, and overcoats and backless shift dresses were embroidered with blockish crystals at the collar. Bow-cinched tennis dresses had cut-outs at the waist, and then there were retro riffs on 80s Italian training jackets and kitten-heeled metallic tennis shoes.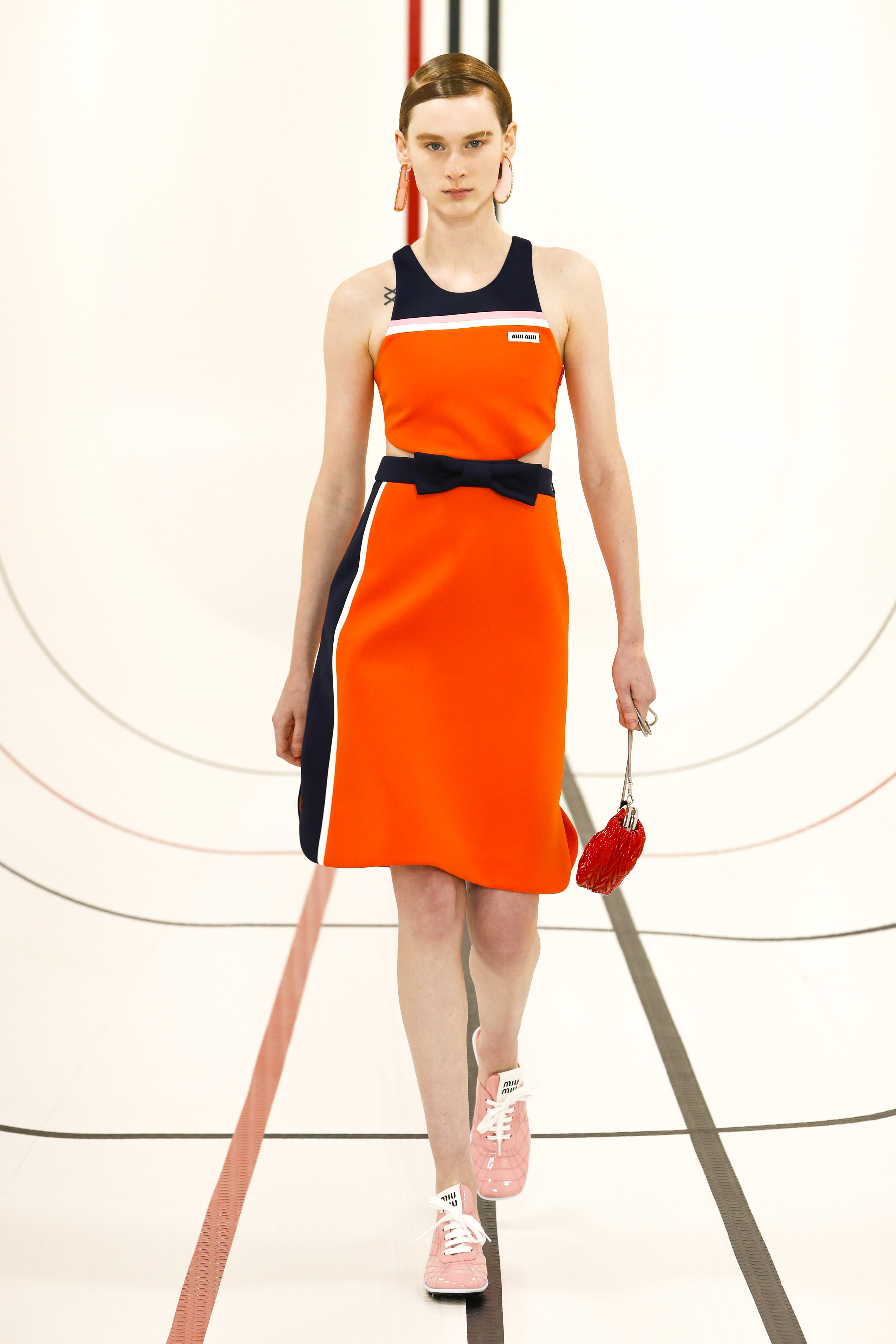 Elevating this casual spirit were moments of evening-ready elegance -- a little prom-ish, yes, but entirely free of any stiffness: flouncy pleated skirts in sugary pastel satins that beg to be spun around in, and frilled backless organza tops -- very business in the front, party in the back. Candy-pop crystal-encrusted micro-skirts brought more of that energy, swaying about the wearer's hips as they walked. Whichever angle you look at it from, it can't be denied: Miuccia kicked the ball for six with this one. Or something like that.