Jonathan Gardenhire: "Perhaps there is not a future in the way the future has existed in the past"
NYC artist Jonthan Gardenhire shares his vision of a powerful vision of a Black future.
|
21 September 2020, 12:53pm
This story originally appeared in up + rising, a celebration of extraordinary Black voices, and is the first chapter of i-D's 40th anniversary issue (1980-2020).
i-D chronicled over 100 activists and artists, musicians and writers, photographers and creatives, in Atlanta, Baltimore, Minneapolis, LA, London, New York, Paris and Toronto.
"I am intrigued by and invested in supporting a movement that enables us to fulfil our whole embodiment. That is to say, and as Ralph Ellison once said: "We are beings of substance, of flesh and bone, fiber and liquids".
As we watch our present being defined by Black death, Black hunger, downright Black suffering, I am incredibly anxious to think about what our future holds because perhaps there is not a future in the way "the future" has existed in the past.
The idea that the sort of innovative, striking work we are dedicated to creating — that our contributions to the vernacular will sustain itself in "a future" on our dying planet, held up by fragile financial markets, speculative investment and real estate systems, among all the other fucked up shit that got us here in the first place is irresponsible and should trouble everyone.
Our forefathers and mothers have made decisions of infinite damage. The remainder of our time here is about managing to survive despite the odds. How we spend our days should be devoted to the kind of stillness that may allow for the ultimate embodiment of our innermost selves."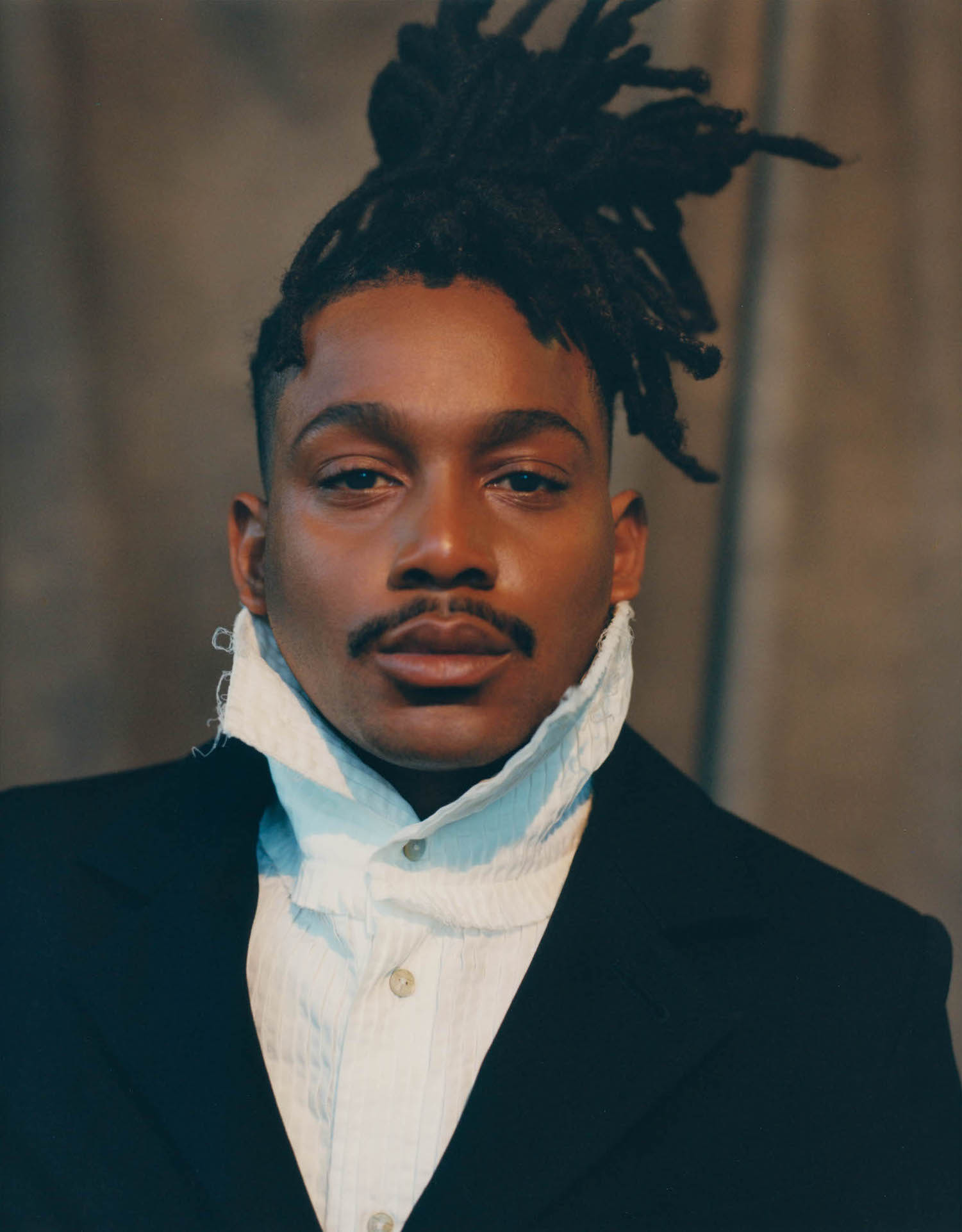 Credits
---
Photography Philip-Daniel Ducasse.
Styling Raymond Gee.
Hair Latisha Chong using Bumble and bumble.
Make-up Jamal Scott for Kevyn Aucoin Beauty using Barbara Sturm Cosmetics.
Nail Technician Leanne Woodley at She Likes Cutie.
Set design Marcs Goldberg.
Photography assistance Setor Tsikudo and Solomon.
Styling assistance Jennifer De La Cruz, Cari Pacheco, Amanata Adams, Samantha Scott, Amontae Arnold and Cailtin McKenzie.
Tailor Thao Hyunh.
Hair assistance Safiya Wiltshire.
Make-up assistance Deneka Maile.
Nail assistance Aja Walton.
Production Lolly Would.
Casting director Samuel Ellis Scheinman for DMCASTING.
Casting assistance Alexandra Antonova.
Tagged: