Kim Jones discusses his collaboration with Amoako Boafo for Dior SS21
"We were really interested in the characters in his paintings and, after talking with Amoako, we wanted to recreate these characters and the strength of each personality in the works."
For proof that a fashion house needn't stage a massive spectacle to assert its creative superpower, just look at Kim Jones' new collection for Dior Men online. The British designer, who has been working on the collection from his home in London, collaborated with Vienna-based, Accra-born artist Amoako Boafo, whose colourful portraits celebrate Black joy and beauty. The pair first met last year at the Rubell Museum in Miami when Kim was in town to show his Pre-Fall 2020 collection, and they bonded over their love of African art (Kim spent part of his childhood in Kenya and Botswana) and Amoako's Black Diaspora series of work, which explores identity and Black masculinity.
Considering the last four months has brought the world to a standstill, it also marks a considerable pared-back simplicity -- a tighter collection, and shown online, a stark contrast to that show in Miami, which had everyone from Kim Kardashian to Maluma flying in for the occasion. In lieu of celebrities, it celebrated the everyday subjects of Amoako's portraits: "People who create spaces for others to exist," as Amoako pointed out in a video directed by artist Chris Cunningham, surrounded by models in his studio in Accra. Clothes are important to him, too. "Fashion inspired my work," he added. "I tend to look at characters who have a sense of style."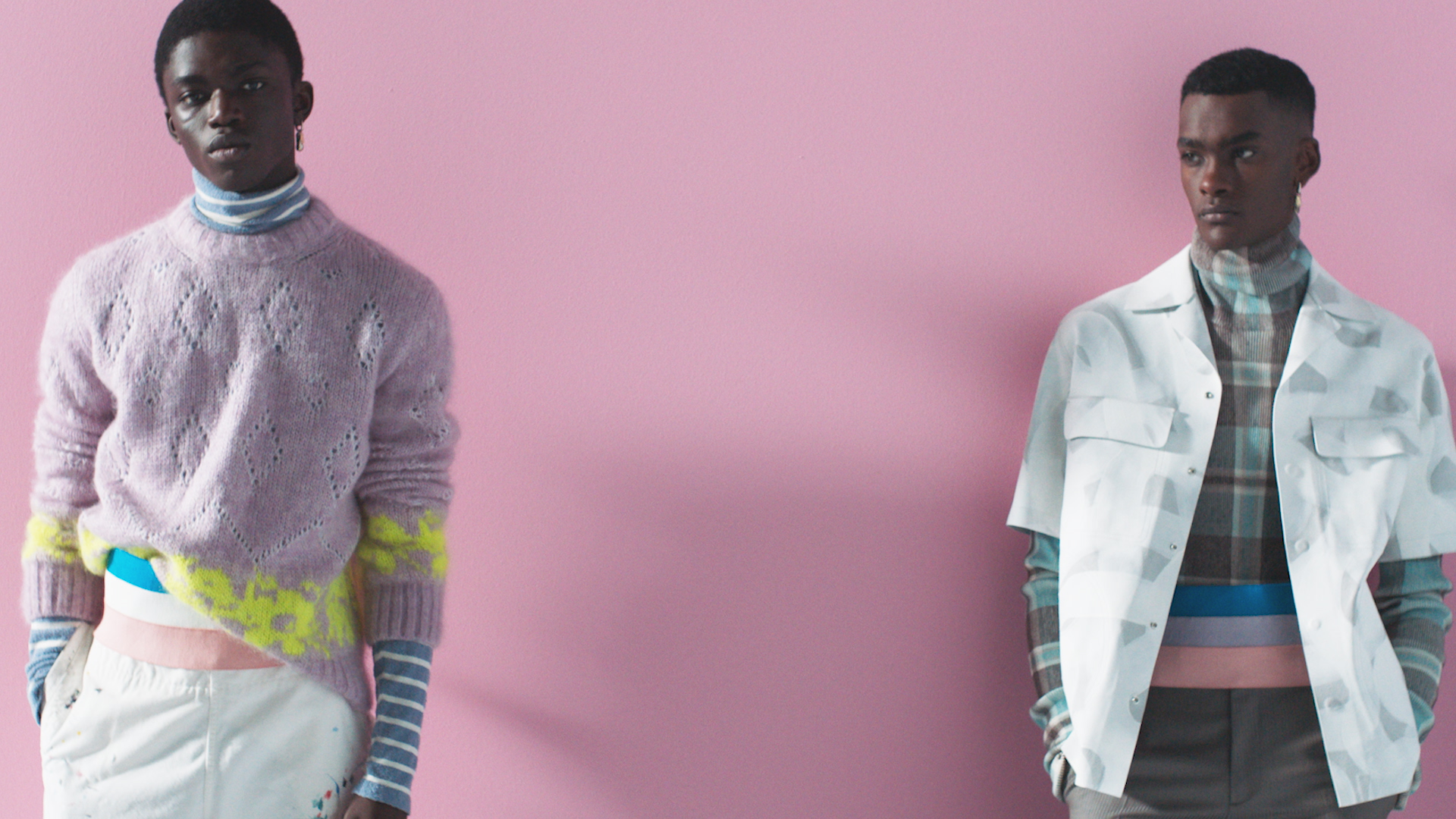 "This collection is about vibrant colours and about celebrating Amoako's work," explained Kim, who chose the title 'Portrait of an Artist' for the collection. "We were really interested in the characters in his paintings and, after talking with Amoako, we wanted to recreate these characters and the strength of each personality in the works." The first piece they set to work on was an ever-so-slightly iridescent ivy shirt, inspired by a shirt in one of Amoako's paintings, which found an unlikely parallel in the Dior archive. "We looked at an ivy dress that Christian Dior designed in the Fifties -- a special creation embellished with a belt and a parure in ivy -- and Amoako had done an amazing painting when we went to Ghana, with ivy in it, and so that was the connection and how we started." You can bet there was a considerable number of hours that went into the hand-stitching of every glimmering sequin.
The rest of the clothes were just as delightful. Colourful striped cummerbunds (who would have predicted the comeback of those?); chartreuse berets; intricately sequinned floral shirts; box-pleated, wide-leg shorts; frogged silk military coats, Velcro-strapped espadrille sandals with monogrammed socks… Say it out loud and it sounds like an mish-mash of fashion jargon, yet just glance at the way it's all put together (kudos to stylist Melanie Ward) and it has the air of elegance and beauty that Kim has established as his moda operandi at Dior. It's old-world elegance reinterpreted through the hallmarks of sportswear and utility.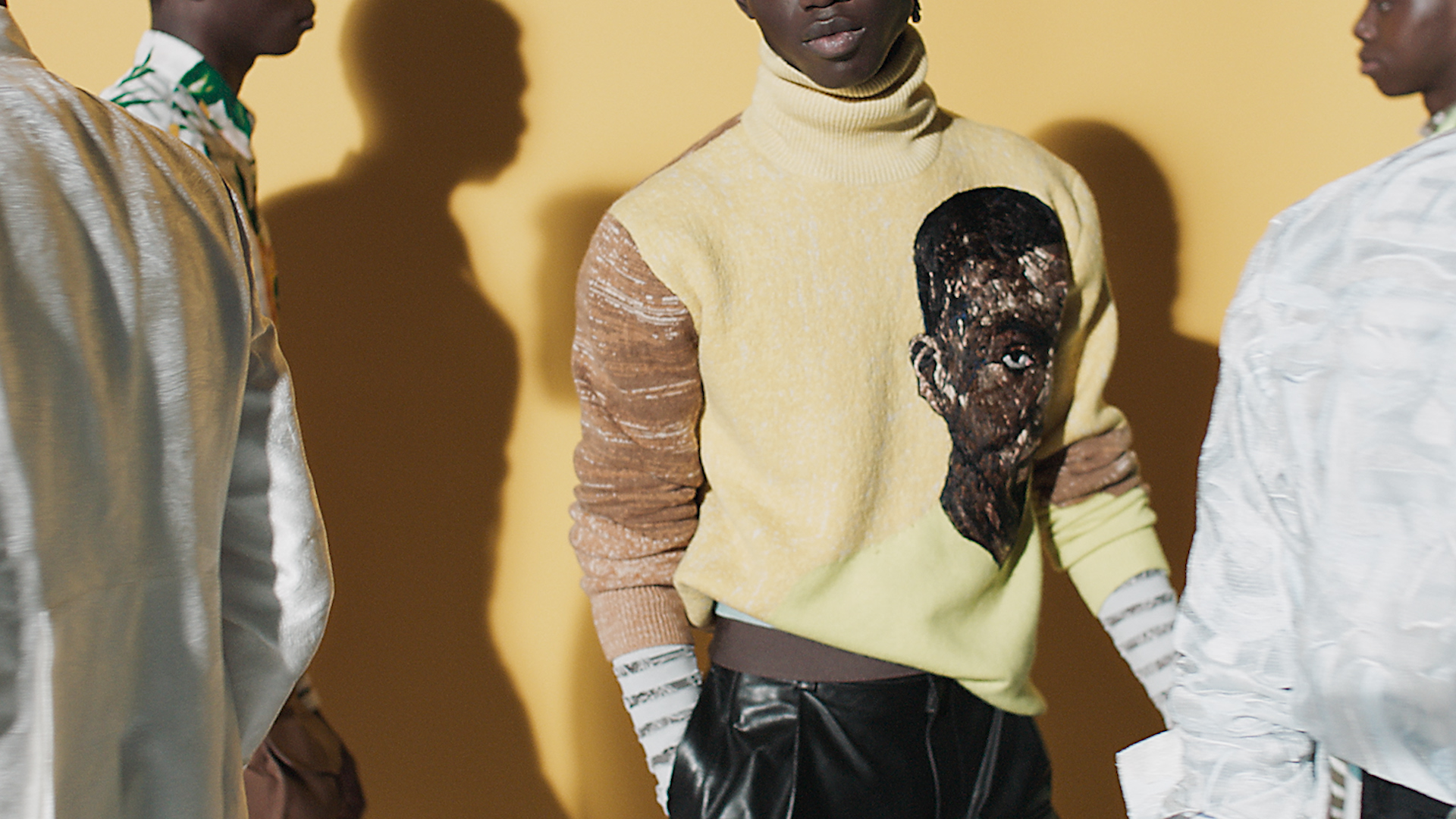 Though, perhaps the most significant element of the collection was the all-Black casting, which felt especially prescient, not just because of the Black Lives Matter movement, but because just last week, Dior released an all-white video presentation for its haute couture collection. Understandably, it caused uproar -- and it would be easy to dismiss this as a rapid U-turn at 30 Avenue Montaigne. But it's important to remember that Kim's collection and presentation will have been in the making for months, if not a year, so there's no ambiguity that this was a coincidence. It just goes to show how important it is to invite often unheard and marginalised voices to be a part of the conversation, and the power of collaboration instead of mere appropriation. What could be more beautiful than that?