How the infit became the most ubiquitous (and unexpected) trend
Nothing, not even a thong, is required to don SS20's most minimalistic 'infit'.
Photo via Instagram, photo by Aurelien Meunier/Getty Images and photo via Instagram.
On May 23, 2012 prolific Twitter user and Vampire Weekend frontman Ezra Koenig published a tweet that would stay with me for the better part of a decade: "just learned the important distinction btwn an outfit (something u can legally wear outside) and an infit (something fresh but 4 home only)." What interested me -- and continues to do so -- was this new term, 'the infit', which gave name to a category of clothing that had always existed, albeit somewhat nebulously and, well, namelessly. The infit is not just loungewear, not only pyjamas, underwear or intimates (although the infit is always intimate). At its most fundamental, it's the clothing we wear when we are alone, quietly existing between four walls. When we know no one is watching. It's the clothing of our private lives. It follows, then, that the infit is one's most personal sartorial statement. It's the clothing in which we are most ourselves.
As the coronavirus pandemic set in earlier this spring, bringing with it lockdowns and stay-at-home orders across the globe, my "Promotions" inbox slowly started to pile up with hundreds of identical subject lines like "Level-up your at-home style," "Staying-in selects" and "Our Loungewear Edit." There was imagery to match: models wearing floaty T-shirts, sweatpants and floral summer dresses in living rooms, on couches, by the kitchen sink. I was reminded of Koenig's old tweet. We didn't know it back then, but the infit would become the most ubiquitous -- and most unexpected -- trend of spring/summer 20.
First and foremost, the infit is about comfort. Unseen and behind closed doors, the kinds of (frequently uncomfortable) clothes that make up an outfit, and make us a 'sight' to be seen -- the rigid jeans that sculpt the ass but chafe the thighs, the heels that elongate the legs but cramp the feet -- serve little purpose. At home, with our feet up, curled into the corner of a sofa, cross-legged reading a book at the kitchen table or flopped under the duvet watching Netflix, we reach for soft fabrics that allow us to contort our bodies into the many, twisted states of repose. The jerseys, fleeces and terrys of loungewear are the face of the at-home fit. Think a pair of heather grey sweatpants (the likes of which might make Karl Lagerfeld roll over in his grave), a buttery old T-shirt or recreating Princess Diana's iconic Ivy League jumper and bike shorts fit to mill around the home.
Think also about the matching lounge set, which, in very recent seasons, has outgrown the tracksuit or even the sweatsuit, to encompass an entirely new form of polished indoor dressing. Wide-leg knit trousers with co-ordinating cardigan and bralette from newly-minted LA brand LESET -- who embraced the virtues of staying in long before COVID -- make one feel cozy and put-together, even when the world beyond the window seems to be unravelling. Think also Gil Rodriguez' haute sweat sets, mix-and-match terrycloth separates and dancewear for YouTube yoga classes or TikTok dance practice. Finally, who could forget Katie Holmes' iconic bradigan? Just last September, the actress was photographed hailing a New York cab, her Khaite cardigan falling just so to reveal the twinning cashmere bra beneath. The moment resounded across the World Wide Web. And for good reason: what better epitomizes the zeitgeist's love for studied effortlessness than the luxe-comfort of a cashmere bra (with matching cardigan, no less.)
But the infit is not only relegated to the realm of loungewear; an infit can be anything. The mystique of the infit is that, more so than the wildest outfit, it is dictated solely by the whims and desires of its wearer. It doesn't abide by the social norms -- or even laws -- of the outside world. It is the outfit, unbounded; it is expansive.
"When you've got nothing left, all you can do is get into silk underwear and start reading Proust," Jane Birkin once said, in a turn of phrase that describes both our collective quarantine ennui and one of the most aspirational iterations of the infit: the silk lingerie set. And a new crop of underwear brands have emerged -- just in time -- for SS20 to prove just that. To Alice, founder of Italian label softandwet, sliding into a pair of silky panties is an act of self-care, akin to putting on a sheet mask, lighting a candle or taking a bath. Silk lingerie is also all about the fantasy; it has a transportive power. Wearing one of softandwet's ruffled satin sets feels just like vacationing on the Italian Riviera, the luxe rusticism of a Tuscan country villa. Du Ciel's sleek silk designs -- and campaigns -- conjure, precisely, the covetable minimalism of the 90s. Sporting the German label's string thong set, we're transported from our current reality back to the era of Kate Moss, of Mario Sorrenti. A simpler, chic-er time...
But sometimes an infit isn't even a fit at all. Nothing, not even a thong, is required to don SS20's most minimalistic infit. For SS20, nakedness is du jour -- even according to Vogue. What better way to revel in the freedom that comes with 24-hour privacy than going au naturel. Perhaps to soak up the sun -- and some much-needed Vitamin D -- through the nearest window, like nude selfie queen Emily Ratajkowski, or, topless, to dig into your distance-delivered Uber Eats order, as did Bella Hadid. Enjoy the great indoors to the fullest and with total abandon: unclothed and unbothered.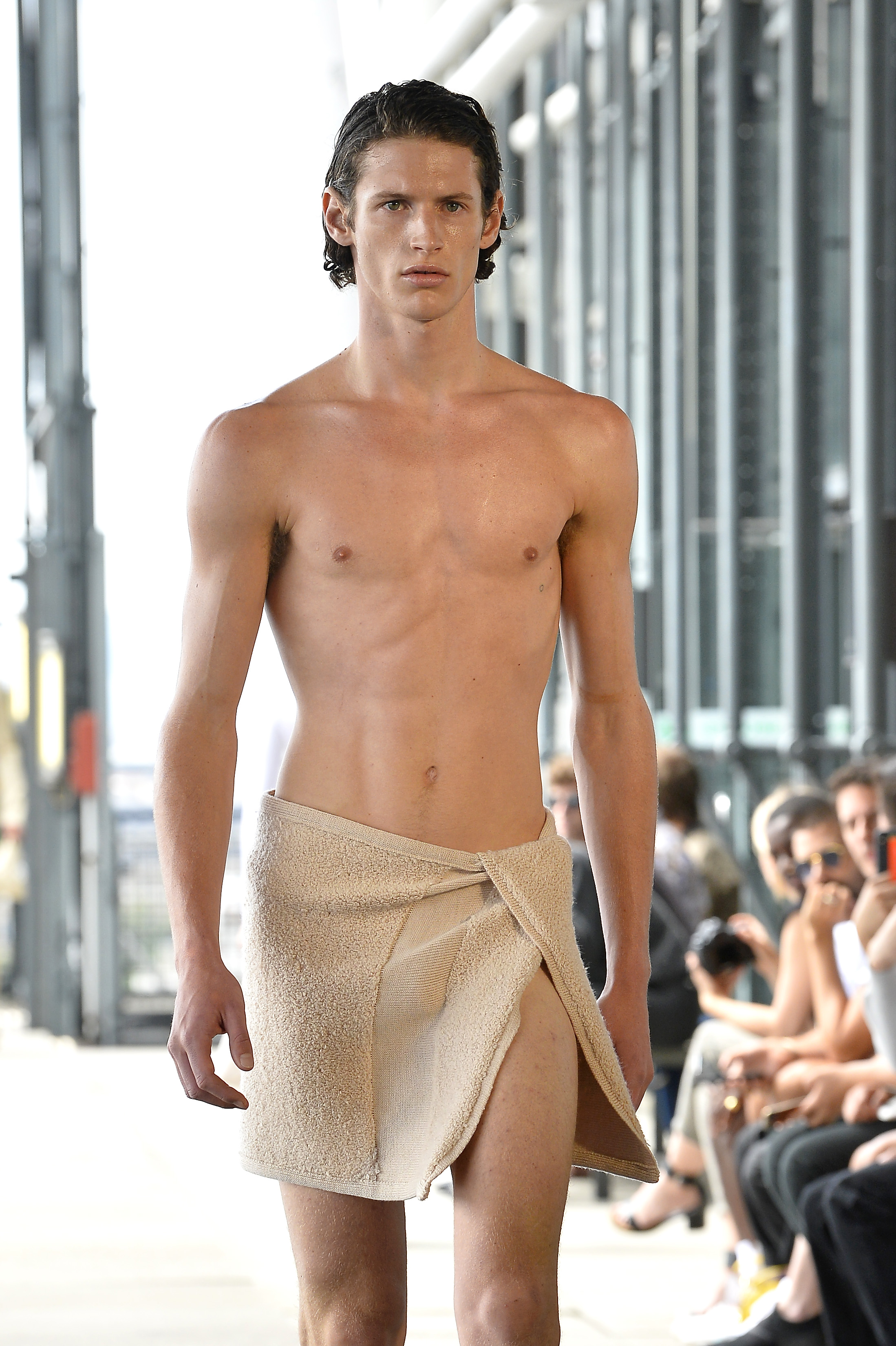 Likewise, infits aren't just to be found hanging in your wardrobe; they could very well be lining the shelves of your linen closet. In a move almost too prescient of the number of at-home hours the season would bring, French designer Ludovic de Saint Sernin sent a model down his SS20 runway in nothing but a merino wool bath towel. Bed sheets are also trending, if you ask Tekla, whose latest influencer campaign includes a gown draped from its organic cotton percale bedding. Surprisingly versatile, and naturally, the perfect transitional morning-to-night infit.
But back to nakedness. The infit itself, is akin to being naked. If John Berger once said, "To be naked is to be oneself," then, to don an infit is to be oneself, deliberately. It's an act of self-affirmation, the sartorial equivalent of the strange and secret rituals we engage in when no one's around. Maybe your infit of choice is an old T-shirt, left behind by an ex-lover. Maybe it's a fleece sweater nicked from your mother's closet, or the silly, patterned socks your grandparents once gifted you. The infit is the personal narrative we tell ourselves, again and again, dressing and undressing.
The birth of reality TV, and then social media, has ushered in another type of infit: the one we assume when we know that people will be watching. It's your #iotd, the infit you throw on when you plan on taking a quarantine selfie. This type of infit is always a flex -- a fitness flex, a wellness flex, an out-of-office flex, a flex of wealth. And, as it exists to be seen, it's also a bit of a performance: in front of the self-facing camera, we put our best infit forward. Of this performative infit, Kim Kardashian is queen. A luxe Rick Owens jersey and bare feet for filming a Vogue home tour, head-to-toe Yeezy sweats with kicks to match or heels (perhaps, with feet up on the sofa) in front of the Keeping Up cameras. And, of course, always in full glam, which is Kardashian lingo for a full face of makeup and fully-coiffed 'do.
Since its inception, a number of fashion brands have played -- and pandered -- to the performative infit. For spring/summer 17, the disruptors at Vetements relaunched the infit of our early-00s teenage dreams: the Juicy Couture tracksuit. Steeped in nostalgia and tailored to bodycon proportions, the suit -- like most Vetements creations -- was engineered to go viral. And go viral it did -- it was worn most famously by Insta-queen Kylie Jenner herself. Two years later, Eckhaus Latta did something similar; this time with UGG. The Australian label's love-to-hate shearling boots and house shoes were already divisive (so cozy, but so ugly), before Mike Eckhaus and Zoe Latta slapped a chunky heel on them for their SS19 collection. The result: a grandad-slipper-cum-fashion-clog, sure to make a statement both in and out of doors.
Working from home -- or, perhaps, just staying sane during quarantine -- demands a different type of infit. Sweats, underwear and nakedness put us in the mood for lounging. To be a productive member of society, albeit indoors, we must dress like one. At least, partially. Zoom conferences and FaceTime meetings call for hybrid outfitting. As Uniqlo put it, in a newsletter dated April 25: "half-and-half outfits for WFH meetings." Business on top (a buttoned shirt, maybe a blazer) and anything goes on the bottom. Even before the days of video calls and at-home presentability, WFH icon Carrie Bradshaw got serious -- and creative -- with her corporate infits: putting in overtime in a neat Diane Von Furstenberg wrap, working from bed in a pair a luxe satin trousers or pondering her next clincher in a grey marabou sweater. Dressing 'up' (or 'out') to WFH might just lead to increased productivity.
Under quarantine, anything can be an infit. And now, as designers and labels scramble to retroactively rebrand their SS20 collections under the umbrella of the infit, the category only continues to expand. This sudden reshuffle begs the question: "What is an infit not?"
Jacquemus' SS20 campaign, photographed remotely via FaceTime, features models Bella Hadid and Barbie Ferreira posing, at home, in the label's handbags and wide-brimmed chapeaux. But can an infit incorporate these kinds of accessories that, like the Jacquemus woman, live to be outside, under the sun? For the free-spirited, Dada-leaning brand, it makes perfect sense. Like buying a bouquet of fresh-cut flowers to place on your kitchen table, if wearing a pair of vibrant of sunglasses indoors brings you joy -- especially right now -- then why not?
The infit is whatever you make it: a cozy reprieve in sweats, a salve -- or an escape -- in silk lingerie, utter freedom in the nude, a beacon of normalcy in a world turned upside down. Whatever it is, one thing is for certain: the infit is as expansive and multifarious as the wearer themself.