Courtesy MM6 Maison Margiela
MM6 Maison Margiela playfully reinvents the everyday for SS21
In an exclusive chat, the anonymous collective behind the house discuss how the constraints of isolation came to define their new collection.
|
28 September 2020, 10:00am
Courtesy MM6 Maison Margiela
Fashion show invitations are an understudied aspect of a label's communication tactics. That's in part down to the fact that their immediate relevance to anyone who doesn't receive one is arguably minimal, but there's something to be said for their ability to directly communicate the message at a collection's heart. Late last week, we received a white box from MM6 Maison Margiela — in it, an unvarnished tin can, its bottom drilled with a hole, that contained a medium length of twine.
'What on earth are you meant to do with that?' you're probably thinking -- admittedly, if your average Joe were to start sending out tin cans and string in the post en masse does, it would seem a little, uhm, esoteric. But this is MM6 Maison Margiela, after all, and the team were luckily on hand with an extensive set of suggestions — everything from creating a makeshift telephone to wearing it as a hat to even painting the thing and rolling it over yourself. The message was this, that even with the most spartan array of paraphernalia, the possibilities that can be conjured with the power of imagination are endless. It's a pertinent message given the increased amount of time we're now spending at home, tasked with finding new ways to entertain ourself with what we find within our four walls to keep ourselves from climbing them.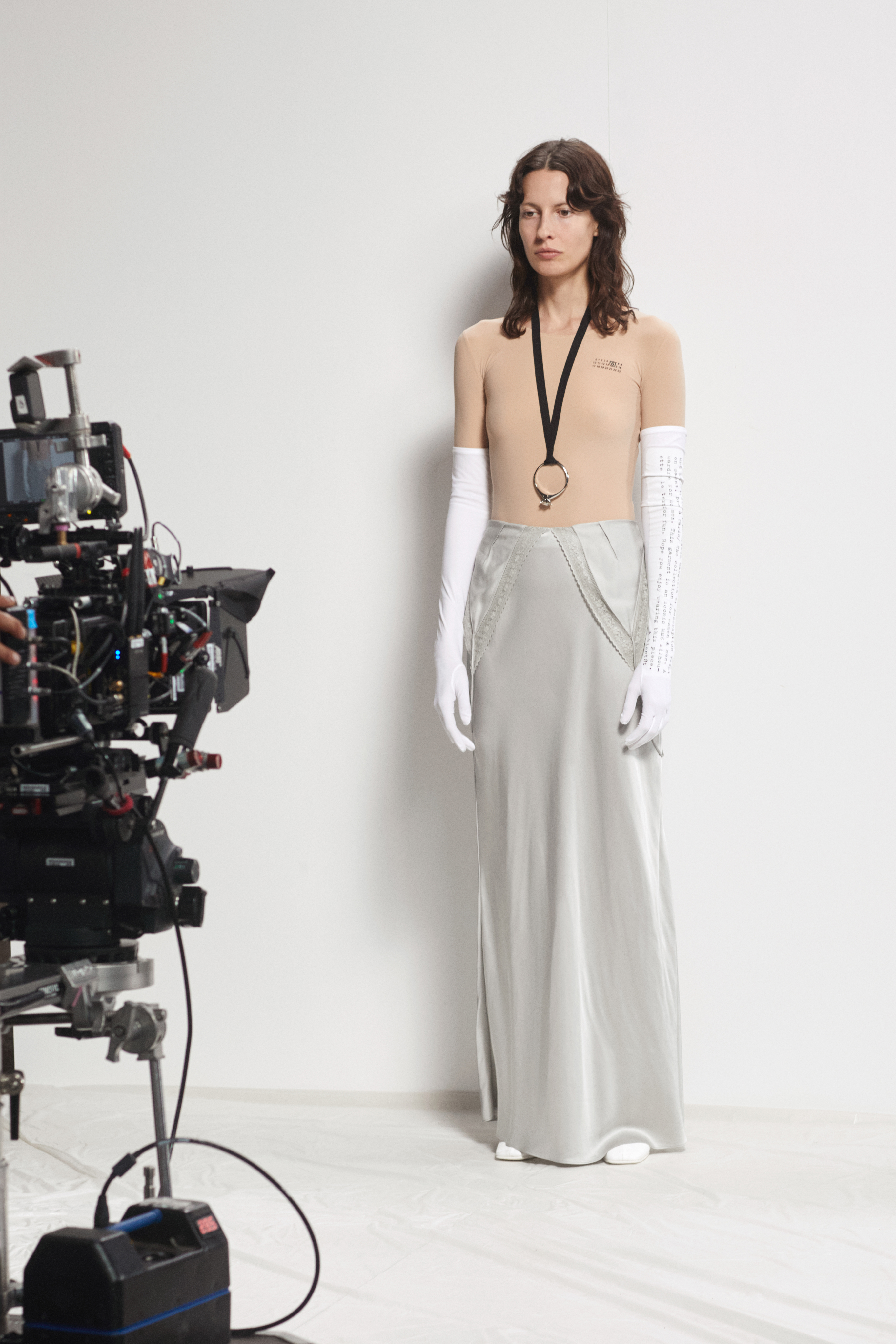 Though a notably pared-back offering, particularly when placed next to last season's clubby exuberance and zebra stripes, MM6 SS21 reflects the savvy approach to dressing we've all had to cultivate, adjusting our wardrobes for the WFH age. In equal measure, it riffed on pieces perfect for wearing around the house — denim jeans and lace-trimmed satin slip dresses, for example — as well as the commuter train uniform staples of our past lives, like gabardine trenches and cropped pinstripe suiting.
More than just ponder these humdrum sartorial artefacts, they're reconsidered with a liberated playfulness. The house's trompe l'oeil codes are put to full use, reflecting the surreality of our times, but finding in it new opportunities and potentials rather than cause for despair — what look like boxy sleeveless kimono tops worn with denim jeans and work trousers are in fact jumpsuits, their draped uppers repurposed from trouser legs; a gabardine trench is bisected into a neat skirt and jacket twinset; a skirt lining trails down from under an overlaying denim micro-mini.
For the collection's film, the process of creation was placed in full focus. In it, we're offered a stylised snapshot into the making of the collection's lookbook imagery — models being dressed, strolling onto set, props being swapped — with another clip offering further behind-the-scenes insight revealed exclusively here on i-D. And below, the MM6 team fill us in on their experience of working on this most extraordinary of seasons.
MM6, and Maison Margiela at large, has always had notions of collectivity and close collaboration at its heart — in light of recent times, what was the process working on this collection like?
Collectivity and close collaboration as always … via computer devices! Same as usual personal trial and error, collecting inspiration and information and then sharing and merging, so that together as a team we create collectively.
What would you say were the primary challenges of working on this collection? And how have you found the experience of overcoming them?
Materials and colours do not translate via screen in the same way that the attitude and silhouettes do. We used mainly our familiar, iconic colours and materials. A deeper exploration is visible in the approach and the cut. Ultimately the limits imposed by our actual, tangible reality defined the creative concept strongly… this digital framework, that helped us communicate and connect, became one of the main themes of this new collection.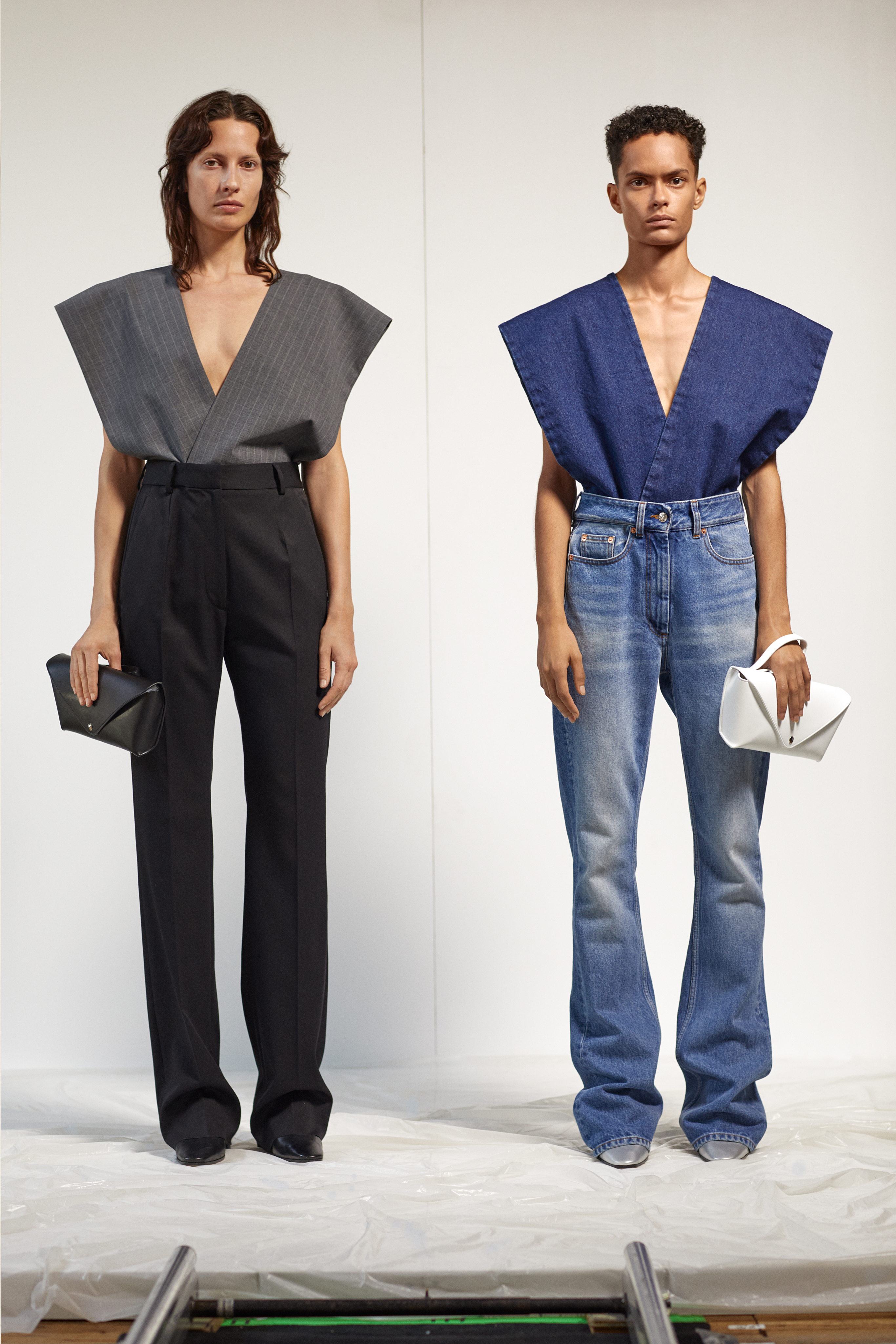 There's also an element of freedom and fun -- as exemplified by the show invitation and the set of suggestions on how to use it. What inspired this lighthearted tone? Particularly at a time when life feels quite serious.
The answer is in your question! Why make a collection burdensome when we already feel the world's weight on our shoulders? We wanted to create a collection that feels immediate and relatable, homemade (as it was the only possibility) but sharp. We were also very keen to share loads of little anecdotes and references from our past collections.
Would you say there are any particular expansions of the MM6 vocabulary this season?
It was such a particular moment, we had to set up new processes to network and understand how to work together. It was a lot about resetting and defining what really matters to us…We always try to see what's next. We wanted something that feels exactly like us: the same energy and excitement for this new normal.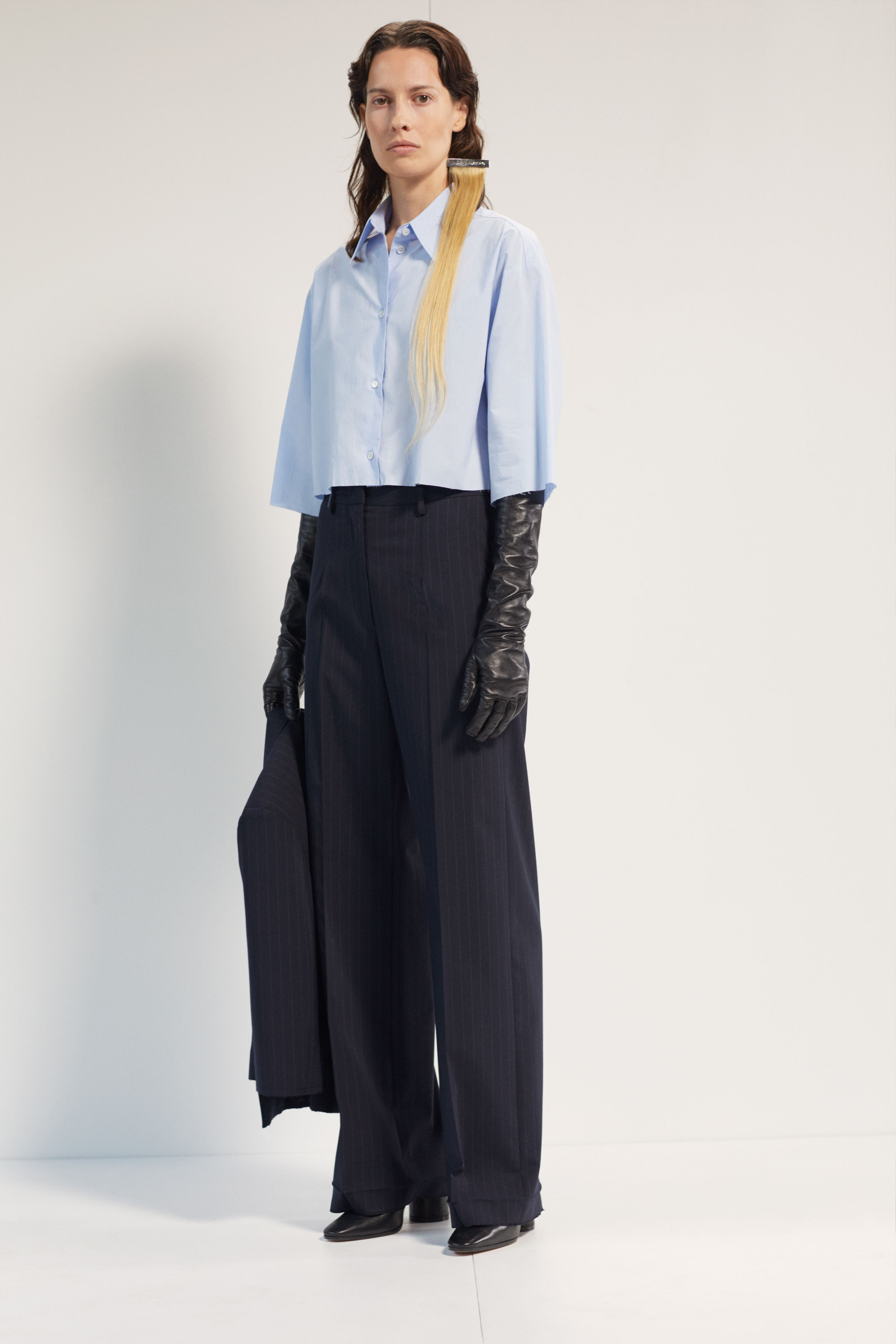 Your shows have always been very immersive — focussed on creating atmospheric experiences, rather than just showing clothes. How did you go about translating that to film?
Process is the most important part of our presentations. Everything we prepared during lockdown for this video was to establish a frame, which once on set, allowed us to work transparently and show the collection and processes. It was important for us to work spontaneously and let the process direct the film. It was the first time we were out and about, away from screens working in real-time in the same space together, hearing the same noise from the neighbouring building, witnessing the same moment happening in front of the camera and that was incredibly immersive.
What benefits would you say there have been to working with film, both for MM6 and for the industry more generally?
More Control for those who want it. Film naturally adds a layer of narrative, it is hard to create the story in a similarly controlled manner with a show, as there are always so many other variables. That is why we created a space where those variables would also creep into the equation as part of the process to surprise us and our audience.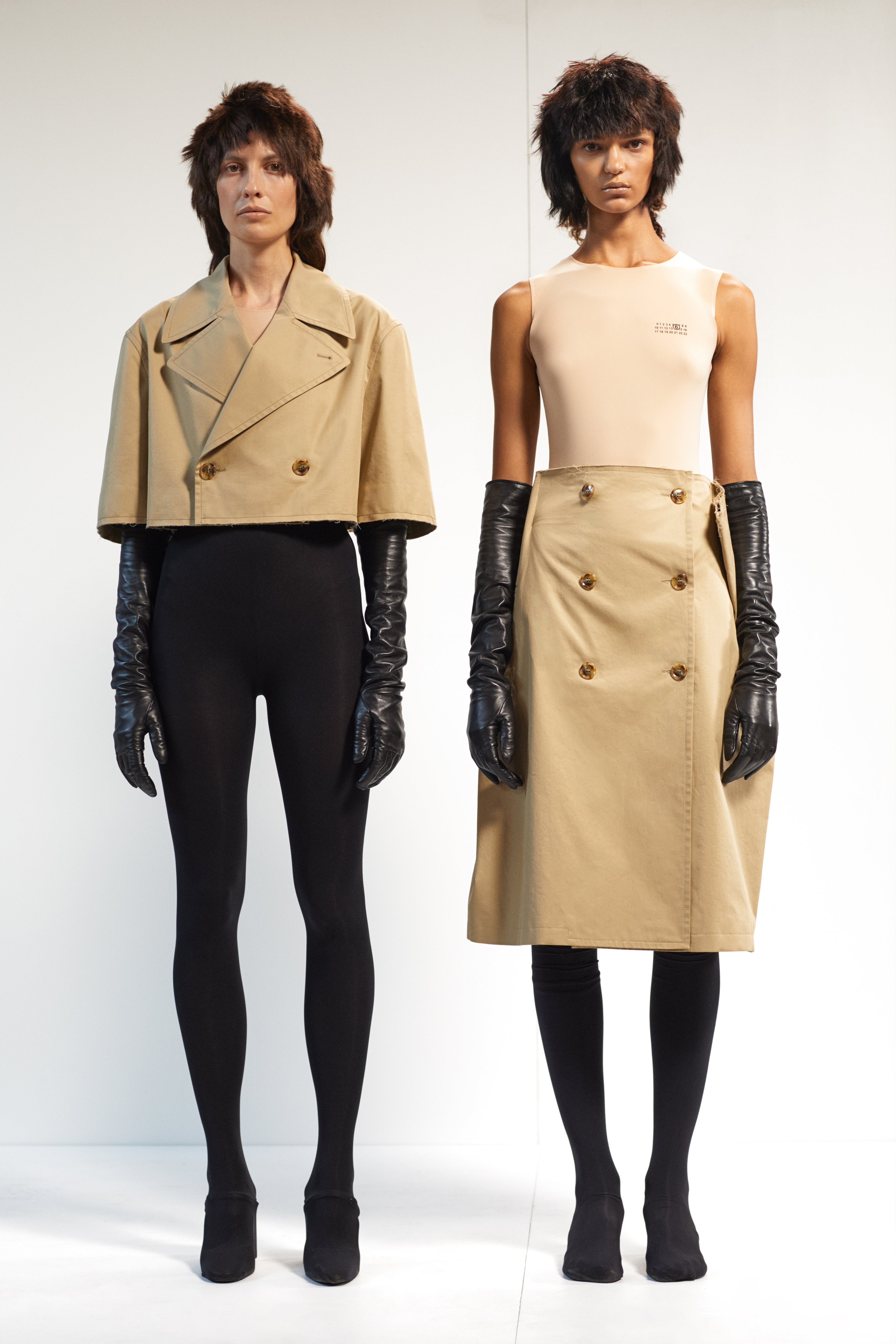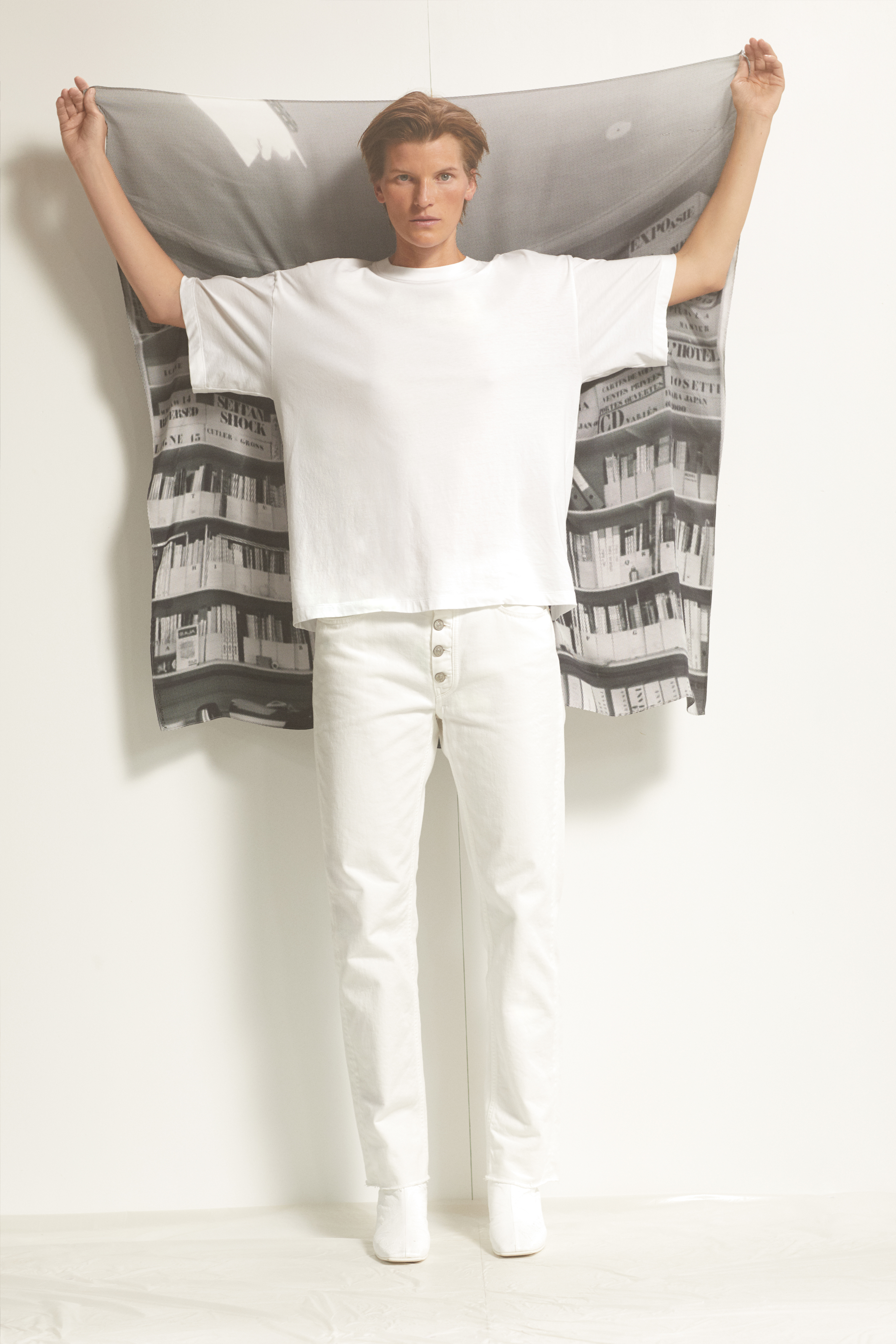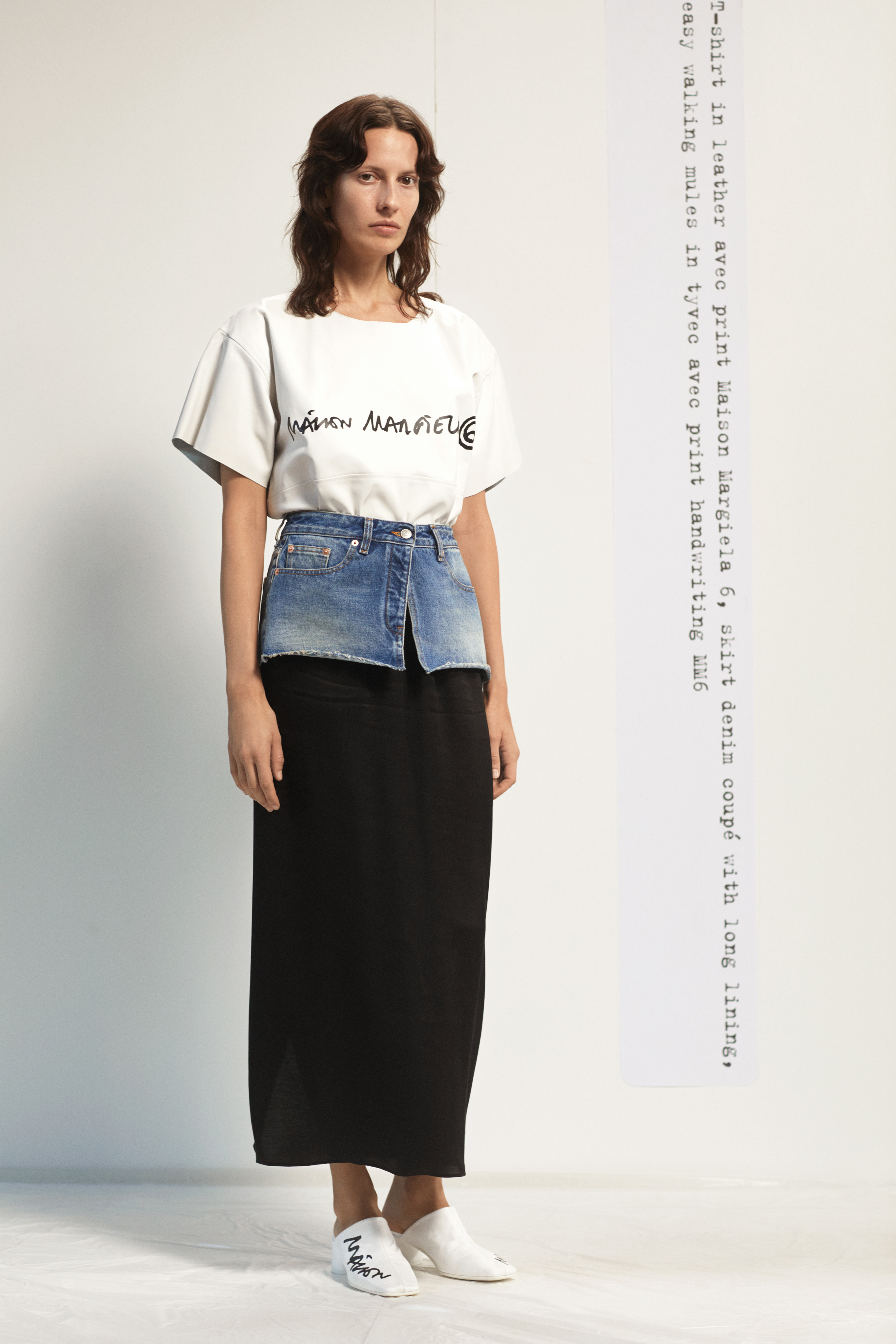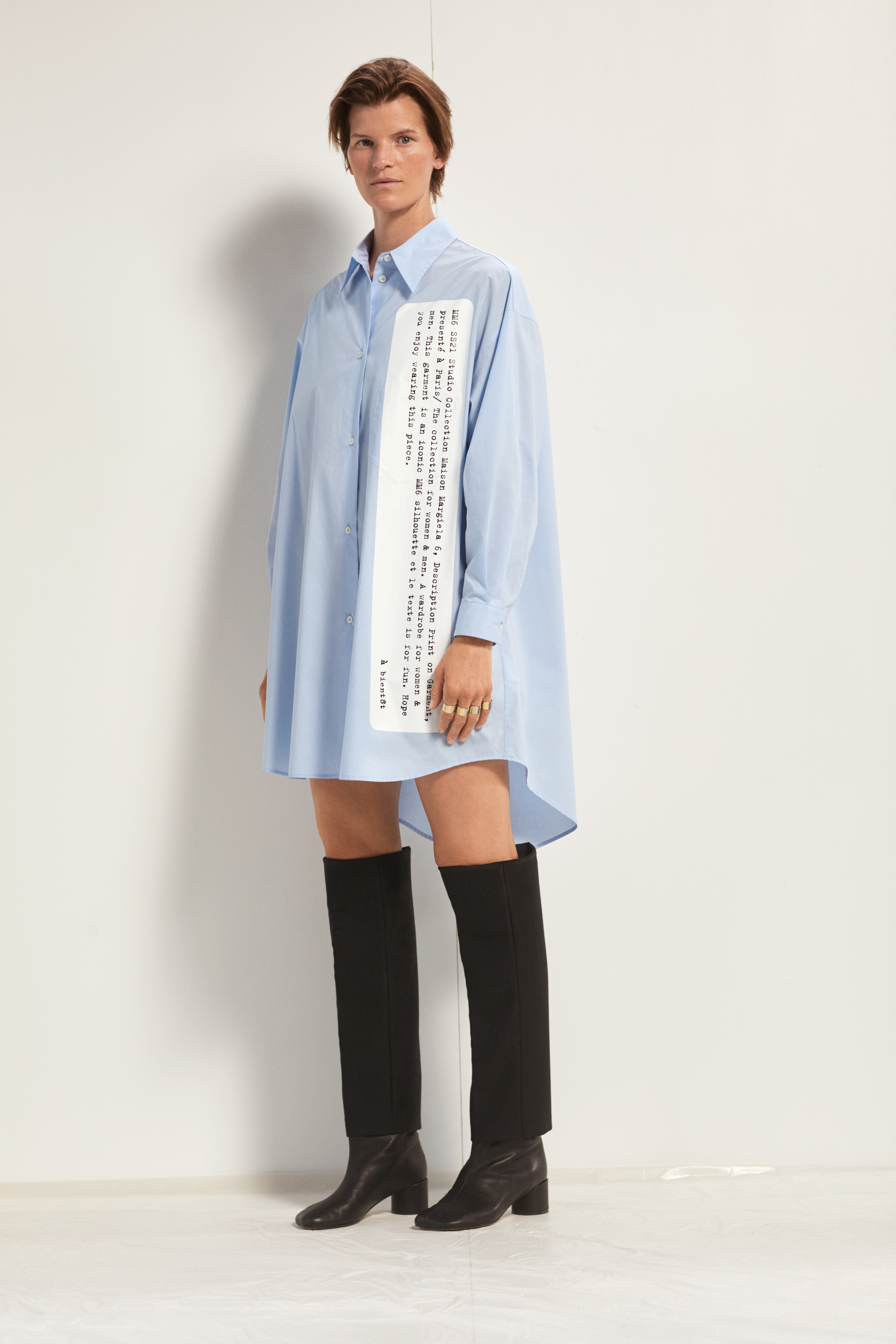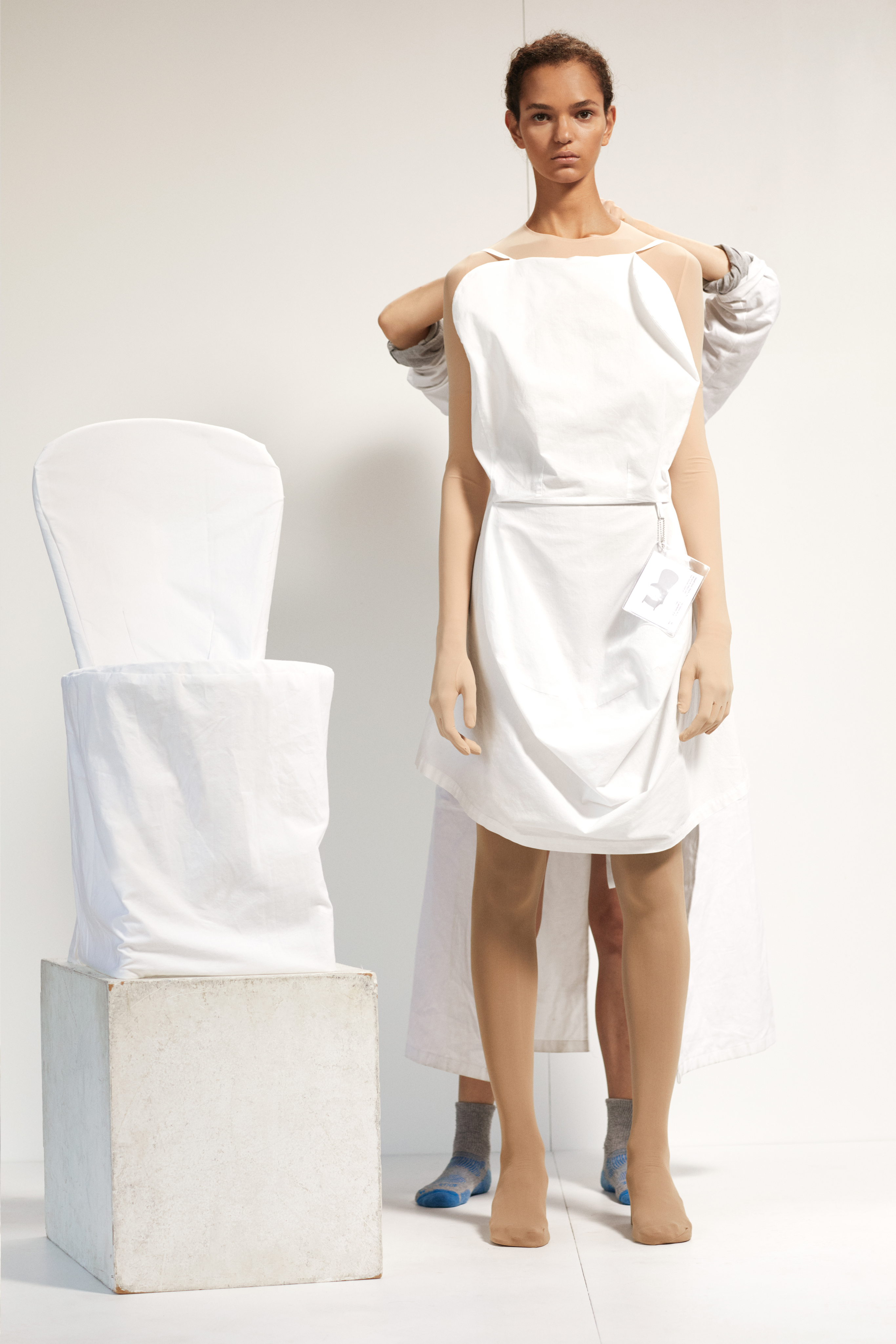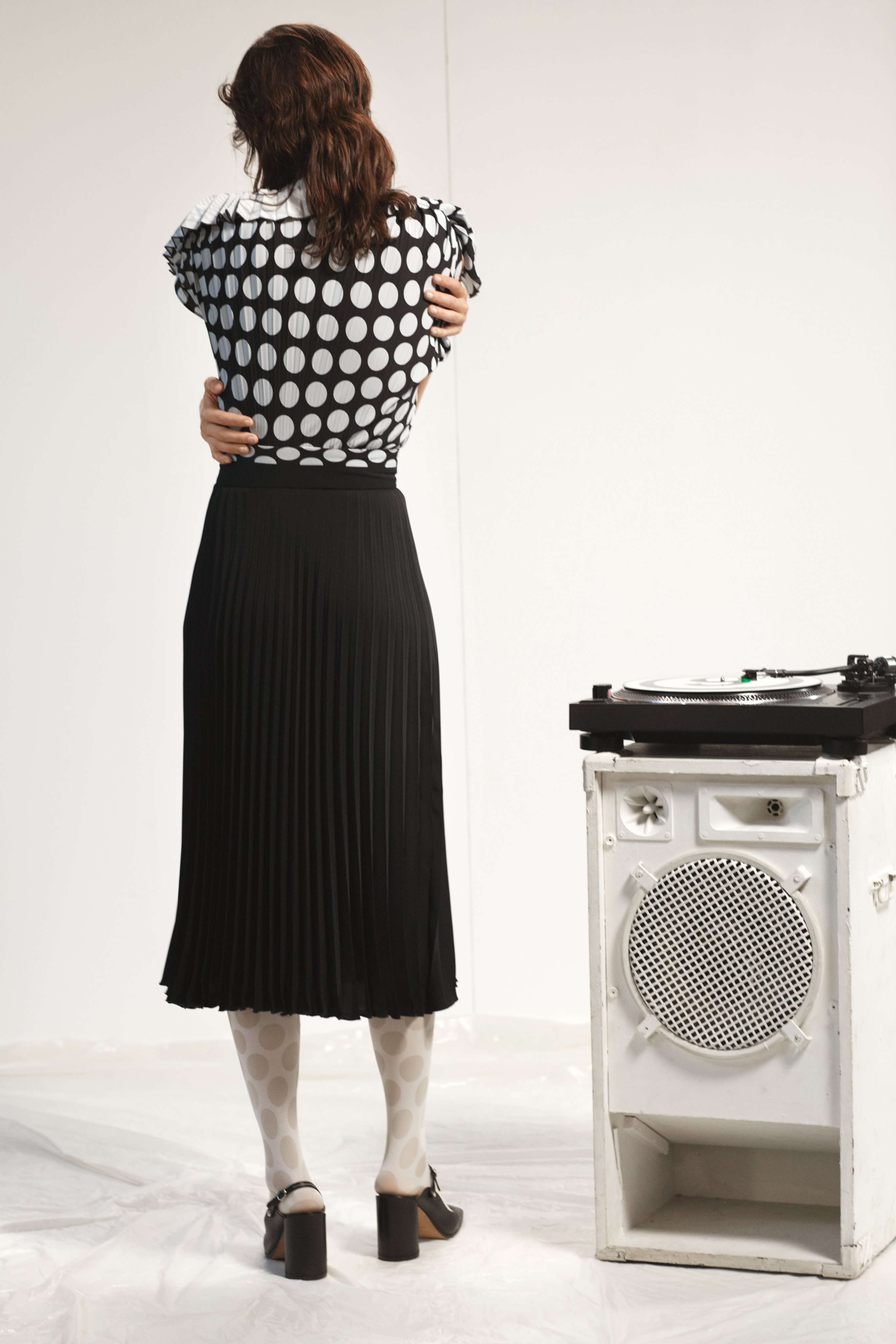 Tagged: