Photography Esther Teaker
Kiko Kostadinov wishes on a lucky star for SS21
The brand's womenswear designers, Laura and Deanna Fanning, fill us in on the new relaxed aesthetic they're bringing to the brand.
|
29 September 2020, 8:37am
Photography Esther Teaker
With the year we've had, we don't blame you for turning to whatever it is you need to get you through. For some, that'll be wellness and meditation; for others, the bottle. And for Laura and Deanna Fanning, the twin sisters at the helm of Kiko Kostadinov womenswear, it's… the occult? That's what you might guess from a glance at a detail on the moodboard in their North London studio -- a bright orange pentagram, printed on a sheet of A4.
For the girls, however, the shape is more Madonna's 'Lucky Star' than Marilyn Manson, referencing its role as a symbol of hope and good fortune for the Victorians. That aside, geometry has always figured as a central part of the brand's striking visual vocabulary -- there were the circular and spiral forms for SS20, while AW20's diamonds figured everywhere from blown-up smocked slip dresses to the elegant, darted pockets of overcoats and tuxedo-style trousers.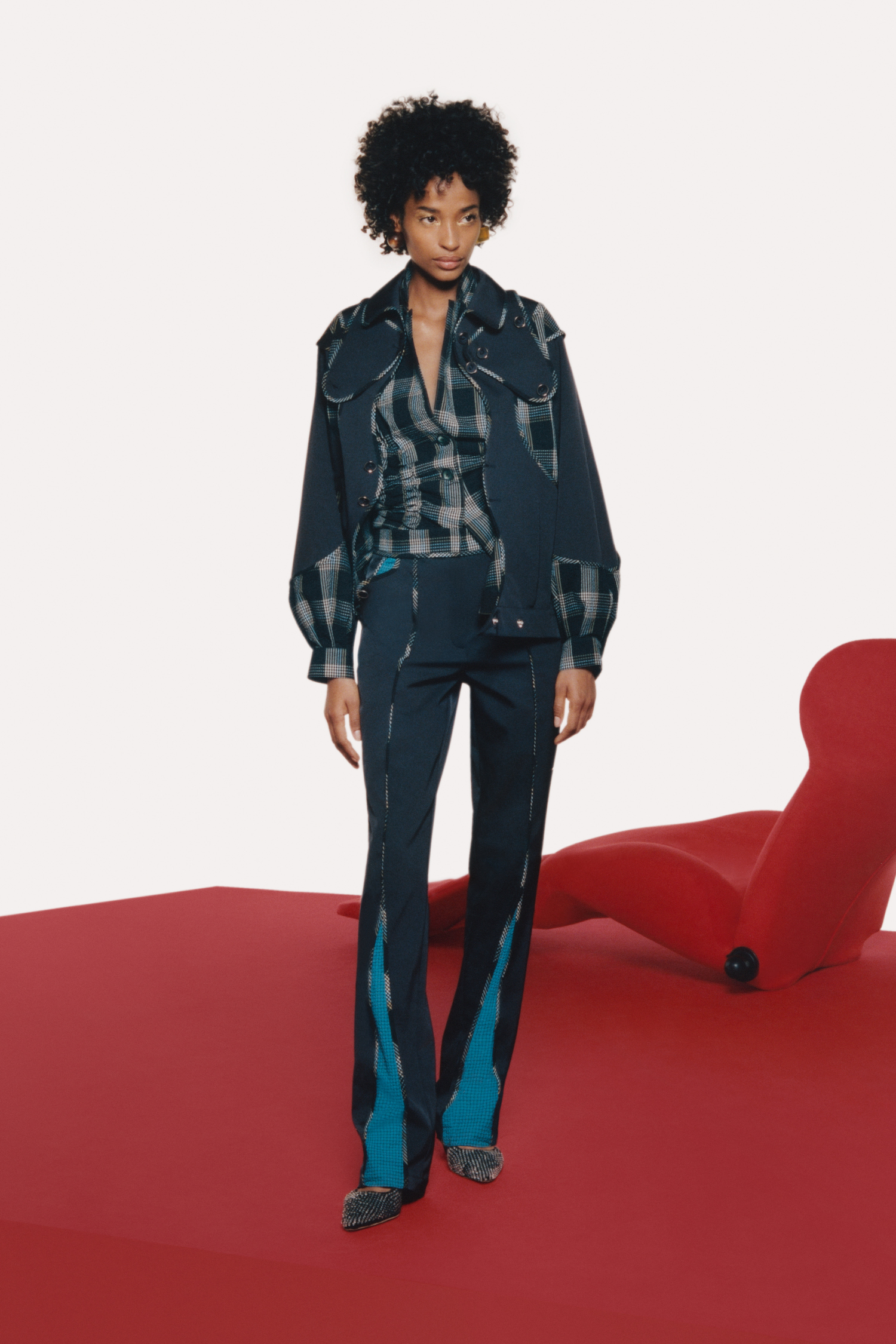 This season's stars are spangled throughout the collection -- stencilled, built into the latest edition of their trademark puckered knitwear, or even rendered in 3D as beaded-bottomed woven leather bags. The star isn't the only new shape for SS21, though. There's a relaxing of the silhouette -- think breezy, braid-trimmed dresses that call summer school uniforms to mind, and sportswear-inspired pieces like engineered biker-style leggings and golf jackets, made over with their trademark graphic panelling. There's skin on show, too, with subtle slashes offering peeks of the body beneath.
Lockdown, and the global desire to wear things made for lounging about the house it brought with it, is partly the reason for this aesthetic shift -- though long-term fans of Laura's and Deanna's work needn't worry, there's still plenty of intelligent, eccentric pattern-cutting and aficionado techniques to go around. But it also owes much to where they spent it -- 10,500 miles apart, with Laura in London and Deanna back in their native Melbourne for three months of the collection's development. Below, we discuss the direction that drove their work in, as well as the new additions to the Kiko Kostadinov world for SS21 and their collaboration with Esther Theaker for their film released today.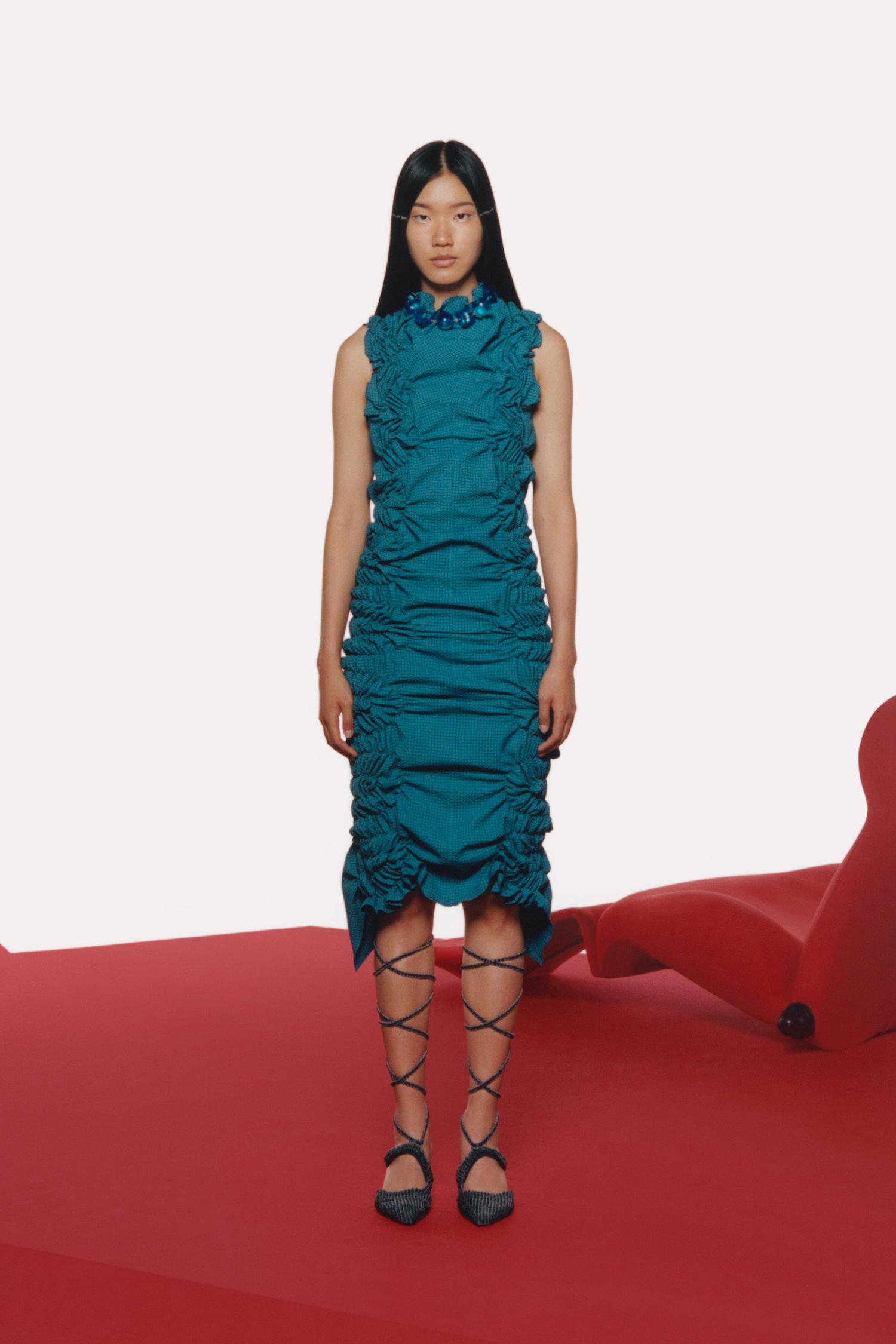 This season you were working within the same timeframe as usual, despite being 9 hours apart! How did you overcome that to create this collection?
Deanna: It was really challenging at times! I was staying with my mum, my dad and my grandma, and they really wouldn't understand why I'd be on the phone at 2am. They'd be like, 'What do you mean? What could be so urgent?' But it was quite sweet, too. You know, you're in your family home, and my grandma would pass by and be like, 'I like those colours… those, not so much.'
Well, a grandma's earnestness is an undervalued fashion resource!
Deanna: It is! But it was great to be back -- the weather's completely different there, and I really got back that feeling of what an actual summer is like. Around half the world spends six months or more in a heat that we don't experience here in London, so that really got us thinking about using more breathable fabrics, and trying to reveal parts of the body for comfort. I was thinking, 'It's 30 degrees there for all those months, so why can't I look great when it's that temperature all the time, too?'
Laura: And in terms of visual research, we were going back to the idea of feeling comfortable -- wearing things that you look great in at home, in your backyard or just walking down to the shops. Things like leggings and sportswear, which are very big back home. We were also thinking about the idea of modern domesticity, and how maybe that's actually sportswear now. Alongside that, we also researched garments that Victorian women would wear in the home, all of these lightweight check cottons with shirring.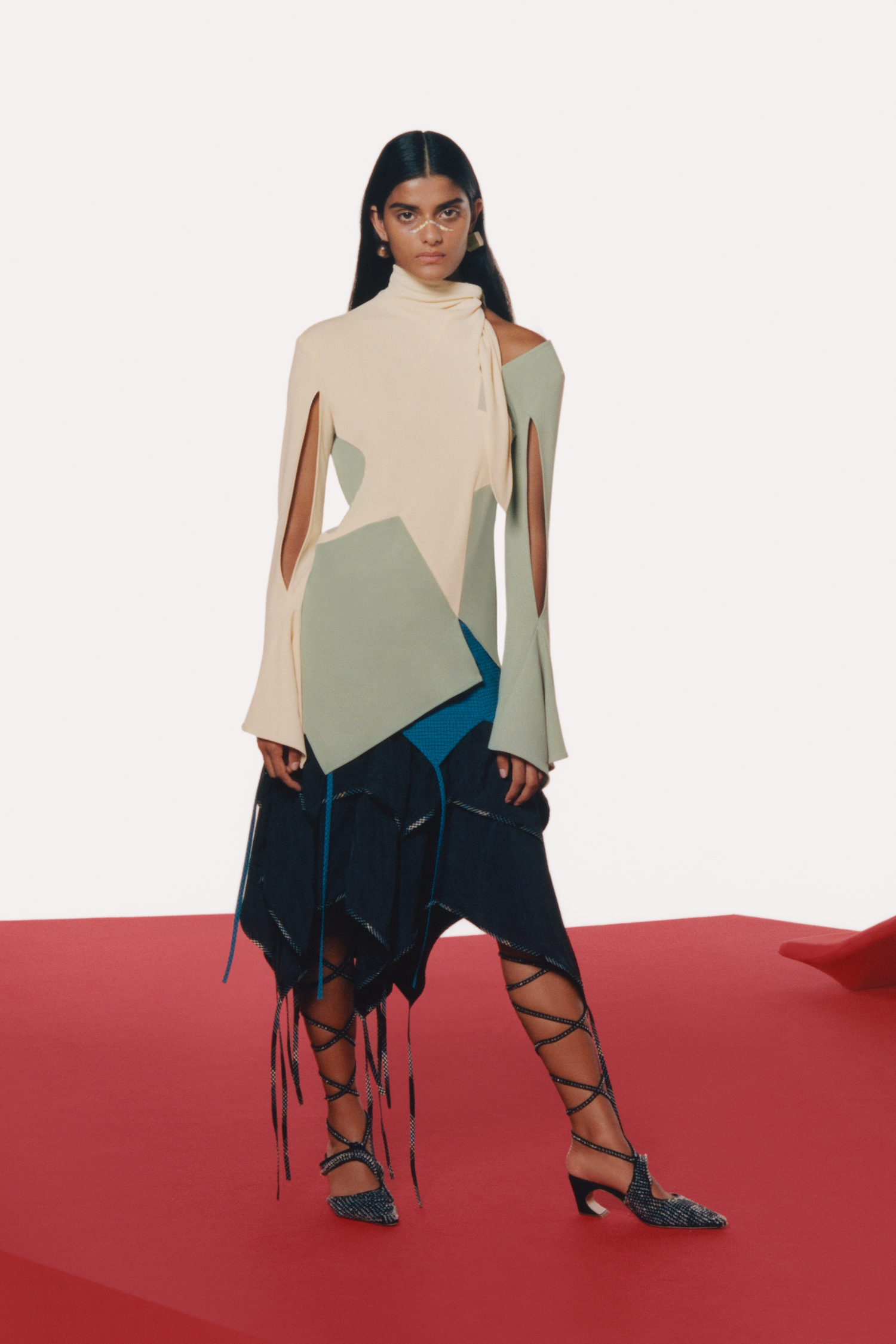 What were your main inspirations for the graphics this season? I see there's a pentagram on your moodboard...
Laura: [Laughs] Well, when we started building our file of Victorian research, we noticed how prominent stars seemed to be, both in religion and as a sign of hope. I found it quite interesting, because I feel we're at this point where we're really questioning the future and thinking about what social changes need to take place. I felt like bringing that symbol into the collection was quite meaningful, and we kind of try to incorporate it in a few different ways -- stencils, appliqués, the bobbling and puckering in the knitwear, and then the bags…
Which are developed using the same leather crochet technique we saw with the Corno bags for SS20, right?
Laura: Yeah! We saw they were well received, so we thought it would be great to develop this season's star motif in 3D somehow. We looked at these Victorian coin purses that had lots of beading and metalwork, and we thought it would be cool if the bag could rest on these tougher bits. And then the beads follow through in the shoes as well. We were looking at 1950s slippers, the ones where women would get the pack sent to their door and then make them themselves, and wanted to create our own idea of them. Deanna actually hand-knitted the samples!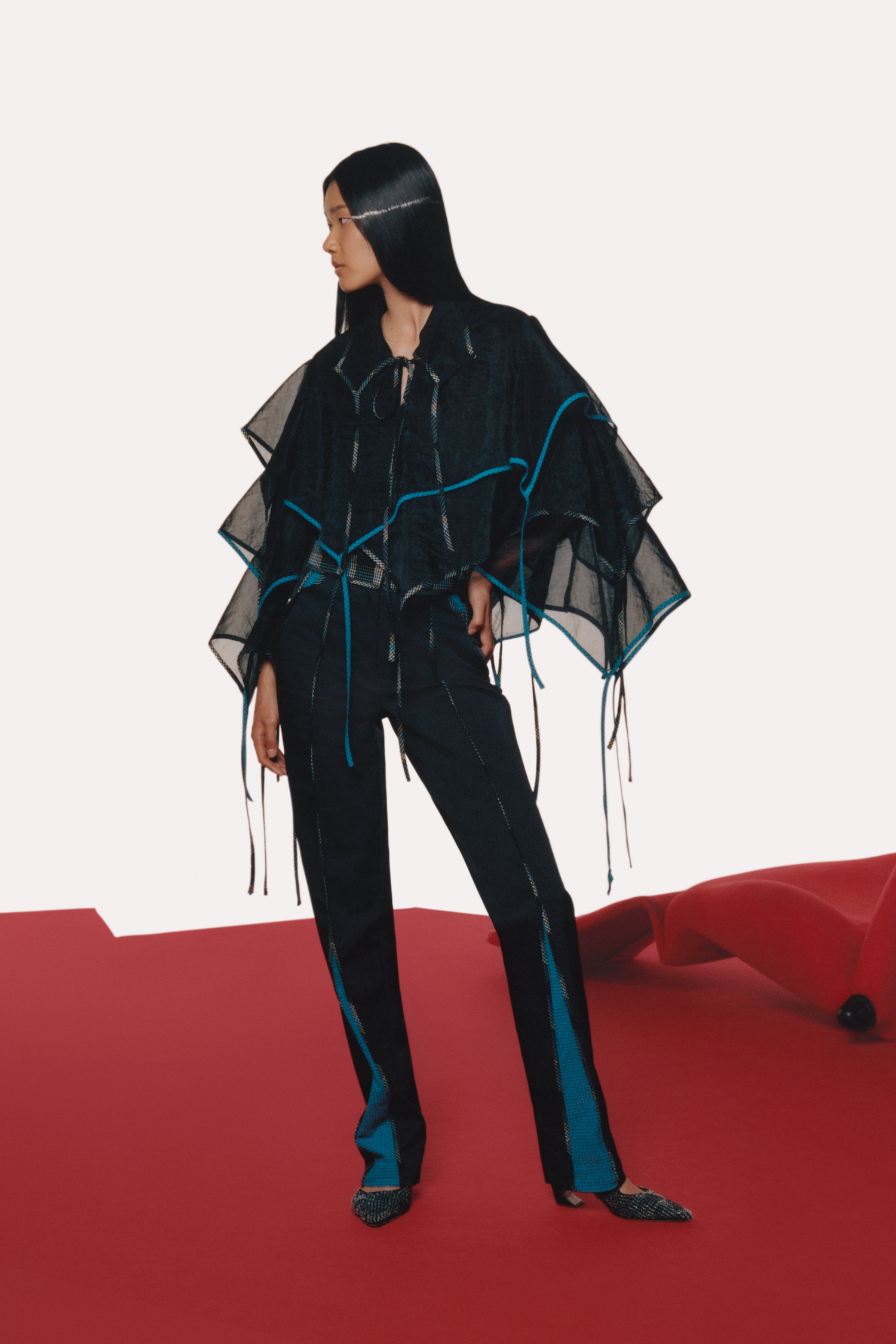 That's real commitment to the cause!
Deanna: It was quite fun, but it took me ages! I worked on them during the part-lockdown in Melbourne, and my family kind of didn't understand that it was work. I'd be knitting, and then they'd start chatting, or ask if I could come and help with the cooking, and I'd be like, 'But Dad, I'm knitting!'
Is your grandma a knitter?
Deanna: She is! So she was really interested.
This is also your first season doing eyewear -- what was the inspiration there?
Laura: Yes, it is. Our first pair was modelled on a pair of very ugly, thick-looking 1950s reading spectacles. Luckily enough, just before lockdown. Most of the studio ended up on a research trip for ASICS to LA, where we met with a sunglasses supplier. He had boxes and boxes of acetate and lens samples, which was really exciting to see. We developed these a couple months later, just by going through all of our iPhone photos to look at the finishes!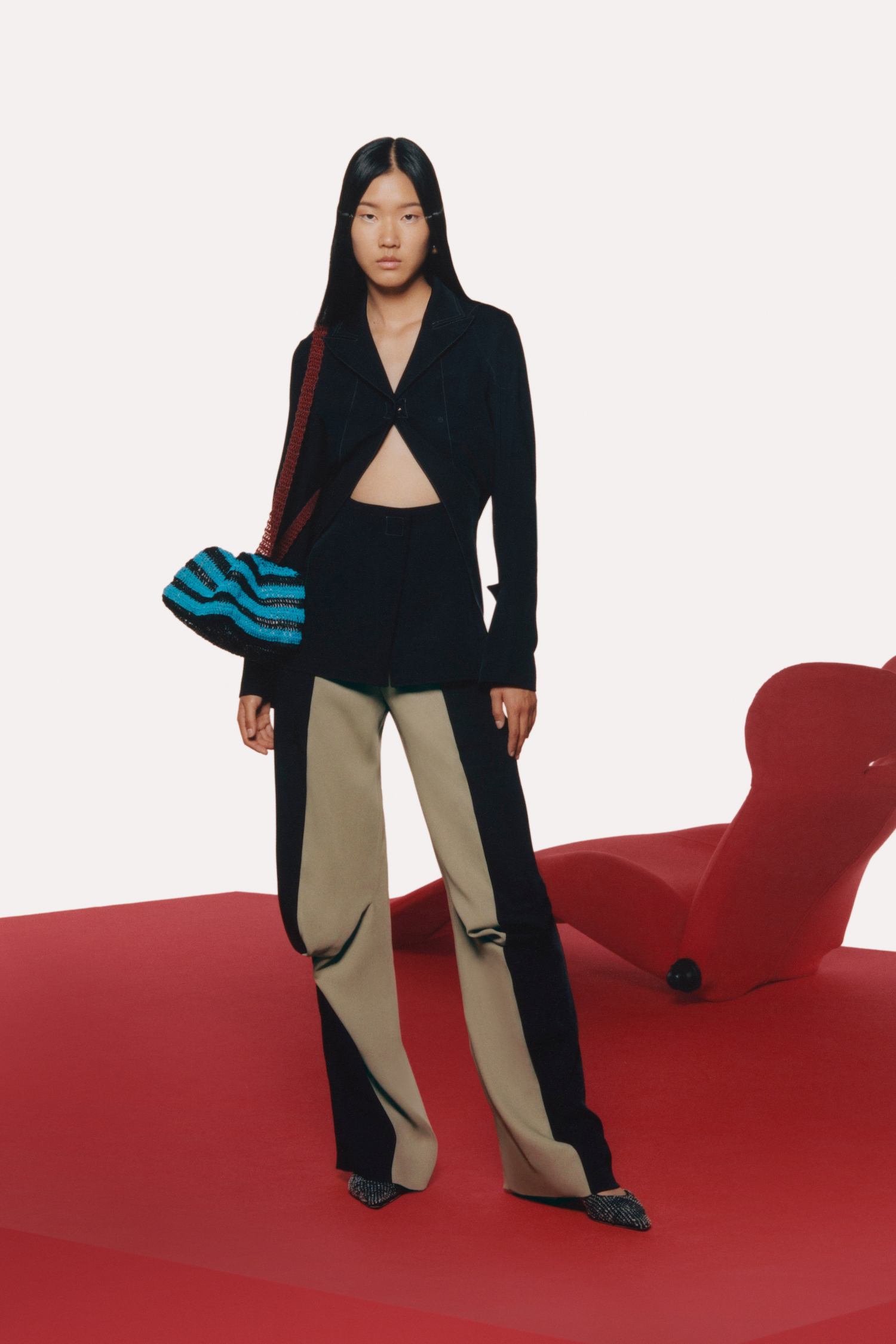 You're also showing some skin for the first time — it almost looks like you've approached it similarly to how you look at panelling and pattern cutting in previous work.
Laura: Revealing some skin was something we really focussed on, just to make it a little bit softer. The body is beautiful, and it's really nice if there are these small moments where you can show that.
When we spoke last season, you said something quite clairvoyant — you were thinking about how clothes are often judged in 2D — on a phone or on a screen. Was that the case this season?
Laura: Obviously social media has been around for a long time now, but it's really changed the direction of fashion. Contemporary designers always have to be thinking about how things are viewed on your phone, and the generation of images and the turnaround is just so quick. It's almost like a sort of black hole -- how do you circle at the top for two days instead of one before heading into the abyss? I think about that a lot...
Deanna: But I don't think you get the full crux of the clothes on a screen, that's what's exciting about experiencing them in real life.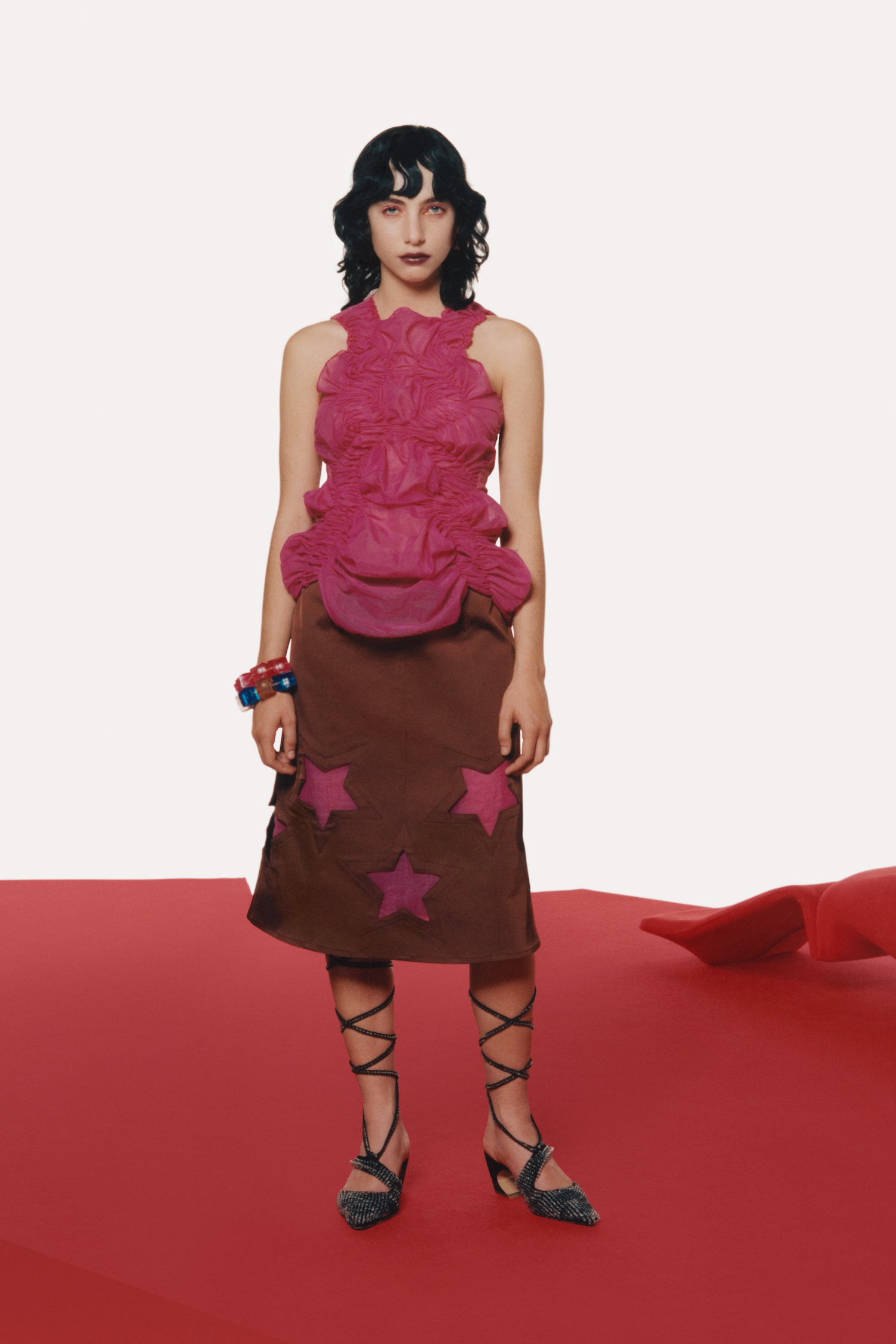 So how have you found working on a film this time then?
Deanna: The day of the shoot was really interesting. There's just one perspective -- it's all shot on ladders and cherry pickers and alcoves. It's meant to have the feeling that the girls are isolated on this platform, which is how we were feeling for the first couple of months of lockdown. We've also got these chairs that we wanted to feel a bit like gaming chairs, because they're so connected to the digital.
Laura: And we're presenting it in a really interesting way on the website, with a three-screen set up and navigation keys, which is really cool. It was definitely a different process. But it's kind of been fun to move ideas that we've been thinking about into the film rather than into the clothes.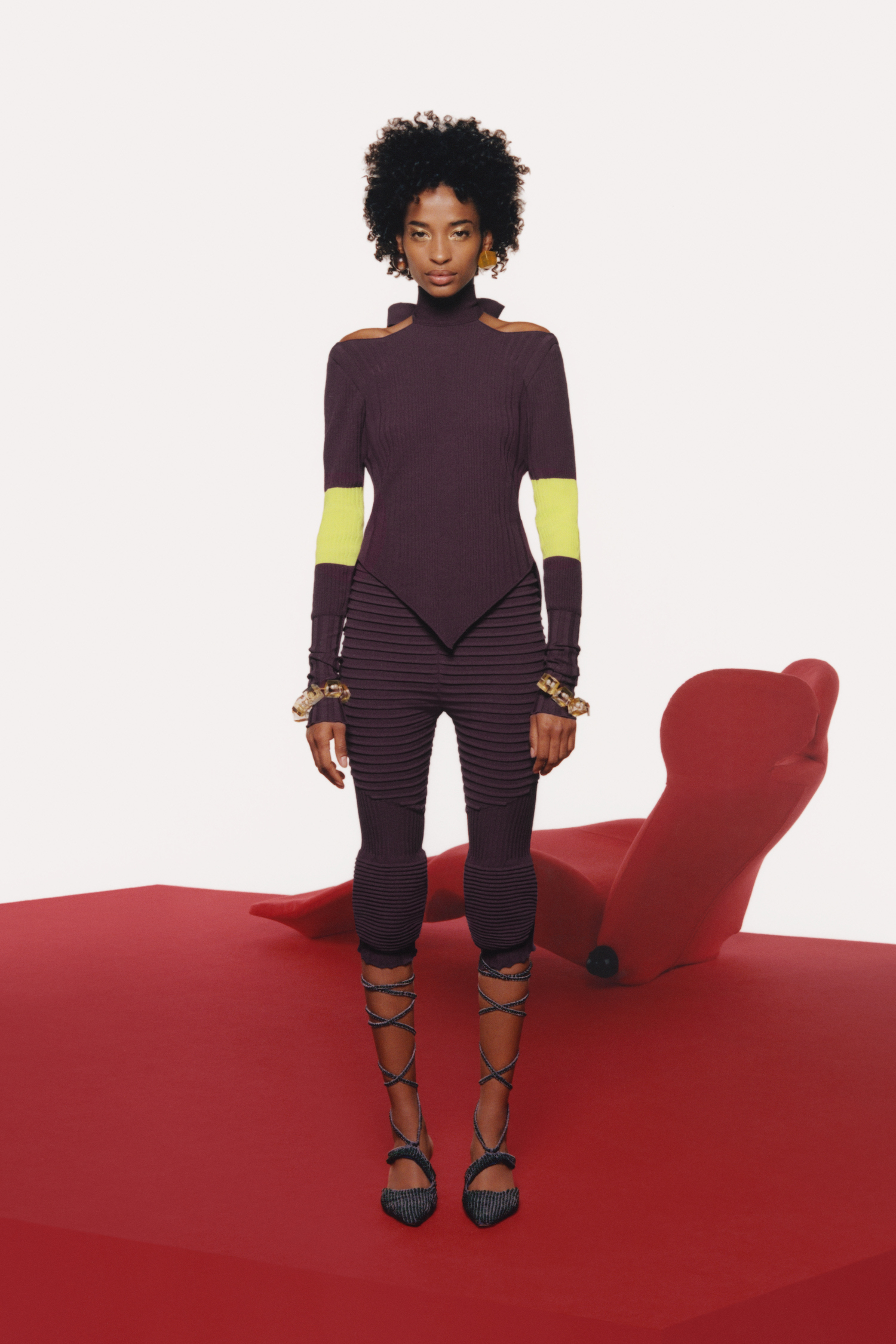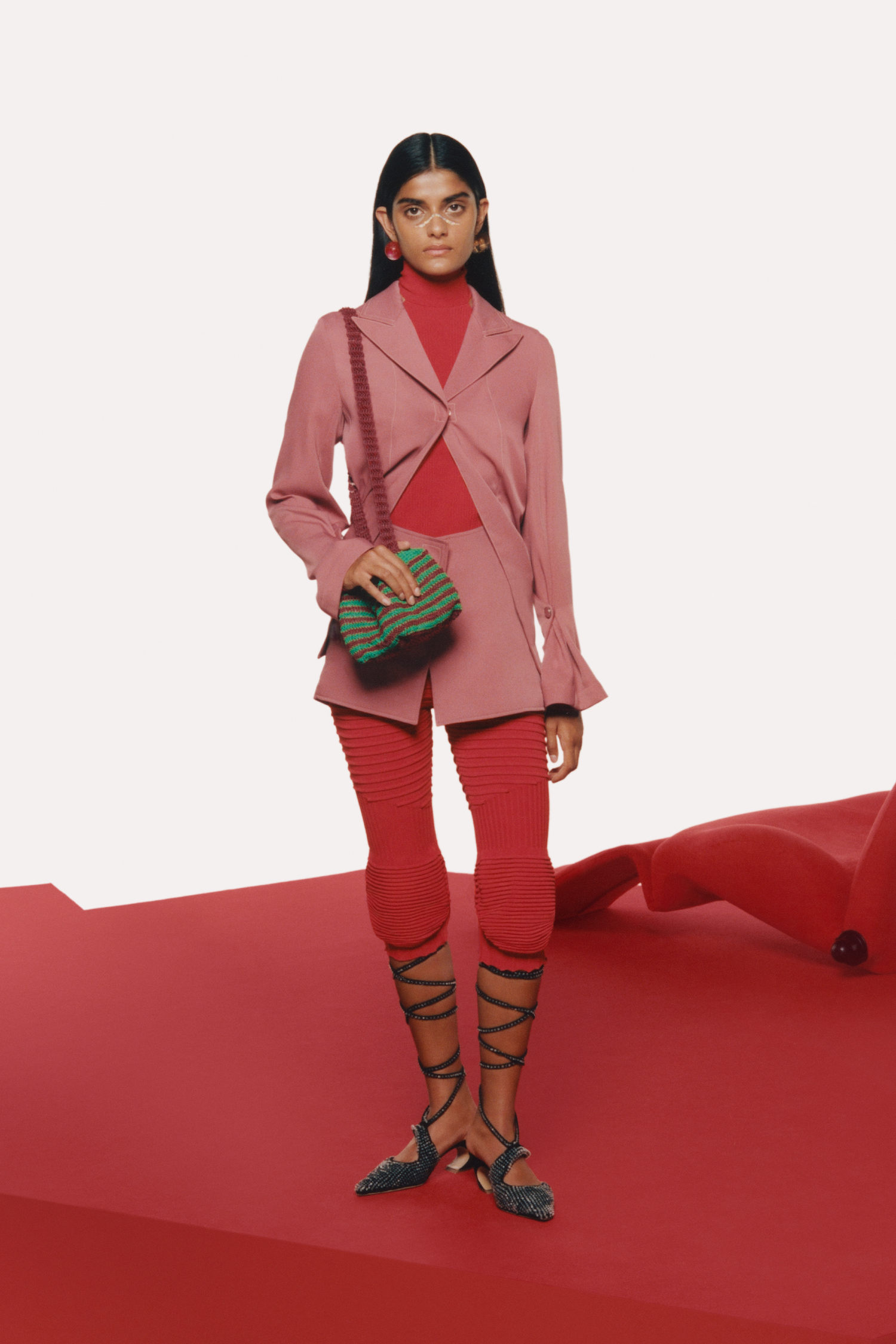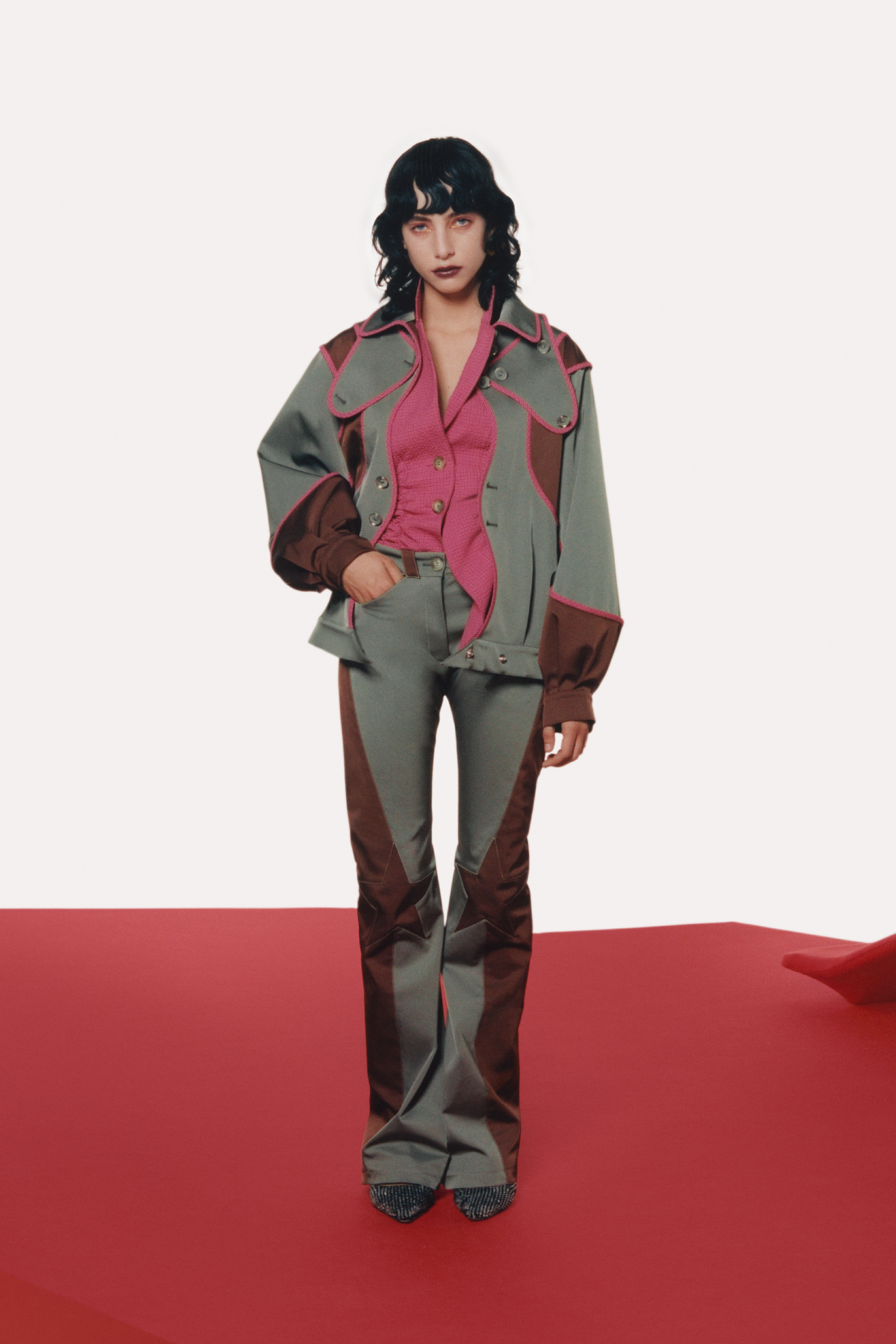 Watch the Kiko Kostadinov Woman SS21 film here.
Tagged: