Meet Statement, the brand taking jewellery into the future
Silver, diamonds and AI: designer Amélie Huynh reveals her new video exclusively for i-D.
When we think of jewelry in Paris, we don't really picture AI or 3D models. What comes to mind more is the Place Vendôme, gold or precious stones. This was how Amélie Huynh imagined the profession when she started working with French house Maison Chaumet in the early 2000s. First in the press office, then in the marketing department, until in 2008, she left the brand with two certainties in mind: she would always work in jewelry, and she would always work for herself.
Amélie launched Statement ten years later, offering a powerful vision for jewellery: armour rather than adornment. While doing research for a collection, she stumbled across Décopunk, a style inspired by Art Déco, just "slightly chrome, slightly dirty" and it became her starting point for her hobnailed, paved and set pieces. With her passion for silver, she decided to dedicate most of her collection to the metal, a statement in a luxury world where 18 and 24 carats gold is the norm. "Silver has an extremely powerful energy. It's linked to the moon, this side we never get to see, and it's very feminine. In France, the symbol for silver is Minerva the Roman goddess". Goddess of trade, she embodies craftsmanship as well as wisdom, intelligence and the arts.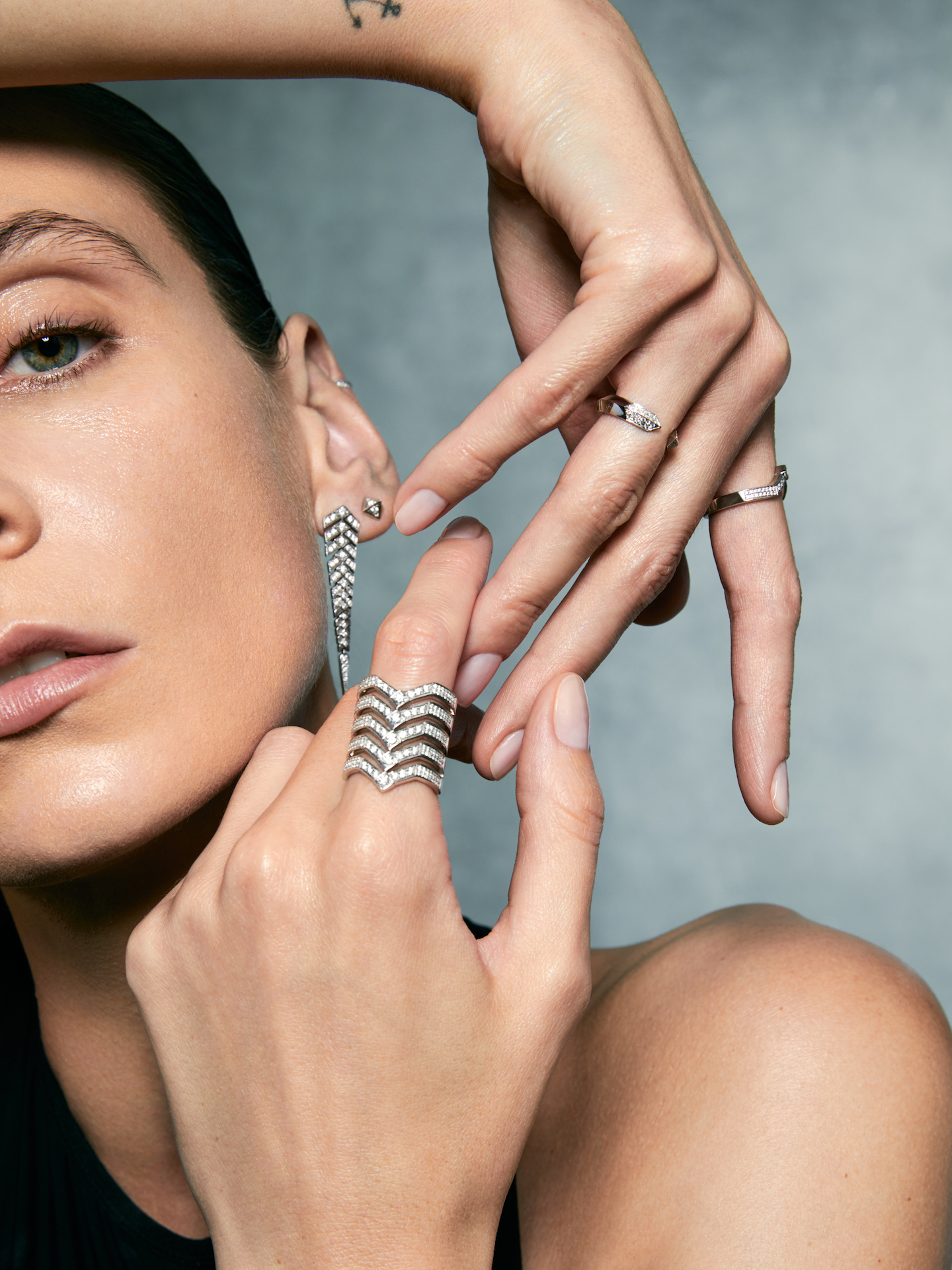 This is where Alyh comes in, the new face of the brand who is entirely digital. "We wanted to create a universal woman, a woman everybody could identify with" explains Régis Tosetti, the artistic director behind the concept. "We mixed different women's faces, from different regions of the world". Alyh comes to life in this video and appears as a heroine whose mind was uploaded into a virtual world where everything is yet to be built. "She represents the warrior side that every woman has, as well as a confidence that comes from wearing pieces of jewellery you love" explains Amélie. Alyh will also be present in the store from 1st ­­­­October ­­­as part of an immersive digital experience. "Today, jewellery is so much more than just pieces to wear. It serves a bigger purpose than just seducing or being pretty. It's not about teasing, it's about speaking to women directly, and not to the men who might want to gift them jewellery".
Before her Statement venture, Huynh had previously created a jewellery brand, which found success in Asia. "It was for a specific audience, softer pieces, floral details, pink gold." After many other ventures, including buying the Château Malromé, Toulouse Lautrec's historic property, producing wine, and taking over D'Orsay perfumes, it is with Statement that Amélie could finally fully express herself and her vision for contemporary jewellery.
To those doubtful that silver, diamonds and the digital world don't mix, Amélie Huynh answers without having to think twice; "I'd better live up to the name I chose: Statement."